When it comes to cleaning motivation I need all of the help I can get!  Unfortunately I am not always up for cleaning (hello, have we met?)  But I've found lots of ways to get motivated to clean and one of my favorites is by watching cleaning videos on YouTube.
Sometimes I find a cleaning video and watch it on my phone with my wireless headphones when I'm cleaning the kitchen or living room.
Other times I will watch a cleaning video ahead of my cleaning to help me get in the mood to clean.  Since that rarely happens on its own.  It really helps me to get my mindset ready.
Today I'm sharing a few of my favorite cleaning YouTube channels.  The home cleaning niche on YouTube has grown tremendously over the past year or so and there are so many to choose from.  These are just some of my favorites, the ones who I watch regularly and really help motivate me to get up and clean something!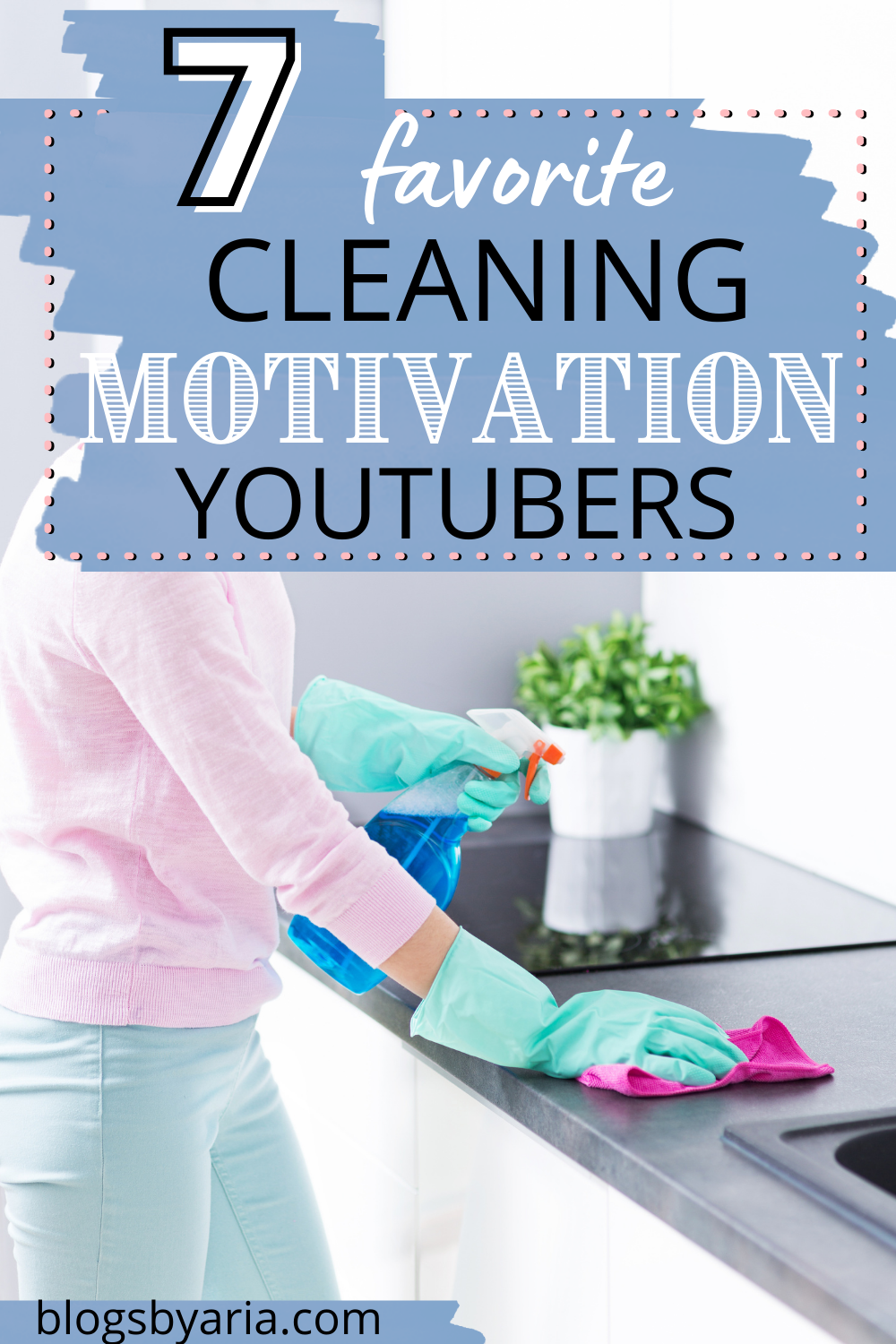 JOANNA THORNTON
hello to some of my very favorite people in the WORLD! 😍 hope you enjoy today's EXTREME CLEANING MOTIVATION! love to y'all always. 💜 LINKS FROM THE VIDEO:l…
Everyone I'm sharing today is a favorite but I'd say Joanna tops the list of my favorite cleaning channel.  She's a mom of four and is pretty down to earth in her style.  She doesn't try to be perfect and as a reformed slob I can appreciate that.
BRIANNA K
To ring in 2021, here's the BEST 2020 CLEAN WITH ME MARATHON – OVER 2 HOURS of extreme cleaning motivation! Organize, Declutter, and Clean the entire house …
Brianna is a very popular YouTuber and I first found her from her seasonal decorating videos.  Then YouTube suggested more of her videos and I found that I liked her cleaning videos too.  My favorite videos are Clean and Decorate style where I get both motivation to clean and ideas on decorating.
AMY DARLY
Hey friends! Welcome to another MASSIVE CLEAN WITH ME! I hope you get TONS OF CLEANING MOTIVATION today and that you get some things checked off of your to-d…
I feel like Amy is one of the first cleaning YouTubers I subscribed to.  I like her upbeat personality and her cleaning style.
SHANTHI'S LIFESTYLE
massivecleanwithme#alldaycleanwithme#declutterandorganizeHey beauties! Today's video is a Massive Clean With Me! I hope you get tons of motivation while I c…
I found Shanthi I think because YouTube suggested one of her clean and decorate videos.  I've been a fan ever since.  Her cleaning and organizing videos really motivate me to do something, anything!
LOVE MEG
NEW* CLEAN WITH ME! AMAZON HAUL & MORE DECOR PLANS | EXTREME CLEANING MOTIVATION | Love Meg WANT MORE CLEANING MOTIVATION? CLICK HERE! https://www.youtube.c…
Megan is another very popular YouTuber who was recently featured on the Tamron Hall show.  I've been following her channel for a long time and from cleaning to decorating to organizing she covers it all.
HOME SWEEP HOME
🌸FREE MRS. MEYERS 5 PIECE SET: https://www.grove.co/referrer/35230739/🌸MY AMAZON STORE: h…
I'm newer to Rigena at Home Sweep Home.  I discovered her around the holidays for her decorating videos and we have a similar style.  Then I started watching her cleaning videos too.
Sometimes it helps to watch people who have the same decorating style as you or maybe a similar house size.  If you live in an apartment there are tons of videos of people cleaning their apartments and organizing small spaces too.
THIS CRAZY LIFE
Hey guys!! Welcome to a super relaxing After Dark Clean With Me 2021… I know there is so much stress & hard things going on in the world, but I think it's …
Another favorite cleaning motivation YouTuber I enjoy is Amanda at This Crazy Life.  Her cleaning videos are very motivating for me and she gives lots of practical cleaning tips and hacks.
There are so many awesome cleaning motivation videos to watch on YouTube.  Just watch some and find the ones who motivate you.  Because everyone is different and has a different style.
Of course there are more favorites that I enjoy that aren't on this list, but I wanted to share my top seven with you.  So the next time you have no motivation to clean house have no fear, just watch a cleaning motivation video.  It helps so much.
Another tip is to play your own music and have the video on mute.  That's taking two of my lazy girl cleaning motivation hacks and combining them to really get the house clean.
One of the reasons I believe that clean with me style videos are so popular is because of the monkey see monkey do adage.  When we see people doing things that we want or need to do, it makes us want to do it too.  Or it helps us to see that we too can do the same thing.
I say do whatever works for you.  Watching cleaning videos on YouTube works for me.
Hopefully I have provided you with some valuable sources of cleaning inspiration and cleaning motivation.  If you have some favorite channels to share with me, let me know in the comments down below!