Recently I was in Hobby Lobby and I picked up a few decor pieces for the Fourth of July.  Yes, it's only April, but items are already getting picked over!  That inspired me to share this post with ideas for patriotic home decor or Americana home decor.  Whichever way you like to call it.  I don't decorate for Memorial Day, but many people do.  Now is the time to start shopping for all things red, white and blue….before what you want is out of stock.
*this post includes affiliate links for your shopping convenience, you can read more about affiliate links by reading my Disclosure*
America fireworks banner · because of the brave wood decor · star jar · 4th of July welcome door mat · freedom beaded mini garland · American salt and pepper car shakers · America mini rolling pin · USA mini rolling pin · red white blue striped candle · land that I love decor · God bless America sign · flag burlap wreath · flag fringe pillow · rattan star filler · land of the free stacked books · proud to be an American sign · red white blue truck · land that I love sign · red white blue floral heart
This weekend I picked up a few items while at Hobby Lobby.  I only picked up a few items that I didn't want to miss my opportunity to get.  Things go so fast!  Unfortunately Hobby Lobby no longer offers their 40% off one item coupon anymore.  Anytime I wanted something that was from the upcoming seasonal line that wasn't yet on sale, I would use that coupon and just keep going back to the store.
The rolling pins and star jar I plan to use on my tiered tray.  You can see how I styled my patriotic tiered tray last year here.
Look at the stars on top of the stacked books aren't they the cutest?  This is a smaller stack that would be great for a tiered tray.  They did have some larger stacked books and I'll probably grab one of those too.
After looking online, I realize there's a couple more pieces I'd like to get.  Like the red white and blue striped candle…where was that at?!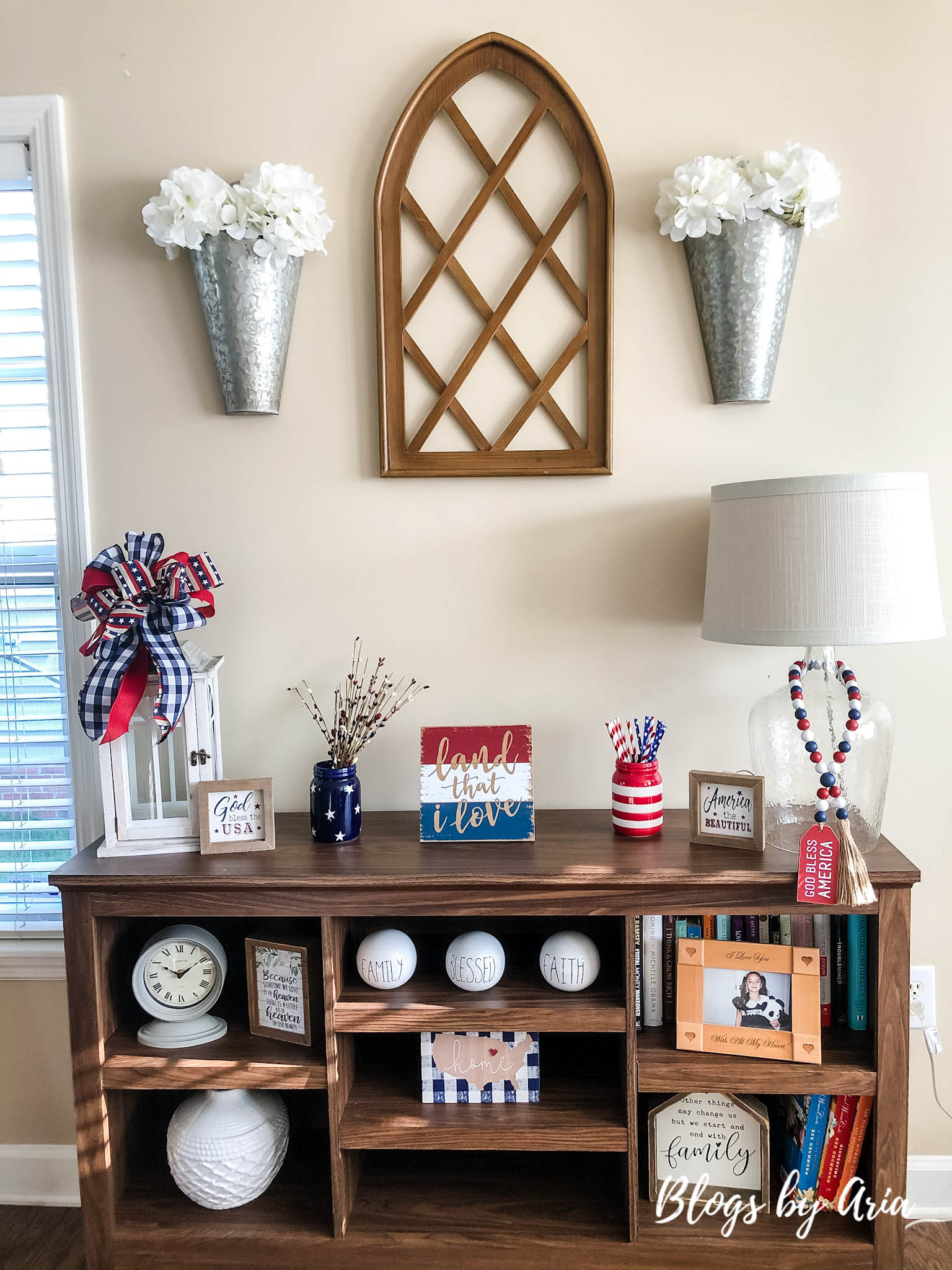 Here's a quick look of how I added a few patriotic pieces from Hobby Lobby to my decor last Summer.  The God bless the USA and America the beautiful are signs from Hobby Lobby.  So are the mason jars, but I can't find them online.  I did see them in the store this weekend though.  I almost picked them up but I pulled out my phone to check my blog to see if I already had them!
flag embroidered pillow cover · lighted fireworks doormat · American flag accent pillow · flag embroidered lumbar pillow cover · blue plaid pillow · Americana watercolor enamel salad plates · red stars throw · blue stars throw · Americana table runner · one nation under God sign · Americana watercolor napkins
I saw these red and blue star throw blankets online at Kirkland's.  The blue star throw blanket is also available at Walmart and that's the one I linked above.  I really like that it's a muted blue and not too bold.  It's definitely on my list!
This Summer with things opening up and looking more like normal, I'm excited about the Fourth of July.  I don't know if we'll be entertaining, but it would be fun to decorate  our dining room table in a patriotic theme.  I'm sure we'll be doing some grilling.  I'll be sure to share it with you if we do a patriotic tablescape.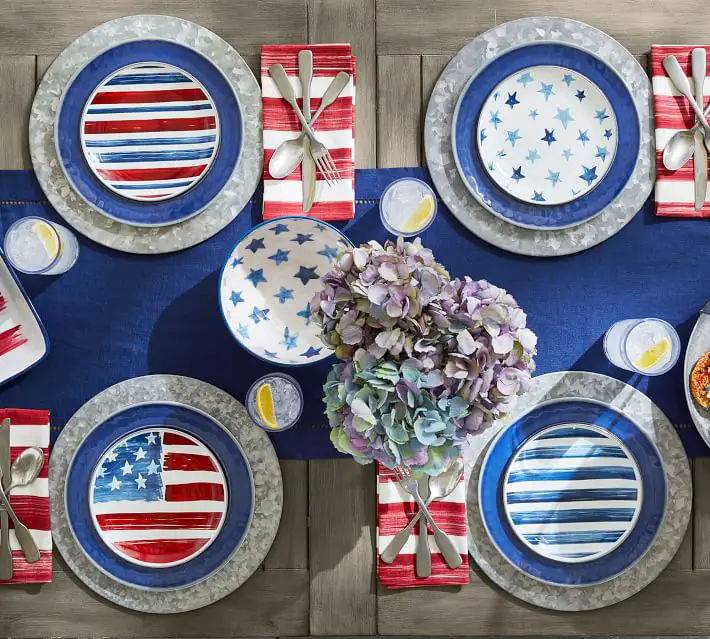 When I saw this picture from Pottery Barn it definitely inpsired me to want to try a patriotic tablescape!  We'll see what I can pull together.  I'm always looking for the look for less so it will be fun to come up with something.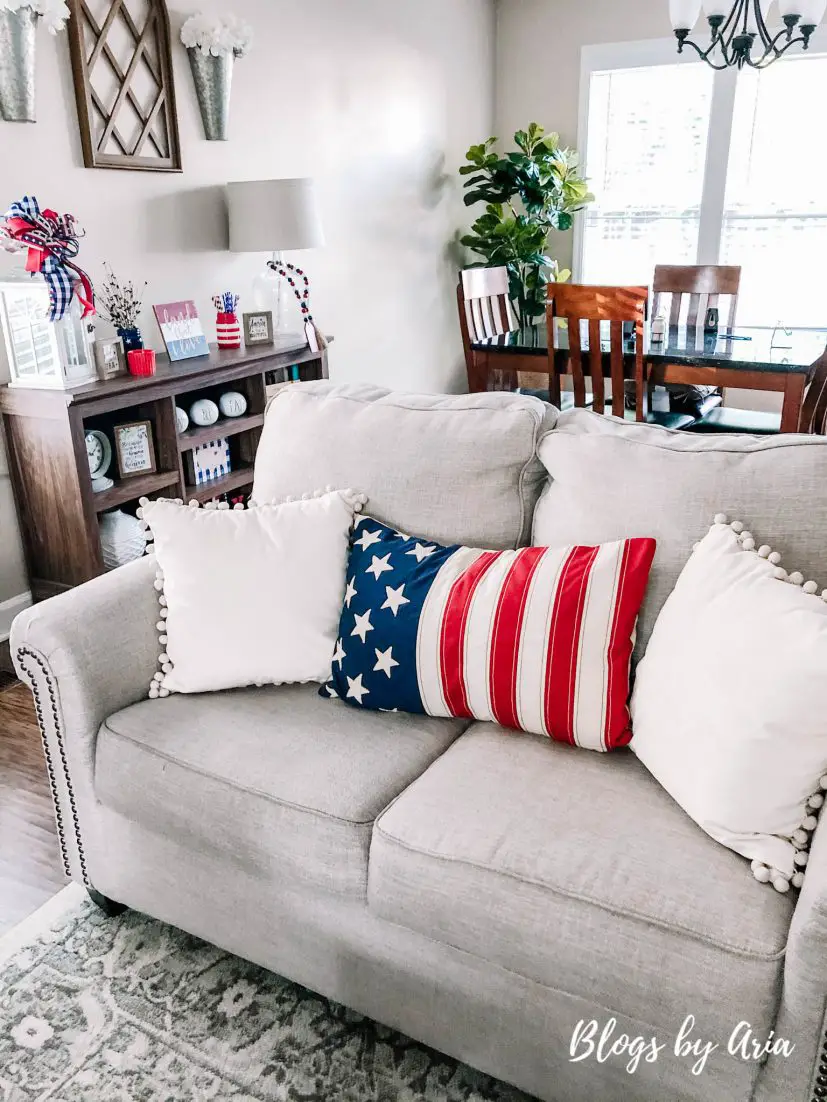 For years I had eyed this flag lumbar pillow cover from Pottery Barn and last year, I got it on a great sale.  This year I'd like to get the other flag embroidered pillow cover to add to my collection.  Not sure if I should get one or two.  They're made for indoor use, but I would like to get an outdoor flag pillow for our front porch.
The majority of my Fourth of July themed decorations come from Hobby Lobby and Kirkland's.  Mind you, this would only be my second year decorating in an Americana theme.  Sometimes I do find some good finds at TJ Maxx and Home Goods so I will be keeping an eye out for that.
Also Walmart and Target will be coming out with a few seasonal decor items and don't forget the dollar stores.
Hopefully you found some pieces you can add to your home decor this Memorial Day or Independence Day, or heck, all summer long!  We can celebrate our country all year long if we want to!