Last weekend we had the honor of attending my cousin's wedding in South Carolina.  For the first time in a long time we had a weekend without the kids and traveled down to the wedding.  Also for the first time in a very long time, we got the chance to get dressed up!  I'm sharing a quick look at what we wore to the wedding.  I found a beautiful plus size wedding guest dress that I absolutely love!
And  I'm sharing my thoughts on getting comfortable with being uncomfortable.  Does that make sense?  Hopefully it will in a minute.
*this post includes affiliate links for your shopping convenience, you can read more about affiliate links by reading my Disclosure*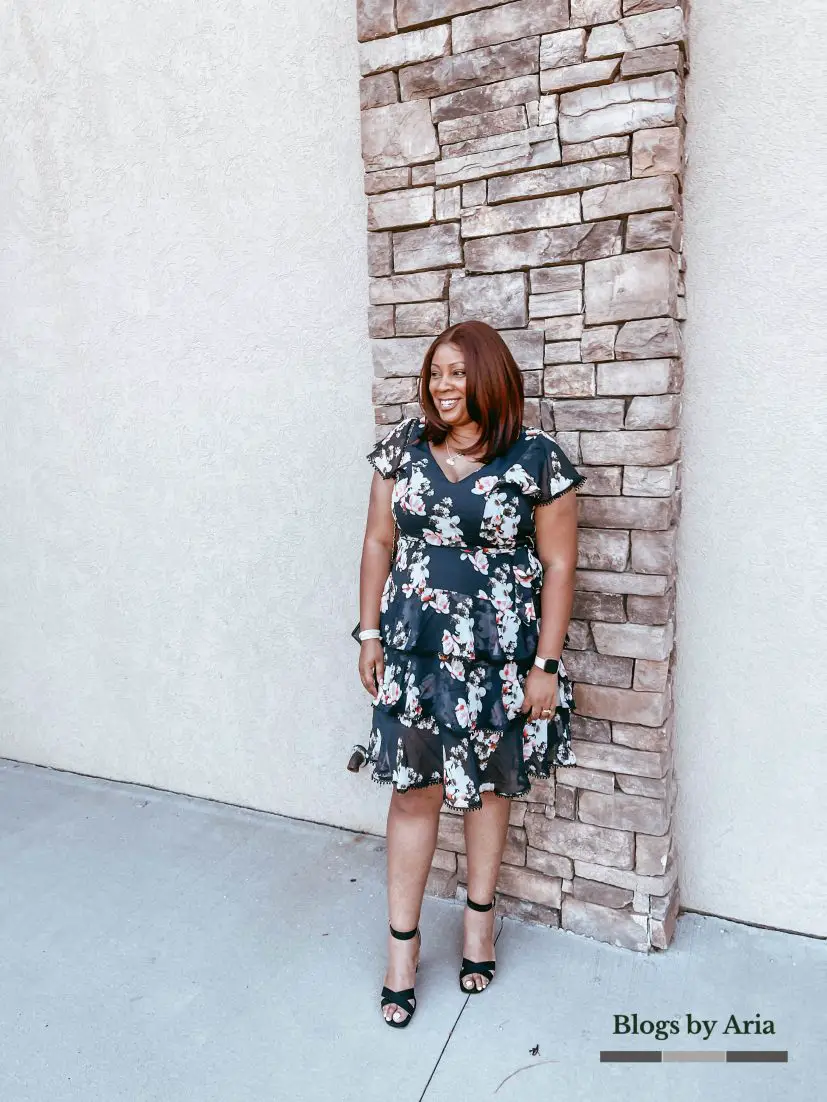 dress | shoes | handbag | necklace | bracelet
If I'm being completely honest, I hate taking pictures of myself.  Because I'm not happy with my weight and therefore don't want to take pictures.  But I had to share this beautiful dress with you.  I shared it a few weeks ago in my wedding guest dresses post.
I love how pretty this dress is and more importantly, how pretty it made me feel!  It has such a flattering fit and the fabric is very light so I knew it would be great for an outdoor wedding.
When you're plus size it can be very hard to find the perfect dress.  I'm so glad I found the perfect plus size wedding guest dress that I love so much that I want to buy more!  Now I just need to find more places to go 🙂
The color I got in this dress is black but it also comes in a dark green and white and I just found a cute polka dot version too!
I wanted the green version but at the time that I ordered, it wasn't available in my size.  You can check out the different options here: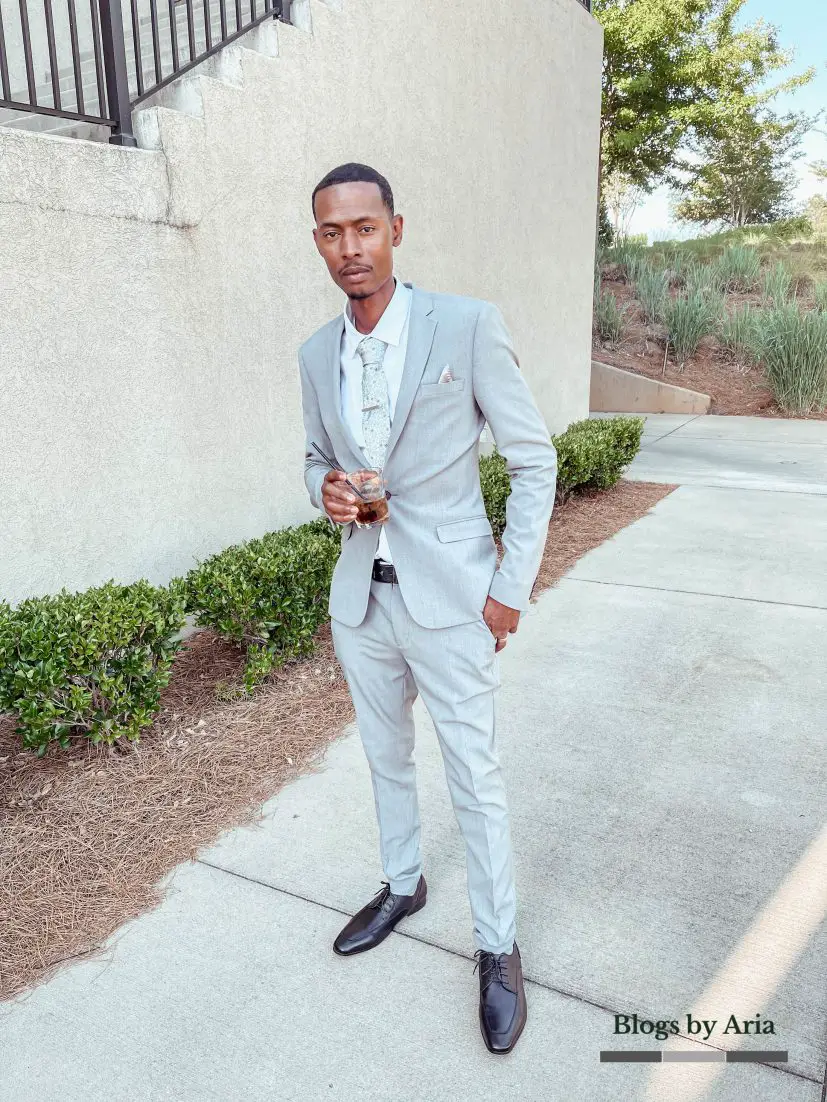 super skinny suit | shirt and tie set | shoes
My husband also doesn't like to take pictures but I convinced him to let me get a few of him and share them on my blog.  He's a good sport and looks so handsome in his suit!
We ordered this suit from Asos.  I recommend sizing up one size in the jacket and the waist of the pants.  It's a skinny fit suit, but when we ordered his true size, things were very snug.  Also, he is 6 feet tall and we needed to go with the long option in the suit jacket.
His suit also has the option of getting the matching vest.  We opted against that because I felt it would be too hot for a three piece suit in South Carolina at the beginning of Summer.  Turns out I was right 🙂
I've realized that not only do I not take pictures of myself, I don't take pictures with my husband.  And that's got to change.  We talked about it while we were at the wedding.  They had a slide show of the bride and groom and they had a lot of pictures together.  It caused me to realize that we don't have a lot of pictures together as a couple.
Even if I'm not happy with how I look right now, I don't want to have several years where there are no pictures of us because I don't want to take them.  (which I've realized is already the case)  We decided that we're going to make the effort to take more pictures.
While I'm on my weight loss journey, I can still take pictures.  I can't not live life while I wait for things to be "perfect."  It's definitely something I am working on.
Not just with my body but in other areas of my life I'm training my mind to get off the sidelines.  I can't wait for things to be just right or perfect to do the things I want to do.
I saw a quote on someone's Instagram stories that said:
STOP LETTING YOUR POTENTIAL GO TO WASTE BECAUSE YOU DON'T FEEL READY ENOUGH.  PEOPLE WITH HALF YOUR TALENT ARE MAKING SERIOUS WAVES WHILE YOU'RE STILL WAITING TO FEEL READY.
Thanks to Daryl Ann for that quote because it really resonated with me in more ways than one.
After a year of being stuck at home it was really nice to get all dressed up to celebrate love and have a good time.  Now that things are getting back to normal we want to make date night a thing, you know, kind of like how we planned before the pandemic.
We've been in Raleigh for a few years now this Summer and I really want to get out and explore more of the city…and take more pictures 🙂