I'm so excited to be attending a wedding later this month!  I've searched high and low online for the perfect wedding guest dress.  Some I've shared on my LIKEtoKNOW.it but I wanted to share them here on the blog too.
When it comes to deciding what to wear to a wedding, I am a big stickler to the rules.  I like when it's specific and I'm told formal, or black tie, or cocktail.  Let a girl know!  You don't want to feel over dressed or under dressed.  I've rounded up tons of wedding guest dress options and styles for you.  From Amazon, to formal, to plus size and everything in between!
*this post includes affiliate links for your shopping convenience, you can read more about affiliate links by reading my Disclosure*
AMAZON WEDDING GUEST DRESSES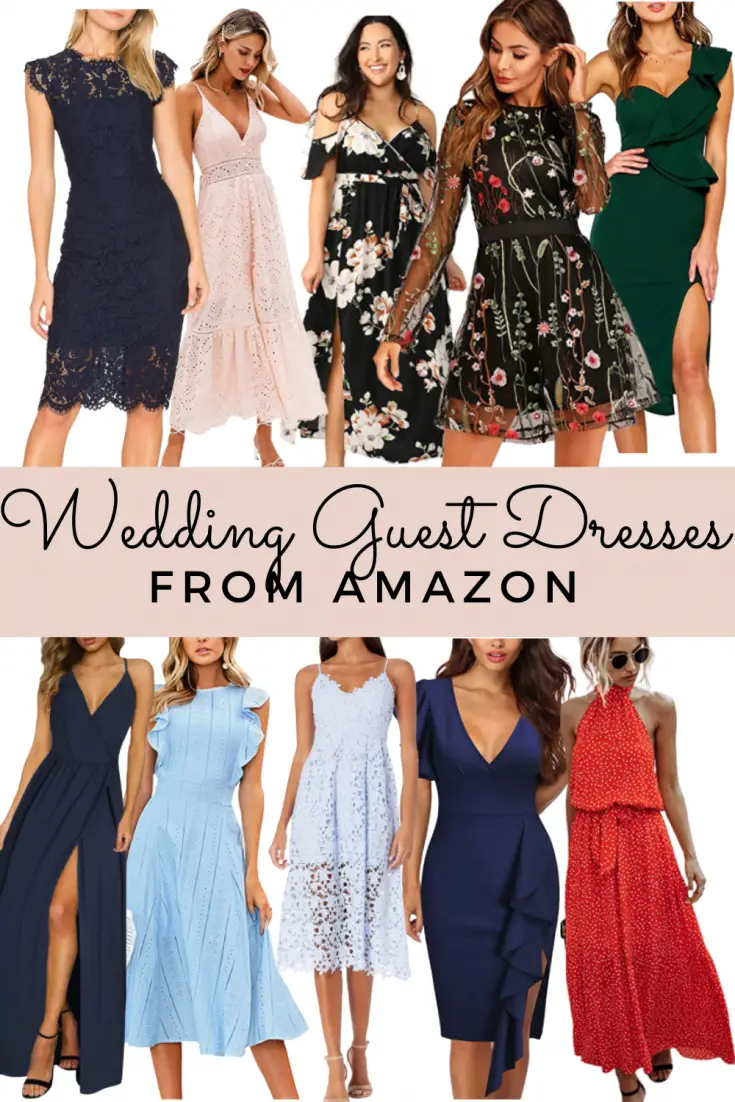 Many Amazon dresses are pretty affordable and if you're in a pinch, take advantage of Prime shipping.  Make sure you read the reviews and what I've found with Amazon…size up!
Another tip with Amazon is to use them as a backup dress.  You never know what can happen (trust me, I know) so it's a good inexpensive option.
Keep in mind the venue when deciding what to wear to your next wedding.  There's a difference between a church ceremony, an outdoor venue and a barn.  If your dress has spaghetti straps or is strapless for example, you may want to wear a shawl if the wedding will be held in a church.  Check with the bride or bridal party if you're unsure.
Amazon dress ideas
(scroll to see more)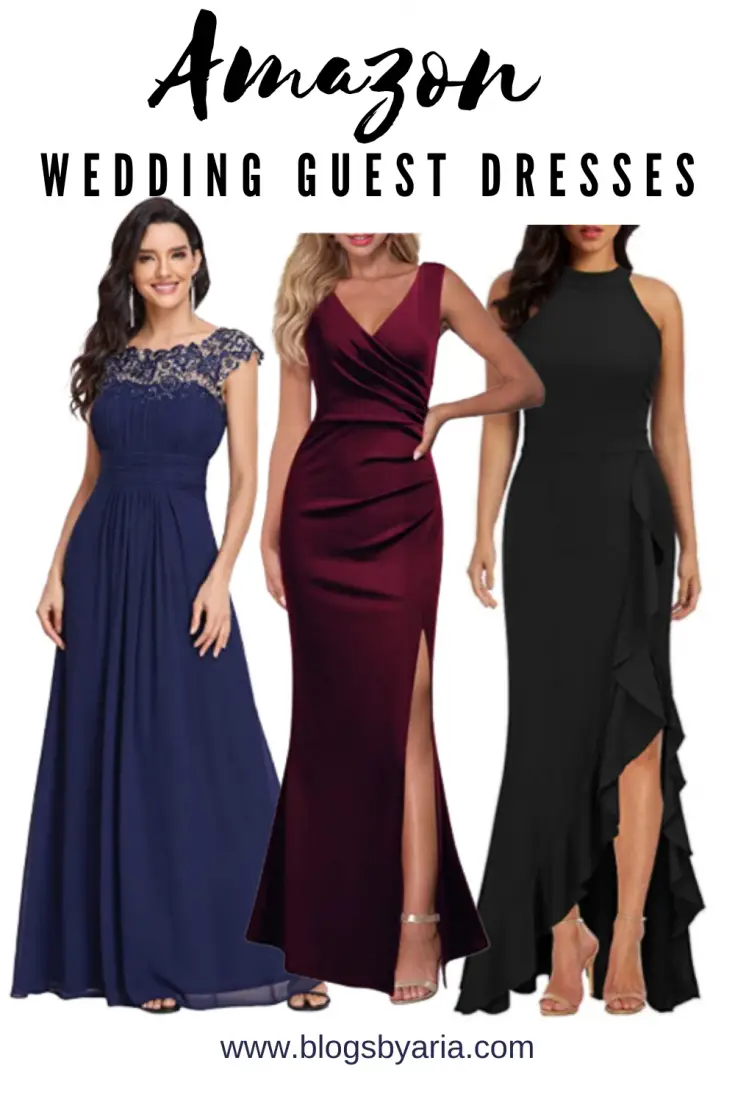 FORMAL AMAZON DRESSES
(swipe to see more)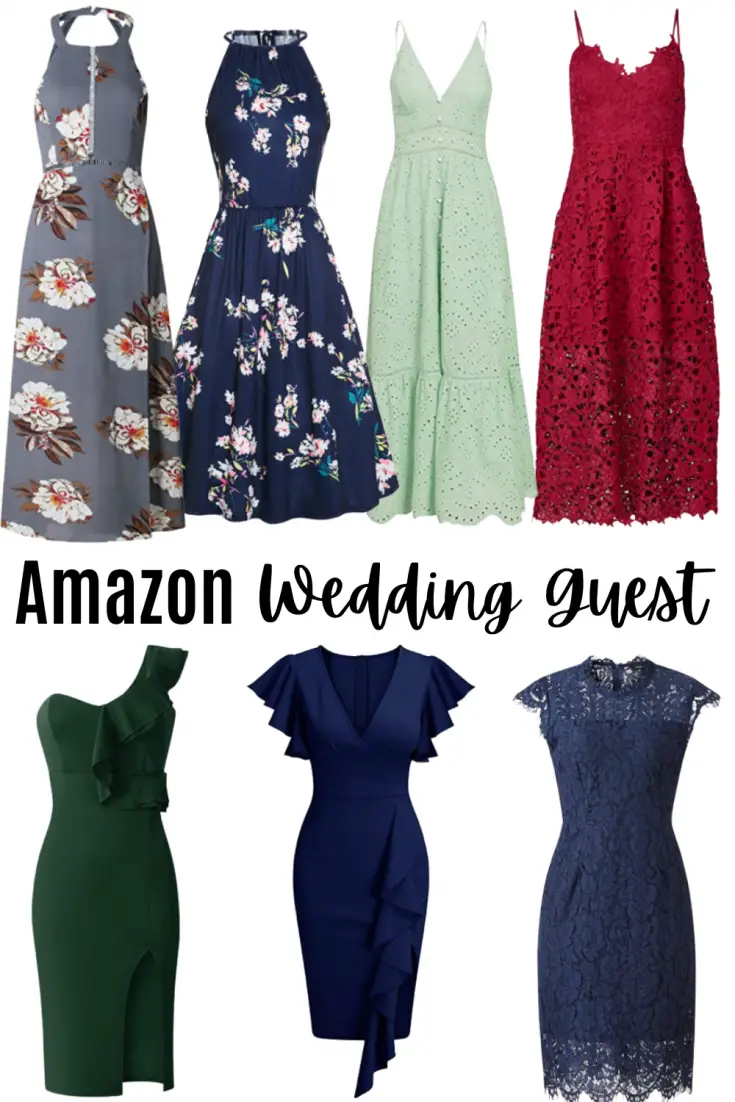 I love lace dresses (not in white) to wear to a wedding.  Or a solid hue dress that has something that makes it special, like ruffle sleeves.
AMAZON WEDDING GUEST OPTIONS
(scroll to see more)

PLUS SIZE WEDDING GUEST DRESSES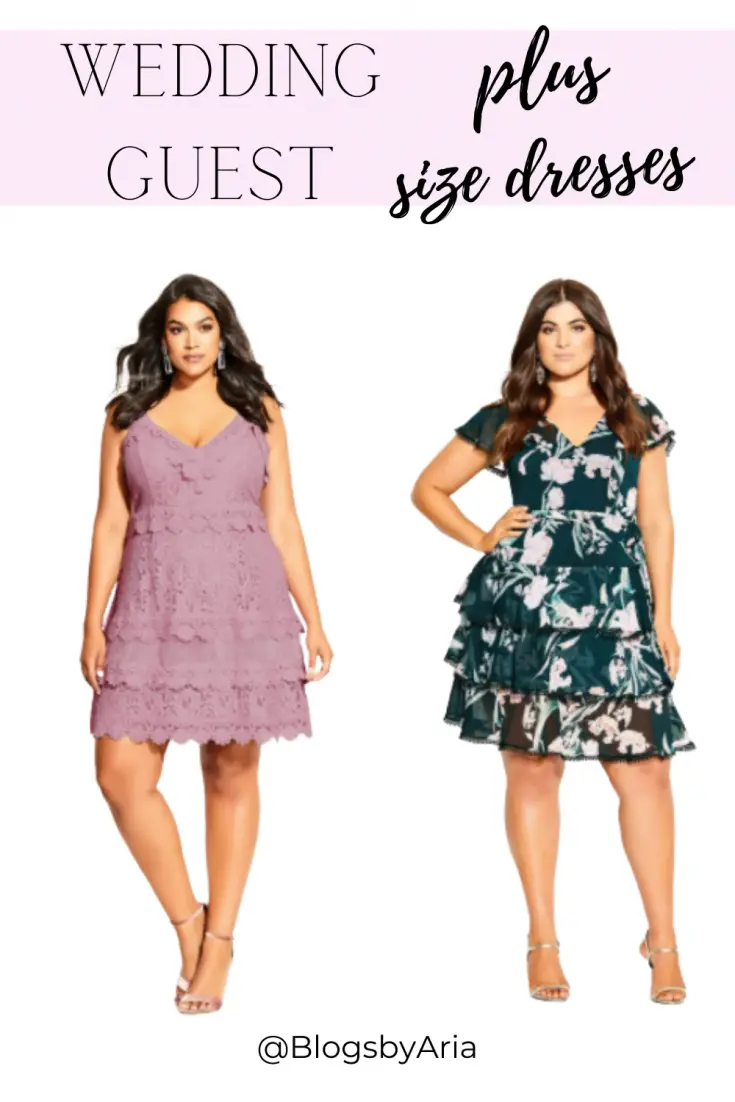 I'm on my weight loss journey right now.  If there's more of you to love, you can still feel good and look good at your next wedding event.  I've found a handful of nice dresses for plus sizes that still give you shape and enhance your curves, not just cover them up.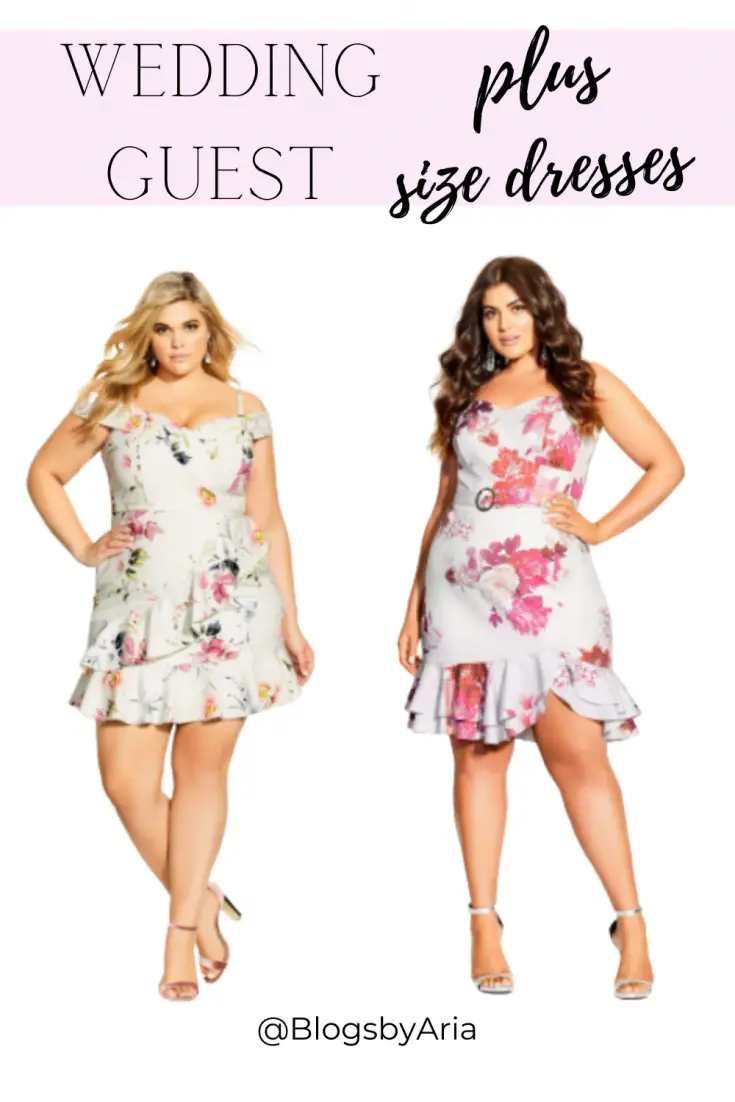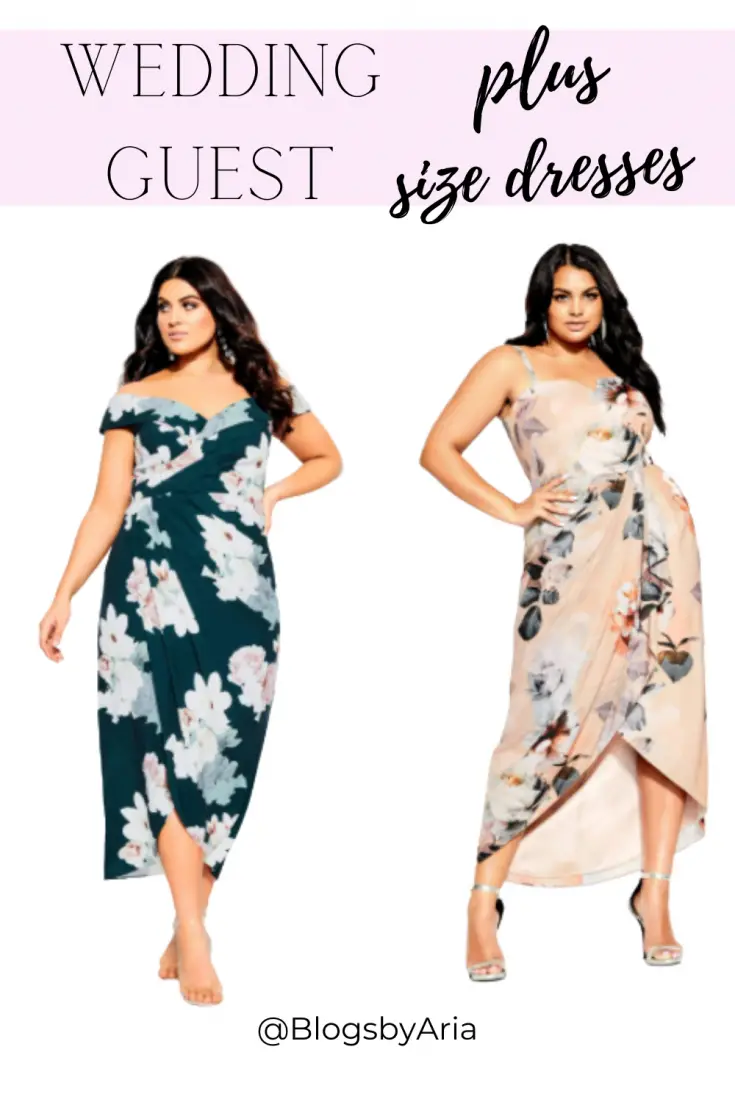 When I saw these jumpsuits I fell in love!  Yes, you can wear a dressy jumpsuit to a non-formal wedding!
I've rounded up all of these super cute plus size wedding guest dress ideas for you below!  Some of the styles I'm sharing from different stores in case they don't have your size at one site.
PLUS SIZE WEDDING GUEST DRESS IDEAS
(scroll to see more)

SEMI-FORMAL AND DRESSY CASUAL DRESS IDEAS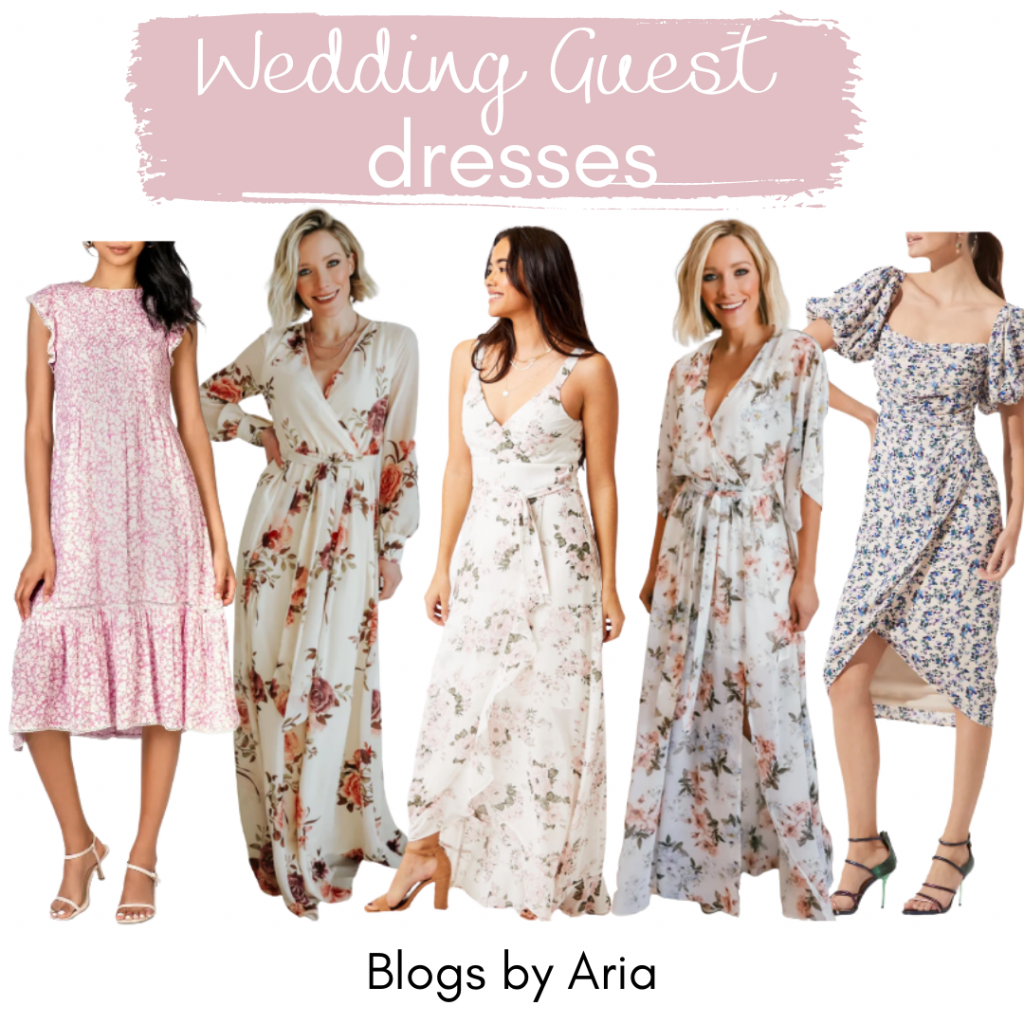 If you're attending a wedding and it's not clear if it's a formal affair, then you want to go dressy casual or semi-formal.  Don't take the term casual too seriously here.  You definitely want to go more dressy, but not formal.  These options of maxi dresses and flowy dresses are the way to go.
I think it's okay to wear white if and only if, it's the background to a floral dress (my opinion).  These are perfect options for Spring and Summer.
There's a few more dresses I'm sharing in the round up below…
DRESSY CASUAL STYLES
(scroll to see more)

When you're looking for the perfect dress to wear to attend a wedding, keep in mind that you want to find something that you're comfortable in and would want to wear again.  Don't go too trendy.  I say stick with classic silhouettes but make it fun!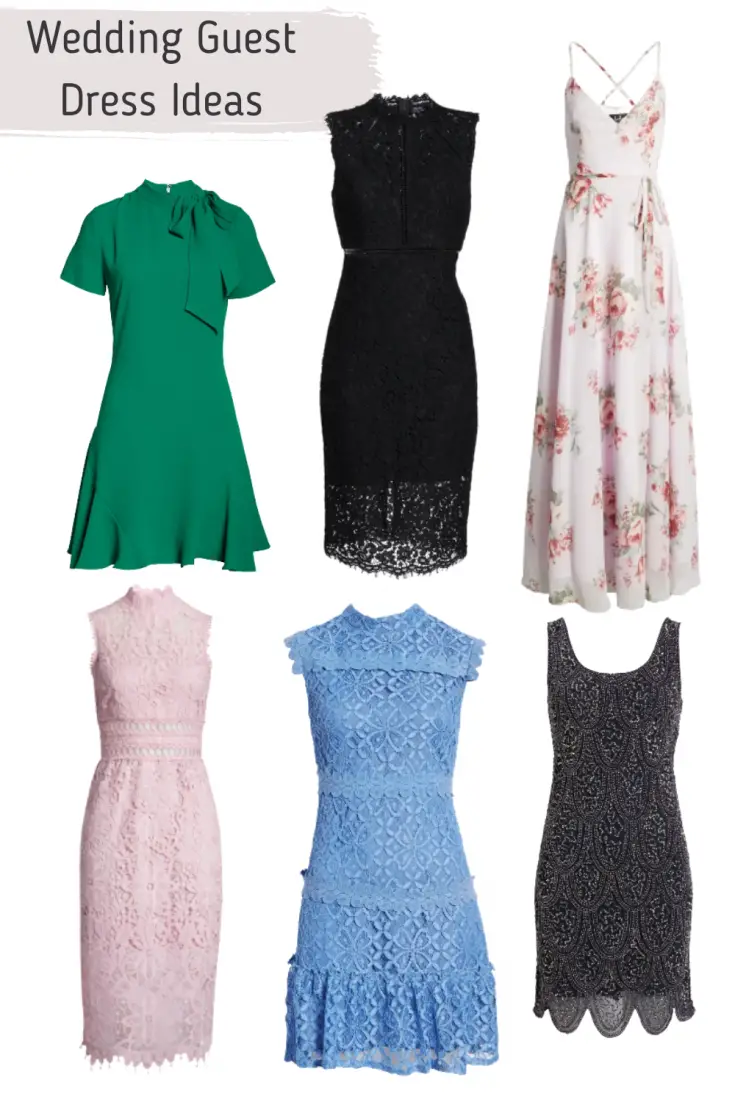 SEMI-FORMAL DRESSES
(scroll to see more)

FORMAL WEDDING GUEST DRESS IDEAS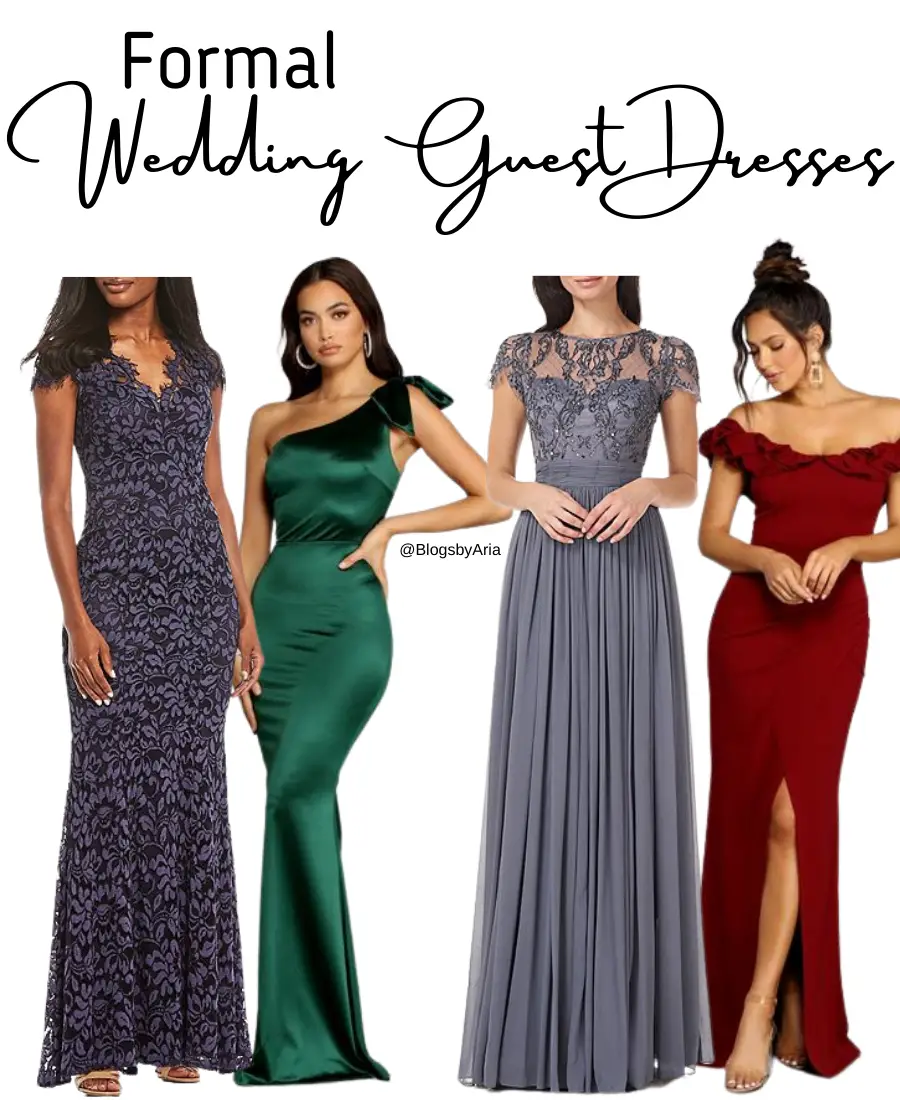 When it comes to a more formal affair, a full length gown is the way to go.  Prices are likely going to be higher so it will certainly be an investment piece.  Hopefully you can wear the formal dress again in the future, if not, you can always sell it and get most, if not all of your money back.
Dressing up on this level is so much fun though!  Especially after this past year, this is the complete opposite from yoga pants and athleisure right 🙂
BEAUTIFUL FORMAL DRESSES
(scroll to see more)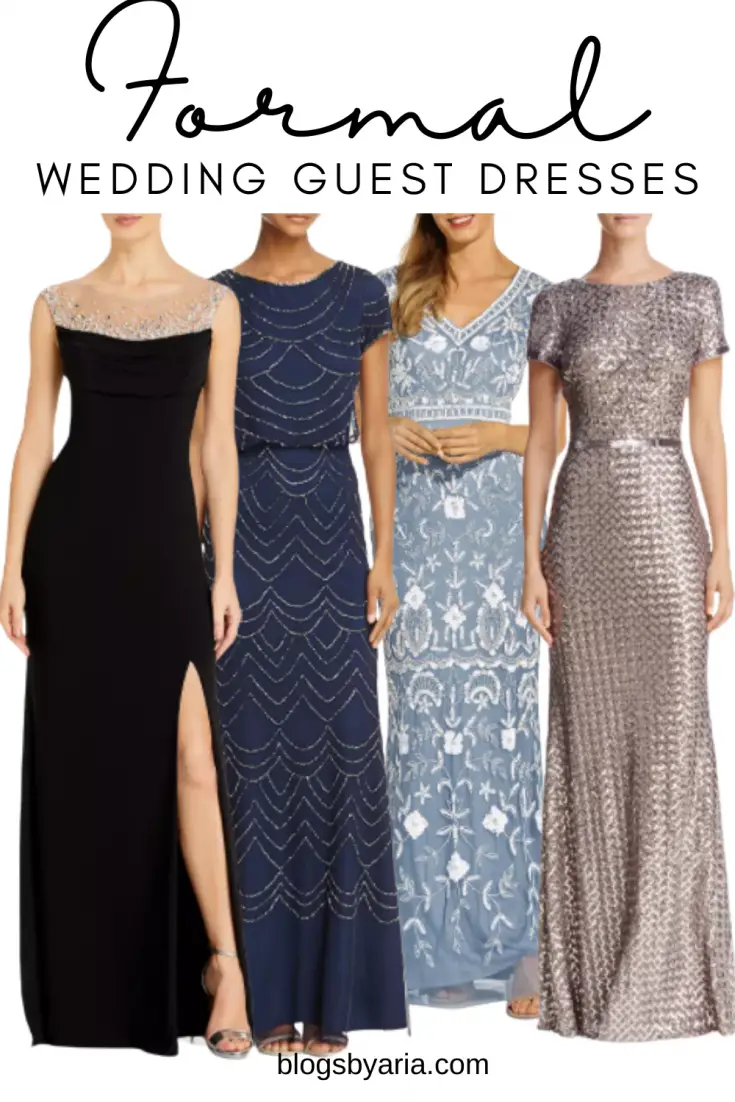 There is a rule of thumb that says the more formal the dress code, the less skin you should show.  These are a few formal gowns that are floor length.  A white-tie or black-tie gown shouldn't show your ankles did you know that?  Most of us won't attend a white-tie even (like a White House dinner or meeting the Queen) but if you're attending a black-tie wedding, these options work perfectly!
BLACK TIE FORMAL DRESSES
(scroll to see more)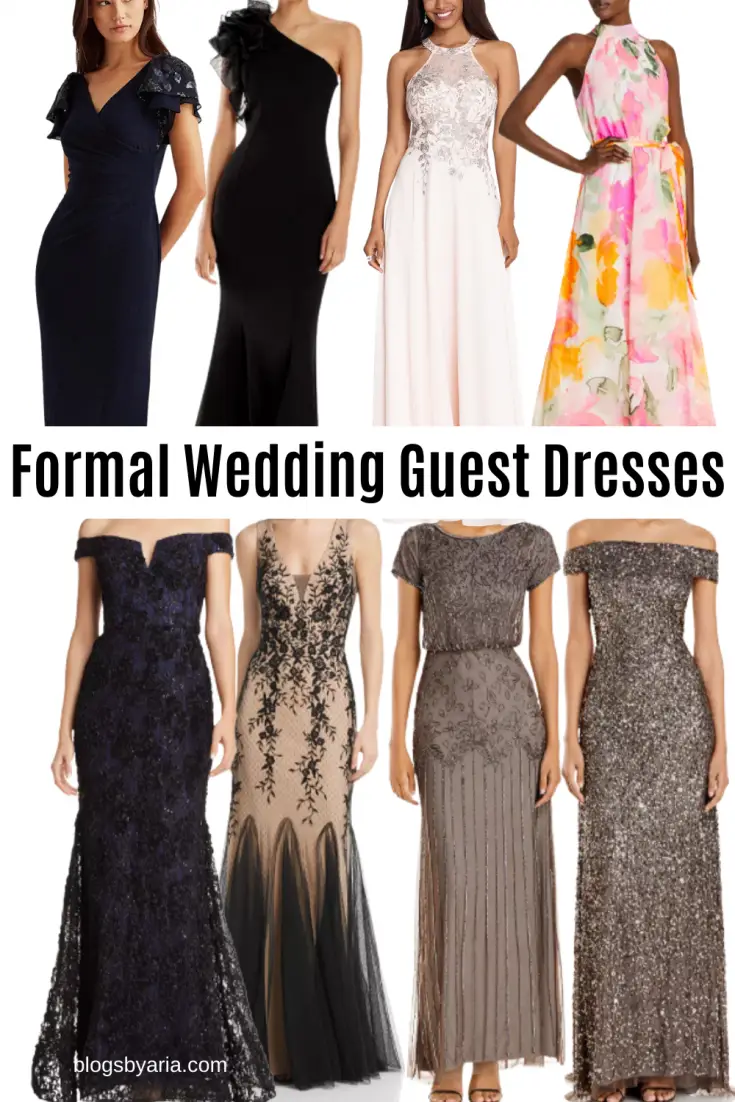 These are some elegant dresses to wear as a wedding guest.  Use the venue, the time of day  and the season to guide you on what type of formal gown is the best for you.  For example, the floral halter gown in this collage is beautiful but may not fit in with a formal evening wedding.
FORMAL WEDDING GUEST LOOKS
(scroll to see more)

COCKTAIL DRESS IDEAS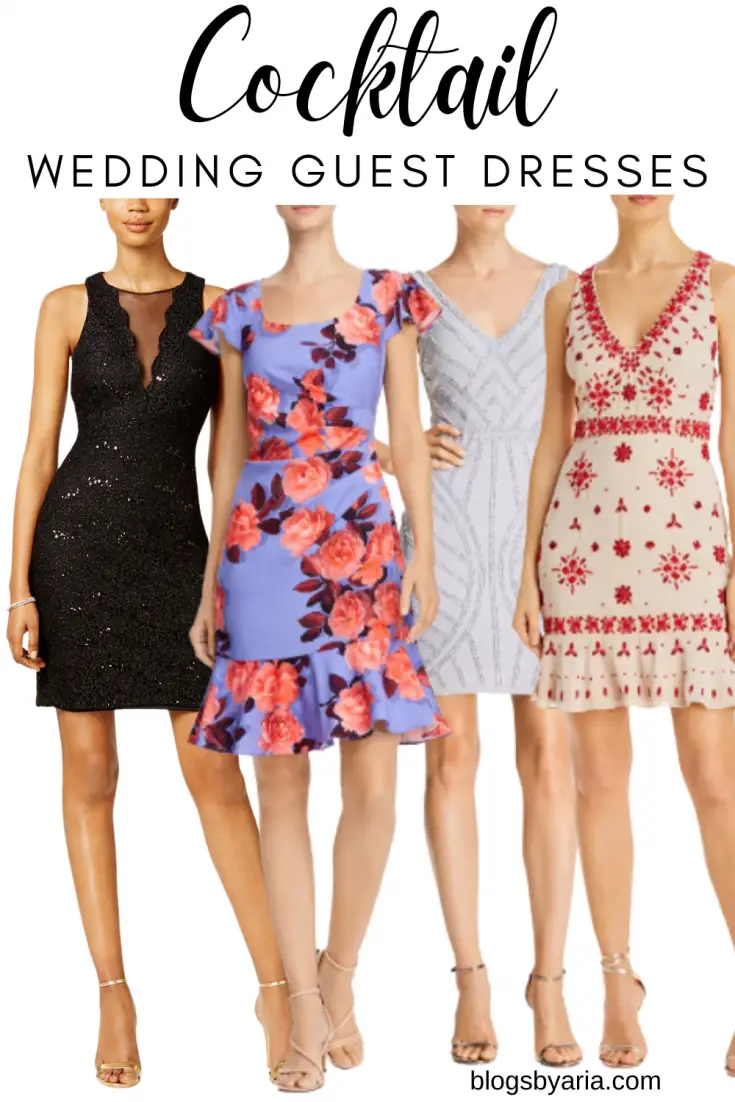 Last but not least, the cocktail dress!  A cocktail dress can be more dressy and formal or more casual.  Let me be clear though…a cocktail dress is not the same as a dress for the club!  Keep it classy.  It's a wedding after all.
A cocktail dress is also a great option if the invitation reads "black tie optional".
CUTE COCKTAIL DRESSES
(scroll to see more)

MATERNITY WEDDING GUEST DRESSES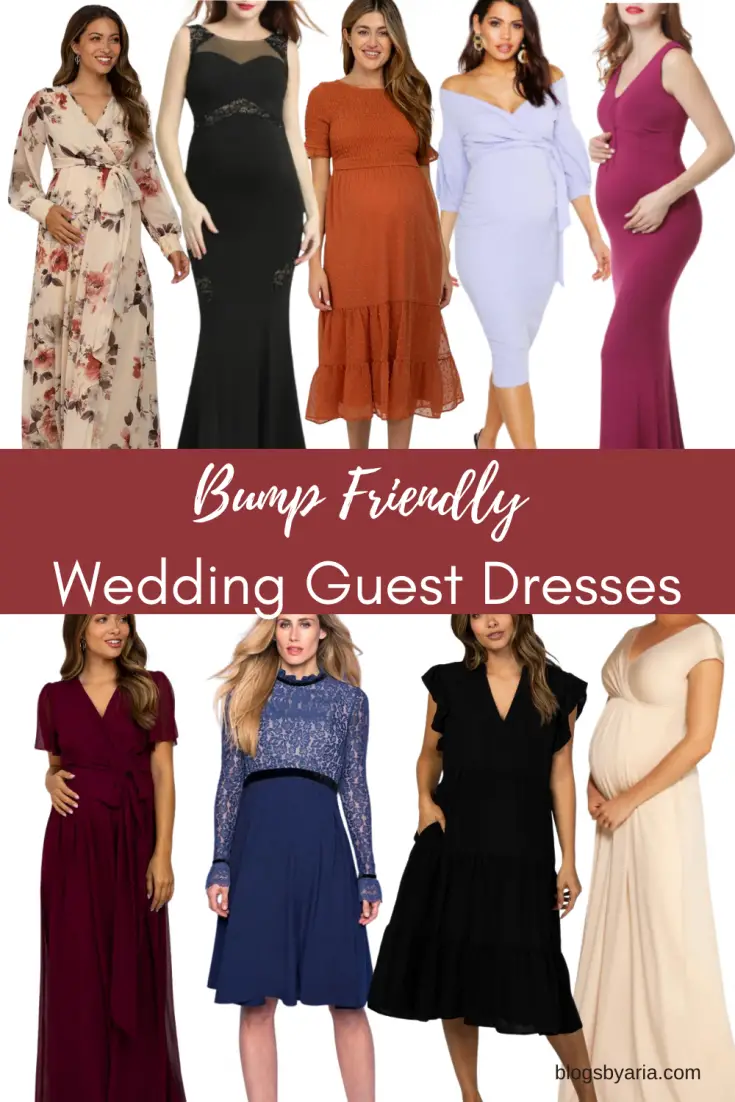 I don't want to leave out expecting or post partum mamas!  Talk about a challenge to find the perfect dress to attend a wedding.  You want room for your changing body but you still want to look pulled together to meet the dress code.  A couple of these dresses are nursing friendly which is a bonus.
BUMP FRIENDLY DRESS IDEAS
(scroll to see more)

I've already purchased my dress that I'll be wearing.  Fingers crossed that it fits, as I've already sent one back.  For me personally, I was looking for a dress that was in the semi-formal/cocktail category.  Based on the location, I know it's probably going to be quite hot and humid and didn't want to wear a formal gown.  Plus, I wanted to wear a regular bra and not have to go with a strapless option.  Don't worry, I'll share the pictures with you 🙂
Are you attending a wedding soon?  With so many weddings getting pushed back from 2020, the 2021-2022 wedding season is going to be full!  I hope you found some ideas that can work for the next wedding you're attending 🙂
MORE WEDDING GUEST DRESS OPTIONS
Here are a few more wedding guest dress options I have linked on my LTK.  Click on the link below each image to see the sources.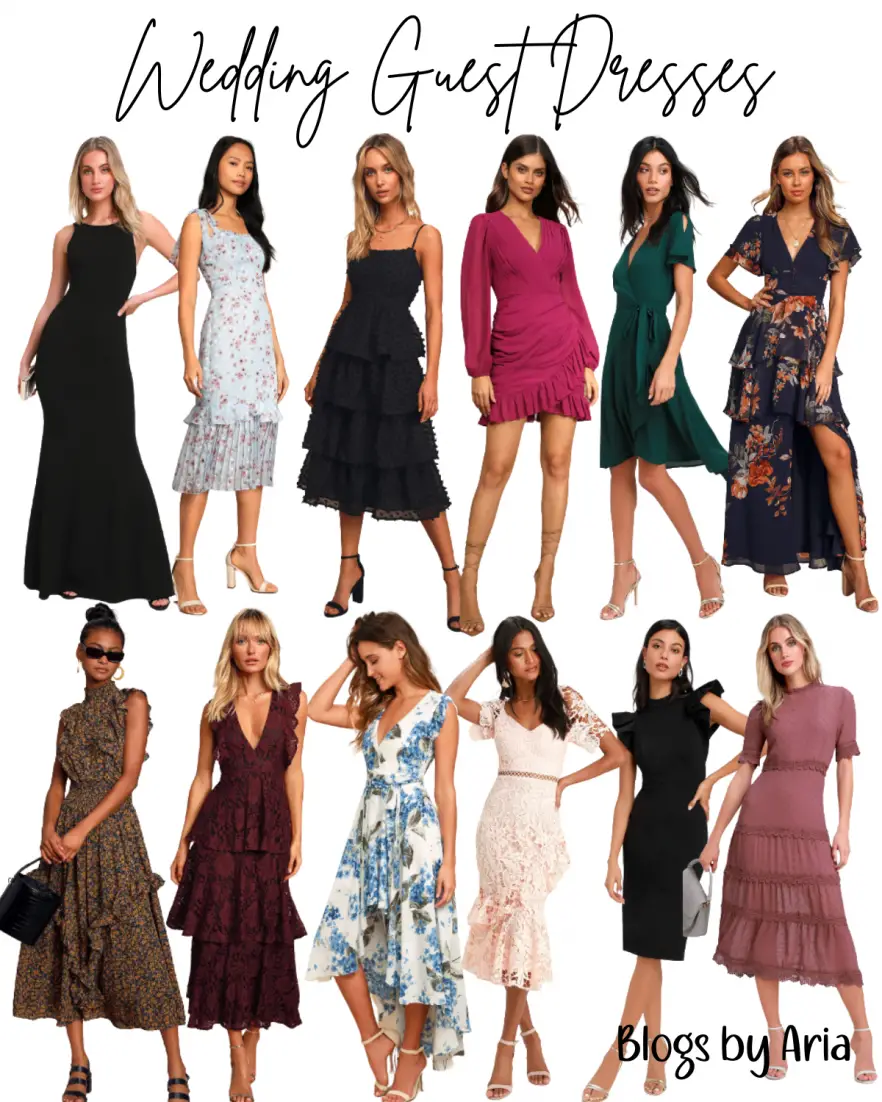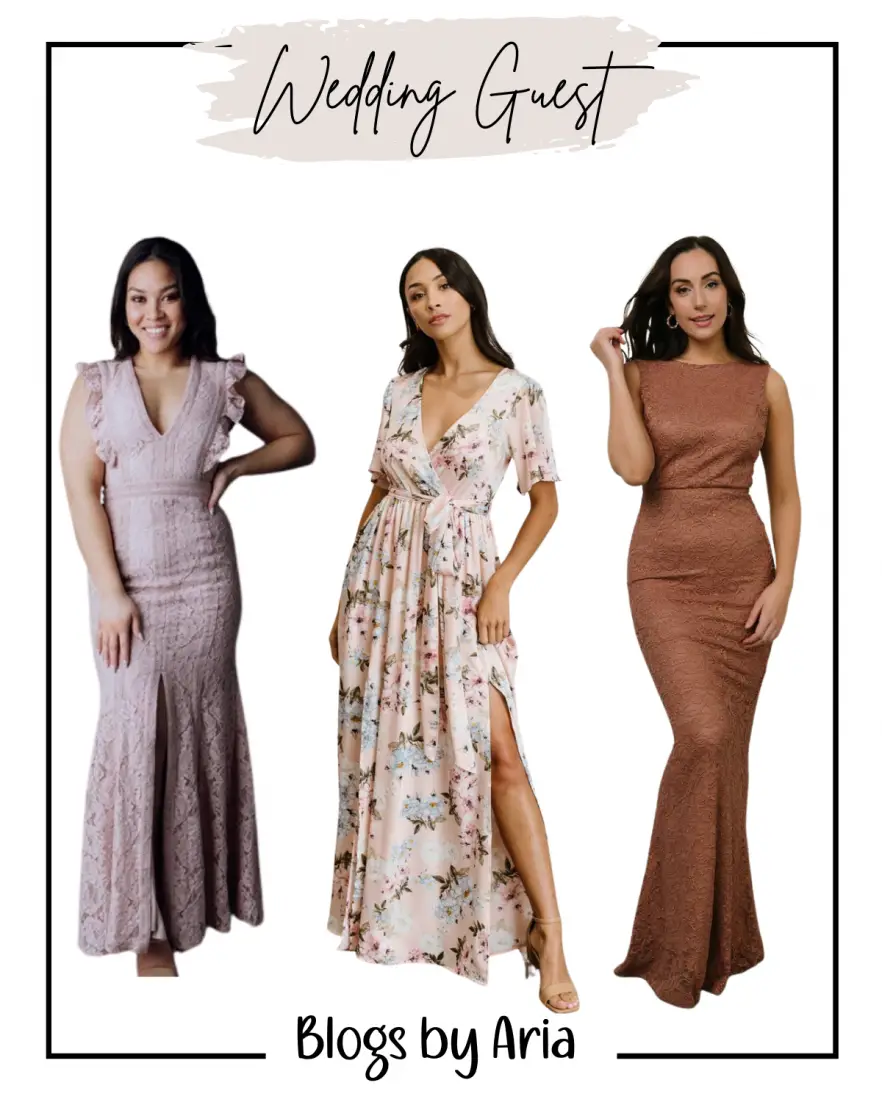 full length wedding guest dresses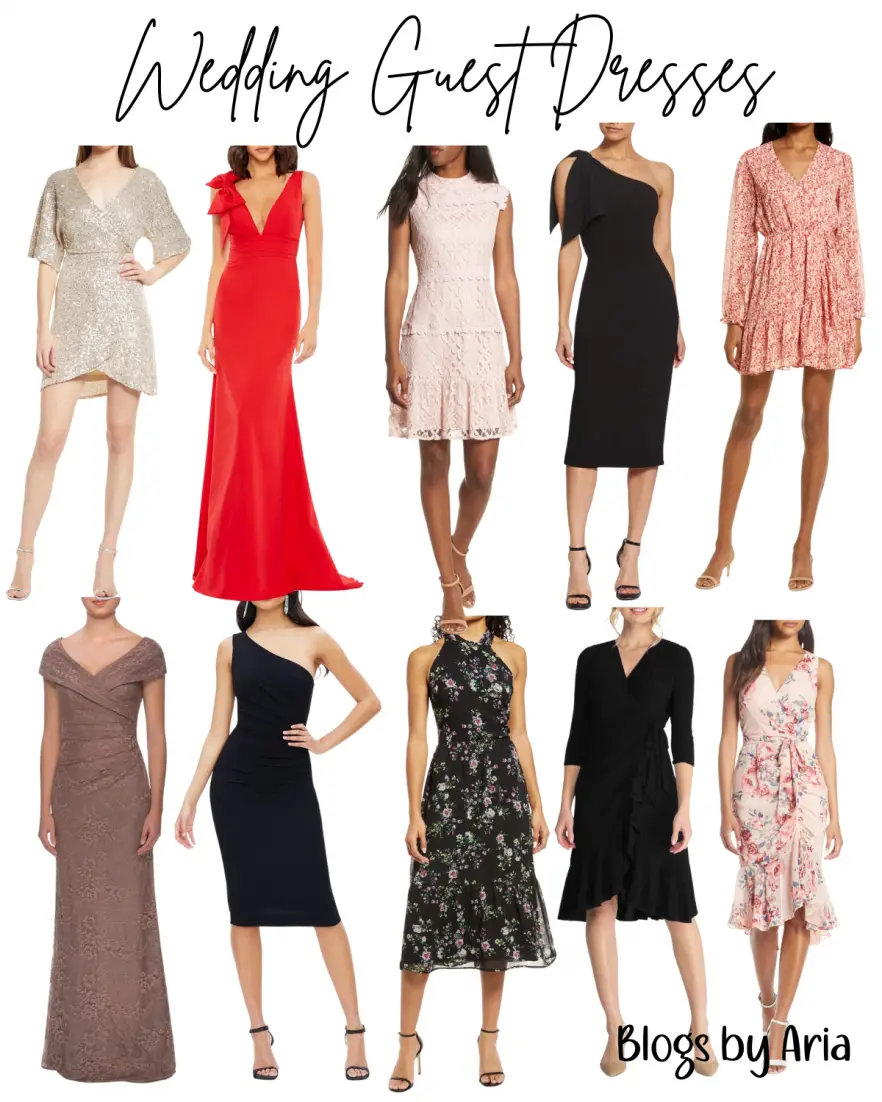 More dresses to wear to a wedding