Happy August!  As crazy as it is to be in August, it's also time to start thinking of back to school.  My kids go back to school later this month and it will be here before we know it!  I'm looking forward to getting back into a routine.  Since the kids will be going back into the classroom (they only went the last couple of months of the school year) I realized it's time to do some back to school shopping.  I'm giving you some ideas for back to school shopping for tweens and teens today.  Because it's not as simple as it was back when they were smaller!
Over the past couple of weekends I've been doing some back to school shopping.  If you know me, you know that when I find a good deal I like to share it!  I try to share as many deals as I can on both my Like to Know it app and my private  Facebook group.  Sometimes I share them in my weekly newsletter too.
*this post includes affiliate links for your shopping convenience, you can read more about affiliate links by reading my Disclosure*
BOOKBAGS FOR SCHOOL
Last year of course we didn't get new bookbags.  This year the kids are carrying Chromebooks in their bookbags so I wanted to get them new ones that offered a good amount of padding for protection.
Shopping for bookbags for tweens and teens is different than shopping for younger kids.  Those days were much easier!  Now not only am I looking for a backpack that they like aesthetically, I'm also looking for certain features and functions.
Extra padding like I mentioned before, as well as lots of functional pockets and good padded straps.  Last year, when the kids did finally get back to school they mostly carried their Chromebooks.  This year I'm sure they'll be carrying a bit more, but hopefully not as much as they needed before the pandemic, with all of their notebooks and textbooks.
We found a great deal at Macy's for bookbags and ended up picking up this High Sierra swerve pro option for Jordan.  We're still on the hunt for the right backpack for my daughter, who of course, because she's a teenager  wanted really expensive ones that weren't very functional.
Swipe to shop bookbags on sale

Aren't all of these backpacks the cutest?  She doesn't want any of them.  Teenagers I tell you.  They're such great deals right now though, so I still wanted to share them with you.
Swipe to shop backpacks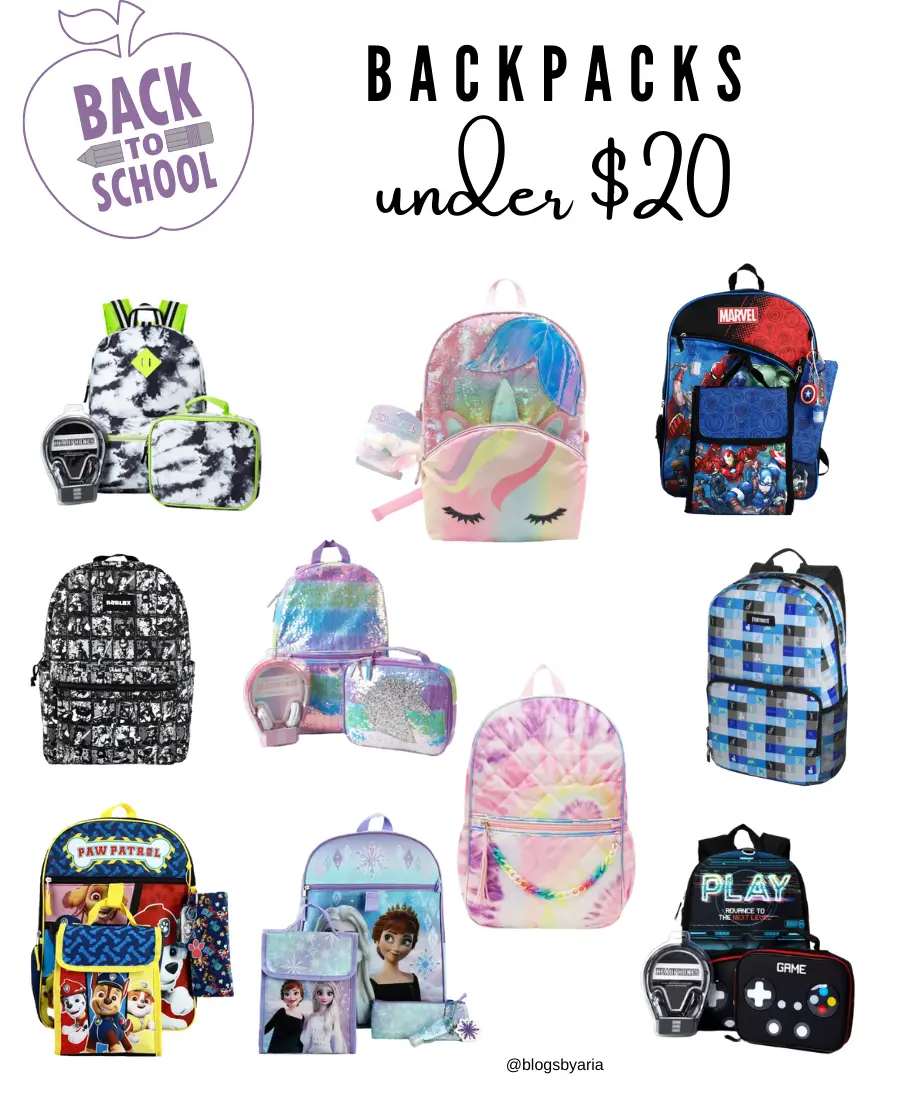 Of course I had to share some of these cute character bookbags for younger kids.  I miss those days of buying back to school supplies in my kids favorite characters!  They're such a great value, especially those that come with a lunch bag!
Swipe for character backpacks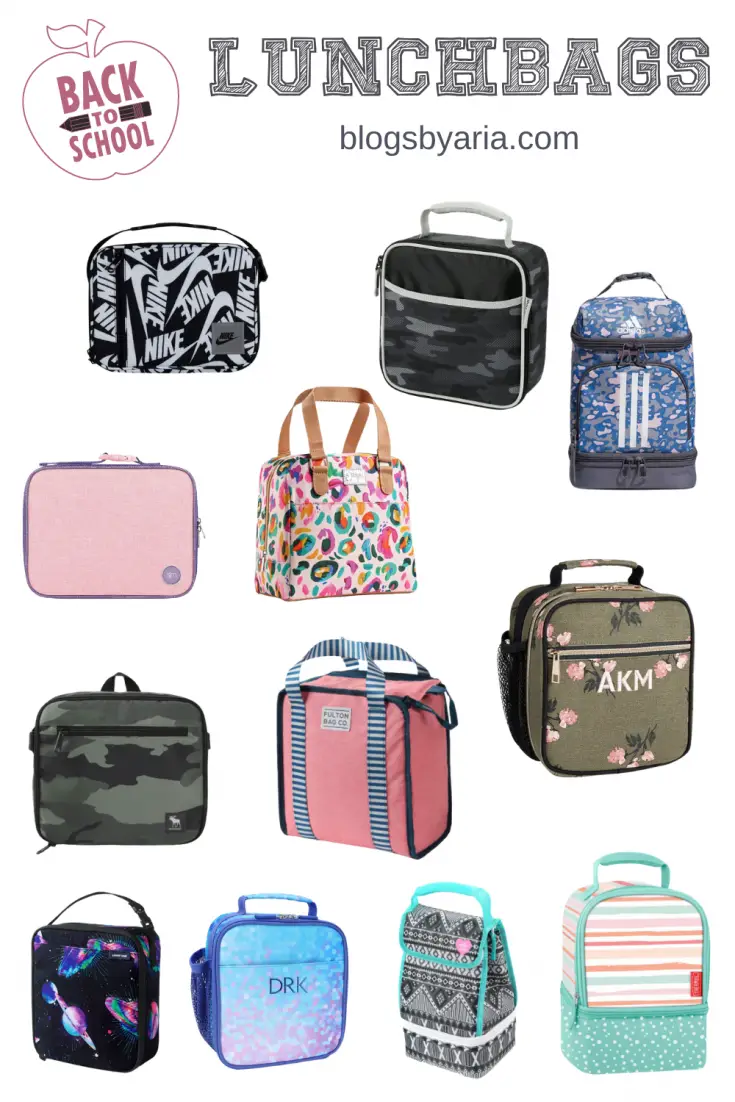 Speaking of lunch bags, Jordan picked this Nike lunch bag out when we were at Kohl's.  The one he had has definitely seen better days.  I only need the one because Jordan likes to take his lunch to school and Brianna doesn't.
Swipe for lunch bags on sale

BACK TO SCHOOL UNIFORMS
When we lived in Greenville, my kids wore school uniforms.  Now that we live in Raleigh, their schools don't require uniforms.  In Greenville it was a county decision that all of the schools wore uniforms.  As a parent I didn't mind that so much.  There are definitely pros and cons to the whole uniform situation.
Because I know there are many public and private schools that require school uniforms I thought I'd share some options with you.  Old Navy and JCPenney were my number one places to shop for affordable and durable school uniforms for my kids.
We loved Old Navy's uniform pants the most for my son because of their reinforced knees and adjustable waists.  The Children's Place is another option for young kids too because of their low prices.
Swipe for boys school uniforms

Swipe for girls school uniforms

Now is the time that I would stock up on school uniforms because of the great sales before the school year.  It's inevitable that either your child will outgrow some of them before the year is over or that, depending on their age, they may wear them out.
In my many years of buying school uniforms, the good deals are before the school year starts and not when you need to size up in the Spring.
BACK TO SCHOOL CLOTHES SHOPPING
With my kids being older they are very much against taking pictures!  So I can't show you some of the clothes I've picked up for them being worn unfortunately.  But I still wanted to share a few ideas for back to school looks and outfits.
For Jordan he likes mostly athletic wear and graphic tees.  I get a lot of his clothes from Kohl's, Old Navy and any store that sells Nike.  He's pretty easy to please.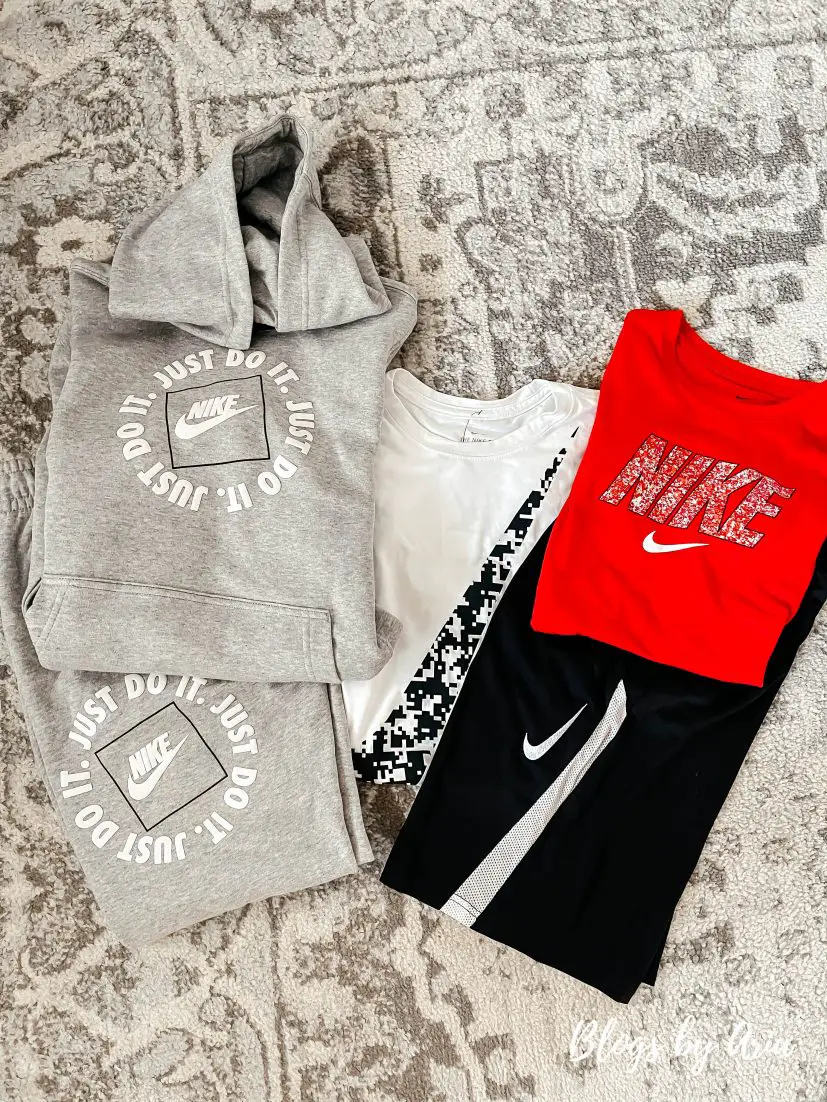 Nike Just do it hoodie | Just do it pants | Nike Dri-Fit printed swoosh tee | Nike Dri-Fit trophy tee | Nike training shorts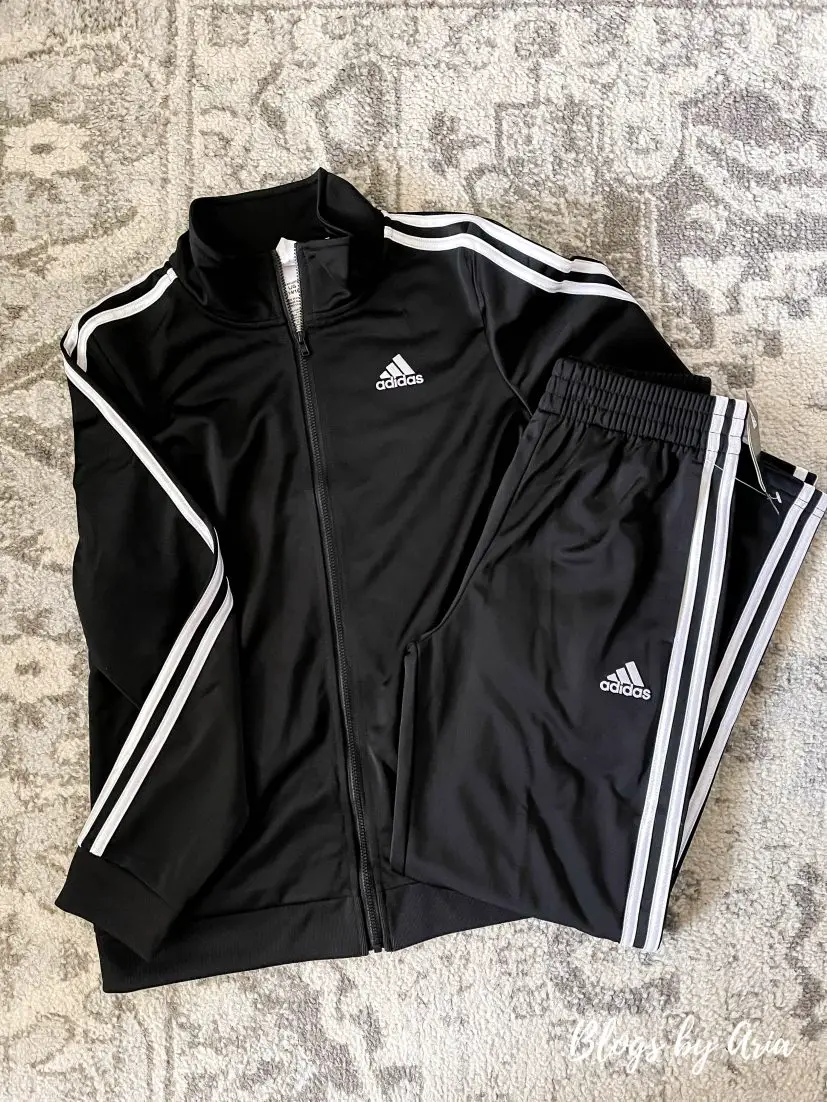 Adidas Iconic Tricot Jacket | Adidas Essential Track pants
Now that he's in the middle of middle school (hello 7th grade!) I wanted to take him with me to Kohl's so I can get an idea of what he's into these days.  I already knew he loves Nike, but apparently he likes Adidas too.  I also ordered this Jordan Jumpman long sleeve graphic tee and speckle Jumpan sweatpants from the Nordstrom Anniversary Sale too.
It used to be easy to get him some simple graphic tees that related to football or basketball.  And for the most part it still is.  Sadly the days of being able to stock up at The Children's Place are behind us.  A moment of silence to mourn those easy and affordable days.
Some of their sports themed shirts I'm able to sneak in but let's face it, he's a tween and it's all about the name brands now.  Another moment of silence for my wallet too please.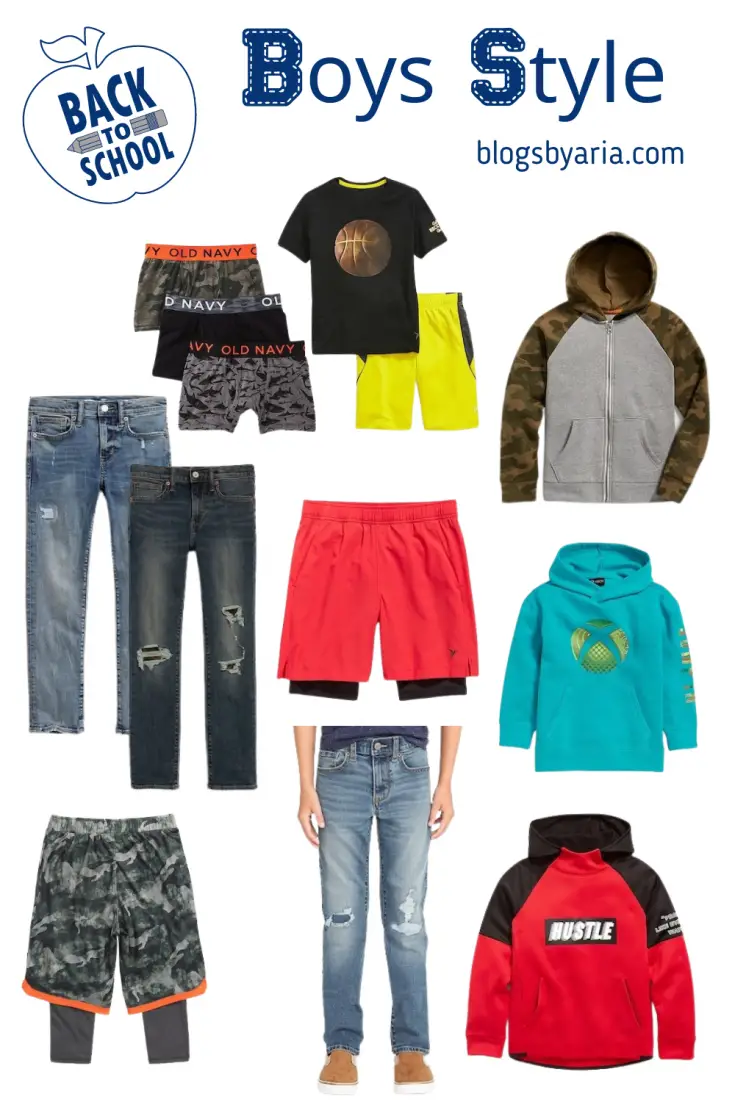 One thing I can't go wrong with when it comes to shopping at Old Navy for Jordan is their Karate jeans.  Of course the Karate jeans aren't the least expensive options, but they are the ones that work for him.  If he had his way he would just wear joggers or basketball pants all day every day.  What we like about the Karate jeans are not only are they very durable but they have a good amount of stretch in them too.
If your son is like mine and doesn't like the confining feeling of regular denim jeans, give the Karate jeans a try.  Very rarely will I pay full price for them, I usually will wait for them to go half off or at least 30% off.
Swipe to see boys style picks

Another go to for my son is camo anything!  We try not to overdo it but if it's camo he'll wear it.  And like I said before, he loves joggers.  Both he and my husband like the dynamic fleece line at Old Navy.
Graphic tees in a character or show your son likes is always a good idea.  He loves Naruto and for so long it wasn't mainstream enough to find in regular stores, especially in youth sizes.  Now I can find them here and there and when I do I grab them up.
Swipe to see tween boy style picks

TEEN GIRL OUTFIT IDEAS
I don't know about your teenager but shopping for my daughter isn't much fun.  It's actually more of a fight than anything else.  Enough with the crop tops already!!  If you're in the same boat as me, here are a few things my 16 year old will actually wear.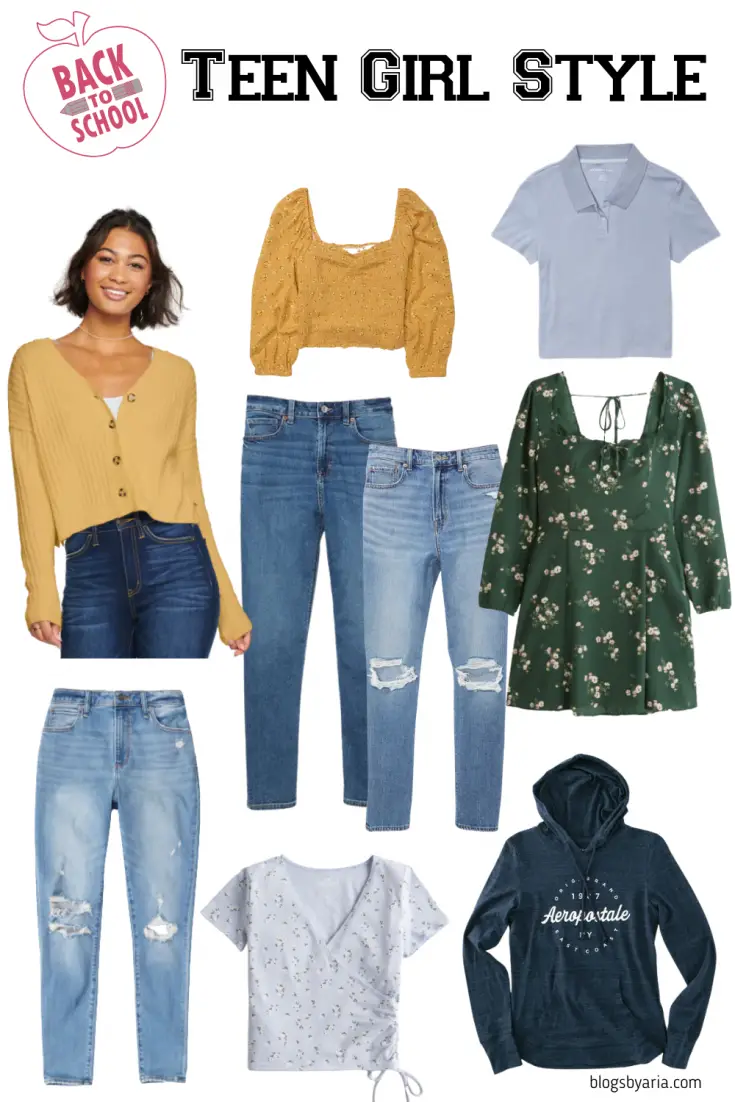 Two words: mom jeans.  I don't get the hype but she loves them.
Two more words:  crop tops.  I hate them.  She loves them.  I won't buy them.  They're not in the dress code so it's an ongoing argument for sure between us.
Here's the thing, I don't mind a standard crop top, because frankly it's hard to find normal length shirts these days.  Paired with high waist jeans, which is what she wears, I'm okay with that.  It's the super crop shirts that I am against.  Moms is this an issue in your home as well?  It's always something right?
Swipe for teen girl approved picks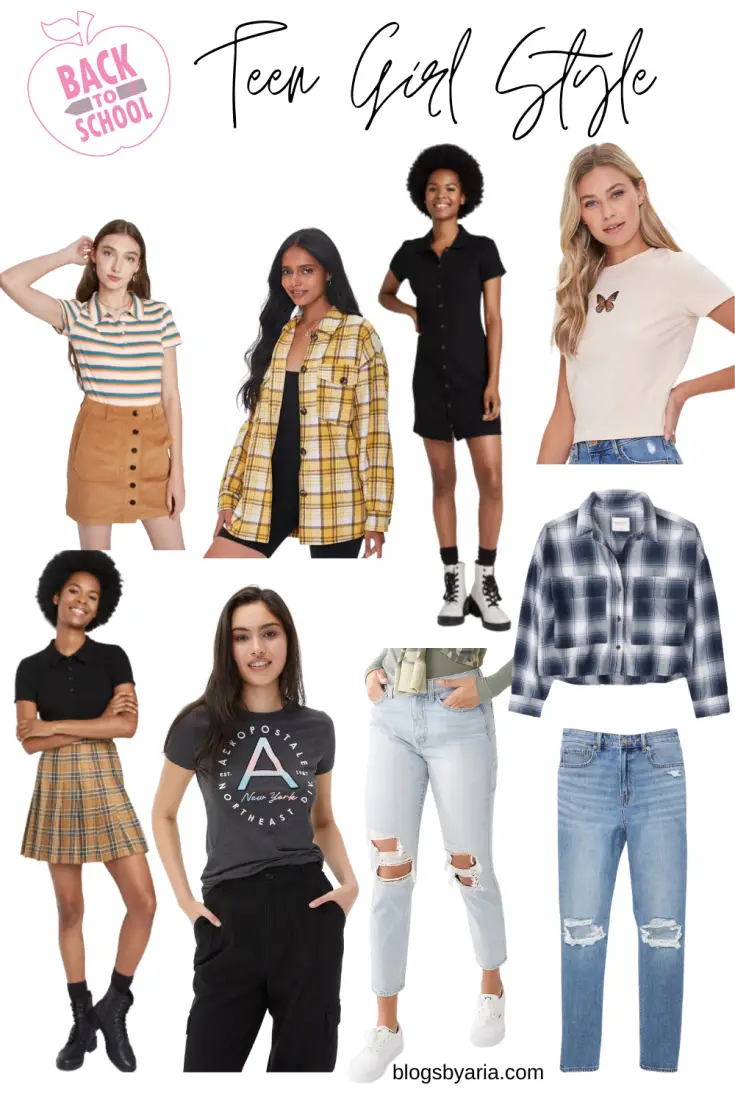 My teen daughter also likes tennis skirts, shackets and dresses which are all pretty popular right now.  For jeans we shop at American Eagle, Abercrombie and Kohl's for the most part.  We've had a lot of success with the Wild Flower line at Target too.  Although sometimes their shirts are cropped too short for me to be okay with, they do have cute dresses.
Swipe for teenager outfit ideas

BACK TO SCHOOL SHOE SHOPPING
Adidas D Rose 773 2020 kids basketball shoes  | Nike court borough mid 2 grade school shoes
We got two pairs of sneakers for Jordan at Kohl's at pretty good prices.  I usually stay out of the shoe conversation with him and leave that to his dad.  But I was pleasantly surprised to find some at Kohl's that he picked out and liked.  Usually we get his shoes from Foot Locker or Foot Action…someplace like that.
For Brianna she likes combat boots (hello 1990s) Converse and Vans for the most part.  We haven't gone shoe shopping yet but we'll be checking out Rack Room Shoes this weekend.  They always have buy one get one half price but on top of that they have an additional $15 off $99 with the code SAVENOW.
Hopefully this gave you some ideas and inspiration when shopping for back to school with your tween and teen.  Back to school shopping can definitely be a hit to your wallet and I hope that I've been able to provide you with some affordable choices that you both can agree on.  Don't forget to join my newsletter where I send out weekly deals I find.
As we're counting down the days to the first day of school I'm checking off everything on our to do list.  It's coming up so fast!  We went to get new prescriptions for their glasses, scheduled doctor's appointments and last on the list is to get their school supplies and pick up their schedules from school.
I can say that I'm ready!  I don't know about them but I am 🙂