Happy Friday!  I'll be the first one to admit that I'm not ready to start thinking about the holidays.  But ready or not, here they come!  There will be tons of supplier chain issues and shipping delays and a lot of things out of our control and retailers control.  So when it comes to decorating for the holidays this year, it's time to start thinking about it and shopping for it.  With that in mind I'm rounding up some of the Christmas decor finds I've come across over the past couple of weeks.
*this post includes affiliate links for your shopping convenience, you can read more about affiliate links by reading my Disclosure*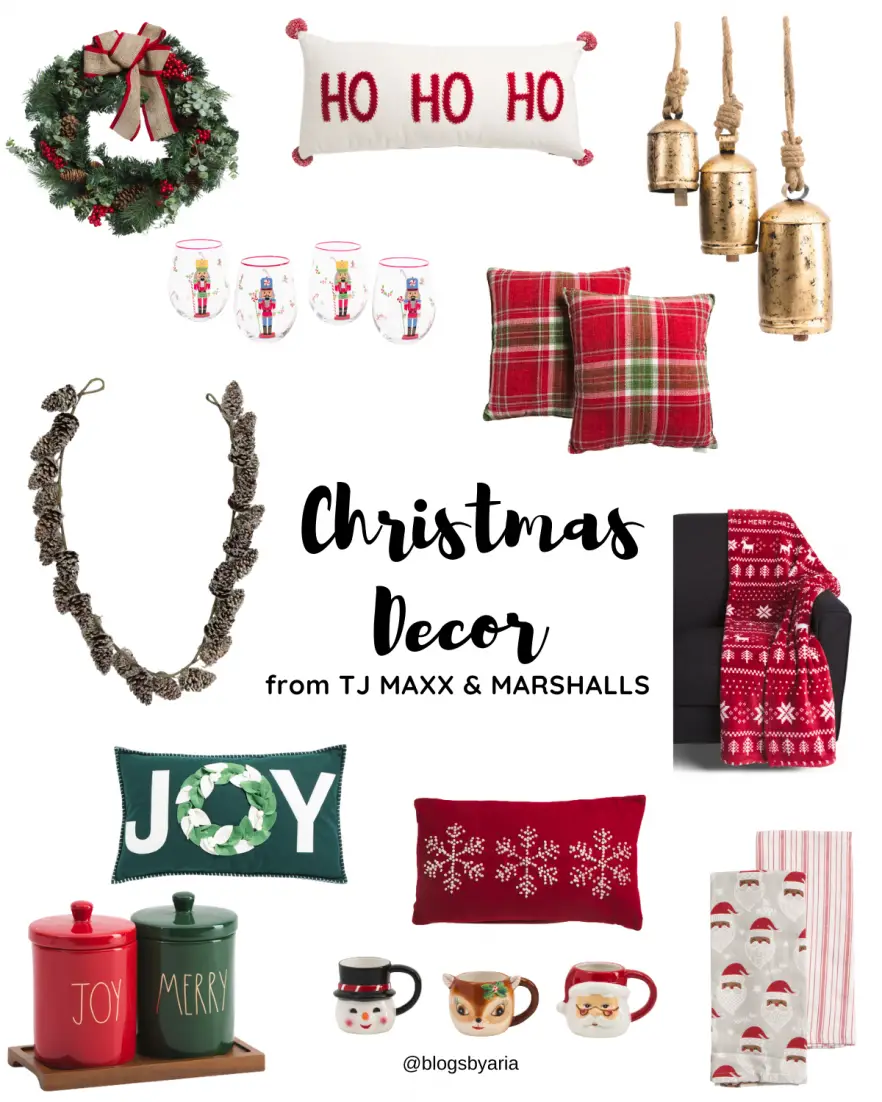 TJ MAXX & MARSHALLS CHRISTMAS DECOR FINDS

In case you didn't know, I have a major obsession with nutcrackers.  So this nutcracker stemless wineglass set is calling my name!  It may be for wine but we'd totally just use them as regular drinking glasses during the holidays.  Perfect for egg nog!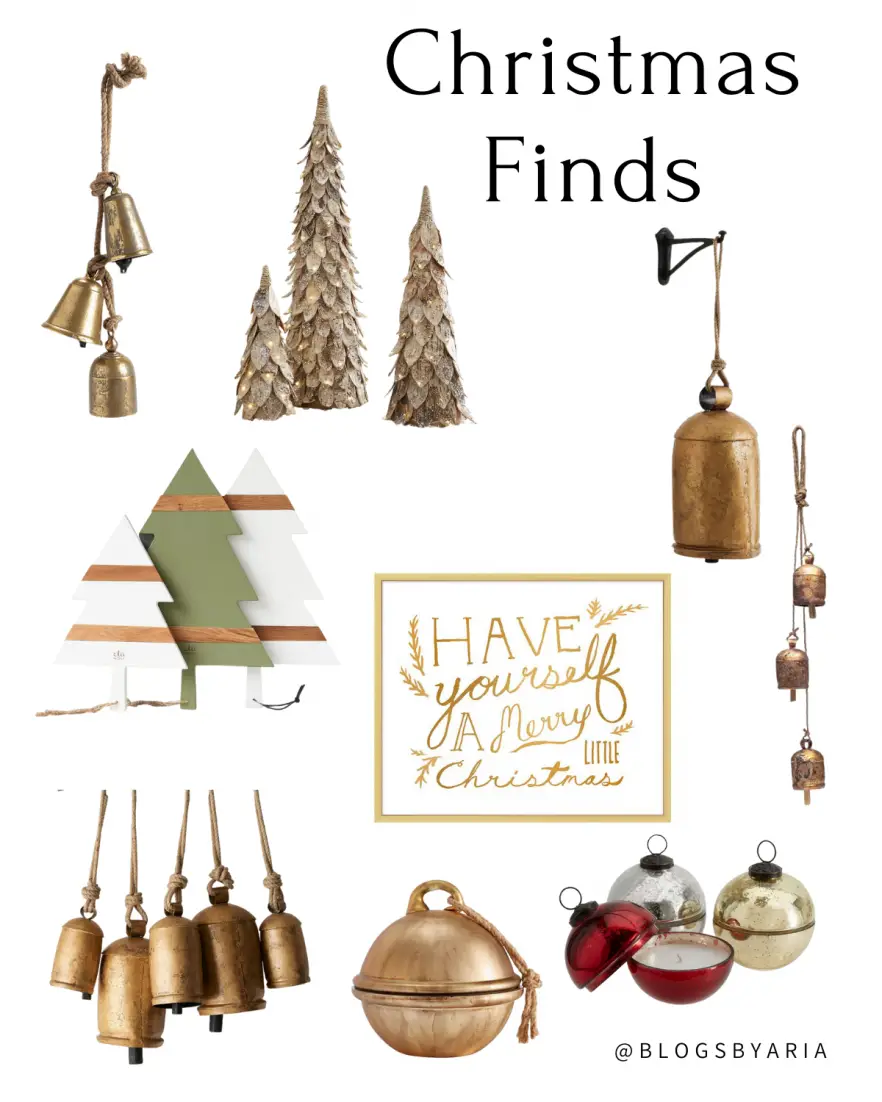 NEUTRAL CHRISTMAS FINDS

Vintage Christmas bells are very popular for holiday decorating.  You can find them in all shapes and sizes and price points.  They work well with more neutral holiday decor as well as traditional.  They're so versatile!  I really like the bell shaped candle too.  They come in two different sizes and I think they would look great as part of a coffee table centerpiece.  Plus 25% of the purchase goes to St. Jude.
Tartan Plaid and Nutcracker Christmas Living Room
I've actually found the same vintage bells I got last year from Marshalls available again this year.  They're just a small touch on my blanket ladder but I think they pack a big punch.  I'll have to think about how I plan to use them again this year because I sold my blanket ladder.  I liked it but didn't love it.  Always wished it was taller, so during the great purge of 2021 (kidding) I sold some items that I just didn't love anymore.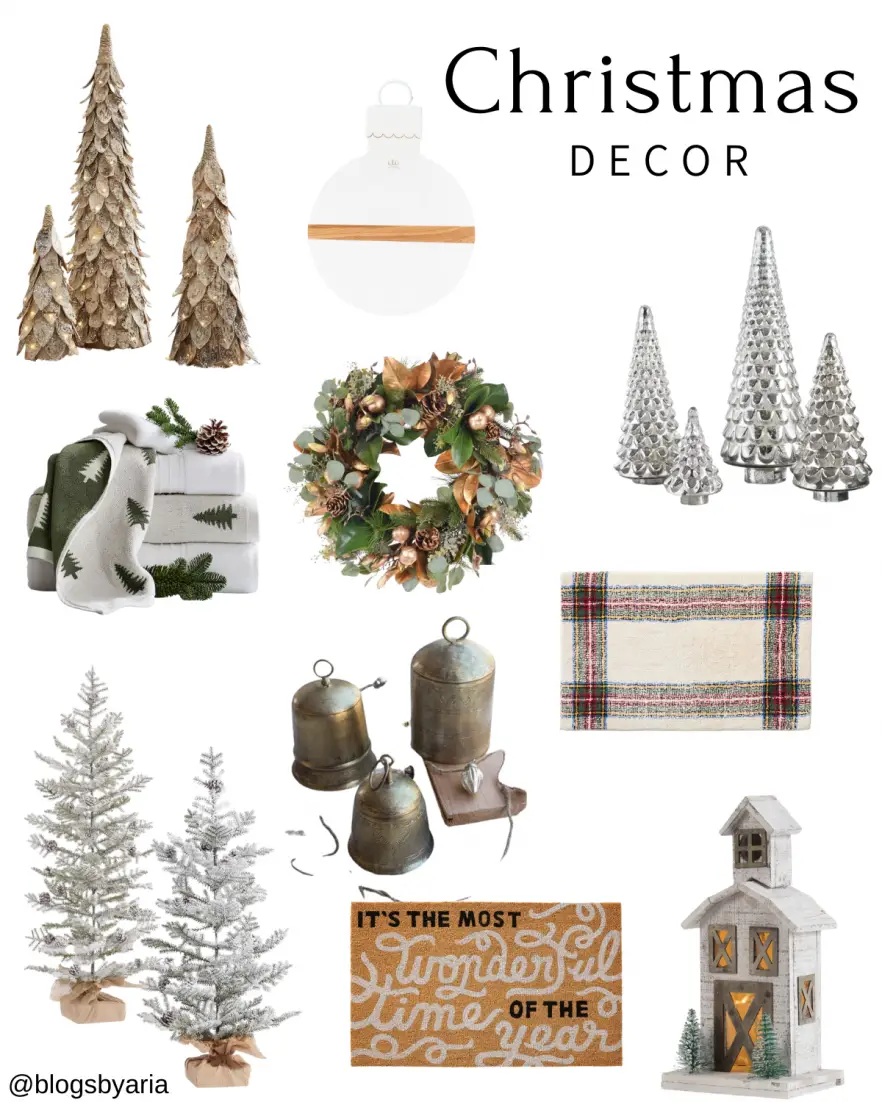 CHRISTMAS DECORATING IDEAS

These Christmas tree towels have caught my eye.  Even just the hand towel would be a nice addition for a powder room I think.  If you have a guest bathroom they'd be really nice for your holiday guests.
CHRISTMAS HOME DECOR

When it comes to decorating for Christmas I am traditional red and green all the way.  This year I'm trying to add a few more pieces of green.  In fact there's a line of Christmas pillows that will launch later this month and I have a couple that I want to grab.
Over the past few weeks I've been stalking some of the sites, like Target and Walmart, where a lot of my Christmas decor is from, to see what's available this year.  When I find the same items or similar I'm linking them and sharing them on my LTK and updating my older posts.
I'll keep looking and keeping an eye out for the best holiday decor finds.  For myself, aside from adding in a little more green, I won't be doing much Christmas decor shopping this year.  Last year we added a lot and until we move to a larger home I just don't see the need.
What I am excited for and have already started to think about, is how I will decorate this year.  I'm thinking the primary tree will be moved to another spot.  But I have a few weeks to come to a decision with that.  Stay tuned for that!
Okay, back to regular Fall programming…because I'm still working on finishing up that and then I'll add some Halloween touches.  Then I'll get more into all things Christmas!