I've always wanted a white kitchen.  This year we moved into a new home and I got a white kitchen.  We're not quite at my dream kitchen but it's closer to the look I have always desired.  So I couldn't wait to decorate our new kitchen for Christmas!
I already had it in my mind of exactly how I wanted to add Christmas cheer to our kitchen, but things didn't quite go as planned.  That's okay, because I went with plan B and figured out a way to keep my decor simple, yet festive.
I knew that I wanted to put garland on top of my cabinets like I did in our previous kitchen last year.  But I didn't want to use the same kind of garland…you know, the super cheap garland that sheds non stop.  When I saw this inexpensive garland at Joann's on sale for $5 I thought it would be perfect for our kitchen cabinets.
The problem was there wasn't enough of a ledge for the garland to sit on top of.  As you'll see my kitchen has two standalone cabinet units and one long one.  Well the garland sat on top of the standalone units fine but for the life of me would not work on the long unit.
*this post includes affiliate links for your shopping convenience, you can read more about affiliate links by reading my Disclosure*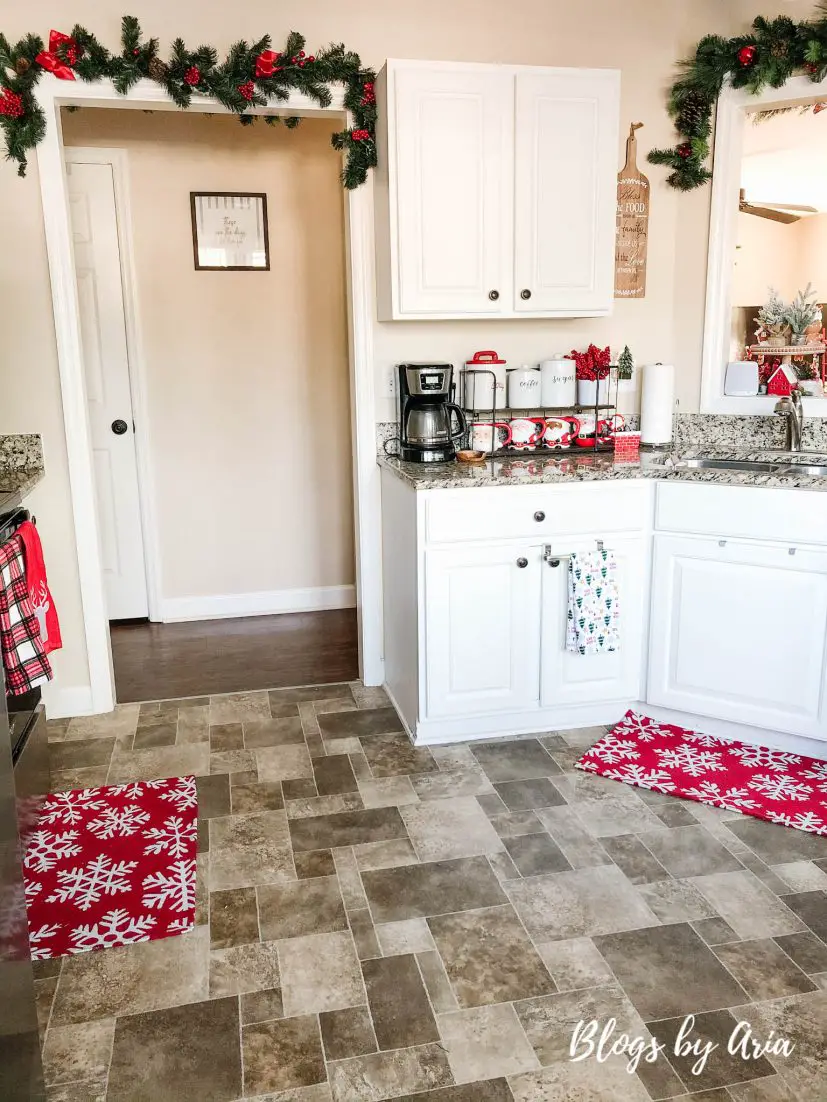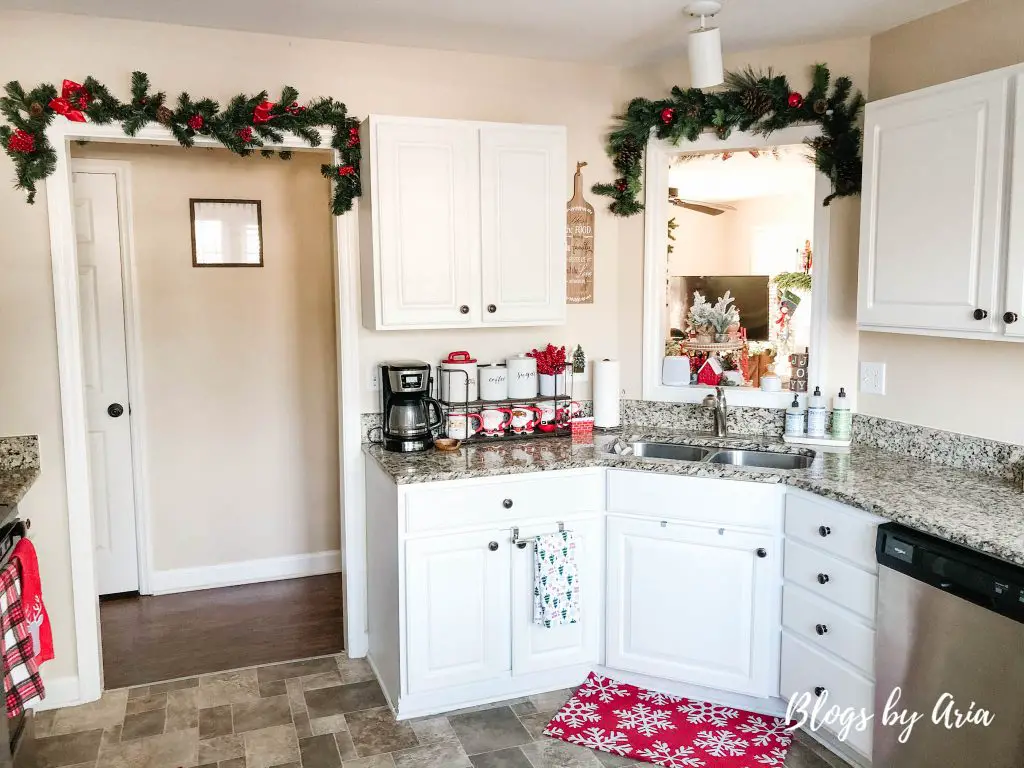 So I scrapped that idea and thanks to Hallmark Christmas movies, I was inspired to put the garland over the doorways.  I had enough garland to add to each doorway and over my kitchen window.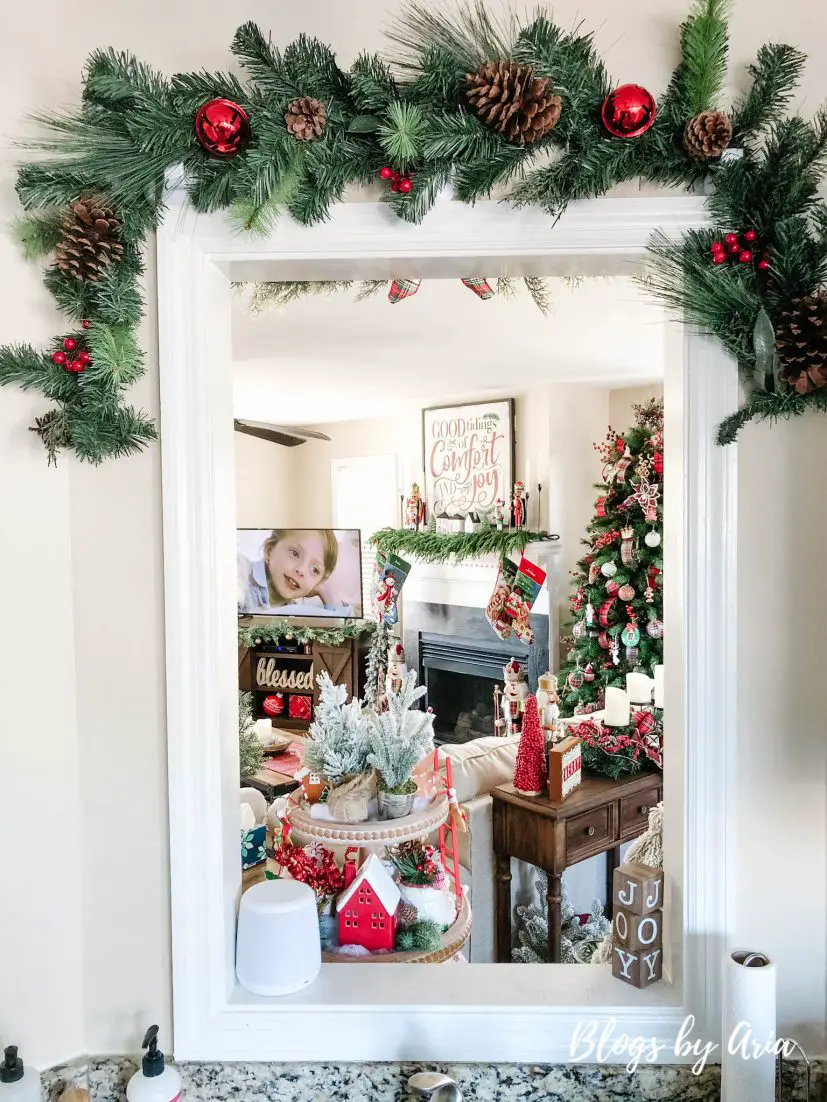 Over the sink cut out I put a garland, also from Joann's that I originally got for my TV stand in our living room.  I have a love/hate relationship with Command hooks and it would never stay on my TV stand.  Turns out it works perfectly here.
You can see the Command hooks, but I don't mind.  I originally had purchased them to hang garland over my front door on my porch, but again…my relationship…they didn't work out.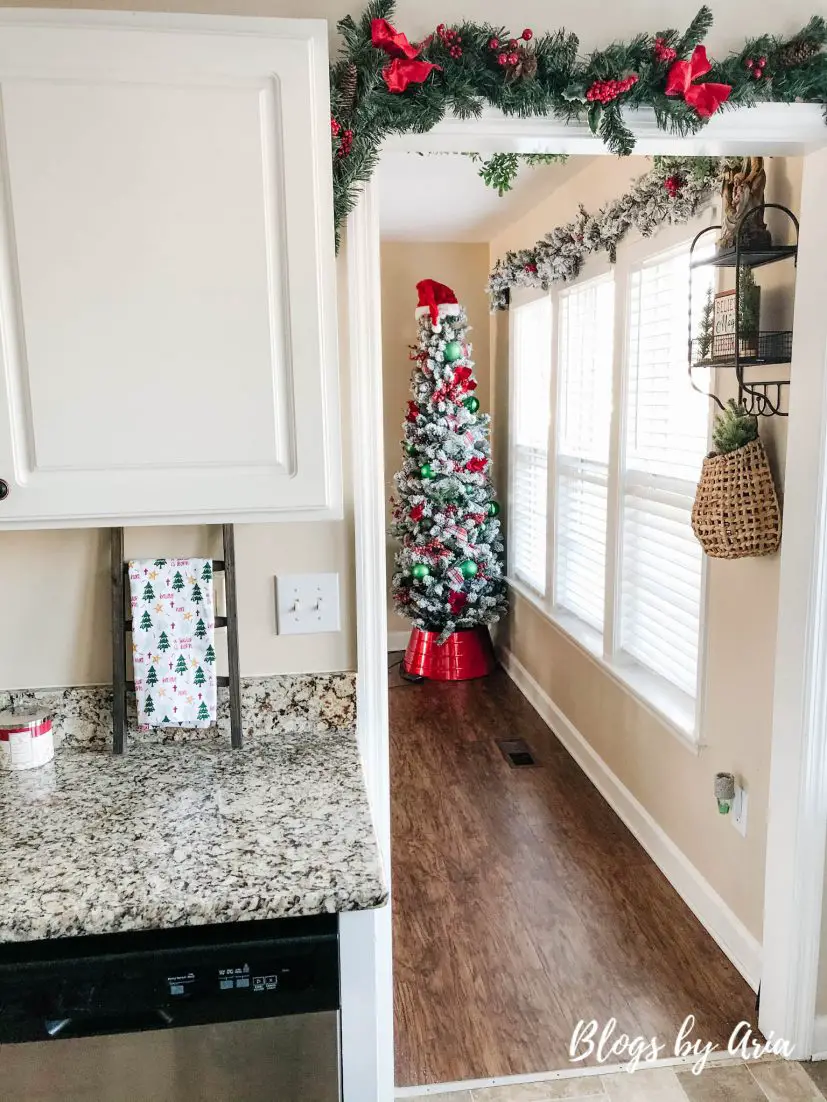 To me, this one added touch of the garland turns this into a festive kitchen.  You could add lights but I didn't see the need.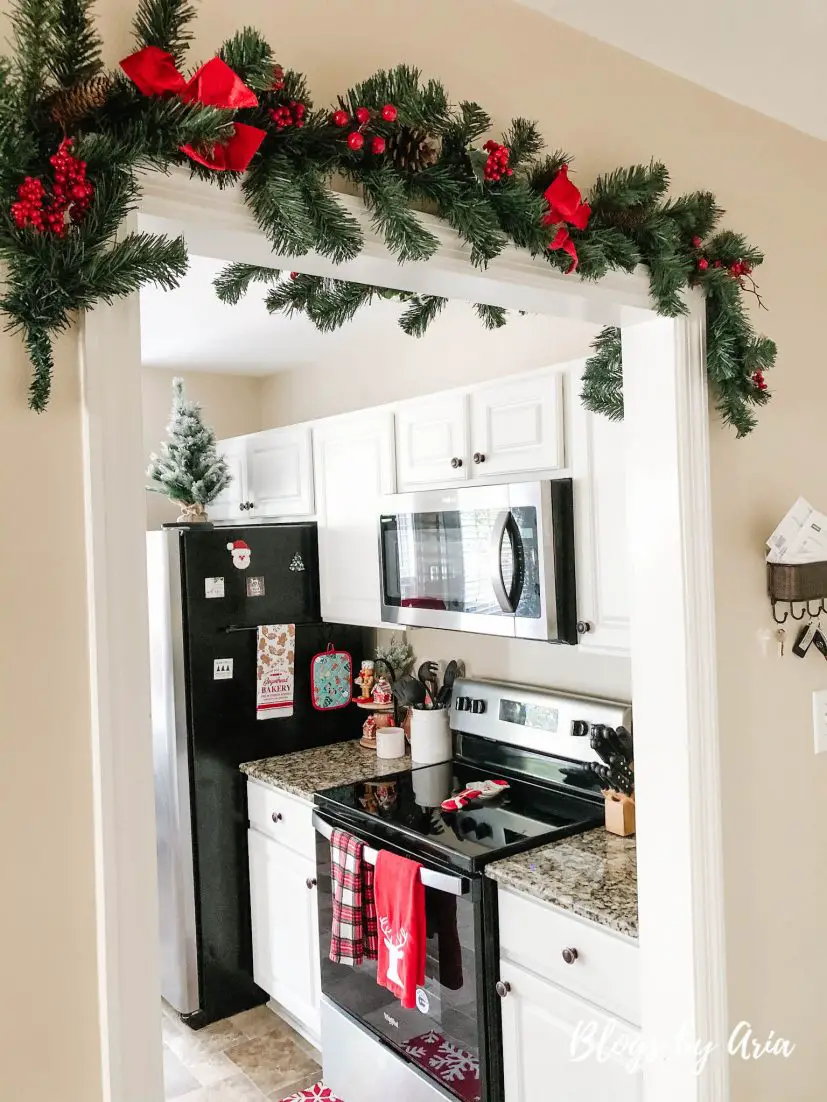 But I didn't stop there.  I did add a few more pieces to create my Christmas kitchen.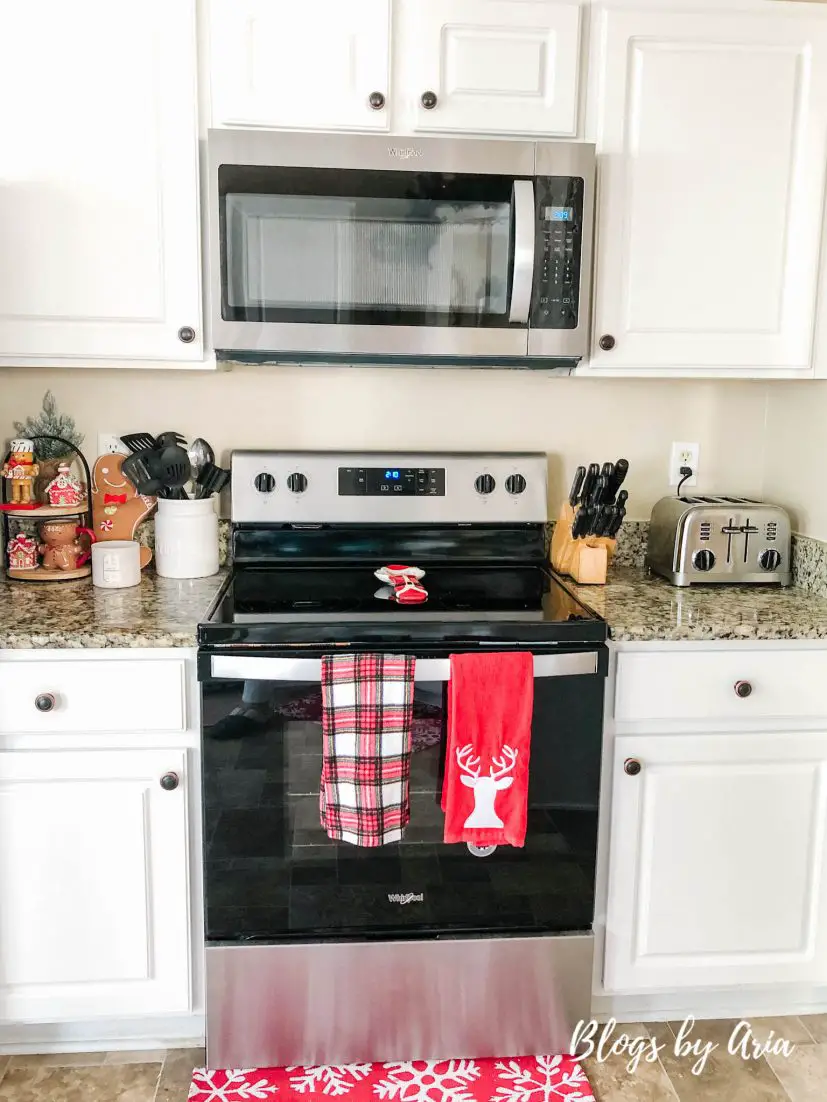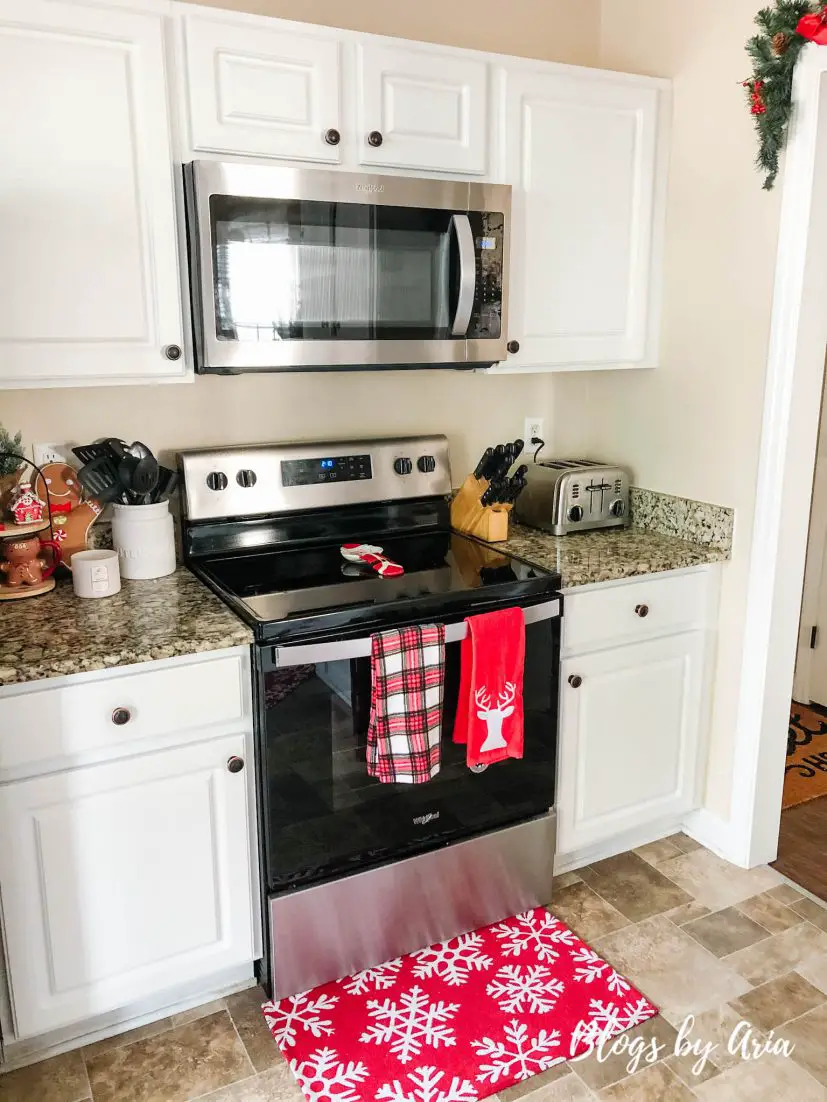 Of course, the easiest way to bring in the Christmas cheer in the kitchen is with dish towels.  The ones I have on my stove I got last year I believe from JCPenney.  I used to love shopping at JCPenney so much but the closest one to me closed this year.  Now I would have to travel a little ways to get to one.
I also like to get hand towels from Home Goods and stores like that.  This one by the sink I found on a rare Ross trip.
My floor mats I got last year from Big Lots.  An easy pop of holiday red to make a big impact.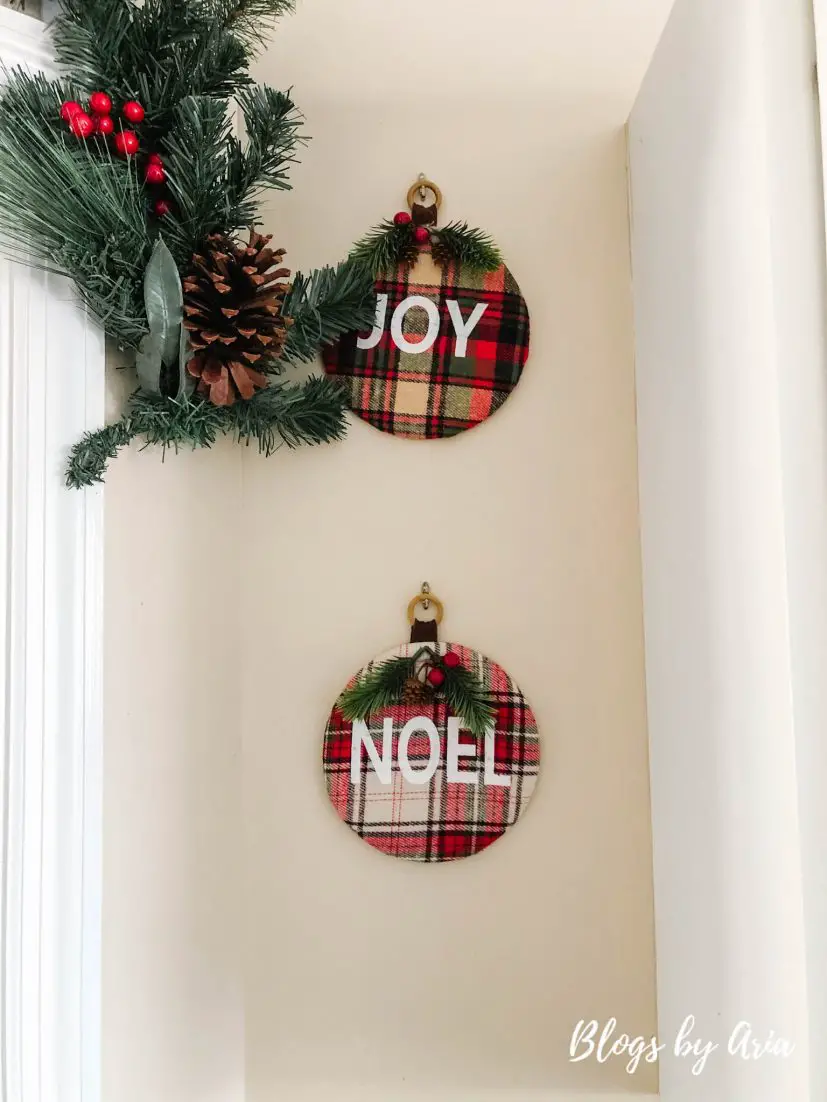 Something I added to drive home my love of classic Christmas plaid, are these small signs I got from Walmart.  Honestly I don't know if they're large ornaments or what but when I saw them I knew they'd be perfect in this spot…or on my fridge.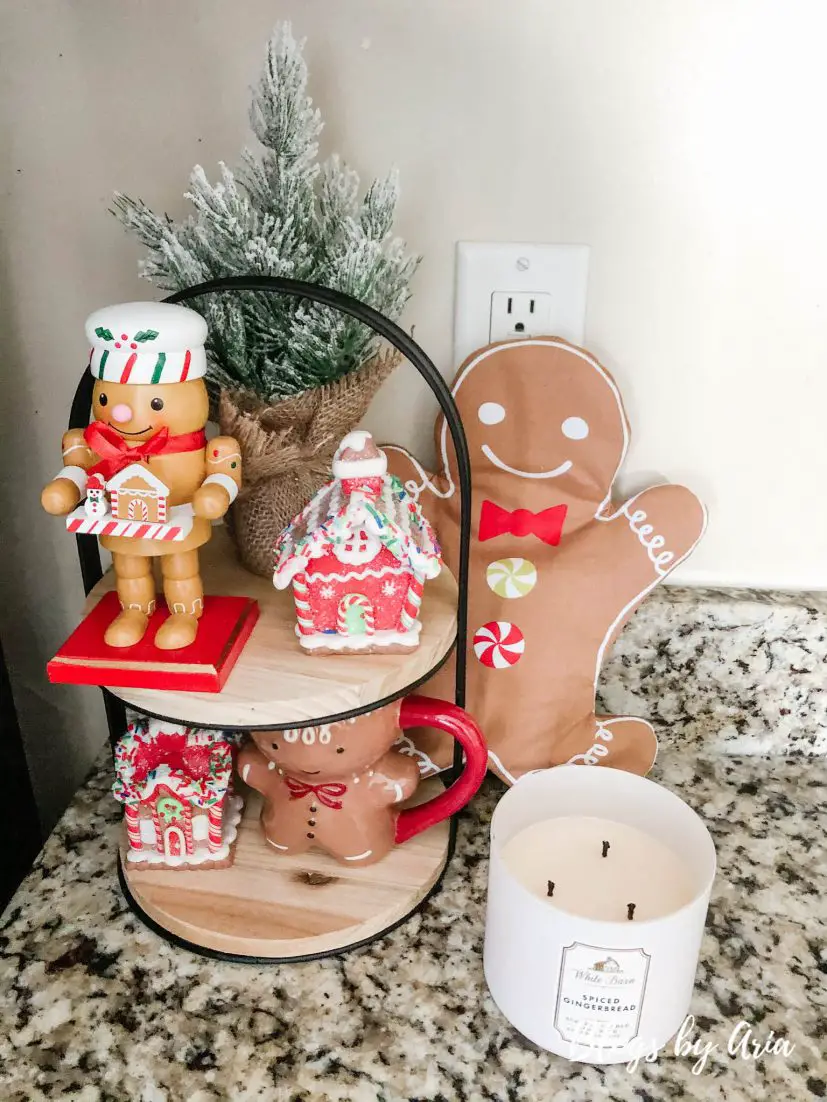 Next to my stove I have a small gingerbread themed tier tray that I shared a peek of in my holiday decorating ideas post.  The tray is from the Target dollar spot and most of the items came from the At Home store.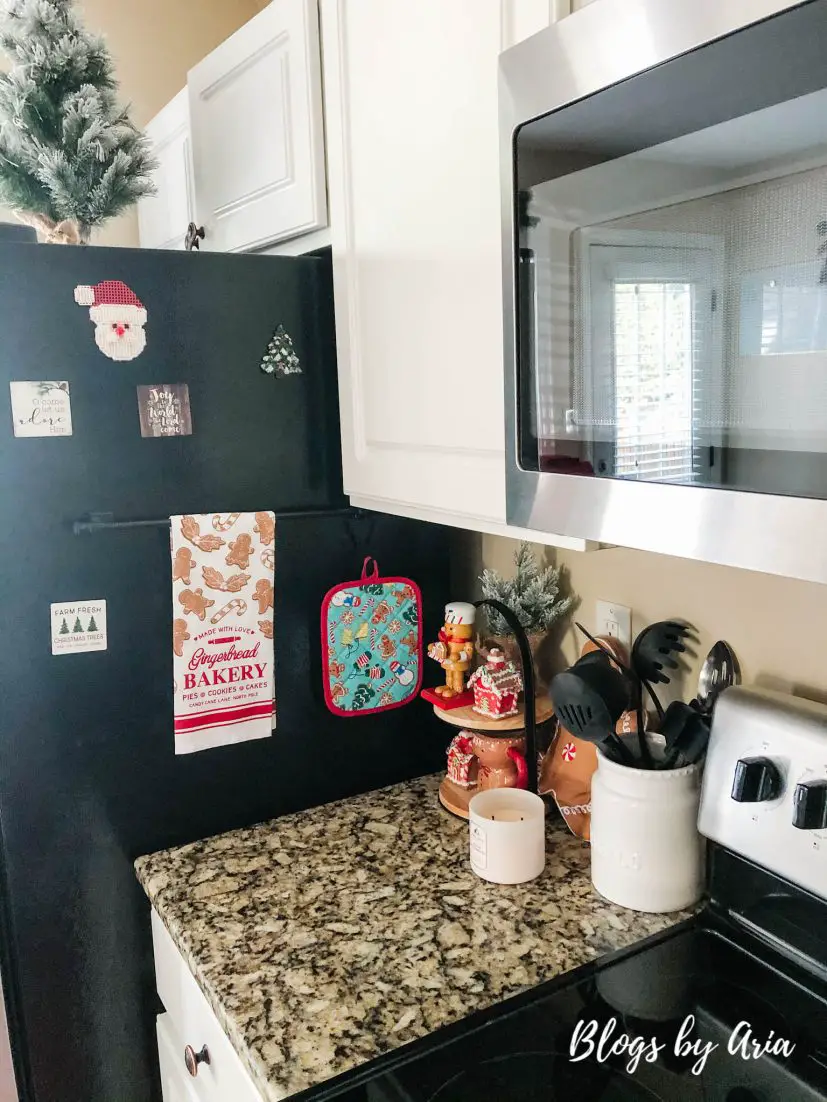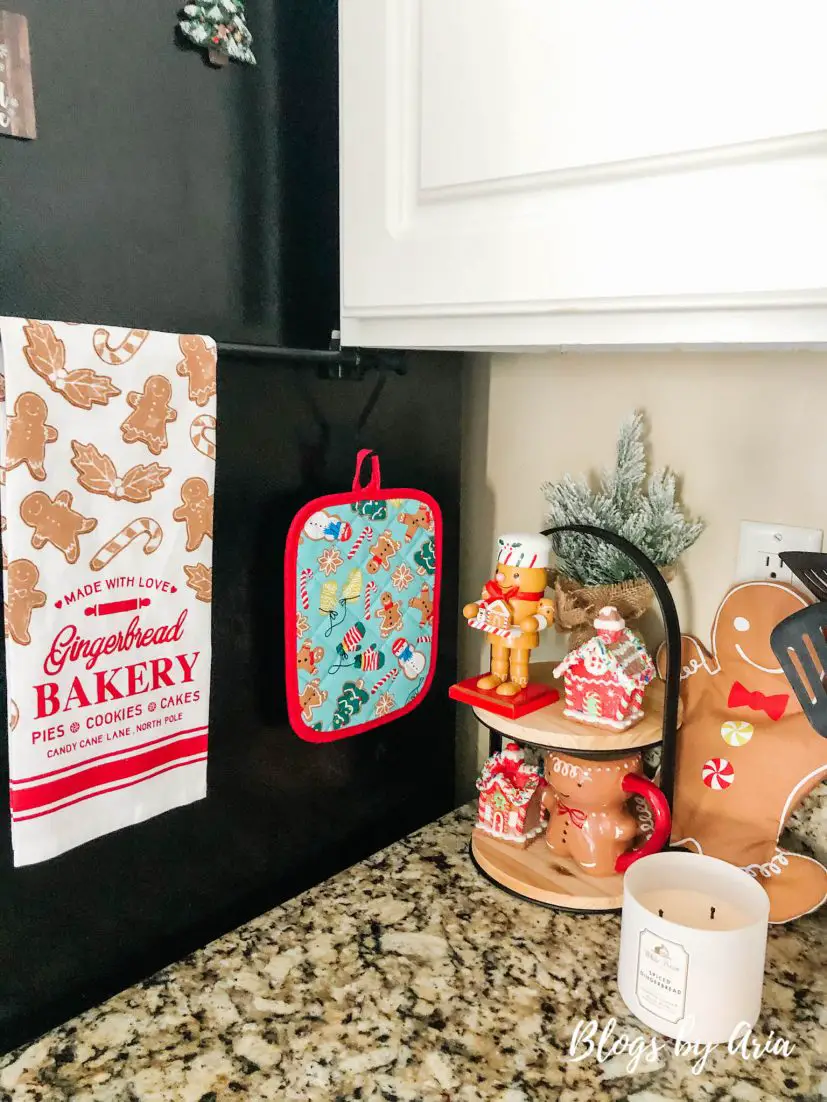 I added a gingerbread tea towel to my towel bar on my fridge and tucked this gingerbread oven mitt next to my tray.  It doesn't have a hook or a loop for me to use to hang it.
You can also see my larger three tiered tray all decked out in gingerbread houses here.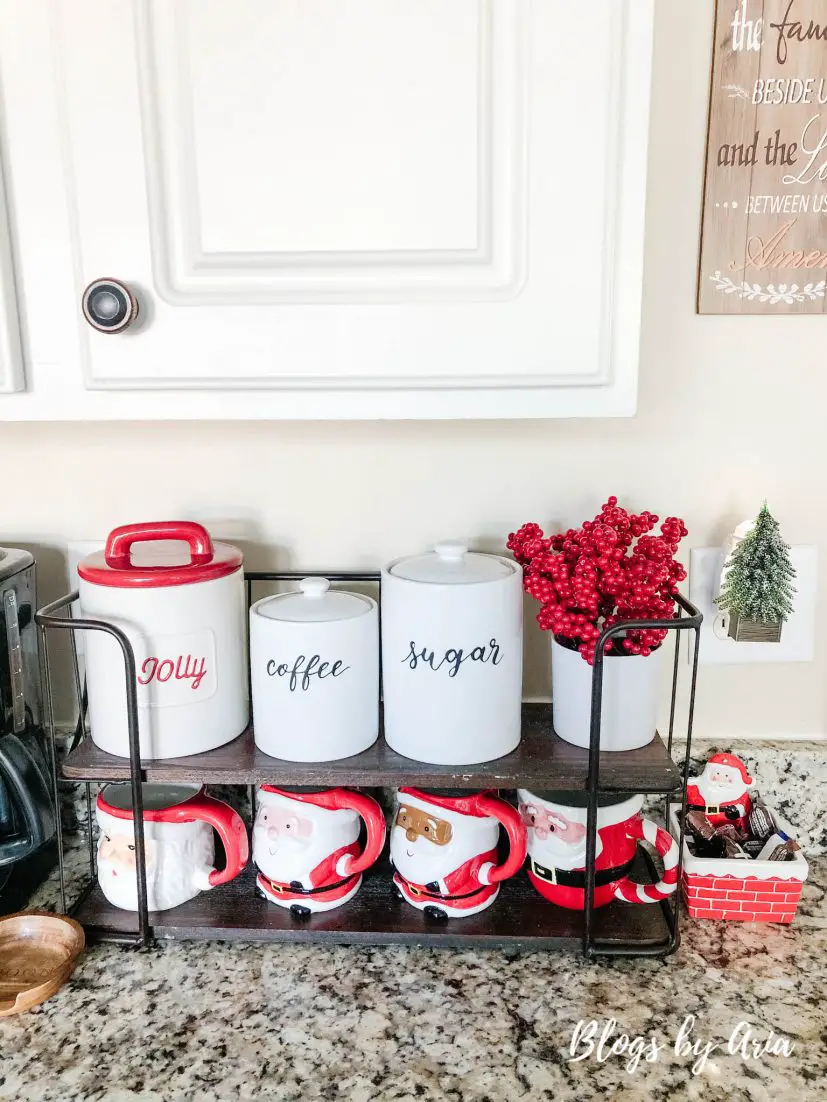 jolly canister (Home Goods) | coffee canister | sugar canister | red berry plant
Moving over to my coffee station I decided to build a small collection of Santa mugs on my two tiered rack.  The Santa on the far left is from Hobby Lobby, the two in the middle are from Walmart and the one on the right is from Home Goods.  These mugs are for display only.  All of my holiday mugs that I actually use are in the cabinets.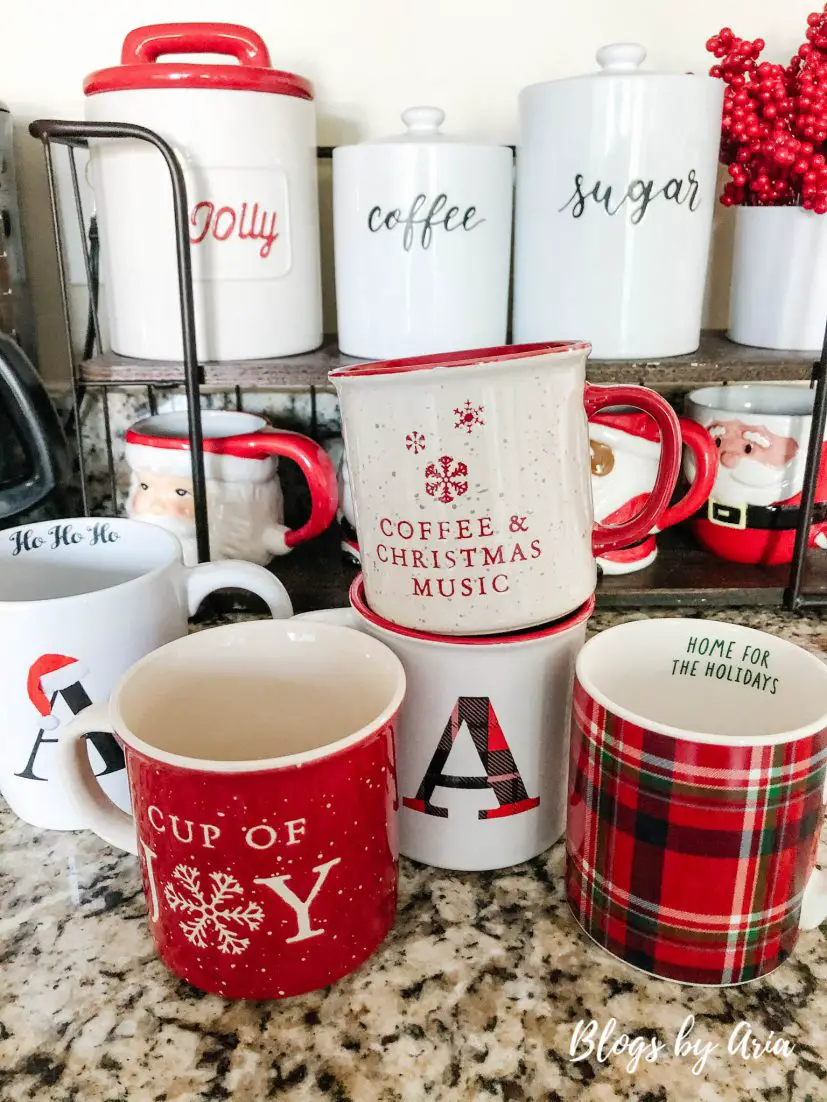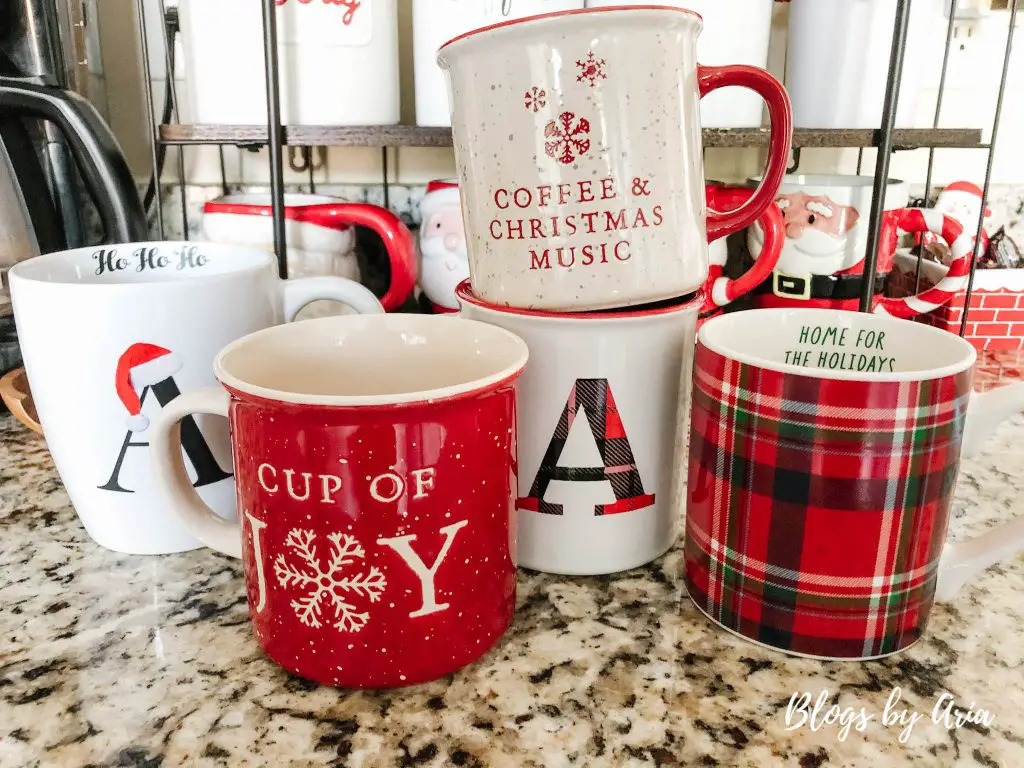 Here's a peek at the ones I have and I enjoy using them all!  The two speckled ones are from Joann's, the A with the Santa hat is from Big Lots.  I think the plaid monogram mug is from Home Goods, but don't quote me on that…I'll be using that all year long.  And the tartan plaid mug is from Target this year.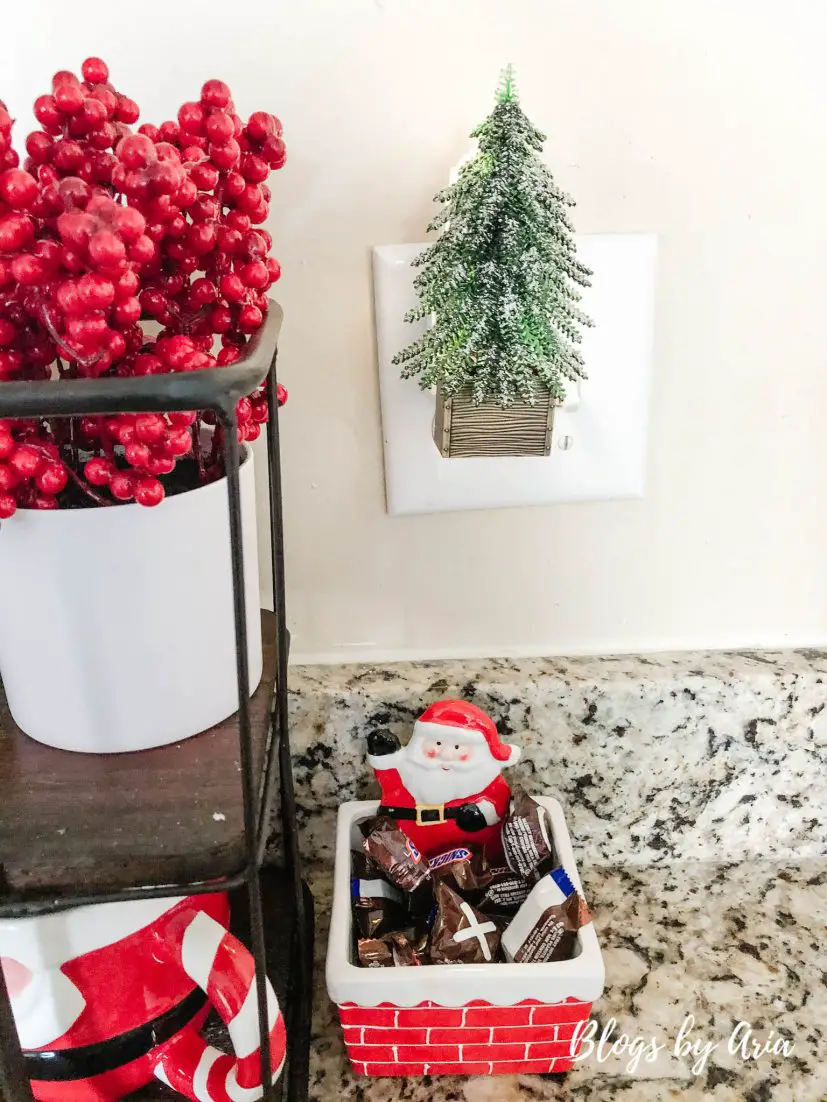 Next to my coffee bar I have a wallflower and a small candy dish.  I think I got the candy dish at the end of the season last year, so it was a pleasant surprise when I discovered it in my stash.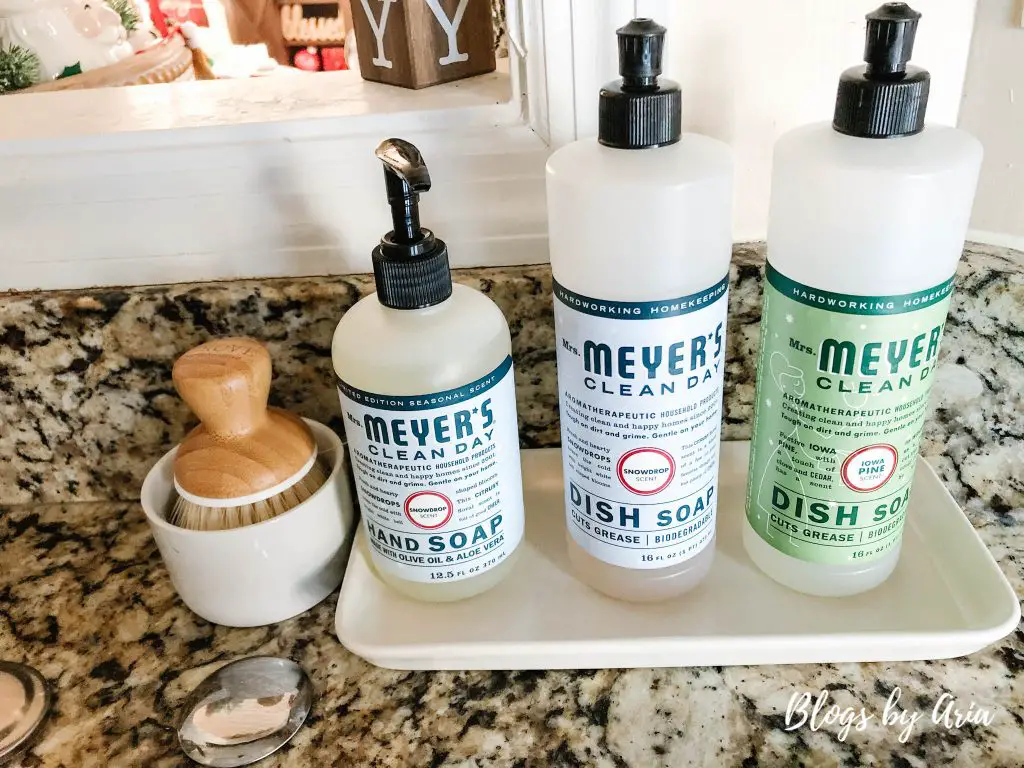 On the other side of the sink I have my seasonal dish soaps from Mrs. Meyer's.  I like to alternate between the scents I have.  I've been using the Iowa Pine scent more since it's more Christmas, and I also have Peppermint.  Snowdrop is more of a winter scent than Christmas, in my opinion.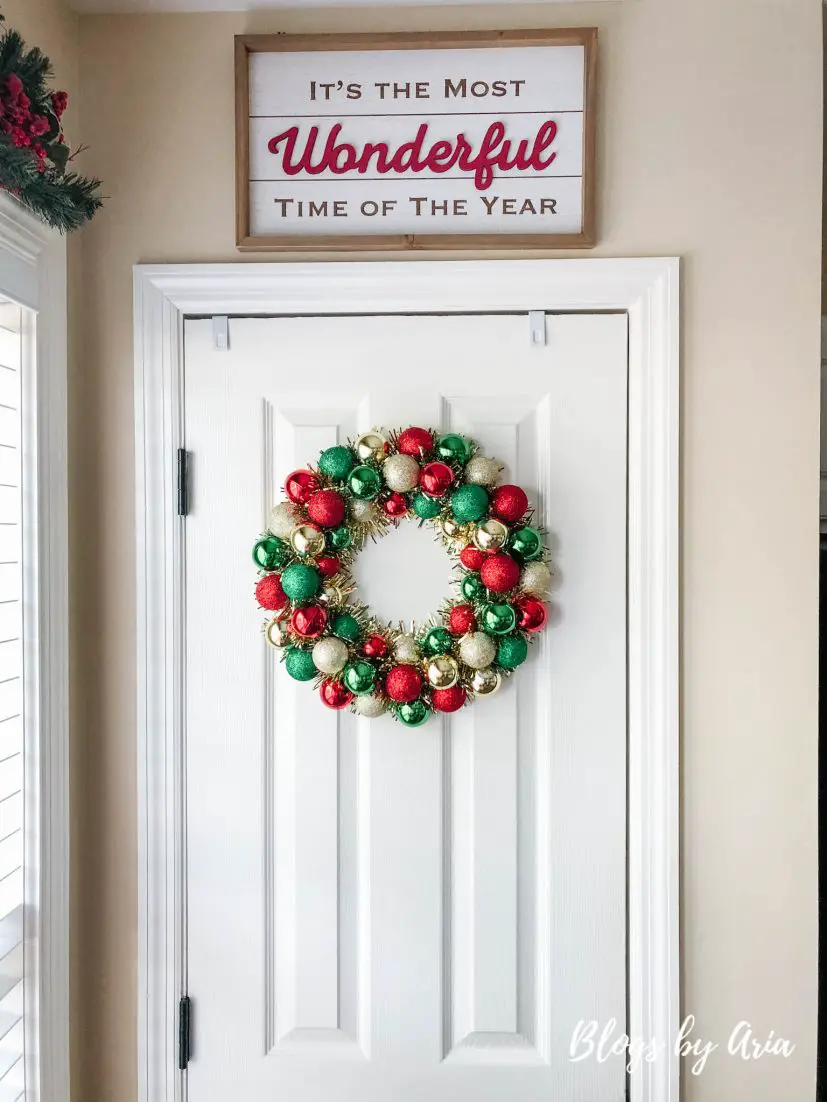 Lastly on my pantry door I have this simple ornament wreath (similar here) that I got last year from Big Lots along with my It's the Most Wonderful Time of the Year sign from Joann's.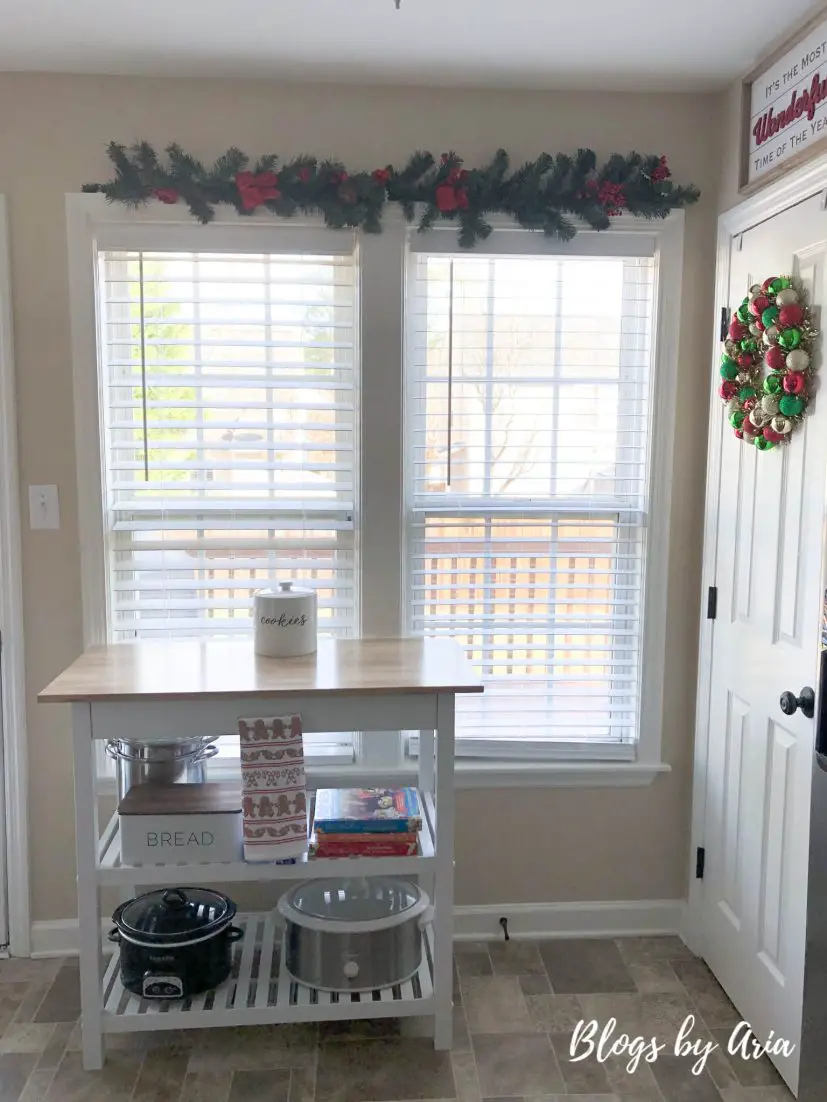 I have my cookie jar along with another tea towel on my kitchen island cart.  I'm trying to keep this area clear because it's going to display our gingerbread houses that we'll make.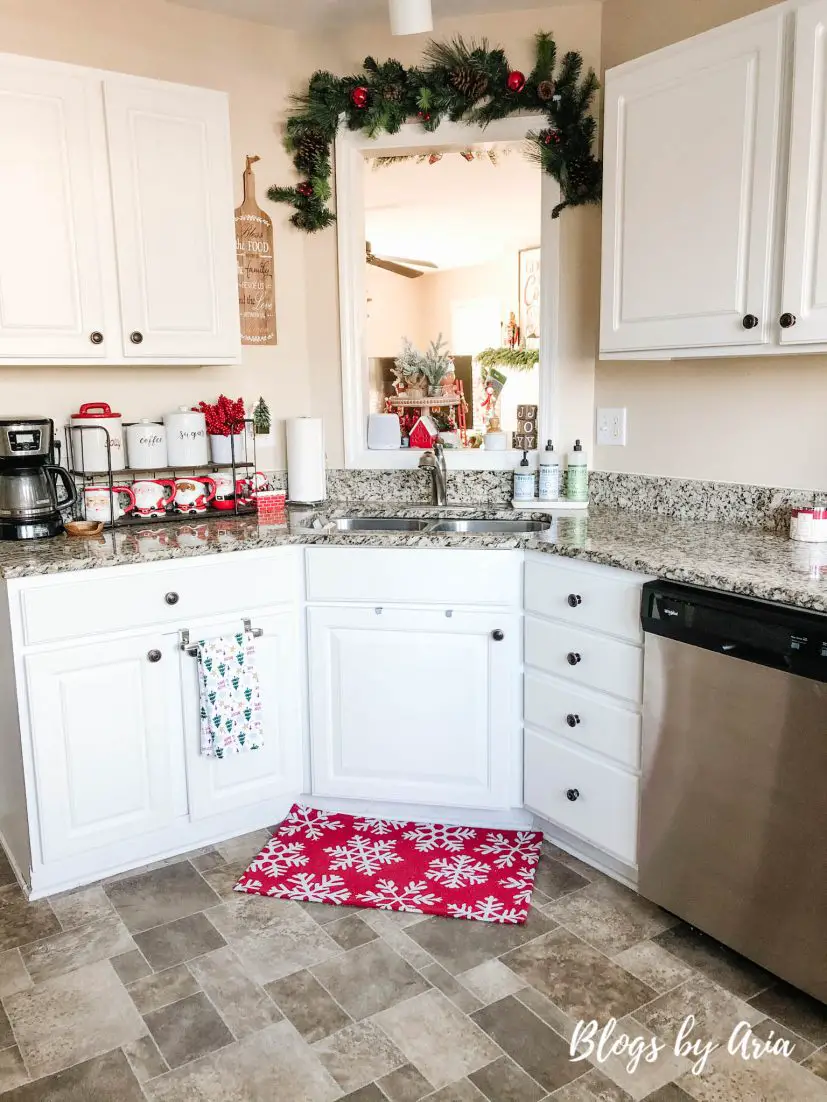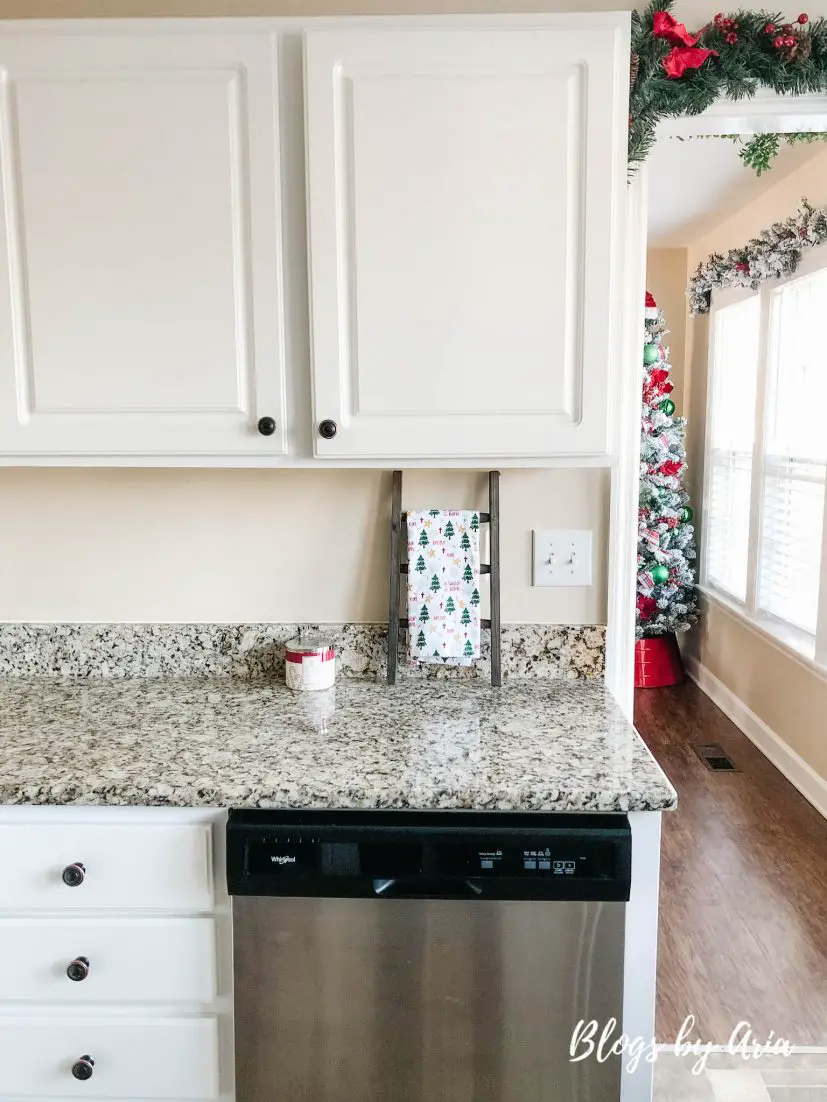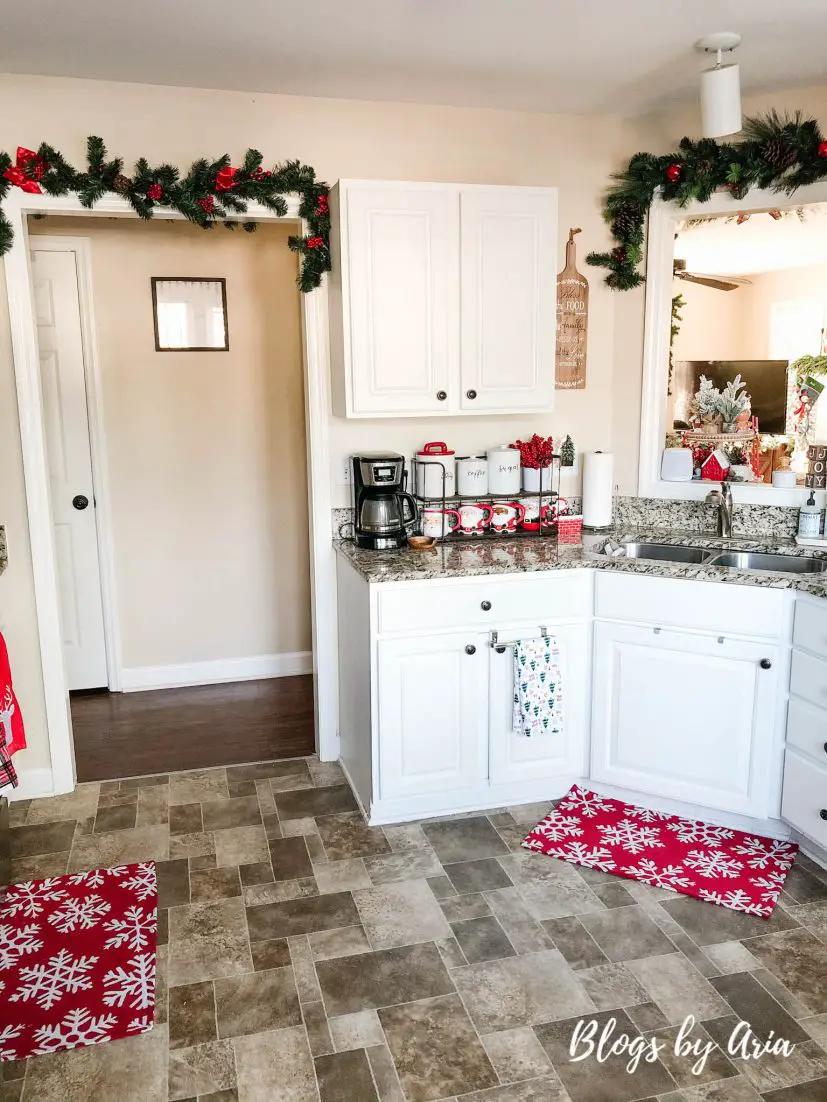 Our kitchen isn't too large but it's very festive!  Whenever we do move into a larger house I have so many ideas of how to decorate that kitchen for the holidays.  Of course I have a whole Pinterest board dedicated to Christmas in the kitchen!
Hopefully I gave you a couple of ideas of how to add a festive touch to your kitchen for the holidays.  It really doesn't take much and it's a lot of fun too!  Okay, we're in the final stretch!  I hope you're reading for Christmas!  🙂