As I've been scouring the Nordstrom Anniversary Sale preview the past few days, I've been adding items to my wishlist.  Today I'm sharing what's on my wishlist for the #nsale.  Things sell out quickly so it's good to have a few items in mind in case what you really want sells out.
My wishlist isn't long.  Last year I got a few items that I had wanted for so long.  This year I only have a few things that I'd really like to get my hands on.  And then there's some more items that are what I call "nice to haves".
One of my biggest tips for shopping the Nordstrom Anniversary Sale is to think about what gaps you have in your wardrobe that you need to fill.  I shared this tip along with a few more in my Nordstrom Anniversary Sale Tips post.  There's also a giveaway in that post too!
With that in mind I knew that I didn't really need boots and booties, but I did want some loafers.
I didn't need another Barefoot Dreams cardigan (I wear mine everyday at work) but I would like a lightweight jacket.
Speaking of work, I've been thinking about adding a nice blazer to my work wardrobe.
Maybe a sweater or two, but anything else would just be an extra, not a must have.
*this post includes affiliate links for your shopping convenience, you can read more about affiliate links by reading my Disclosure*
MY NORDSTROM ANNIVERSARY SALE WISHLIST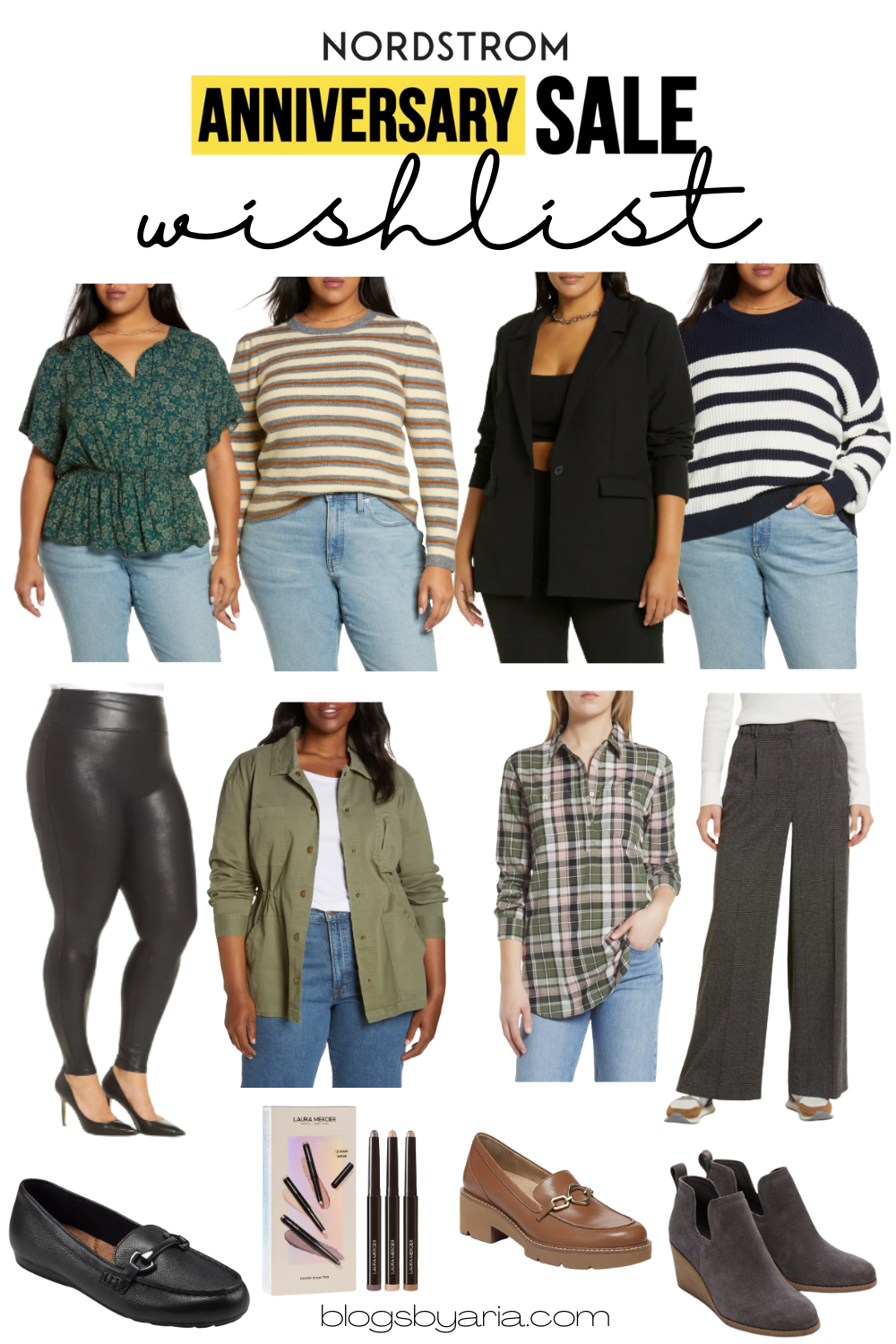 Aside from a few smaller items like accessories this is what's on my Nordstrom Anniversary Sale wishlist in no particular order:
floral peplum top – I'm always looking for nice tops that can be worn in the office and when going out.  This peplum style top is very flattering with the flowy fabric and cinched in waist.
stripe crewneck sweater – A large busted girl who loves her stripes, that's me.  I can't help but be drawn to the color of this sweater!  It's not at the top of my wishlist but I really do like this sweater.
fitted blazer – A classic blazer has been on my list for awhile but blazers can be pricey.  The Nordstrom Anniversary Sale is a great time to add classics to your wardrobe.  This option has a little bit of stretch and is under $50 during the sale.
This is in the plus size sizing (as most of what I'm sharing is) but almost everything I'm sharing comes in standard sizing too.
stripe cotton rib sweater – I'm always drawn to blue and white and this sweater is no exception.  I like the slouchy oversized fit.
faux leather leggings – Honestly these aren't on the top of my wishlist.  Everybody raves about the Spanx faux leather leggings but I would rather invest in them when I'm at a lower weight.  However, at this price point, it's kind of like why not?  So we'll see.
stretch organic cotton utility jacket – One item that is at the top of my list is this jacket.  I'm pretty weird when it comes to jackets and coats in that I don't like to wear them.  But this is a great lightweight option, has good stretch and is figure flattering.
I've had a similar jacket from Old Navy I got a few years ago.  The one issue I have with many tops and jackets from Old Navy is the sleeves aren't long enough.  So that's why I want to replace it with this one.
plaid long sleeve cotton shirt – I shared this in my Nordstrom Anniversary Sale Outfit Ideas post and it comes in a few other colors but I love this green option.  It's a nice length and that's what I'm really liking about it.  This is in standard sizing so I'll have to see how it fits if I'm able to get my hands on it.
glen plaid wide leg trousers – These pants look comfy and easy to wear.  Perfect for my in office workdays.
marlie bit loafer – Majority of the time I'm wearing flats at work and I'd like to change that up a bit.  These loafers look comfortable and come in wide width too.
Laura Mercier caviar stick eyeshadow trio – I had to add this to my wishlist as soon as I saw it!  I have one of these eyeshadow sticks already (I'll need to check the color) and love it.  To get three of these at such a steal is a no brainer!
dylan lug sole loafer – I can't resist these chunky loafers so they're on my list too!
Toms kallie wedge bootie – I've never owned a pair of Toms shoes before but these are super cute!  And affordable!  They're under $40 so yeah they're on my wishlist for sure!
Those are my Nordstrom Anniversary Sale picks that I've added to my own personal wishlist.  I'm realistic and know that I won't be able to get everything.  But I'm optimistic I can get my top picks like the blazer, jacket, loafers and…ok this is going overboard!
What's on the top of your Nordstrom Anniversary Sale wishlist?  I'd love to know!