A few years ago I didn't have anything from the Tarte brand and now they make up a good amount of my makeup. pun intended.  Although I haven't tried everything the brand has to offer, I have tried a lot and want to share my Tarte Beauty Favorites with you.
*this post includes affiliate links for your shopping convenience, you can read more about affiliate links by reading my Disclosure*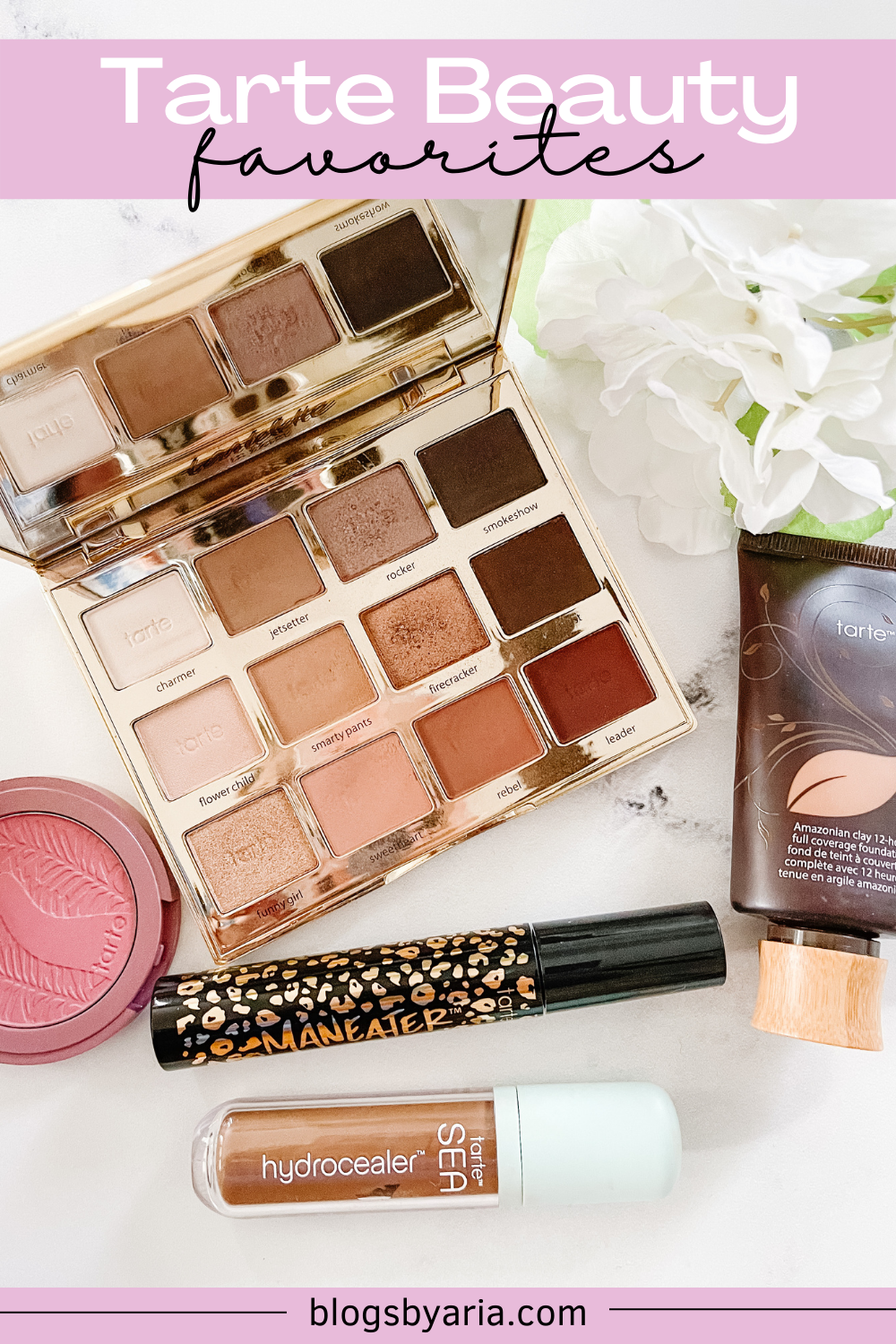 Let's dive in to what I have.  I'll be honest there are a few items that I have and can't locate right now.  And there's some that I've had and used up so I no longer have them on hand.  I'll share about those when we get to the respective categories.
TARTE FAVORITES I LOVE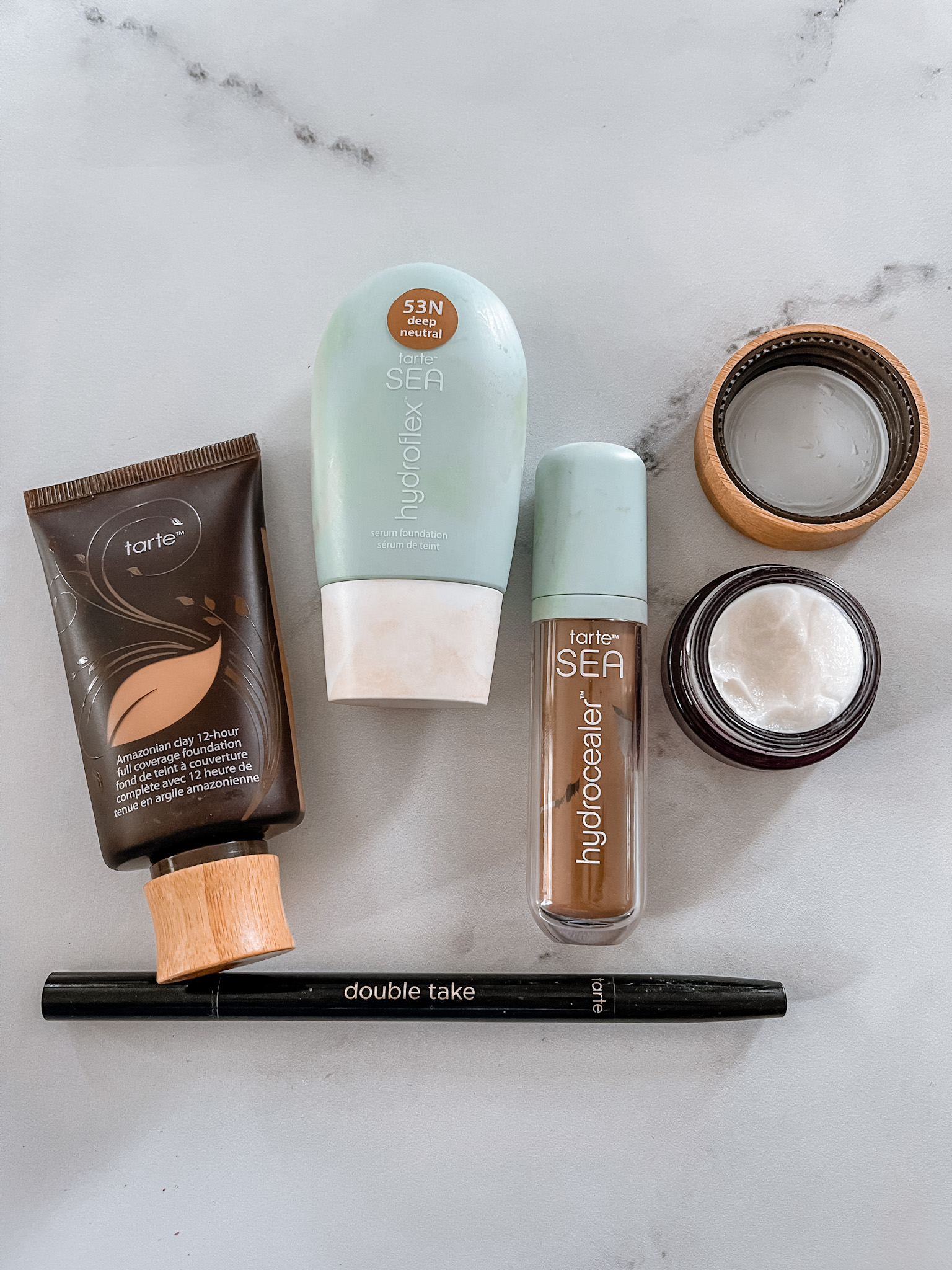 amazonian clay foundation • hydroflex serum foundation • hydrocealer concealer • maracuja c-brighter eye treatment  • double take eyeliner
Amazonian Clay foundation – I've been wearing this a lot lately.  It's a whipped mousse that provides a matte finish.  They have a new formula which is always tricky.  So I'm going to purchase a new one because I'm coming close to the end of my current bottle.
I'm also going to try it in a new shade.  Right now I have it in shade deep sand.  The shade I'm ordering is 51N deep neutral – deep skin with a balance of warm and neutral undertones.  I'm torn between that and 54G – deep skin with very warm, golden or olive undertones.
If you're interested in trying this foundation I suggest using a flat top kabuki brush, not a sponge.  The website has videos to show you how to apply it.  I'm thinking of trying out their buffer foundation brush that they recommend for this foundation.
Hydroflex Serum Foundation – This foundation provides lightweight medium coverage.  It has a super serum complex with 8 types of hyaluronic acid promotes better bare skin.  I think I got this last summer as a summertime foundation.  I got it in the color 53N deep neutral and I find that it is too dark for me.
Because of that I don't use it that often.  What I will say is that it's best applied with your fingers, no brushes or sponges.
Hydrocealer Concealer  – Whereas I may not use the foundation I do enjoy the concealer.  It's very lightweight.  I have the shade 53N deep neutral and use it for contouring.  If I were to go with a lighter shade it would be really great for regular concealing.
Maracuja C-Brighter eye treatment – This is a great eye cream with vitamin C, vitamin E, hyaluronic acid and more.  It's very creamy and moisturizing and brightening.
Double take Eyeliner – This is a newer purchase for me and I really like it.  It gives both a gel eyeliner and a liquid eyeliner.  You can wear them separately or together.

FAVORITE TARTE EYESHADOW PALETTES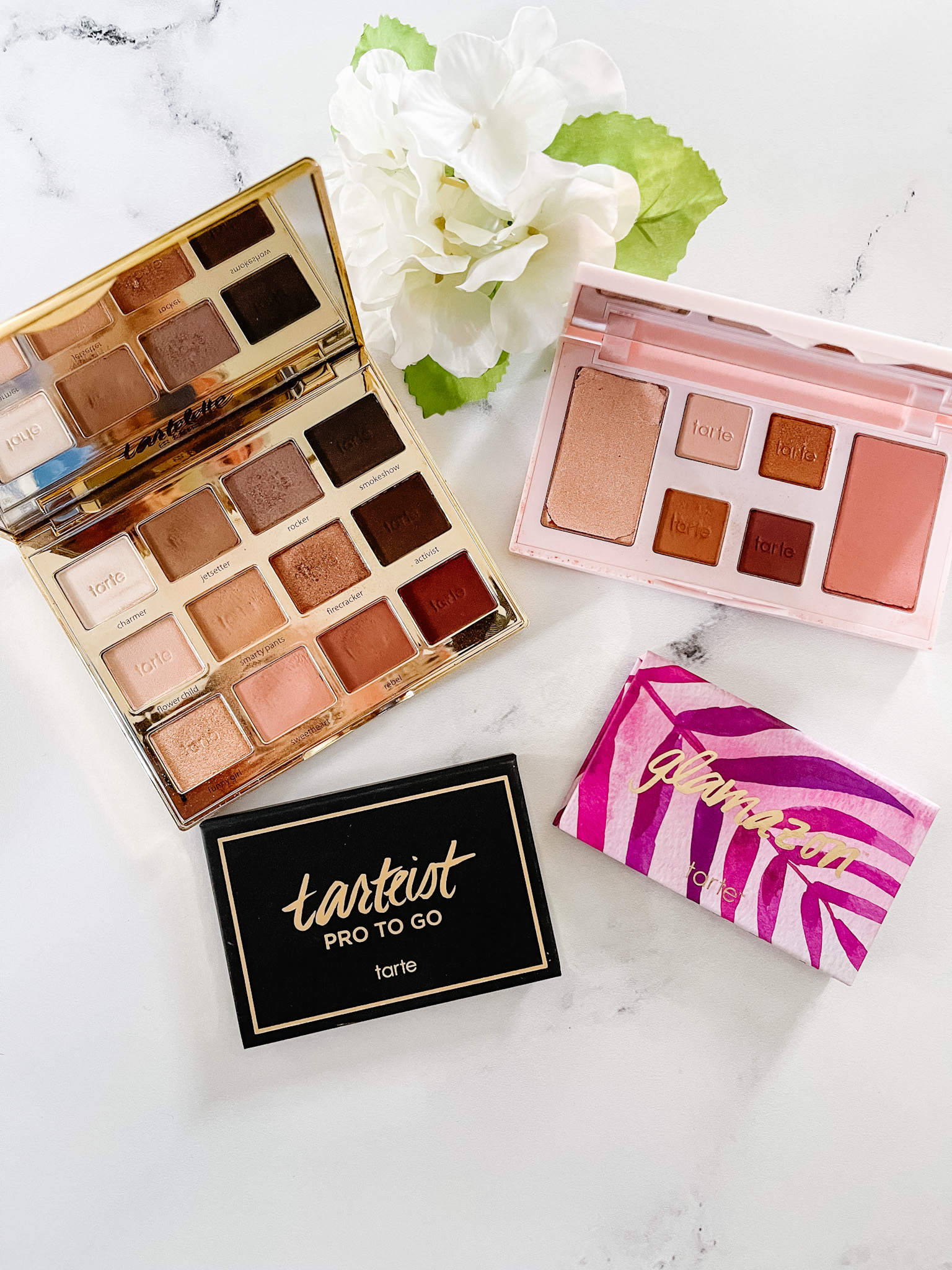 Tartelette in Bloom palette • The nice list palette • Tarteist pro to go • Glamazon – no longer available
Tartelette in bloom palette – Although I love Urban Decay eyeshadows above all, my Tarte palette has been my most used eyeshadow palette since I got it over a year ago.  It's so versatile and the shadows compliment all skintones.  If you're new to the brand I'd recommend starting with this palette.
The nice list palette – I got this palette around the holidays.  It comes with a highlighter, blush and four eyeshadows.  I do use the highlighter every now and then and I like the blush.  The eyeshadows are ok.  I'd say go for the Tartelette in Bloom palette instead.
Tarteist Pro to Go palette – This is a great little palette with very pigmented colors.  I got this in one of those create your own bundle kits.  I don't use it much but it's great when you're traveling and don't need to bring a full palette with you.
After I took the pictures for this post I realized this particular palette is no longer available.  But I'm still sharing it to show the colors of the shadows.  I've only used this palette a couple of times.
When it comes to the eyeshadow palette options from Tarte, again I'd say the Tartelette in Bloom is the best.  I do have my eye on this maneater temptation eyeshadow quad set because it comes with three different groupings of four eyeshadows meant to be worn together.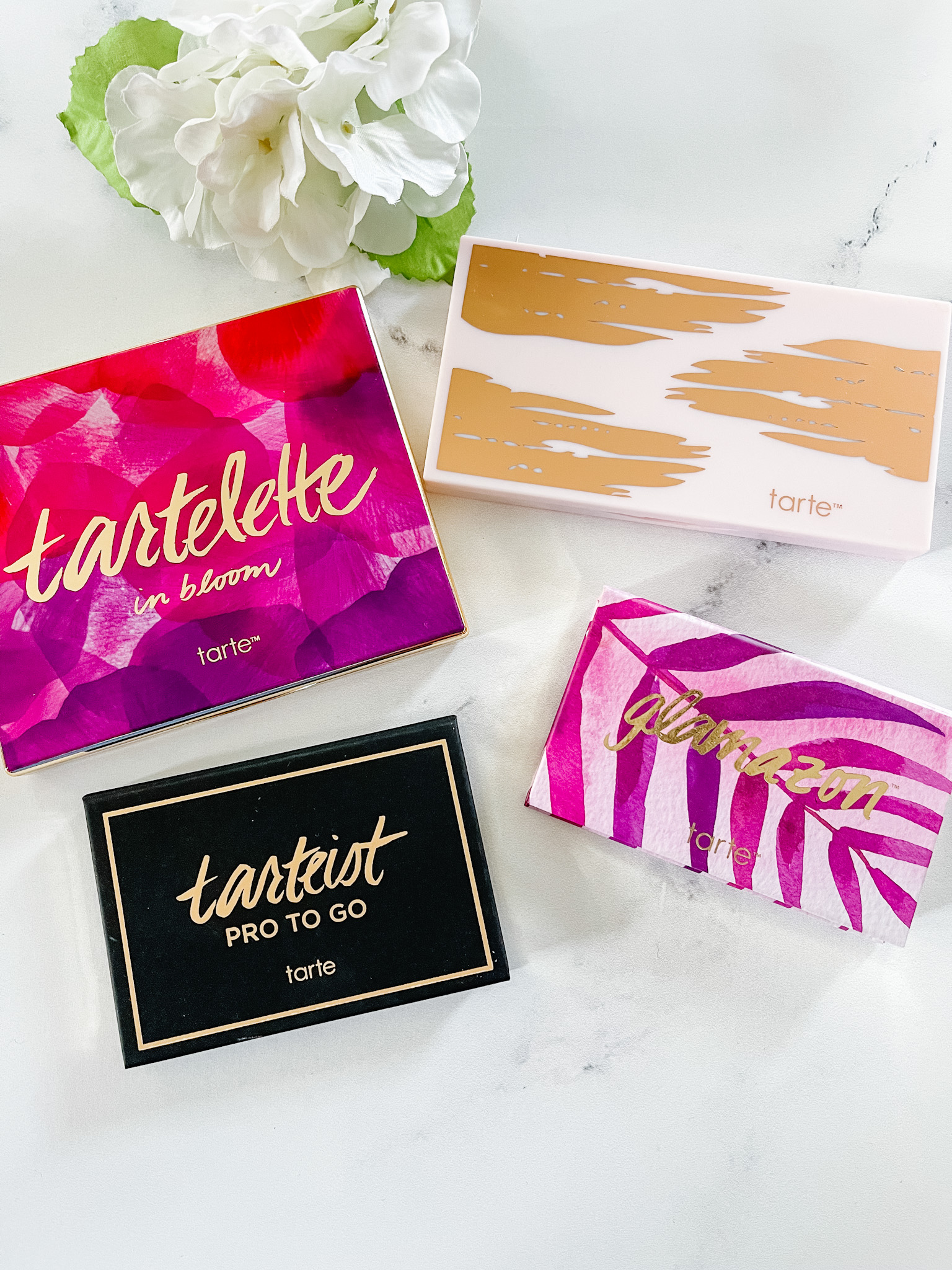 TARTE BEAUTY MASCARAS
surfer curl • lights camera lashes • maneater
Surfer Curl Mascara – I got this mascara after seeing someone recommend it.  I must say she naturally has really long lashes and this gave her a nice curl.  Unfortunately I haven't found the same results.  For me, I've found that this doesn't separate my lashes enough and they turn out looking clumpy.  If you have naturally long lashes then maybe you'll love this mascara.
Lights Camera Lashes – Tarte calls this the push up bra for lashes!  It volumizes, lengthens, curls and conditions lashes.  I do like it and to me I'd say it's not your everyday mascara but when you need to turn up…grab this mascara!
Maneater Mascara – What I love about this mascara is the brush.  It can get so close to the lash line and grab every single sparse little lash I have.  I especially like this because I have a few gray lashes and this brush can really get in there and cover it up!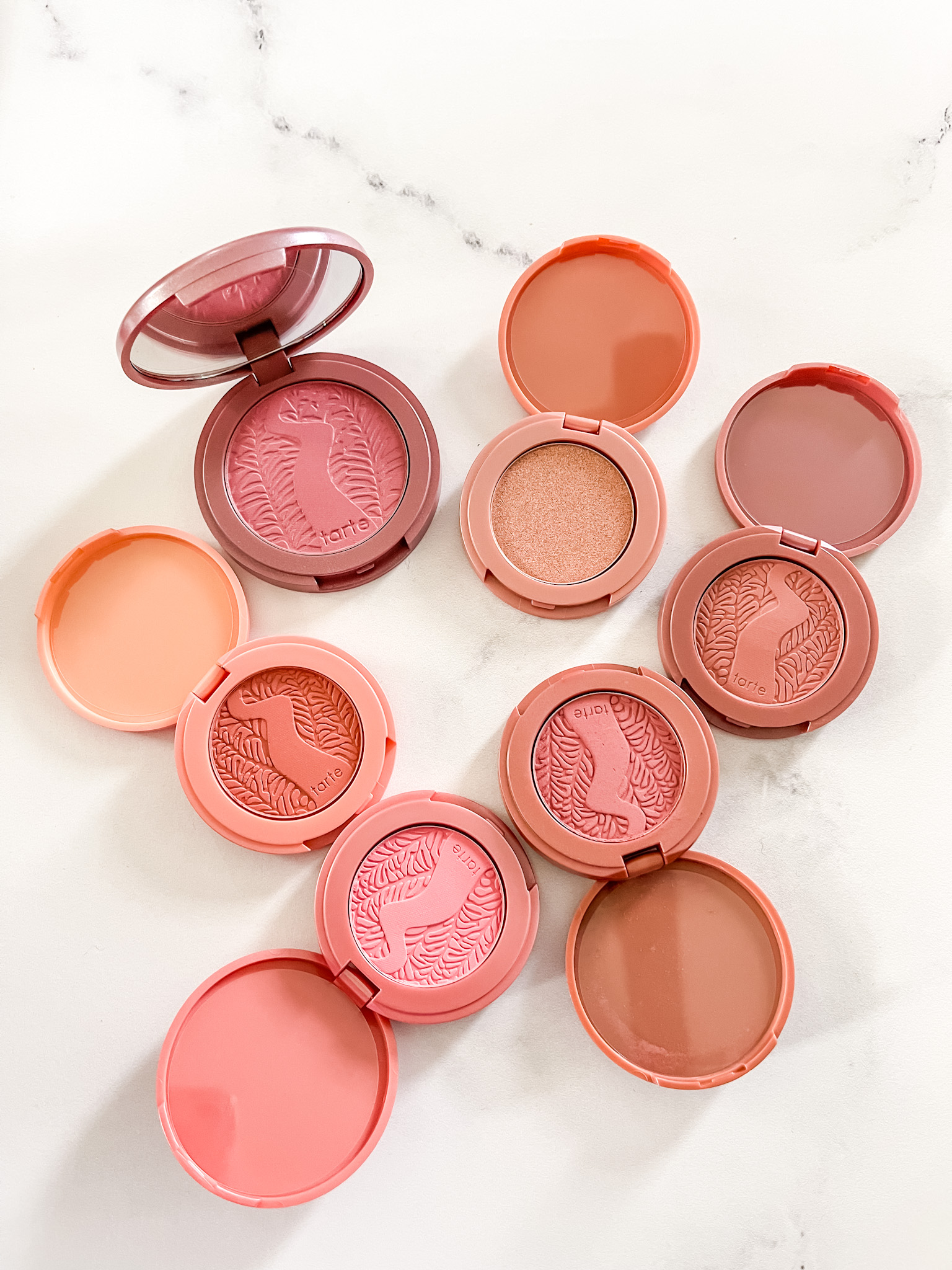 Amazonian Clay blush • Amazonian Clay Cheek set
Amazonian Clay blush – I love a good blush!  When it comes to blush I've always been a MAC girl and this blush from Tarte is the first one that I really enjoyed that's not from MAC.
It's pigmented and comes in so many pretty colors.  I have it in the color dazzled, which is a soft rose.
Amazonian Clay Cheek Set – This is a great option to give as a gift or to break up the set.  As you can see they are smaller in size than the single blushes.  But they're great to layer and create the perfect shade for your cheeks.
I haven't tried Tarte's cream blushes yet and I'd like to see how I like them.  Lately I've been moving towards more cream blush than powder.

TARTE SHAPE TAPE CONCEALERS
shape tape concealer • ultra creamy shape tape concealer
When it comes to Tarte most people think Shape Tape.  It's their iconic concealer.  I have two regular shape tapes and one ultra creamy.
Here's the thing…shape tape is not a light coverage concealer.  It's here to do the job…of concealing.  Think blemishes, dark spots, redness.  If you have the hint of a line under your eyes you do not want to use the original shape tape for undereye concealing.
What you want to use is the Ultra Creamy Shape Tape.  It's creamier consistency allows it to be perfect for undereye concealing and it won't settle into lines.
If you haven't tried the ultra creamy version I definitely recommend you give it a try.

THE TARTE PRODUCT I DON'T LOVE
Before I end this post I have to share the one product that everyone seems to love and I don't.  It's the maracuja juicy lip balm.  Now I'll say I don't hate it.  I actually don't have it to take a picture of because I used up the full tube a couple of months ago.
With that said…it's rare to use a full tube of a lip gloss.  A full size tube, not travel size.  Yes it has okay color payoff but the one thing that nobody wants with a lip gloss, this has…the stickiness.  So I don't see why it's a cult favorite.  It's just not for me.
Doesn't mean you won't love it but I don't.
I did like a lipstick that they used to sell but I don't see it on their website anymore.  So that's not good.
TARTE BEAUTY OVERVIEW
Overall I really do like the Tarte Beauty brand as a whole.  Their eyeshadows, blushes, mascaras and concealers are all great options to add to your collection.  The foundations are hit or miss but that's with any brand.
Do you love Tarte?  What's your favorite product?  Let me know if there's something I should try!  I'm always down to try new makeup ♥