I am so truly happy for all of my friends who are growing their families.  I have people who have just given birth within the past few weeks and friends who are currently expecting, and of course my friends Kim K and Princess Kate are due this Summer 🙂 lol  ( as usual I start blogs way ahead of my finishing them and baby North is over a week old now!)

I'll be the first to admit that I don't want anymore children.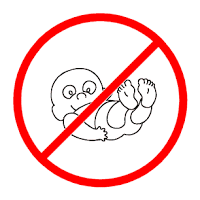 I'll also be the first to admit that there's a small, and I do mean infinitely small part of me that is open to the option.

For the past few weeks at work my co-workers and I have been talking about dreams.  It wasn't until I was going thru my tooth ordeal the other month that I realized I haven't been dreaming lately.  I have vivid dreams and some dreams I never forget.  I also have a lot of deja-vu experiences.  So I decided to tell about a specific dream I had…

It was back when I was preggo with Brianna but I don't think I knew for a fact that I was having a girl.  I want to say I had the same dream twice in my pregnancy because I recall knowing without a doubt before my 20 week ultrasound that I was having a girl.  And I want to say I had the dream again closer to my due date.  Anyway the jist of the dream was that I had a baby girl all dressed in pink.  She was beautiful, and she was a darker skin tone and looked completely different than what Brianna actually looked like.

I find it interesting that I'm remembering this dream and I said to myself… I haven't had that baby.  Does that mean she's yet to come?

DH and I go back and forth in the 3rd baby talk.  Lately he's been saying non-stop that I want another baby.  I keep telling him that it ain't happening and that he's the one who wants to have another because he won't stop talking about it.  So he stopped.  Until I brought this dream stuff up and he gave me the world's must unexpected response…

"well maybe we can try next year"  to which I say  "oh wow.  don't play with me"

"Jordan will start school next year" … "oh wow" again…then I pick my jaw up from the floor.

The next day he claims he's over it.  Yeah right.

So I guess I will continue to be torn for the next few years.  And in the meantime get to the gyno to discuss some real deal options on preventing pandora's box from opening.  I guess all it takes is a simple convo and remembering a dream to get you all confused.
Wouldn't it be wonderful if you didn't have to take your financial situation into account when deciding on growing your family??  It actually makes me quite sad really.  Like if money were no issue…man.  But it is and so on that note, I try my hardest not to be succumbed into watching A Baby Story on TLC.  It pulls at my heartstrings (or wombstrings lol) something awful.