I'm excited to share this home on the blog today!  I do love a good home tour don't you? I'm sharing one of my favorites from the Parade of Home series.  This is also in the same neighborhood as The Vassar house, the Elks house and the Coppertone house.  This is the last home I'm sharing this year from that neighborhood.  It is very close to the Vassar and Elks houses in proximity. Right around the corner from the Elks house.  This is also built by one of my preferred builders in this county.
Side note on that…you may be wondering why would I have a preferred builder or how?  Basically because I enjoy these home tours and I go to them as opportunities arise.  The two builders that I prefer are builders who I've seen a lot of their work first hand.  Not just online but in person and I've been able to see their attention to detail and the craftsmanship in both small and large homes.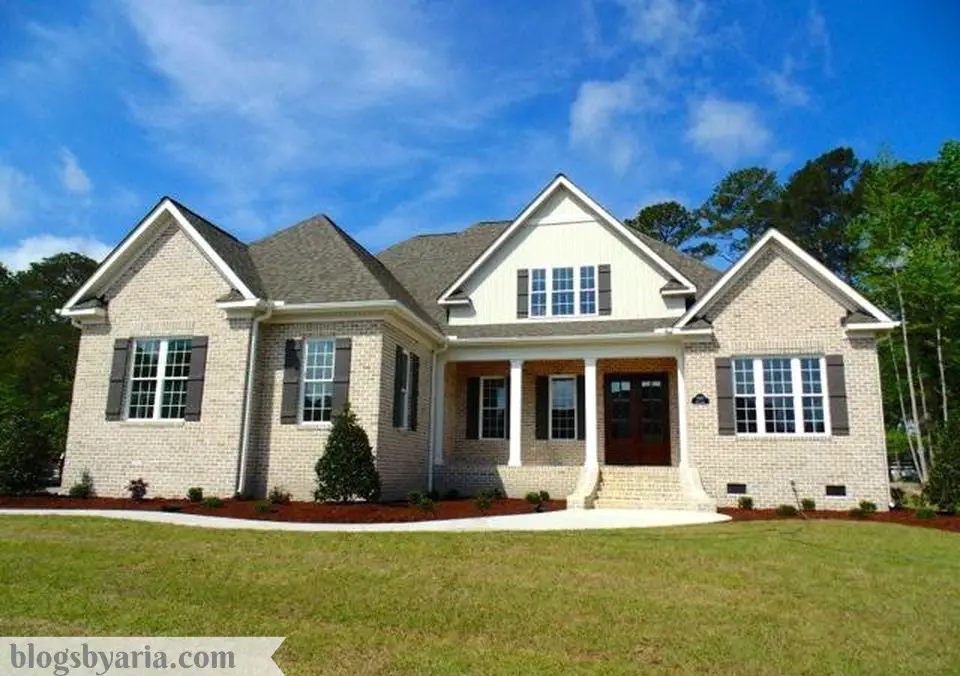 Now back to the tour, I am calling today's house the Nottingham house.
It is 4 bedrooms and three and a half bathrooms and it is 3850 square feet.
Let's take a look inside.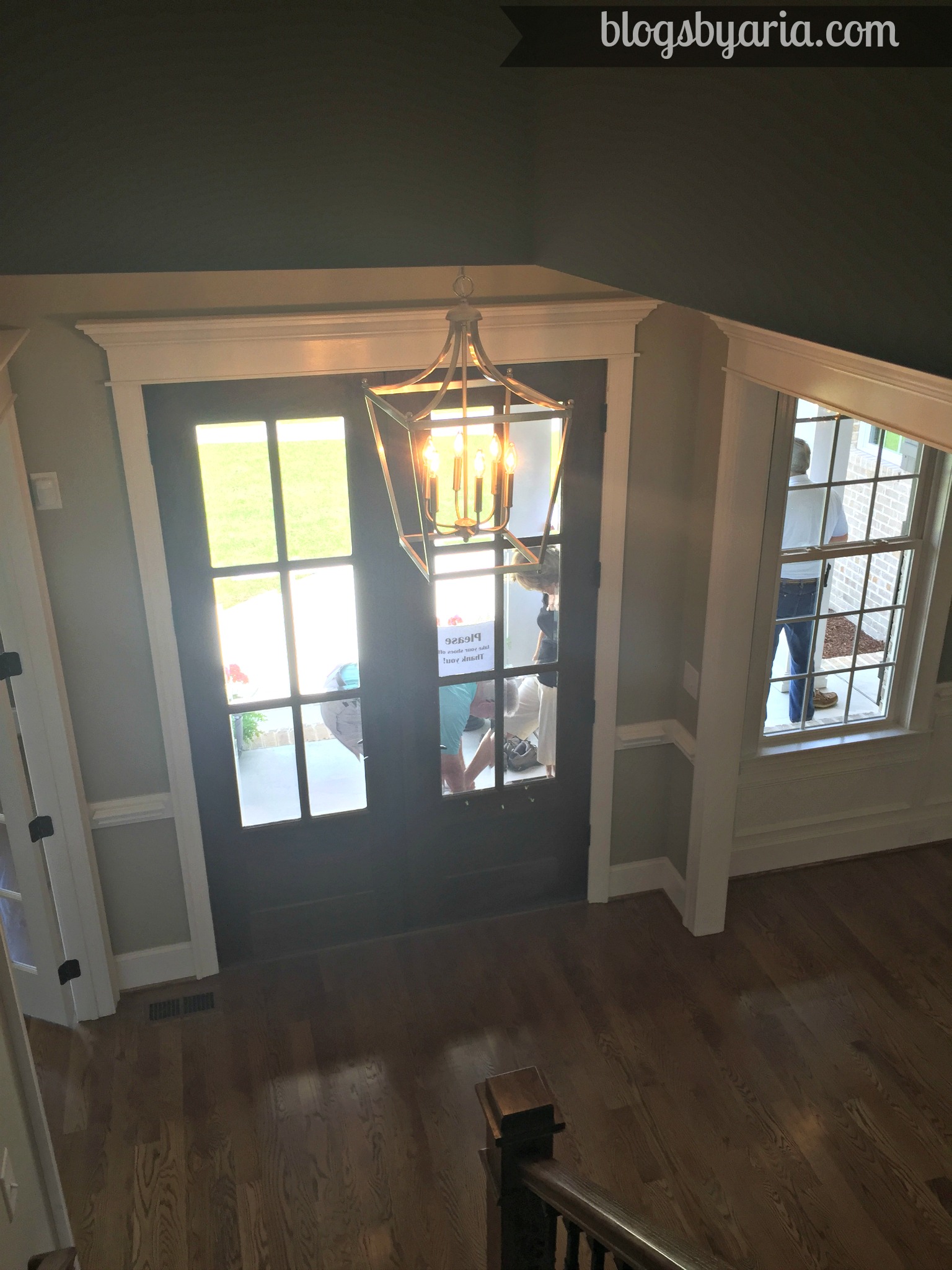 When you walk inside and look directly in front of you, you see the stairs.  Major bummer.  But the stairs, which I couldn't get a good picture of thanks to it being so dark, are very narrow but they don't go just straight up.  There's a small landing to break the stairs up on the way upstairs.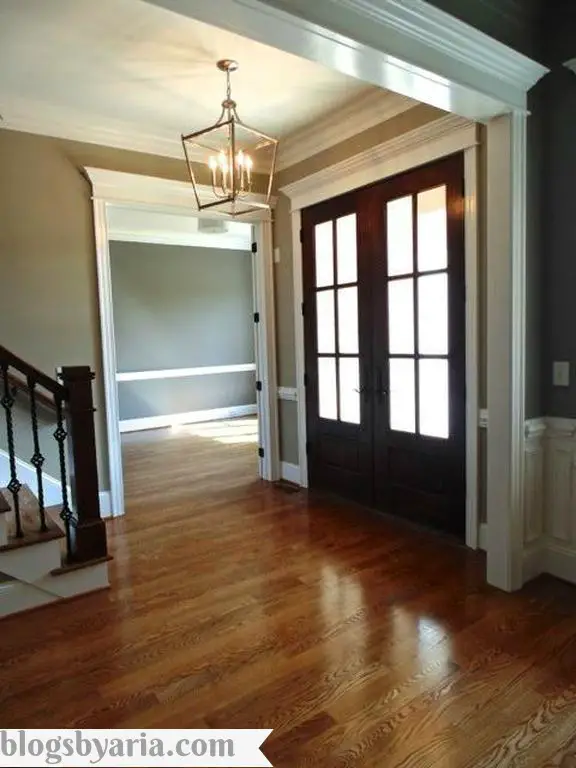 To the right is an office with French doors.  Classic.  This is the only home in the neighborhood this year that had a true office space.  It's hard to look at a home and not picture how it would or wouldn't work for you.  And I want an office for my future ventures (more to come on that in the future!).  I do appreciate the office but you'll see soon how it takes away from something else in the home.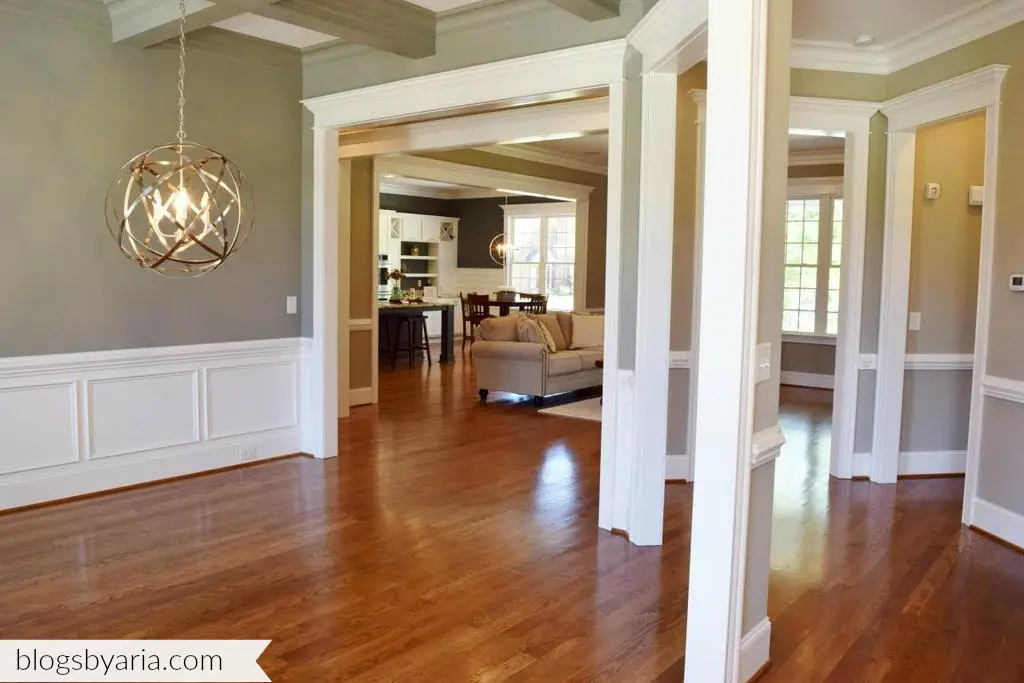 When you look to your left or away from the stairs you come into the main open space of the home.  I do understand why we have to have these columns here but I would prefer a more open sight line. We have the dining space here.
Walking from the dining space to the living room it is very open to the kitchen and eat-in nook.  This home would be great for entertaining in that regard.  Everything just flows.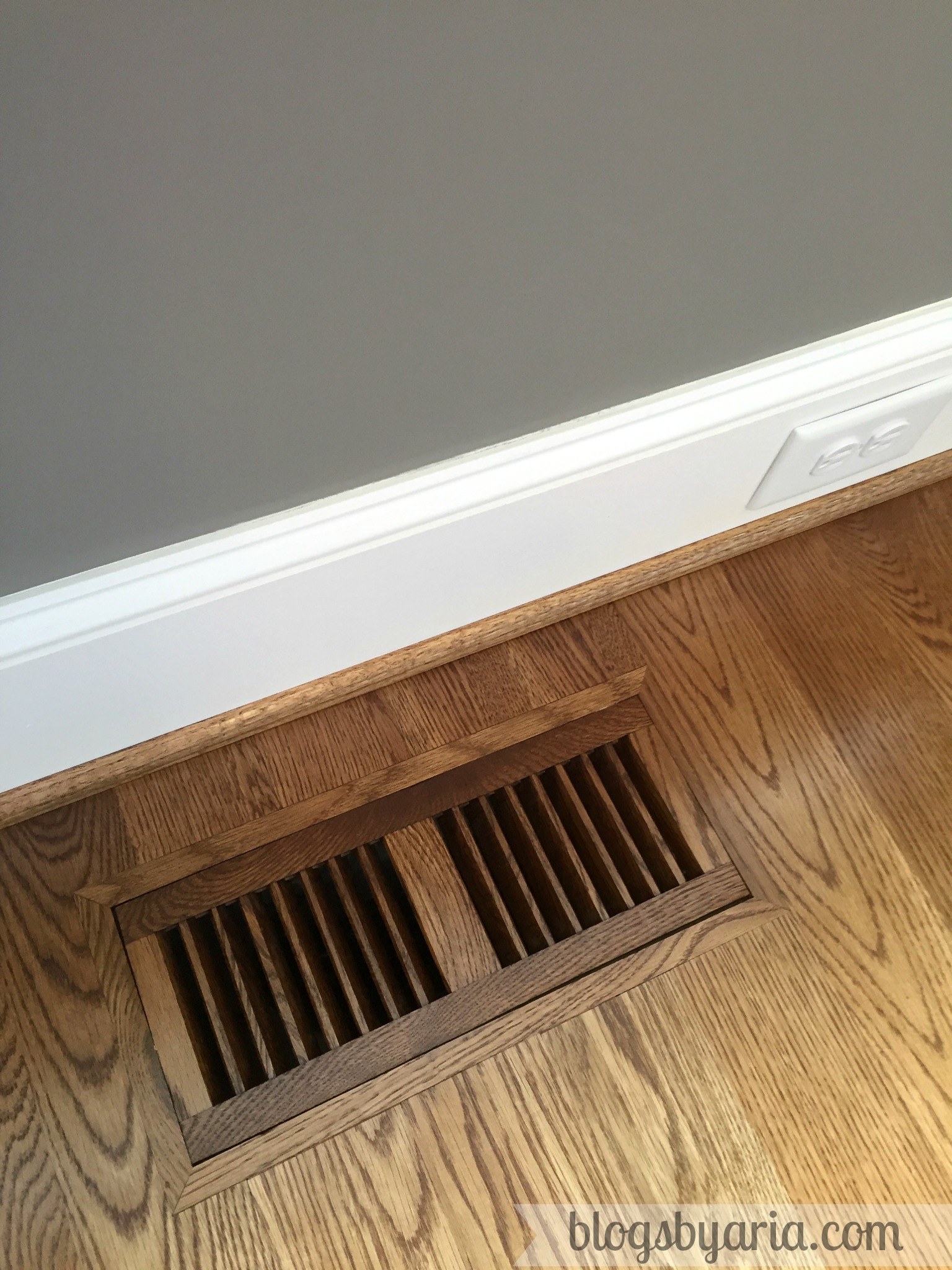 Look at this eye for detail with blending in the vent with the floor.  I love touches like that.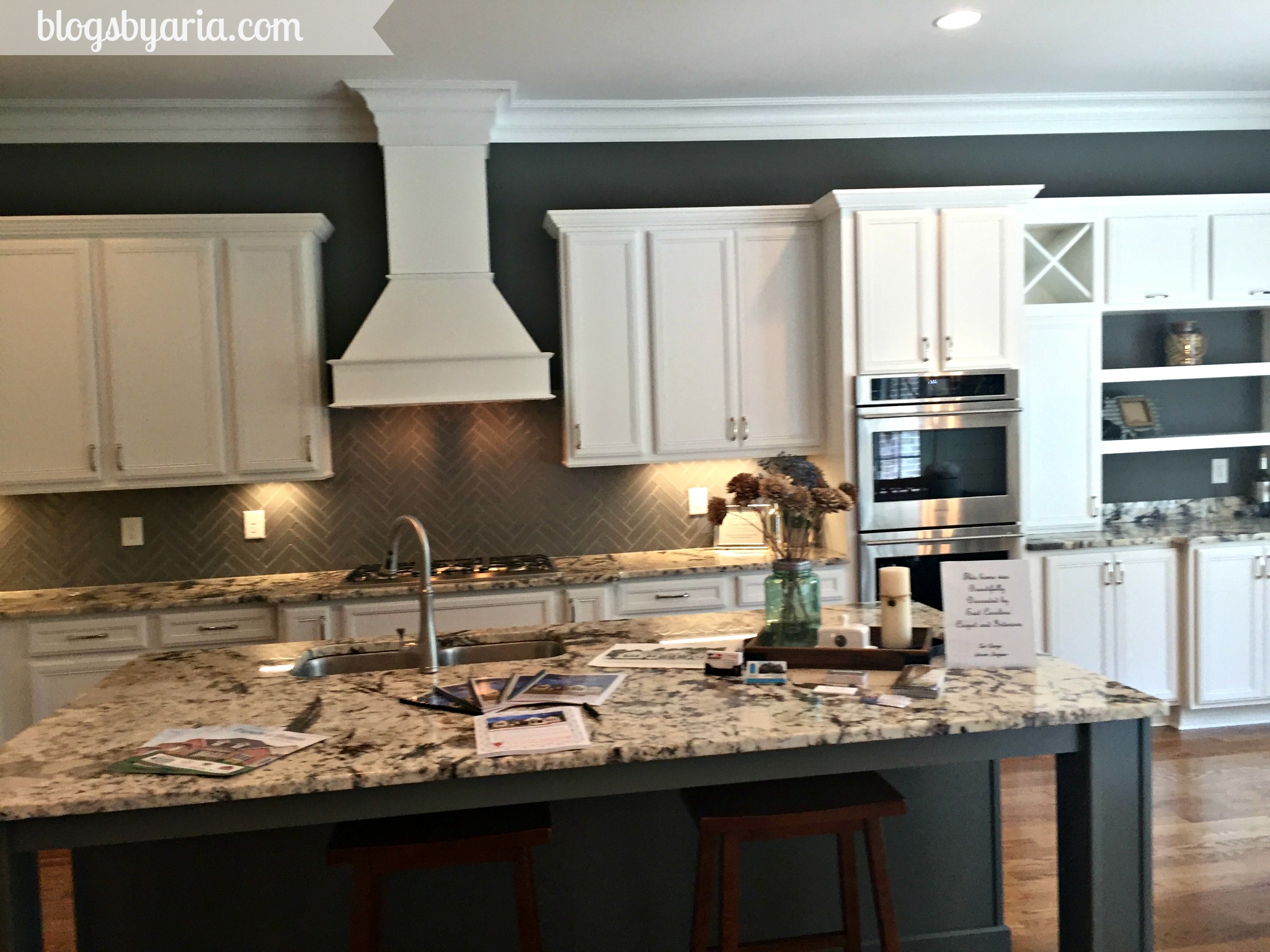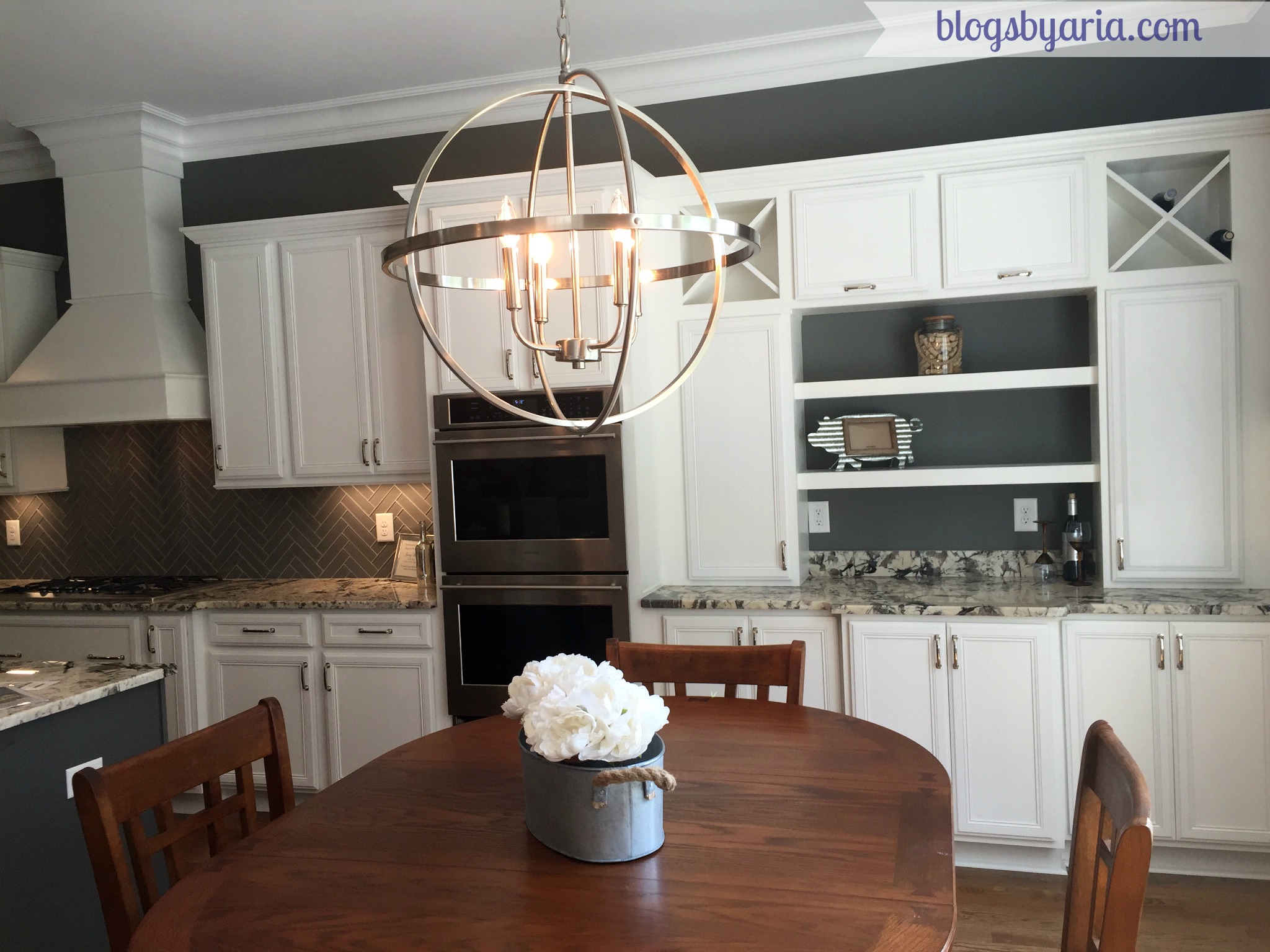 The kitchen flows into the eat-in area.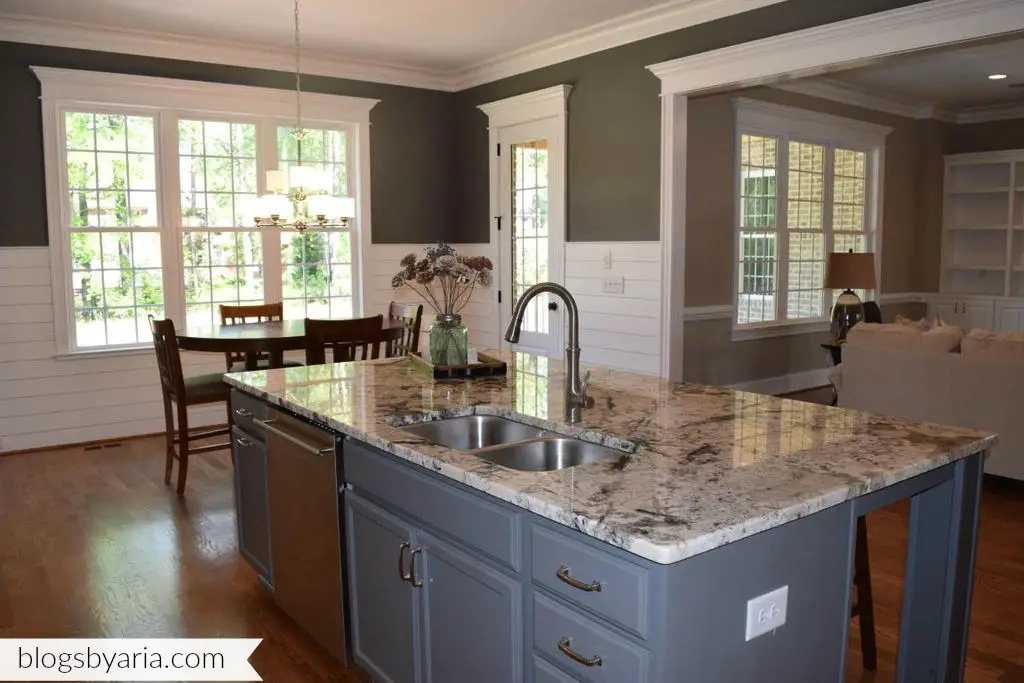 You'll see in that I took a good amount of pictures in this kitchen.  I asked the agent did she think that the trend for the farm house sink has passed.  She said it's definitely not something she's seeing in a lot of homes anymore.  Although just earlier this year I shared the Dunhagan home which is also a new build (and still on the market) that had a farmhouse sink.  She also shared that, if you watch HGTV you've seen this for a while, the trend of going with blue or color cabinets along with the white main cabinets.  Ehh that's the thing about home building, it really is a matter of ones tastes.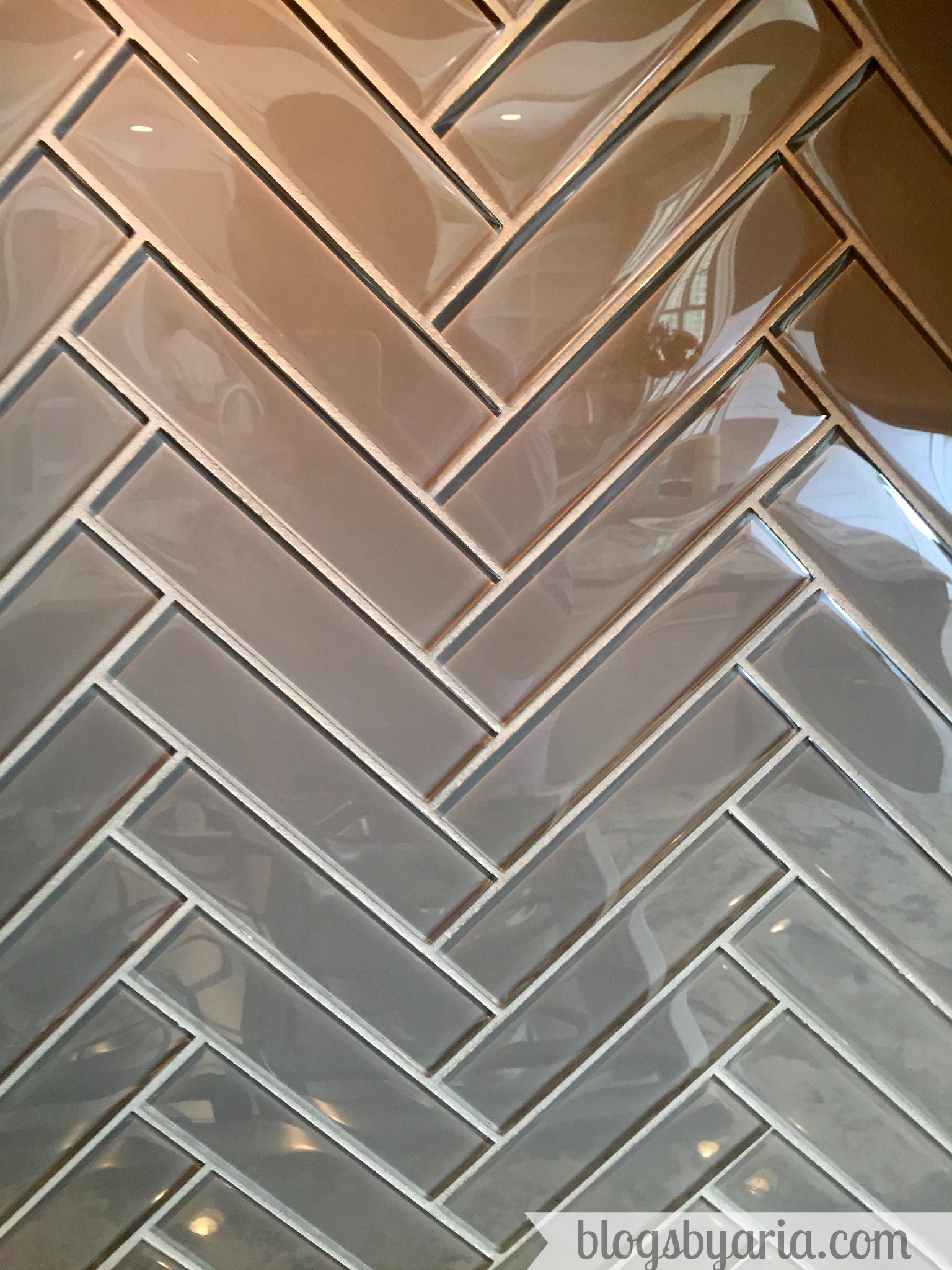 Love this backsplash.
Overall I like this kitchen.  I don't like when a builder doesn't bring the cabinets up to the ceiling.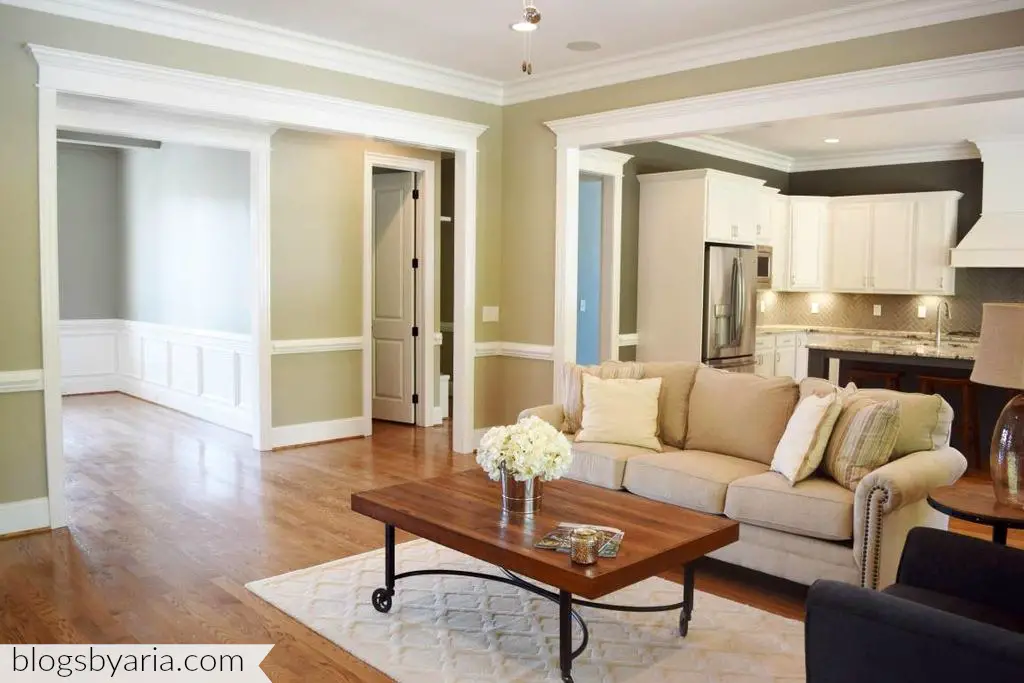 To the left of the kitchen there is the pantry, a mudroom area, laundry room and powder room.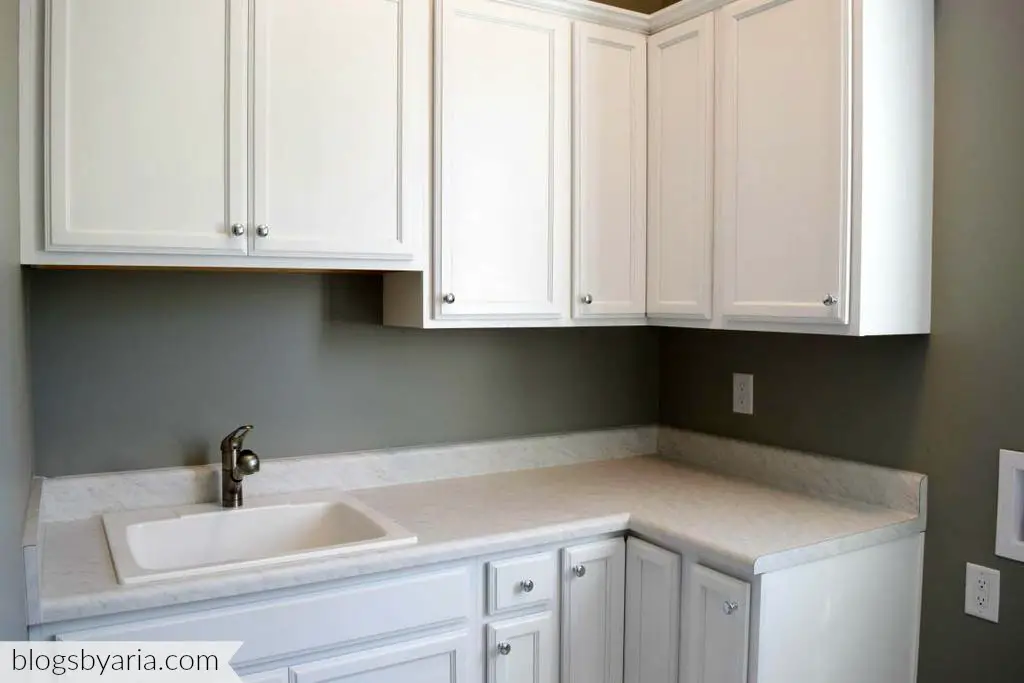 This is the laundry room.  I love good storage in the laundry area because it helps when shopping in bulk.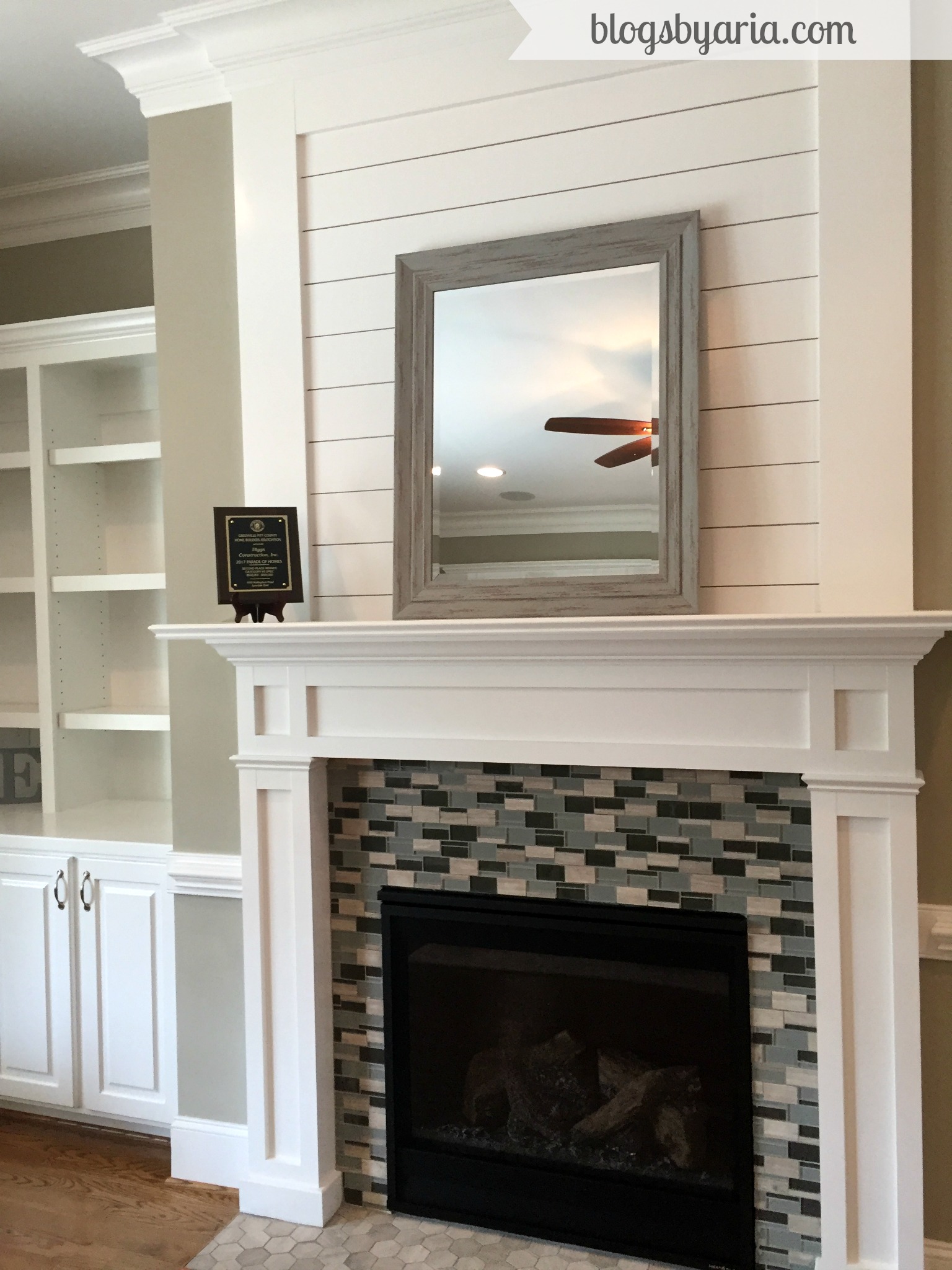 I like this living area.  Love the shiplap and the built-ins.  Don't love that this is the only one. (And I love the rug, the coffee table and the lamp, in case you were wondering! 😉 )
On the other side of the living room is the master suite.  The master is a nice size and has a nice sized master closet and bathroom.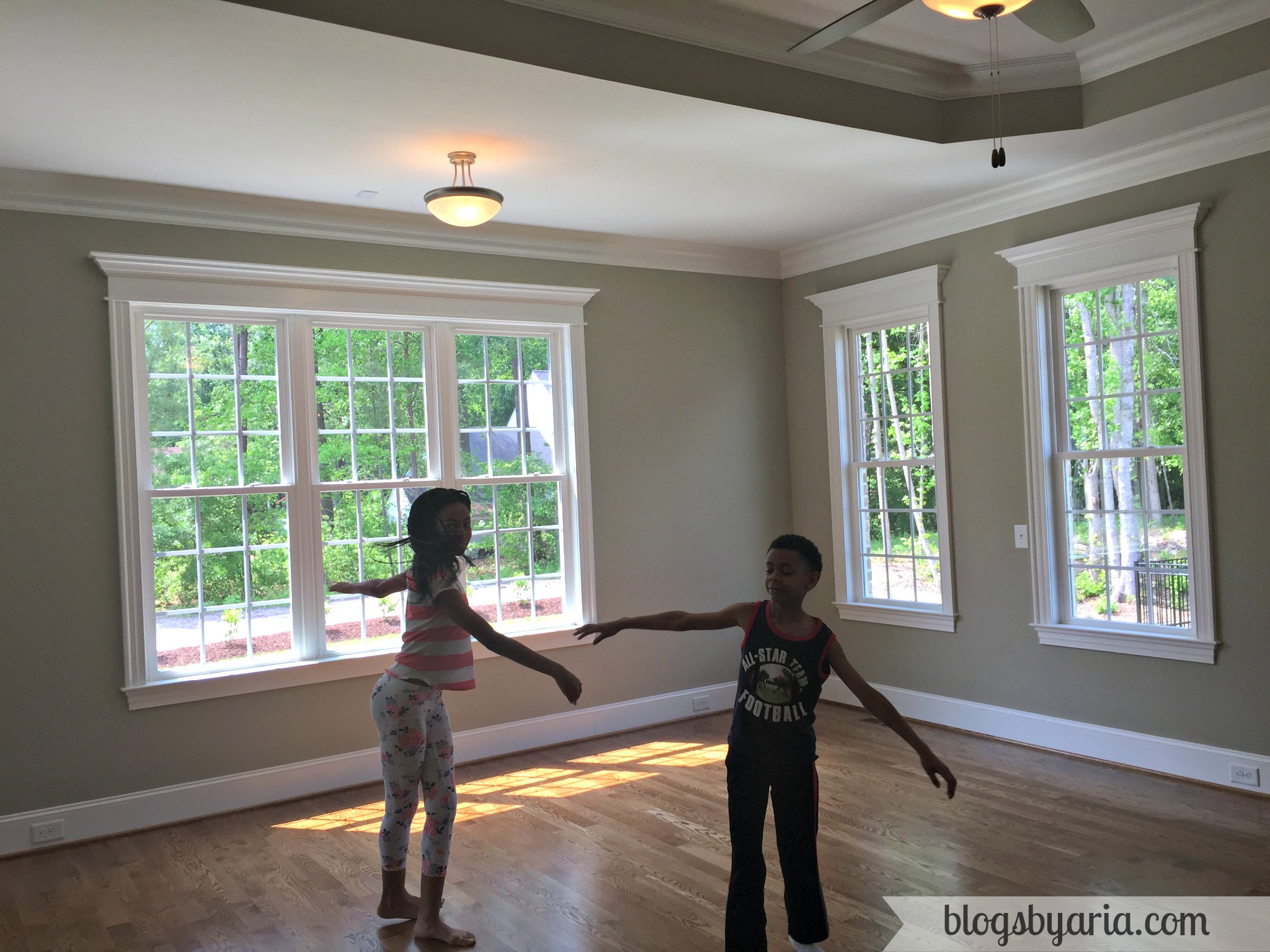 Here you see the kids twirling in the master.  It's twirl worthy!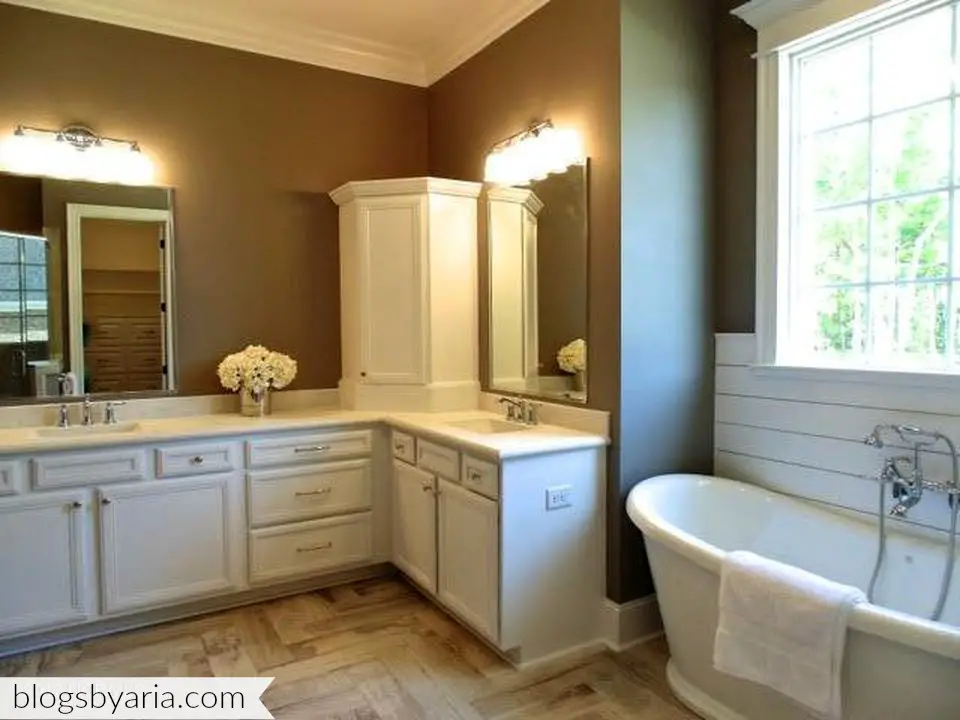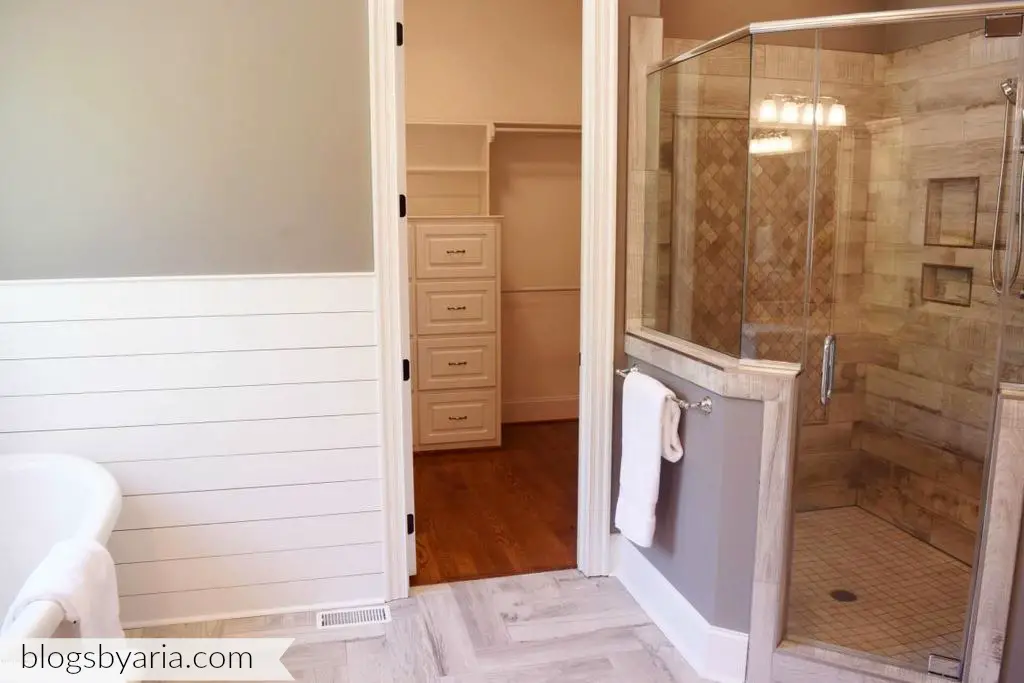 Even though the bathtub is freestanding I do really like this bathroom.  It just seems so very spacious.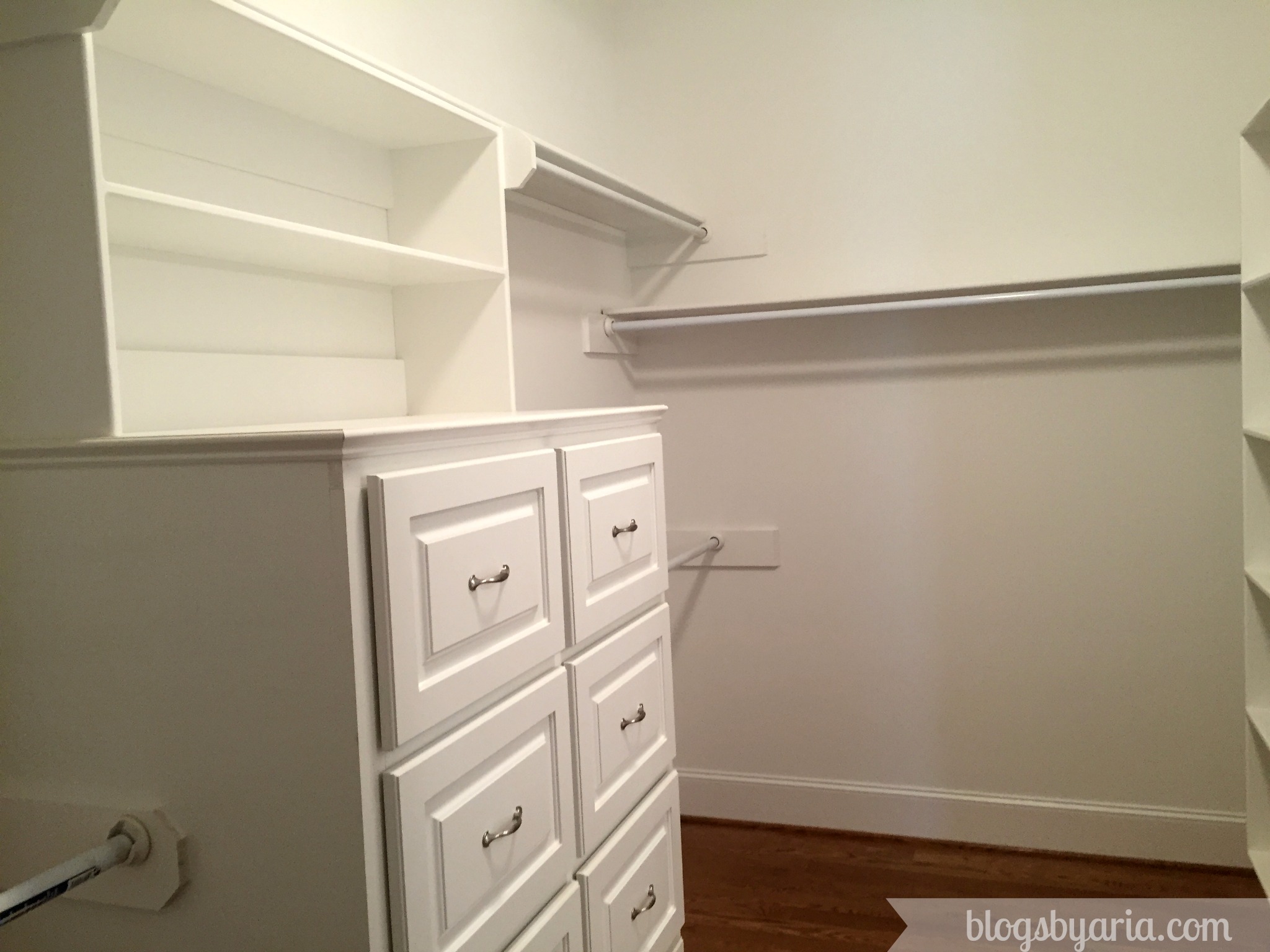 Master closet goals.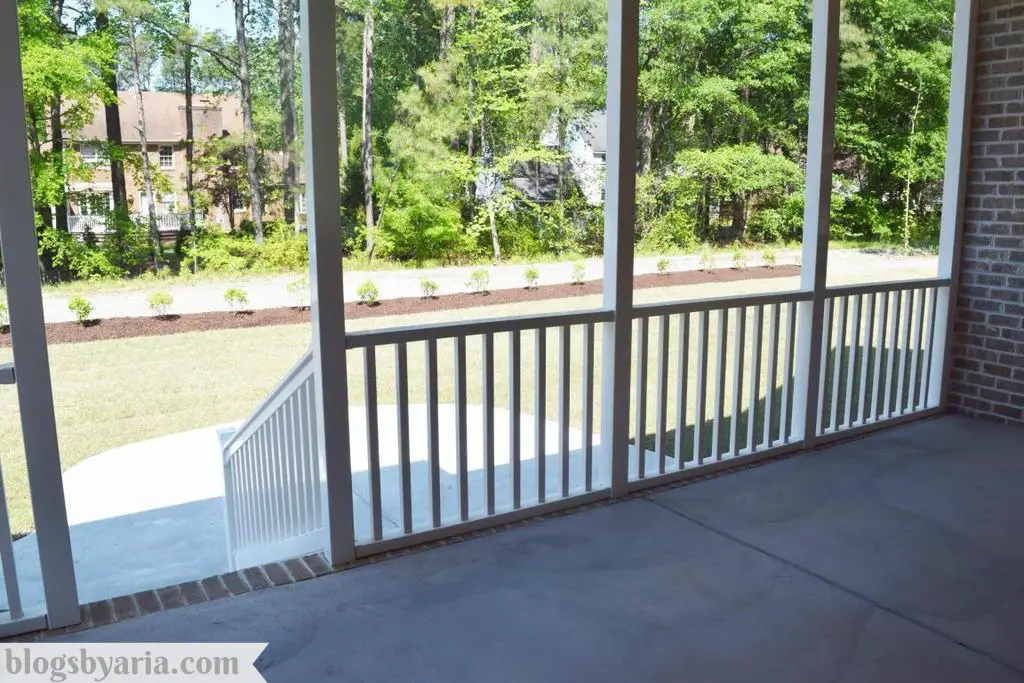 This is the back screened in porch, which I just love a screened porch.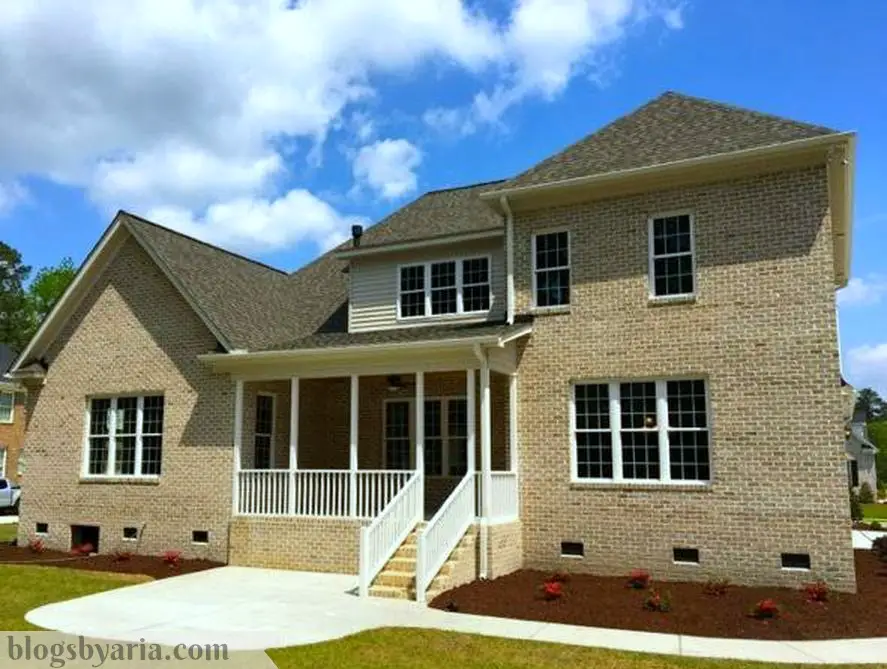 And I got this picture of the back of the house.  Clearly no room for a pool or barely anything really.  It's really just like hey let the dog run around out here and that's it.  Bummer.
I don't remember what these things are called…the big ditch behind the house.  I know the reason for them but I don't want to live in a home that backs up to one.  All I can think about is mosquitos.  #nozika DH says I'm too picky.  I say I can compromise but I know what I want and what I don't want.  Does anyone live next to one of these things?  If so am I totally unwarranted in my aversion?  I feel the same way about the house next door that I fell in love with a year or so ago.  I just knew that would be my house but I didn't like this aspect.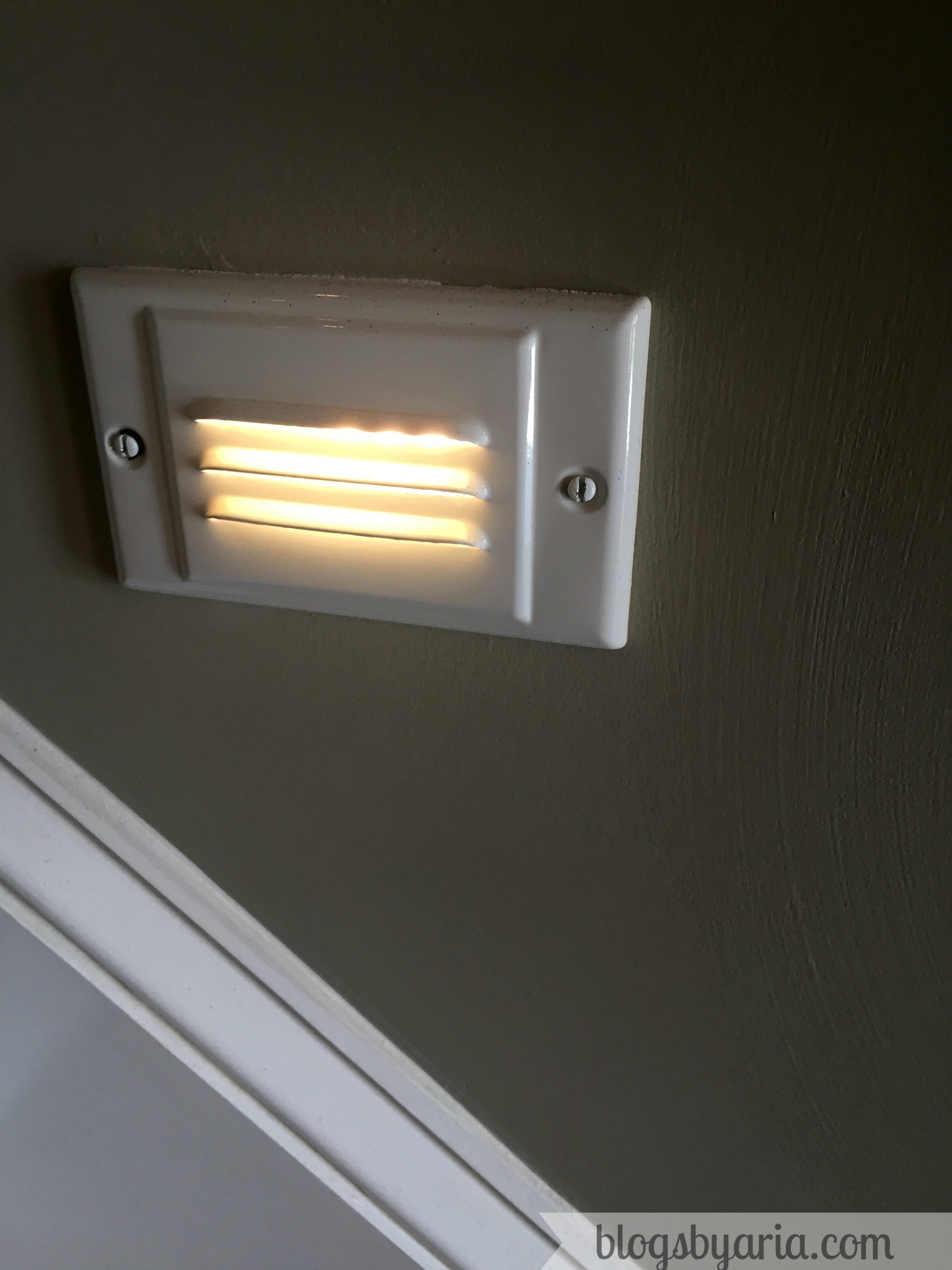 Anyhoo, let's go upstairs already.  I don't know if you did read my Dunhagan post but this is what I was talking about then, about these lights up the stairway.  They're called path lighting.  I just love this detail.  Especially in this home because as I mentioned before, these stairs are dark!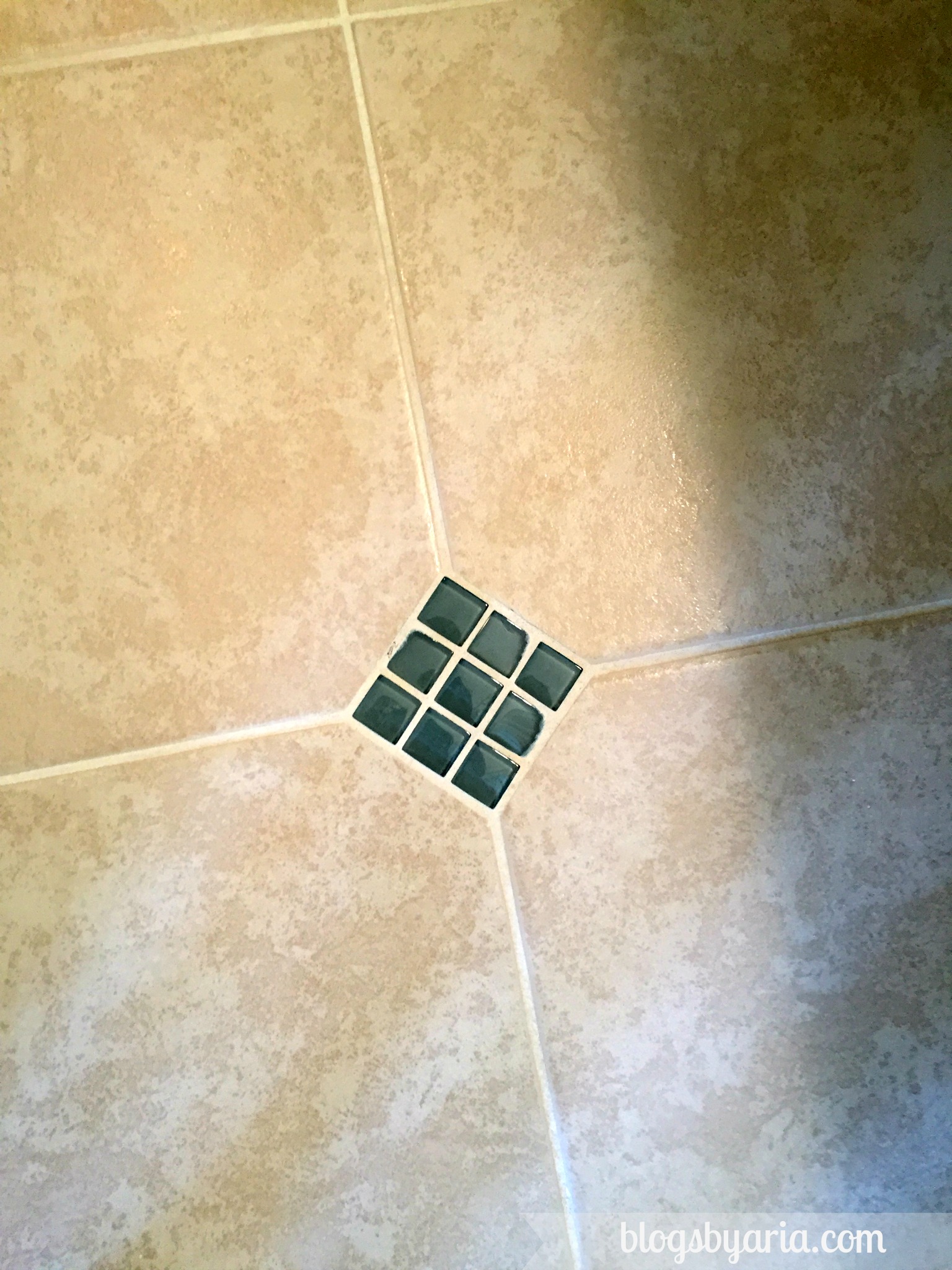 Upstairs there is a bonus/theater room with three bedrooms.  One that is jack and jill and another with it's own bathroom.  I didn't get both pictures but here's another detail I enjoyed… was this tile detail.  Both the jack and jill and the en suite have different accents.  Nice touch.
So!  What did you think of this home?  I really like it.  Let's talk about the pros and the cons.
What I like…
Dedicated office space
Nice size walk in pantry (that I didn't get a picture of)
The master suite is really nice, the bathroom is spa like and that closet is swoon worthy
The flow of the main living space is really nice for gatherings and entertaining
What I didn't like…
Lack of additional living space
The stairs are right there when you come through the front door
The columns when you come into the dining room although I've seen a lot of similar styles in floor plans online
The yard size is ridiculous
What do you think?  Share in the comments below!  Until next time, and thanks as always for spending some time with me today : – )