The countdown is on!!  The kids head back to school in less than two weeks and I'm sharing what I do to get them and me ready for back to school.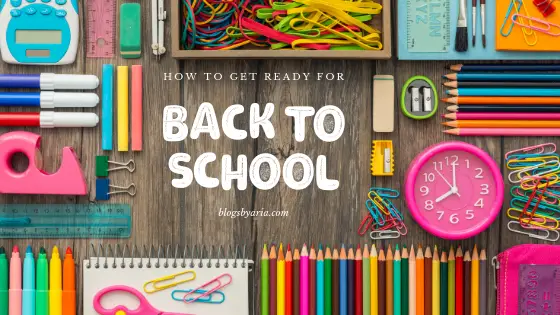 *this post includes affiliate links for your shopping convenience, you can read more about affiliate links by reading my Disclosure*
I know a lot of you are already back in the swing of things but hopefully you'll still find this post helpful.  This year I have a freshman in high school.  I know, crazy right?  I still can't believe it because I remember being a freshman like it was yesterday.  And I have a fifth grader.  Which I also think is crazy!
This year I'm feeling a little bit more on top of my game when it comes to back to school prep.  If you're new here, last summer we moved to Raleigh and to say it was an adjustment is a huge understatement!  We went from the kids going to the same school they had since kindergarten (it was k-8) and wearing school uniforms to different schools, completely different schedules and wearing regular school clothes.  Not to mention that it took them a couple of months to stop begging to move back to Greenville.
I was still trying not to get lost at my new work campus every week and adjusting to Raleigh traffic, no easy feat, and so much more!  So although yes, they started school with their needed supplies and new wardrobes, I was very much unprepared.
This school year is a different story (thankfully) Here's a few ways that we're getting ready for back to school:
Go through old clothes
Something easy that the kids can do or help with.  Before back to school shopping we went through all of the kids clothes and got rid of anything that no longer fits or in my daughter's case "no longer suits my style".  Last year we did a huge back to school clothing haul and in my daughter's case, she has a lot of clothes that she can still wear into this year.
My son is just getting taller and taller and last year, close to the end of school I had to get him a lot of new jeans and pants to accommodate his height.  So I took a few hours the other week and went through all of his clothes that no longer fit so that we can get a good idea of what we have on hand and what needs to be purchased.
For the most part, we donate our old clothes to Goodwill.  I recently started a Poshmark account, you can follow me at @aria_brown.  In addition to clearing out some things from my closet, I'm using it for Brianna's clothes, and the money I earn for her clothes will go to her.
Back to school shopping
When it comes to shopping for back to school I am all about getting those deals.  For Jordan I tend to stick to the same stores.  For graphic tees I shop at The Children's Place a lot.  They're always on sale and always free shipping.
Jordan will wear jeans, but for the most part he really likes to wear joggers.  I get a lot of his joggers and other clothes from Old Navy and Kohl's.  Shopping for Jordan is super easy!
Brianna is a different story, not the easiest to shop for.  Last year we got a lot of her clothes from Aeropostale.  This year she claims she's over that.  For jeans, we get a lot from Kohl's.  I really like the Mudd brand.  She wants to get more things from Forever 21 and stores like that.  We'll see what we end up adding to her wardrobe.
The good news is that we're not doing a big clothing haul.  We're mostly filling in the gaps to get them ready to go into Fall and Winter.
Shopping for shoes is the part I least enjoy because it tends to be the most expensive!  But my daughter is in a Vans phase, and I'm good with that because they're too pricey.  The jury is still out on shoes for Jordan…stay tuned for that.
New school supplies
Here in Raleigh there are so many schools with so many different school calendars.  We have traditional schools, year round schools, charter schools and private schools and that means some students have already been in school for weeks before my kids go to school.  My kids are in the last group of students to go back to school.
The good thing with that is school supplies are abundant around here.  I have at least four Walmart stores and two Target stores within a ten mile radius of my home.  A few weeks ago I went to Jordan's school website and got his supply list.  I already have everything on his list ready to go.
We won't know what Brianna will need until we go to orientation next week but it's nice to know that I have so many places to choose from for school supplies.
Review Your Routine
New school year means back to routine.  Now is the time to think about what did work last year and what you may want to build on for this school year.
For me that means bedtime routines, morning routines, how we manage time on electronics and video games.  I know these rules and routines are different for everyone.
In the last week and a half leading back to school is when we buckle down with bedtime.  I am a stickler with bedtime and I believe sleep is very important for young brains (and old ones too).  We decide who wants to shower when, how to handle bathroom time (again I have a teenage girl so this is a thing) and anything else that may come up in your household.
Meal Planning
One thing that a new school year inspires me to do is to think about meal planning.  I won't lie…this is a huge struggle for me.  It's so easy to get into the rut of what's for dinner and making the same things over and over.
Think of some family favorites that you know the majority of your family will eat.  I recently went through some of my Pioneer Woman cookbooks and marked several recipes that I want to try out.  Add them to the list, maybe one new recipe a week or every other week to switch things up a bit.
Something I tried to do last year (not as consistently as I wanted) was to make a Sunday dinner like pot roast that can be good for leftovers on Monday.  That way I started off the week ahead of the what's for dinner game.
Organizing Solutions
Just like it's important to review your routine in your back to school prep I also think it's important to think of how you want to be organized this school year.  This goes for both the kiddos and the parents.
It's easy to have so much on your plate that things tend to get unorganized, especially when you work a full time job.  So it's imperative to stay organized with paperwork, school assignments, and school supplies.  Think about where backpacks are going to be kept and where homework will be done.
Set Expectations
Before school starts, or if your kids are already back in school, I think it's a good idea to set expectations with each child.  In our case where my kids are older, we go over expectations with grades of course but in addition to grade expectations, we expect them to keep their book bags neat and their homework tidy.
That's something that we struggled with a lot with my daughter last school year.  I don't know where she got that from, but I always had neat handwriting and kept my paperwork neat.  Maybe I had a teacher that wouldn't accept crumpled paper but that's an area I have to stay on top of her with.  I always tell her she should be glad I'm not her teacher 😉 I don't know, maybe it's just me but I think it's disrespectful to hand in crumpled up work.  I'll step off my soap box now.
Something I'd like to do is to check in every few weeks or every month or so to see where we are with our goals.  What's working and what's not working?
Lastly, there's no time like the beginning of the school year to do some goal setting.  I've mentioned this before, but there's something about a fresh new school year to set goals.  It's like New Year's to me.  What are the goals you and your student want to accomplish this year?  Write them down and work towards them.
I hope that you found this post helpful with getting ready for back to school.  I pray that we have a great school year, full of fun, learning new things and most importantly safe!