I have so many spaces partially decorated for Christmas.  I can't wait to share the finished areas with you but at this rate that may not be until Christmas Eve!  Just kidding…I hope.  Instead of waiting to share a completed room or my holiday home tour, why not share some of the progress I've already made?  Especially if you see something you'd like in your home, but at this rate by the time I finish everything will be sold out.  So let me share my Christmas decorating progress.
*this post includes affiliate links for your shopping convenience, you can read more about affiliate links by reading my Disclosure*
CHRISTMAS DECORATING PROGRESS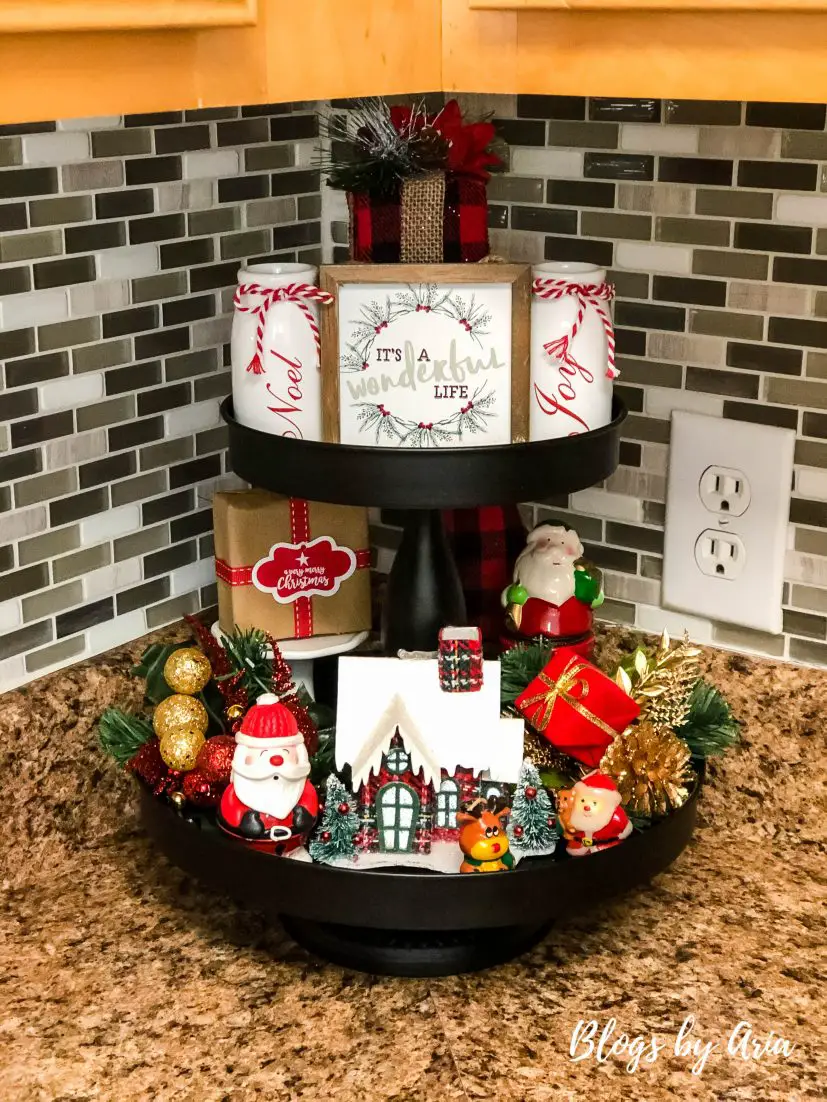 As of now the only thing completed is my Christmas tiered tray.  You can read all about it here and I included links for everything I used.
THE CHRISTMAS SIGN THAT WASN'T
Moving on to the living room which is where the bulk of the Christmas decor will be, I have to tell you about my Christmas sign.  If you follow my Instagram, I shared all of this in Stories a couple of weeks ago.  I really wanted a nice larger Christmas sign to go over our couch.
For a couple of weeks I debated over several options and finally chose one.  It was similar to this sign but I can't link it because it's sold out. Instead of saying "home for the holidays" it said "it's the most wonderful time of the year."
I ordered it online along with a nutcracker pillow because it wasn't available in any of the Kirkland's stores in my area.  So when I get the email my order is ready to pick up at Kirkland's I was beyond excited.  This was on Veteran's Day.  I go inside to get my package and the lady comes out with a small box.  Which was the box with the pillow.  But she couldn't find my sign.
Long story short…Kirkland's had sold out of the sign and when they were processing my order the person was supposed to cancel the sign and refund me for it.
Now to say that I was bummed is putting it lightly.  I was devastated.  Do you know how long it took for me to pick out that sign, like this wasn't an easy decision for me!  I did end up getting a refund but that didn't solve the problem that now I was back to square one.
A couple of days later, with my refund processed, I got an email from Kirkland's showing that they had a big sale on certain holiday decor.  I decided that I would get the sign I shared in my Christmas Window Shopping post and use my birthday coupon for an extra 25% off.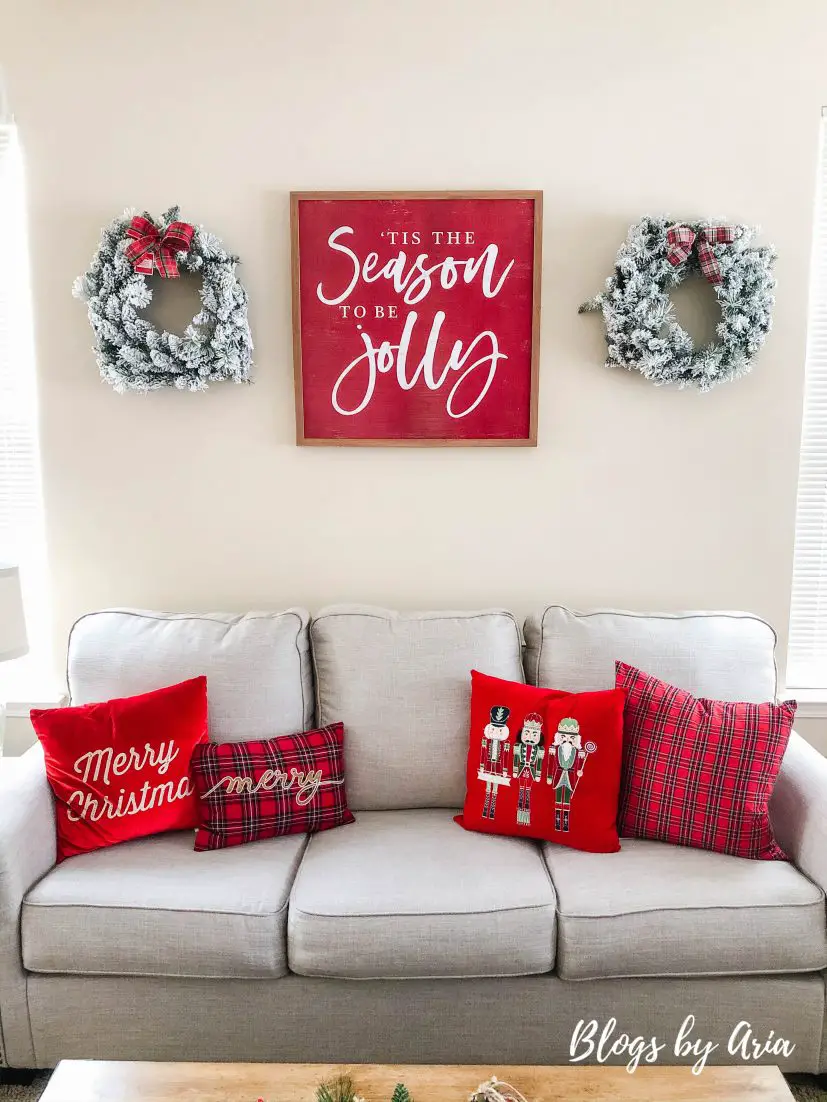 Once I put this gorgeous Tis the Season to be Jolly sign up over my couch I could hear the angels singing!  It was perfect!  It's not too distressed and not too farmhouse, it's just right!  What makes it even better is that I got it for less than the other sign (they're originally the same price but the sale was better plus my extra discount).
It all worked out in the end for the better.  Although I can admit, it hurts anytime I see the original sign on Pinterest or Instagram.
My plan is to get two wreaths to go on either side of the sign and I'll tie a tartan plaid ribbon on them and this wall will be complete!  As you can see, the wreathes are a work in progress too.  I took this picture today but had already written the post.  I'll use the larger ribbon and make larger bows in case you were wondering.
GIVE ME ALL THE CHRISTMAS PILLOWS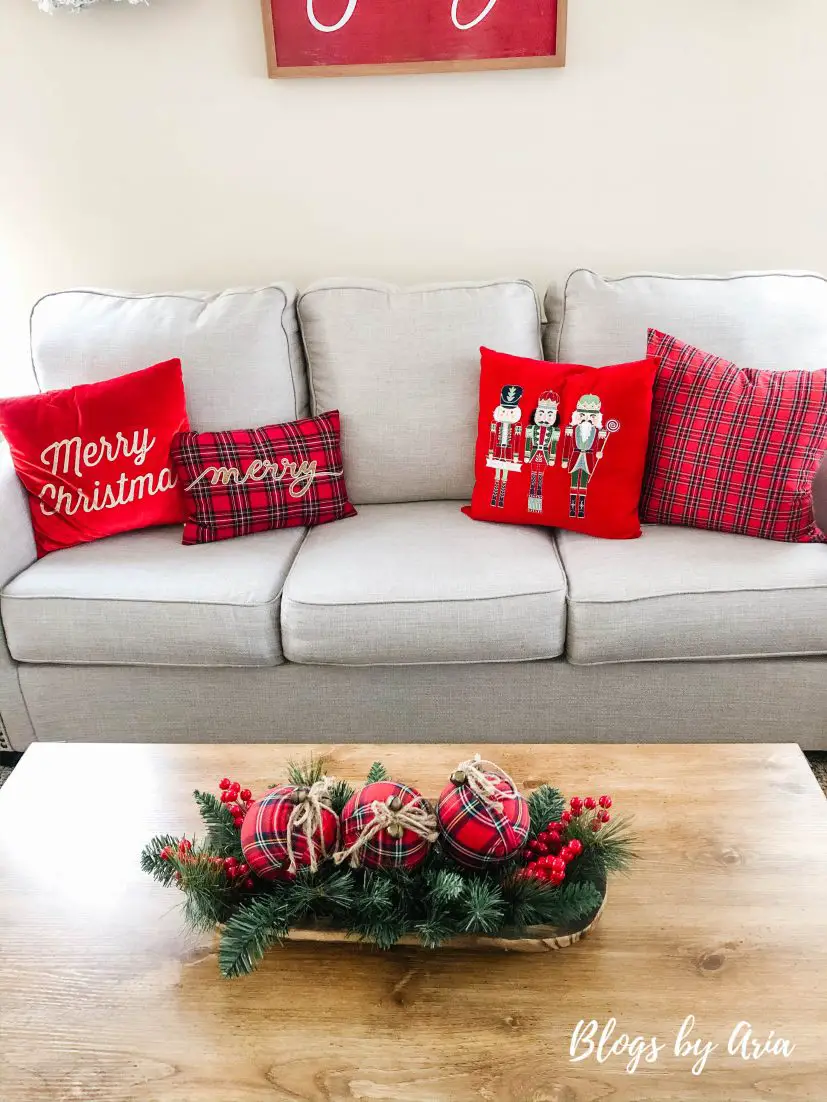 I'm actually pretty much done with adding any new pillows.  Kirkland's is not sponsoring this post but most of my Christmas pillows are from Kirkland's.
Starting with my nutcracker pillow.  I was going to get just one and put it in my basket with a throw blanket.  But after I got another email with a sale from Kirkland's I decided to get another one because I love it so much and the price was too good to pass up!  I've also seen a similar pillow here if it's sold out at Kirkland's.
When I was at Kirkland's with my sign debacle I saw they had some plain tartan plaid pillows, the kind I said I was looking for.  I didn't buy them at the time but decided that I would come back for them because they would finish up the space and tie it all together.
The following weekend low and behold, another email 🙂  This email was for a select few pillows at half off and guess what pillows fell in that category.  Ding ding ding! You're right my tartan pillows that I was going to get.  I stacked that with another coupon I had and walked away paying $20 after tax for two pillows that were each originally $24.99!
If I add anymore pillows it's because my mom said she might get me this pillow from Belks.  Which would be great because it ties into my theme!
That's all for the pillows in my living room but I did buy a Christmas pillow for my daughter's room.  This Merry & Bright pillow from Big Lots.  I'll be adding a few touches of decor to her room and I'm going in the merry and bright kind of theme.  Everything I'm getting from Big Lots.  And in my sons room I'm adding a few snowmen themed items here and there.  So I'm picking up this snowman pillow for him.
COFFEE TABLE CHRISTMAS CENTERPIECE
In a sea of all things buffalo check it's hard to find the classic tartan plaid items, especially at Hobby Lobby.  But I spotted these large tartan plaid ornaments and thought that I could make a centerpiece with them.  I used the dough bowl I purchased in the fall, some berry picks and greenery picks and made this simple Christmas centerpiece for our coffee table.  I love that it doesn't take up too much space and is easy to move if needed.
CHRISTMAS SHELVES DECORATING PROGRESS
Styling my bookshelf for Christmas has proved to be a harder task than I expected.  At the moment I just have things scattered about.  Every so often I move something and hope that I get some inspiration…it hasn't happened yet.
The tree on top will go in my daughter's room.  I got it from Target last year and I'm trying to decide what to put in it's place.
Honestly this will all probably change after this weekend.  I want to get all of my decorating complete so I can enjoy it and not have to think about it anymore.
And yes, I keep tags on almost everything until I'm absolutely sure that I want to keep it.
HAPPY THANKSGIVING & HAPPY DECORATING
These aren't the only areas that are partially decorated.  Now that we're officially after Thanksgiving, I'm getting all of spaces completed this weekend.  At least that's the plan 🙂
I'll be sharing soon the reveal of our new Christmas tree!
Now that Thanksgiving has finally come I can decorate all the spaces without the moans and groans from my family so stay tuned for lots of holiday decorating posts!
Of course I'm sure you're shopping all of the Black Friday and Cyber Monday sales.  I wanted to remind you that it's the perfect time to buy your planner for next year!  I ordered my new Erin Condren Life Planner last night!  You can score 30% off site wide!!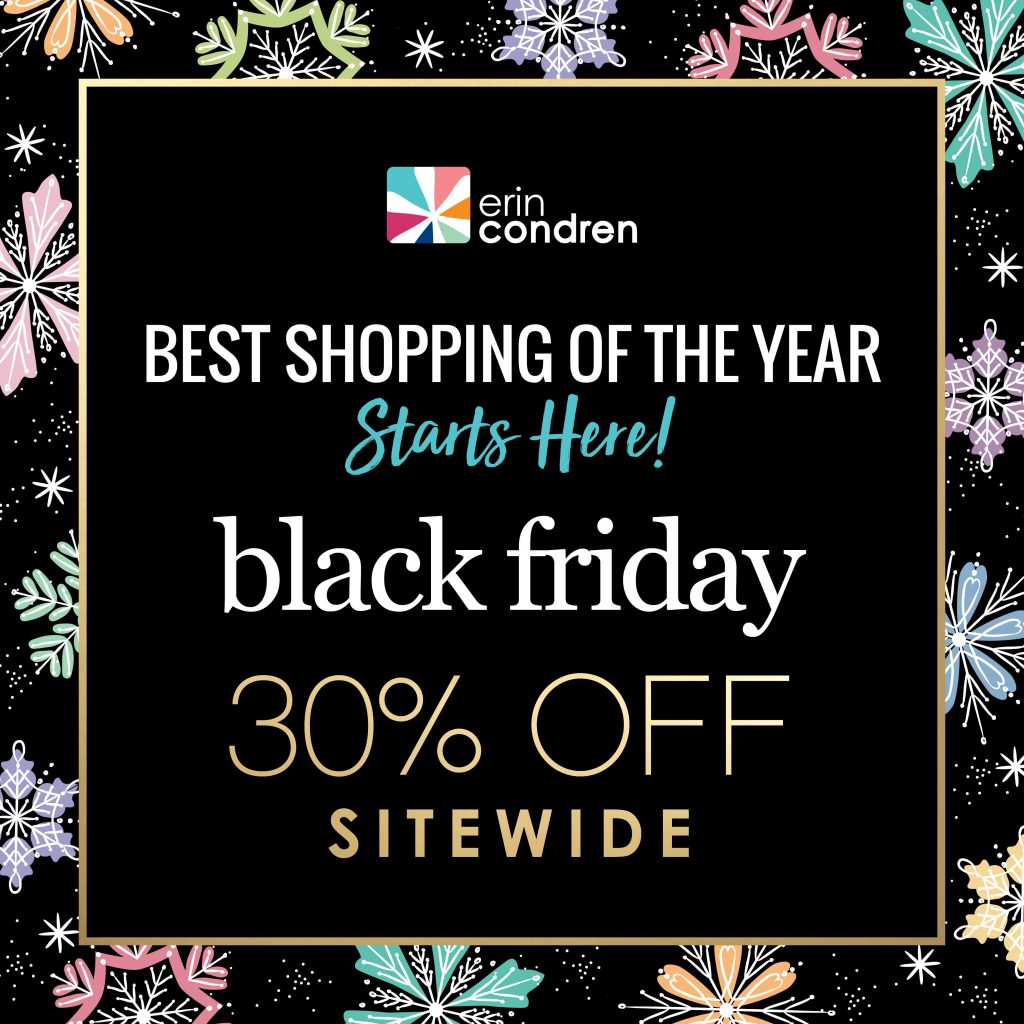 Happy shopping!  And although the focus of this time of year tends to be more about shopping than it is about giving thanks, I want to remind you to take a moment to truly count your blessings.  Regardless of where you are in life, or what's going on, you have something to be thankful for.  I want you to know that I'm thankful for you.  Whether you're a regular reader or this is your first time here, I thank you for spending some time with me today ♥