Last year when I shared my daughter's bedroom decorated for Christmas, I thought the merry and bright theme would be great.  This year I fully intended to build on the merry and bright decorating theme.  That's how it started, but it's definitely not how it ended!  Much like the rest of 2020 right? 😉  Turns out instead we went with a more rose gold and blush holiday decor style.  Let me show you my daughter's rose gold and blush Christmas bedroom.
*this post includes affiliate links for your shopping convenience, you can read more about affiliate links by reading my Disclosure*
About a month or so ago I was in Walmart perusing the Christmas decor and I saw this cute rose gold tinsel tree.  I knew my daughter would love it.  We got the 4 foot rose gold tree, although I wanted to get her the 6 foot version.  It was her choice and she wanted the shorter one.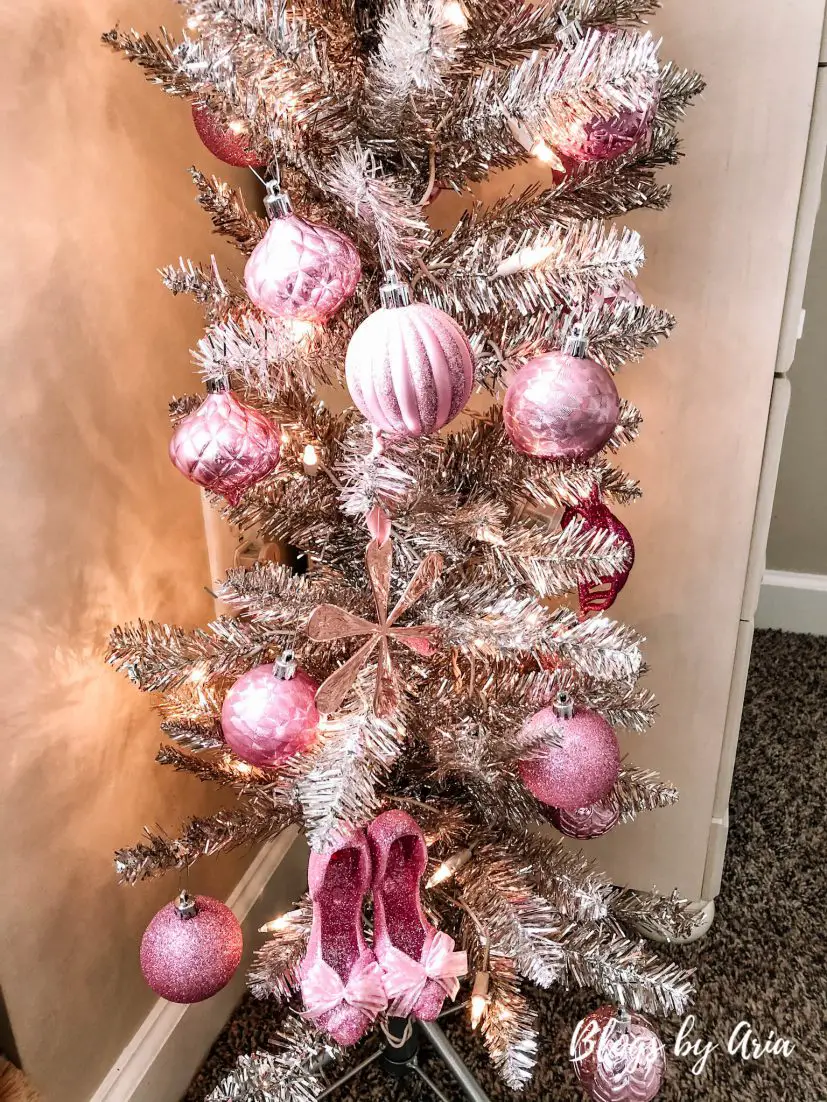 Once we purchased the rose gold tree, I let her pick out some ornaments.  Before I knew it we were no longer in  merry and bright territory.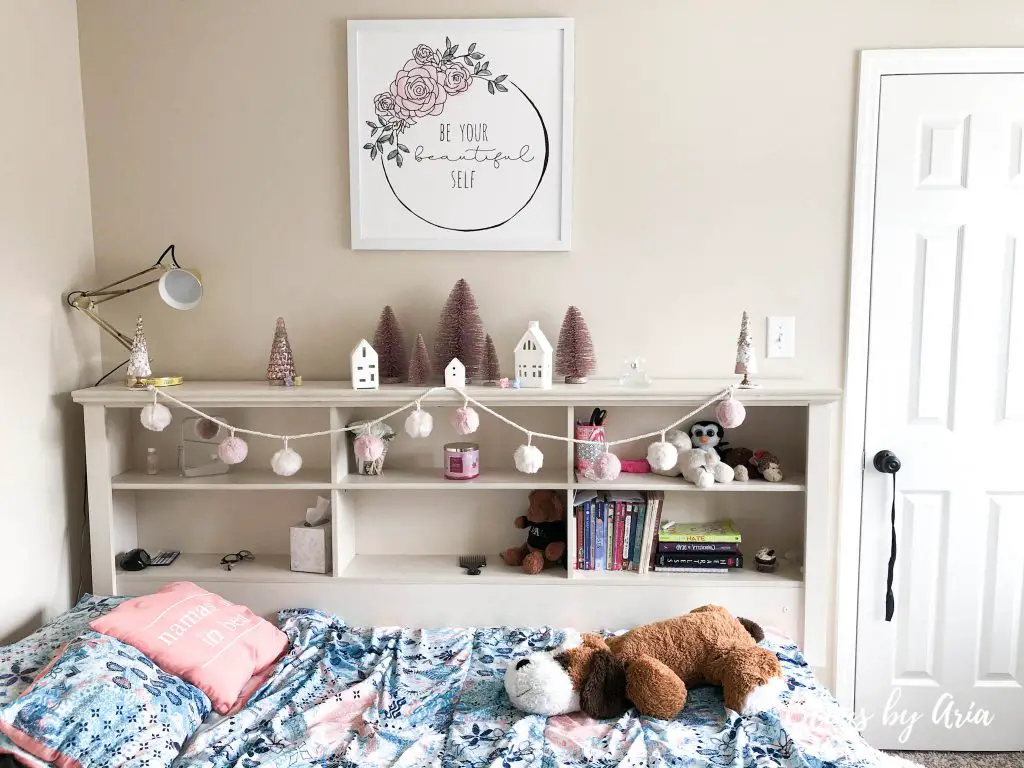 What sealed the deal on that was when she chose this pink blush and ivory garland.
I thought it would be a good idea for the kids to have garland on their beds since they both have built-in bookshelves.  Although I showed her lots of colorful options, she chose this pink and ivory pom pom garland.
I didn't want to get too many additional accents to go with the rose gold and blush theme, because who knows what she'll want next year.  But I saw a few cute trees and decided to get a few for her.  Like this blush bottle brush tree from the Opal House line at Target.  This angel is a tree topper that we've had since I was a kid and my daughter always puts it in her room during the holidays.  She's been hanging on a long time with us 🙂
I tried to get different angles but you can't see how pretty this tree is!  It's from Home Goods and I wish they had a few to pick up but they only had this one and a really large one, that was too large.  This pink cone tree is adorned with sequins, rhinestones and pearls and it's so so pretty.
Bottle brush trees:  mini | small | large
Here's a close up shot of the little village she set up.  I ended up rearranging the trees to put the larger one in the middle.  All of these rose gold bottle brush trees are from Target.  I saw them and knew they'd be perfect in her bedroom.  The white houses are mostly from Hobby Lobby that I've already had for awhile.
This sequined tree on the left is similar to the one from Home Goods.  I found it at the At Home store and the pink mercury tree, I can't remember where I got it from.  I'm thinking it was also from the At Home store.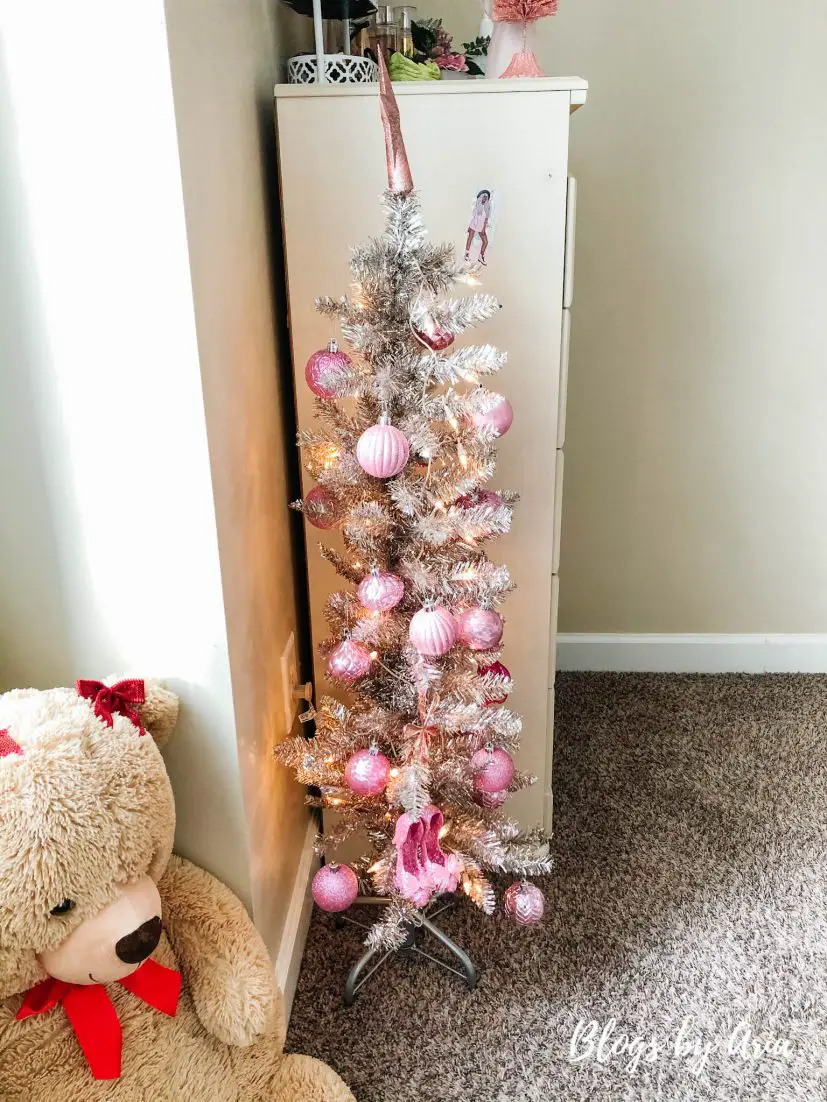 You'll notice that some of the images don't include the artwork above the bed.  I got that on clearance this Summer from Hobby Lobby.  It was part of the Spring Shop and we hadn't put it up yet.  It completes this space nicely.  Hobby Lobby always kills it with their Spring Shop line.  I've already spied a few items I'd like to have but me and Hobby Lobby are on a break 😉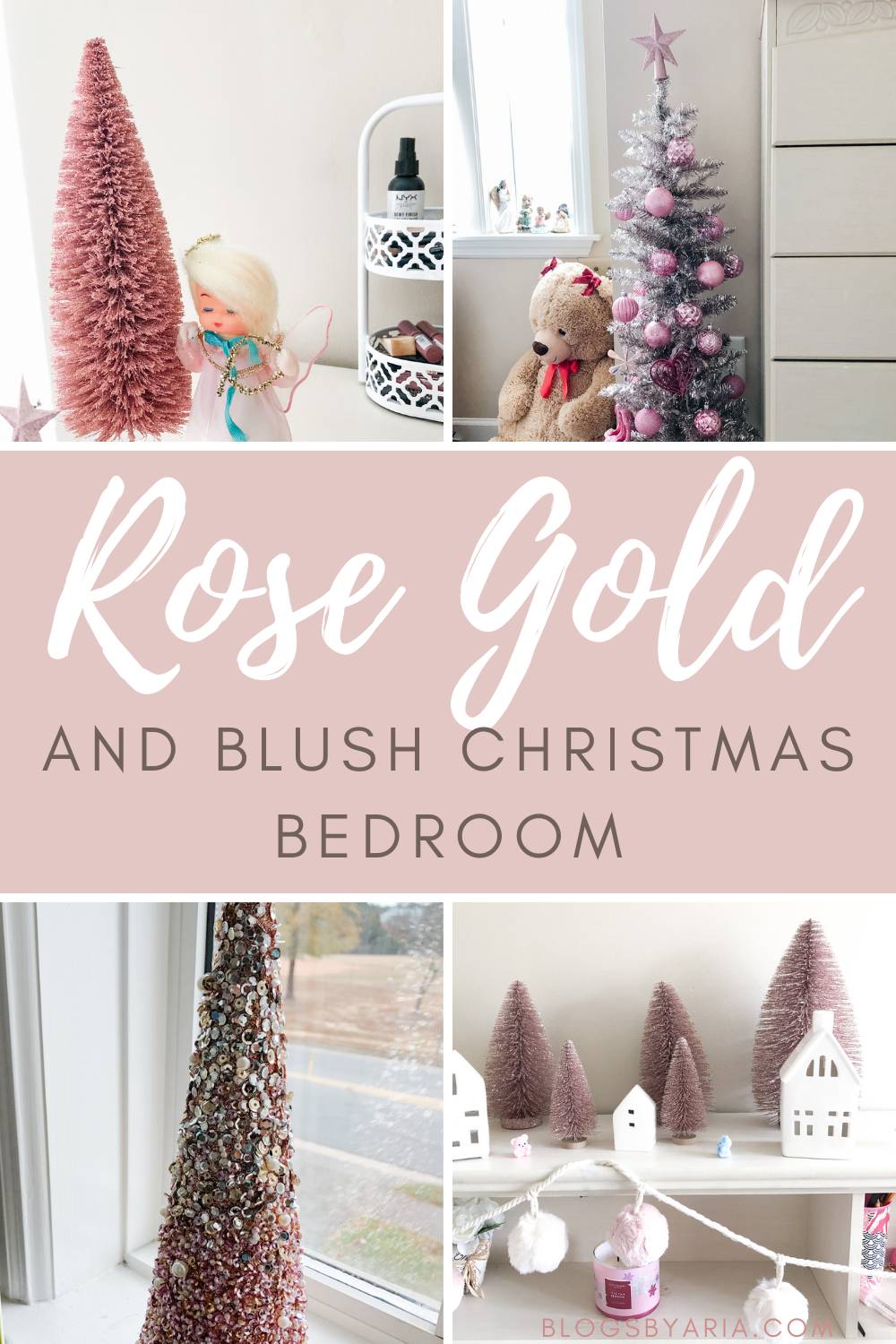 Even though this is a different direction than what I envisioned, I do like how it turned out.  Plus, if she does want to go in a different direction next year I'm happy to use those pretty pink blush trees somewhere.  I don't ever see myself not using traditional colors in my main Christmas decorating.  But who knows?  Next year I may have a home office and I already know that I'll be decorating in pink!
Stay tuned for the new year because there will be some fun changes coming to my daughter's bedroom 🙂  For now we're enjoying her rose gold and blush Christmas bedroom.  Until next time my friend ♥