This year is definitely turning into the most unpredictable time of most of our lives.  To add on to all the craziness that we're dealing with thanks to Covid 19, we're also deciding if we're going to move in the coming months. AHHH!!  My insides scream everytime I think about it!  I want to share my thoughts on moving during quarantine and a few tips and ideas (and ramblings) that are at the forefront of my mind when it comes to moving.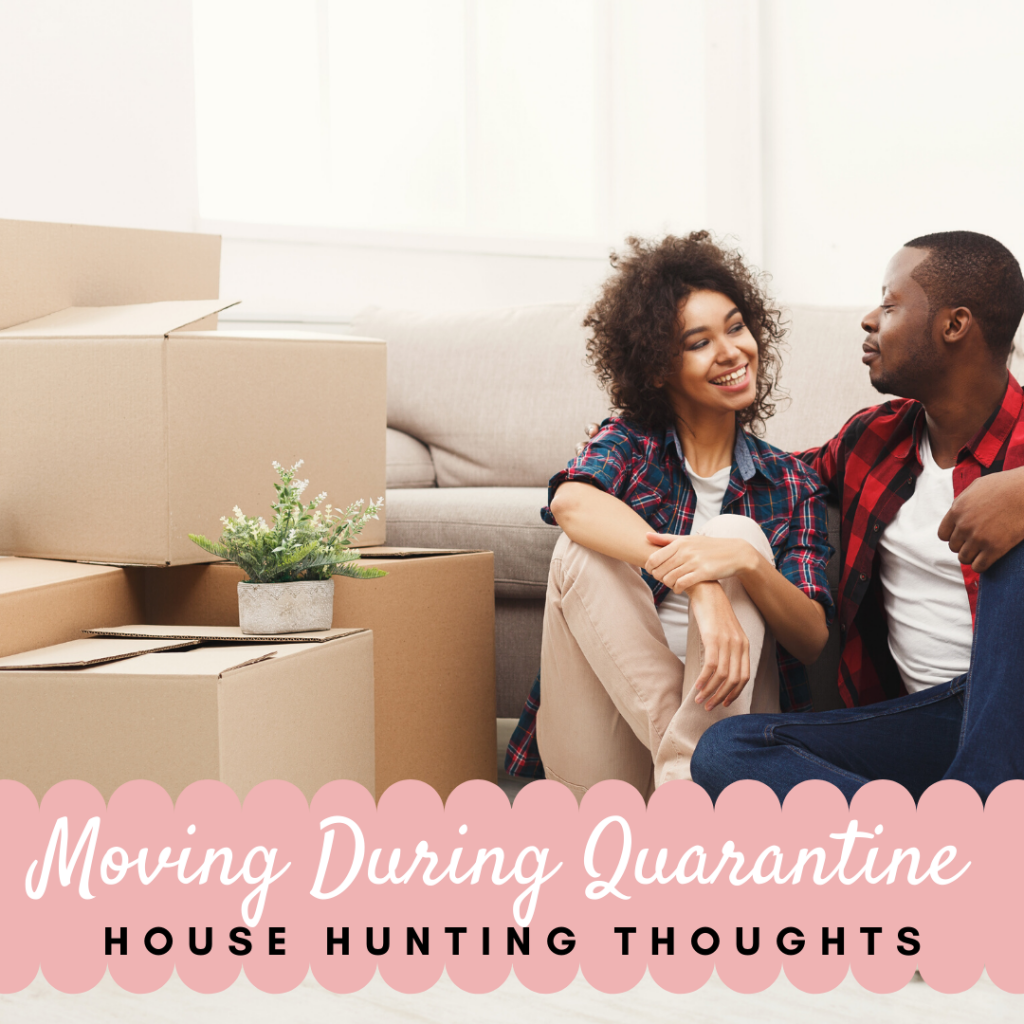 We moved to Raleigh almost two years ago.  For a quick recap:  we relocated due to my job and had a very short time frame to find an apartment before I had to report to work.  By short, I mean a few weeks.  We looked at a few places on a Saturday, chose one, and within a couple of weeks were moving.
Prior to the whole quarantine situation, we had decided that we wanted to move at the end of our lease.  We either wanted to move within our current school district or move closer to my husband's job and switch schools.
After debating back and forth, we decided that we would stay in our current school district.  And that if we're going to move again (after this move) that would be where we would stay at least until my daughter graduates high school.
I'm a huge advocate for not moving a high schooler after sophomore year from my own personal experience growing up.
Plus our plan was that wherever that next move would be, it would be buying a home.
ARE WE MOVING?
The short answer is I don't know.  Our lease is up in July.  One thing I learned when we moved to Raleigh is that the market is hot!  Listings go quickly!  So there's not a lot of use in looking at something a few months before you need it because it will be leased before you can do anything.
At the same time, we're already getting the renewal notice from our current landlord.  Of course the rent goes up regardless, but it's a substantial increase if we don't sign for another year.
We have about a month to make up our mind.  During this time we'll gauge what we can with all of the unknowns and uncertainties that we're dealing with thanks to this particular time in history.  It's pretty obvious we're going to deal with a deep economic recession, if not depression and how will that impact our jobs, the rental market, everything.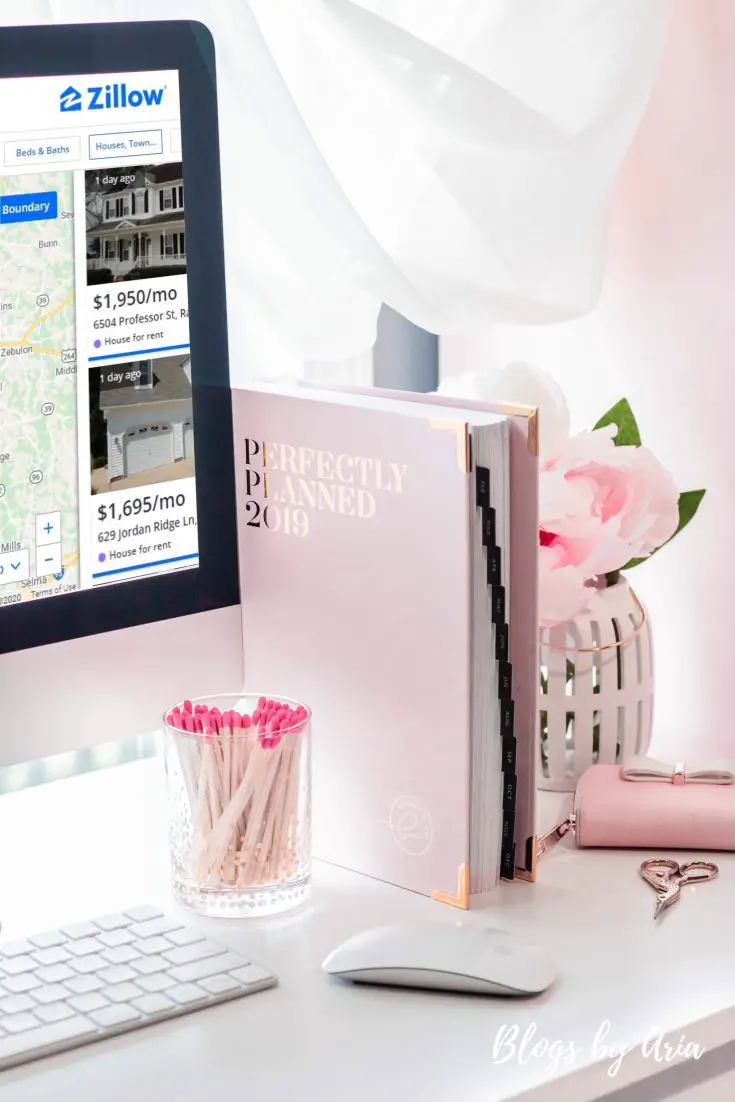 WE HAVE STARTED LOOKING
When my husband and I were talking about moving we looked on Zillow at rentals.  We don't want to do the townhouse thing if we can avoid it.  We're looking at single-family homes.
I sent him a listing from Zillow and ever since, he's been getting notifications of new listings.  Last week he sent me a few of them and I would go and drive to look at the neighborhood.  They're all within a mile from us.  Two of them we liked enough to schedule a tour.
Now that we've toured the homes, my wheels in my head have really been turning!  I am aware that these houses may not be available when we're ready to move and I can't hold them out that long.  But knowing that this is what an option could look like is good enough for me for now.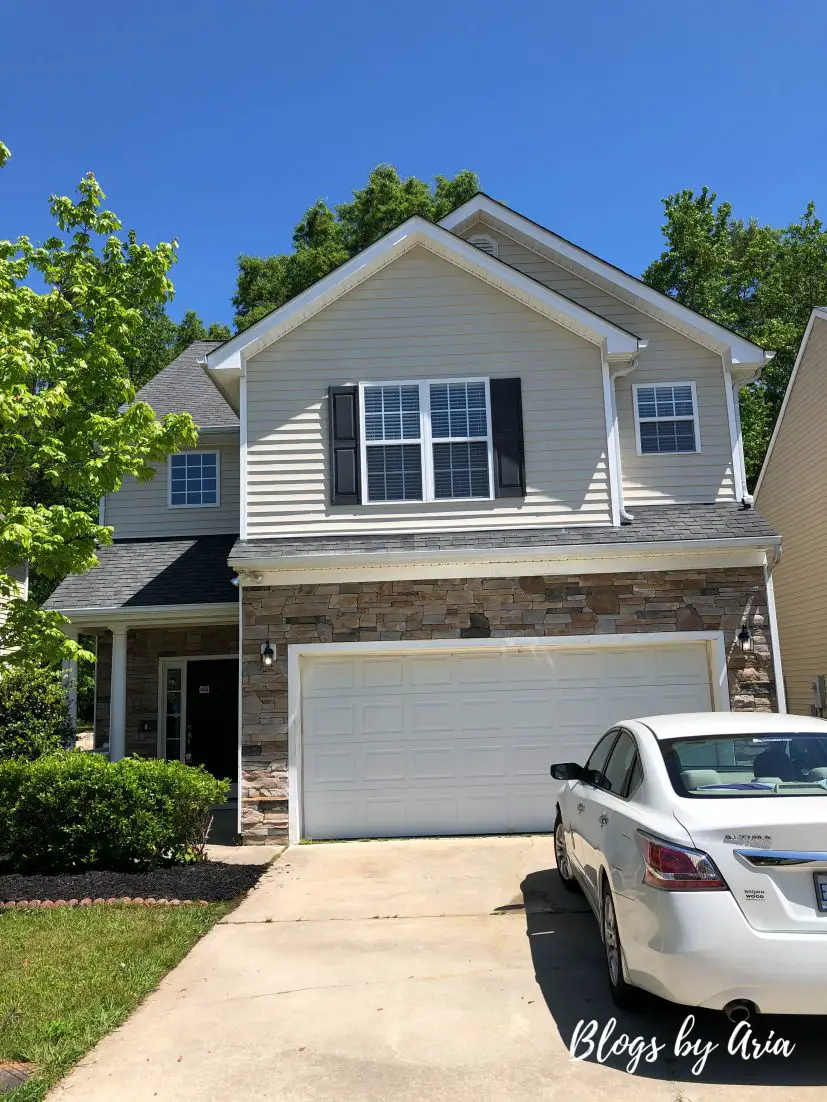 Here's a sneak peek at the house that we like the most.  The idea of actually having a garage to park our cars in and have some storage makes me giddy! 🙂
Which brings me to moving tips and ideas and other ramblings since our last move…
APARTMENT/HOUSE HUNTING TIPS
Write down your must have list.  This may seem obvious but it's easy to get caught up in the emotions of looking for a new home.  When we were looking at new apartments on such a short time line, I knew the minimum basics we had to have.
Primarily we needed three bedrooms and a dishwasher and everything else was secondary.
But we ended up picking a house that didn't have as much closet space as I thought it had.  We got caught up in the whirlwind of looking for a new home in a new city on a time crunch and it was just a lot to handle.  So write it down.
Our must have list this time around is different from last time.  Best believe a linen closet is on the list!  Along with a two car garage for our cars and for storage.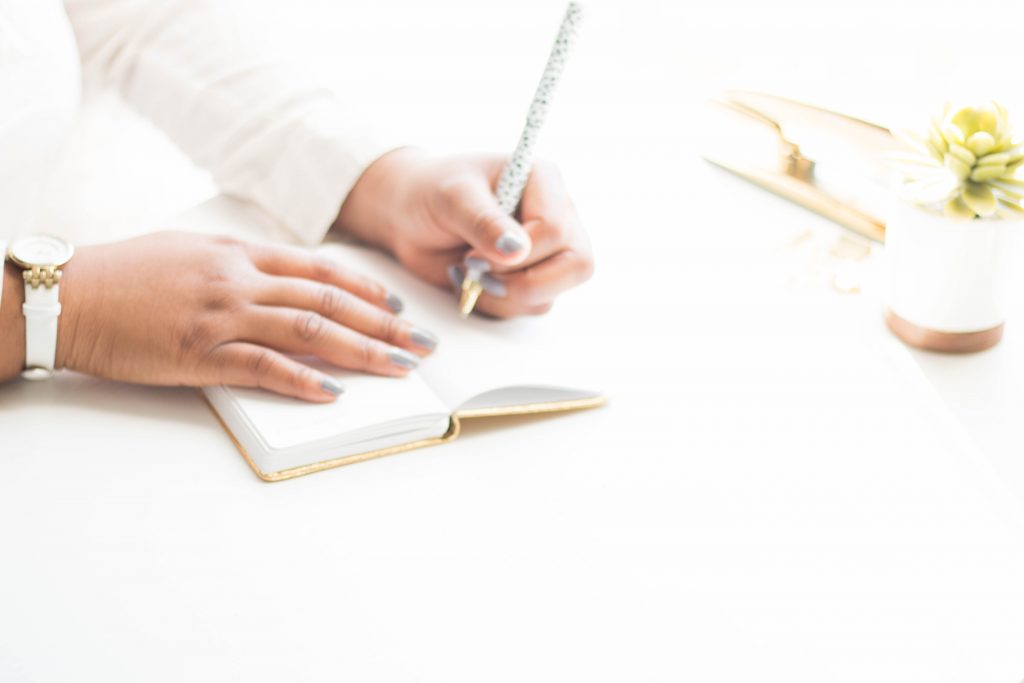 Write down your pros and cons list while you're in the space.  If you wait until you're back in your car or back at home you'll forget some things.  Ask those who are looking with you what they do and don't love about the house too.
If you're single, have a friend or parent come with you because you need a second set of eyes to point out what you may be overlooking.
Open all the doors and drawers.  Some of the drawers in the houses we looked at were wonky and that would need to be addressed before signing a lease.  Open the cabinet doors to see if they are functional for your needs.
Take note of every single thing.  I know I sound like a broken record, but let me give you a couple of examples.  Our current home does not have a ceiling light in the living room.  Why?  I have no idea.  Not only is there no light, there's no fan and in North Carolina there should always be a ceiling fan.
Of course one of the first things I did in the living room was I looked up to see if there was at least a light.
When we looked at the second house we realized the layout of the garage door, the pantry and the laundry room was pretty awkward.  If you notice it now imagine how annoying it would be on a daily basis.
My husband says I nitpick but after living in our share of places together, you come to realize things that will and won't work for you.
Test every single thing.  Our second floor creaks horribly and I noticed that when we were looking a couple of years back.  It was one of the notes I wrote down at the time.  But this place was the best option of what we were able to see so we went with it.
When we were looking recently, I had my husband or my daughter (my son stayed home, the Xbox was more entertaining than house hunting) go upstairs and walk around while I stayed downstairs to see how much I could hear them simply walking.  In one house I could hear every step and in the other I could not.
Things become important to you when you've been living with something you don't like.
If you can, maybe at a second showing, take a small lamp with you and test every outlet.  We have so many outlets in our current home it's a bit overkill.  The kicker is, most of them don't work.  One of the sockets will work out of the two.  Which is very inconvenient.
Test the water pressure too.  You don't want to sign a lease and the water trickles.  I had DH step into the showers because our shower floor creaks.  I don't know what it is about the creaking in this house, it's so so annoying.
Think about added costs.  Yes there's the upfront costs with moving, the deposit, first month's rent and more but what other costs may come with the move?  For us that would be a washer and dryer.  Not the worst thing but it would be something to factor into moving or staying put.
Our townhouse includes the washer and dryer but I don't mind buying a washer and dryer for us that's brand new.  Plus because it's a house, do we need to do our own lawncare or is that covered?  Do we need to buy a lawnmower?
What will you be giving up and what will you be gaining?  I could write a whole post on this but I'll try to keep my thoughts contained.  Almost every apartment complex in the Triangle comes with a community pool and a clubhouse and workout space.  That's all nice.  How often do you use them?
Sure it's nice to have a pool in the hot North Carolina Summers but I've only been to our pool a handful of times and it's always packed with loud obnoxious kids.  The workout space is tiny and I've never used it.
The biggest thing I would gain if we were to choose the house we like, aside from it being a single family house is the trash situation.  We pay every month for trash service on top of our rent.  Our complex is in two phases but there's only one trash station and it's in the other phase.  That means when we have to take out our trash we have to load it up in our trunk and drive it over to the other phase to take our trash out.  It's a major pain.
With a house we would get trash and recycling bins that we would take to the curb on trash day like most people.  The recycling in our complex is a joke.  The idea of being able to really recycle makes me happy.
MOVING DURING QUARANTINE
Oddly enough, people are still moving during quarantine.  We got new neighbors (not a fan) during our shelter in place order last month.  And I've noticed a few moving trucks in the area recently.
I'm not sure if this is something always available, but we were able to view the houses without a leasing agent.  The two houses were with different rental agencies but they both went through a company named Rently.  You scan your license, take your picture and pay a small fee with your credit card.  Then you can tour the homes.
Each home has a security access code on the door.  You either call the number from your email or it's texted to you and then you enter it.  The key is made available and you have twenty minutes to tour the home.
It was much easier and safer than dealing with a landlord or leasing agent.  And we felt that we could take our time and really see the ins and outs of the house without feeling like we were just being led on a tour.
Again, there is the uncertainty about everything with the Coronavirus and I can't act like it's not affecting me.  But I've decided to let it go, not stress about it, and the right decision will come to us.
Just figured I'd write out my thoughts in my little online journal here 😉 for the world to see.
I have so many more moving tips to share but for now I'll wrap up this post.  If you want to see some of more of my moving tips you can check that post out here.  And to re-live my moving experience and for a few laughs check out that post here.  I'll be back to share some more thoughts on moving if we decide to go that route.  For now, I'm going to escape into a good book, because that's what makes me feel better.