I have always wanted a sofa table.  That sounds weird right?  But it's true.  In case you missed it, I shared how I changed the look of this console table recently.  Now that it's finished I'm excited to decorate it.  In my decorating process I tried a few different looks and today I'll share how I styled my console table for fall.
Decorating a new piece of furniture is fun and exciting and at the same time can be kind of a head scratcher!  I had a few ideas of how I wanted the look to come together.
*this post includes affiliate links for your shopping convenience, you can read more about affiliate links by reading my Disclosure*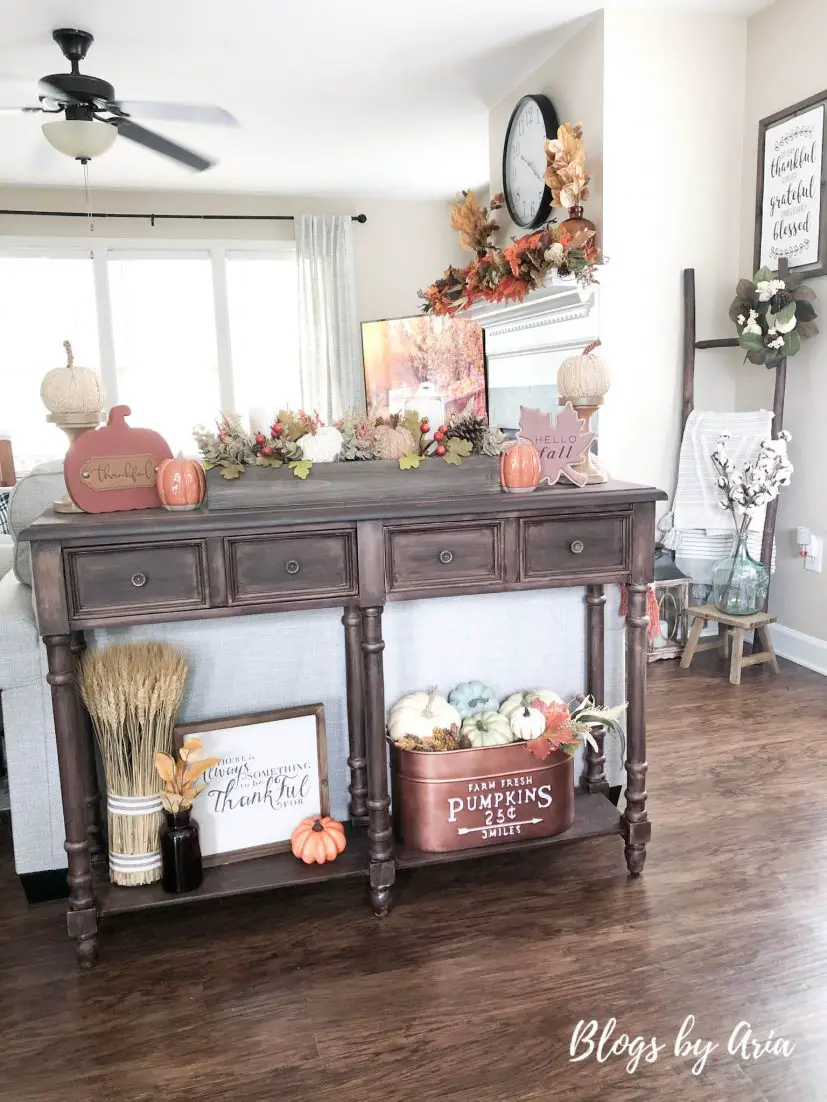 What I did know is that I wanted to use my beautiful copper pumpkin tin.  That was the easy part.  I filled it with a few different pumpkins of different colors and sizes.  (They're propped up with a throw blanket)  And I added a couple of picks too.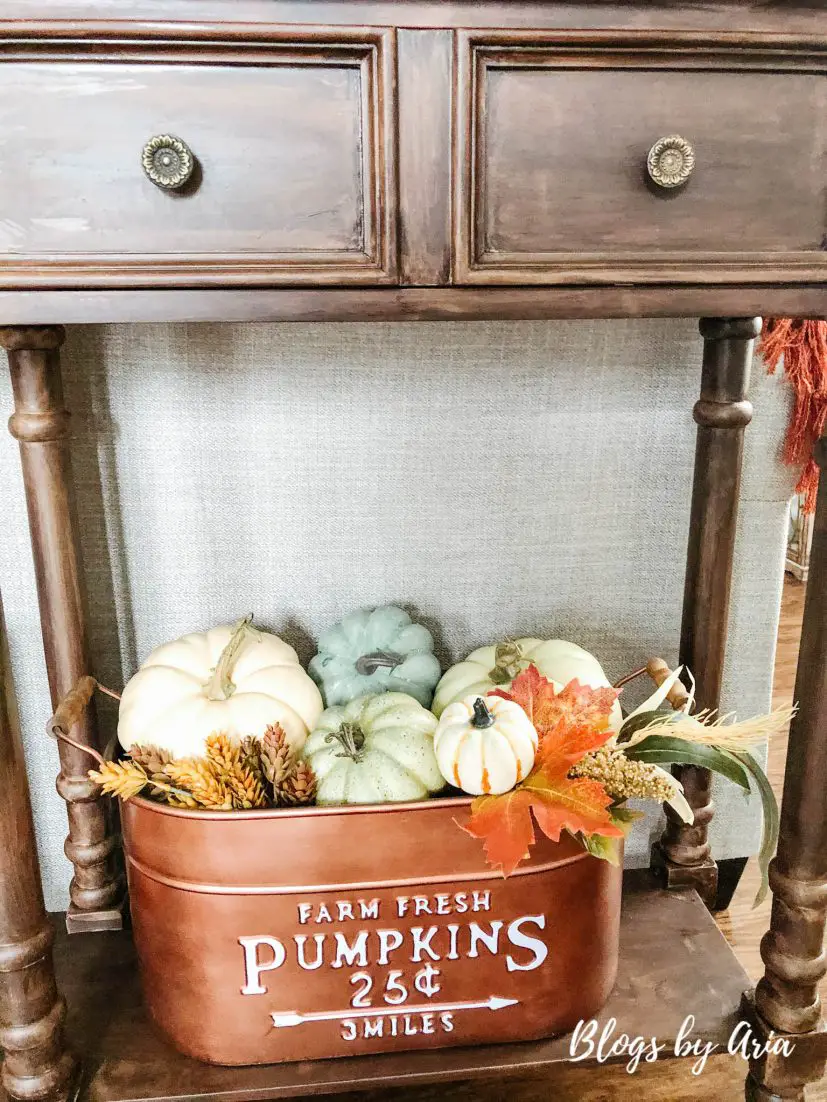 This copper pumpkin tin is one of my favorite fall finds this year!  And I found a lot! In case you missed my fall decor haul.  Everything inside the bin is from Hobby Lobby.
On the left side of the sofa table I went back and forth on what exactly would work over here.  I thought about a lantern, a basket, but when I saw this bouquet of wheat, I knew it would be the perfect fit.  It adds natural texture and height.  I got the wheat from Home Goods.
Once I added the wheat I added this sign I got last year from Kohl's.  Paired it with a mini pumpkin and an amber bud vase with these golden leaves.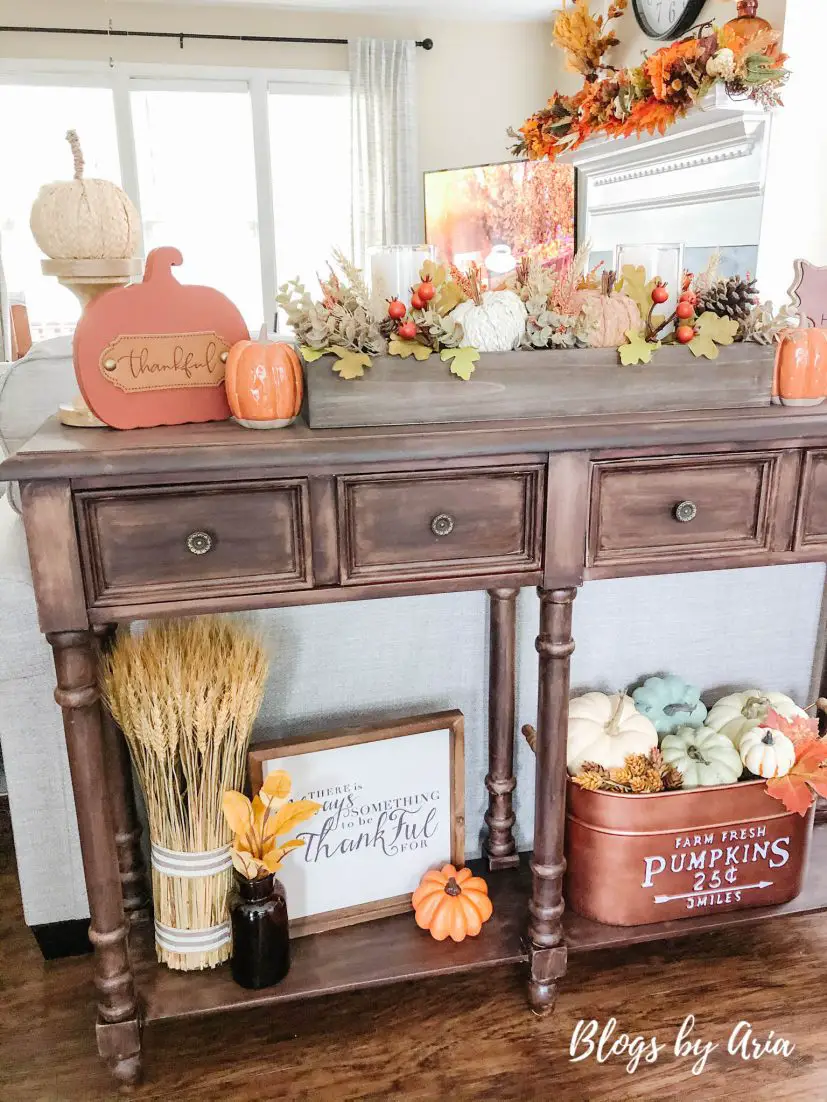 Decorating the bottom of the console table was relatively simple compared to the top.  Everything I tried made it look so cluttered.  One of the things about a sofa table is that you're looking at it from both sides.
Primarily I'm looking at it from the vantage point of the dining room table.  Which is the angle I'm taking these pictures from.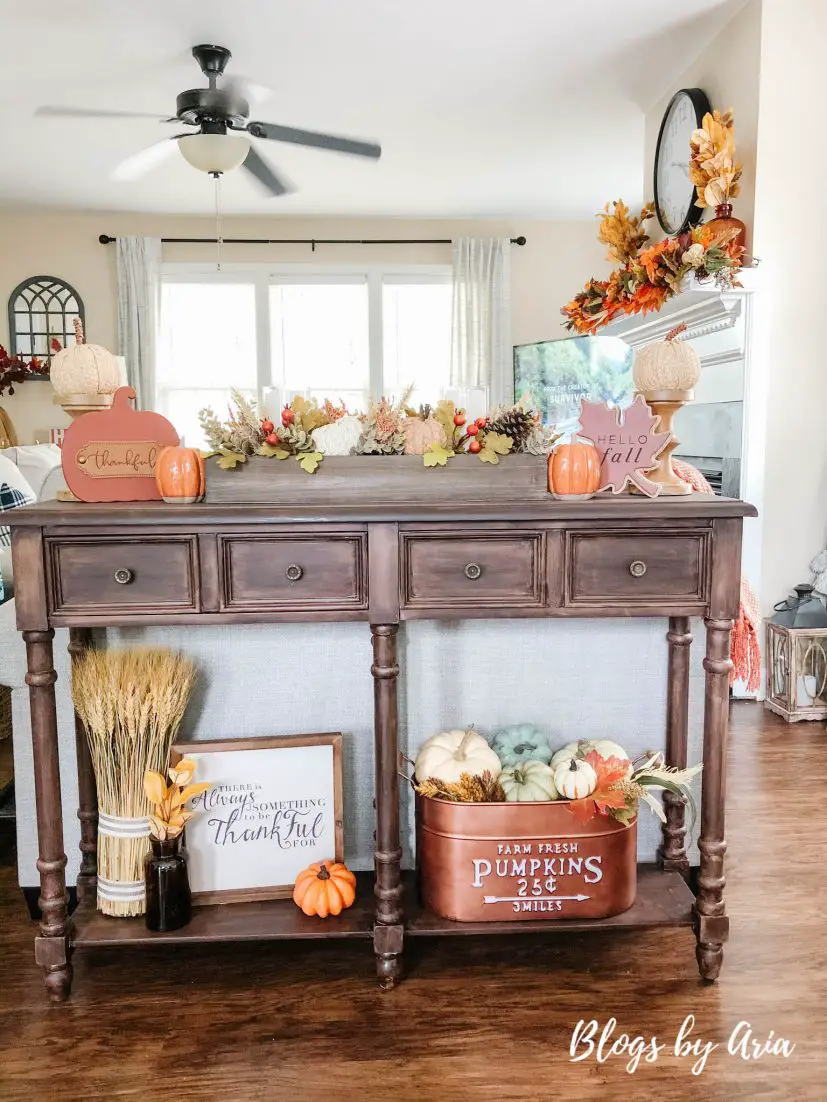 Let's talk about this centerpiece.  This braided pumpkin candle centerpiece is the key to bringing this look together.  Pre-made centerpieces can be so expensive.  Last week Kirkland's had a select number of fall centerpieces on sale for 25% off.  I couldn't decide if I liked this braided pumpkin centerpiece or their pumpkin and lambs ear centerpiece more.
After work one day I popped into Kirkland's to see in person and I chose the braided pumpkin candle centerpiece.  Now could I have DIY'd something like this?  Yes.  Would it end up costing me about the same?  Also yes.  Last year I did try to make my own fall wreath and it was a fail.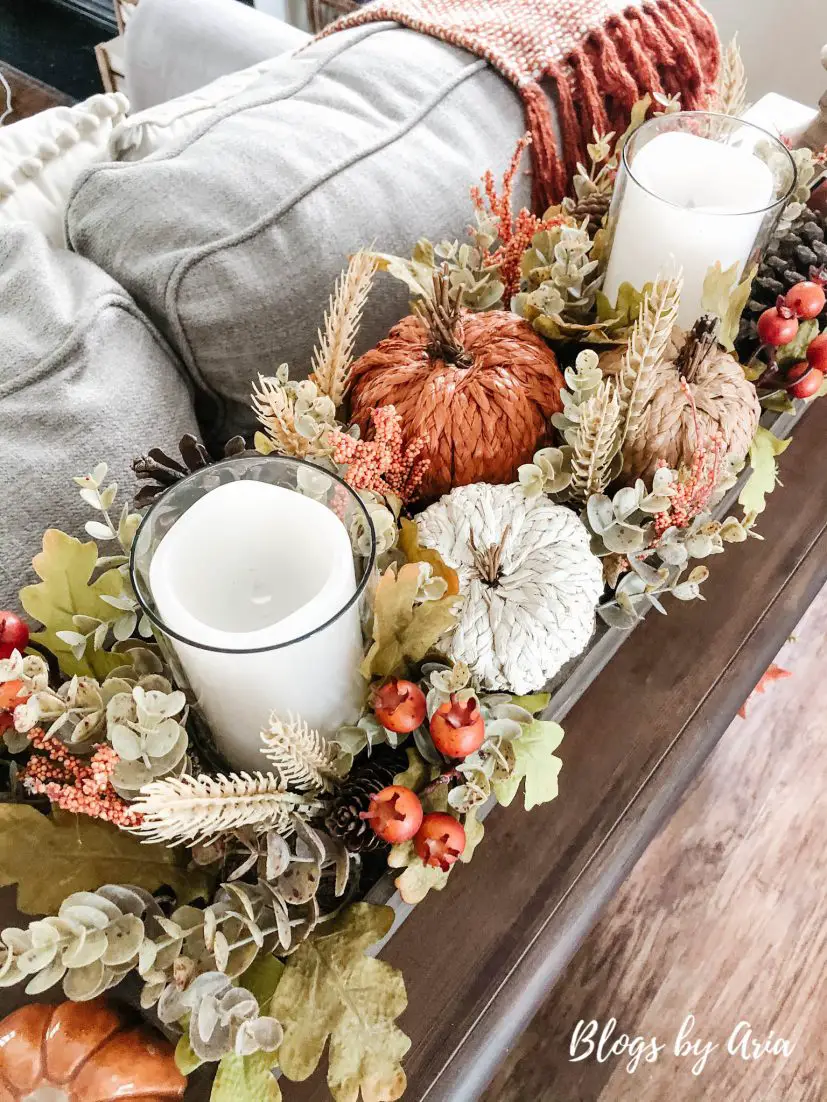 To me, I'd rather buy something I like, that is good quality and will last me for years to come.  I can see this on a future dining table one day.  As an added bonus, instead of taking something I would have put together apart at the end of the season, I just have to remove it and store it so that's a win for me!
Plus I love the texture of the woven pumpkins.  You'll see that I've been drawn to textured pumpkins in my decor this year.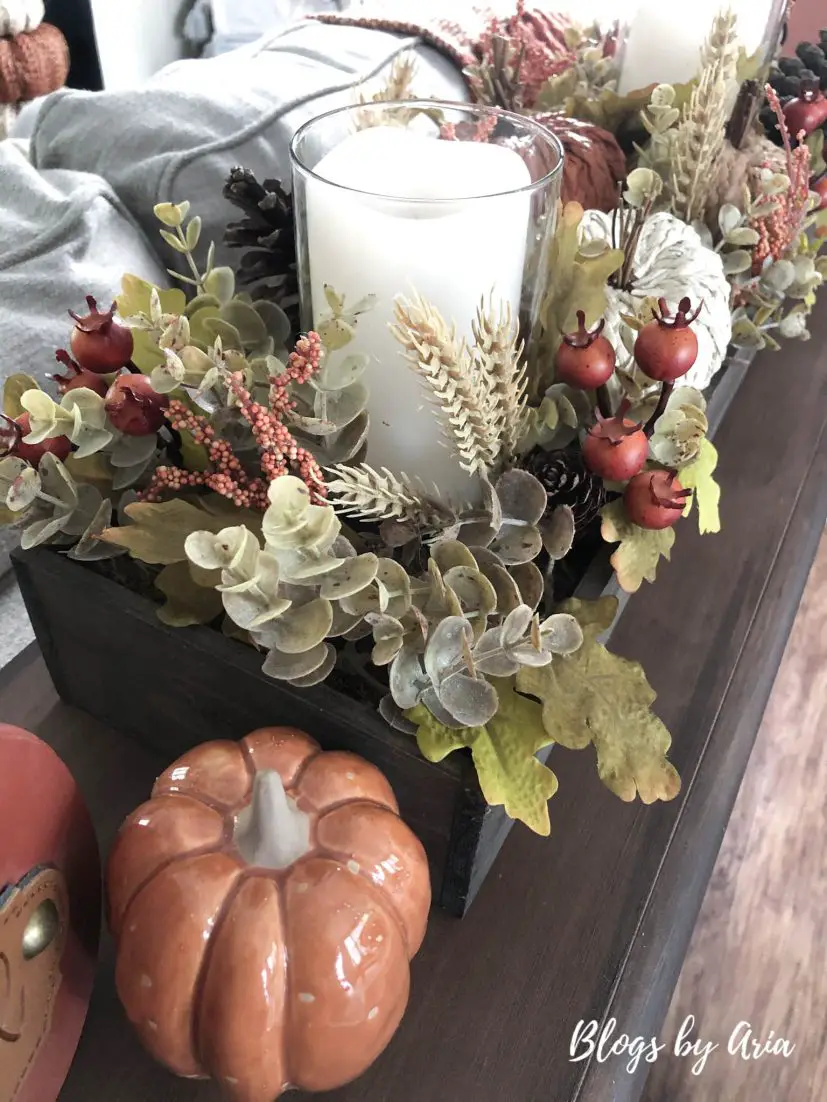 I wanted to get these close up shots so you can see how nice this centerpiece is.  The candles aren't included, but I already have these flameless candles.  It would also look nice with orange candles and maybe even shorter candles, but for now this will do.
Instead of candles, I added these woven pumpkins I spotted on one of my many Target runs lately.  I used one on each side.  And I fell in love with these ceramic pumpkins too.  They come in different colors and a larger more traditional size.  But I love these small ones.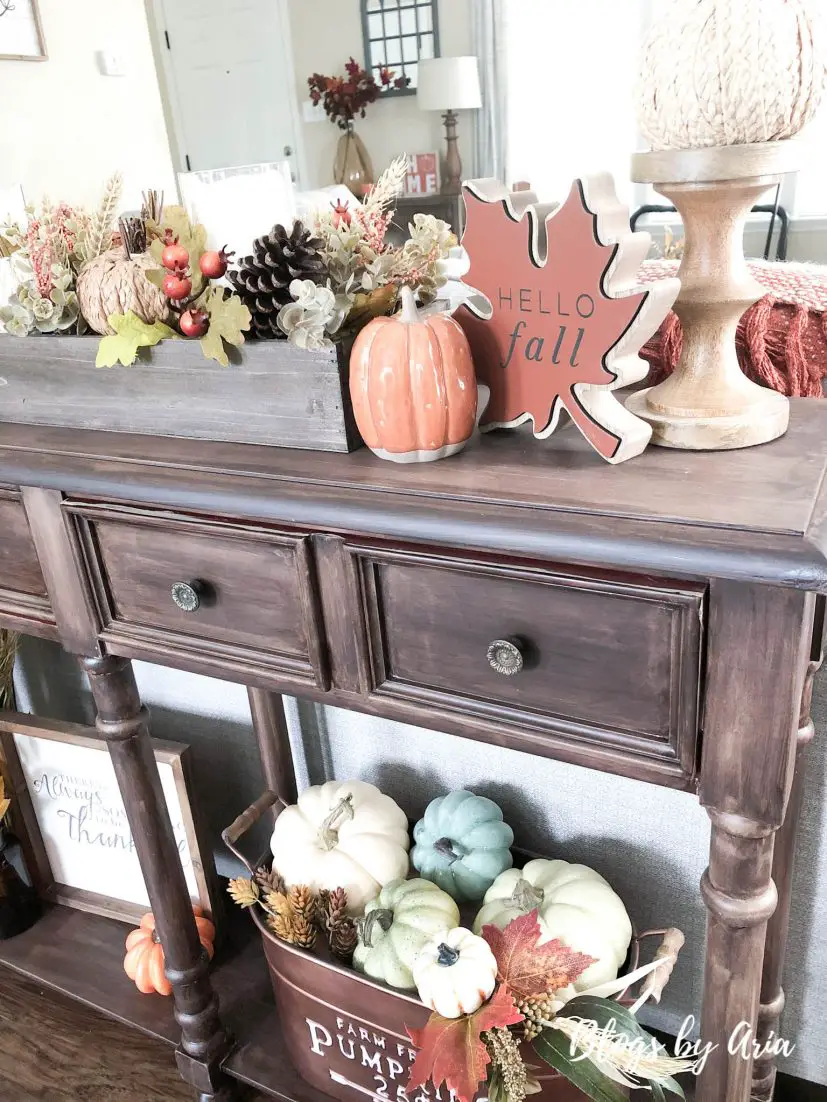 On the left I have this thankful pumpkin and on the left this hello fall leaf I got from Joann Fabrics (can't find the link).  They're not the exact same color but they both have leather details that I think pulls them together.  I really wanted to add picture frames but I didn't have matching ones that would work well.
As with anything when it comes decor, this is subject to change!  Any changes will be shared when I share my fall home tour.  I've already made a few tweaks to my entryway table and my fall mantle.  That's part of the fun of decorating though 🙂
IF YOU LOVE IT, SHARE IT ♥