One of the many reasons I love to tour homes during the annual Parade of Homes tour is being able to see unique home designs.  Every element of this home is both warm and welcoming.  I truly believe this home will inspire you and give you some great design and decorating ideas.  I'm calling this lovely home a cottage surprise.  Let me show you what makes the cottage surprise home so special!
Walking up to this unique cottage (that was very popular and I couldn't get an exterior picture without people) you have no idea how deceiving the size appears from the outside.  I was beyond surprised with how much house is behind these walls!
This luxury cottage is located in a highly sought after neighborhood in the heart of Raleigh.  It features 5 bedrooms, 5 and 1/2 bathrooms and wait for it…5000 square feet of living space!  See why it's a surprise? 🙂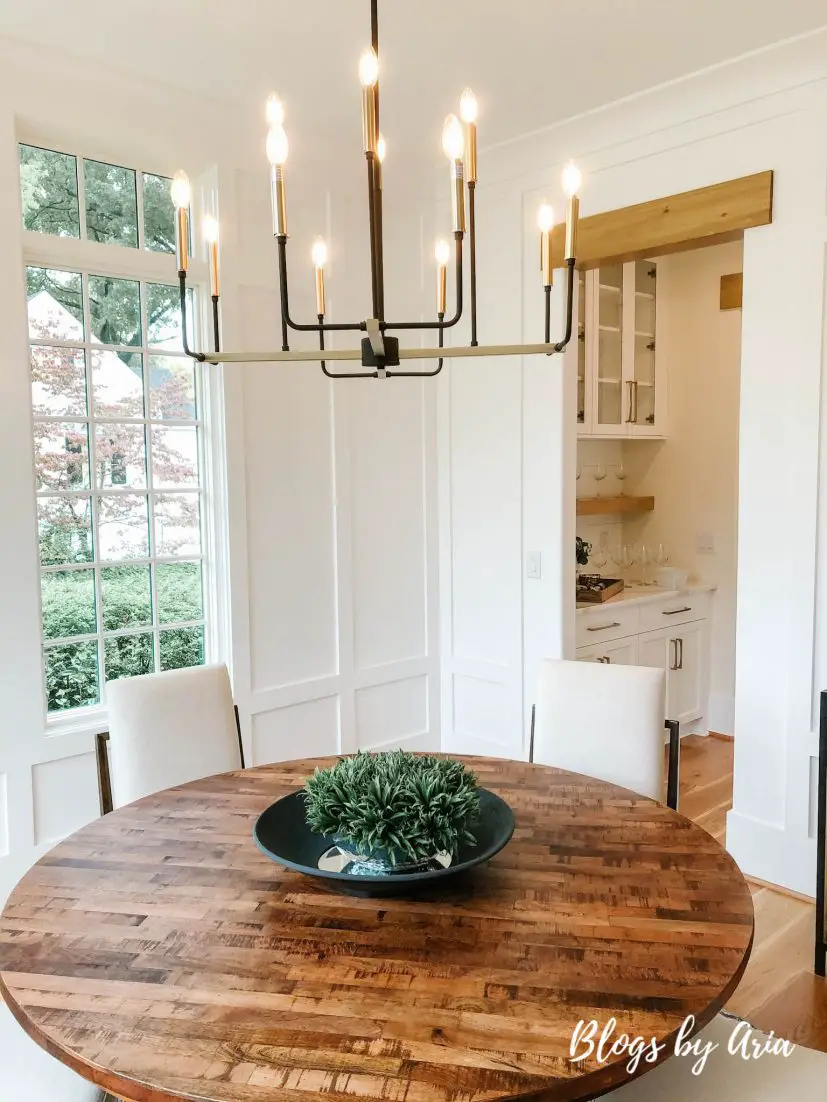 Upon entering this home you're first greeted by the dining room with stunning almost floor to ceiling windows.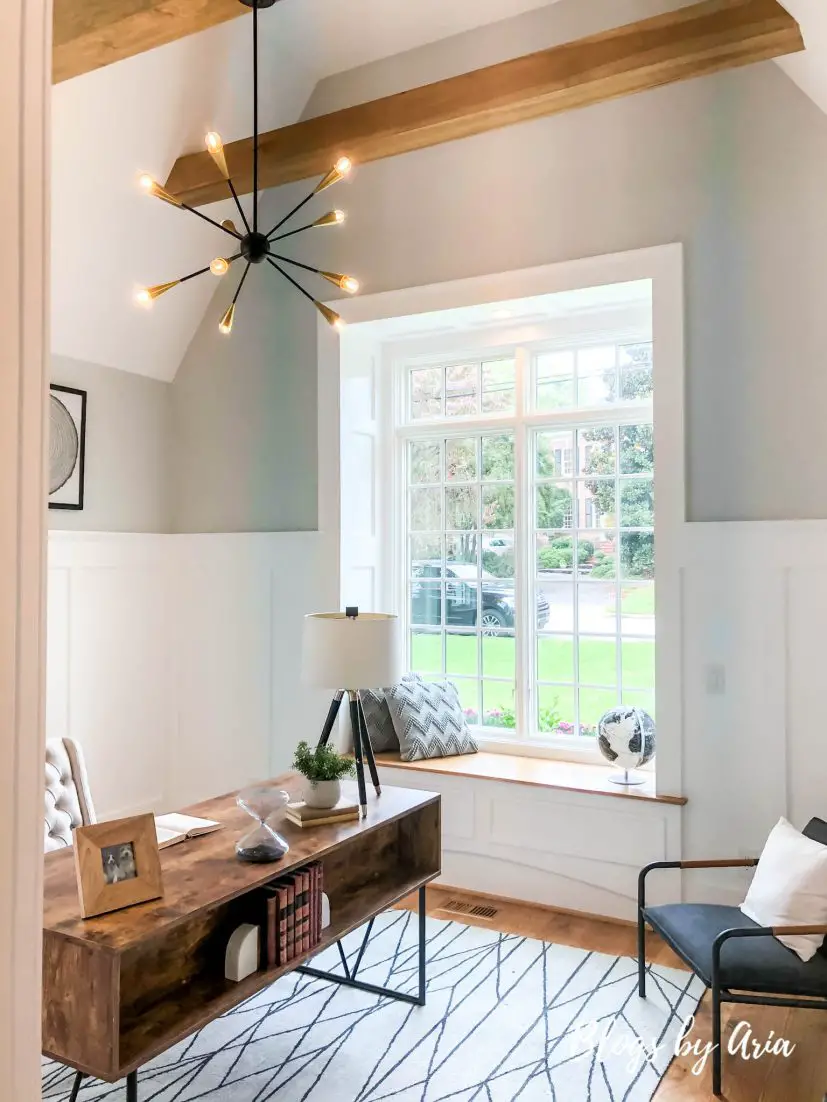 Opposite the dining room is a guest bedroom that they have set up as a home office.  Just look at the design details in this space!  The window seat, the wood beams and the high pitched ceiling.
Not to mention the beautiful paneling trim work.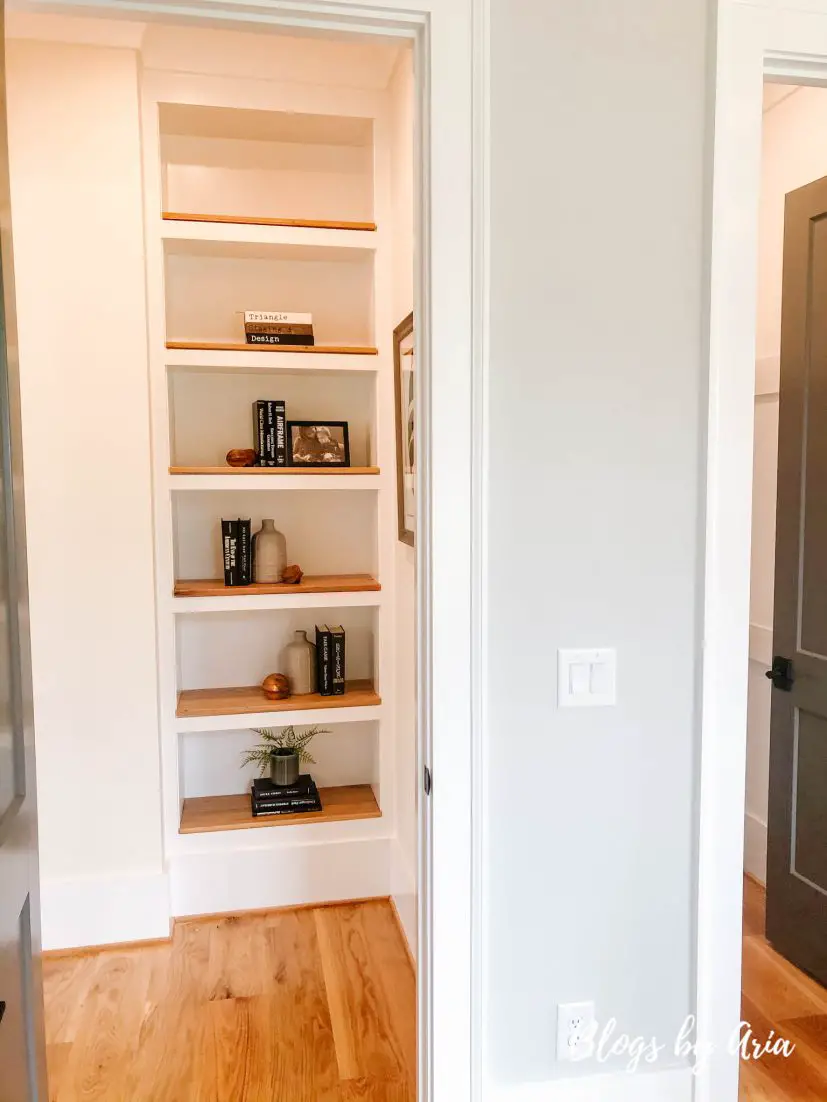 It's the little touches that wow me in a home…like built in niches that are unexpected.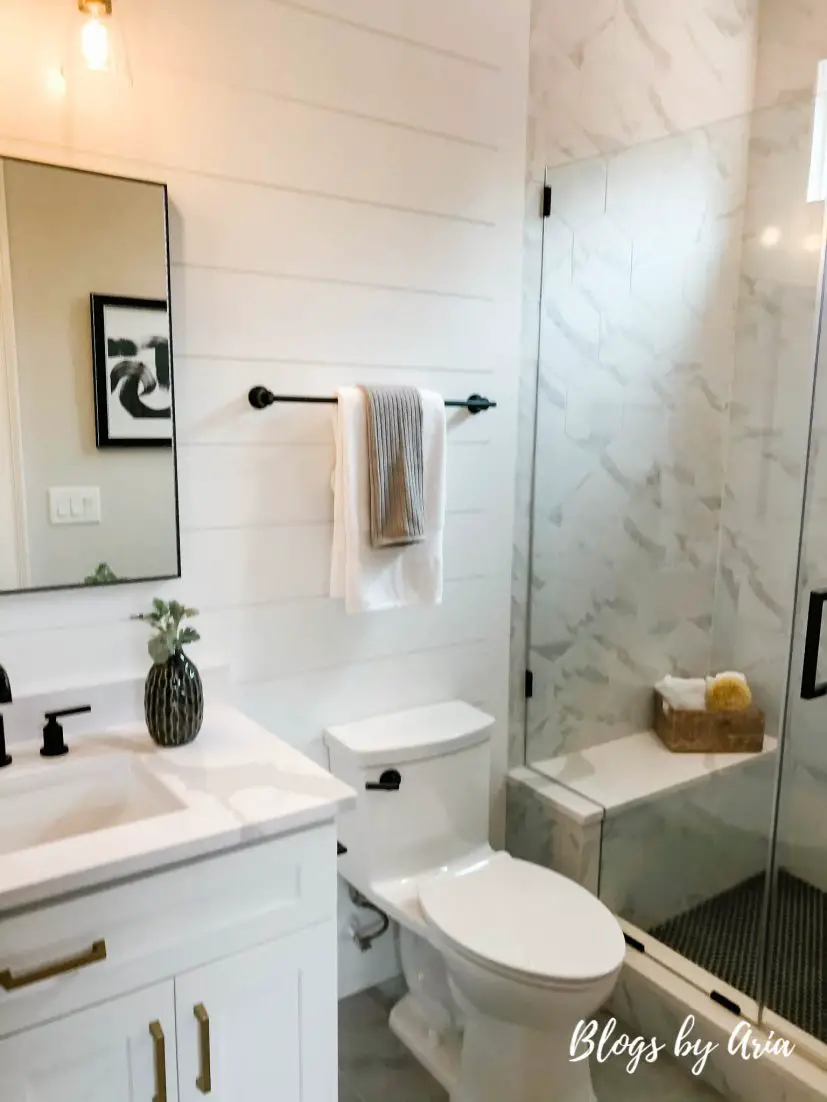 Because this is a guest bedroom it comes equipped with a dedicated bathroom that is adorned with shiplap, pebble tile shower floor and hexagon marble tile.
KITCHEN DREAMS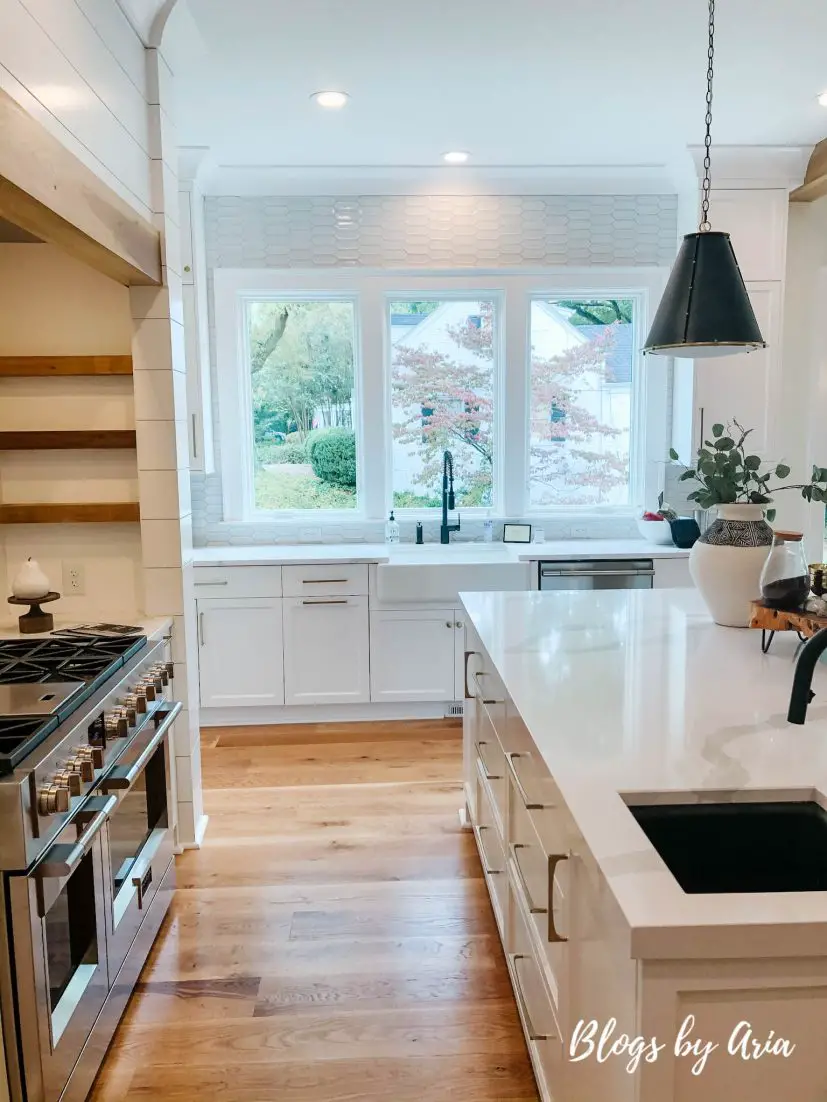 There were too many people for me to take a picture from coming into the entryway and facing the heart of the home.  Thankfully I was able to get a lot of good shots of this gorgeous custom kitchen.  So many amazing features of this kitchen stand out to me.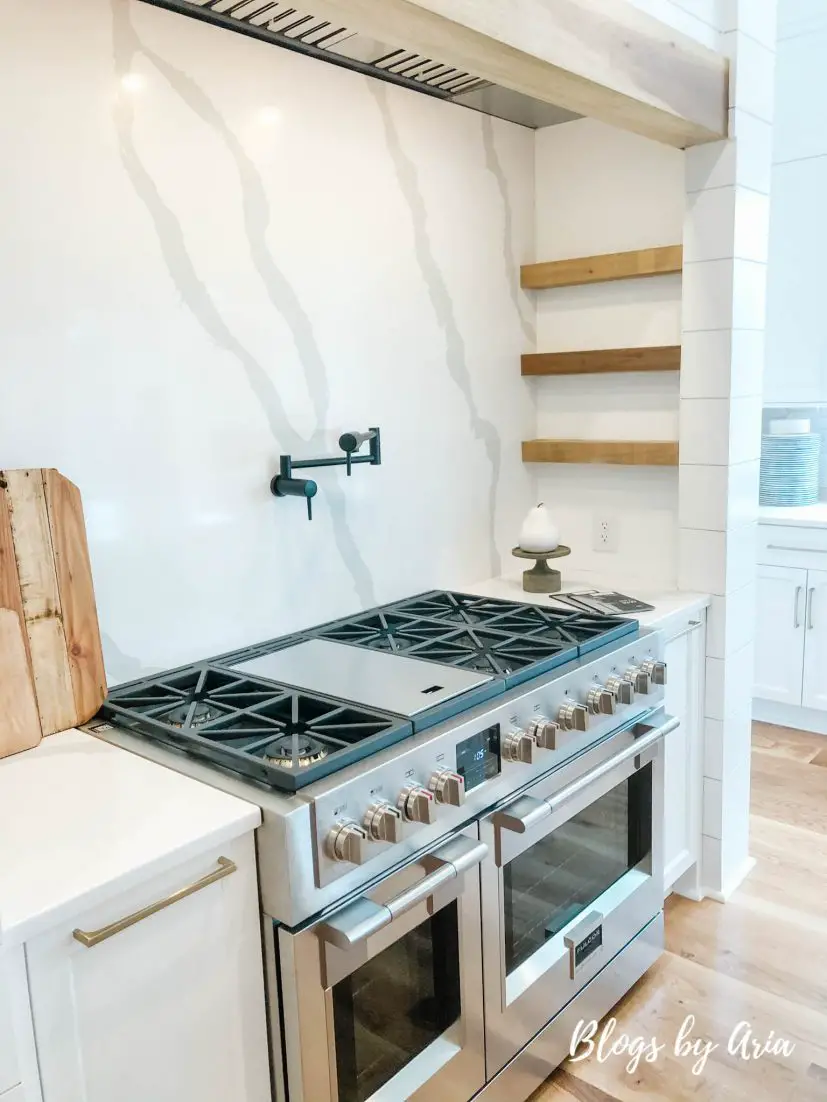 Starting with this beautiful range space.  Not only is the 6 burner range and double oven itself stunning, but it's flanked by wooden floating shelves that tie in with the wood elements throughout the home.  Plus the stunning calcutta marble backsplash elevates it to an even higher level of luxury.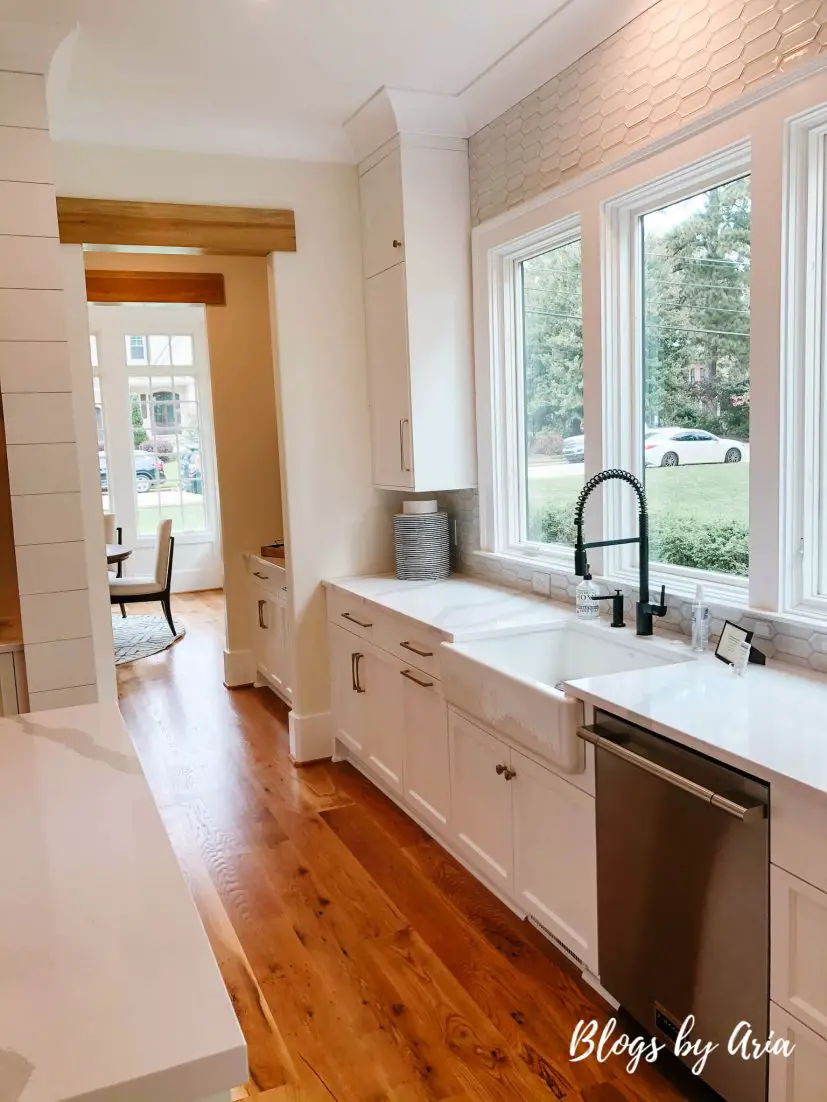 From this angle you see more of the wood elements used as casings over the doorway leading into the butler's pantry.  Earlier you can see another glimpse of the butler's pantry from the dining room.
The glass tile backsplash along the top of the window gives a hint of glam to this already stunning kitchen.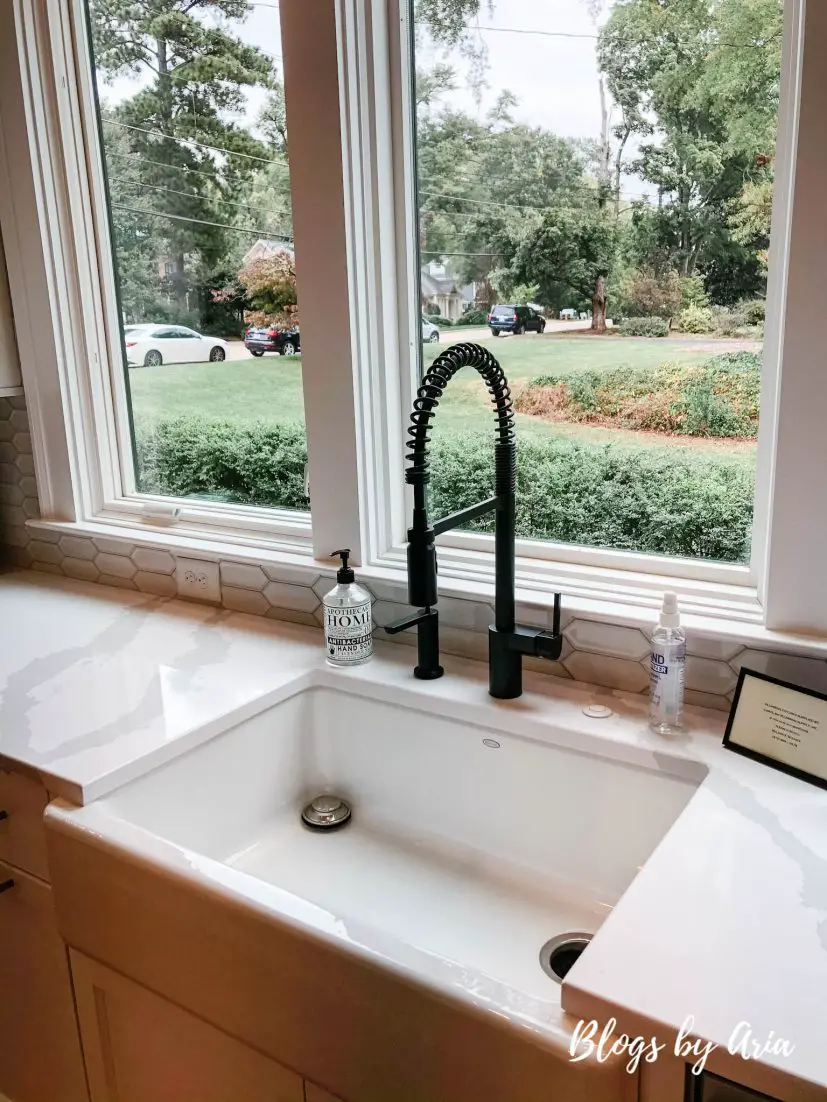 I love when the kitchen sink can be situated to face a window.
From this angle you see that there is so much more to this kitchen we have yet to explore!  Storage is abundant in this kitchen for sure!  Could you ever possibly fill these cabinets?
As you see there's another oven!  Talk about a kitchen meant for entertaining!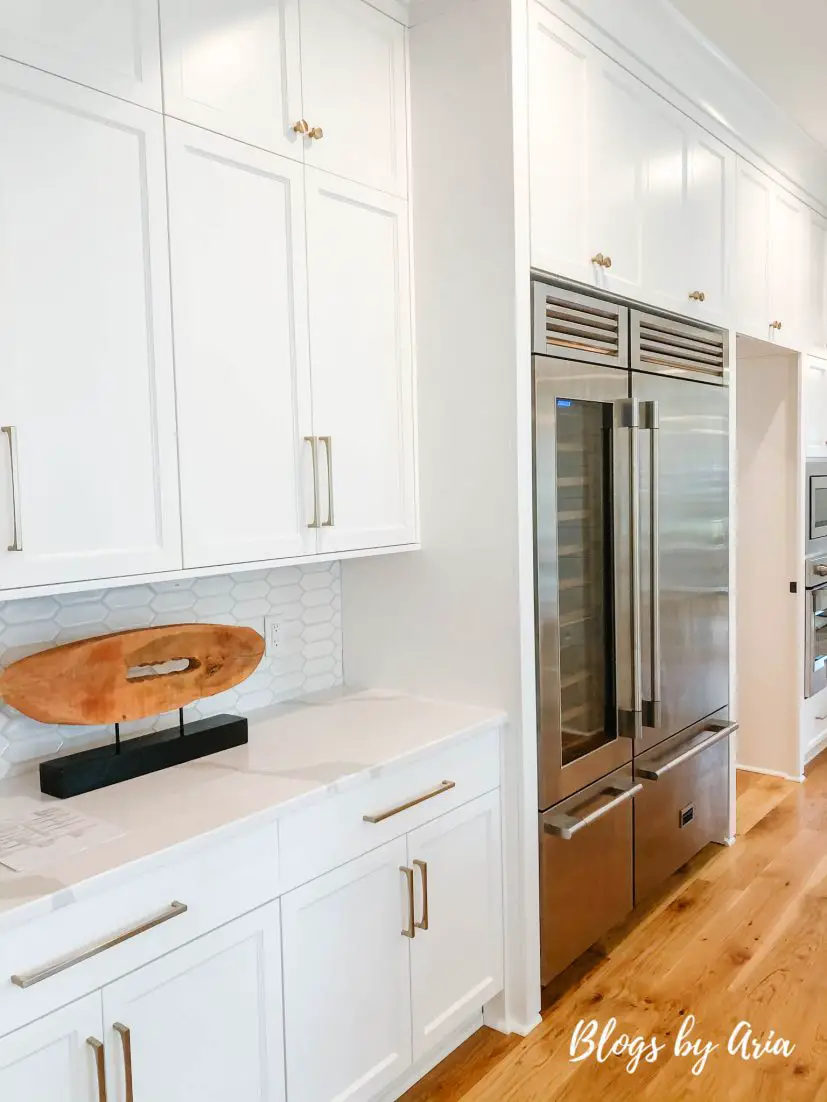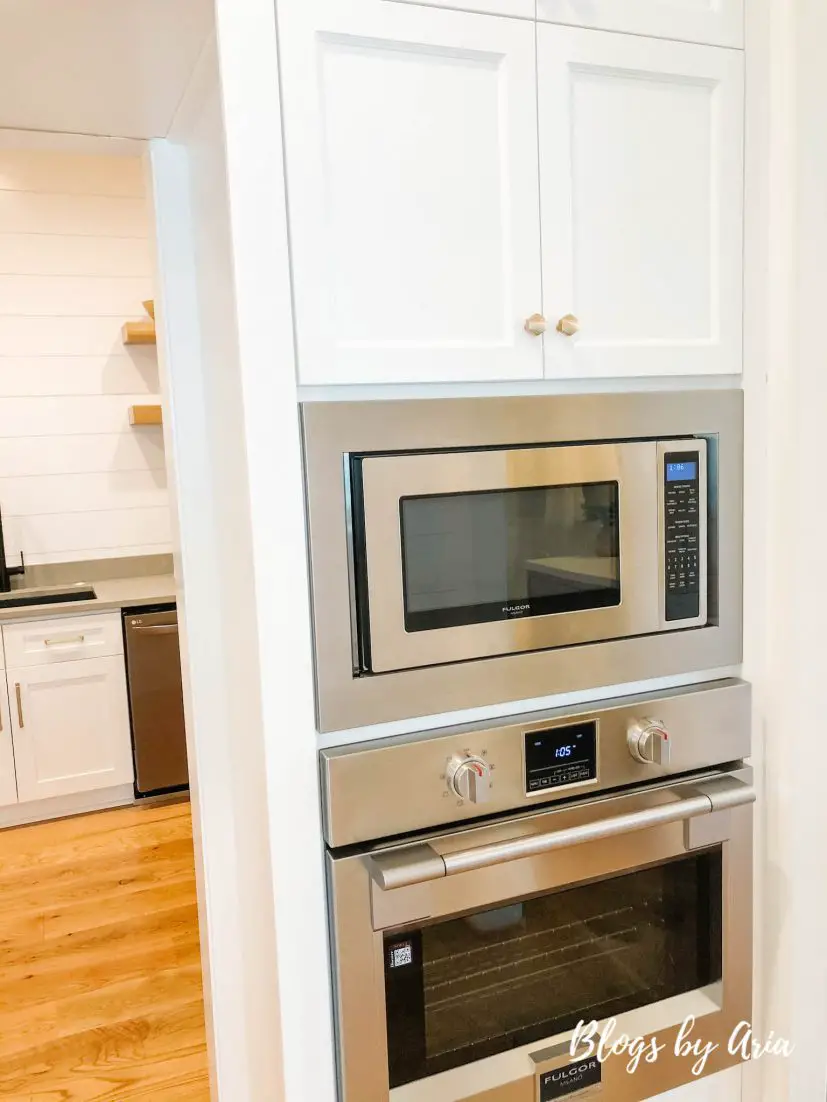 Let's take a look inside the scullery…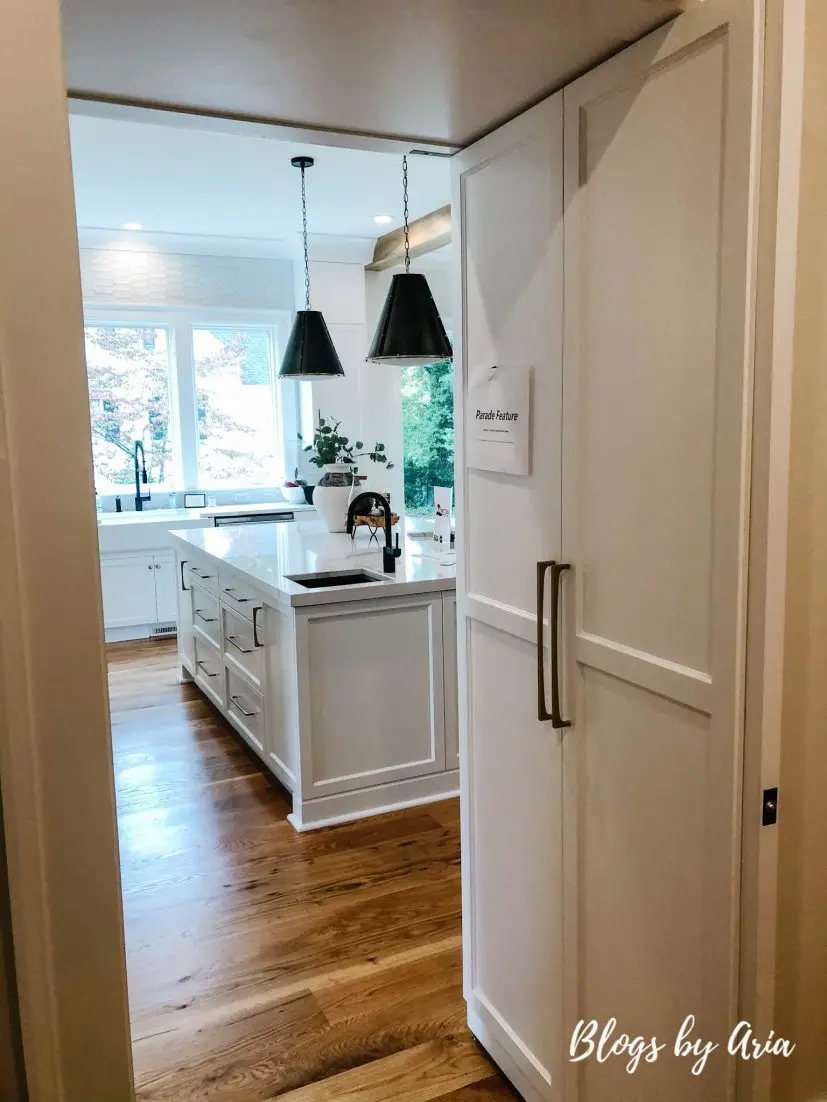 The scullery is hidden behind this paneled wall.  From this angle, look at even more storage available in the kitchen island with a prep sink.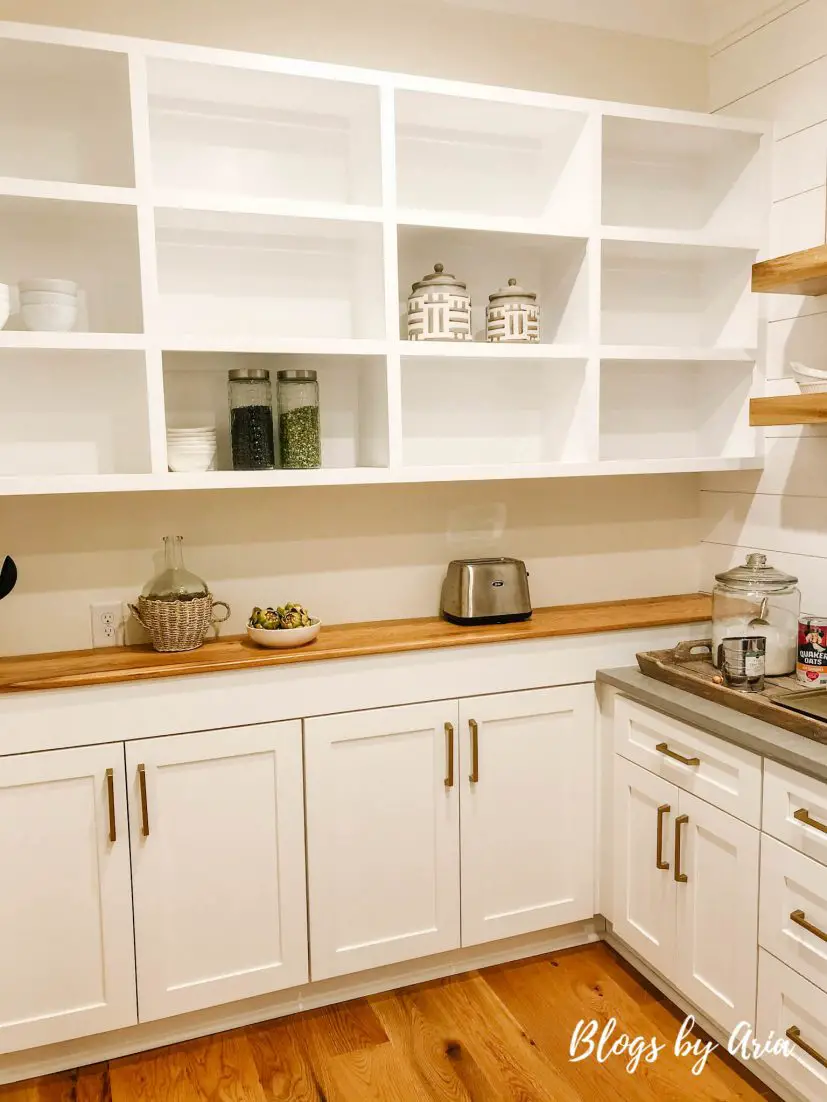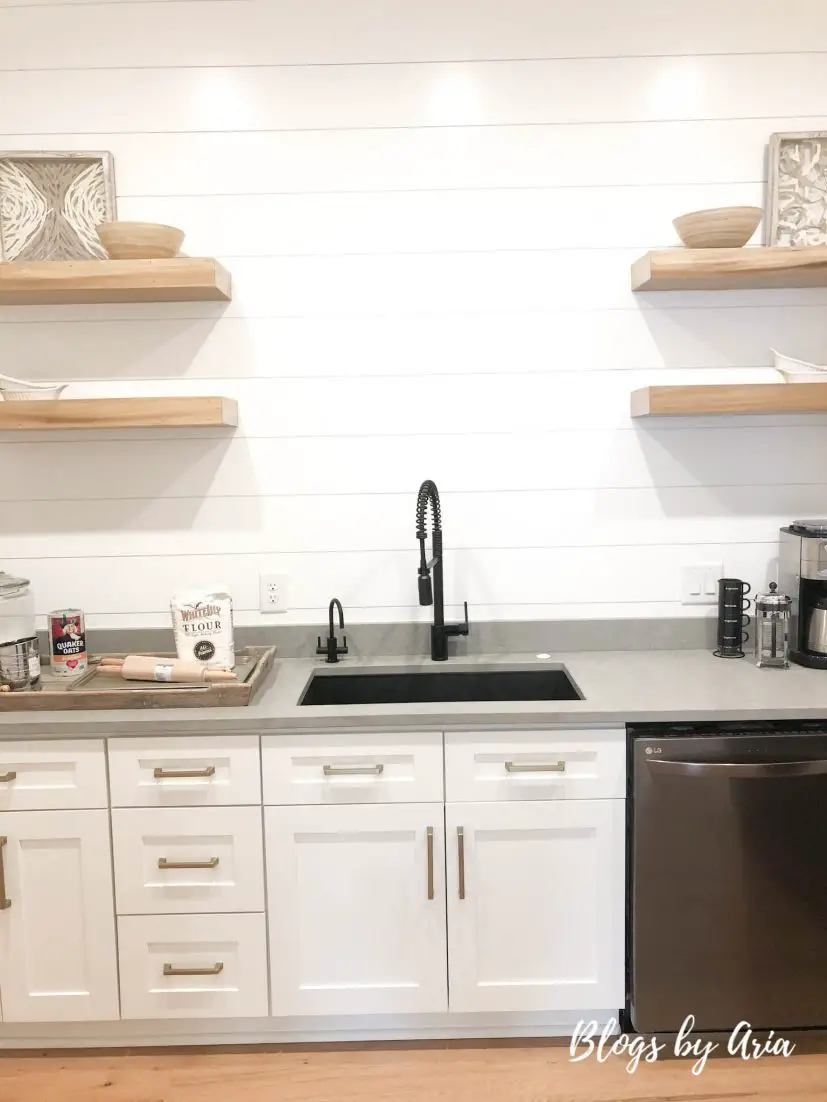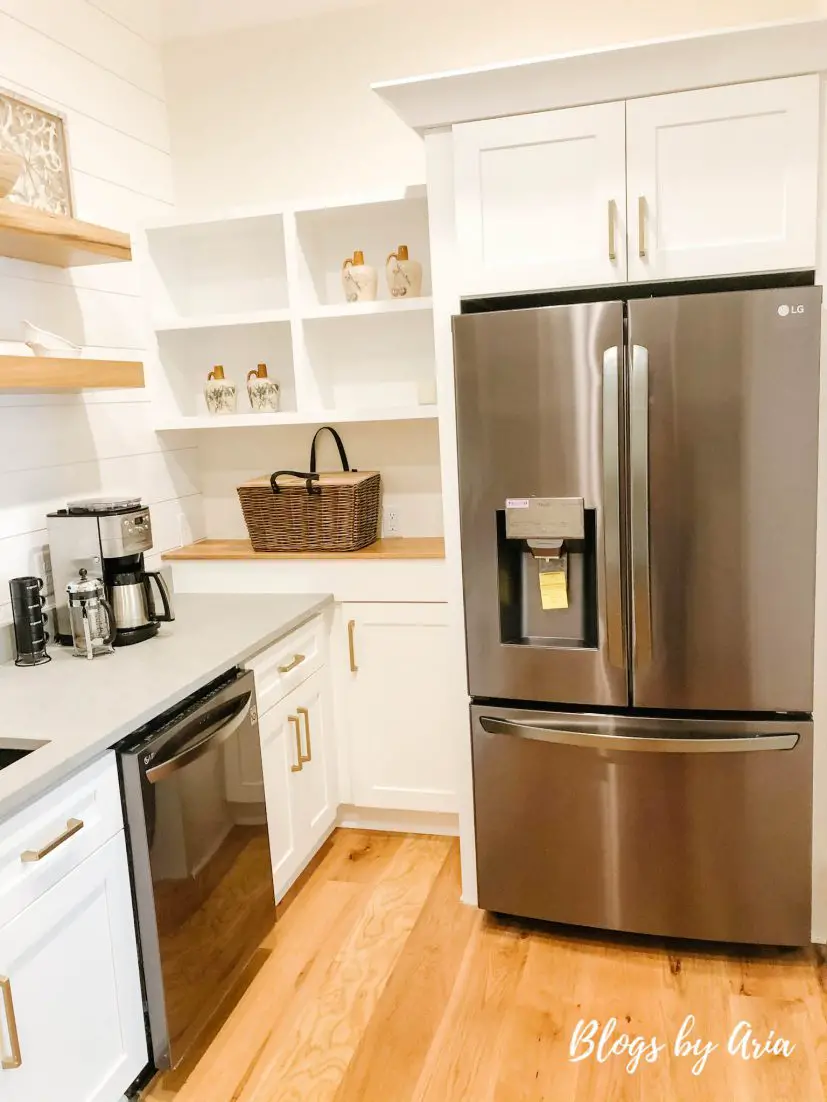 The scullery features a full size pantry with even more storage!  Beautiful shiplap walls with floating shelves.  And a second dishwasher (there is one by the farmhouse sink in case you missed it) and another refrigerator.
Can I just say that this is a kitchen dreams are made of?  Like I would never be able to fill the cabinets, ever but this is what I dream of when I think of being able to host Thanksgiving or Christmas.  So much food storage, lots of ovens to cook and bake all the things, and with all of the function it is even more beautiful than you can expect!
This would also qualify as a Kosher kitchen in my opinion.  Not that I'm an expert (obviously I'm not) but I do recall an episode of House Hunters where the family needed a Kosher kitchen.  A Kosher kitchen is where many items such as meat and dairy need to be kept separate and having two sinks, two refrigerators and boundless storage would make this the perfect kitchen to meet those needs.
And the beauty doesn't end with the kitchen.  We have so much more house to see but if the rest of the home was mediocre it wouldn't even matter at this point because the kitchen has blown me away!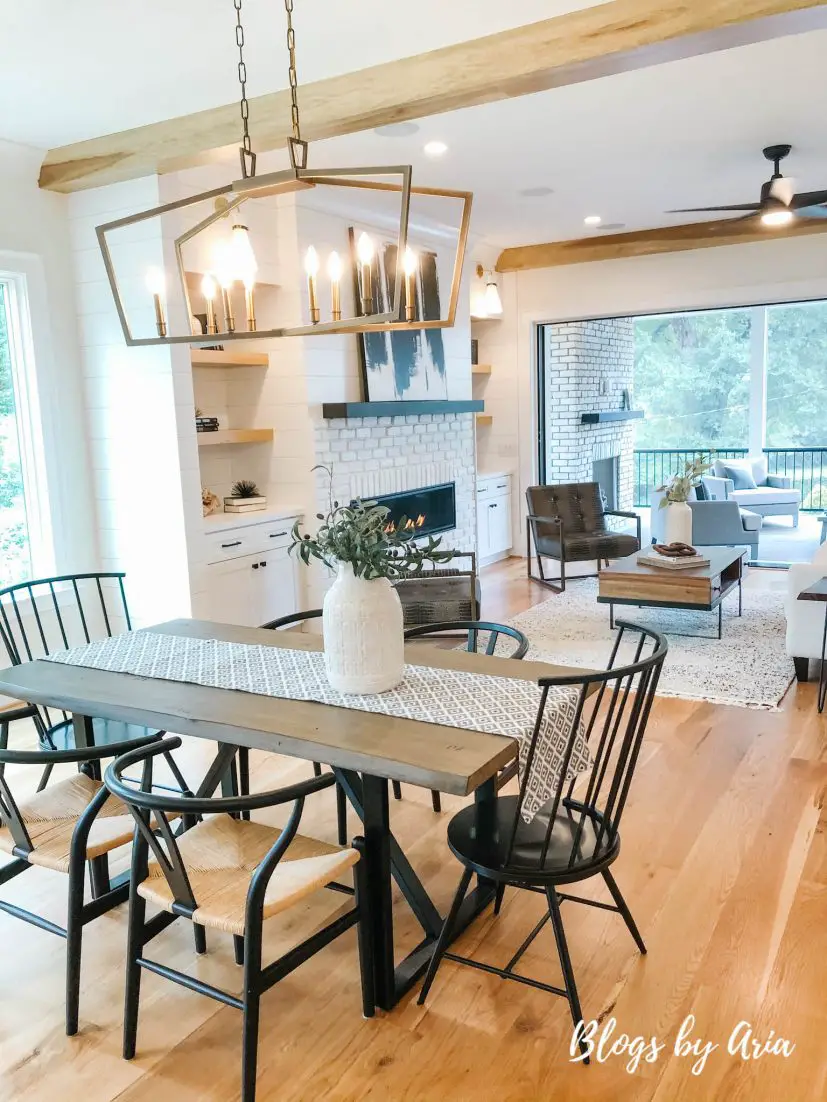 Since this is a home tour, let's continue.  The kitchen flows into the open layout of dining and living space.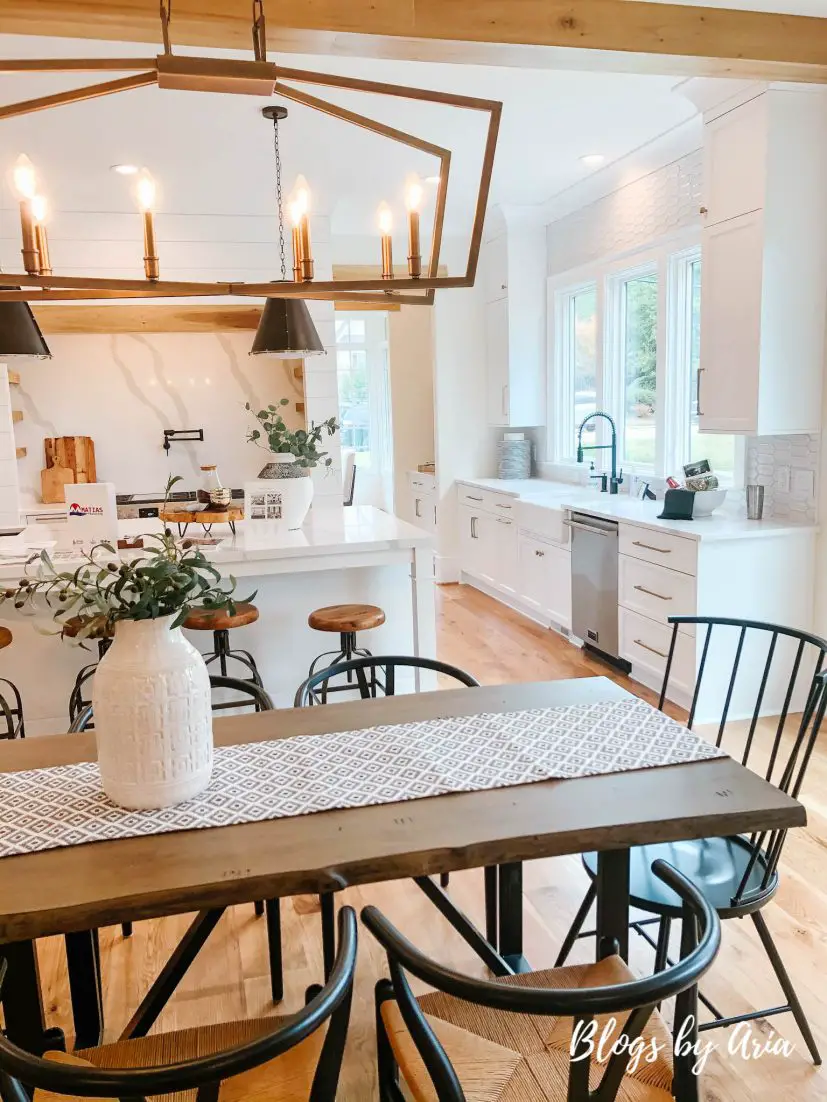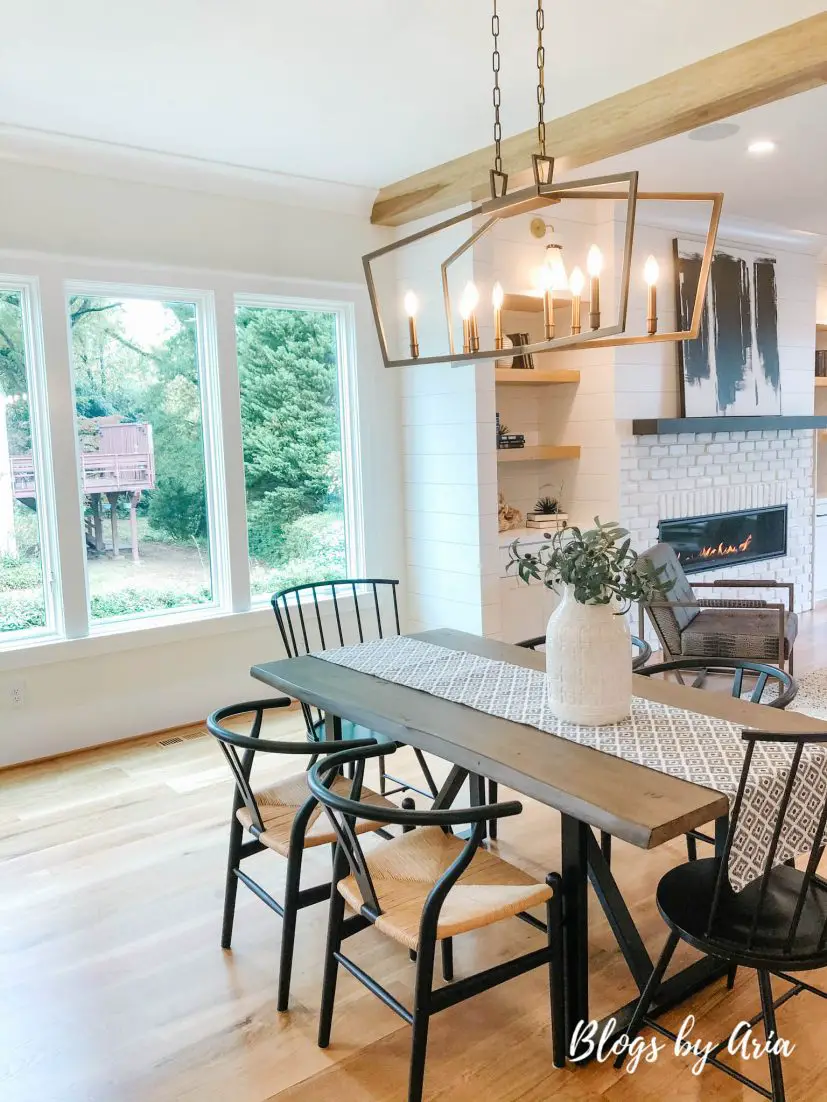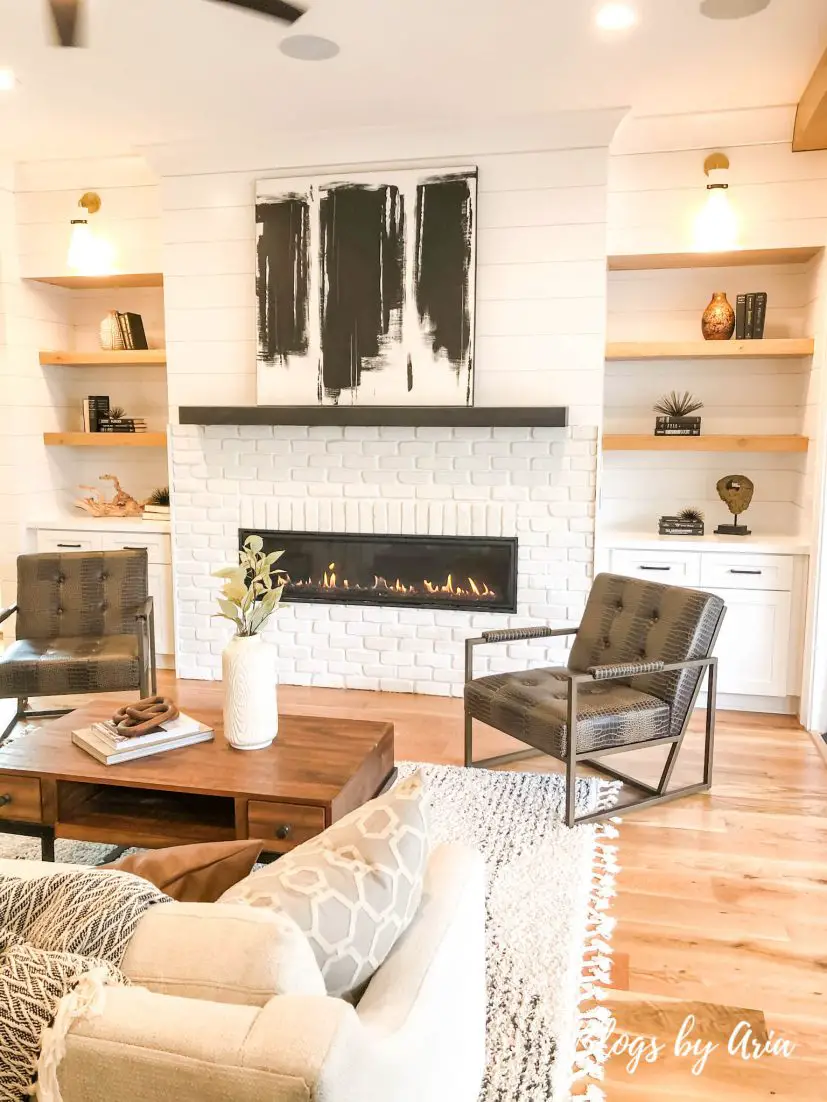 Featuring shiplap walls, painted white brick and floating shelves this living room is open and airy and ties in with the rest of the home.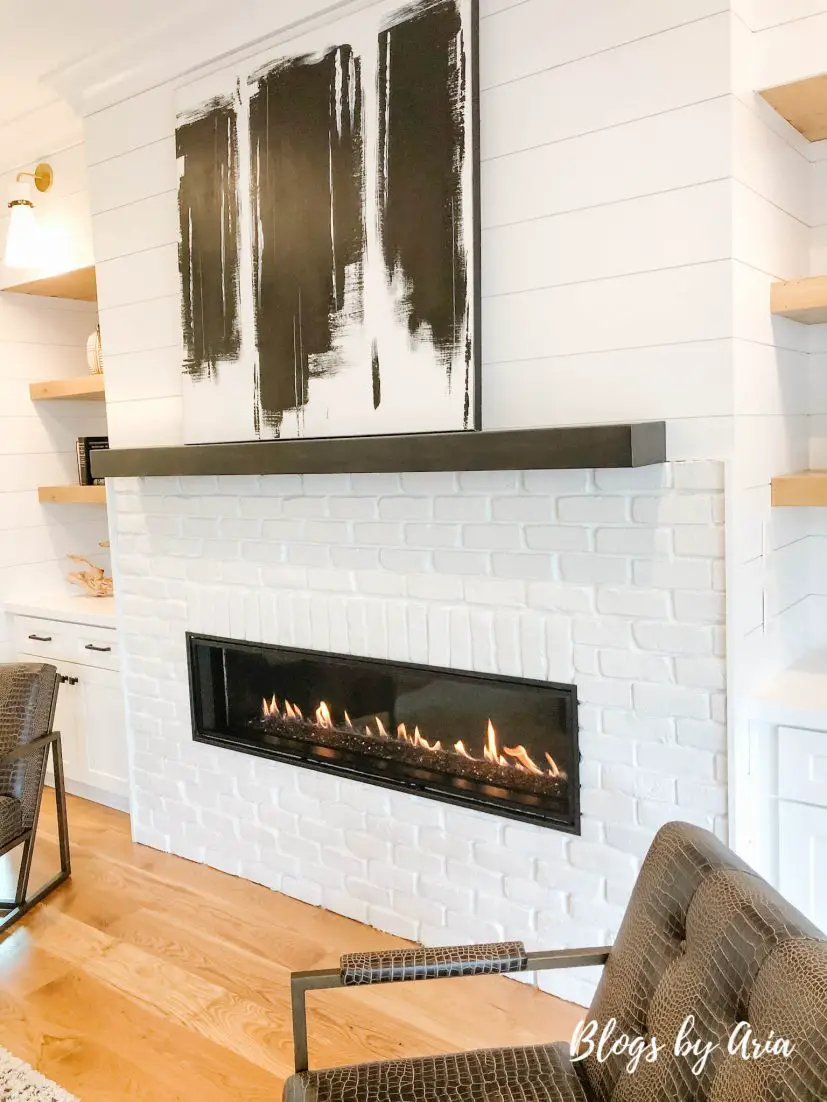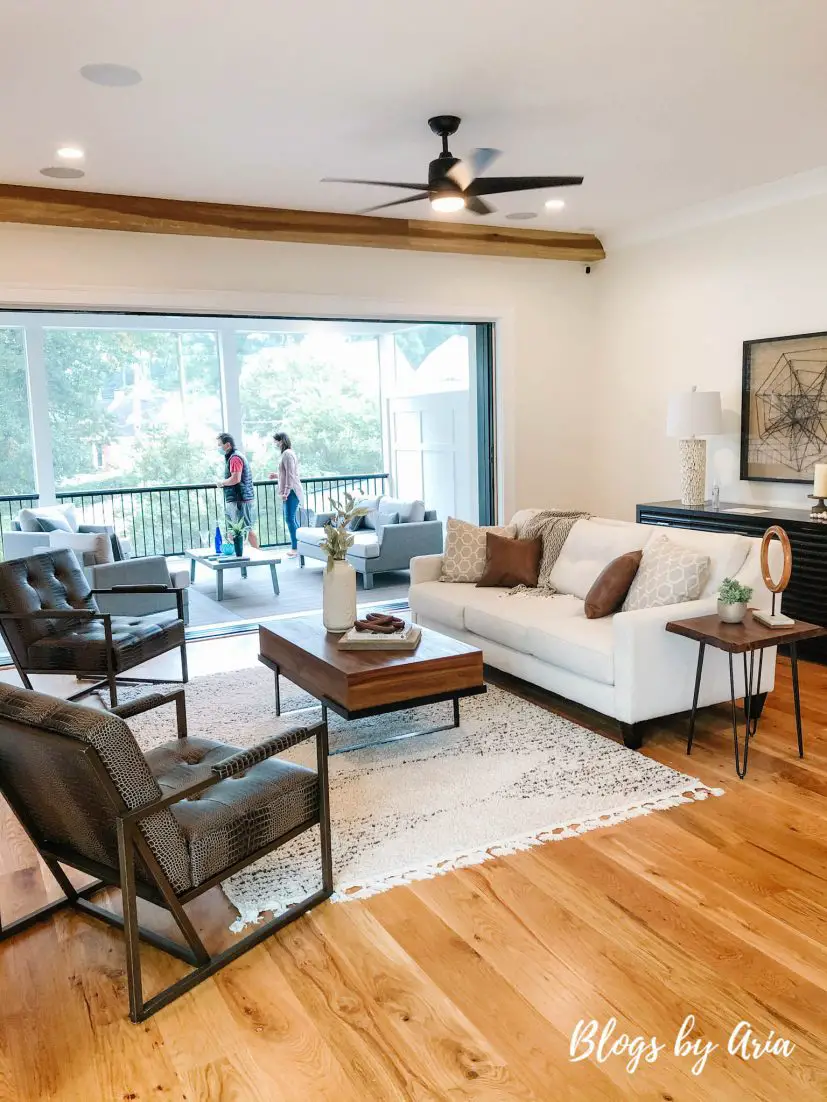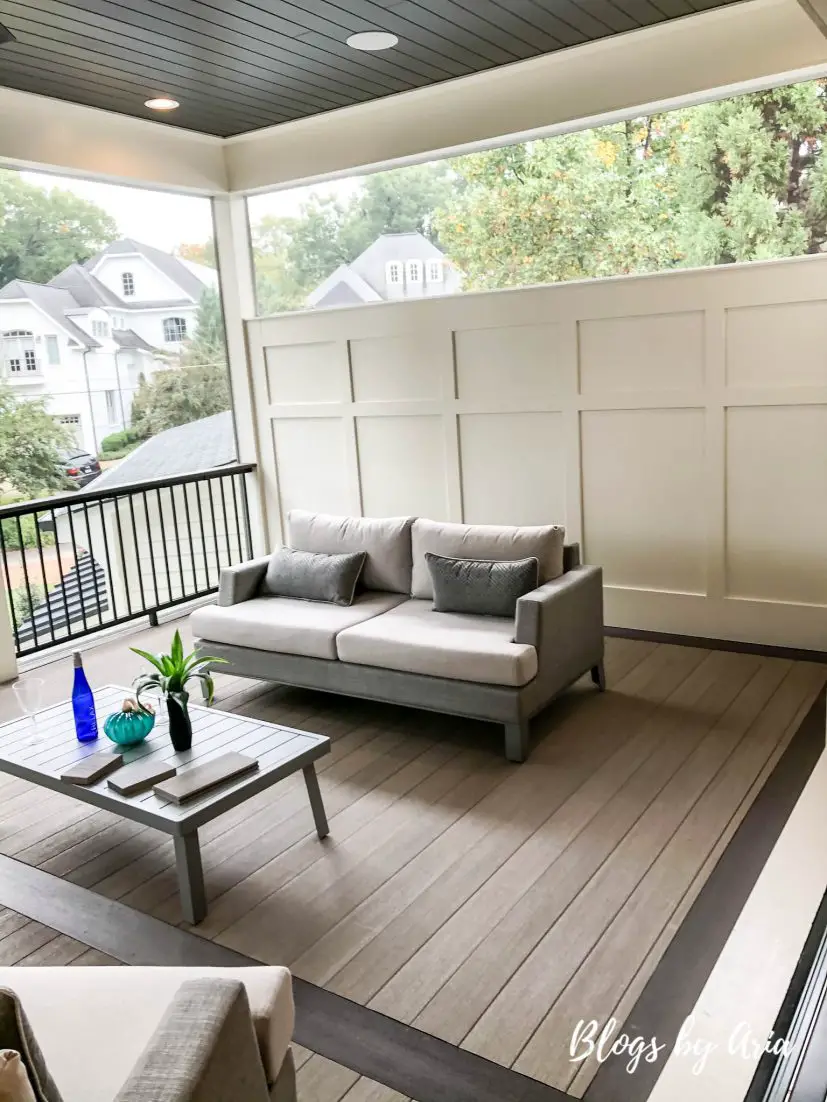 Here in Raleigh we love our indoor and outdoor living and we like to be able to enjoy it with a screened in porch.  Look at this molding!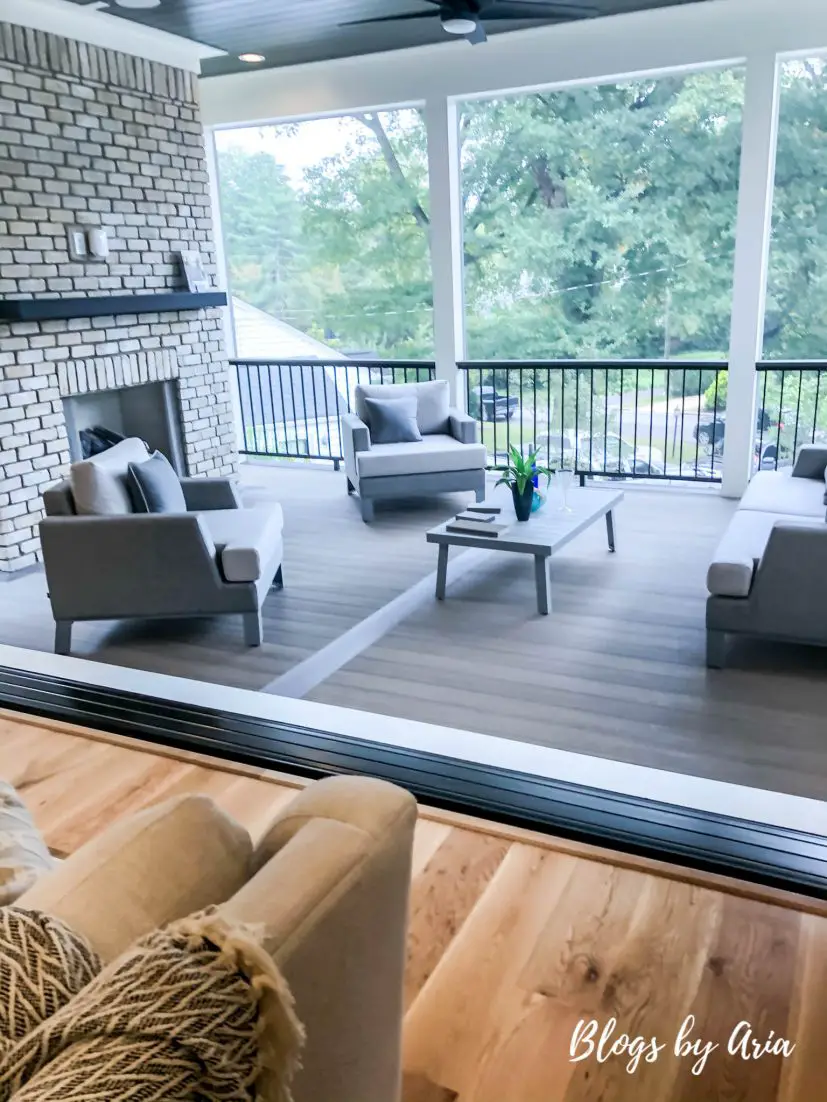 MASTER SUITE
Shiplap details continue into the master bedroom.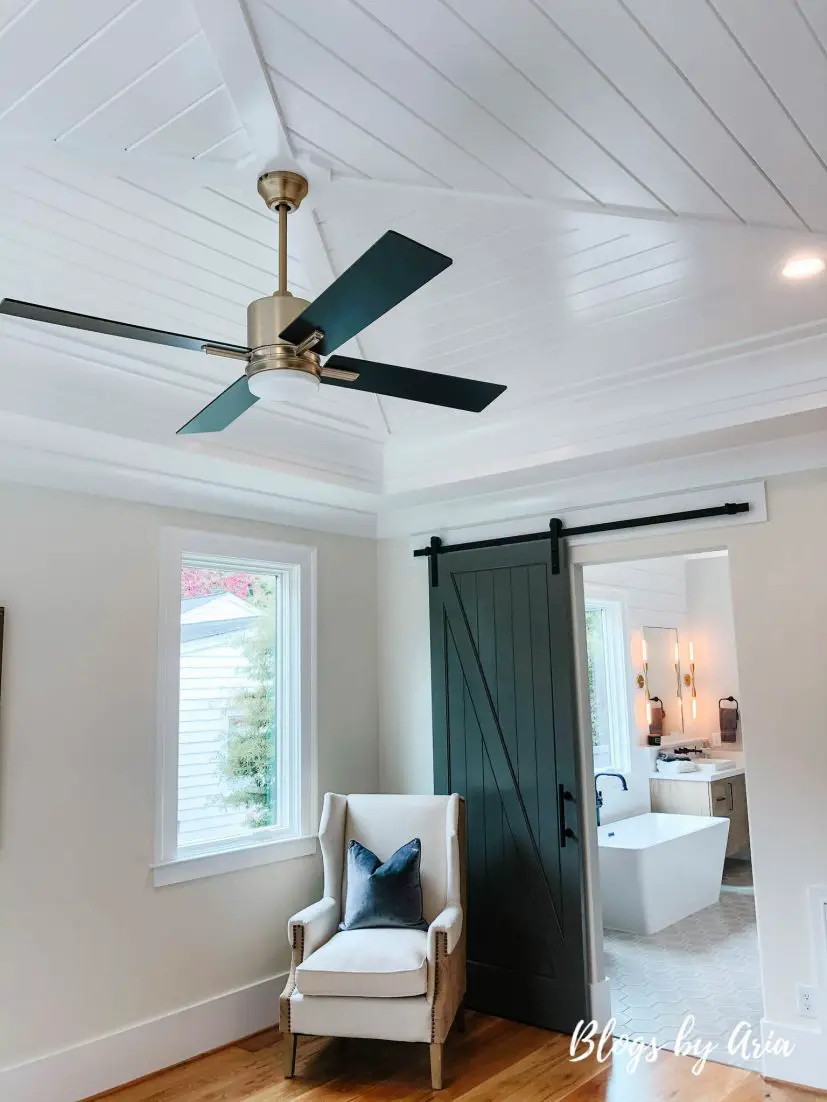 And they incorporated the shiplap on the ceiling too!  The bedroom itself is a great size and although the shiplap details make it stand out…it's all about the en suite.
So many details in this bathroom stand out to me.  From the shiplap to the black fixtures against the white washed wood vanities to the eclectic light fixtures…so much design inspiration!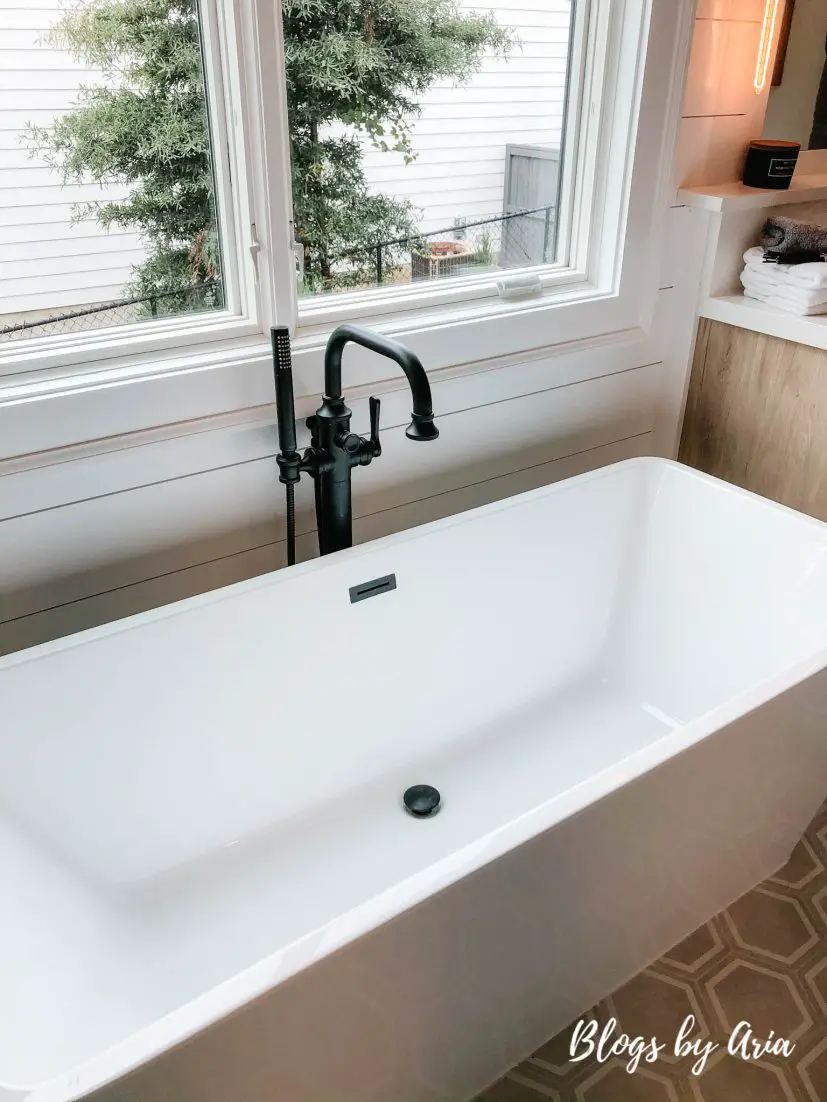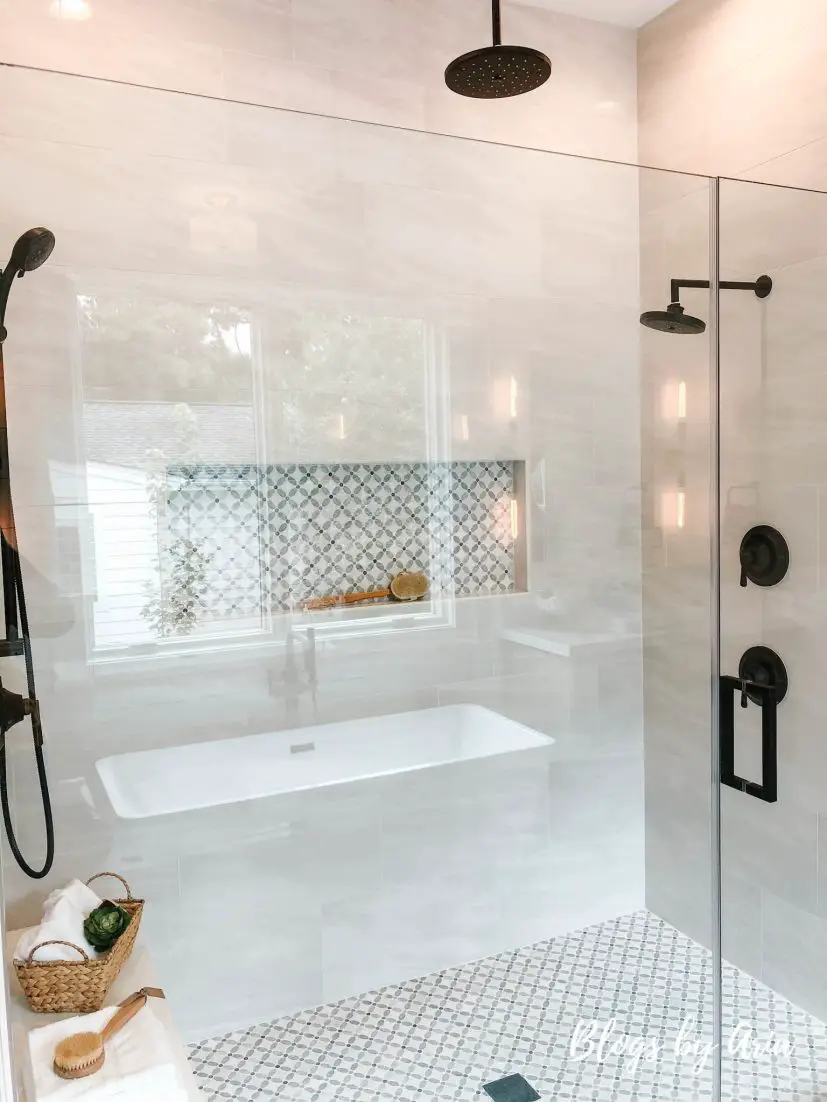 There are his and hers closets in this cottage surprise home.  His closet is off of the main bedroom, to the left of the bed, opposite the wall with the window.
Her closet is off the master bathroom.  Both closets are quite sizeable with hers being just a little larger than his.
Before we head upstairs, here's a look at the laundry room.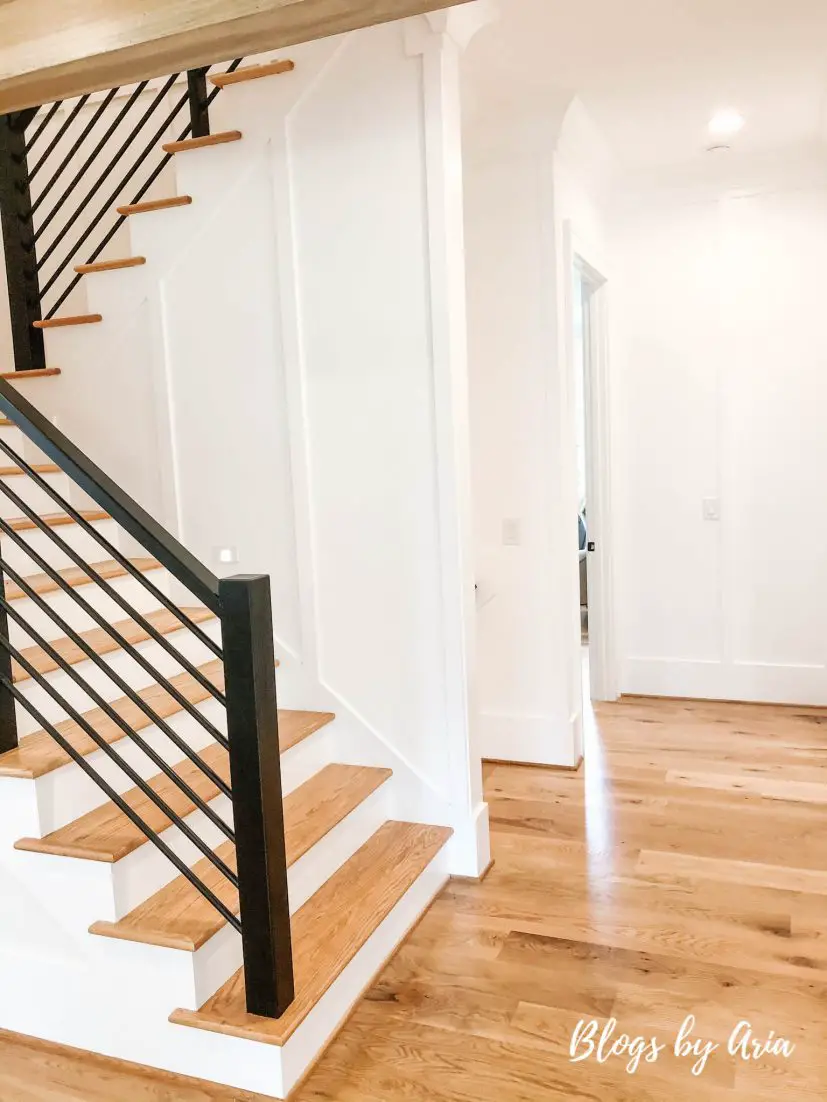 The laundry is located right across from the staircase.  Now let's head upstairs for a few surprises!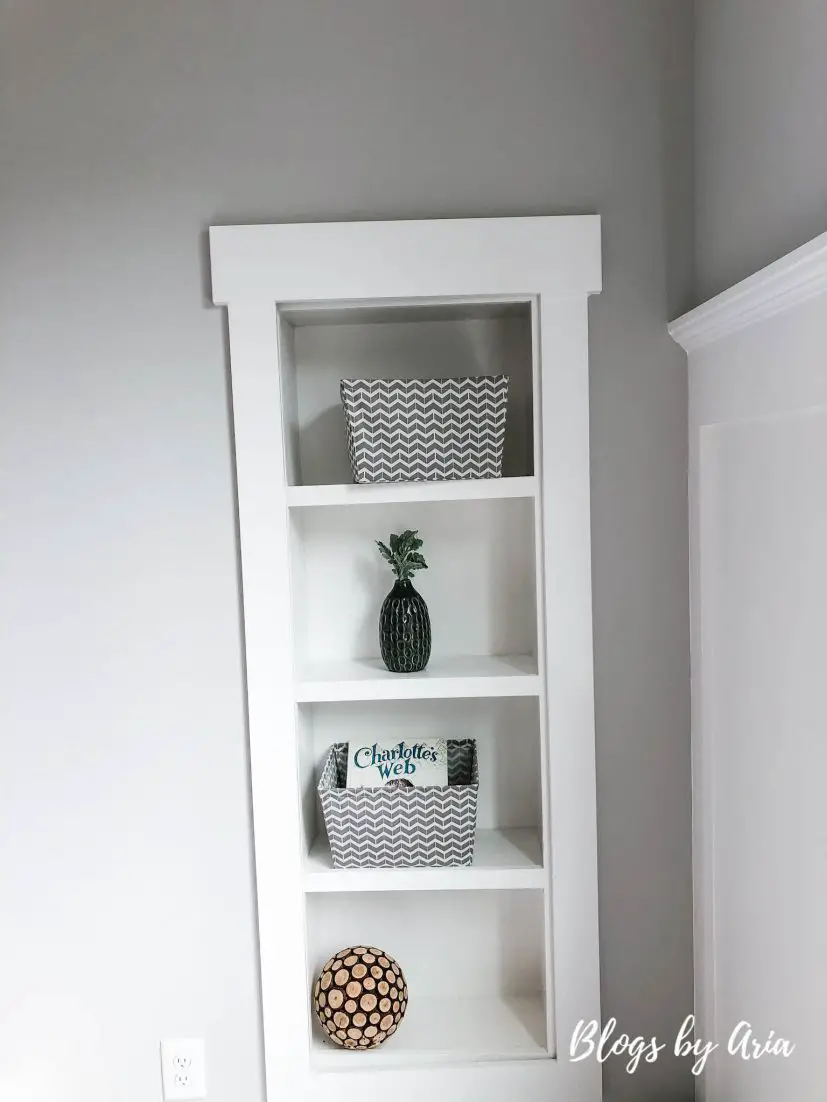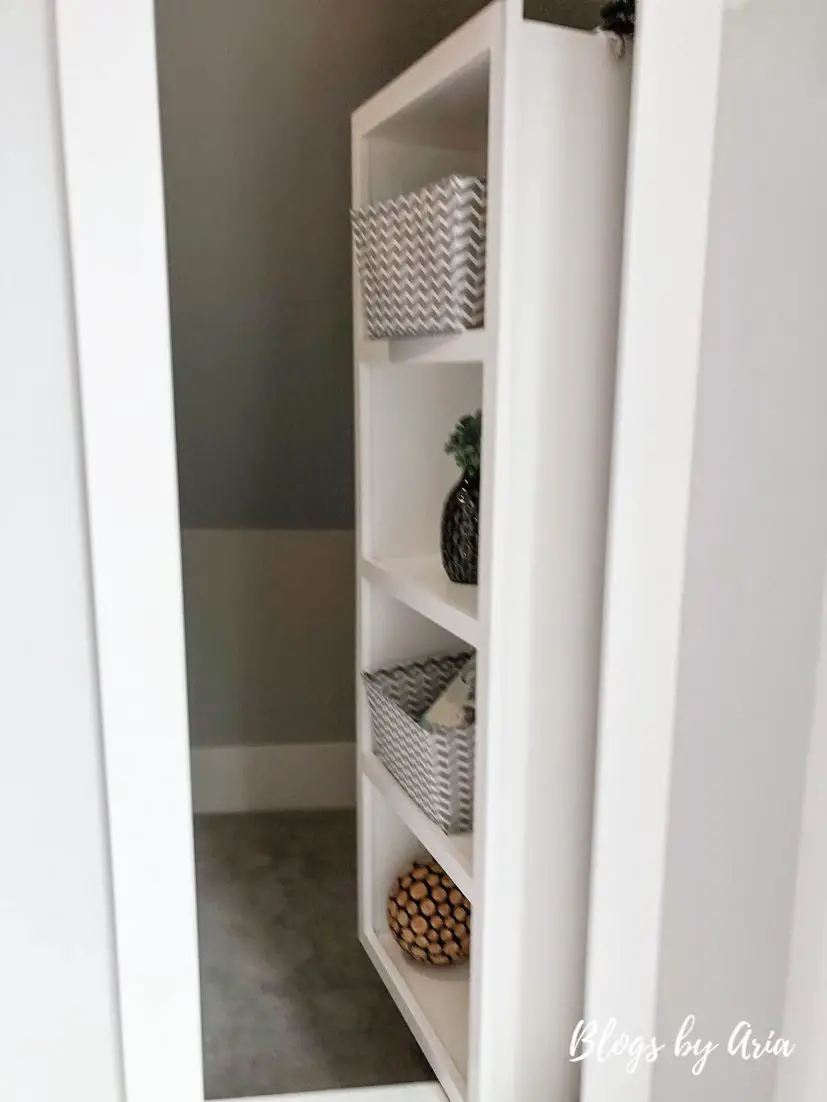 Aside from the surprising amount of square footage in this home what makes this cottage surprise special are the hidden rooms.  On the second floor there are  ___ bedrooms and each bedroom features a hidden room.  Above you see what looks like a built-in bookshelf.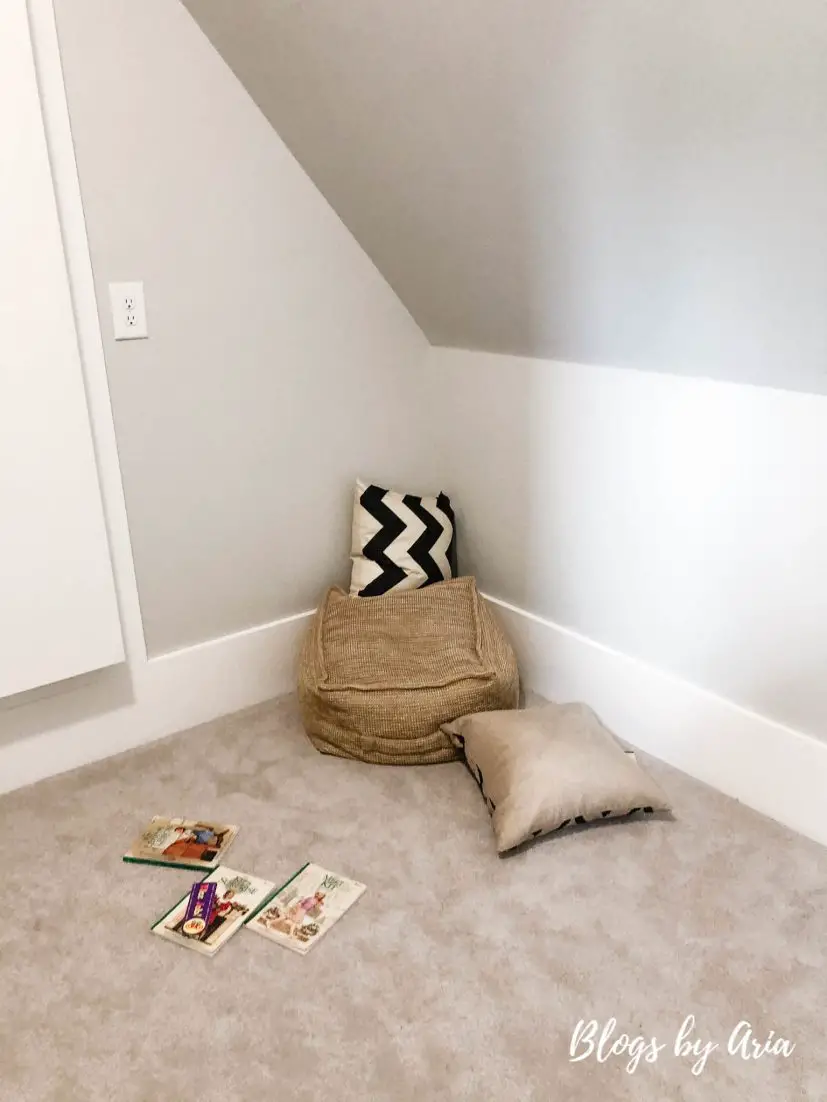 But when you push the bookshelf open you have a secret hide out!  If I was a kid I would love this feature!  Heck, as a grown up I'd love this feature so I could hide out sometimes! 🙂
And it's not some tiny, cramped space either…it's actually quite spacious!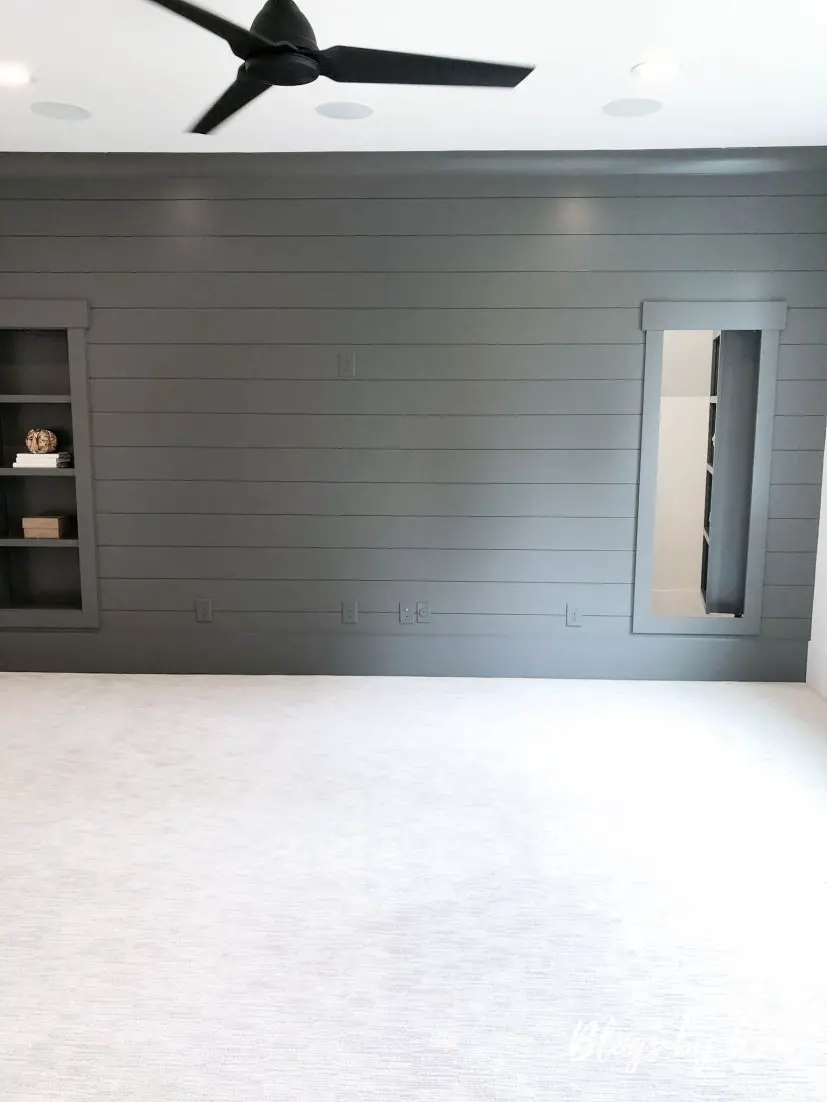 Here in the game room you can see how on the left is the built-in shelf and on the right is access to the hidden room.
Except this one features a built-in bed!
And here's another example in a second bedroom of what's behind door number 3!  I like that each hidden room is unique.
Upstairs there are two large bedrooms each with their own bathroom.  Plus there's a large game/bonus room.  In addition to those rooms there is a huge, walk-in unfinished storage space.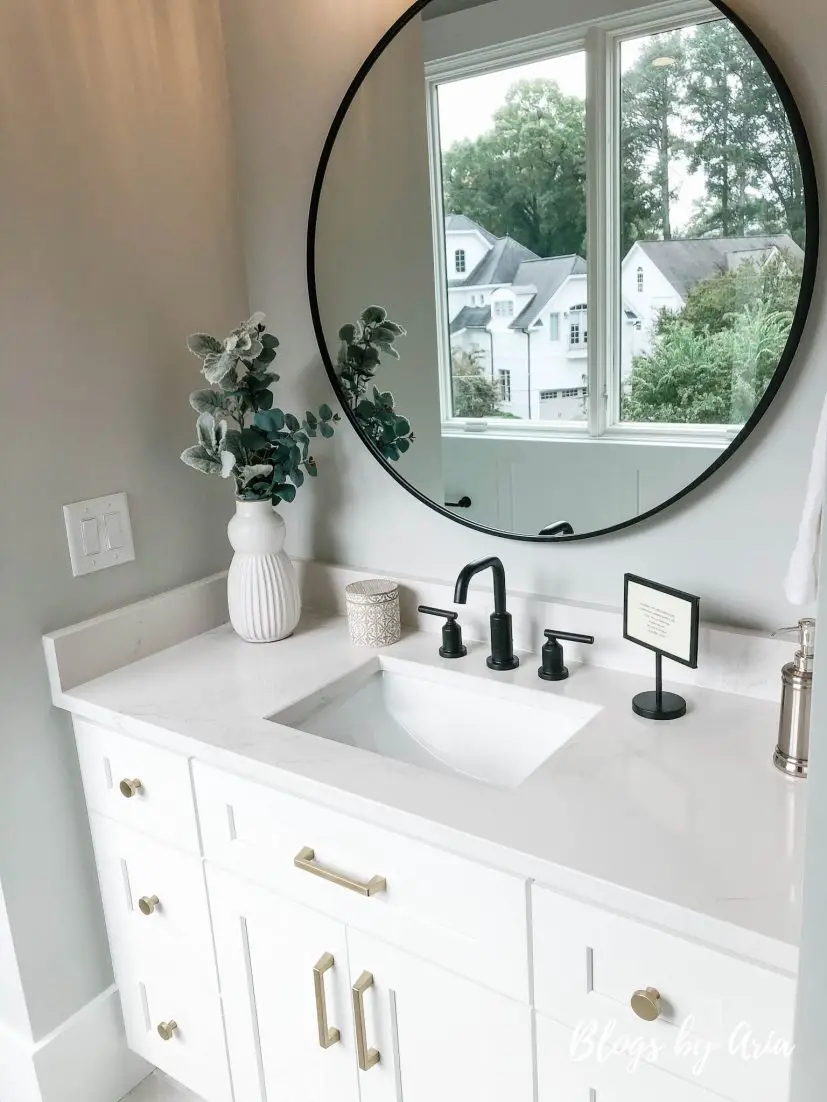 Here is a peek at one of the guest bathrooms upstairs.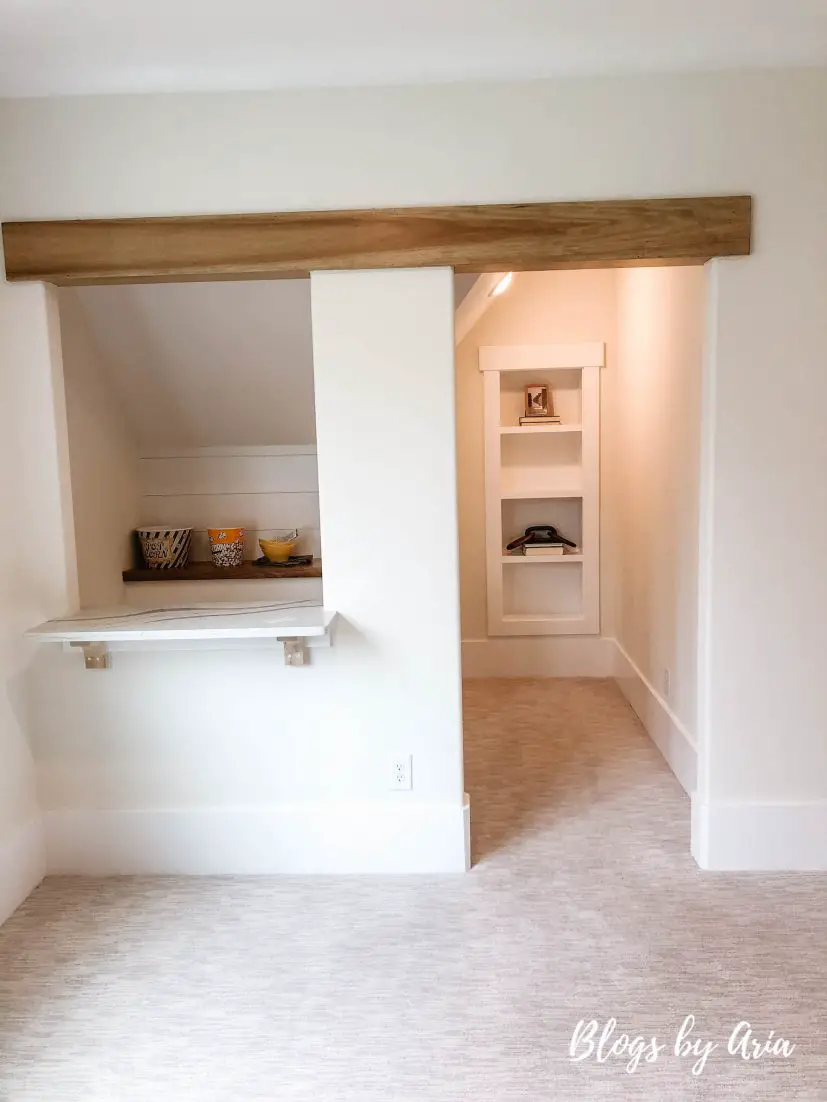 Now there are even more surprises…let's go down two levels to the basement.  Yes, we haven't seen all 5,000 square feet of this home yet!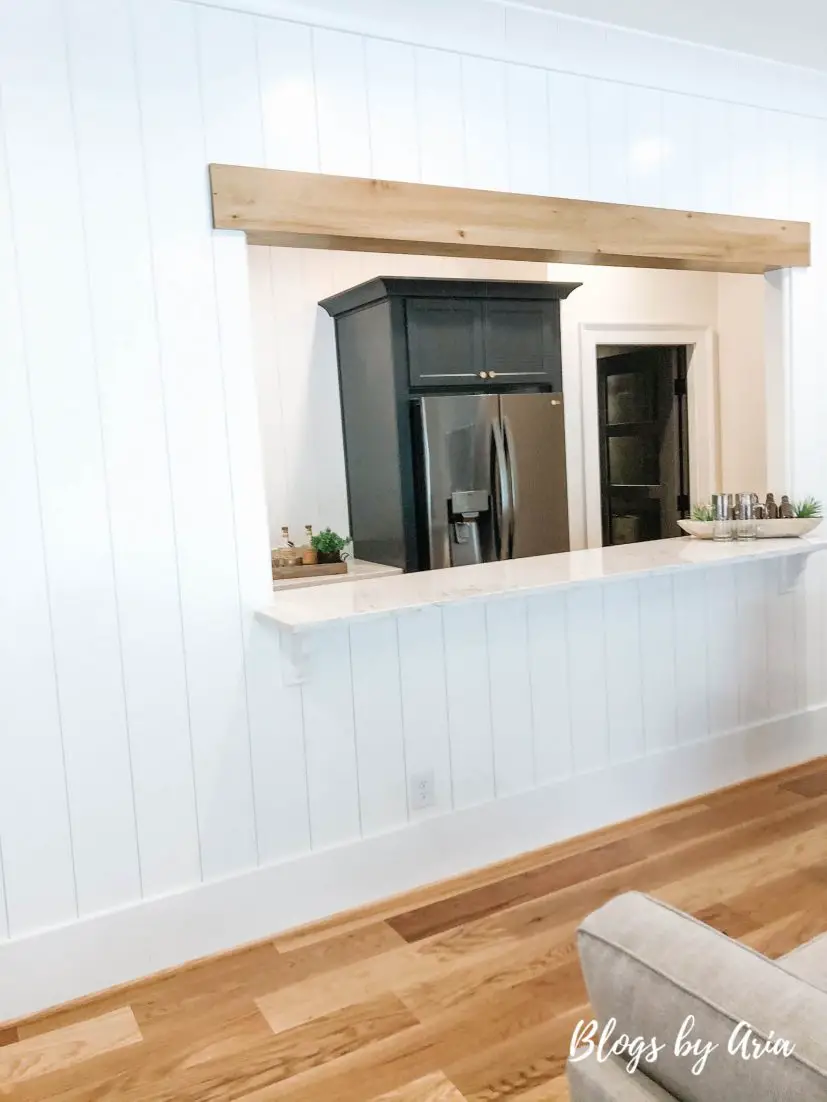 On the basement level there is a lot of living space that features a kitchenette, a wine cellar, a living room and a full bedroom and bathroom.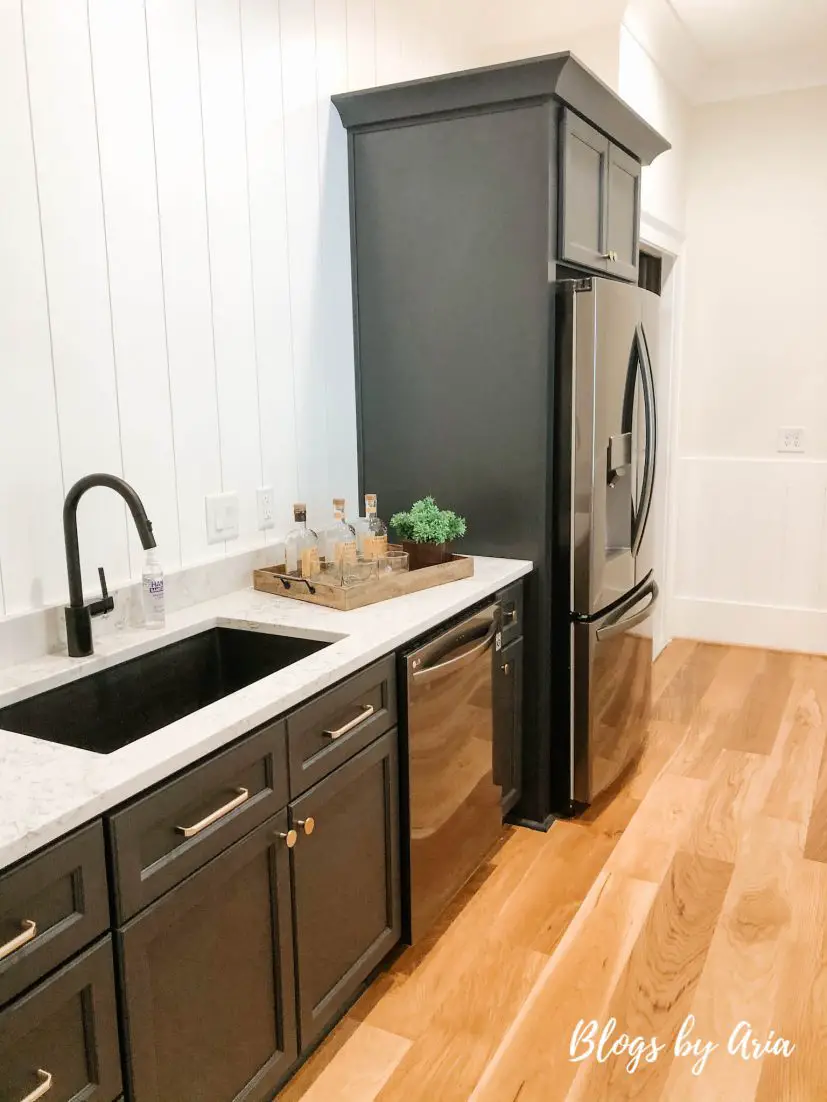 I'm sorry to include her in this photo but it's the only head on shot that I could get from standing in the kitchenette to the outdoor space.  Outside there is a fully covered porch.
Can you feel how large and spacious this space is?  Definitely not what you'd expect from a basement right?  These ceilings are over 10 feet high.  The realtor said each level has the same height ceilings, I just can't recall if it's 10 or 11 feet.
They said the basement level is designed to be used either as extra living space or as an in-law suite.  Because there is a full living space with kitchen and bedroom set up it could work for elder parents who want to avoid a lot of stairs.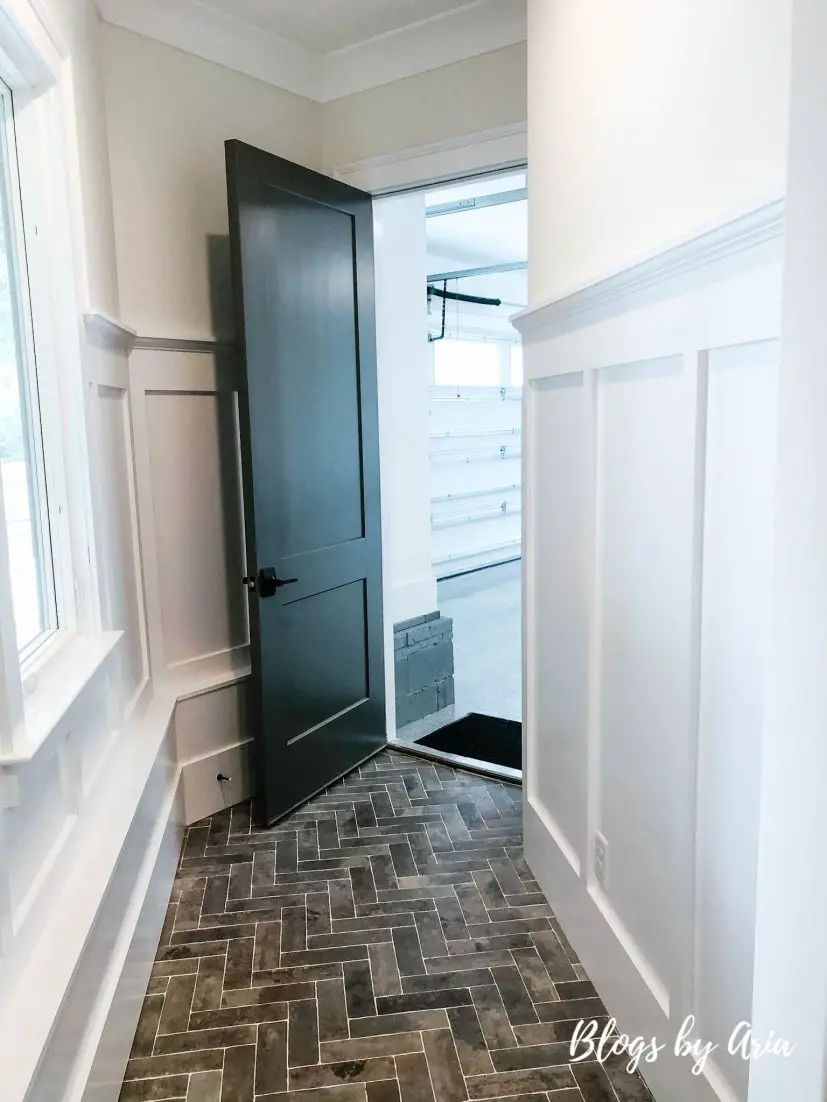 Off of this walkway is access to the three car garage that is towards the back of the property.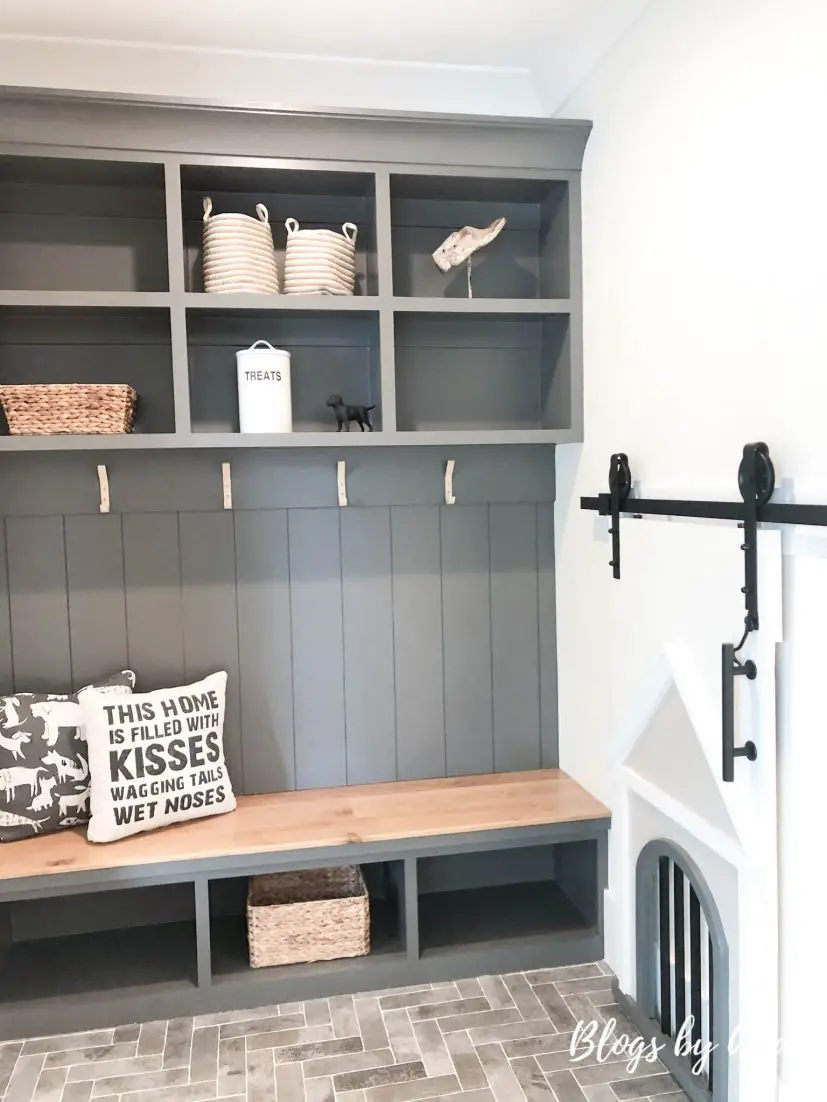 And this is where the mudroom and a little doggie den is located too.  They thought of every member of the family 🙂
I want you to know that I wittled down the amount of pictures I showed you by a lot!  So tell me what did you think of the cottage surprise?  Surprising right!? 😉  There are so many features that you would never expect to get in new construction.
Even though this is one of the most expensive homes I toured this year, mostly due to location, you can see that it is definitely a luxury home that is so unique and fun.  Did I mention the price?  It's listed at $1.8 million.  Not something I'd pay, but that's not why I share these homes with you.  I share them because I want to inspire you the same way I'm inspired when I tour these homes.
Aside from looking at unique architecture styles, I like to take ideas from these homes, save them to my Pinterest boards and when the time is right, I can incorporate some of the design features I see into my own home.  Whether you're building, or remodeling or just dreaming, you can find something you love in homes you'd never even think of before.