For years I've wanted to have more than one Christmas tree.  And for years I wanted a flocked Christmas tree.  This year I got to check that dream off the list and I got a flocked Christmas tree for our dining room.  I'm still putting the finishing touches on the rest of my dining room, but I can show you how I decorated our flocked Christmas tree!
Although I always knew that a beautiful flocked tree would look perfect in a formal dining room, I didn't let that stop me from having one in our informal dining room.  I shared a small preview of this pretty flocked tree, but now I want to show how it looks all complete!
*this post includes affiliate links for your shopping convenience, you can read more about affiliate links by reading my Disclosure*
Because our living room and dining room are open to each other, I knew that I wanted this Christmas tree to compliment my main tree.  Yet I didn't want it to compete with it.  I like to think of them as sisters, but not twins.
My holiday decor style is pretty traditional with lots of reds and greens.  For this tree I knew that I wanted to focus on those colors but with an emphasis on green ornaments.  Finding the perfect green ornaments was no small feat.  I wanted larger ornaments, preferably in a dark matte green.
One of the issues I ran into was how hard it was to find what I wanted in stores.  I was decorating early and yet really struggled to find what I was looking for.  After spending more money than I wanted to, I think I've been able to strike a nice balance with what I have.
My ornaments are from Hobby Lobby, Target and the At Home store.
I also wanted to use white tartan plaid ribbon to tie in with the rest of my Christmas decor.  The beautiful plaid ribbon I used I found at Walmart in store.  Although I prefer my wire ribbon to be super stiff, this was surprisingly nice to work with at under $5 a roll.
After the ribbon and the ornaments, I wanted to use picks to fill out the tree.  There are a variety of picks I used, but I started with these snowcapped pinecones.  I knew they would be perfect on a flocked tree!
Next I added a few flocked stem picks.  You can also mix and match greenery and add flocked picks to a green tree or green picks to a flocked tree.  I didn't go that route because I wanted to fully experience having a flocked tree.  Maybe next year I will experiment a bit more.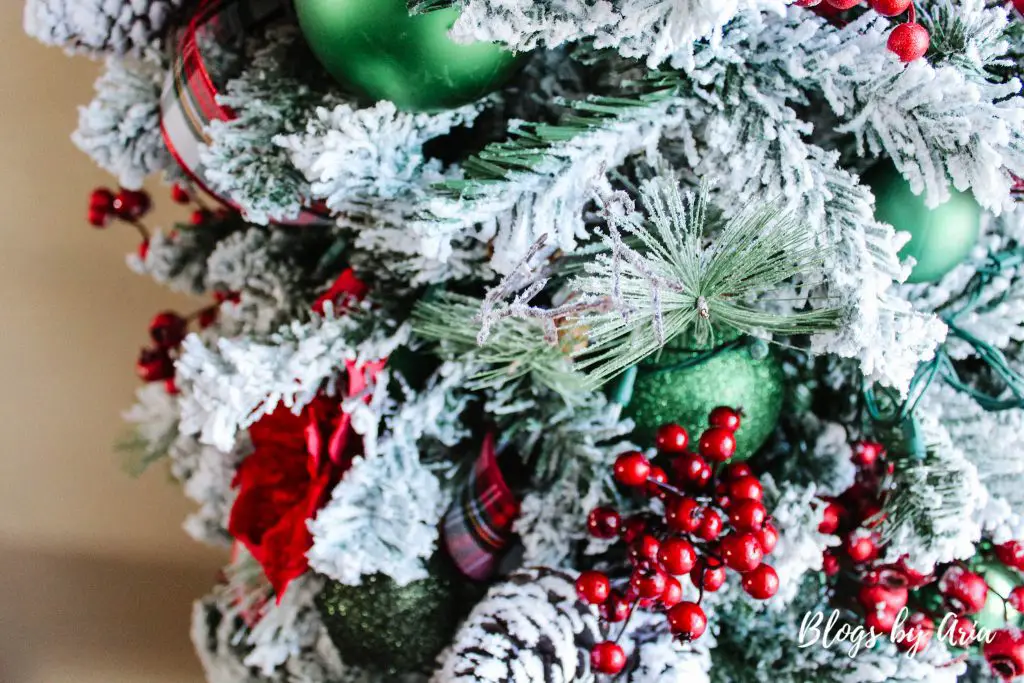 After adding a few flocked stem elements, I knew that I wanted to add red berry picks.  And I definitely added a variety of them!  My favorite are the snow capped berry picks from Hobby Lobby.  They're nice and full and add a lot of personality to my tree.
There's also some darker berry picks that I got from both Hobby Lobby and Walmart.
Lastly I added some poinsettia picks that I used last year.  I feel like they add the finishing touch to complete the tree.  Honestly the tree itself I felt was of a decent fullness.  I probably could have made sure I touched each and every branch when fluffing.  But let's face it, I got lazy.
Well, almost complete the tree…
Starting at the bottom of the tree.  I think there needs to be something at the foot of the tree.  Whether that's a tree skirt or a tree collar.  I knew that because it's located in the corner, a tree skirt wouldn't work.  Originally I thought about using my red cable knit tree skirt from last year, but didn't want to take my chances with the flocking getting all over it.
So I thought a tree collar was the way to go.  The problem is…tree collars can get pretty pricey!  I was looking for a basket weave style but just like I had a hard time finding ornaments, such was the case with a tree collar.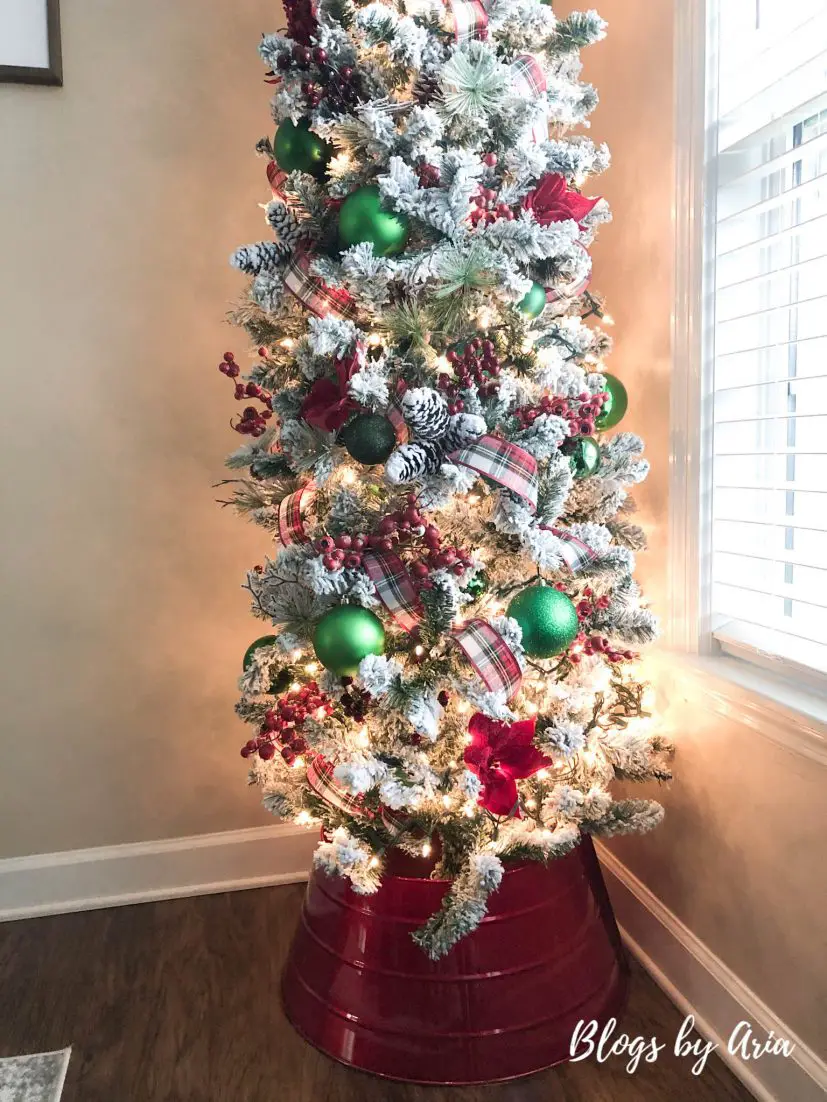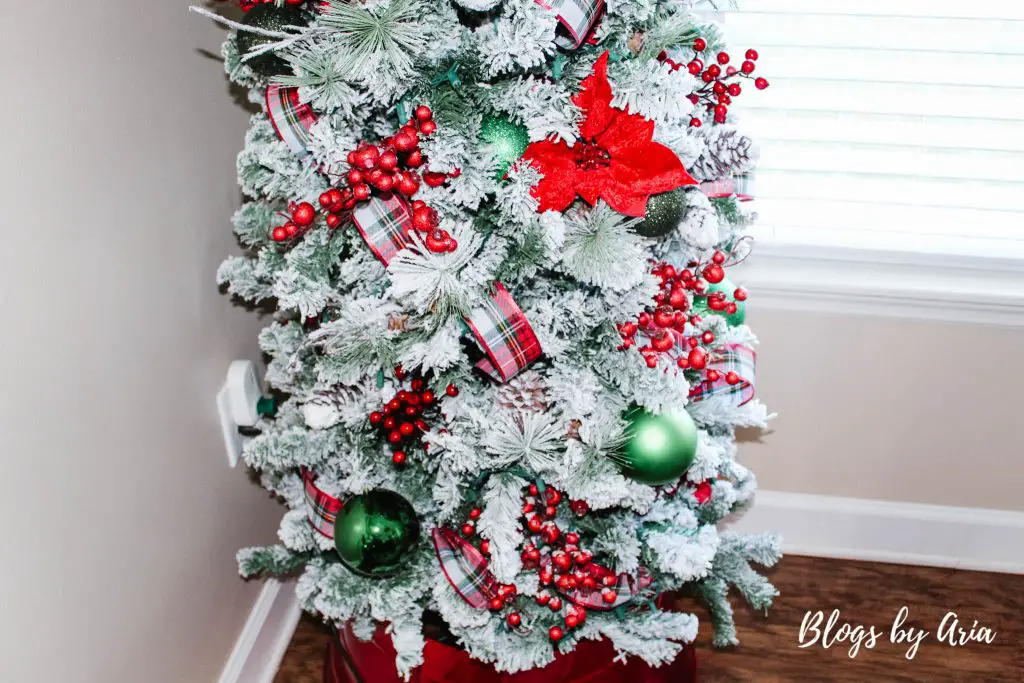 After searching store after store, I lucked up with this red tree collar from Michael's.  It was on sale for under $25 and will be perfect for this tree or any other smaller width tree year after year.
Here's a quick tip:  a tree skirt is usually added last, but a tree collar needs to be added first.  Trust me on this!  My collar isn't fully attached in the back, but if I didn't tell you, you wouldn't know 🙂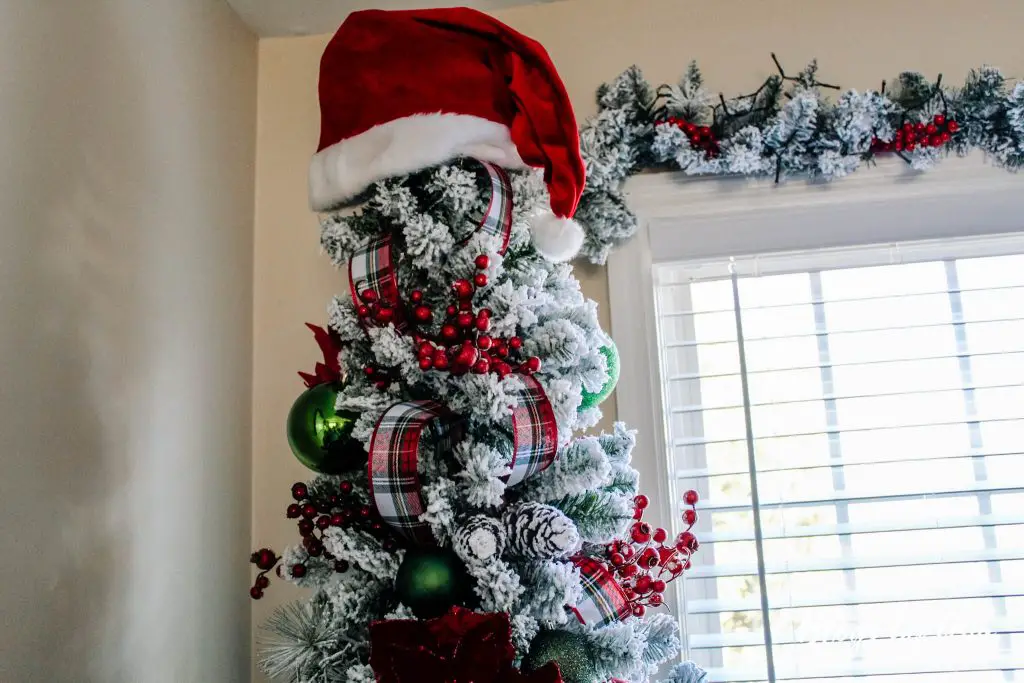 Now for the final finishing touch…the tree topper.  I tried so many options from bows, to using berry stems to create a topper, to a Santa hat.  I had tried the Santa tree topper that was on my tree last year early on.  And I didn't like it.
I was prepared to just have the tree without a topper, and I was fine with it.  But I decided to try the Santa hat topper again.  This time I liked it.  Now, my flocked tree is complete!  And I love it!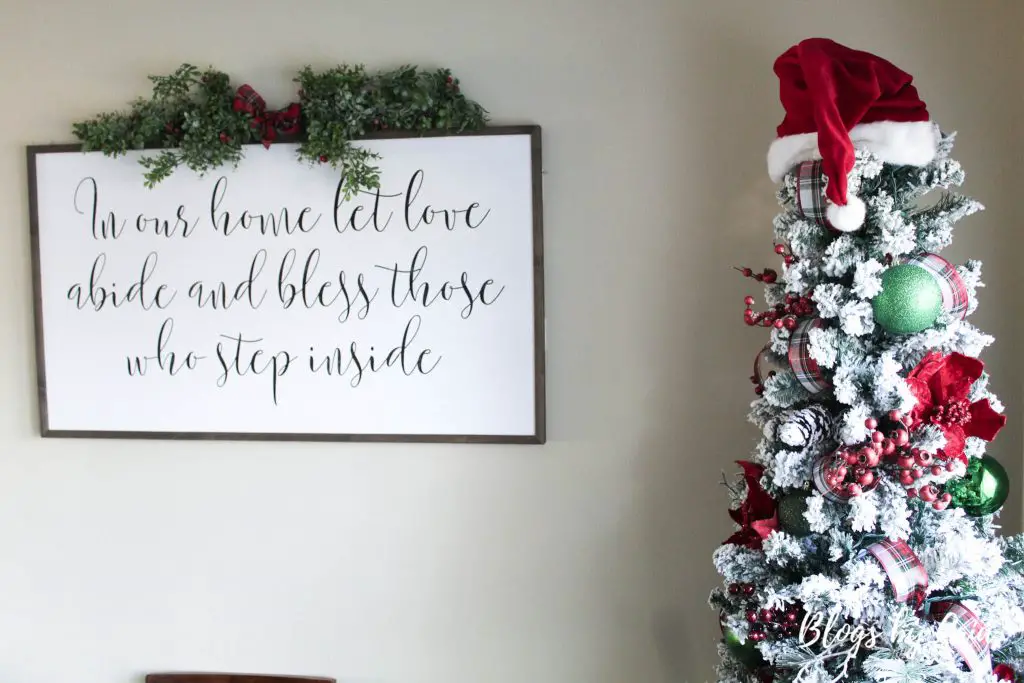 It wasn't easy to get pictures of just the tree without a lot of the rest of the dining room space as well.  Not to mention that some of these pictures I had to take during prime daylight hours, which mean it's during my workday.  I work right next to the tree, so I was also trying not to get all of my work stuff in the shots too.
Also trying to get the right lighting while the tree is lit is proving a bit difficult for my novice photography skills.  Hopefully you can still see the beauty that I was trying to capture.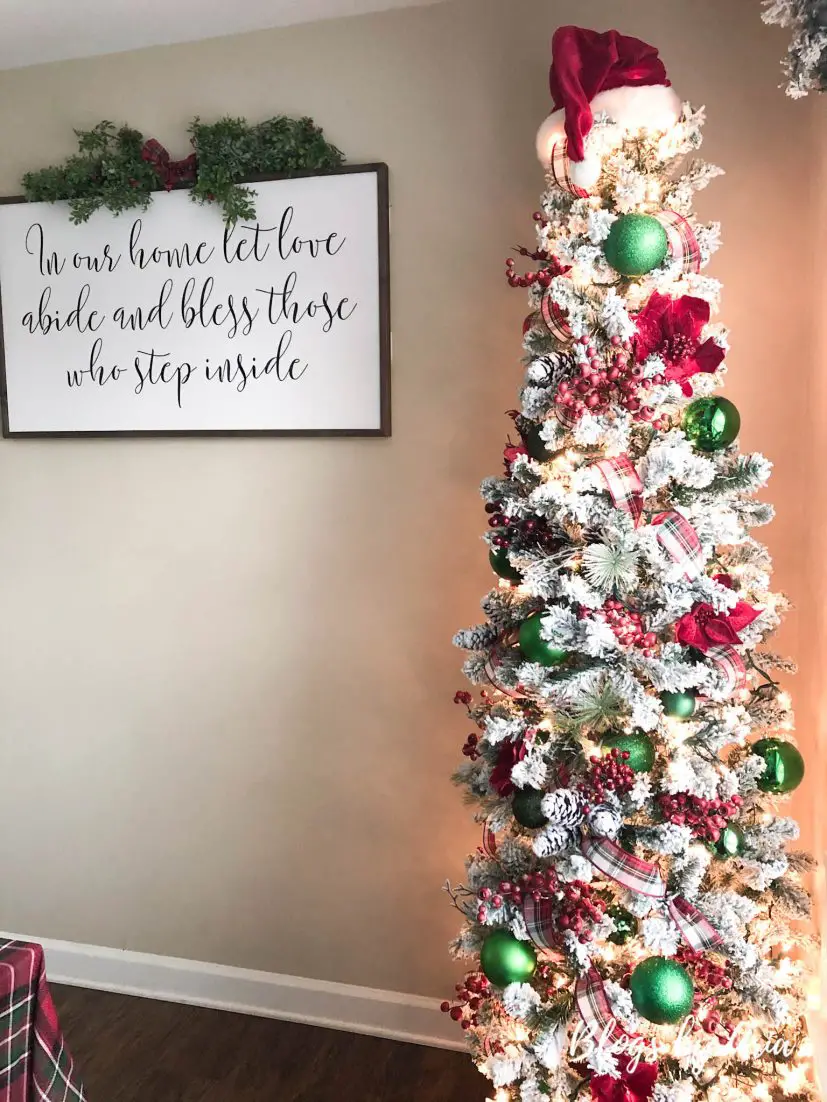 Last but not least, here's a sneak peek at both of my trees in action ♥  The most wonderful time of the year indeed.  And how is it already December?!?  It's my sincere hope that I am able to inspire you when I share my decorations.  Also it's my sincere goal to get all of my Christmas decor related posts up before mid-month!!  Until next time my friend 🙂