Last year when I decorated for Christmas I found that I was drawn to the classic tartan plaid look.  And I decided to make that my theme, or better yet, my vibe for last year's holiday decor.  Now that I'm thinking of Christmas and planning out my decor this year, I know that I am ready to fully lean in to the the tartan plaid vibe.  Apparently deep down there is a classic 1980's Ralph Lauren model hidden inside me.  Who knew?  But I am loving all things classic tartan plaid.
Not that long ago I was searching online for tartan plaid Christmas decor.  In addition to being shown decor ideas, I was being shown everything else in between!  That made me think…what else can I find?
Turns out…a lot!  But let's start with some fun tartan plaid decor finds!
*this post includes affiliate links for your shopping convenience, you can read more about affiliate links by reading my Disclosure*
TARTAN PLAID DECOR
plaid pillow | plaid gift wrap | tartan plaid ribbon | tartan plaid plate | classic plaid ribbon | tartan plaid tree skirt | tartan plaid chair | tartan plaid garland
Recently I shared some holiday bedding inspiration and I'm consistently drawn to a classic tartan plaid style.  This plaid pillow is made for the bed but could also be used as a throw pillow.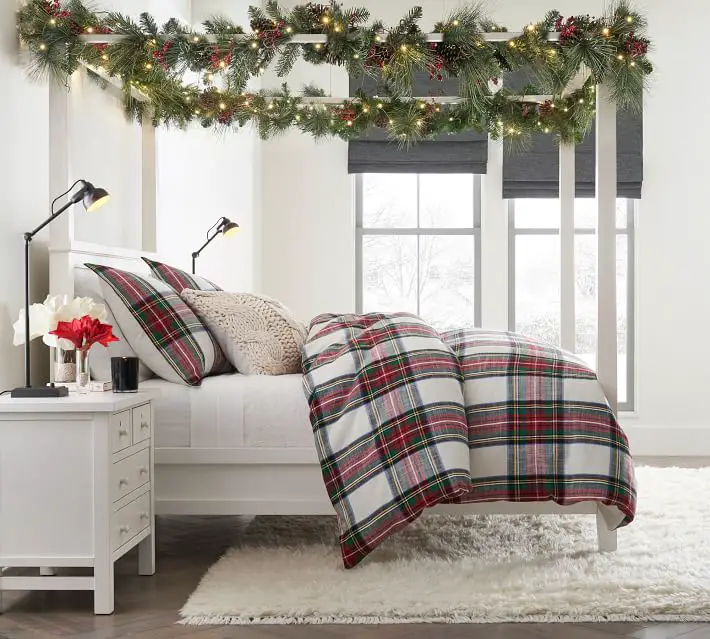 Pottery Barn Stewart Plaid Holiday Bedding
The tartan plaid print is not only classic for Christmas decor, it's a classic option for holiday bedding and I love it.  I can't wait to show you what bedding I chose for our Christmas bedroom soon!
Last year I got a couple of rolls of tartan plaid wrapping paper and I just ordered this set too.  It's Hallmark brand which is one of my favorite brands for wrapping paper because it's heavy duty, quality paper.
You can never have too much ribbon am I right?  Don't be afraid to use different styles of tartan plaid ribbons together because they compliment each other.  I recently ordered this tartan plaid ribbon and I really like this style too.
I've really wanted to do a holiday tablescape.  To be honest, it's not something I've ever tried and I don't think I'll be trying this year.  Maybe next year.  That doesn't mean I haven't been looking at place settings, like these beautiful tartan plaid plates and I've also seen some nice chargers too.
On my recent Hobby Lobby trip I was debating trying to make it work and probably luckily they didn't have enough plaid plates in stock.  I did pick up a tartan plaid tablecloth however, and I think that will do just fine for me this year!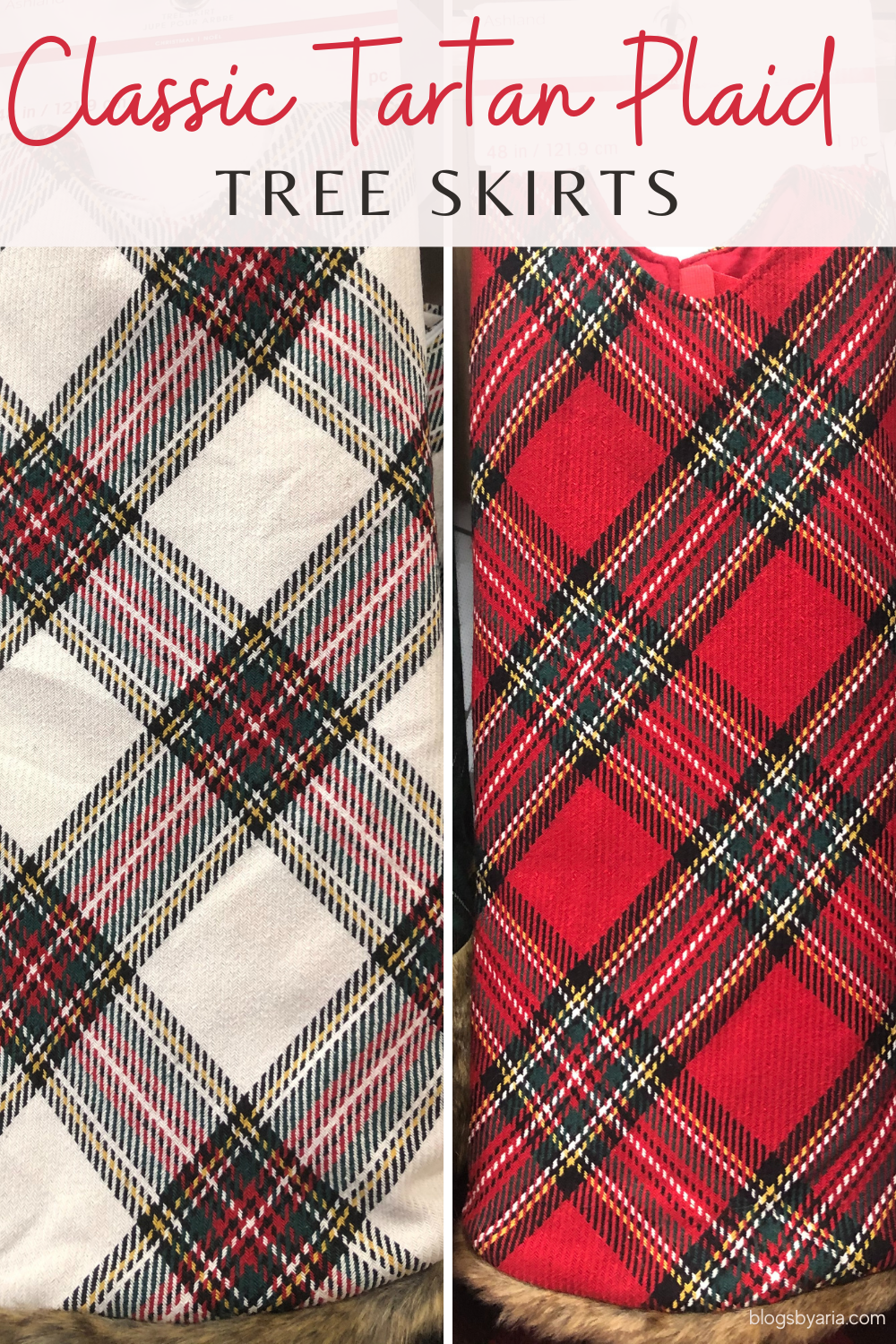 Recently I was in Michael's and I saw both of these tartan plaid Christmas tree skirts!  Aren't they beautiful?  I love them both!  How could anyone choose? 🙂
When I was in my local Kirkland's I saw this stunning tartan plaid chair and was in awe!!  It's not practical for me, sadly, but maybe you can work it into your decor!
One way to bring in a pop of tartan plaid is with garland.  I've been looking for more garland featuring the tartan plaid print.  They're few and far between unfortunately but this is a festive option.
I don't have a light fixture that this would work for but these tartan plaid chandelier shades are a unique way to add that tartan touch throughout your home!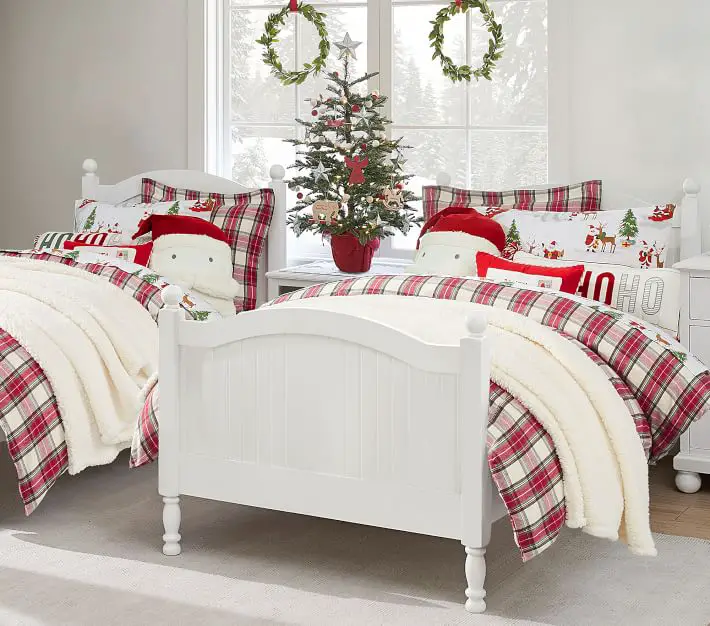 Pottery Barn Kids Plaid Flannel Bedding
Oh isn't this such a festive bedroom scene?!  This Pottery Barn Kids plaid bedding is one of my favorites but it only comes in a duvet option.  In the meantime I'm obsessed with these Santa flannel sheets!  So adorable!
Traditional Christmas plaid doesn't have to just apply to home decor!  I found so many great holiday plaid clothes and accessories too.  It seems that you can always find buffalo check items but the more traditional Christmas plaid isn't always so easy.  If you're looking for beautiful tartan plaid style items, look no further!
TARTAN PLAID STYLE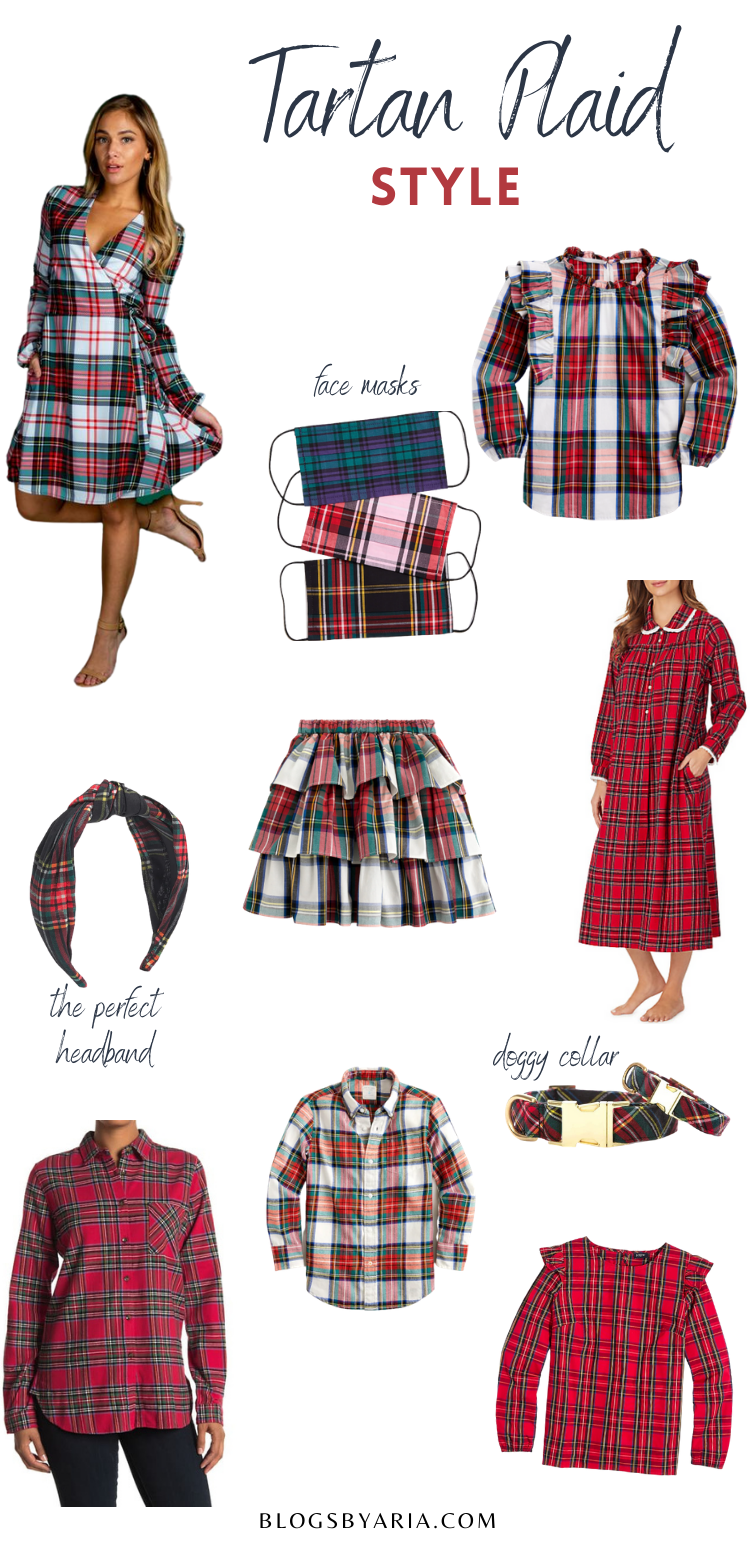 wrap dress | face masks | girls ruffle trim top | head band | ruffle skirt | nightgown | flannel shirt | boys flannel shirt | dog collar | ruffle trim top
Last week I was on Instagram and saw the a couple of things…the tartan plaid face masks and the tartan ruffle shirt on the bottom right.  That inspired me to look for other tartan plaid things and next thing I knew I was writing this post!
But let's start with the wrap dress which, if you ask me is the perfect dress for a holiday party or family pictures!  Speaking of pictures, I love how the girls ruffle top, cute frilly skirt and the boys shirt all are in the same print.  Of course, don't match the girls top with the skirt!  Pick one or the other please haha! 🙂
Who knew we'd actually be buying face masks like this, but since that's where we are, might as well make them festive!  These are on their way to me right now!
Seriously how cute is this plaid headband? It's giving me all the Clueless vibes and headbands have made a serious comeback lately.
I love the classic style of the tartan plaid nightgown.  It's probably so warm and cozy.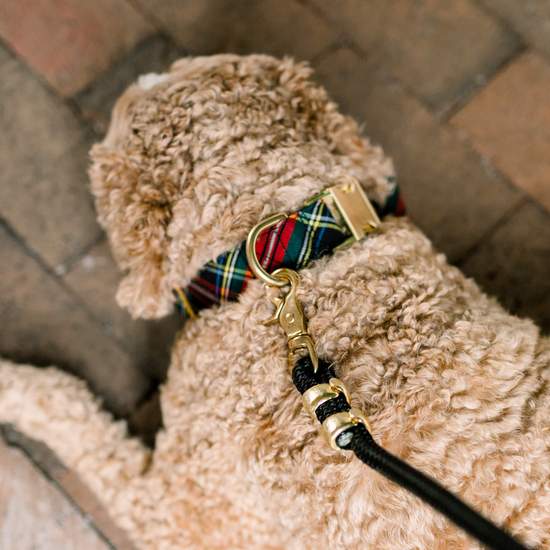 We don't have a dog…yet, but I love this fun tartan dog collar!  Again, perfect for family pictures!
You can't go wrong with a classic flannel shirt during the cold winter months, might as well make it tartan plaid!  I'm loving the ruffle trim tartan plaid shirt too.  It would be perfect for a holiday date night or party.  Pair it with the masks 🙂
MORE TARTAN PLAID FINDS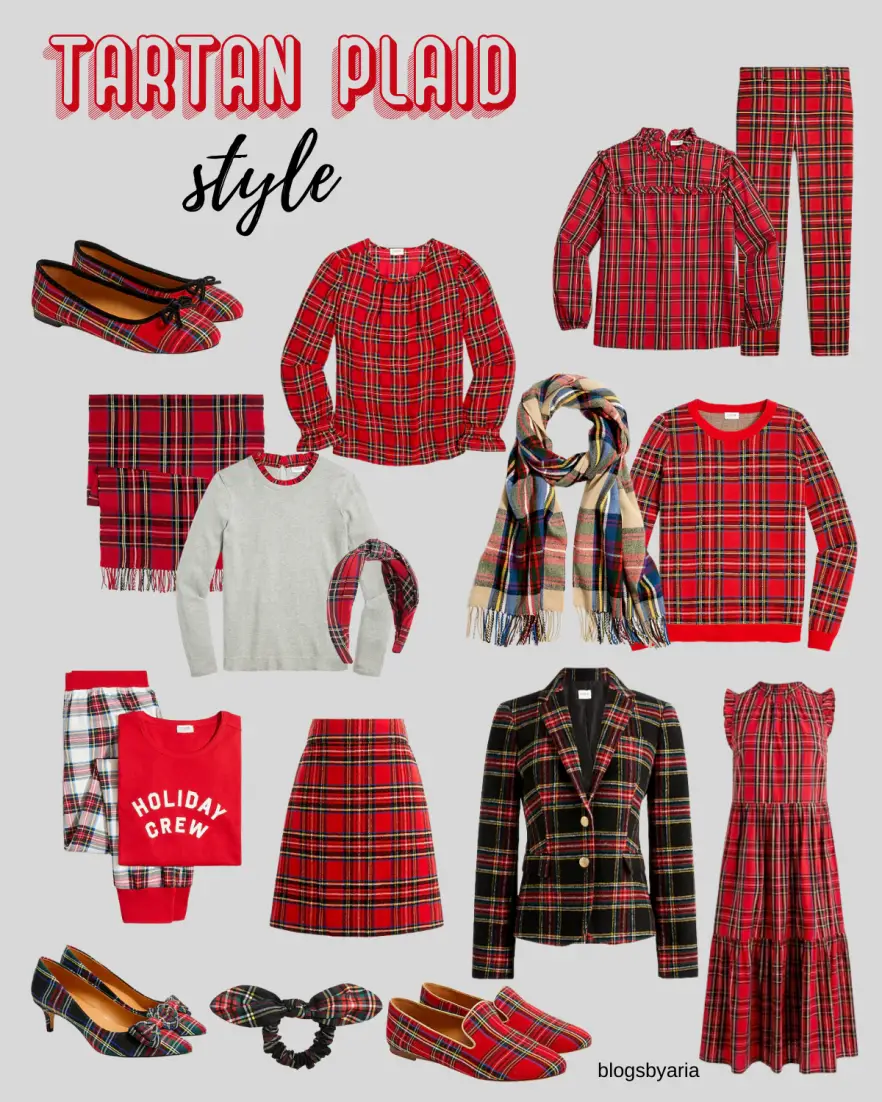 I had so much fun coming up with this post.  It took me back to my early blogging days and it's part of what I love about blogging.  Sharing fun finds with you ♥
Hopefully you enjoyed this fun post too!  It's been a hectic week and it's taken me a lot longer than I would have liked to complete this post.  But thanks to a Hallmark Christmas movie marathon, I've gotten some energy to share these fun tartan plaid finds!  Enjoy your weekend my friend 🙂