Recently I had the pleasure of touring beautiful homes during this year's Parade of Homes.  Today's home I saw on the last day of the tour and I want to be able to share it with you while it's still fresh.  On that day I saw multiple homes as I tried to cram in as many homes as I could.  Always so much to see, so little time!  I think you're going to be pleasantly surprised at this Urban Chateau, because I definitely was!
*this post includes affiliate links for your shopping convenience, you can read more about affiliate links by reading my Disclosure*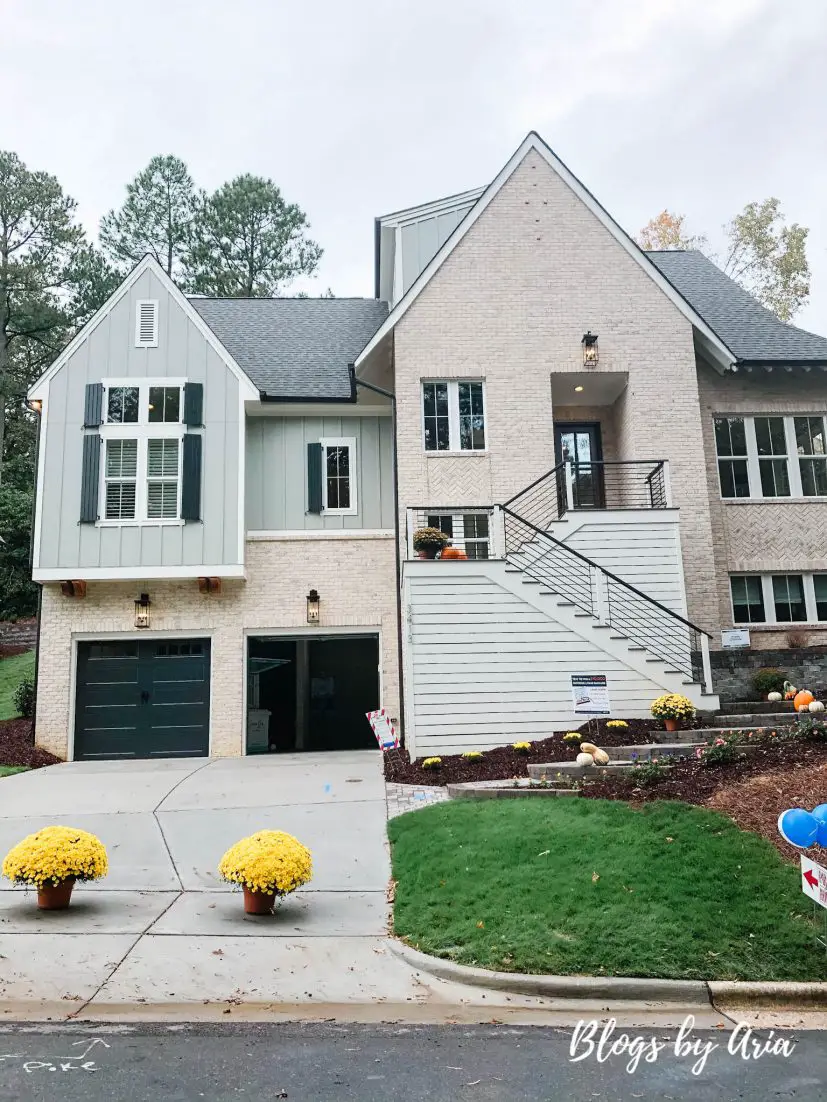 The urban chateau is one of the few homes I have toured that features a basement.  There are a lot of stairs!  And I do mean a lot!  At 4 bedrooms and 4 bathrooms and 4102 square feet, this home was listed at $1,075,000 at the time of viewing.
I usually have more information to provide with each Parade of Homes tour but this house didn't provide much.  That's okay, let's take a look anyway.
During the tour they asked us to enter through the garage and exit via the front door.  So I will show you the home as I toured it.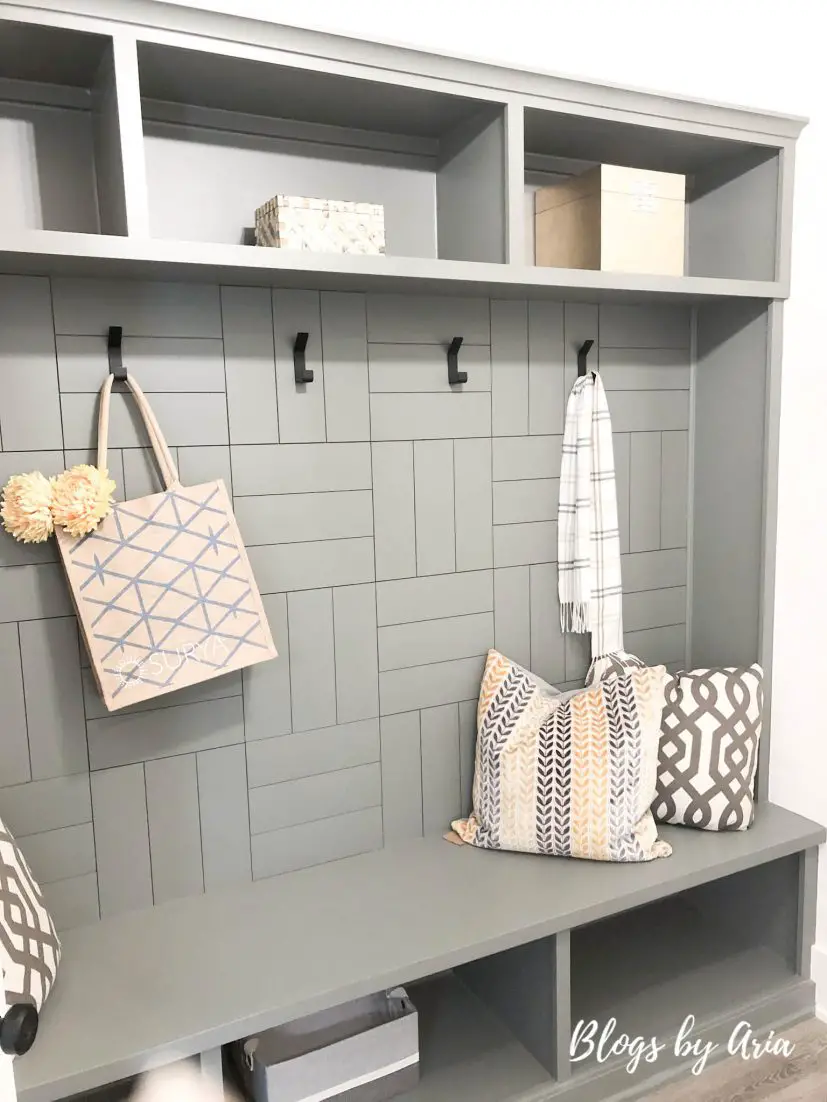 Right off of the three car garage is the mudroom space.  I like the added design detail.  You may be thinking, three car garage?  Where?  Technically it's a tandem three car garage.  The left side is the tandem side and the right is a standard garage.  I'm not a fan of that but, a three car garage in the heart of downtown Raleigh is a bonus feature for sure.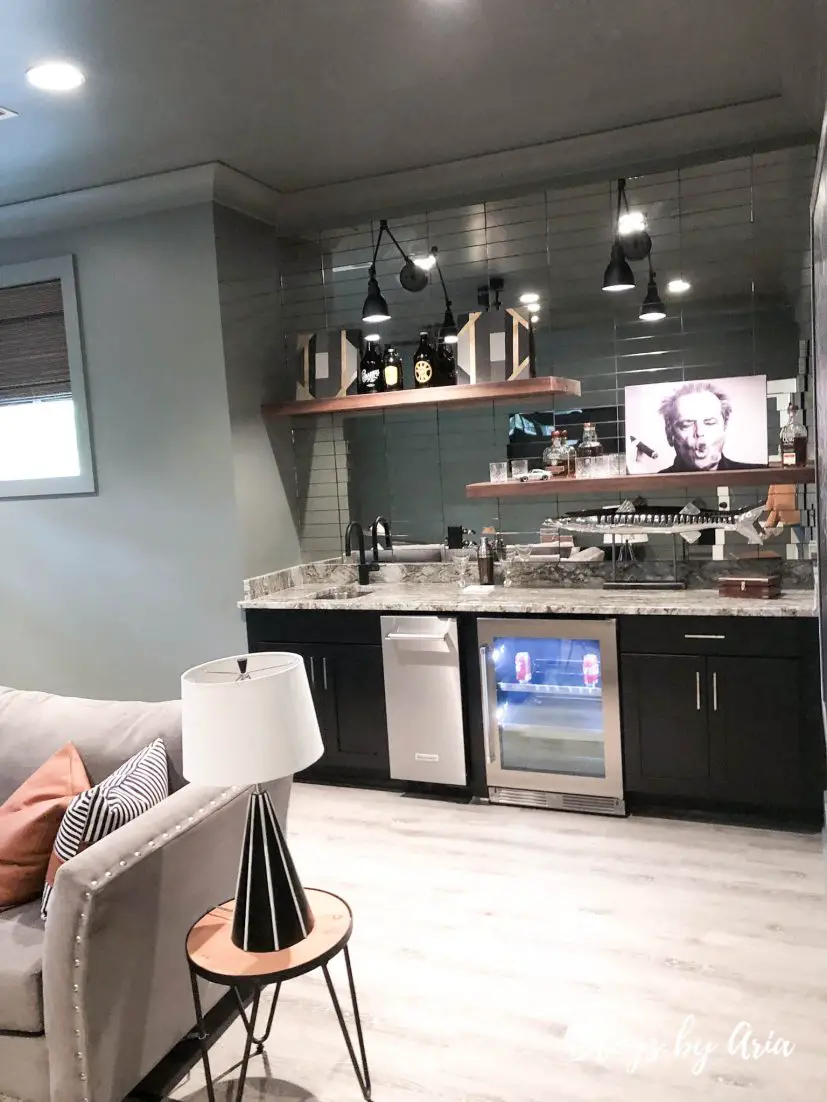 On the basement level is the rec room.  I love the mirrored backsplash and floating shelves in the bar area.  That's a unique touch!
The rest of the bottom level is unfinished storage and it is huge!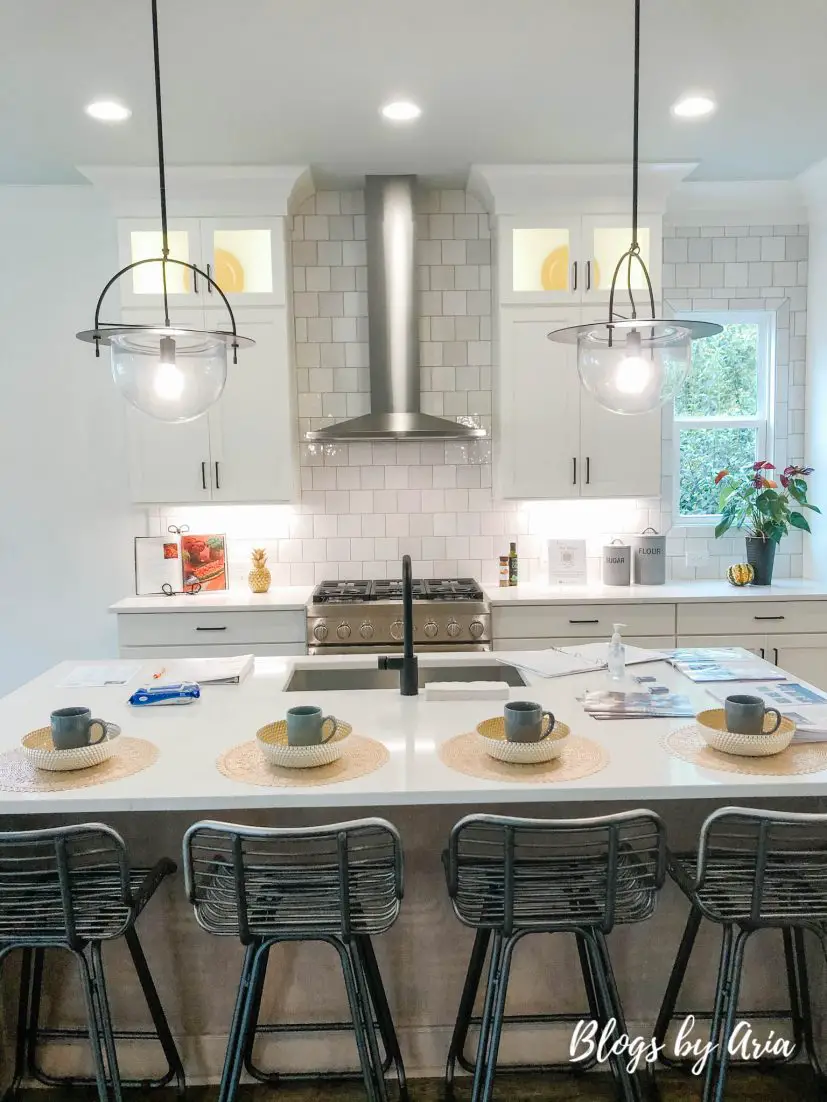 Whereas the basement level is a little more dark and moody, the main floor is light, bright and airy!  I love the contrast!
I love the hammered tile backsplash that has an iridescent sheen to it.  Another nice touch to set off the floating shelves.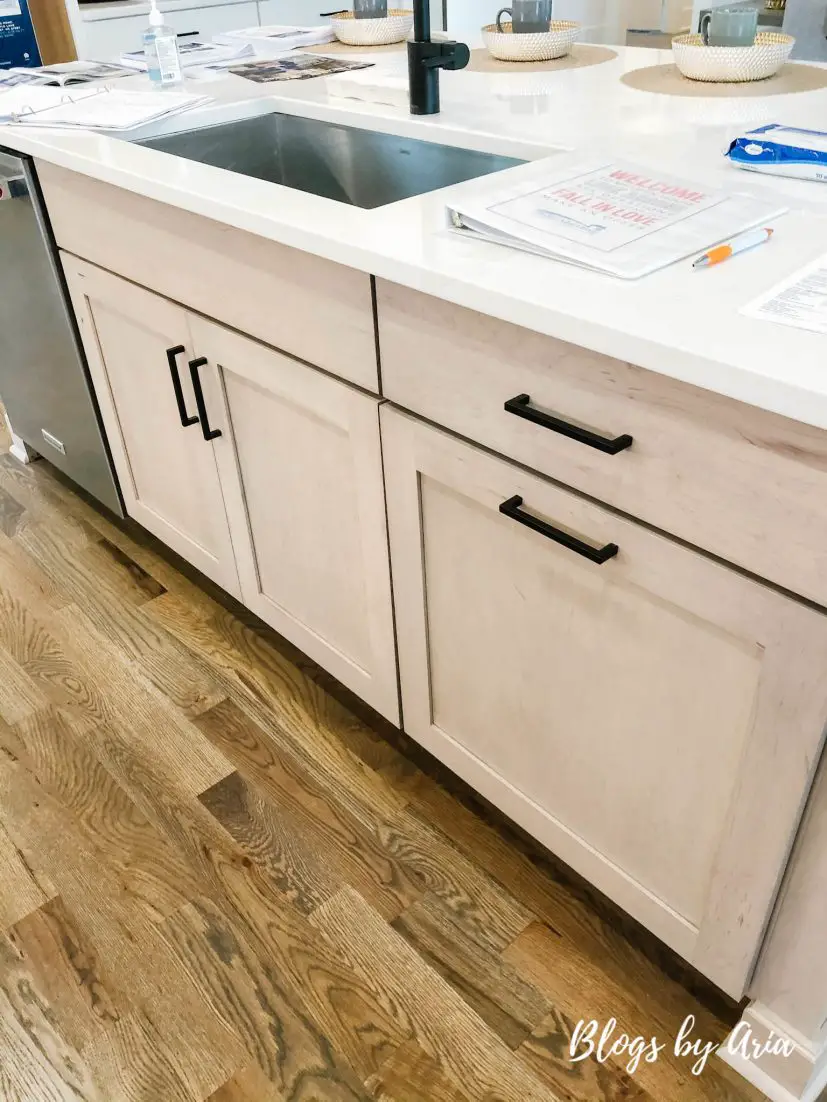 I wish I could better show the detail of the island cabinetry, it's not white, but a light grain wood.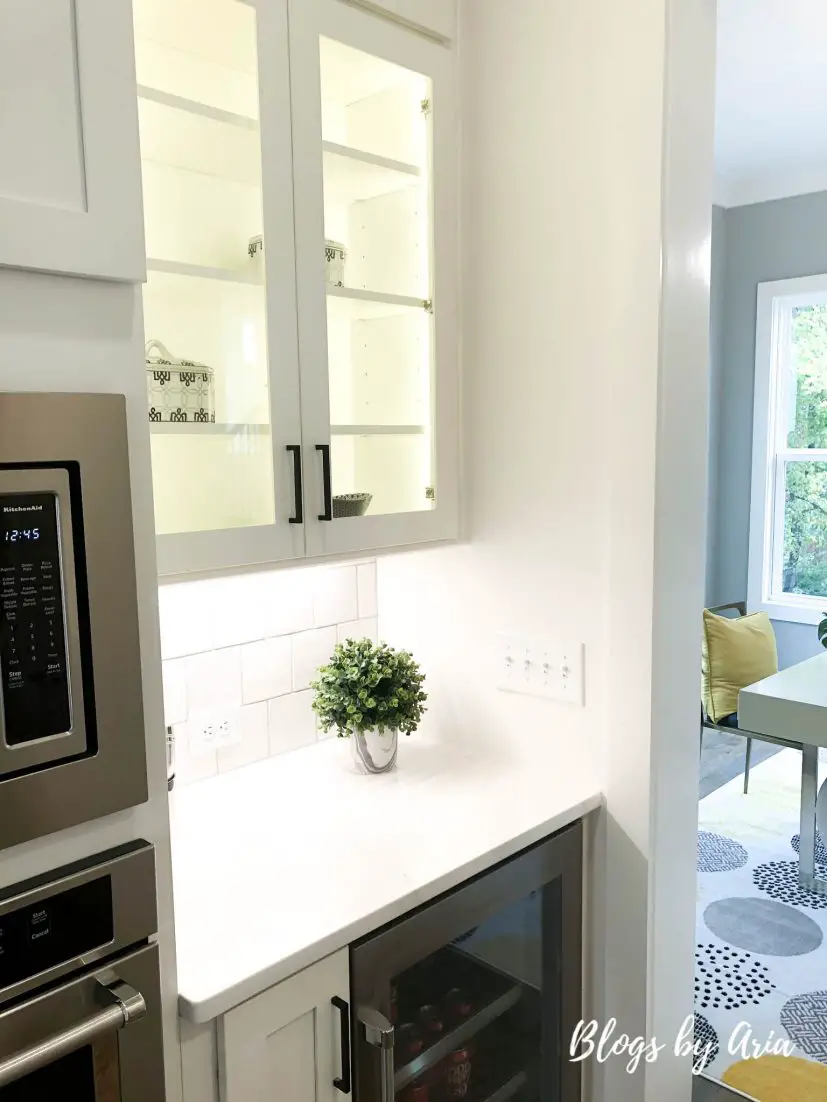 The cabinet lighting inside and underneath the cabinets all help to make this space even brighter!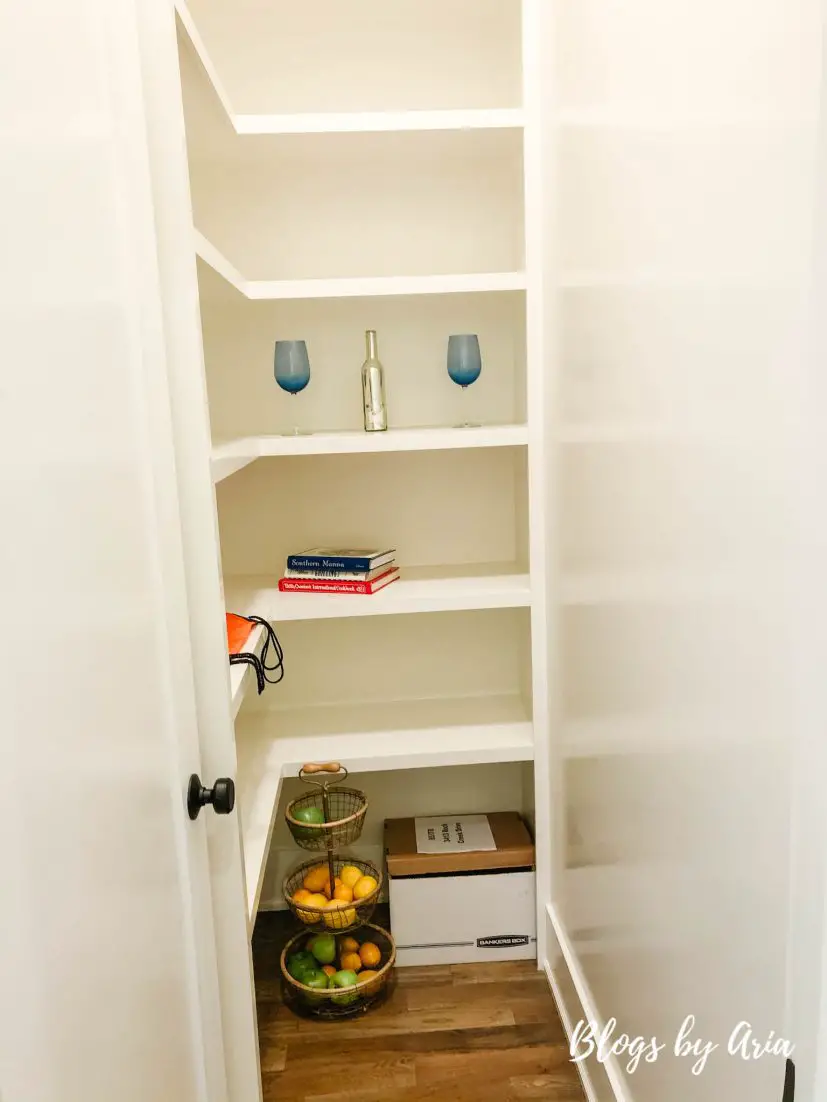 Off of the kitchen is the walk in pantry.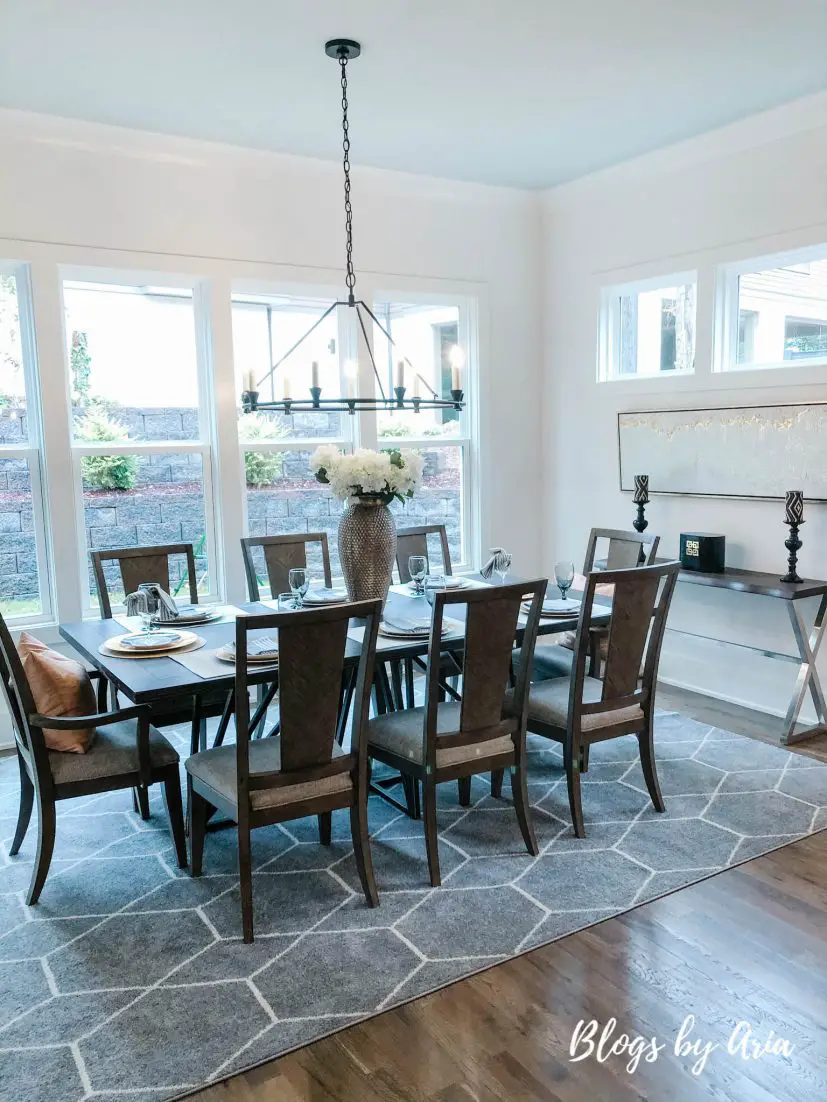 This beautiful dining space is open to the kitchen and family room.  There's not a formal dining room in this home.  I feel like I'm already beginning to sound like a broken record, but I love all of the light and brightness of this space.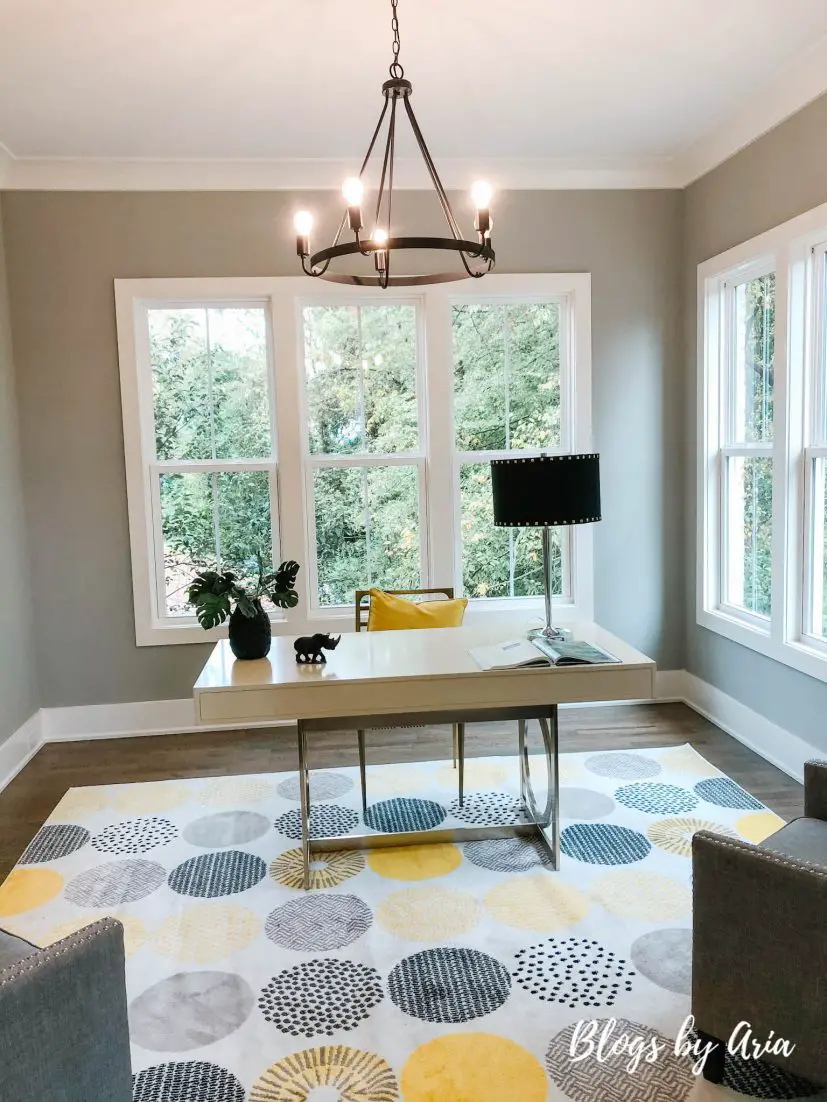 You caught a glimpse of this space a couple of pictures above, but this is the home office space.  Again more light!  Love the windows!
And just look at these built-ins!  Also note the pocket doors, which I am always a fan of.  They add so much character as well as function.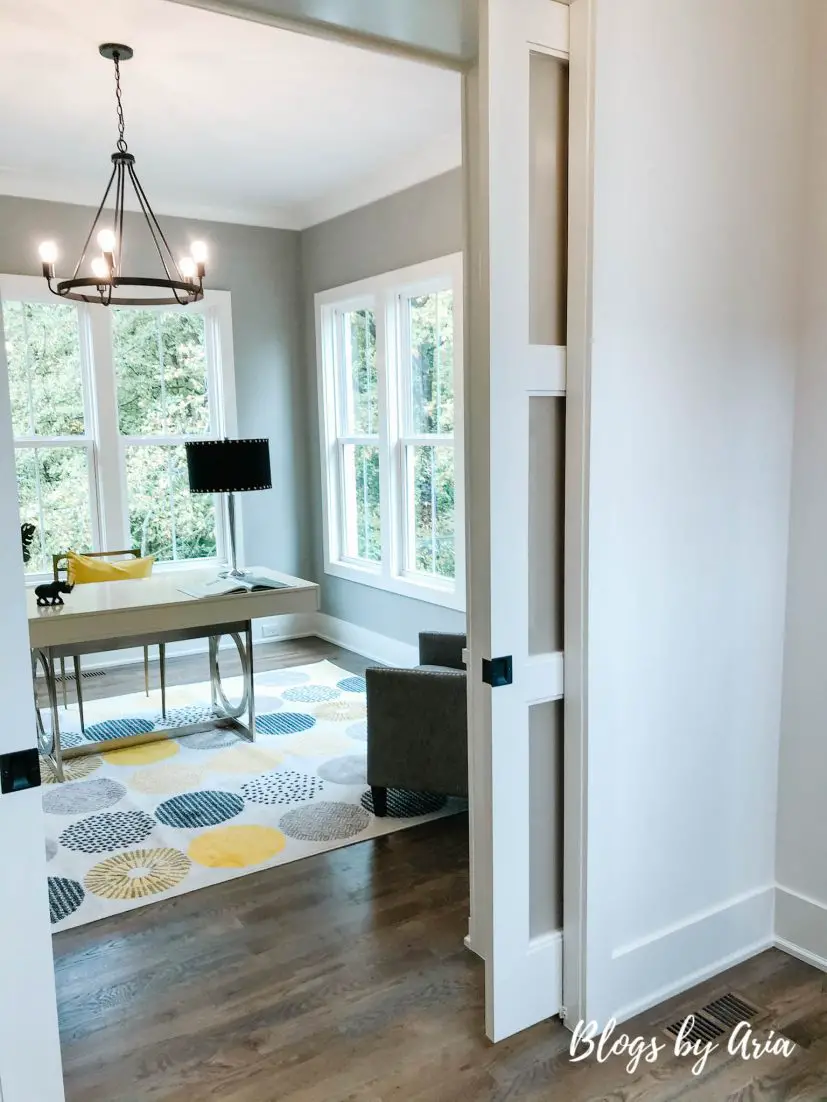 This is one home office I'd certainly love to have!  I think I could be productive here 🙂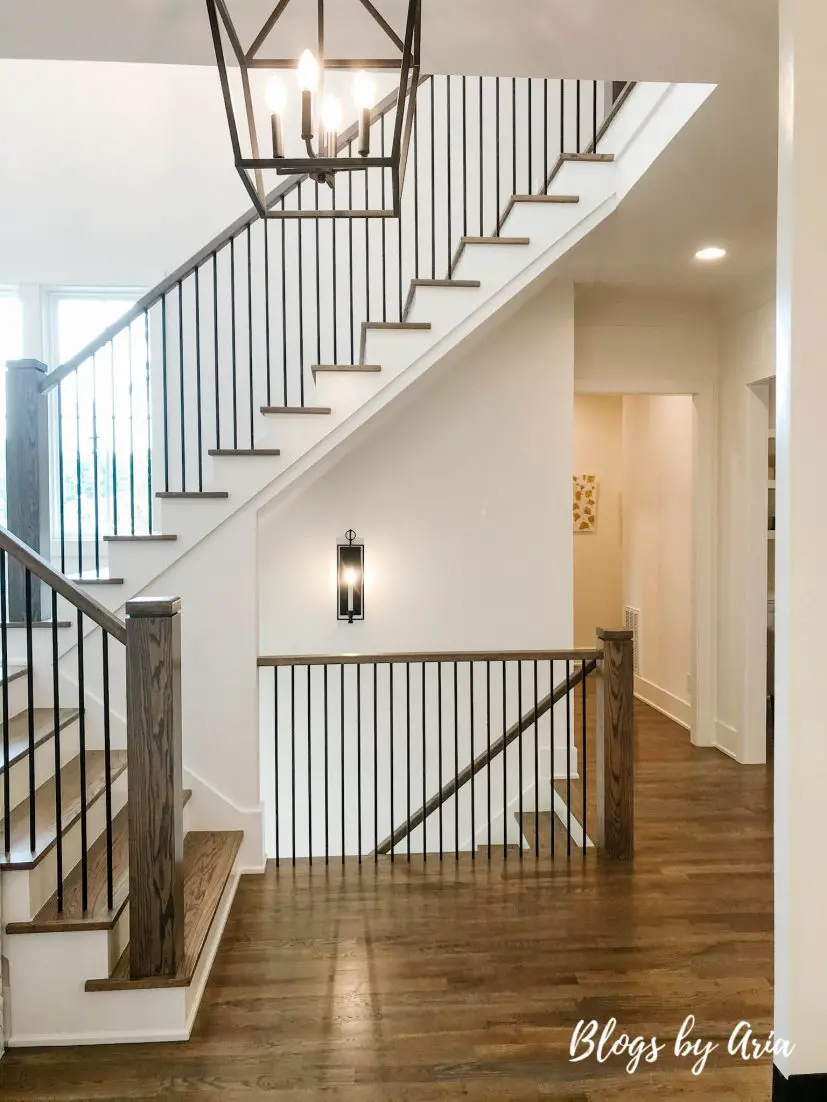 Isn't this a beautiful stairway?  It's a lot of stairs but it sure is a pretty sight.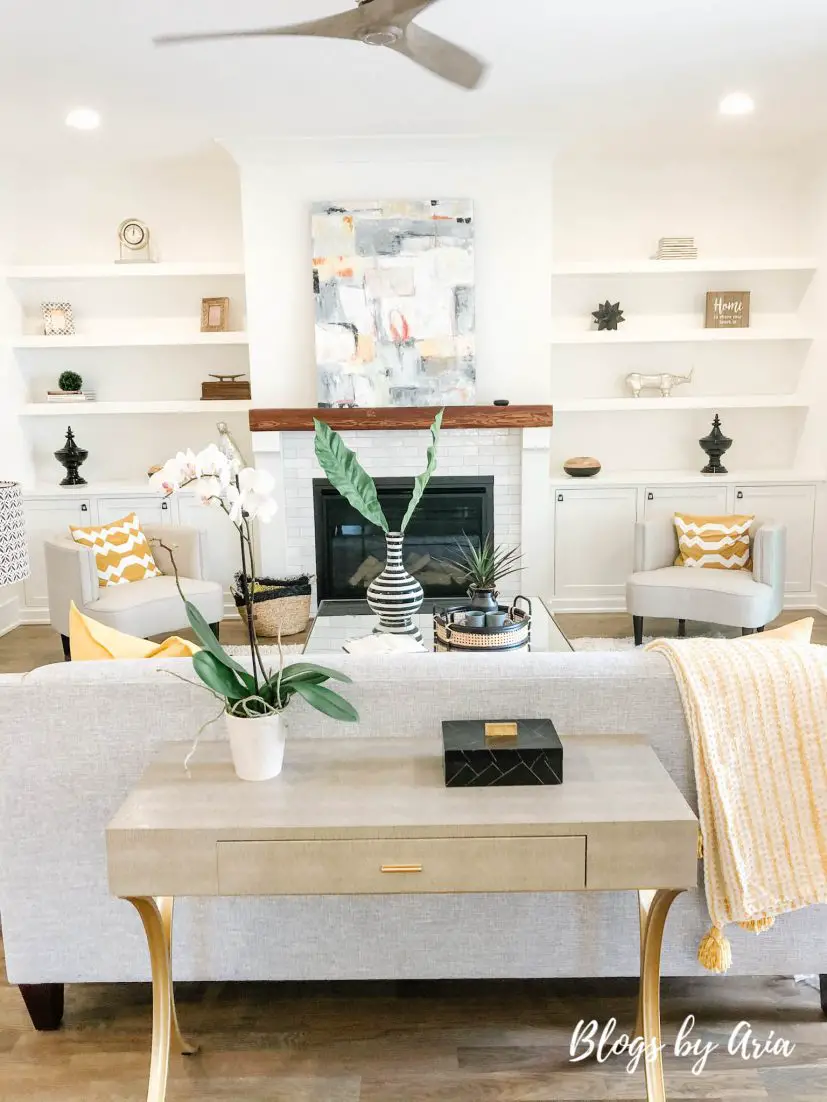 The iridescent backsplash from the kitchen (similar here) is used on the fireplace surround.  There are a lot of design touches that tie in together throughout the home and I like that.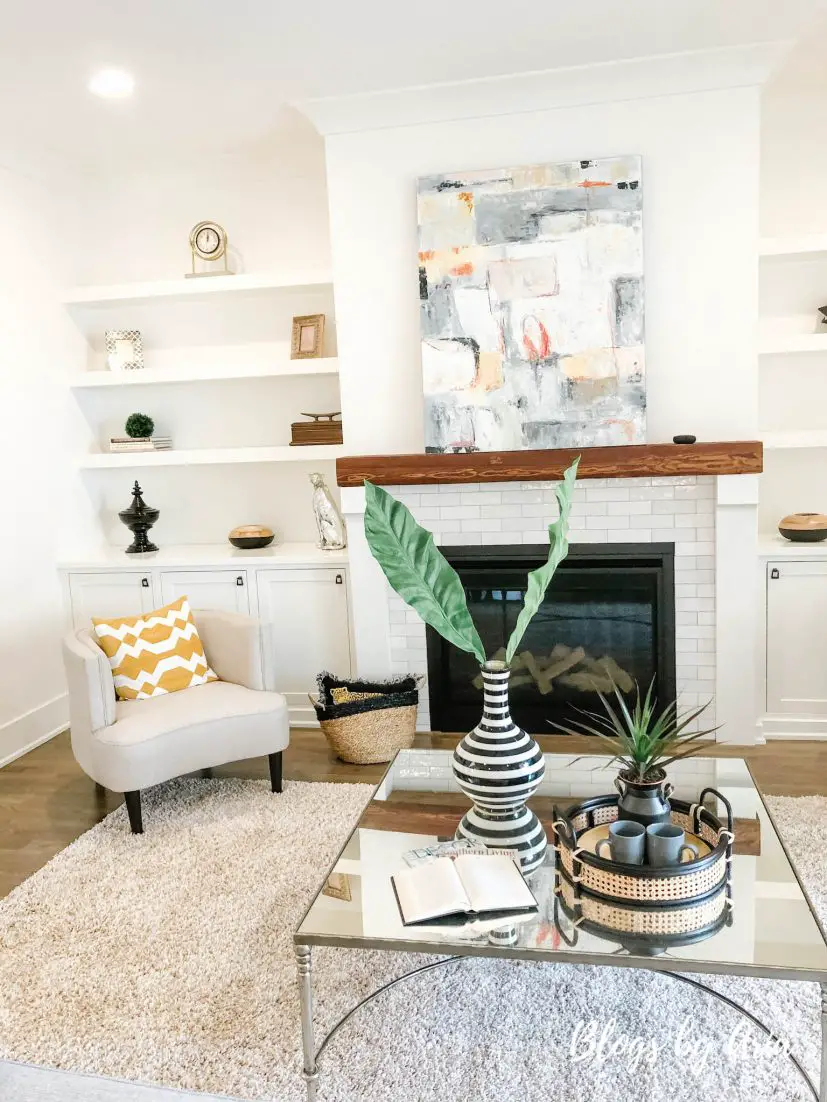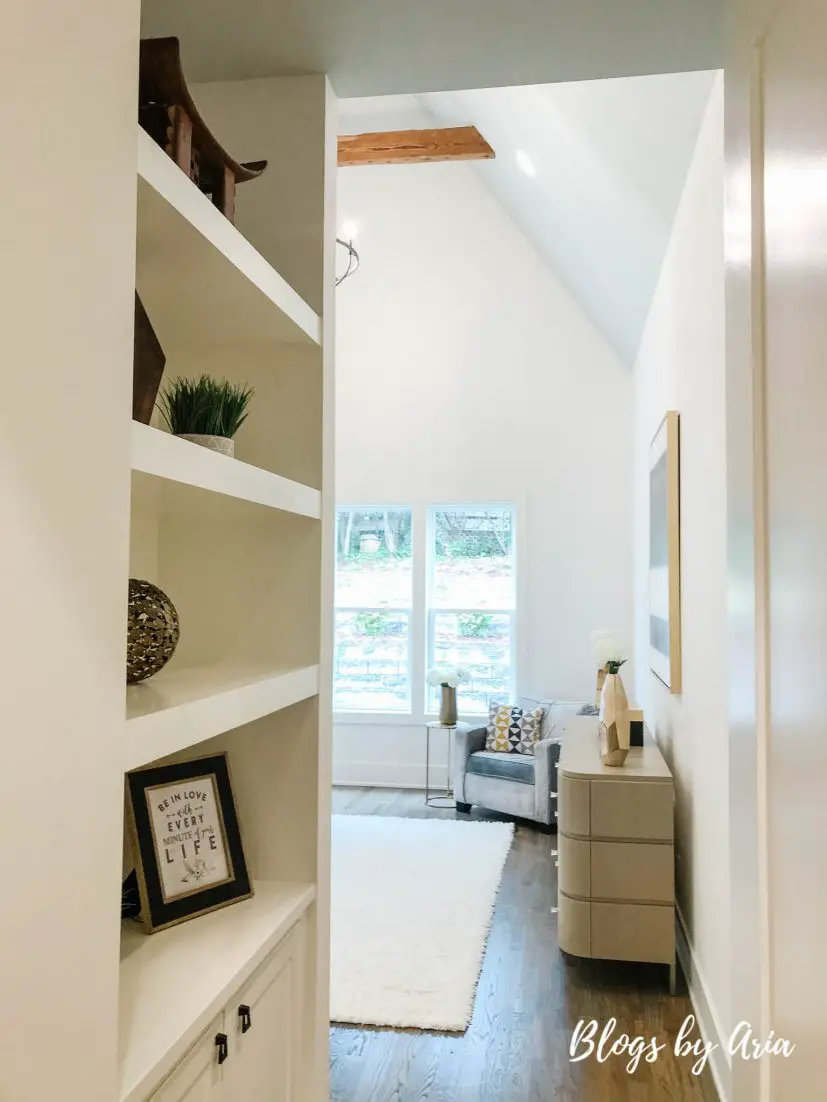 Also on the first floor is the master suite.  I like this built-in shelving leading into the master bedroom.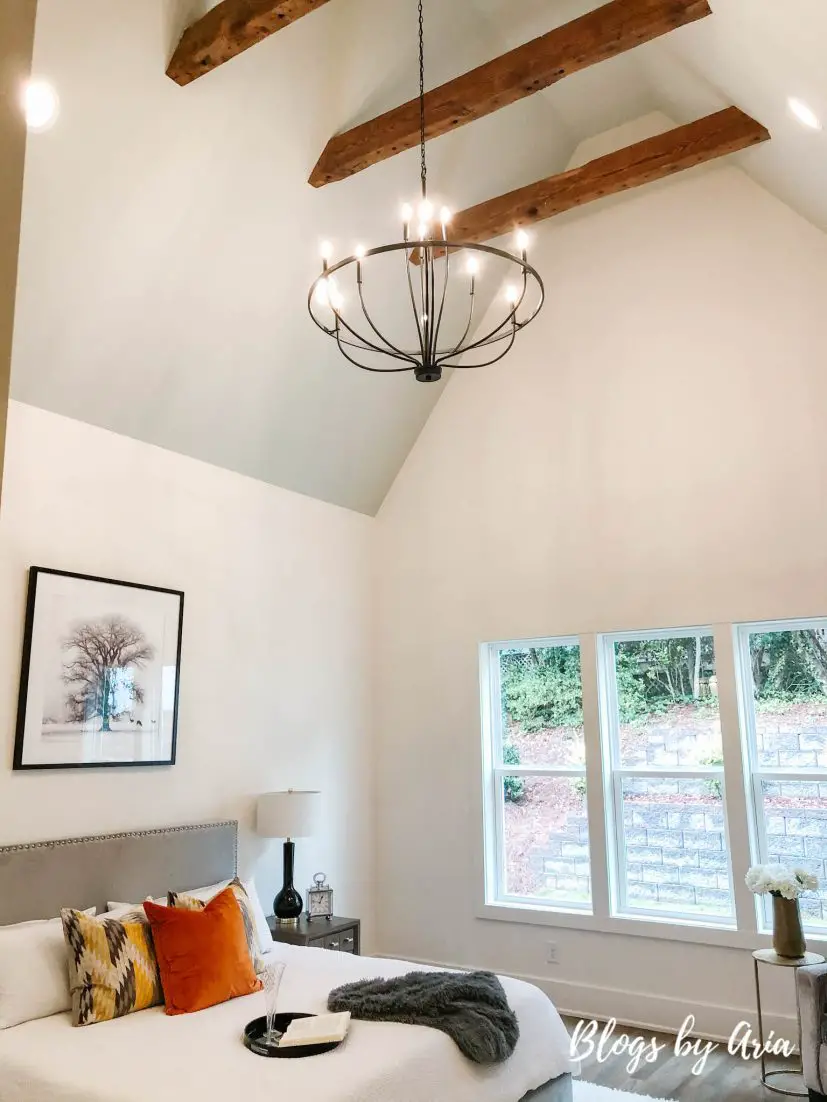 Look at those ceilings!  The beams add a lot of character and of course those windows let in so much natural light.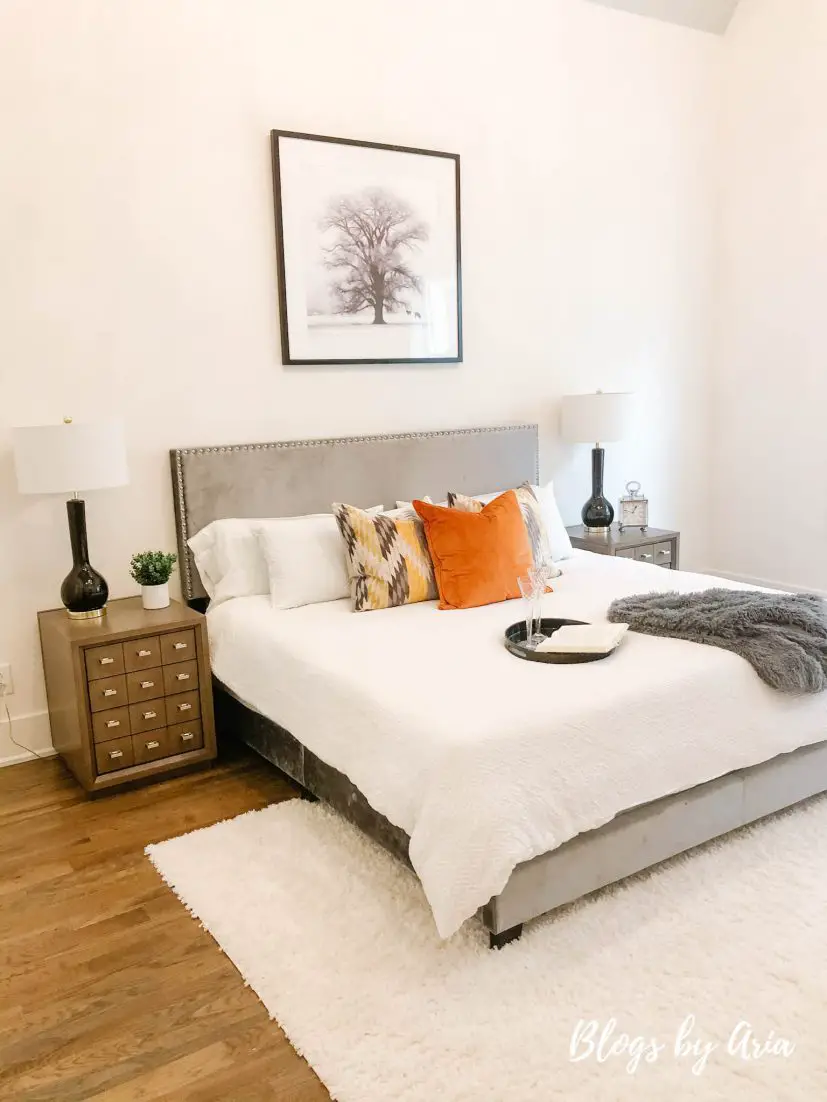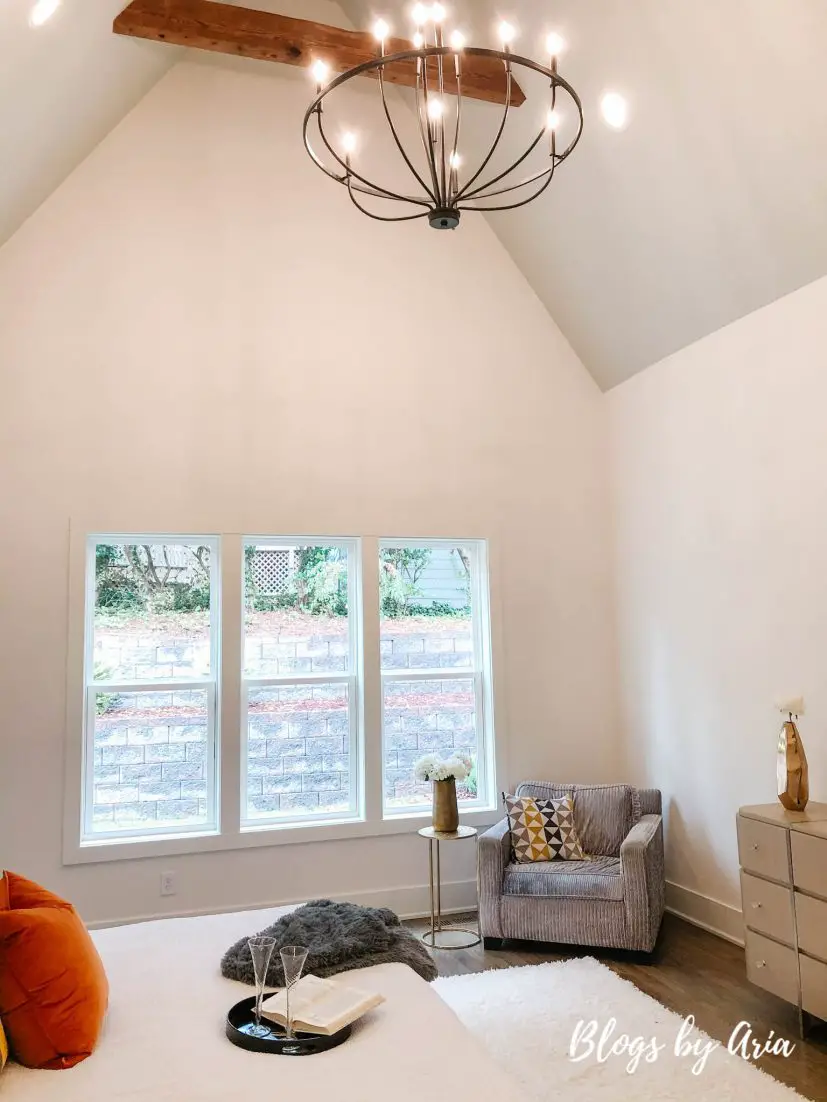 The cathedral ceilings allow for such an open and airy feel in this master bedroom.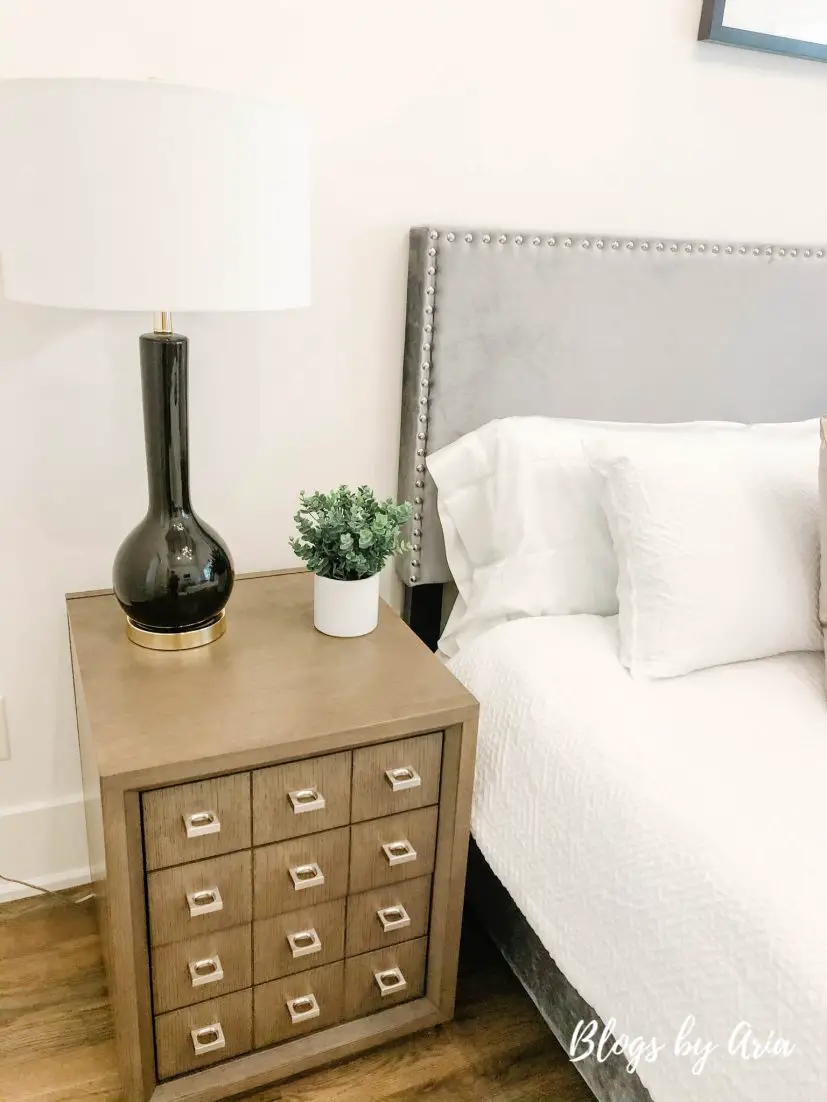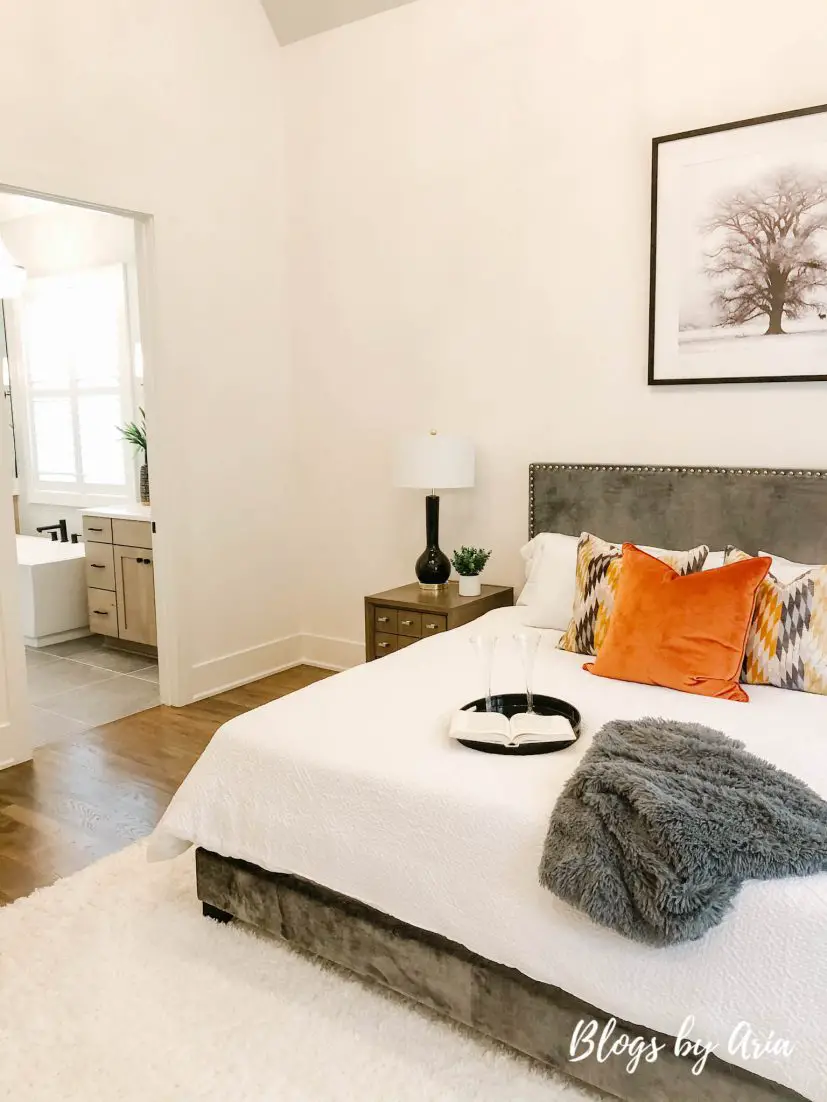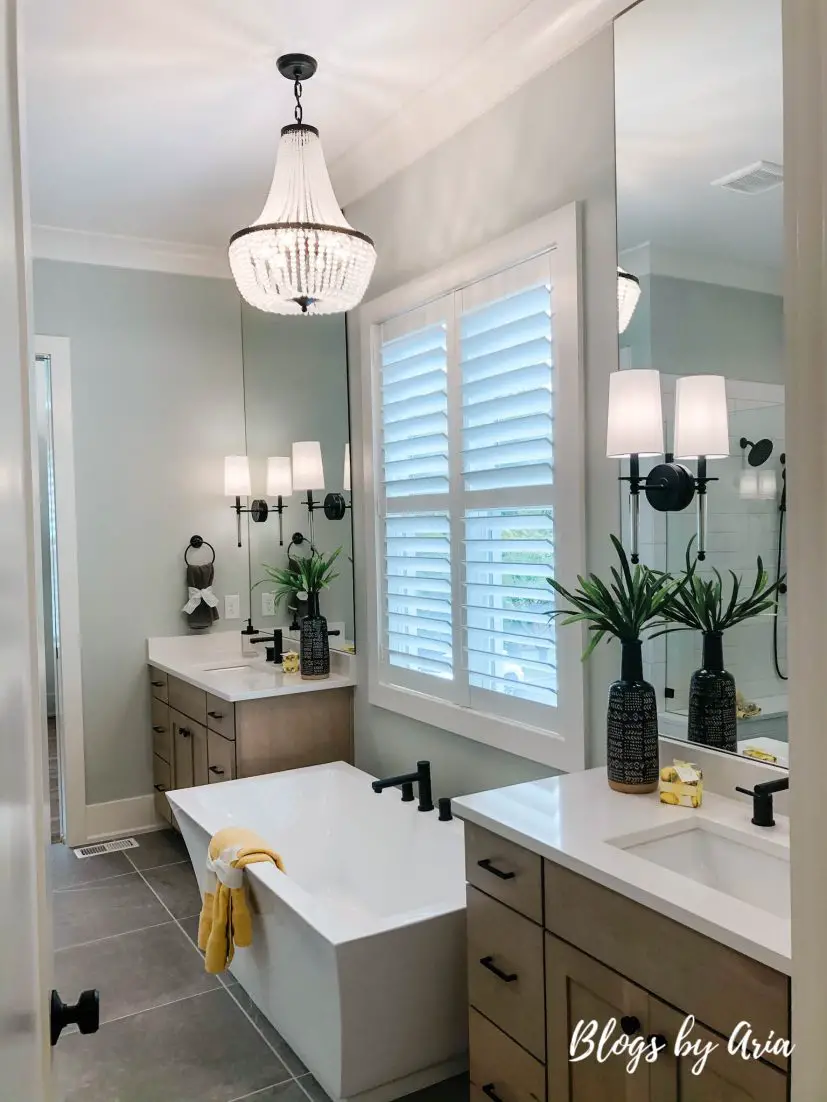 This spa inspired bathroom features a deep soaking tub, a beautifully tiled shower and his and her sinks.  The wood tone feels very calm and serene and is one of my favorites I've seen this year.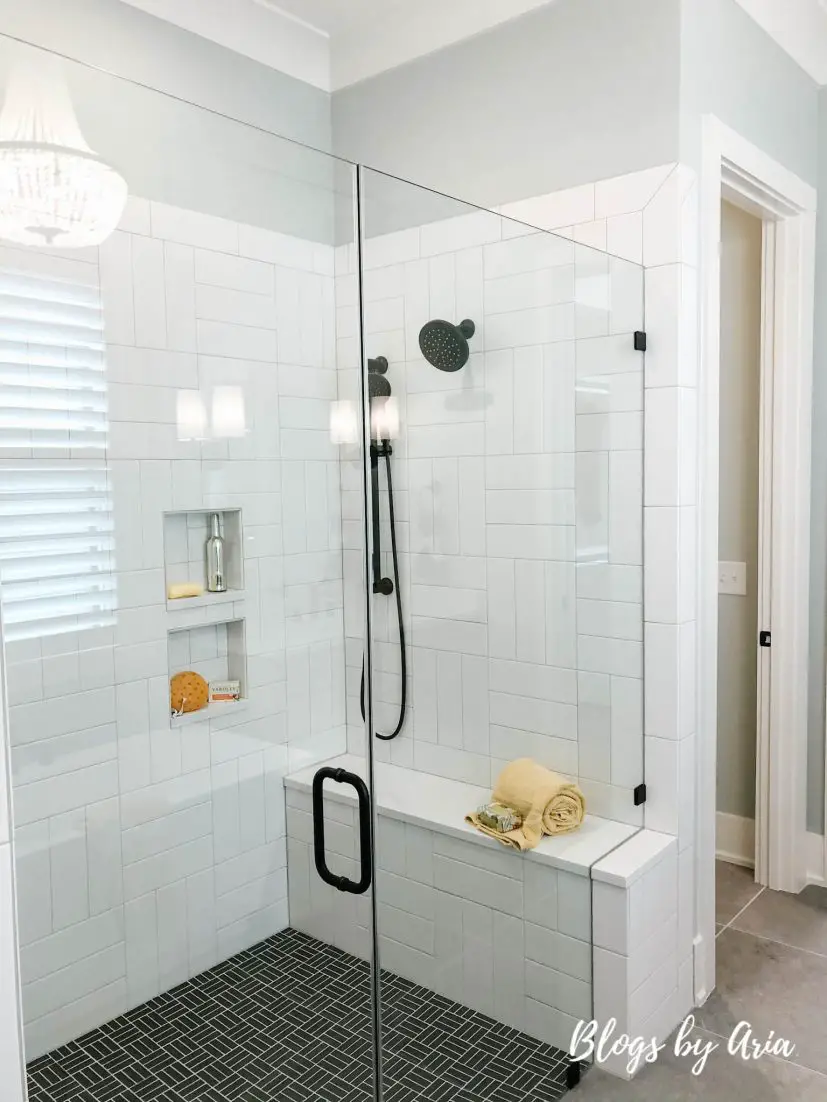 This same pattern tile from the shower is mirroring back to the mud room on the basement level.  See?  It all ties together.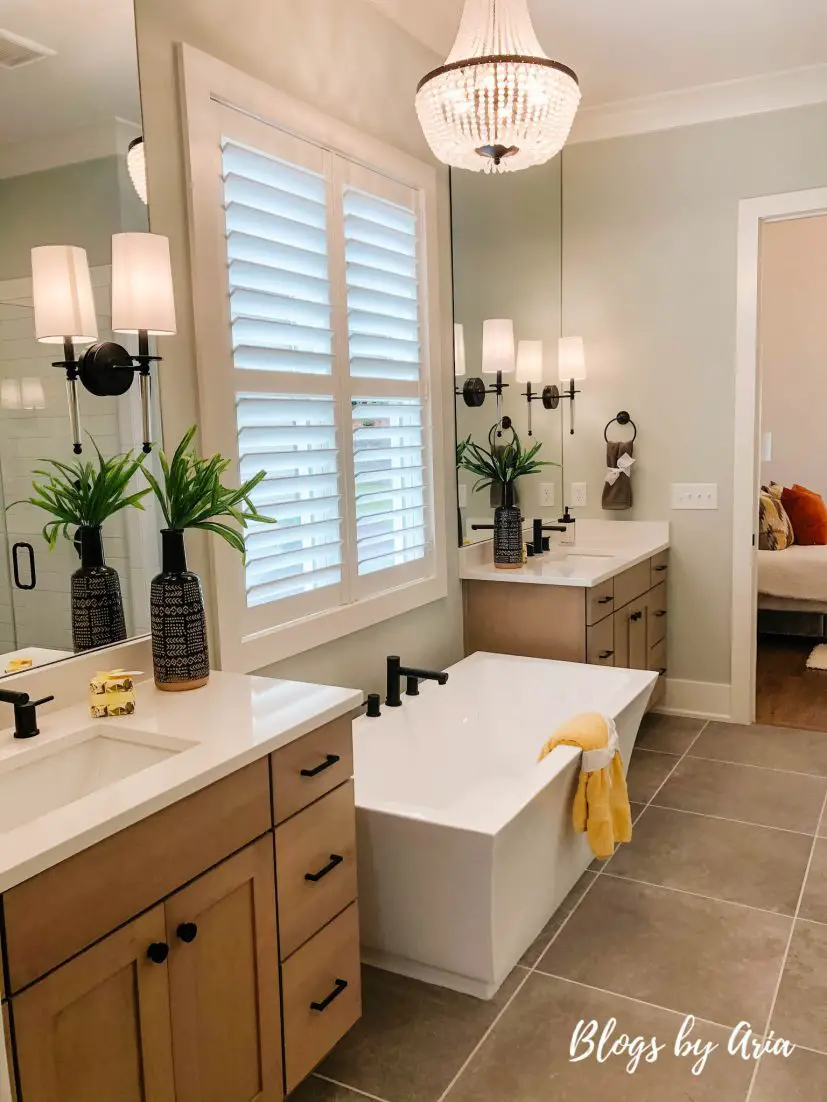 This gorgeous chandelier adds to the luxuriousness of this master bathroom.  I'm here for it!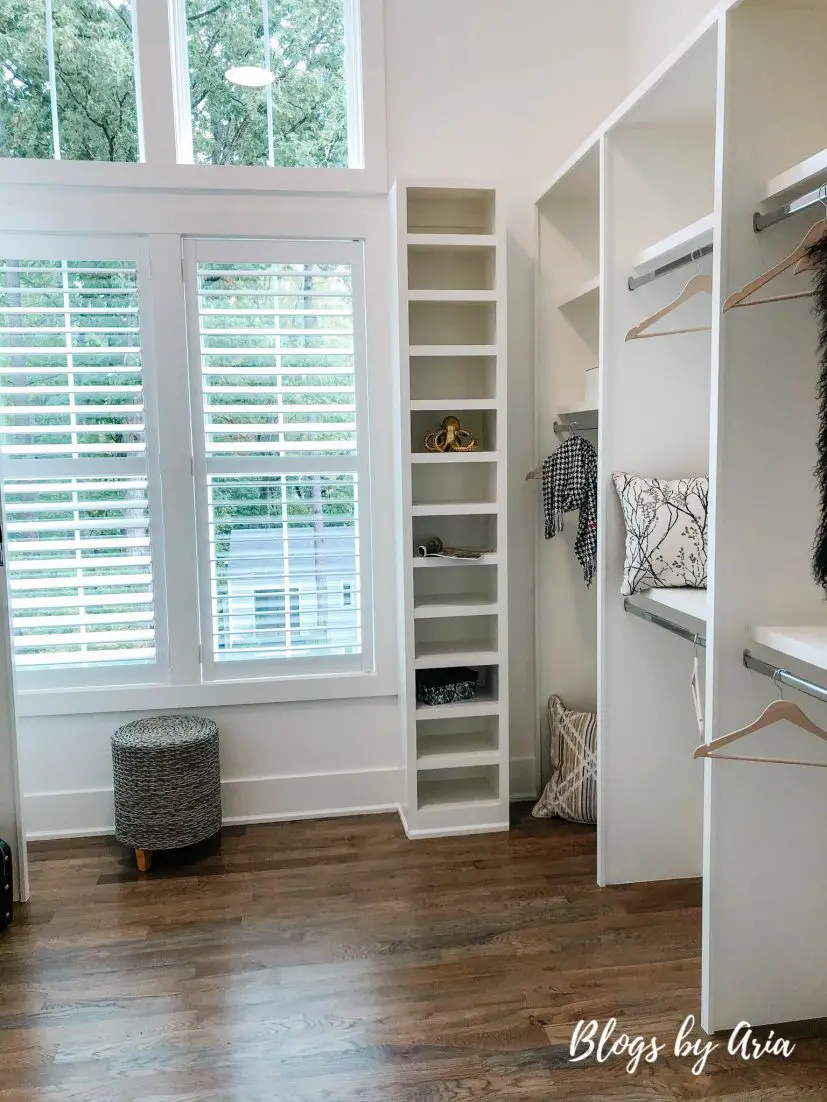 Completing the master suite is the large walk in closet featuring even more windows!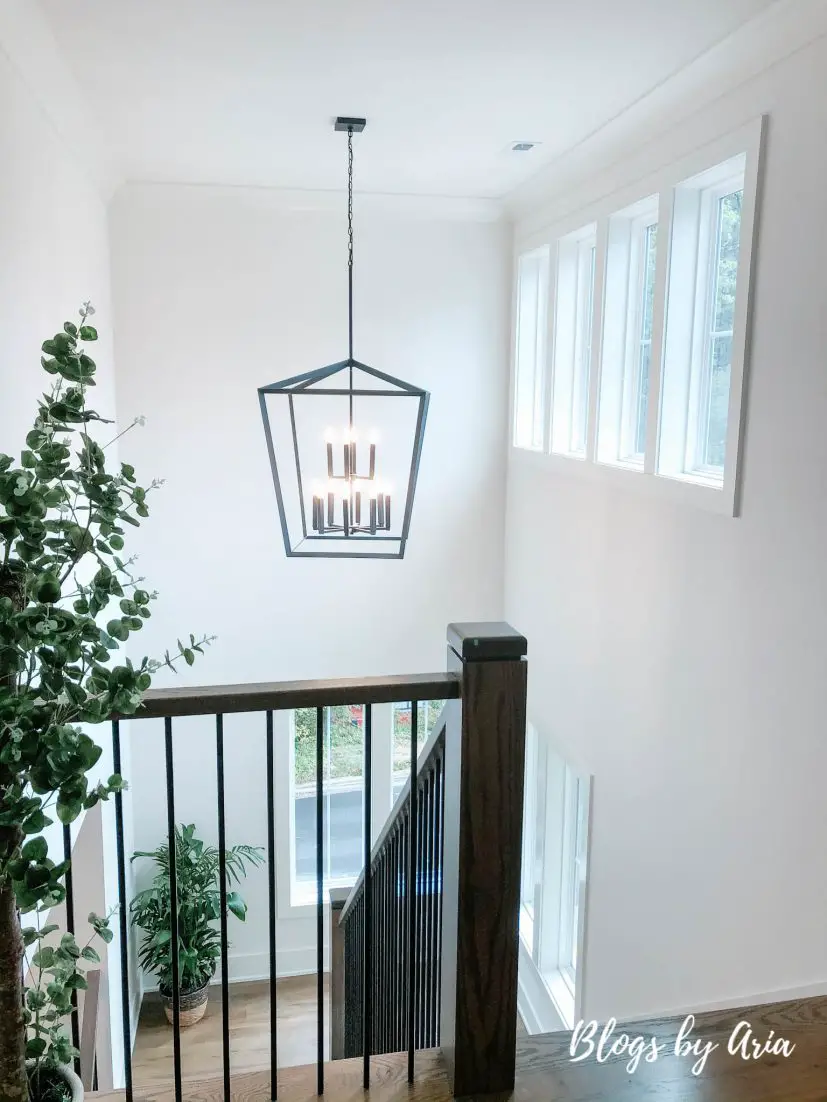 Upstairs on the second floor there are three bedrooms.  One bedroom has it's own bathroom and the other bathroom is a Jack and Jill.  There's also a loft and walk in attic storage.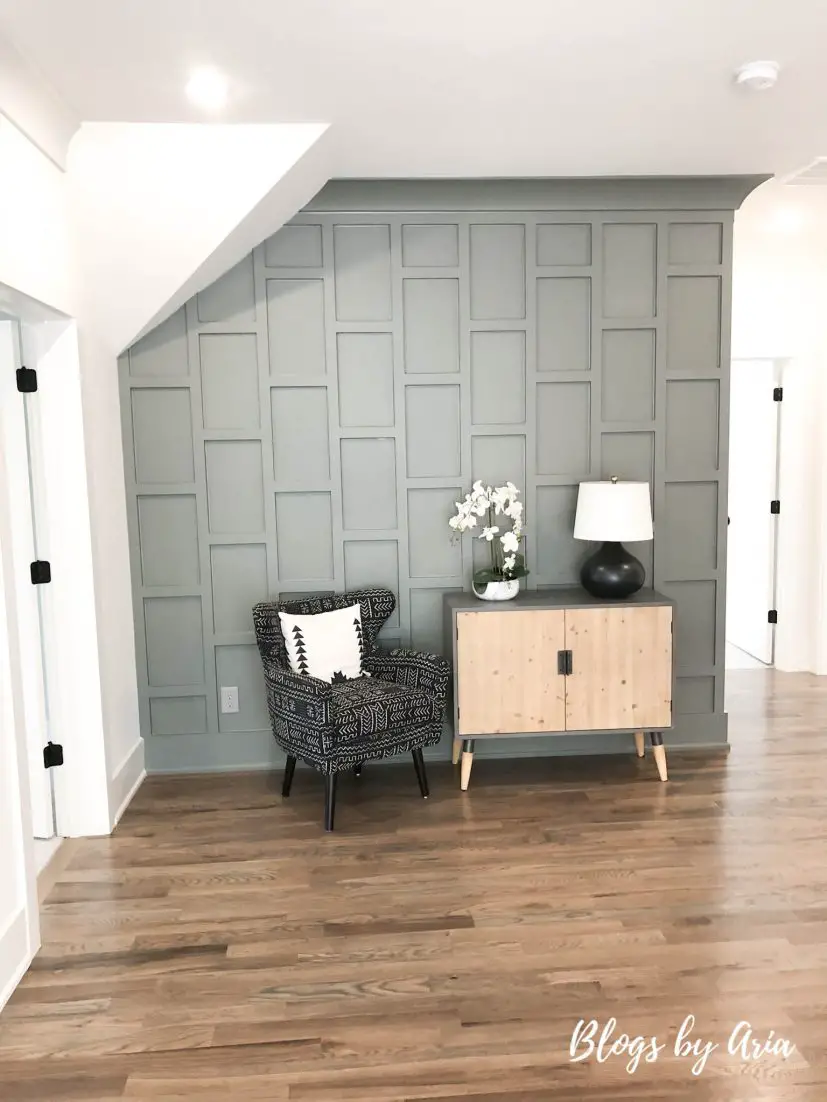 The loft is a pretty large open space.  I love the unique accent wall millwork.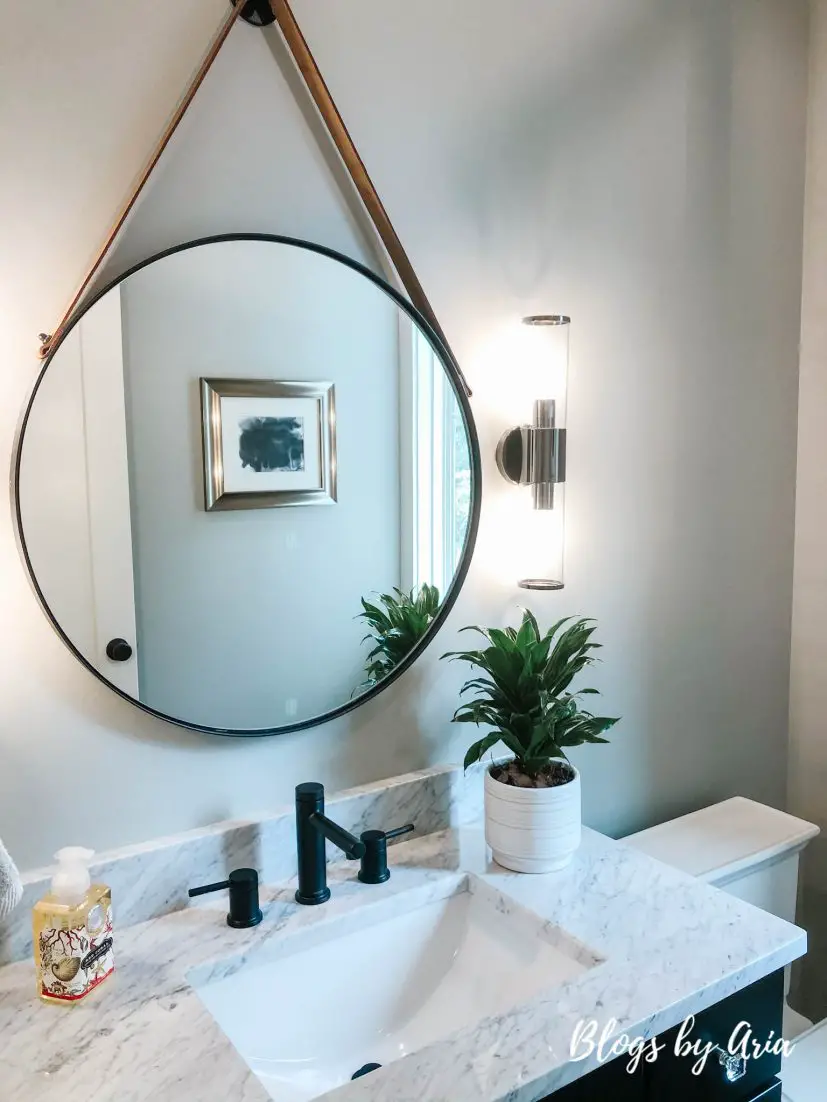 The last few pictures I was able to get in the Urban Chateau are of the secondary bathrooms.  I really like the black fixtures.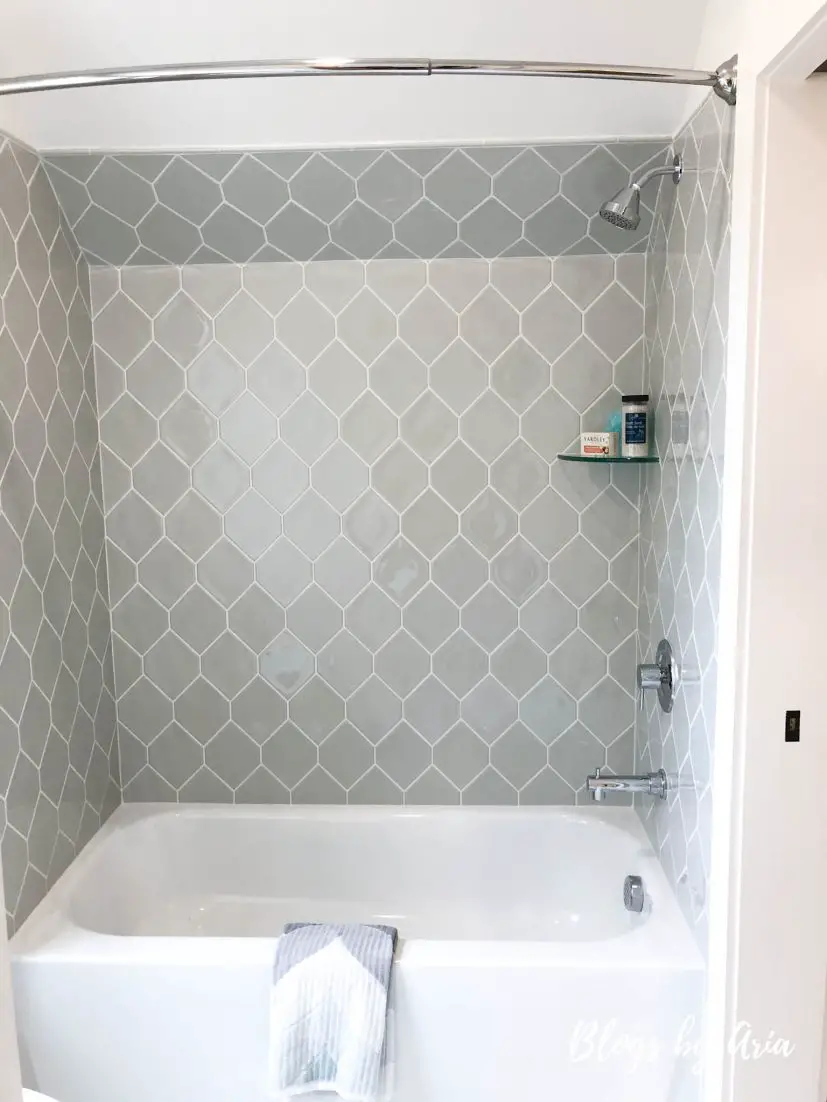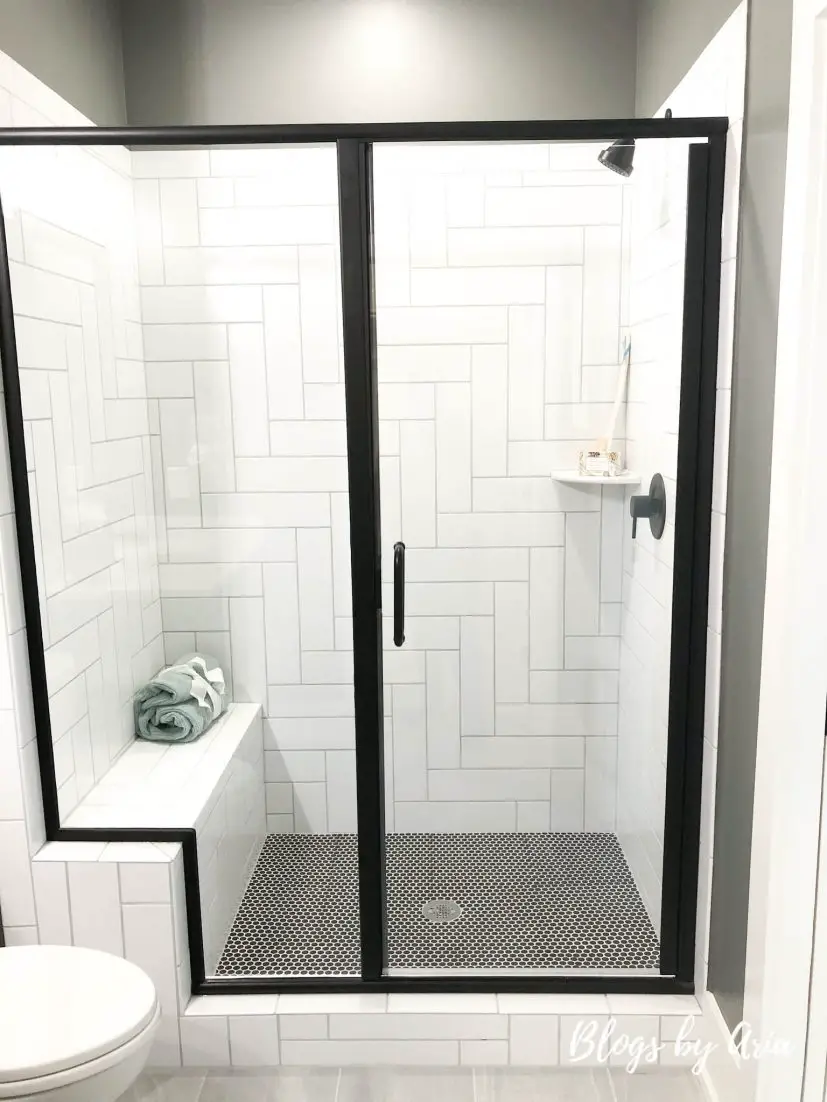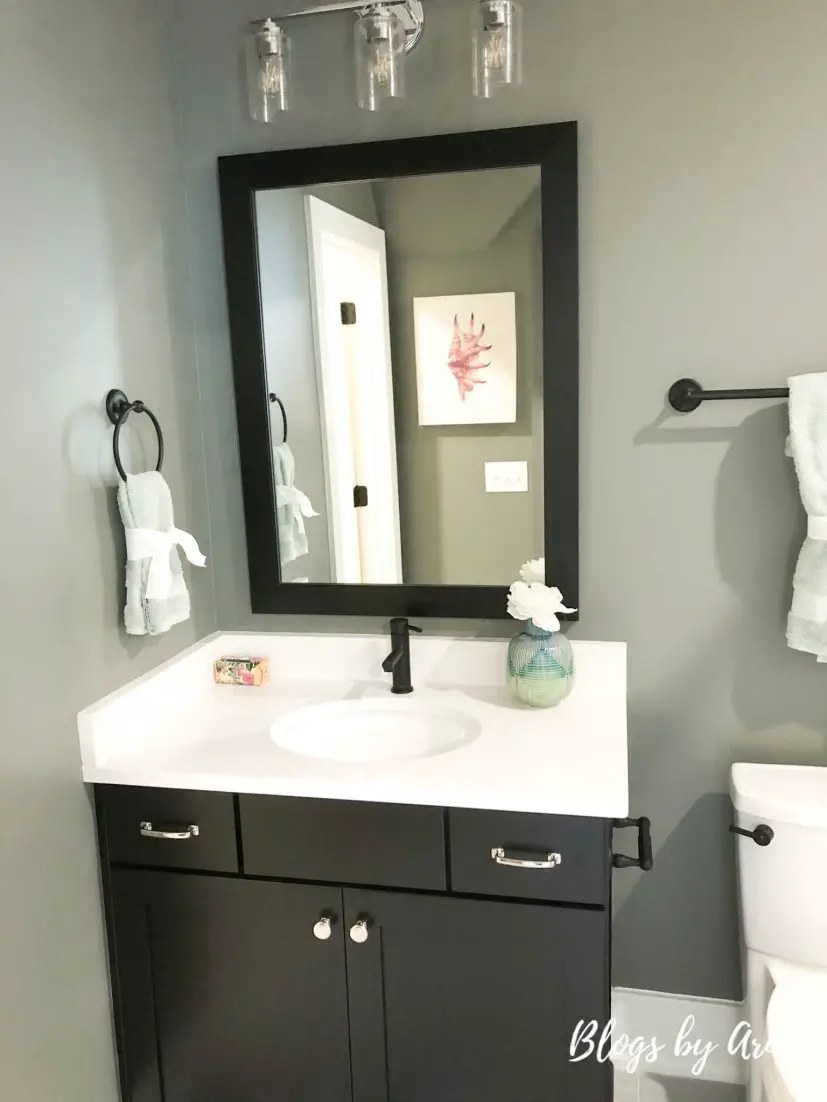 I'll tell you, coming up to this home I wasn't sure what to expect.  It's not often I get to tour homes with basements.  You can check out the Cottage Surprise house tour that also features basement living.  The curb appeal of the Urban Chateau doesn't do it for me.  But inside is a completely different story!
This is a downtown lot and it's rather small, so of course they had to build up and down and not out.  With that, they created an open and airy living space with high ceilings and lots of windows.  I can't complain about that.
There's so much beauty inside this home to appreciate.  Which reminds us of the old adage:  you can't judge a book by it's cover.  Until next time! ♥