I'm excited to share another beautiful Parade of Homes tour with you today!  Be prepared to be inspired by The Annapolis house.  When I toured this home back in the fall it was definitely surprising to me.  You'll see why at the end of the home tour.
I love to tour homes and I love to share them with you here.  I hope you love the Annapolis house as much as I do!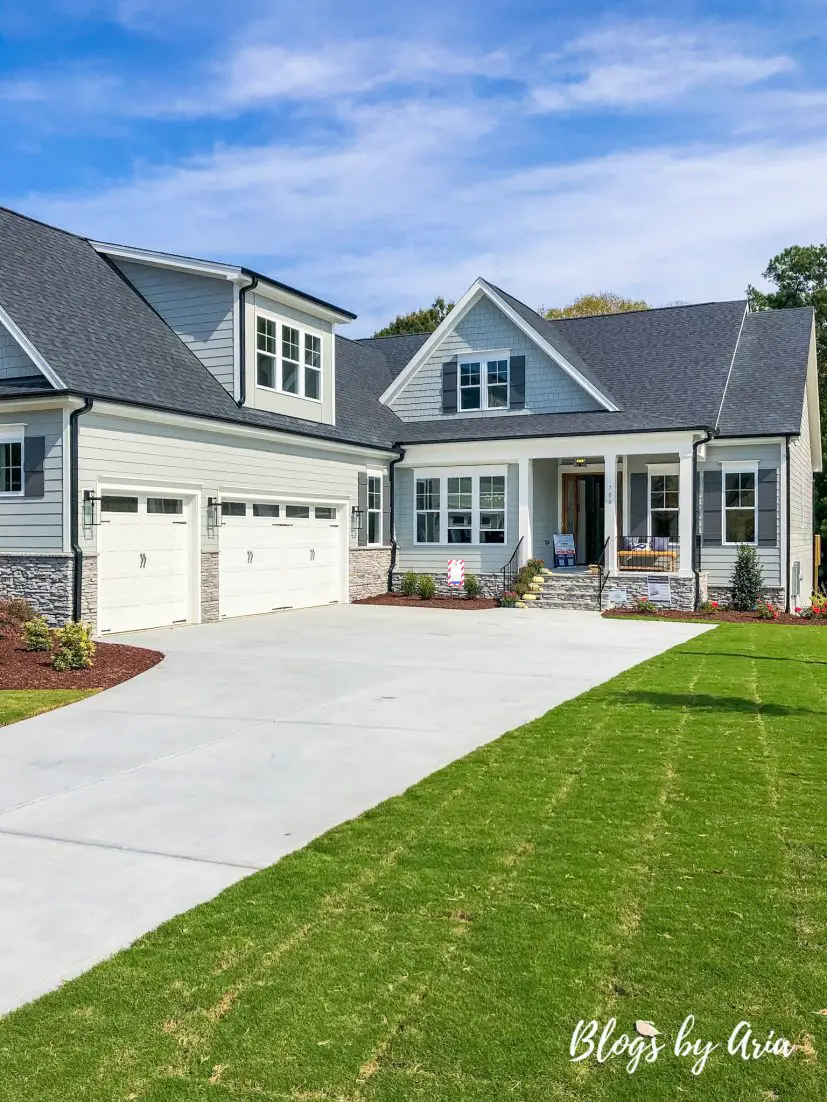 This lovely craftsman exterior home has 4 bedrooms with 3.5 bathrooms and comes in at 3,554 square feet.  It's a 1.5 story house with a three car garage.  Located in Wake Forest, North Carolina at the time of viewing it was listed at $675,000.  It was already under contract when I toured it.
You can see from the entryway how bustling this area is with new construction.  I fell in love with this neighborhood when I toured these homes.  The Cedar Haven house is also in this neighborhood.
The front door is beautiful and lets in so much light but also allows for a little privacy.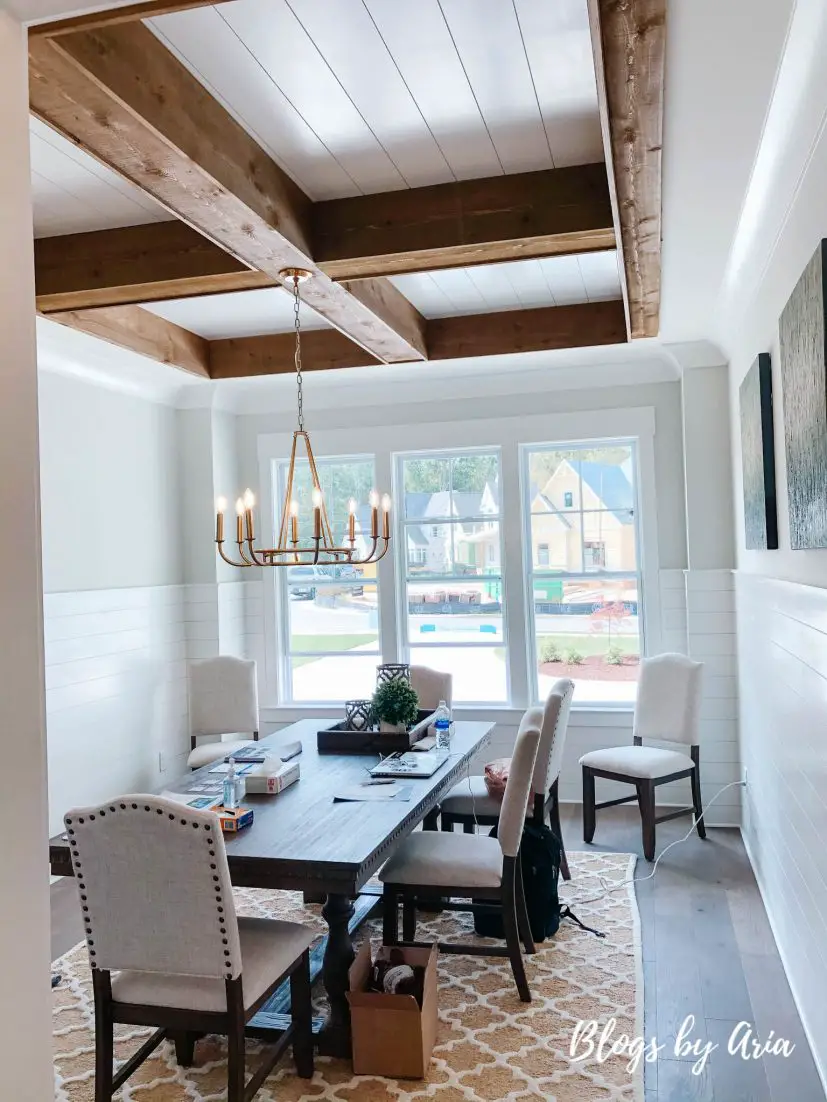 Immediately off of the entryway is the formal dining room which is beautiful even though you can see the realtor set it up with all of their belongings.  Let's ignore all of that and focus on the true beauty of this room.  From the shiplap wainscoting that continues from the foyer, to the large, beautifully trimmed window, to the stained beams in the coffered ceiling.
I love this dining room!
Off of the dining room is a butler's pantry.  If you've followed along for awhile and have seen some of the houses I've toured that feature wet bars, you know that I'm not a fan.  Here is a nice way to keep your wines and stemware without it being a focal point in the main living space.
Sometimes people don't know how to use a butler's pantry.  Technically you can use it however you please.  But primarily it's designed to keep serving pieces and items you would use when you're entertaining and having a formal dinner.
I'm all for a butler's pantry because even if you only entertain a couple of times a year you still need a place to store those items that you don't pull out that often.  Why have your serving dishes taking up precious space in your kitchen when you don't need them that often?
Anyway, that was my ode to the butler's pantry 🙂
One thing I love about the Annapolis house is how open and airy the main living space is!  Because this is one story you can really take advantage of the ceiling height and this space just feels huge!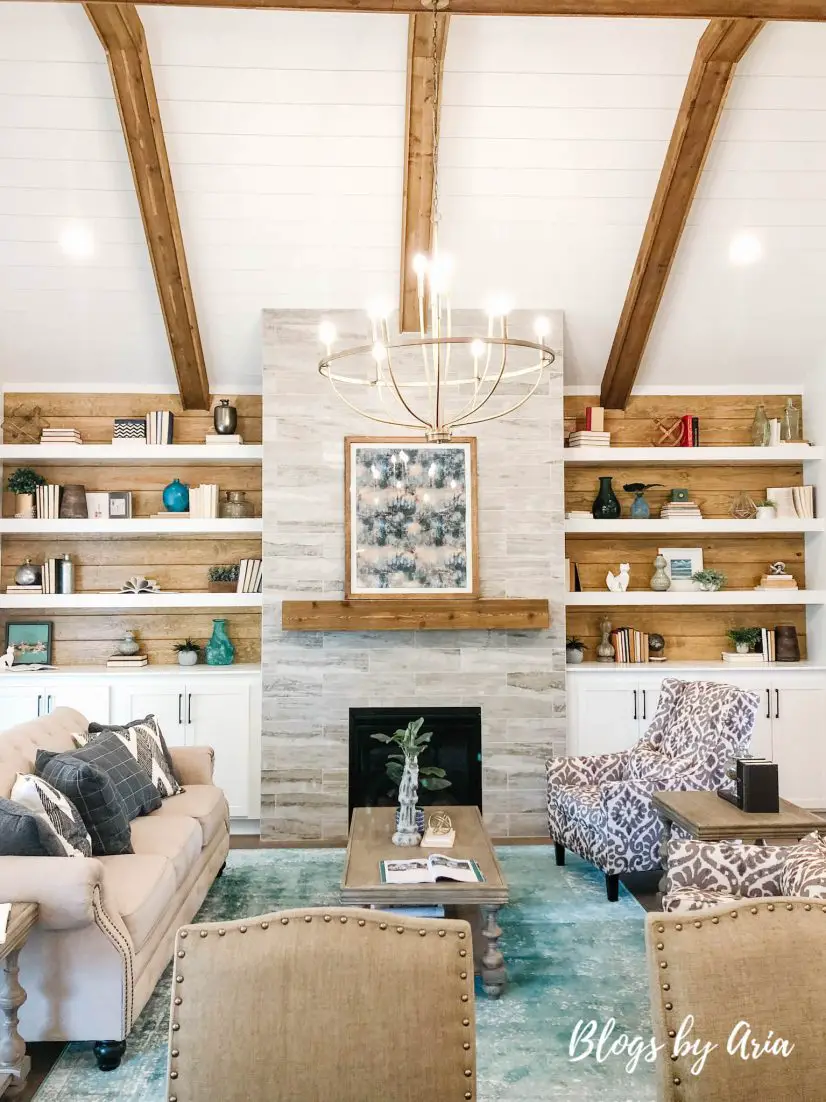 See what I mean!  The design elements continue with the white planks and stained wood beams on the cathedral ceiling.  I also like the stained wood planks behind the floating shelves.  Although this space is very large it still feels very comfortable.
You may recognize this kitchen from my 15 Beautiful Kitchen Design Ideas post.  There are many aspects and design elements that I love about this gourmet kitchen.  One of them is all of the storage on the kitchen island.  You can never have too much kitchen storage in my book.  I've read before that you should have a certain percentage of your kitchen cabinets that are empty.  Maybe one day I will know what that's like! 🙂
Typically the butler's pantry leads directly into the kitchen.  But in the Annapolis home there's a hallway between the kitchen and butler's pantry.  You can see at the top of this photo the hallway, which we'll get to a little later.
One of my favorite features in this kitchen is the stained wood hood.
I also like the frosted pane door to the pantry.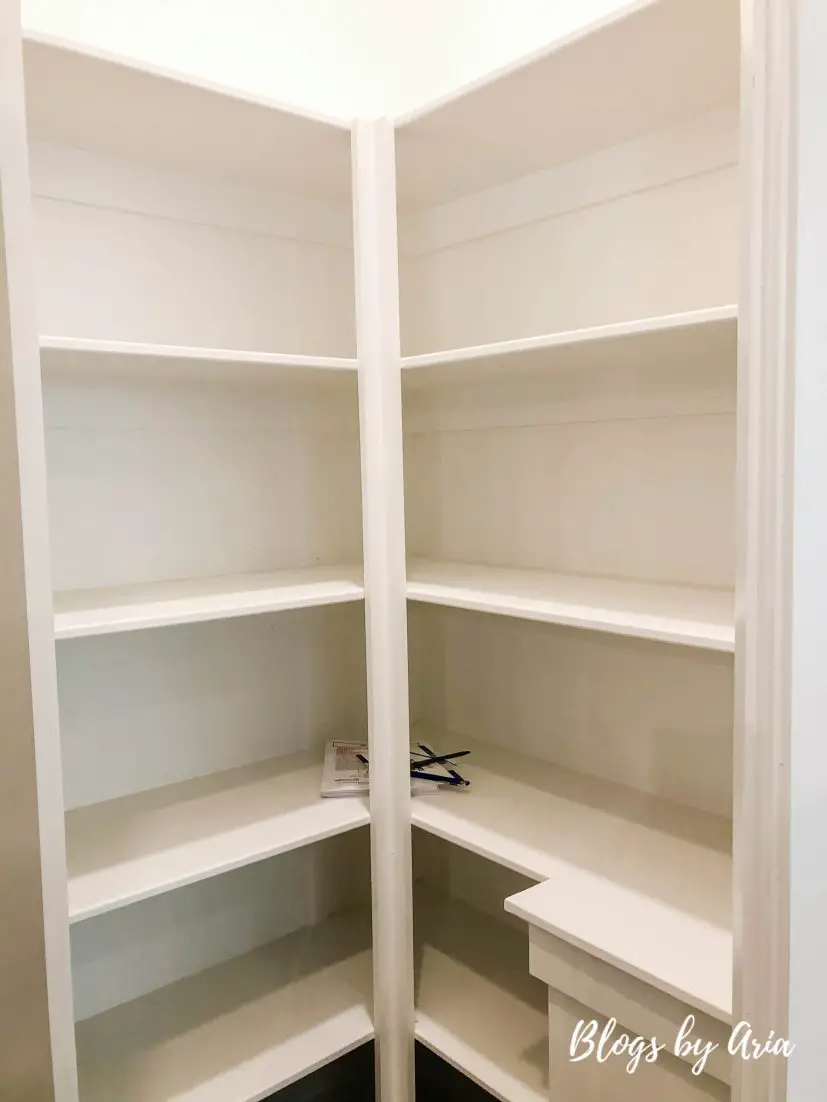 It's not very large but I think the corner shelving helps to make the pantry very usable and functional.
The morning room is staged as a breakfast nook.  Which is how I would use the space but it is large enough to use as a morning room, aka an additional living space.
Off of the hallway is the powder bathroom.  I love the herringbone subway tile accent wall.
Because this is primarily a single story home it has the secondary bedrooms on one side of the house and the master suite on the opposite.  I didn't take pictures of the secondary bedrooms, but they're a good size and share a spacious bathroom.
Moving on to the master suite featuring a chevron-like trimmed feature wall and a double crown molding trey ceiling.  It's a good size bedroom with a lot of natural light.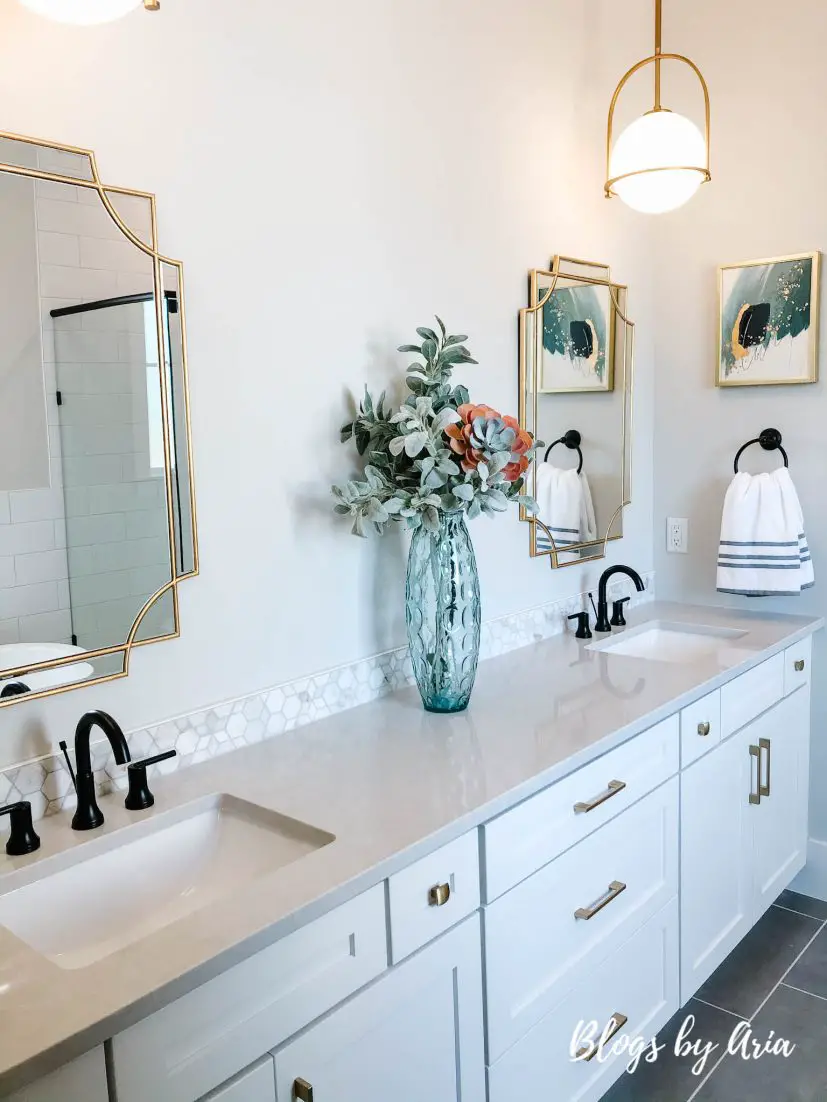 The master bathroom features black fixtures and gold cabinet pulls and lighting.  I really like the mirrors and pendants.  If I can find the sources I'll add them to this post.
The shower features large subway tiles that also carry on to the bathtub backsplash.  Overall I really like this bathroom.  It's not too fancy or flashy and it's also a really good size.
The laundry room is conveniently located near the powder room which is on the wing of the house with the master bedroom.
Also in this area is a small drop zone that although it's small it still packs a big storage punch.  With the cubbies on the top and bottom of this built in unit there's lots of ways to make this space work for a family.
Tucked away on this side of the house is a home office.  They didn't have it staged but I wanted to share it anyway because I love the trimwork and molding.
Now let's head upstairs to the second floor.  To give you a better idea of the layout…the barn door is opening to the laundry room and the doorway to the right is the home office.
The second floor is over the three car garage and features this oversized bonus room that can be used in a number of ways.  There is also an additional bedroom.
The bonus room and the bedroom both share this bathroom on the second floor.
When I walked into the Annapolis house I didn't know what to expect.  I'm not typically a fan of a one and a half story house because I used to see them a lot when I toured homes in Greenville.  I like a full two story house.  But when I walked out of the Annapolis house I had a change of opinion.
This house provides a lot of space and I especially love the cathedral ceiling in this family room.  The layout is different but I kind of liked it.  I liked that there was a separation in space between the master bedroom and the kids bedrooms.  And I liked that there was still an office tucked away on the main floor.  Plus the bonus room being far away from the master suite was a major plus for me.
The Annapolis home is perfect for older families who don't want to have a traditional two story home but still want space for the grandkids to play.  It's also great for families like mine where the kids are older but I could also see this being an option for families with smaller children.  I guess basically I'm saying that this house could work for a lot of families!
What did you think about the Annapolis house?