I don't know about you but when I think about organizing a space in my home it is not a planned experience. I tend to look at a space, get overwhelmed and irritated, and realize I must do something about this. If this is like you then stay tuned to see how I have organized every space in my home from top to bottom.
We moved into this home roughly six months ago. When you move into a new home you often think, I'm going to put everything in its place, and everything is going to start off organized.
But then reality sets in and you realize you just need to get things put someplace so that you can move on with life. When we moved last summer, I was still working from home and I only had a few days to get moved and settled before I had to return to work.
Now that it's been quite some time, I'm realizing that we need to make better use of the space that we have. If you are in the same boat, then maybe you can get some inspiration and some ideas on how to organize some spaces in your home as well.
*this post includes affiliate links for your shopping convenience, you can read more about affiliate links by reading my Disclosure*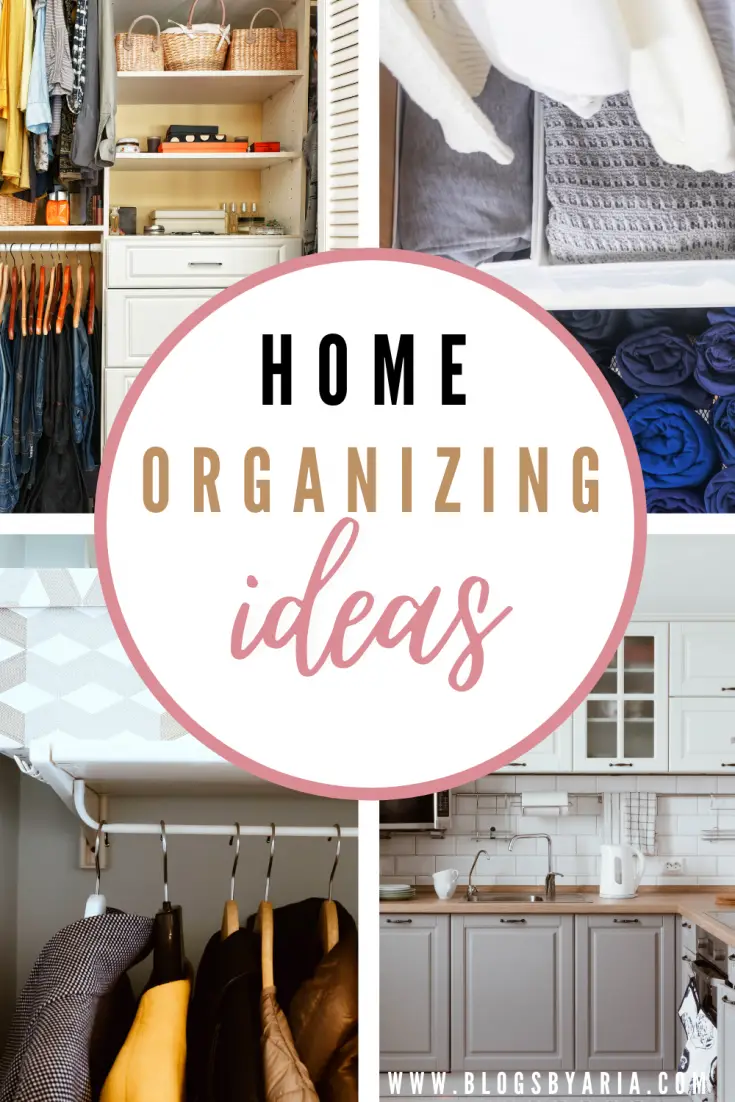 There are lots of areas in this home that need some help. Many of these spaces have needed help since the beginning. But there's something about a fresh start and a new year that says I am going to tackle this project.  Well, these collective projects.
I believe there are two schools of thought when it comes to organizing.  You think that you organize first, buy storage solutions second.  Or buy storage solutions first and then organize.
I'm in between these two beliefs.  I think that once you've used the space, you have an idea of what it would take to organize in the space.
Today I'm going to share some home organizing ideas and inspiration.  Along with some products that I already have and some that are in my online cart waiting for me to click buy.
Most of the items I'll be sharing are from one of my favorite places in the world…The Container Store.  But I don't always shop there because I'm always looking for a deal.  So, I buy from The Container Store when items I need are on sale.
If I can't find what I'm looking for at Home Goods or TJ Maxx or Amazon, then I know The Container Store has it.  But I do try to find it elsewhere first.
BATHROOM ORGANIZATION
I'm starting with my bathroom organization first.  Because frankly, I think it's the easiest space to tame.  Plus, it will help motivate me to move on to more challenging areas.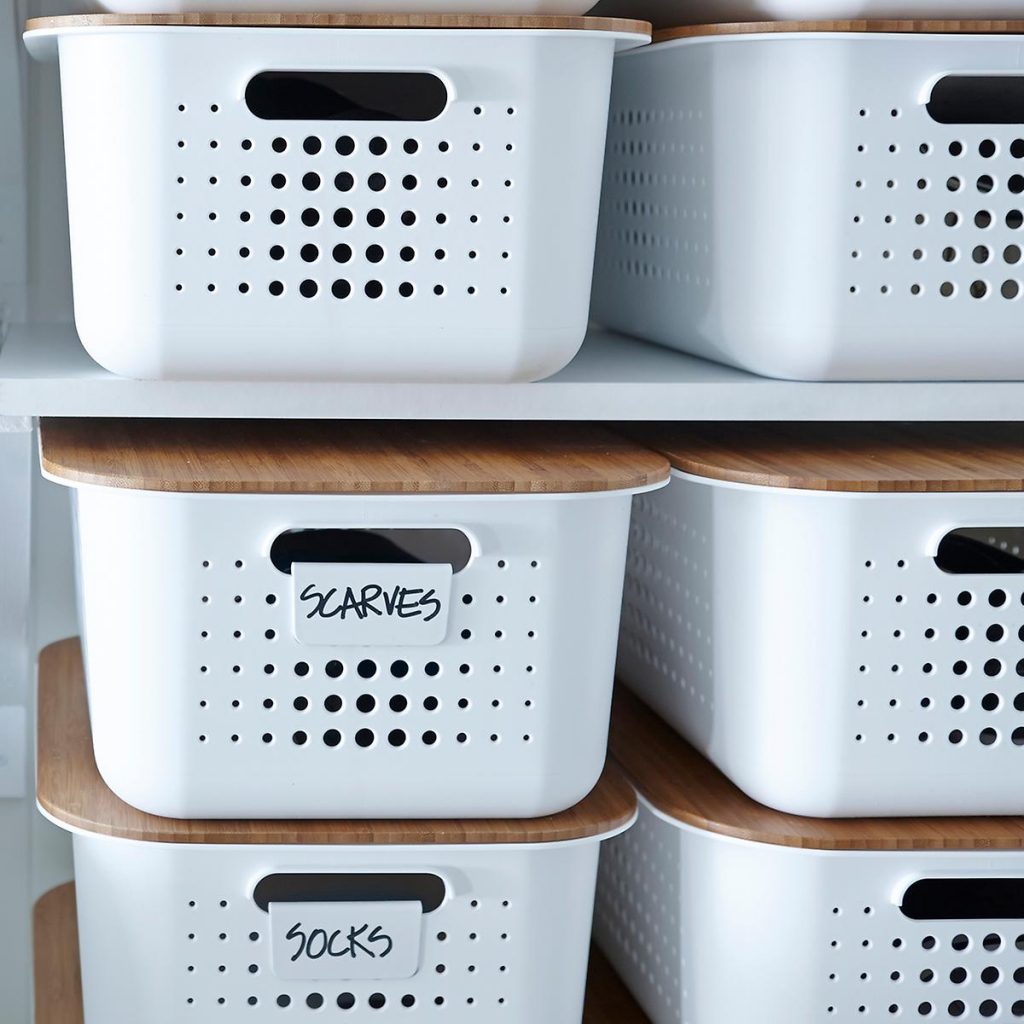 I've already started with some similar storage bins with lids I already own.  I will probably add a couple more.  When I share my bathroom organizing post you'll see that our sink configuration is a bit weird.
The good news is we have two sinks.  But we could use more storage configurations if the plumbing was wired differently.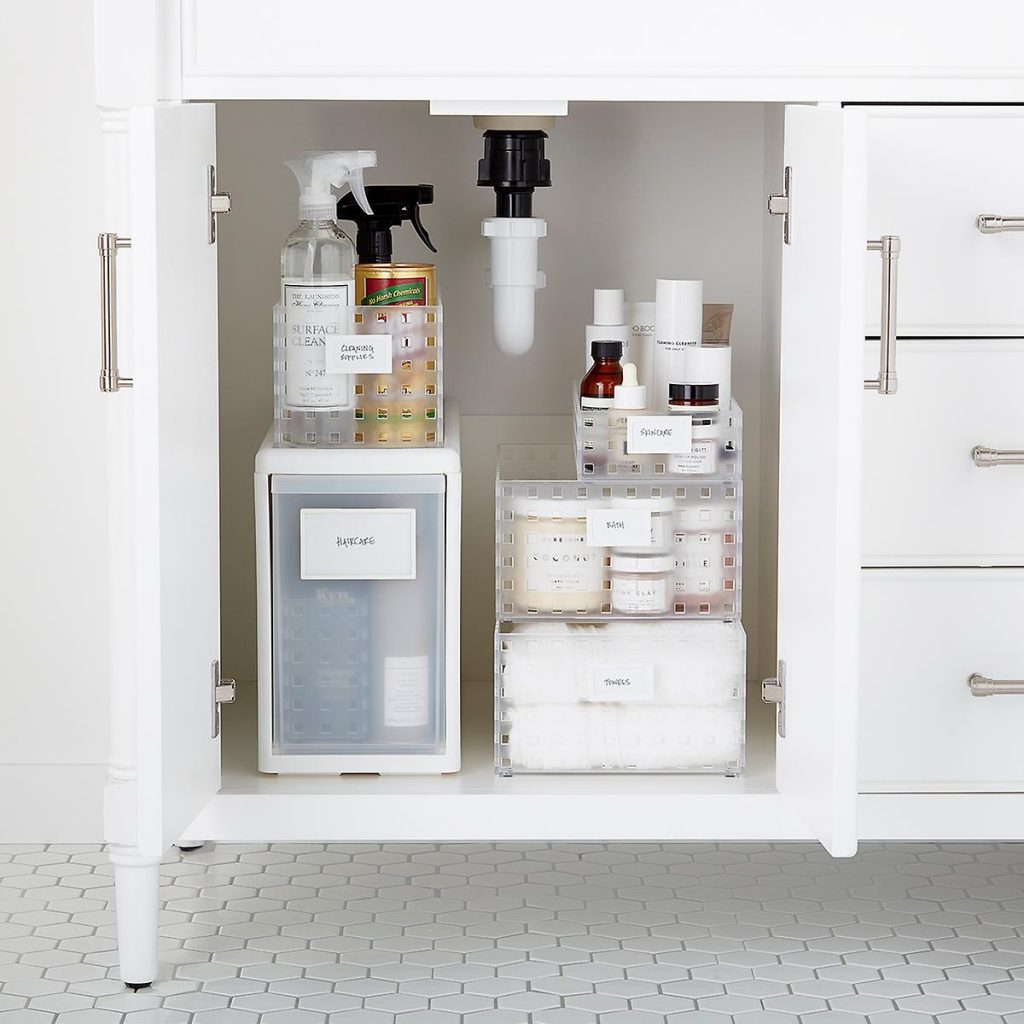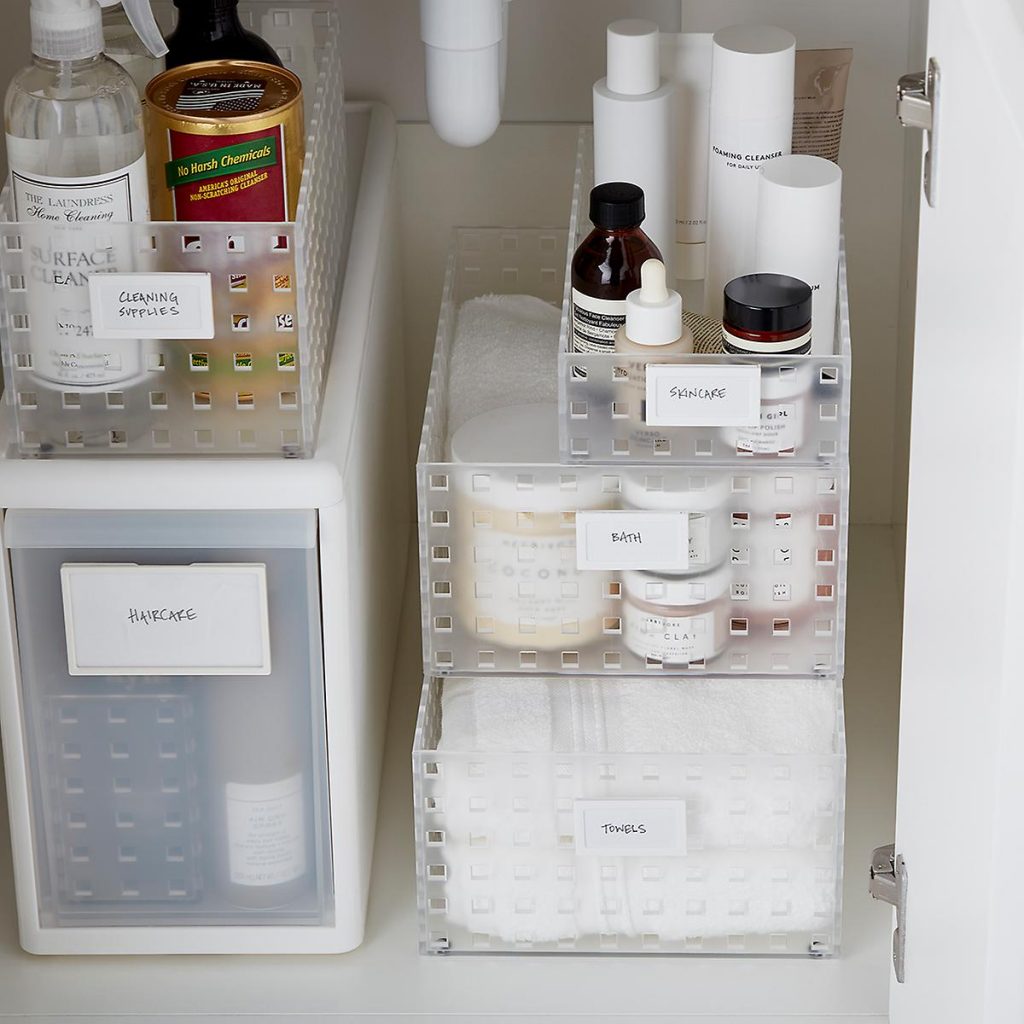 When I saw this Like-It Under the sink set up I was intrigued.  I like that it can be configured to fit your space and I'm especially liking the narrow bins for us.
KITCHEN & PANTRY ORGANIZATION
I don't think it matters how large or small your kitchen is.  Nor does it matter if you have a tiny pantry, a huge walk-in pantry or none at all.  Organizing your kitchen to fit your needs is no easy task.  Which is why for me, I'm taking my time with it.
Now the good news is our pantry is a little bit larger than our last one.  But it has been a beast to try to organize.  We already have a few storage containers and bins, along with can organizers that we used in our previous pantry.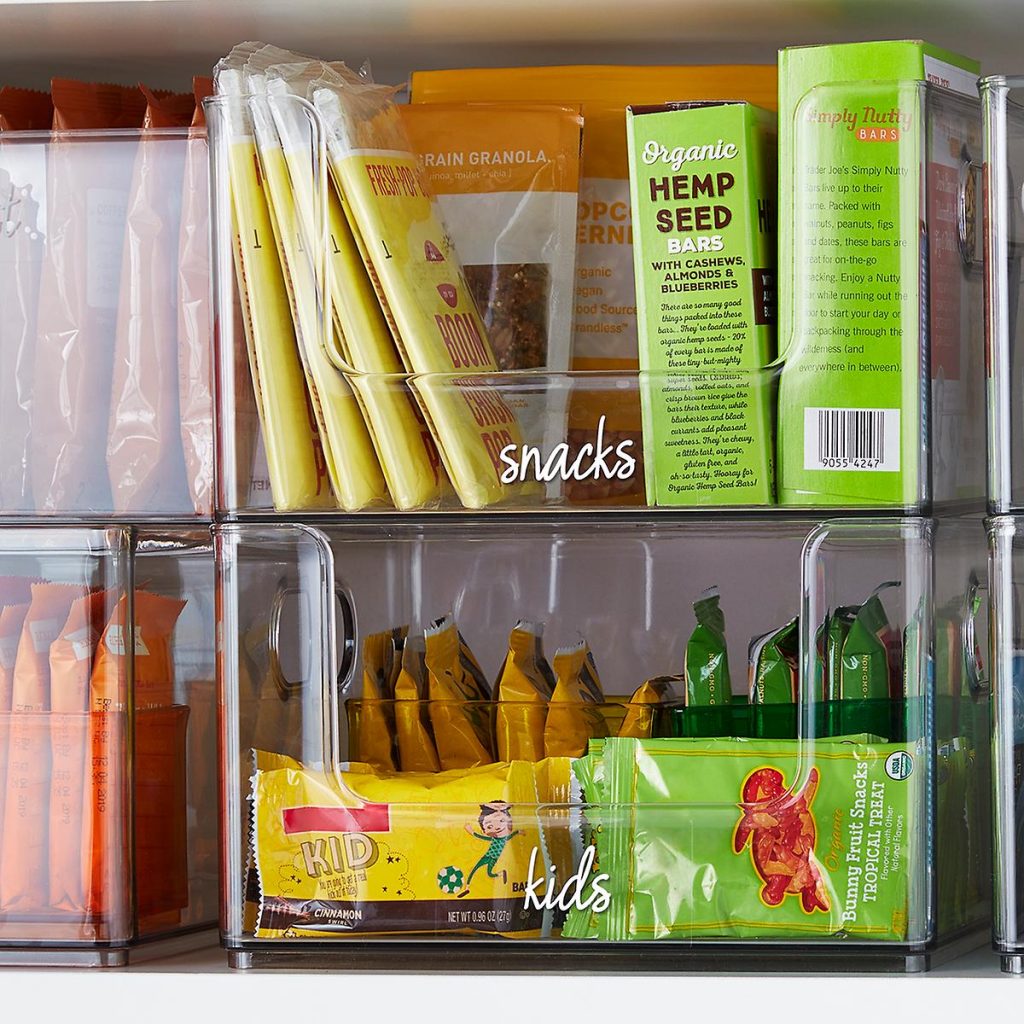 What I'm looking for now are ways to minimize the chaos.  Like with these clear stacking bins that I think will be a better solution for some of the kids snacks.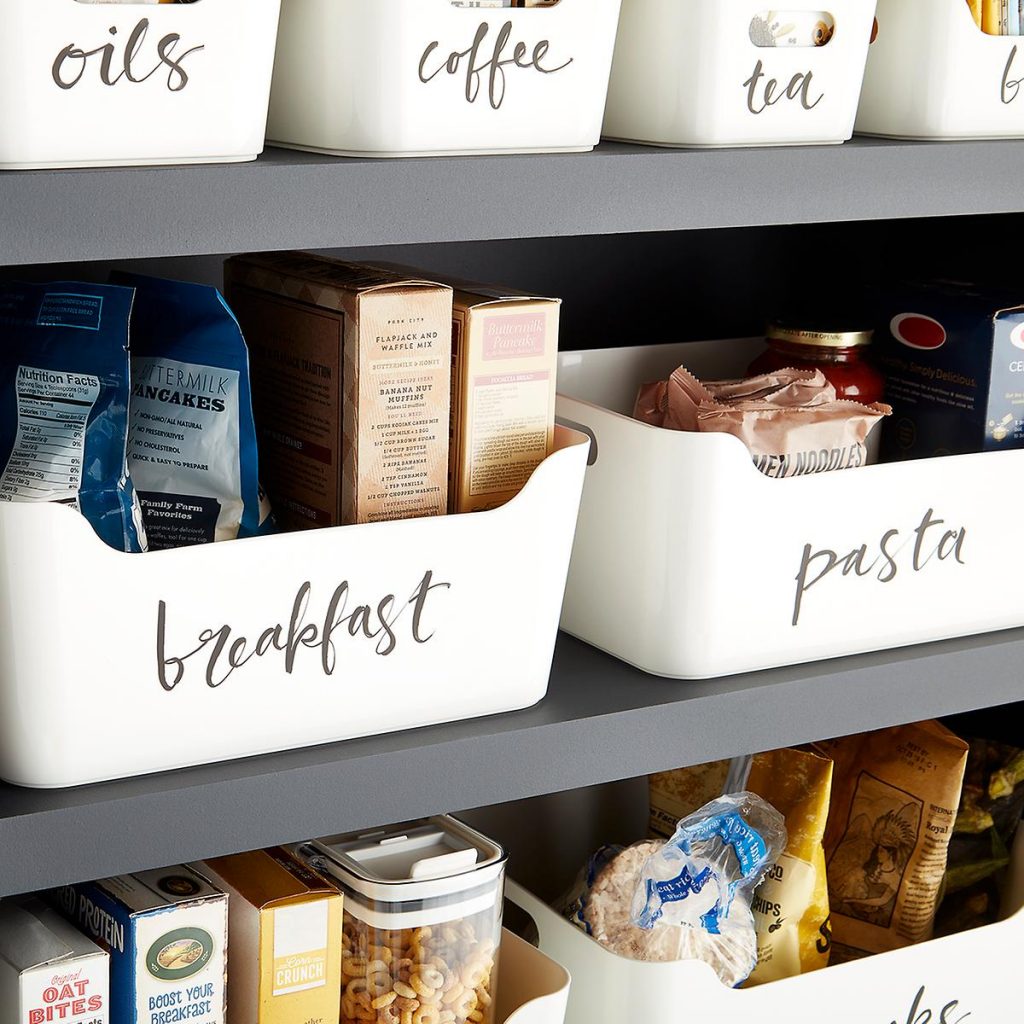 These white plastic bins are an affordable option to corral like items together.  I'm not trying to create a Pinterest or Instagram worthy pantry.  I just want it to function for us.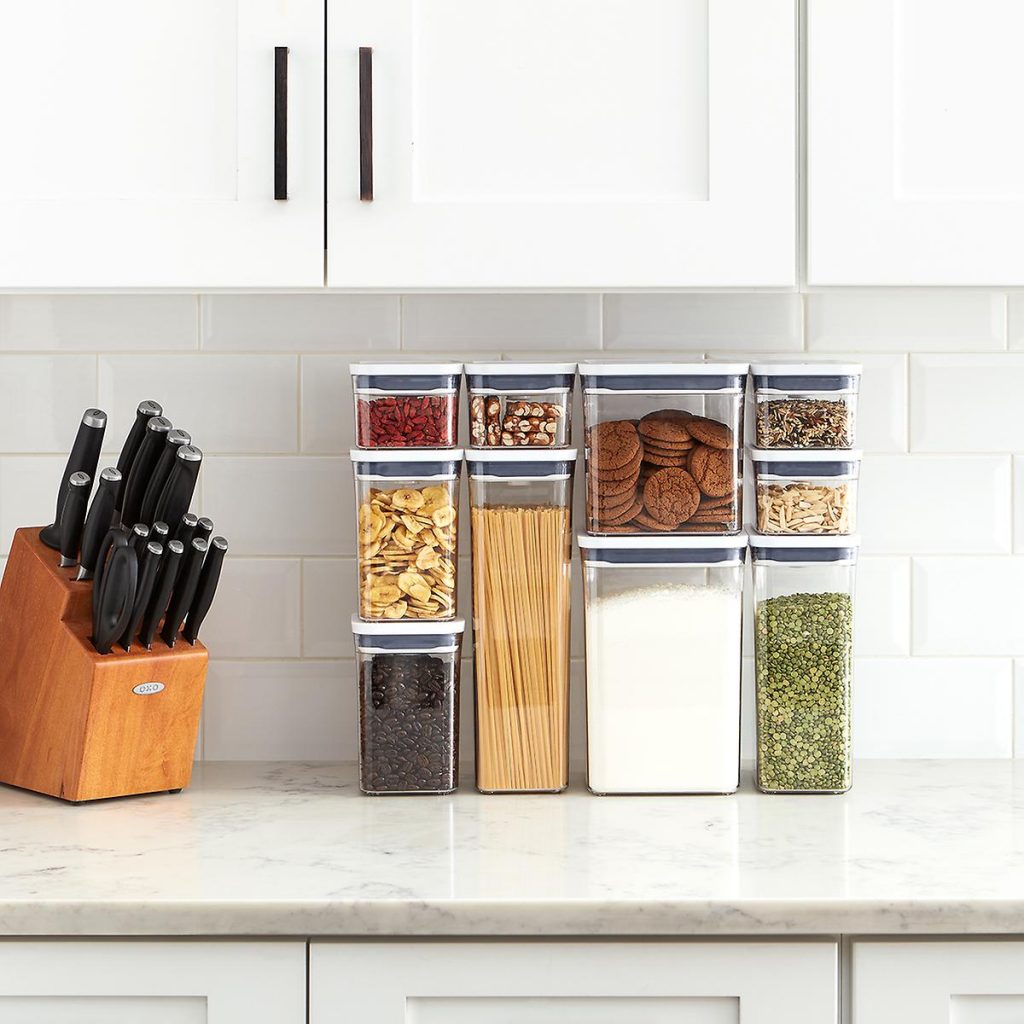 When it comes to kitchen organizing, I think I have most of it covered.  The configuration of our cabinets and drawers makes it difficult to do too much.  You'll see what I mean when I share my kitchen layout with you.
There are certainly aspects of our kitchen that I love and appreciate.  It's just been a bit like putting together a puzzle to figure out how to make it work best for us.
CLOSET ORGANIZING
Getting our closets organized is another area that will probably take some time.  We're starting with our master closet then moving on to our linen closet.  Starting with the master closet again because I must see it every day.  Because we share the closet, it is a bit of an undertaking.
Needless to say, I'm a big fan of his and hers walk-in closets 🙂
In addition to the kids closets we have a good size front coat closet that I want to get my hands on.  Sure there are coats in there, but it's mostly functioning as decor storage.  That's something I want to get better organized this year.
Lastly, we have a closet by the kitchen that holds a lot of cleaning supplies and tools and other miscellaneous things.  It's a hot mess!  It may be easier to start there instead of the master closet, so we'll see how that goes.
MISCELLANEOUS ORGANIZING PROJECTS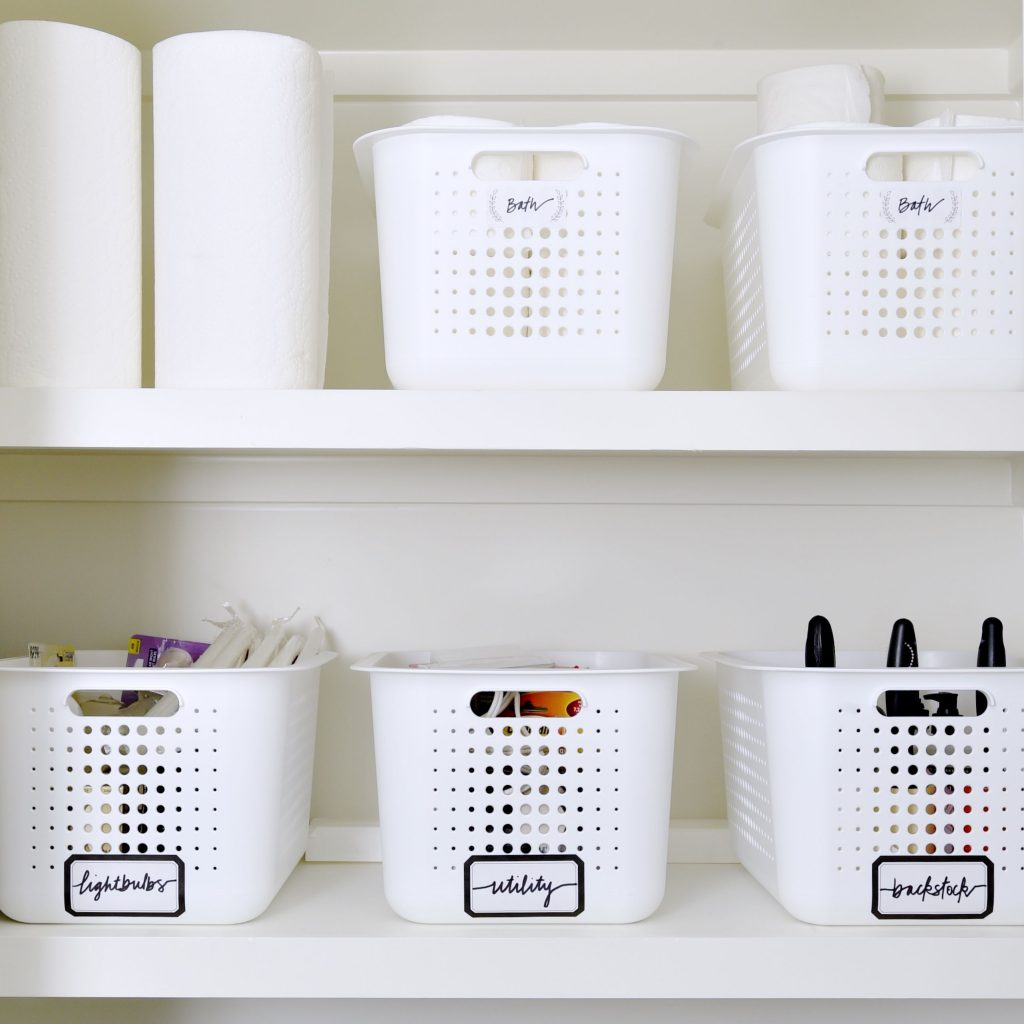 Could there possibly be anything else left to organize in this house?  Of course!  Our laundry room is one space I want to organize too.  It's not horrible, but it could be better.
The kid's bathroom is another area that I'm working on.  My goal with that is to create a system that is easy for them to maintain.  I know it's asking a lot, but I'm up for the challenge.
I'm also working on our powder bathroom.  There's not much to do in there.  I've already gotten a pretty good start in there and I'm really loving how the plumbing is set up under the sink.  So much room to work with!
And then the largest project is our bonus room.  That's a continuous work in progress but I'm hoping we can make some huge strides in there in the next month or so.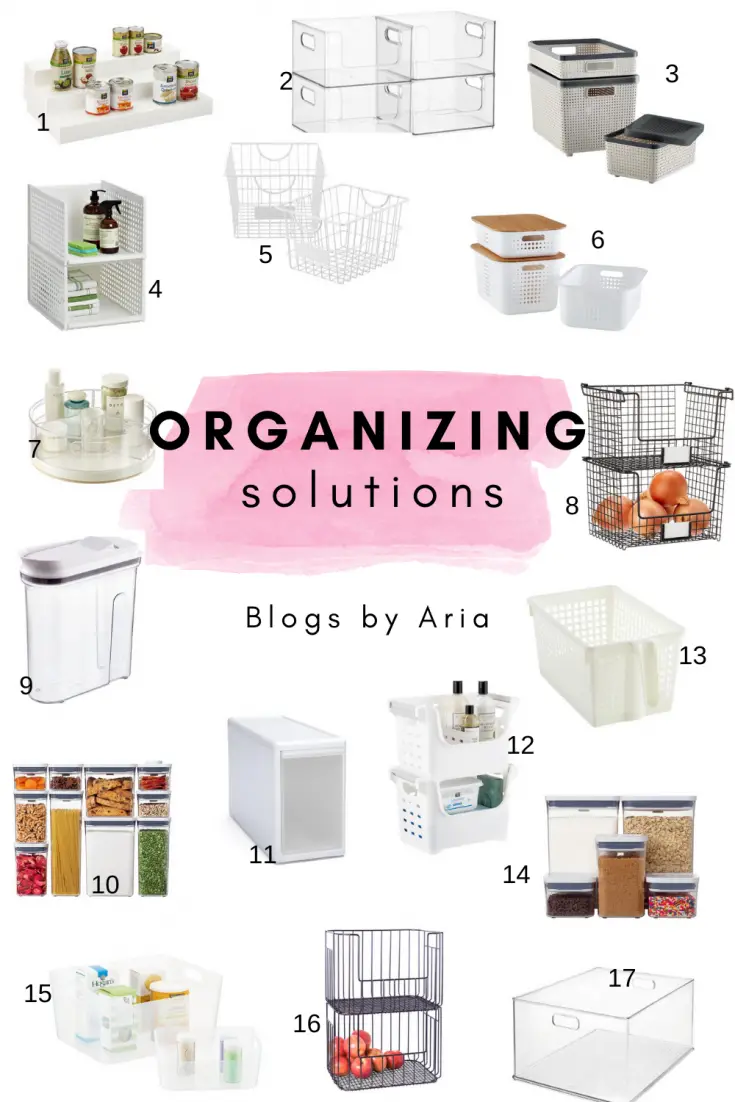 1 · 2 · 3 · 4 · 5 · 6 · 7 · 8 · 9 · 10 · 11 · 12 · 13 · 14 · 15 · 16 · 17
It's quite possible that by the time I get all these organizing projects complete we could be gearing up to move.  Who knows what's in store for this year?  Just like in our previous townhome, I like to find ways to make the space work best for us while keeping in mind that this could be a temporary house for us.
We're renting in case you didn't know and would like to buy a home in the future.  With the way the housing market is around here, I'm not holding my breath but also not giving up hope.  So for now…we organize the space we have!
SHOP THE POST!