The Nordstrom Anniversary sale is live for Icon early access.  It's my first year really getting into the groove sharing all things #NSALE.  With things returning back to normal and more of us getting back to work in the office, it's time to refresh our wardrobes.  Today I'm sharing my Nordstrom Anniversary sale shoe picks.
One of the things I love about the Nordstrom Anniversary Sale is that it's the perfect time to get new styles for the season.  It's not just a sale on old items to get them out of the store.  Nope, it's new goodies that will go back up to regular price once the sale is over.
*this post includes affiliate links for your shopping convenience, you can read more about affiliate links by reading my Disclosure*
WHEN CAN I SHOP THE NORDSTROM ANNIVERSARY SALE?
You can get early access to the #NSALE by becoming a cardholder.  If that's something you're interested in, you can apply for a Nordstrom card here.  Sadly some items will sell out.  Now is a good time to create your wishlist and hopefully you can get everything you want!
BOOTS & BOOTIES TOP PICKS
Now is the time to grab at least one new pair of boots for the Fall!  It's one of my favorite things about the cooler weather is the opportunity to embrace boots season!  You can swipe below and check out some of my top picks for boots and booties this year.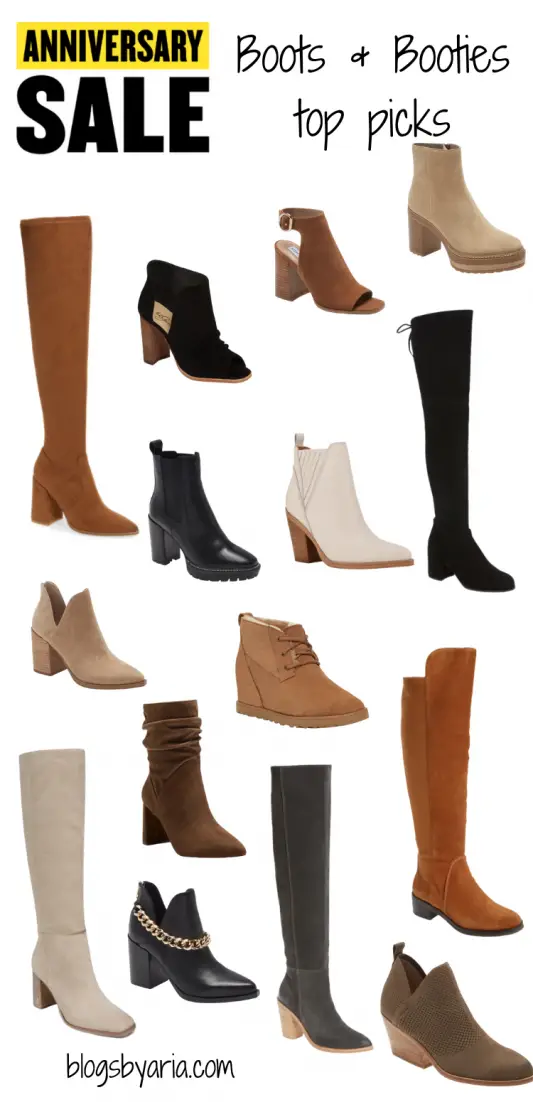 Honestly I want every single boot and bootie I've shared!  I wish I could have them all!  Which would you choose?
NORDSTROM ANNIVERSARY SALE SHOE PICKS
Mules and loafers are still big for Fall this year.  I rounded up a couple along with a few other shoe picks that didn't quite fit into other categories.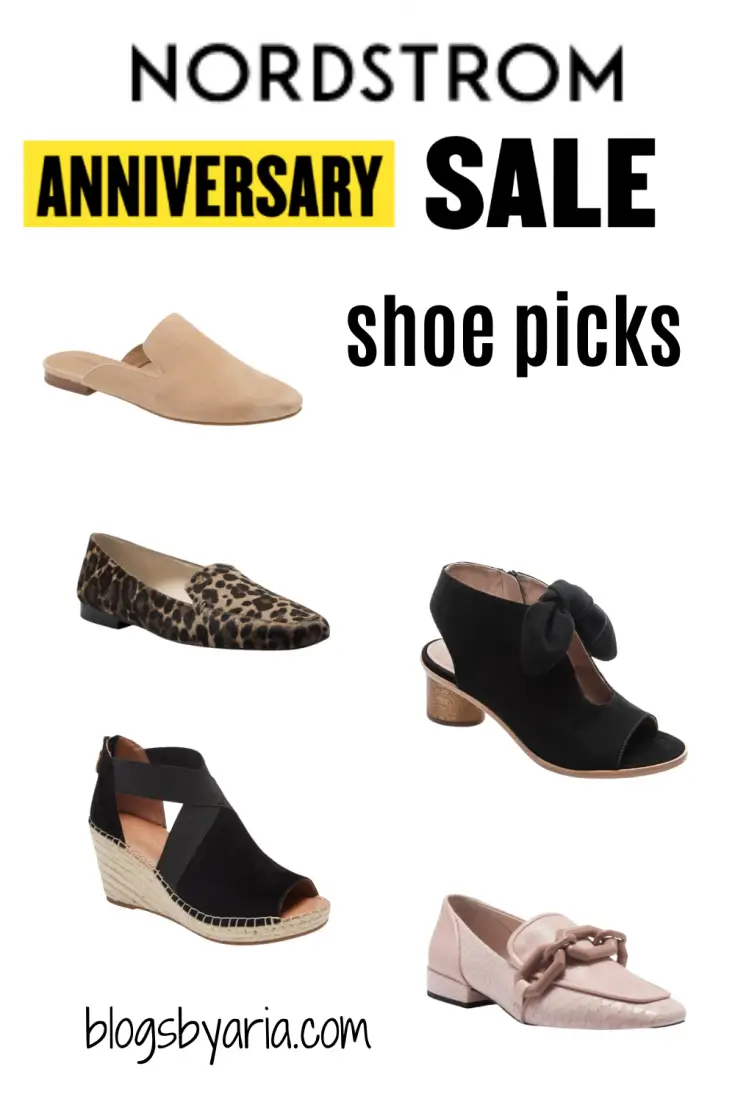 My favorites are these Nova mules aren't they so chic?  I am always here for an easy shoe.  No fuss just a simple slip on.  Like a flip flop but for Fall.  And they're under $40?  Yes please!
NORDSTROM ANNIVERSARY SALE HEELS AND PUMPS
A classic pump never goes out of style.  Neither does a good slingback.  I've also noticed pointy toes and square toe shoes are both in this mix.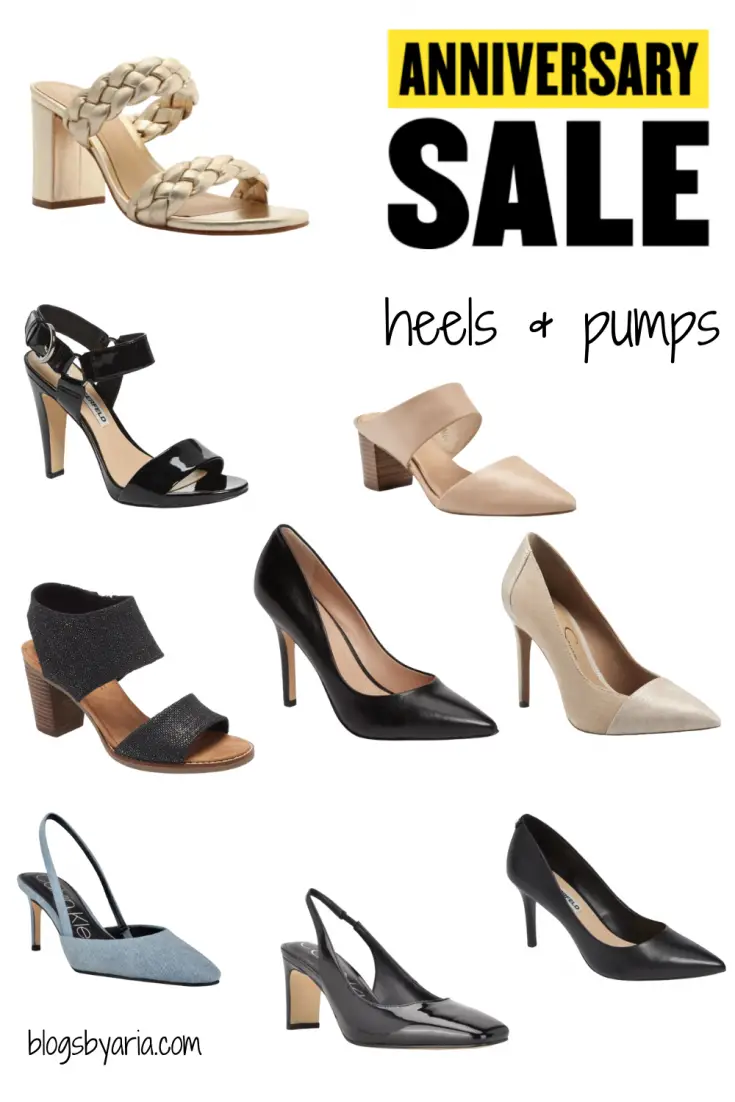 ATHLETIC SHOE PICKS
So many sneakers are marked down for the #NSALE and it's a perfect time to upgrade your workout or running shoes.  Good quality sneakers can cost a pretty penny so when they're on sale you've got to grab them right away!

CASUAL SHOE PICKS
Something I'm really excited and hope I can get my hands on are the popular wedge sneakers.  They've been something I've wanted for awhile now and I pray my size is in stock when I'm able to shop the #NSALE.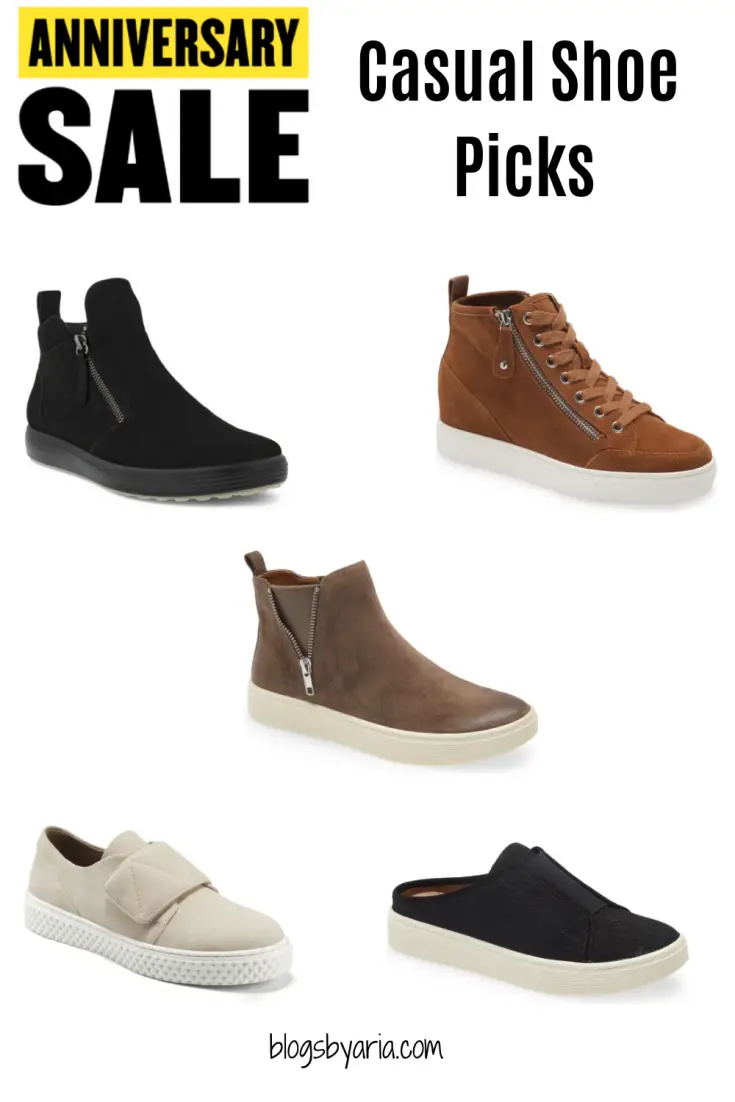 Of the casual shoes I've got my fingers crossed that I can get the Steve Madden wedge high top sneakers.  I've heard wedge sneakers are pretty comfortable and I love the look of them too.
BUILDING YOUR SHOE WARDROBE
When you're building your shoe wardrobe there are, in my opinion, a few staples that you need.
classic tall boot
bootie
classic pumps or heels
athletic shoes
casual shoes
Your staples should be quality.  I don't think you have to spend a ton of money on the staples shoes but you do get what you pay for.  The Nordstrom Anniversary Sale is a great opportunity to add to your staple shoe collection and save a few coins while you're at it.
If you're picking up some new shoes during the #NSALE let me know what you've got your eye on!  I'd love to know 🙂
NORDSTROM ANNIVERSARY SALE 2021 POSTS: