There's so many great fashion finds in the 2021 Nordstrom Anniversary Sale.  I can't share everything with you but I had to share some of my top picks!  Like I've mentioned before, now is the time to access your wardrobe and see what staple pieces you need to add.  It's easy to feel like you want to get all of the things!  But realistically, we want to get a few good finds.  Let's dive in to some of the Nordstrom Anniversary Sale outfit picks I've found!
Today is the first day that all cardholders can begin to shop the sale!  Yay!  If you're not a cardholder, you will be able to shop July 28th.
*this post includes affiliate links for your shopping convenience, you can read more about affiliate links by reading my Disclosure*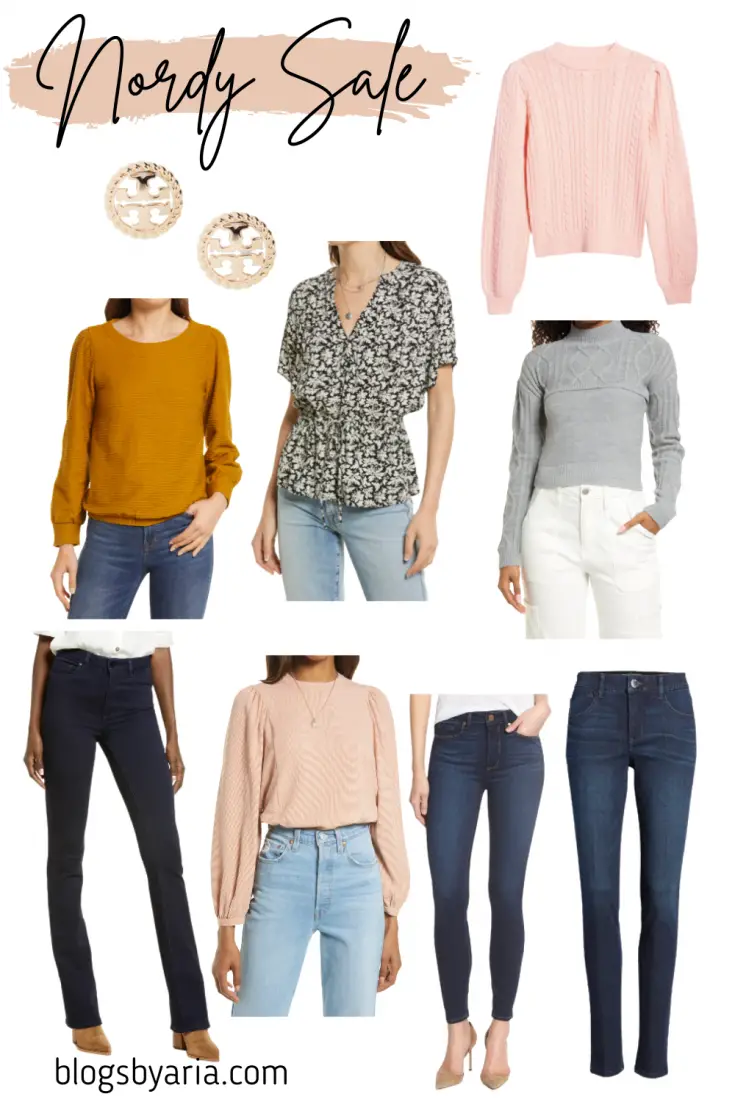 Tory Burch logo earrings | cable stitch sweater | balloon sleeve top | floral drawstring waist top| cable tank and shrug set | Paige Manhattan high waist bootcut jeans | balloon sleeve check print top | Paige Hoxton high waist ultra skinny jeans | Wit & Wisdom Ab-Solution skinny jeans
You've got to check out this Wylander Cable Stitch Cotton Sweater it's the cutest!  I love the sleeves but wait till you see the back!  So stinking cute!
Who doesn't love sweater weather?  There's so many cute sweaters included in the sale.  I'm always a fan of a shirt or sweater that is classic but with an added twist.  Give me a puffy sleeve, a ruffle here and there, a different cut…I'm here for it all!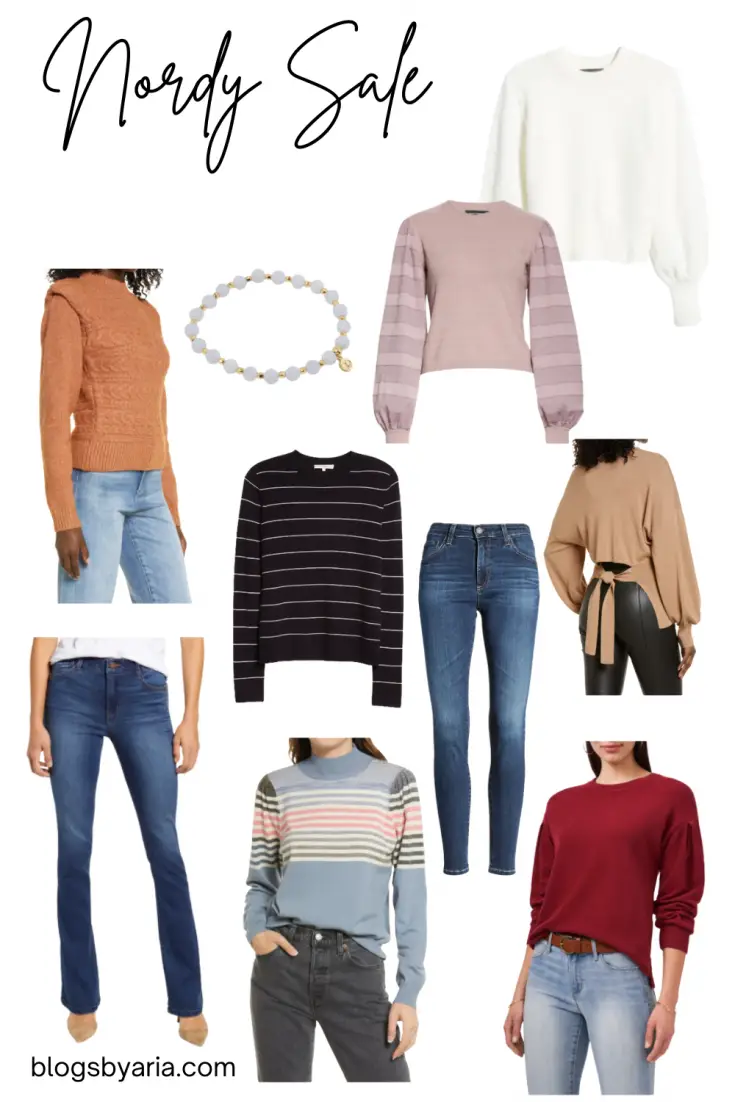 Jamie textured cotton sweater | woven sleeve sweater | horizontal cable crewneck sweater | power stone stretch bracelet | stripe wool & cashmere sweater | Farrah skinny ankle jeans | tie back sweater | Ab-Solution high waist Itty Bitty bootcut jeans | stripe space dye mock neck sweater| pleat rib top
I love so many of the beautiful stylish finds this year.  So many cute sweaters for Fall!  A cute sweater and a good pair of jeans are perfect for a Fall day!  Ugh I just love Fall fashion!!
the legging ankle super skinny jeans | the Charlie ankle skinny jeans | the Icon ankle skinny jeans | Good Legs raw hem ankle skinny jeans | high waist ankle skinny jeans | Sarah slim fit chew hem straight leg jeans | Brigitte boyfriend jeans
Now is the perfect opportunity to get a couple pairs of good quality jeans while they're on such a great sale!  I do believe in investing in quality jeans.  Because cheap jeans show their worth real quick.  Unfortunately I know from experience.  I've rounded up some great denim finds at lots of price points.
There are so many jeans available in the sale this year.  I'll share some more in my next post too.  I like that there are tons of style to choose from whether you prefer skinny jeans, straight jeans, boyfriend jeans, high waist, if you like it they have it!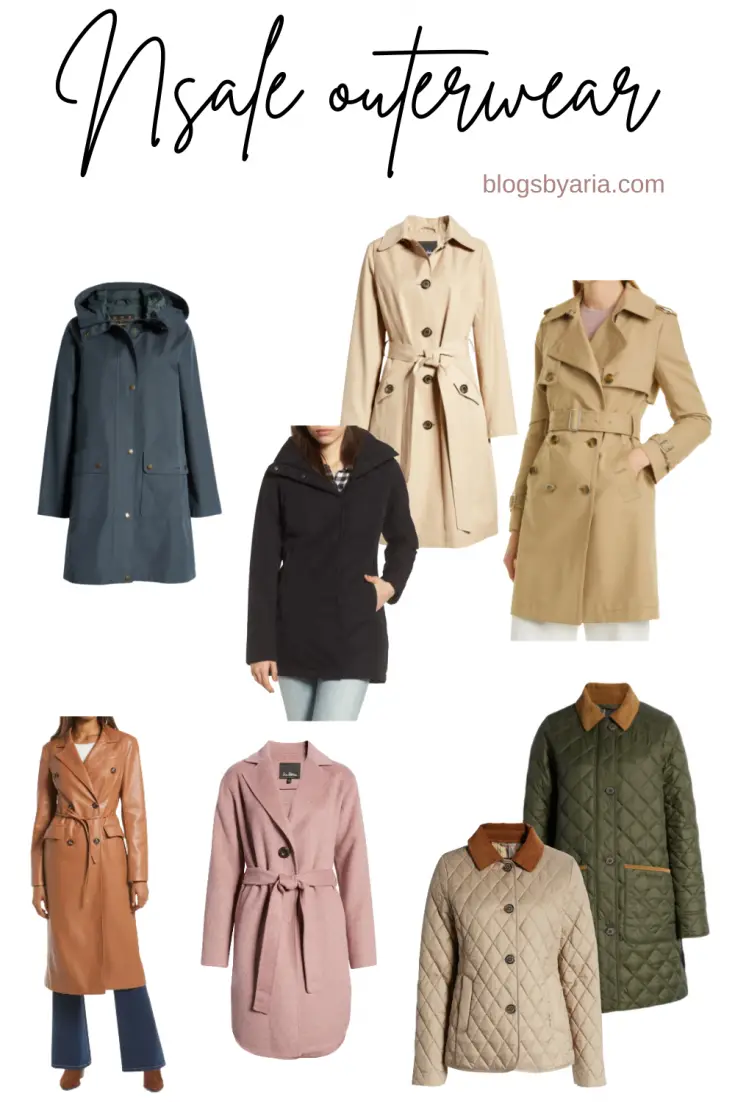 Ashover waterproof hooded raincoat | Ancha hooded waterproof parka | water repellant belted trench coat | Maite trench coat | double breasted faux leather trench coat | belted wool blend coat | Sterndale quilted jacket | Hollingworth quilted jacket
A quality coat is an investment.  Again, you get what you pay for.  And again, trust me, I know!  That doesn't mean you have to spend several hundred on a coat.  But if your old faithful winter coat needs to be retired, use this sale as your sign to invest in a new one.
I had to include a few classic trench coats in the mix.  Everyone needs a good trench coat.  At least, that's what they say 🙂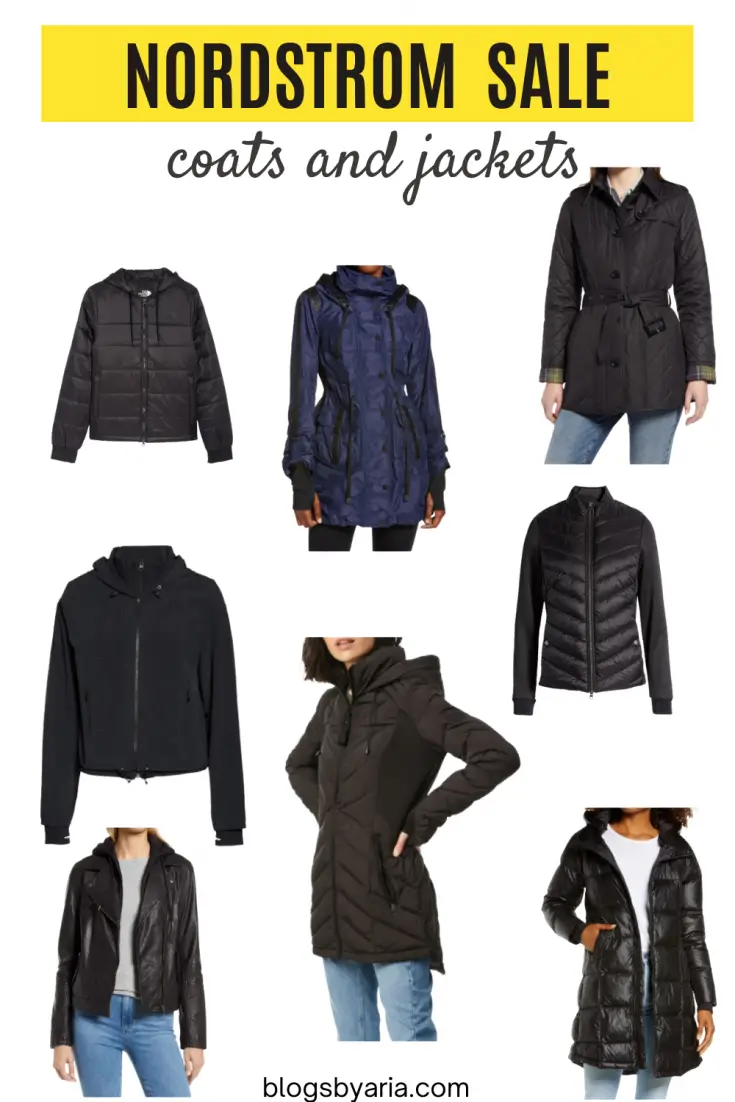 Pardee water repellant insulated jacket | camo hooded anorak | Tummel belted quilted trench coat | Improvise full zip hoodie | quilted hooded puffer coat | Hargate quilted jacket | leather moto jacket | Acropolis water repellant down parka
I'm having so much fun shopping these finds from the #NSale for you!  And I hope you're enjoying them too.  A lot of people think the sale is over hyped and not worth the fuss.  But I disagree.  What makes the Anniversary sale such a big deal is that many of the items on sale are new for the season.
Instead of a typical sale where a store is trying to get rid of last season's style to make way for the new inventory, this gives you the chance to get what's new now for less!  What's better than that?  That's why the sale gets so much hype from everyone because once the sale ends and you want to buy that coat, you're going to pay full price.  And what's worse than that?
Anyway I'm excited to get a couple of items I've wanted for a long time.  And you know me, I never want to pay retail price.  If you're shopping the #NSale I would love to know what's on your wishlist!
Nordstrom Anniversary Sale 2021 Posts: