How is it almost October and I am not finished decorating for Fall?  I'd love to say I'm finished decorating and just haven't shared it, but nope.  That's not the case.  Let's not dwell on what's not done.  Let's focus on what I've finished so far.  In case you missed it, I shared my cozy Fall family room and my Fall entryway table.  Now I have more Fall decorating ideas to share how I styled my bookcase and console table.
When I started decorating my bookcase for Fall I was stumped for a couple of weeks on how I wanted to style the top.  I knew I wanted to create height and I like how this turned out.
*this post includes affiliate links for your shopping convenience, you can read more about affiliate links by reading my Disclosure*
bookshelf · amber vase · fall stems · lantern · woven pumpkin
Do you remember how few pumpkins I had in my family room?  Well here's the pumpkins!  I was going for a pumpkin patch kind of aesthetic on the top of my shelves, kind of like how I styled my mantel last year.
Once I got these stems from the Hearth & Hand line at Target, I knew I wanted to get this amber vase that I had eyed from Joann Fabrics.  (similar option from Amazon)  Just look at how much height it gives the top!  Love it!
Next to the vase I added this Fall art print I ordered from Etsy.  It's an inexpensive way to add art to your space.  I printed it on poster paper at Walgreens and I already had these frames from Amazon.  I'll probably look into it as an option for the holidays too.
Not that I needed another lantern, but I love the shape of this Hayes Chestnut lantern from Kirkland's.  I haven't been in Kirkland's much this season.  Their Fall decor wasn't really sparking any joy for me this year.  But after seeing this lantern used in a YouTube video, I waited for it to go on sale and picked it up.
Isn't this woven pumpkin a stunner?!  I've shared it on the blog before and seeing it online is one thing, but when I was in the store I saw it and it's such a beautiful pumpkin!  I'm telling you, Target really knocked it out of the park this season!
You can see another print I purchased from the same Etsy shop.  I was telling my husband that I think it would be easier to style built in shelves versus a bookcase like this.  It's hard to explain why, but if you have a bookcase like me, hopefully you can get some Fall decorating ideas from this post.
The third shelf was not coming together for me.  So I used some taller pumpkins, this one from Target this year and the other is from Kirkland's last year, to act as bookends.  The sign is from Kirkland's last year also.
My pumpkin centerpiece was on my console table and when I was moving things around I placed it on the bottom shelf and kind of liked it there.  What do you think?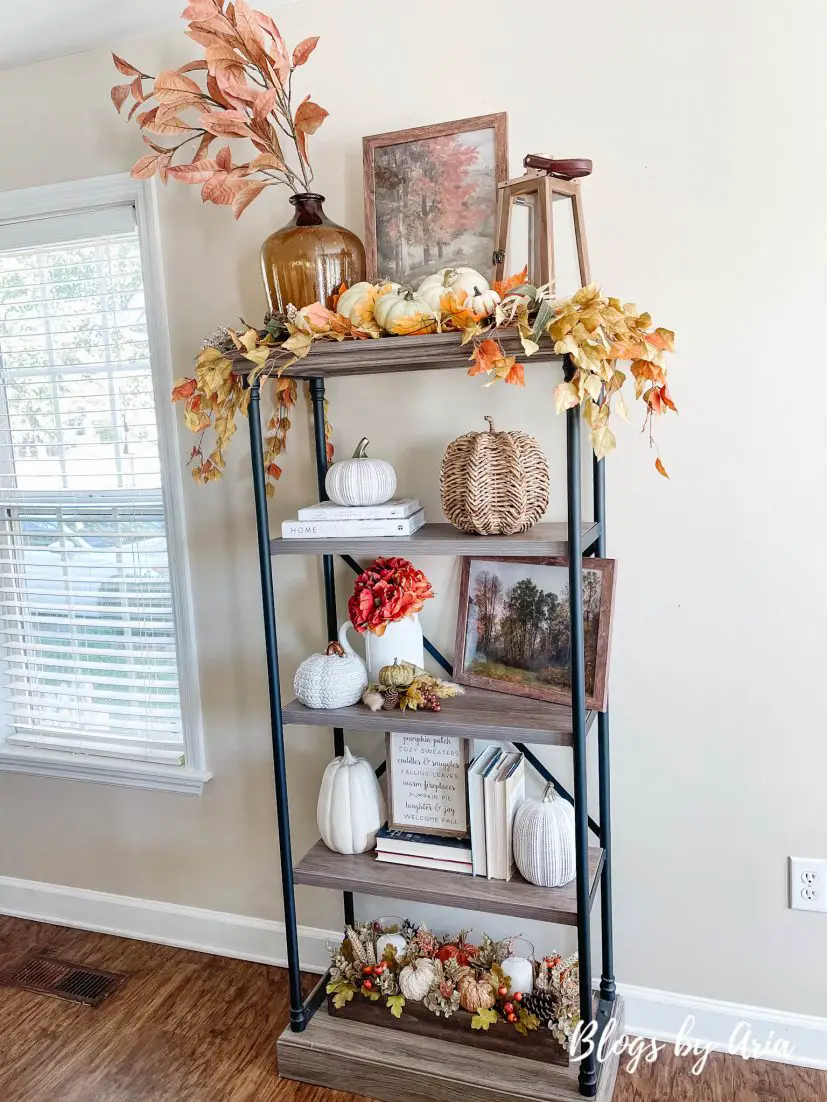 My bookcase is from Target and has been pretty popular and I'm glad ya'll love it as much as I do.  I've rounded up some alternate options if you like the look of the X back.
FARMHOUSE X BACK BOOKCASES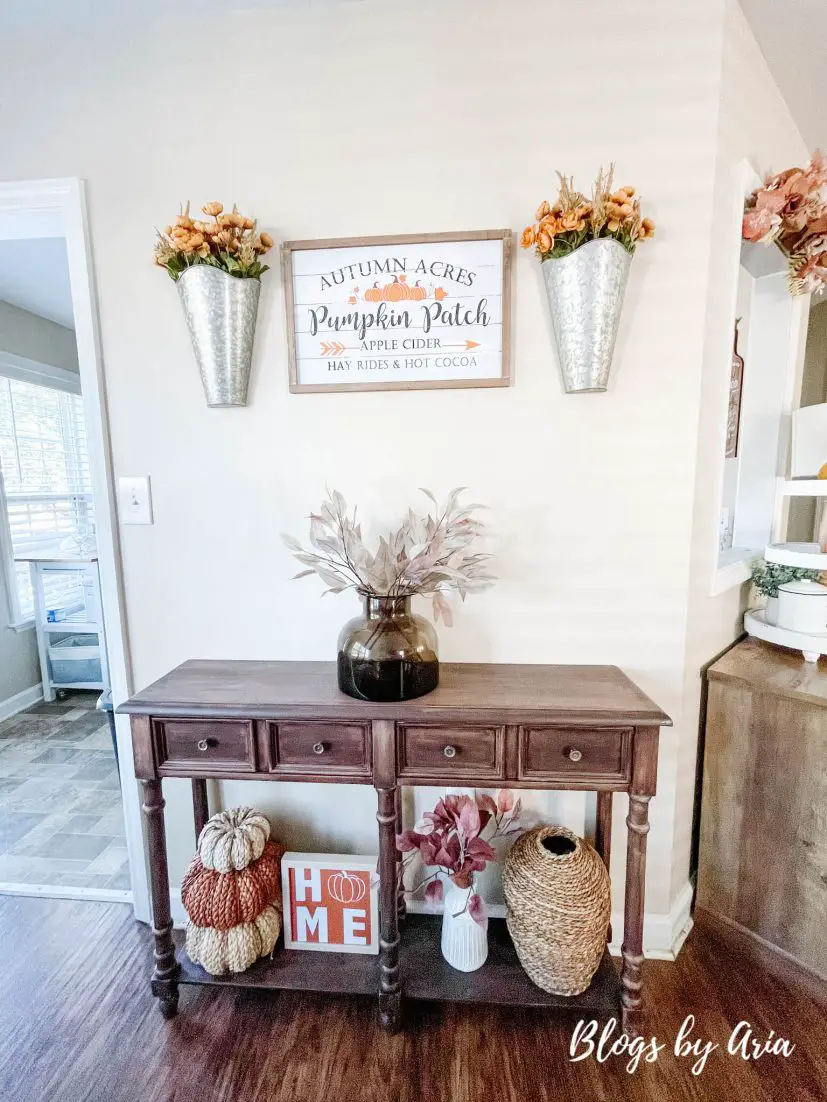 I just moved my console table from behind my love seat to this wall.  This space will be undergoing a little makeover soon, and I wanted to get a few pictures of how it looks now.  The picture is a little distorted because I did the zoom out on my phone to try to get as much of the space in one shot.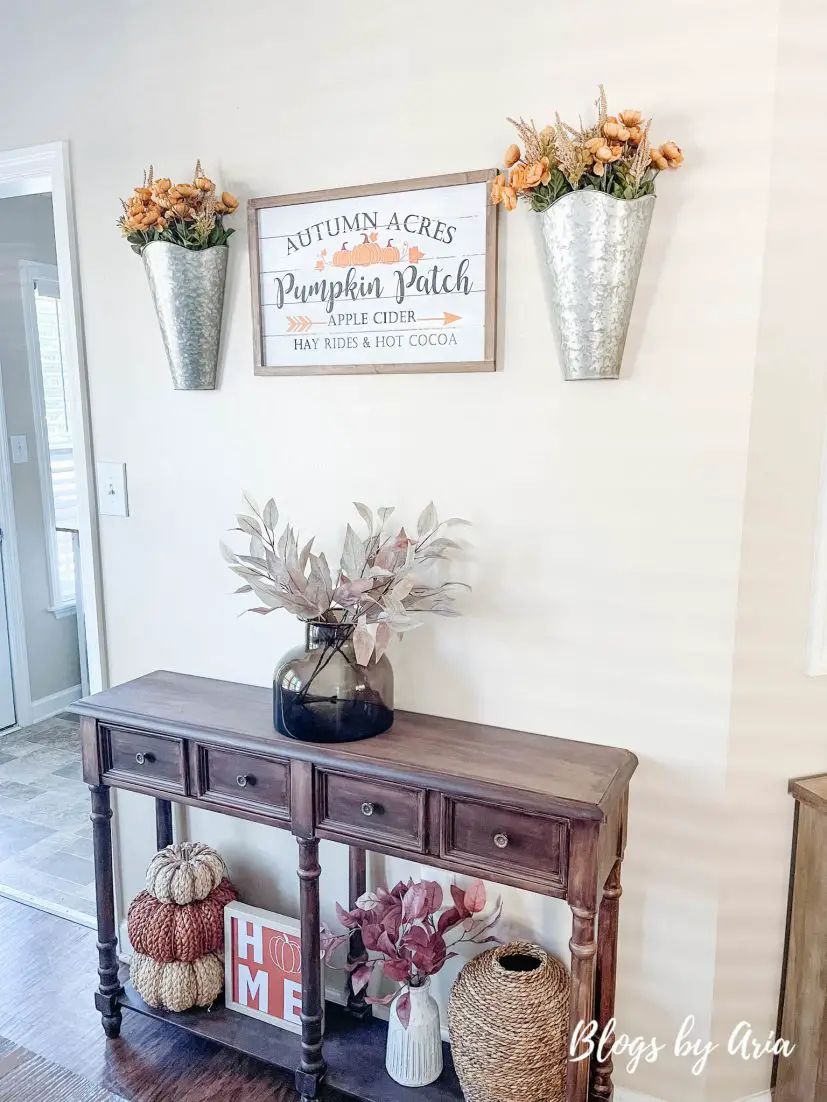 Moving the table over here freed up a little space in this walkway.  After the holidays last year, or beginning of this year, I tried this console table on this wall and I didn't love it.  Now I think that if I have a table over here at all it will be this one.  The fact that it's so narrow really makes it work.
When I first got this console table I didn't love the finish of it and did a little DIY to change the stain.  I'm not very crafty but I like how it turned out.
SIMILAR NARROW CONSOLE TABLES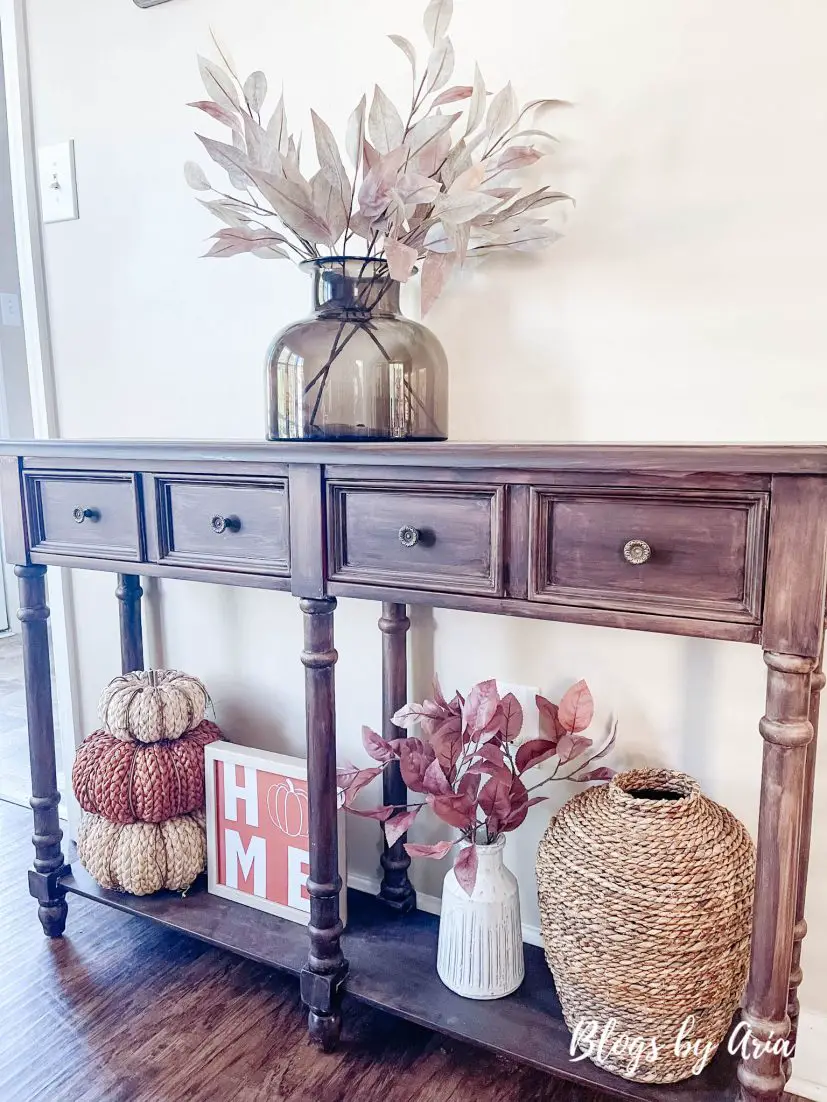 I ended up keeping the top of the table pretty bare…mostly because I had very little creativity.  I put my vase from the coffee table over here and switched out the stems to give it different look.  Finding Fall stems has been rather difficult in my local Target stores, so when I saw these faux rusted eucalyptus stems I really liked them and picked them up.
The real stunner of this space is my beautiful woven vase.  It's the larger size of the vase on my entryway table.  Everything else on the bottom shelf is from last year.
medium woven harvest vase · large woven harvest vase ·  harvest braided banana basket
This picture I shared on my LTK shows them side by side to get an idea of the size.  I've seen woven vases like this on different sites and in different stores and they can be so pricey.  These options from Target are not only beautiful but way less expensive than I've ever seen.
Everything on the wall is from last year.  You may recognize the pumpkin patch sign from my pumpkin powder room.  Yet another space I have yet to complete this year.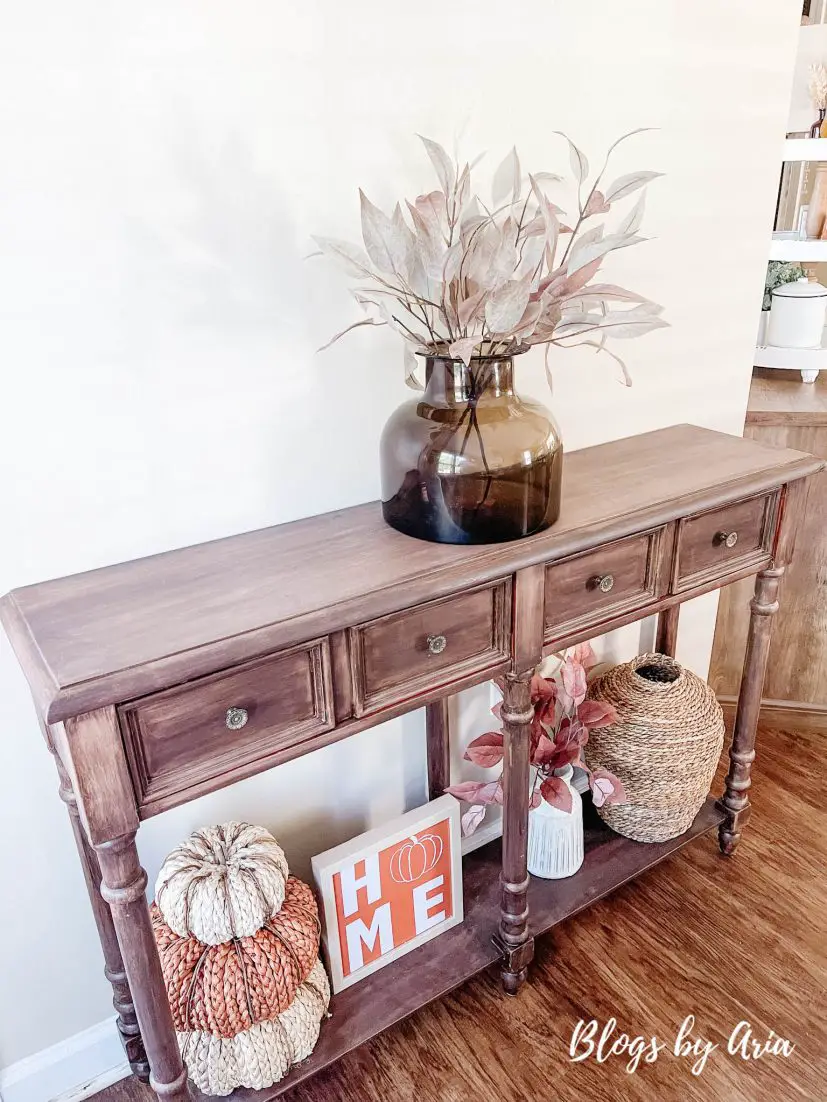 And that my friend concludes this round of Fall decorating.  I have a few more spaces to go and I hope to finish them this week.  It's practically October after all.
Thank you for taking some time to spend with me today.  It means so much.  Do you decorate for Halloween?  Last year was my first time and this year I'll add on to that just a bit.  Nothing too overboard.  I don't like to be scared!  But that will be coming soon and then ready or not, the holidays are coming!  I'm not ready but I will be…hopefully 🙂