Now that the holidays are behind us, it's time to jump into a new Parade of Homes tour!  Ya'll know I love to share these home tours with you and I have so many that I have in store for you.  If you love them too be sure to come back and check out all of the beautiful homes on the blog!
Welcome to the Blue Ridge Modern Farmhouse!  Let's take a tour of this completely custom home from the 2021 Triangle Parade of Homes.  Prepare to get inspired!
*this post includes affiliate links for your shopping convenience, you can read more about affiliate links by reading my Disclosure*
Blue Ridge Modern Farmhouse is located in Raleigh, North Carolina.  It has four bedrooms and six bathrooms and comes in at 4,664 square feet of living space.  At the time of viewing, this home was listed at $1,524,900.
This home was already sold at the time of viewing.  And from what I've seen the builders state, the homeowners made many of the design choices throughout the home.
This home was built by Raleigh Custom Homes.  I've come to really love their design and craftsmanship.  It was designed by Frazier Home Designs.  As I continue to share more homes designed by them you'll come to be able to spot their signature style.
I follow both the builder and designer on Instagram so it was fun to watch this home come together throughout the building process.  I was able to get a few extra details like paint colors that I don't normally have.
It's all about the details!  From the double door to the double crown molding and baseboards.  You enter this home knowing that you're in for a treat.
The front door is painted in Sherwin Williams Naval.
FORMAL DINING ROOM
To the left of the entryway is the formal dining room.  I love the trim detail.  It's a large space so it can accomodate a large dining room table and a sideboard with room to spare.
This lighting fixture is handmade out of leather from South Africa.  It's certainly unique.  Not quite my style but I'm sure once it's styled with a dining table it would look quite spectacular.
HOME OFFICE
Off of the foyer the wall angles a bit and leads into the home office.  I love how they used this wall to feature art with the picture light.
With so many people transitioning to working from home permanently, this is a great way to use this office for two people.  I hope you can get the feel of the height of these ceilings from the picture.  They're so tall!  16 feet tall to be exact!
You can't tell from my pictures but the ceiling is vaulted.  If you look at the front of the house, this is the window/space on the right.
similar woven chairs · similar animal print rug · similar vases
The unique wall shelving unit comes with lights to showcase artwork and home decor finds.
GREAT ROOM
similar sofa · similar coffee table
Coming into the main living space you can see how open this area is.  I'd say it's pretty standard to have an open living room, kitchen and eating area in new construction these days.  Here in Raleigh it's also common to have this space open up to the outdoor living area too.  I'm here for it!
Let's start with what I like about this space…again the molding is beautiful.  I love the floating shelves and the fireplace tile surround.  As well as the herringbone brick insert.
What I don't love is the blue wallpaper.  It's a bold choice that I would get tired of quickly.  In my opinion it would be hard to decorate around the color and pattern.  And if/when you no longer want the wallpaper it would be a real job to remove.
I also don't care for the mantel on the fireplace.  It's almost non-existent which makes it pretty unusable.
BLUE AND WHITE KITCHEN
Imagine my surprise when I turned my attention from the living room to the kitchen and saw more blue tile.  Did they get a discount on blue tile or was this really their design choice?  Again I feel like it's a bold move.  I'm no plain Jane, (well, yeah I am) but this is a bit much for my taste.  And I love the color blue.
Am I being too hard?  Let me know what you think of the blue tile in both the family room and the kitchen.
Aside from what I don't like, what I do love is the cabinetry.  Of course I do.  Can't go wrong with a classic Shaker style cabinet and I love the crown molding on the tops of the cabinets to take them to the ceiling.
BREAKFAST NOOK
The breakfast nook is sized perfectly to accommodate a larger table for a larger family if needed.
KITCHEN PANTRY
POP canisters · black wire baskets · glass jars
The walk in pantry is a great size with lots of storage.  The shelves on the left are shallow compared to the rest of the shelves.
MUDROOM AND LAUNDRY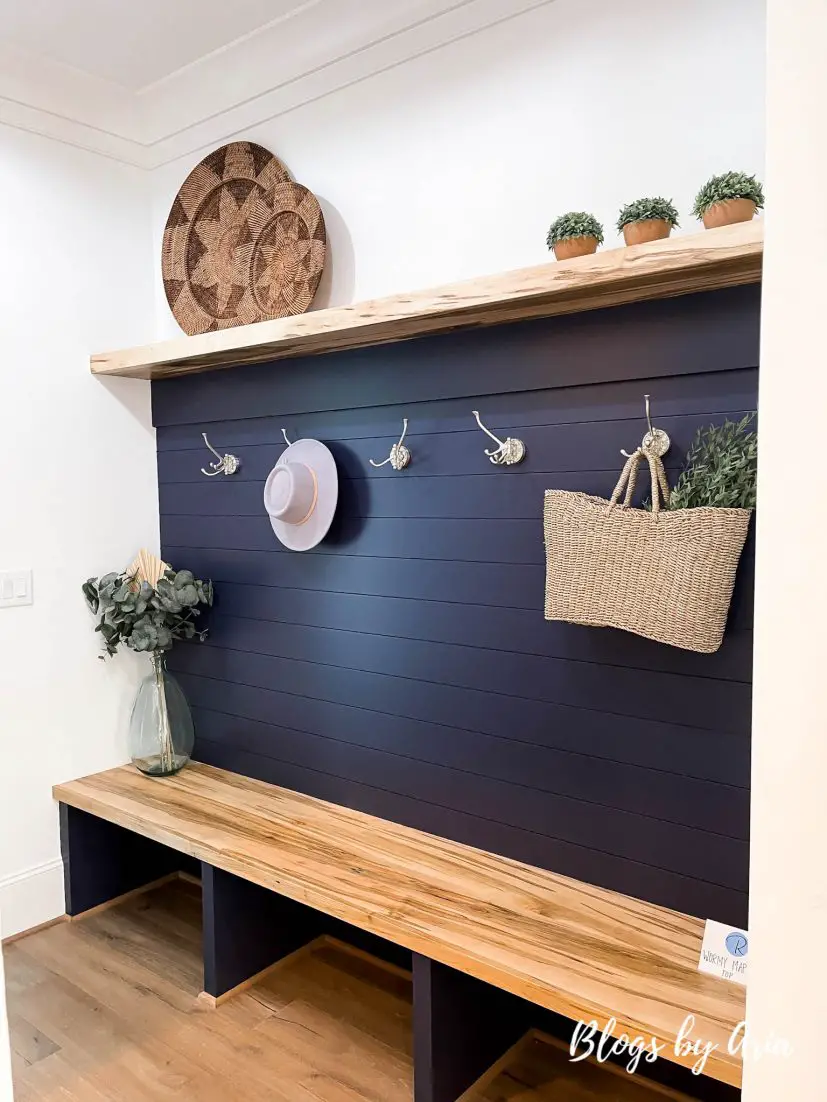 The mudroom features navy blue painted shiplap, also Sherwin Williams Naval, with a wormy maple bench and top.  Some people have strong opinions about shiplap.  Honestly, I like shiplap in small spaces, like a mudroom.
The laundry room offers great storage and functionality.  I love the open shelf to add a little laundry room decor.
BUTLER'S PANTRY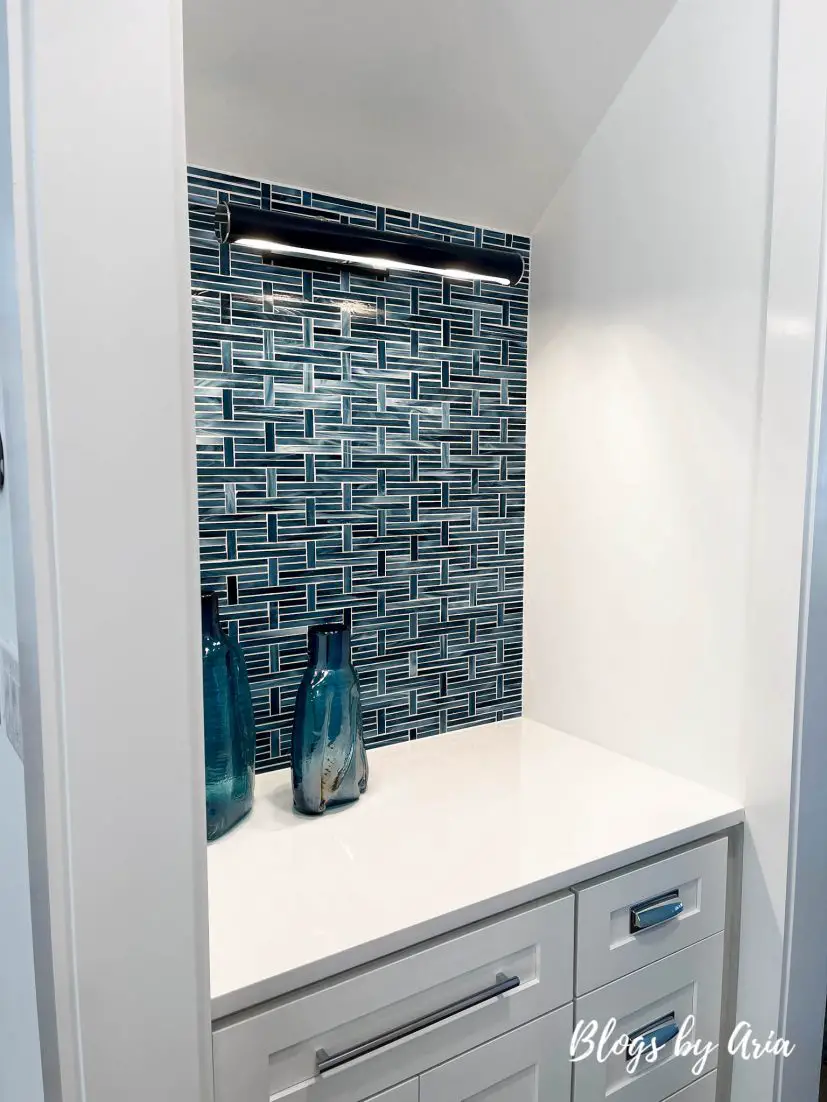 Want to know where I think the blue tile works?  In the butler's pantry.  Because this is a smaller space and this tile works here.  The tile pattern I do love, I just would prefer it in a softer color palette.
POWDER ROOM
At this point I have to believe there was a discount involved!  I'm only halfway kidding.  But I will say, this is a unique idea and I think it works to have the wallpaper on the ceiling of the powder room.
I just think it limits you in how you can decorate over the years with such strong choices.  That's my opinion!!
Do you remember the show Trading Spaces?  And how there were a couple of designers you would never want to come in and change a room in your house?  That's what this makes me think of.  Mind you, I'm aware I'm no interior designer.
OWNER'S SUITE
Walking into the Owner's Suite I was captivated by the accent wall painted in Serious Grey by Sherwin Williams.  The mix of vertical and chevron planks add a lot of personality.
I also wanted to take this rug home with me!  I'm so neutral in my rug choices but this one just speaks to me and it pairs perfectly with the paint color.
The Carrara marble wall tile accents the shower and bath areas while a hexagon black tile and square black tile accent the floors of the bathroom and shower.  It's a nice contrast.
A quick shot of the walk in closet off of the bathroom.  The black hexagon tile continues into here as well.
Before we leave the Blue Ridge farmhouse we must take a closer look at the outdoor living space.  With the functionality of the retractable screen and retractable door, it truly makes the space feel like an oasis.  The design details make it beautiful.  Like the slate fireplace surround and planked wood ceiling.
BONUS SPACES
Off of the hallway upstairs is walk in storage (I can't wait to have that by the way) that they finished out and can be used as a playroom.  Although it's an upfront cost, I tend to think it's worth it to take spaces like this and finish them out versus leaving them unfinished.
There is also a standard bonus room with built in wet bar in the Blue Ridge modern farmhouse.
I wanted to include this shot because off of the bonus room they finished out this extra storage space to create a home gym with custom flooring and surround sound.  It's not an overly huge space but it can definitely accommodate a spin bike, elliptical and a treadmill.  Yes I said "and" not "or".  That's truly an added bonus.
All in all, I really enjoyed the opportunity to tour the Blue Ridge modern farmhouse.  There are so many unique qualities that I love, and a few I didn't.  😉  I'd love to know what you thought of this house!  Let me know in the comments.