It's safe to admit that I'm starting to get excited about holiday decorating.  Today I'm sharing my favorites from the Studio McGee X Target Christmas Collection.  Some of the new pieces are available now while others will be available in the coming weeks.
I don't know if you've noticed, but supply chain issues are really putting a damper on getting things readily.  So I'm sharing finds as soon as I can in hopes that if you want something you can get it.
After sharing the Studio McGee Fall collection, and falling in love with so many pieces, I knew I wanted to share the holiday collection with you too.  So many pieces from my Fall decor came from the Studio McGee line…it's safe to say I'm a convert!
*this post includes affiliate links for your shopping convenience, you can read more about affiliate links by reading my Disclosure*
STUDIO MCGEE CHRISTMAS 2021
gold star tree topper · velvet stocking · windowpane stocking · pine branch arrangement · knit tree throw pillow · chunky knit stocking · woven tree lumbar pillow · woven tree skirt · spruce wreath with bell · large pine tree · medium pine tree · pine and eucalyptus garland · knitted tree throw · woven tree collar
If you've been around for a while you know that I'm traditional red and green when it comes to my Christmas decor.  This collection is more neutral for sure.  But if you're like me, that doesn't mean you can't find some pieces to accent your existing decor.
I'm particularly drawn to the knit tree pillow and knit tree throw blanket.  They come in more colors but I'm naturally drawn to the deep green because I want to add more green into my Christmas decor.
I am obsessed with this woven tree collar!  It's so unique and I think would look great with any holiday decorating style.  I'm not quite ready to give up my tree skirt for my primary tree yet, but this has me doubting that!  If you prefer a tree skirt but like the woven look, you may like the woven tree skirt instead.  They're both so beautiful especially if you prefer to keep your decor more neutral.
The Studio McGee holiday collection is much smaller in comparison to the Fall collection.  This is just a small selection of items that caught my eye.  If you want to see the full collection you can check that out here.
McGEE & CO HOLIDAY DECOR
Since I was looking at the Studio McGee Christmas decor, I decided to check out the McGee & CO holiday decor too.  We know that the Studio McGee line is the more affordable and more accessible line but that doesn't mean the McGee & CO is the opposite.
I was just planning on sharing the McGee & CO holiday decor on my LTK but I'm going to share a few finds here too.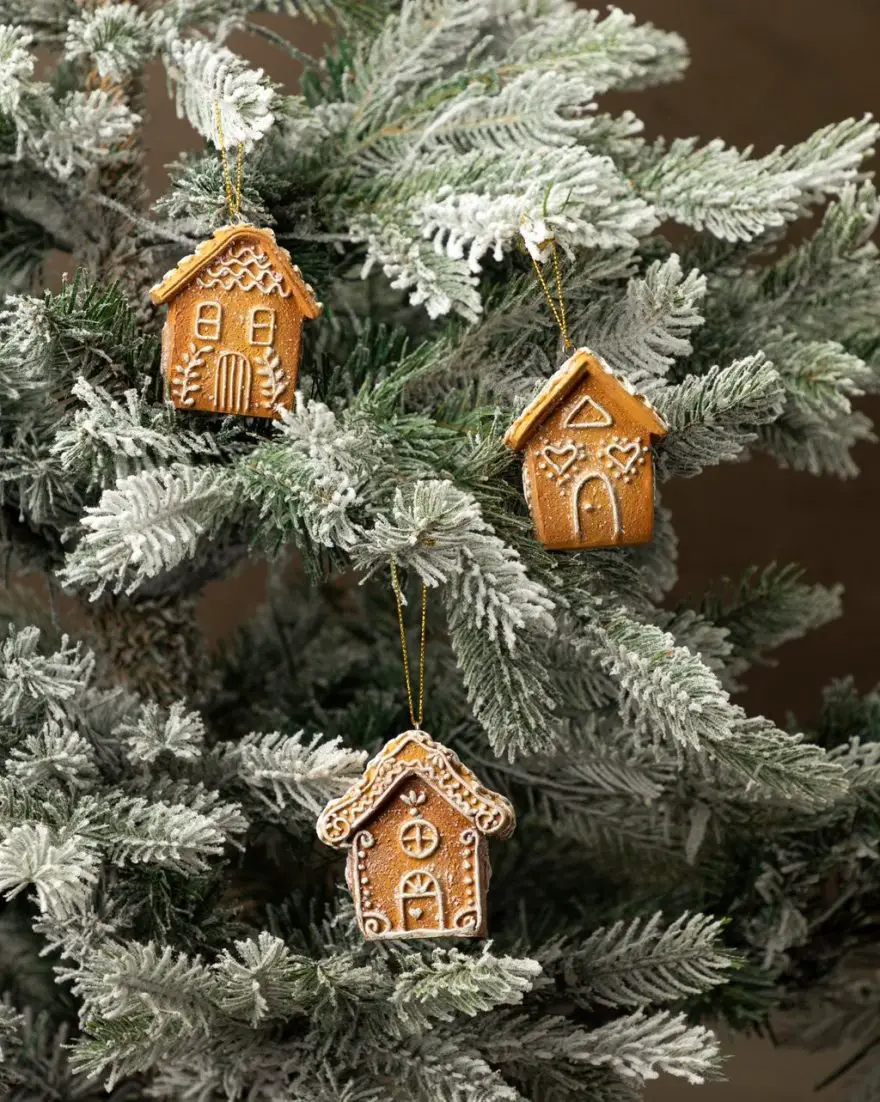 Can I just say that I am loving these gingerbread house ornaments?!  They are the absolute cutest and may or may not have been added to my cart!  They come in a set of three are pretty affordable.
rustic wooden bead garland · wooden nutcrackers · rattan bells · deep wood bead garland · crochet mantel trees
Norway 7 ft faux Spruce tree · 7 ft faux Nobilis Fir · 9 ft  faux Nobilis Fir · Snowy 7 ft faux pine tree · Norway 9 ft Spruce tree · Snowy 9ft faux pine tree
We're not in the market for a new Christmas tree this year but I really do love these styles of trees.  They look so realistic and the more wispy style really became popular last holiday season.  I'm here for it!  Maybe next year I'll upgrade to a sparse Christmas tree.  I love a full tree but I like these styles too.  They remind me of being a child in Germany.
I've rounded up some more finds from both the Studio McGee and the McGee & CO holiday collections below.

Is there anything that catches your eye from the Studio McGee 2021 Christmas line?  Let me know in the comments below!
MORE CHRISTMAS DECOR INSPIRATION
Looking for even more Christmas decor inspiration?  Check out these posts: