It's always a happy day when I get to share a beautiful Parade of Homes tour with you!  The inner realtor in me is so excited to share a home with you and give you lots of inspiration for your current home, your dream home, your remodel…whatever it is.  Or if you're like me and can never get enough interior design, you're in the right place!
Today I'm sharing the Discovery Falls house.  I don't have a ton of pictures (or memories) from this home but still wanted to share it.
If you're reading this post in real time, it's been a year since I've toured this house, so my memory is a little fuzzy and I don't have any standout details about it.  However, the 2022 Parade of Homes tour is just a couple of weeks away and I really want to share as many of the homes from last year now before I forget to.
And every time I say that I'm reminded that I still have houses that I never shared from each year since I began touring homes here in the Triangle in 2018.  One day I'll get it together but until then…bare with me.
Tucked behind mature trees is the Discovery Falls house.  Located in Wake Forest, North Carolina this home features four bedrooms, four and half bathrooms and has 4,050 square feet of living space.
At the time of touring this home it was listed at $1,075,000.
The exterior of this beautiful home is dark and moody.  It features dark board and batten paired with light stone, white trim and dark wood accents.
As you step into the foyer you're greeted with the dining room.
The moody colors from the exterior are carried throughout the home starting with the dining room.
Opposite the dining room is the home office with beautiful vaulted ceilings.
The butler's pantry features horizontal wood planks otherwise known as shiplap.  Many people like to hate on shiplap these days but I still like it.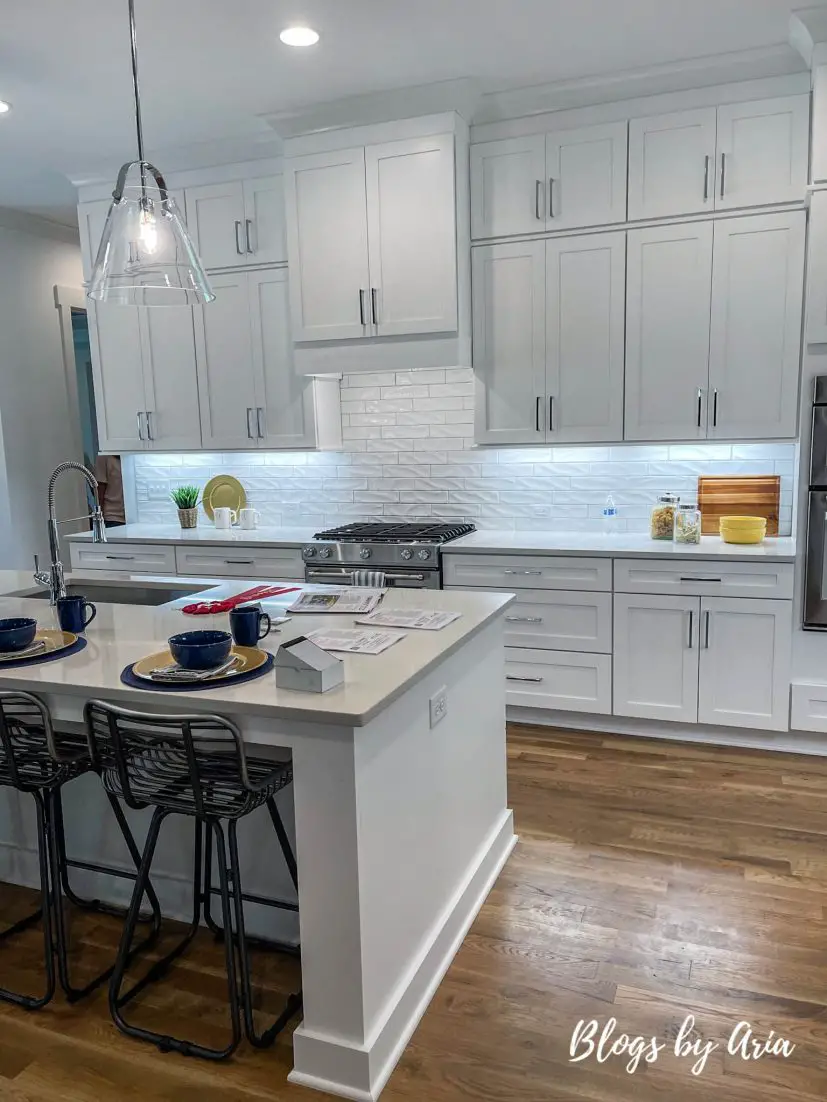 The kitchen in the Discovery Falls house is pretty standard for what you'd expect in new construction.  Nothing really exciting about it, but how exciting is a kitchen supposed to be?  I'll happily have this kitchen.
More and more I'm seeing this style of subway tile.  I like how it adds texture and dimension while remaining clean and classic.
The breakfast nook looks out onto the backyard.  Discovery Falls is located on a corner lot which is great for outdoor space and entertaining.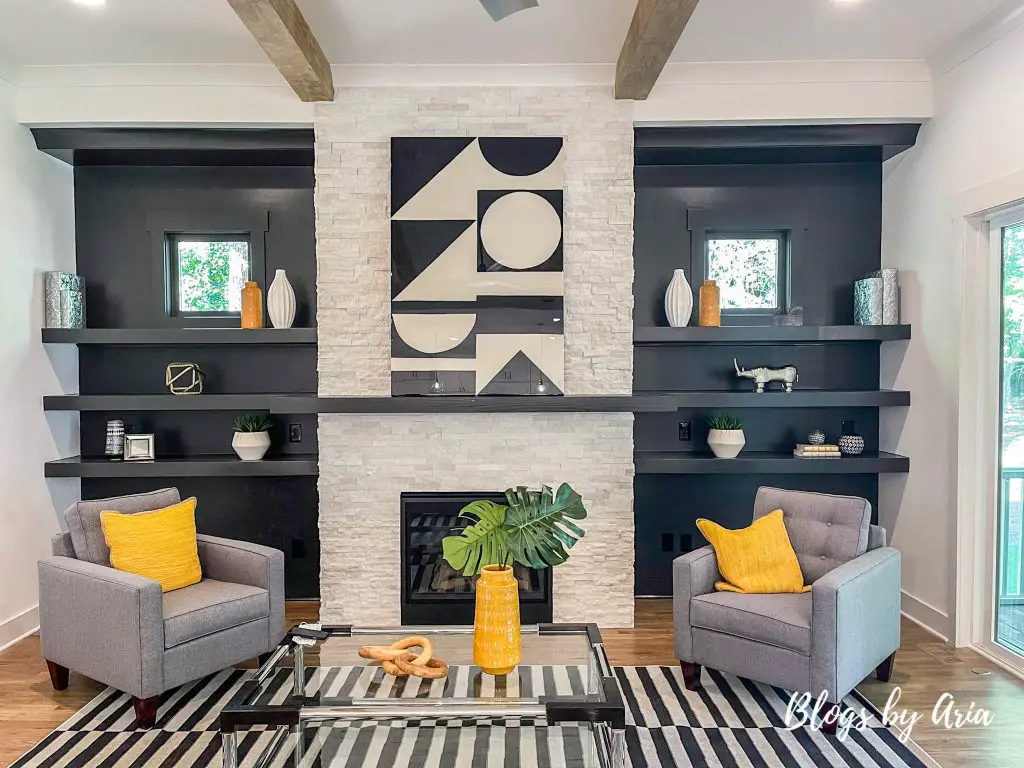 What the kitchen lacks in personality the living room is here to supply.  I'm okay with no personality by the way, I just expect a little more at this price point.
I don't love the design of the built in shelves.  Perhaps a bit too modern for my taste.  But I do like the fireplace and custom ceiling detail.
I do quite like this screened in porch space.  It has a cozy, woodsy, almost out in the country feel to it.  Something to note about me, I hate living in the country.  But that doesn't mean I don't want to feel like I'm out in the country.  Does that make sense?
Heading back towards the kitchen, the walk in pantry is a good size.
Coming through the kitchen there's a mud room, guest bedroom and bathroom.
The laundry room is actually off of the master closet which is becoming more common.
The master bedroom isn't supremely large but it's a good size and I love the planked ceiling.
For me I really like (honestly can you say this and not hear the corn kid now? I can't!) when the vanities are separated in a bathroom.  Just having two sinks isn't cutting it anymore lol.  Give me my own space!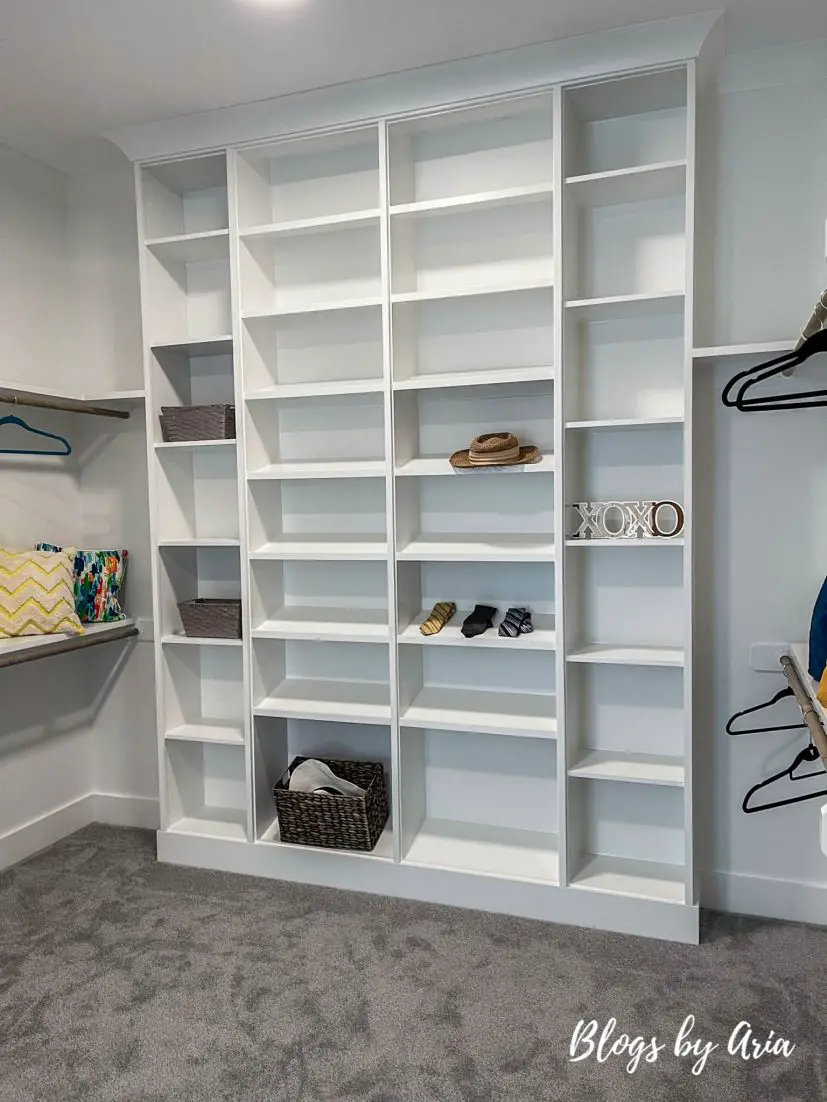 Love the built in shoe and handbag storage!
One detail I love about the Discovery Falls house is this accent wall in the stairway.  But I had to laugh at the seating.  It's almost as if it's there in case you get too tired on your way up the stairs and need to take a break.  Which I guess, is a thing, so I shouldn't laugh.
The last space I took a picture of is the game room upstairs.  I love the built in shelves and how the moody aesthetic has carried its way throughout the home.  I love continuity.
Also on the second floor there's two very large bedrooms, 14 x 14, that each have walk in closets and their own en suites.  One of the bathrooms is accessible to the game room, kind of in a Jack and Jill style to provide privacy.
There's also a very large exercise/bonus room, a loft, more closet space and unfinished storage space that is over the master bathroom and closet so it equates to that size.
Overall I like the Discovery Falls house.  There's nothing spectacular about it and I'd change the living room built ins.  Then it would work for me because I don't want anything that's too over the top, but that's just me.  What did you think of the house?
If you'd like to get even more home decor inspiration as well as see more home tours, be sure to follow me here: