It's a new week and I have a newly decorated space to share.  If you're looking for Fall bathroom decor ideas then you're in luck because I'm sharing how I decorated my powder room for Fall.
My powder room is a space I like to decorate each season.  Without my shelves it would be a big box.  I love how my shelves add dimension to the small space and allow more ways for me to decorate.  My hope is that you gain some inspiration if you're decorating your bathroom for Fall too.
*this post includes affiliate links for your shopping convenience, you can read more about affiliate links by reading my Disclosure*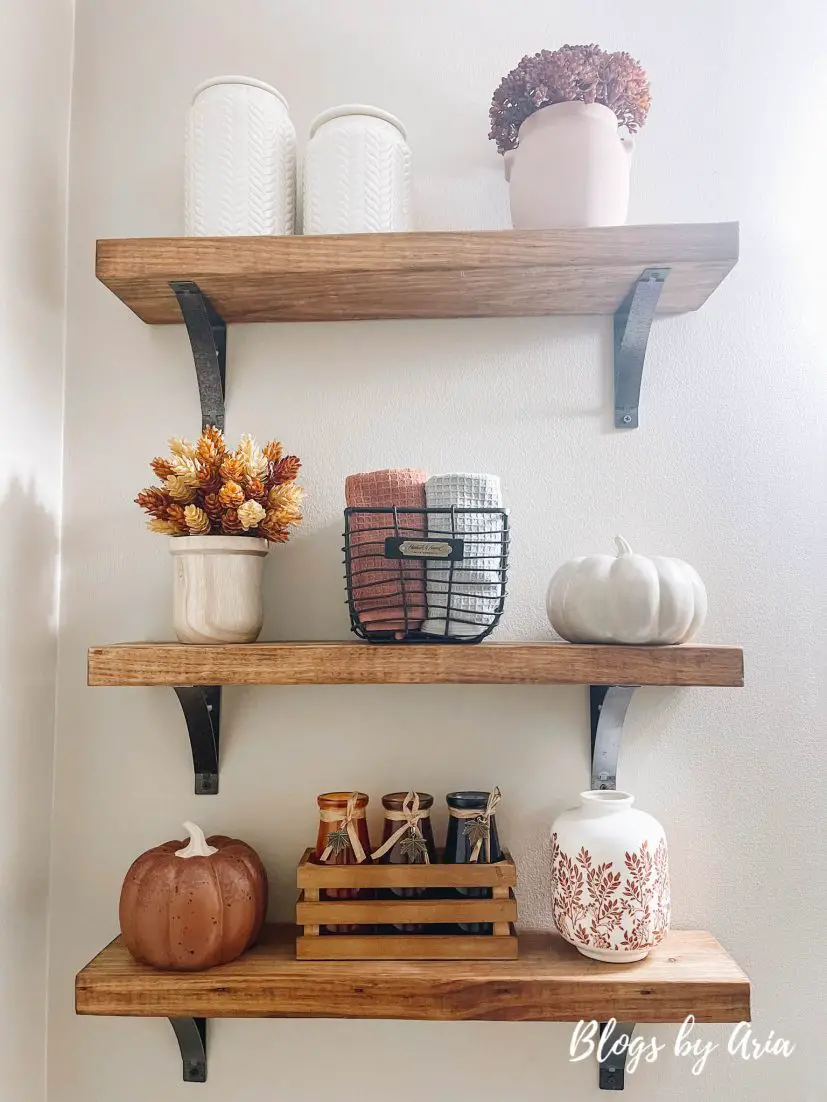 wall shelves • brown pumpkin • glass bottle container set • floral vase • hops arrangement • wired basket • fall colored washcloths • ceramic cream pumpkin • large ceramic canister • small ceramic canister • sedum arrangement
The lighting in this space isn't the best so I'm sorry for the lighting but I still wanted to share my powder room styled for Fall this year.
I shared my decorate with me on my YouTube, I'll share the video below.  Sometimes the smaller a space is the more difficult it can be to decorate.
Decorating these shelves really gave me a run for my money this year.  What I realized is that what I like for Fall decor has evolved over the past couple of years.  Take a look at my first Fall decorating this bathroom.
A few things I noticed:
I don't love Fall signs as much.  I'm drawn to them but don't want to use them.
Dare I say it…as a lover of pumpkins, I'm not using them as much.
I must have purged a lot more of my Fall decor than I thought because nothing I had was working.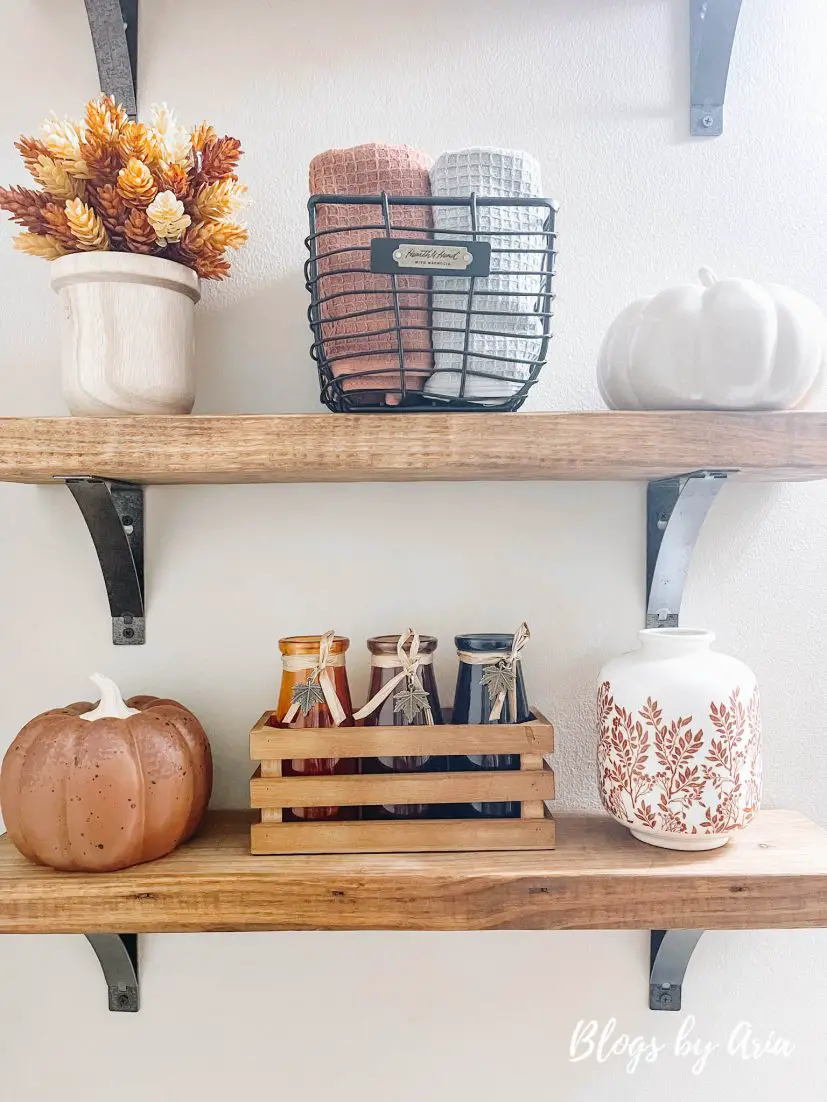 The good news is that everything on my shelves, including the shelves, is available now.  That's because most of what you see was purchased recently.
As I was decorating with my existing pieces, nothing was really coming together as I wanted.  I really wanted to use what I already had.  Turns out there's not much that I have that I really like.
On a recent Michael's store run a couple of gray canisters with wood lids caught my eye.  So I decided to pop in to the store and grab them for my shelves.
While I was in there with them in hand (didn't grab a cart of course) I saw the canisters on the top of my shelves.  When you're looking for decor for a specific space, try to think of other ways that decor can be used.
I knew that if I got those gray canisters they'd be perfect in this space but where else would I use them?  So I grabbed the cream canisters because I can also use them in the kitchen or on my dining room shelves.
The sedum arrangement is the smaller of the two sizes it comes in.  I have hemmed and hawed over this for weeks now and decided to go ahead and get it.  It works here don't you think?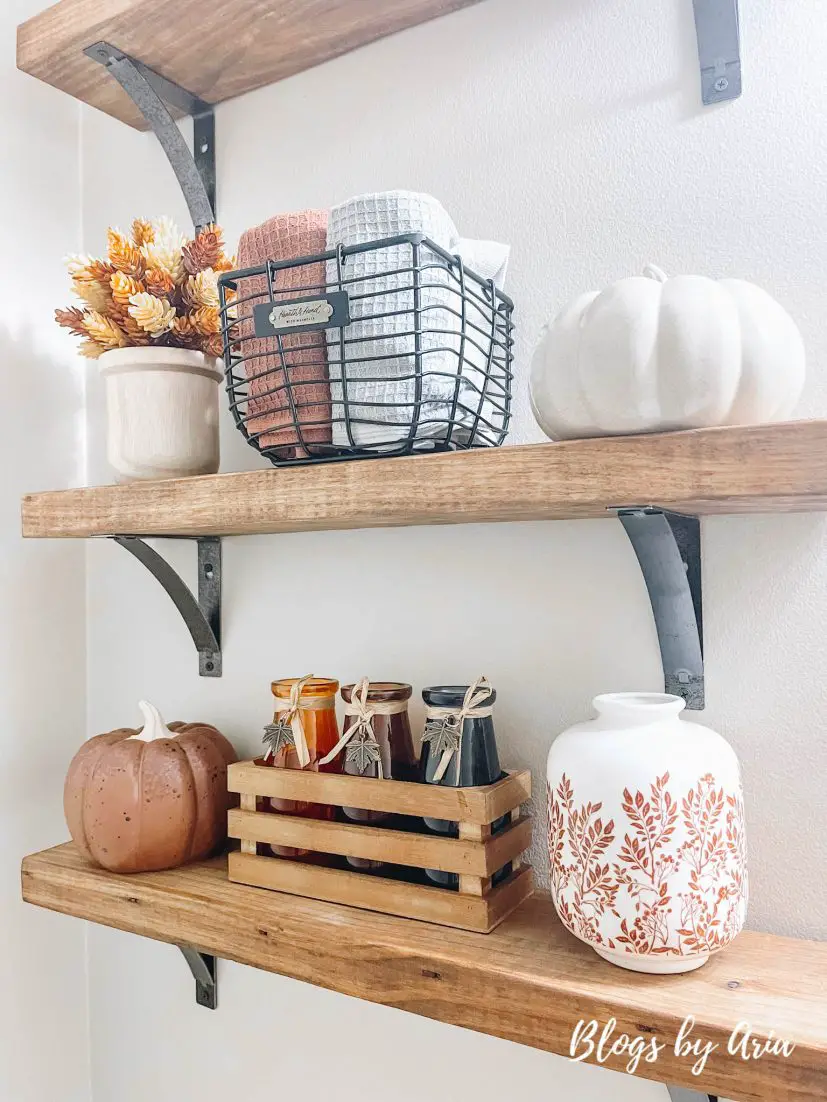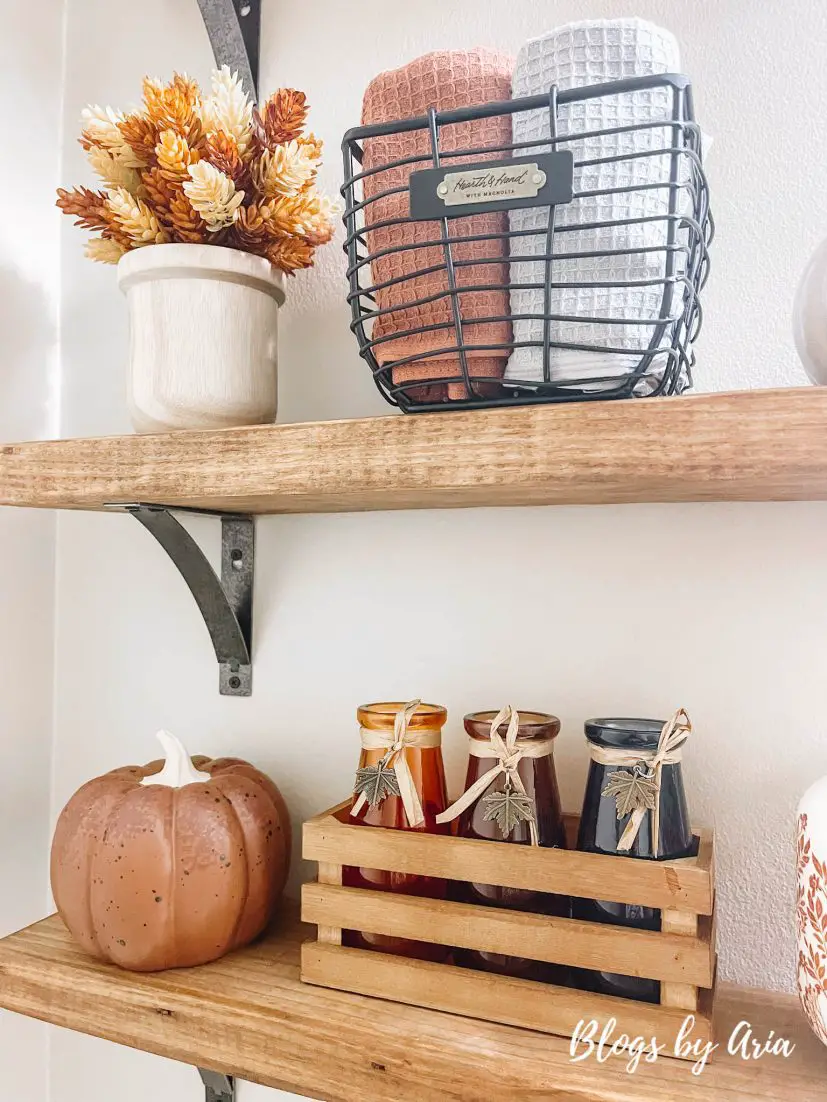 Every year I'm always drawn to hops stems.  You'll see in an upcoming post that I also have a larger arrangement too.  They were both available last year from Target and I didn't get them.  When I saw they came back this year I knew I wanted both.  I knew this smaller hops arrangement would work in my Fall bathroom.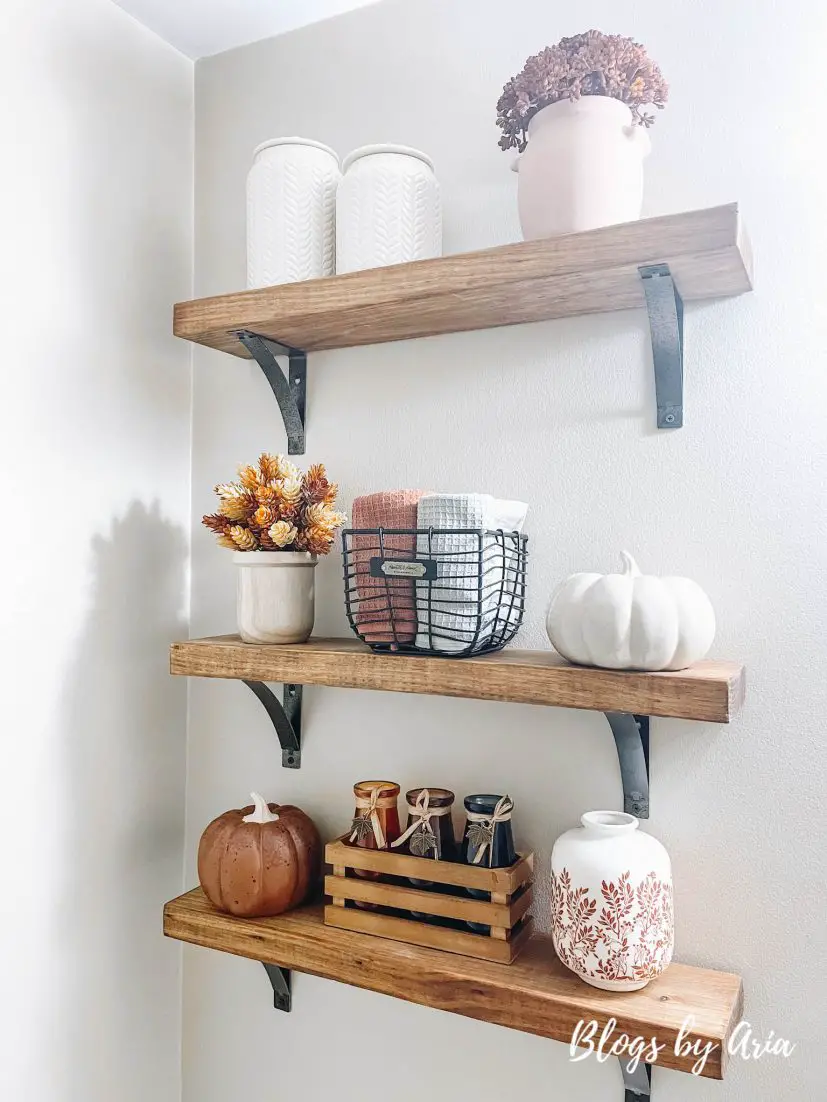 Overall I'm really pleased with how the bathroom shelves turned out.  Not too cluttered, and all of the colors work well together.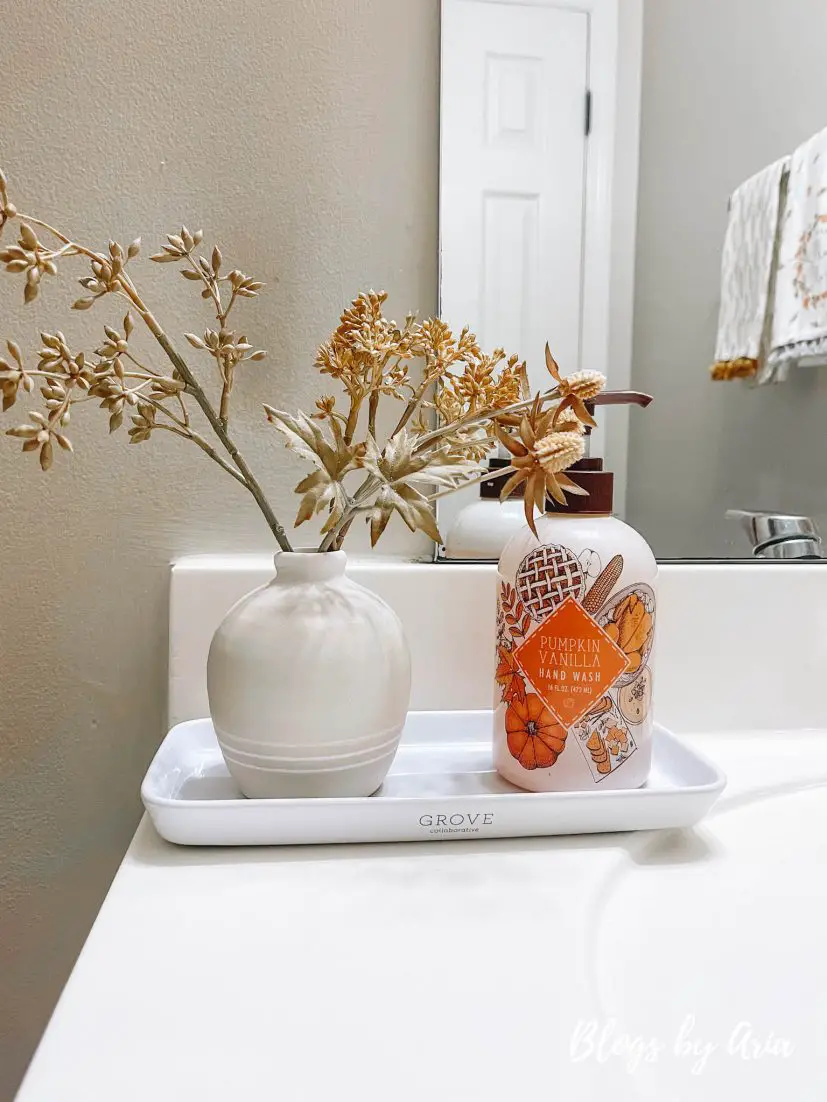 The rest of the powder room was a breeze to decorate.  I got this pumpkin hand soap from Home Goods last Fall and just pulled it back out.  The floral arrangement is from Target.
I've had this white vase for almost a year now.  It comes in a small and large version, I have both.  This is the smaller option and I added a few stems to it.
My hello pumpkin hand towel I got from Kohl's a couple of years ago and have used it in this space each year.
My hand towels are from Joann Fabrics from a previous year, I don't recall when I got them.
Finally, the last item I added is this scatter rug from Hearth and Hand.  Originally I purchased it for my front door but didn't love it there.  It has a good amount of color and texture that works well in this space.
Although this is a bathroom, I don't need to have a "bathroom rug" here.  They get so dirty and I think this will be easy to keep clean.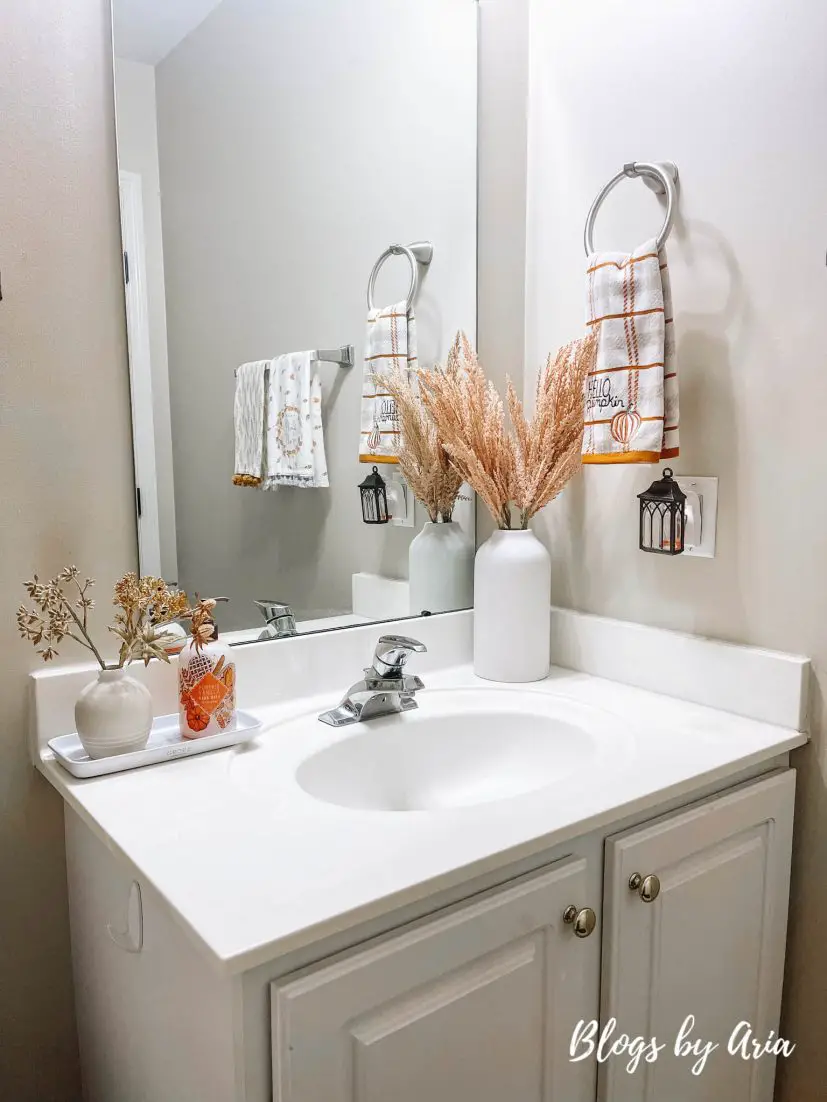 If you want to see how this space came together, you can watch my latest decorate with me video.  Please subscribe to my channel!
falldecor #decoratewithme #falldecoratingideas #bathroomdecor Hi friends! Today I'm sharing more Fall decorating ideas with decorating my powder room. I always like to decorate my bathroom shelves each season. I hope you get some fall decorating inspiration from this video and happy decorating!
If you'd like to get even more Fall home decor, Fall fashion inspiration and finds and all things random, be sure to follow me here:
All of my sources used in the video are linked below!  I have a couple more videos to film before I share my Fall home tour!  Can't wait to share it with you ♥
FALL BATHROOM DECOR SOURCES