I'm so excited to share the new Fall Hearth & Hand release with you!  When it comes to decorating for Fall I always have a few items from Hearth & Hand in my home.  In case you missed it, Studio McGee has already released their Fall collection.  And now the much-awaited Hearth & Hand Fall 2023 collection at Target is here! If you're a fan of Joanna Gaines and her impeccable design sensibilities, you're in for a treat. As always, she has worked her magic to create a collection that will leave you inspired and ready to infuse your home with seasonal charm.
As always, Joanna has poured her heart and soul into this line and the results are a win for me.  Make sure you're following me on the LTK app, save your favorites and set in stock alerts.  You'll also get notified when items go on sale.
The majority of the new Fall collection is available now (as of July 23rd) with the remainder of the collection releasing August 6th.
*this post includes affiliate links for your shopping convenience, you can read more about affiliate links by reading my Disclosure*
Let's Take a Peek at Some Fall Favorites

These pieces are perfect for adding warmth and comfort to your sofas and chairs. Just imagine curling up with a cup of hot cocoa under one of the inviting throws with one of the wonderful scented candles burning – pure bliss!
Pair these pieces with some handpicked pumpkins and dried floral arrangements for an extra touch of seasonal delight.

It's the little details that truly elevate your home decor, and the Hearth & Hand Fall collection understands this perfectly. Dark green vases, woodsy plaid throw blankets, and autumn faux foliage are just a few examples of the charming decorating accents that will add a touch of magic to any room.
Hearth & Hand New Kitchen Finds 

Lately some of what I've loved the most from the Hearth & Hand collections are the kitchen items.  Last Fall I added a few items and wish I could've added more!  A lot of my kitchen now is from Hearth & Hand and I truly love it all.
I love my coffee and sugar canisters too much to switch them out, but I do love the look of these.  So many canisters, bowls, mugs…they're all just soo good.

Fall Decorating Inspiration
Here's a look at a few ideas on how to style your home with some of the new pieces from this collection.  I have my eyes on so many pieces and it's always fun to see some of these styled pictures for decorating inspiration.


Pair these pieces with some handpicked pumpkins and dried floral arrangements for an extra touch of seasonal delight.

Recently I shared my new keenness for arched cabinets and it's nice to see another variation available from Hearth and Hand.  It's on the pricier side but compared to what I've seen – it's a steal.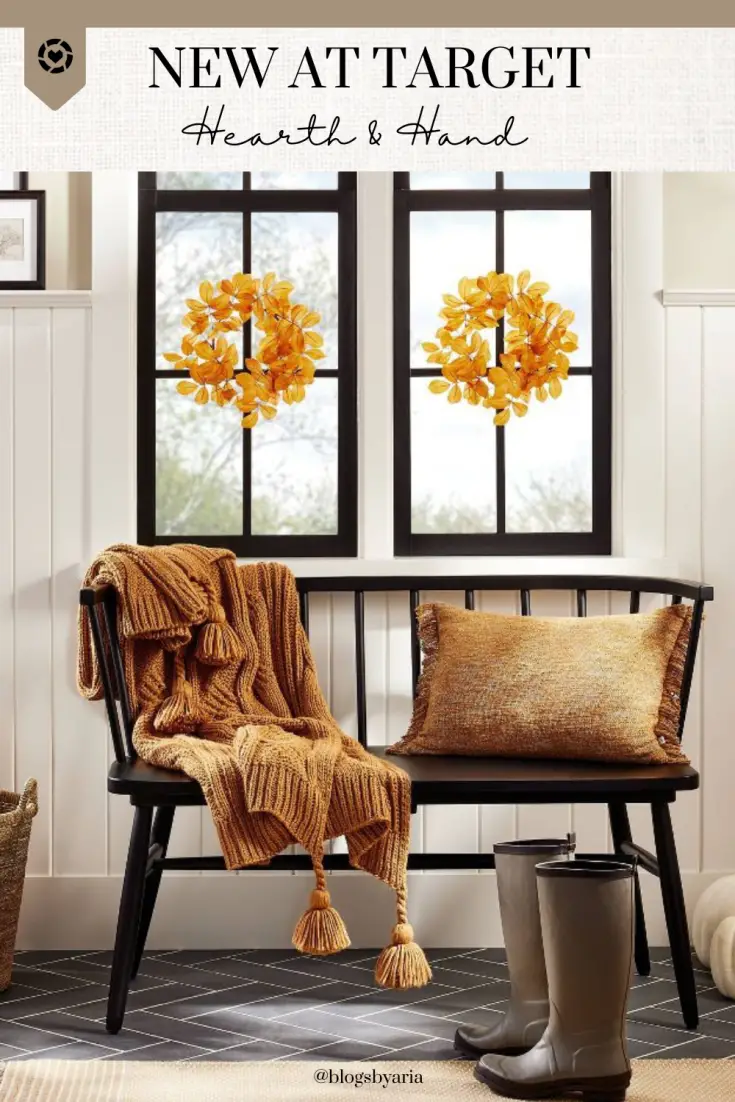 This chunky knit throw is on my radar!  Between it and the plaid wool throw it's going to be so hard for me to choose which one to get!
The Hearth & Hand Magnolia Fall 2023 collection is now available online and in Target stores waiting to be discovered.
Whether you're decorating your entire home or just adding a touch of seasonal charm, this collection is sure to spark joy and create cherished memories throughout the cozy months ahead.
Hurry and embrace the feeling of fall with the Hearth & Hand Fall 2023 decor collection. Your home and your heart will thank you for it! Happy fall decorating! 🍂🍁
If you'd like to get even more home decor, fashion finds, sales and all things random be sure to follow me here:
SHOP THE HEARTH & HAND FALL COLLECTION