As we bid farewell to the warmth of summer and welcome the cozy embrace of fall, it's the perfect time to give your entryway table a seasonal makeover that's as inviting as a pumpkin spice latte on a crisp morning. Whether you're a die-hard fan of autumn or just looking to add a touch of fall charm to your home, I've got you covered with a roundup of the most creative and stylish fall entryway table decor ideas.
From rustic farmhouse vibes to elegant harvest-themed arrangements, let's dive into the world of fall-inspired entryway table setups that are sure to make your guests feel right at home from the moment they step through the door! 🍁
*this post includes affiliate links for your shopping convenience, you can read more about affiliate links by reading my Disclosure*
I'd be remiss if I didn't start off by sharing my fall entryway table decor over the years.  Let's take a little trip down memory lane 🙂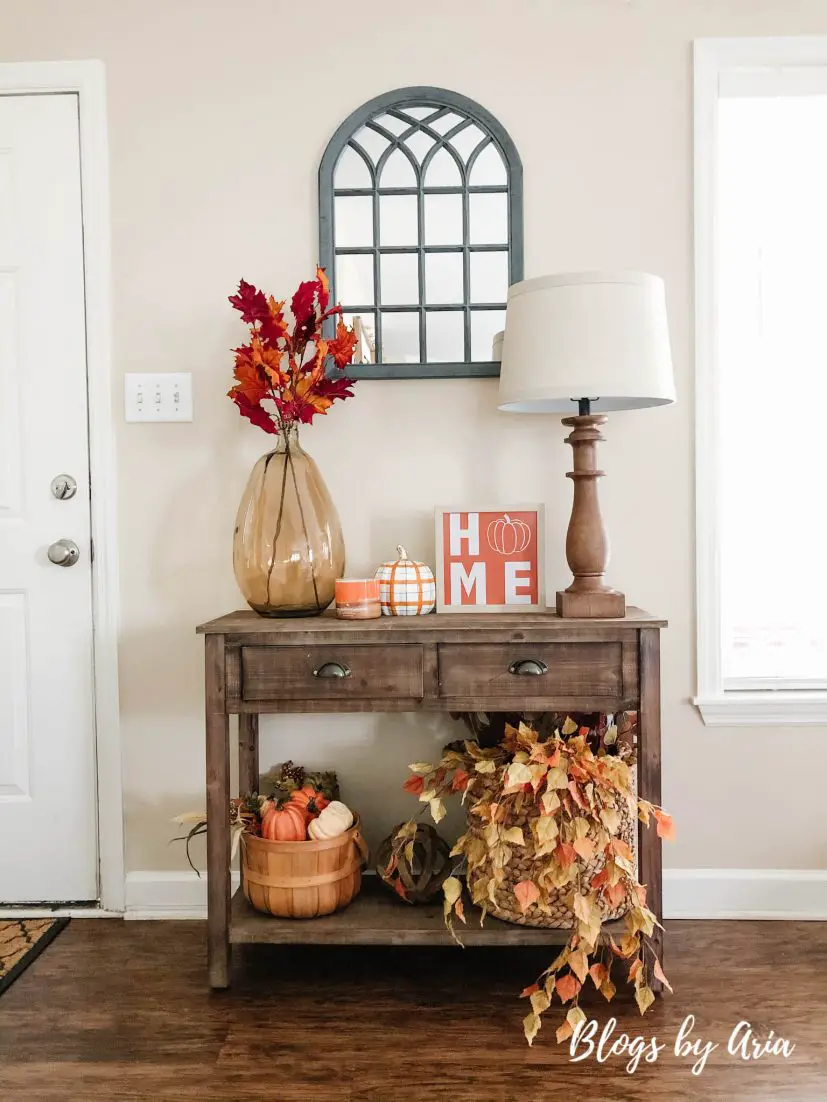 rustic console table • similar arched mirror • similar amber glass vase
This was my first go at styling my entryway table for fall.  It's very popular on Pinterest so you may have seen it before.  I saw those beautiful cascading stems from Hobby Lobby and knew they would be perfect hanging out of a basket.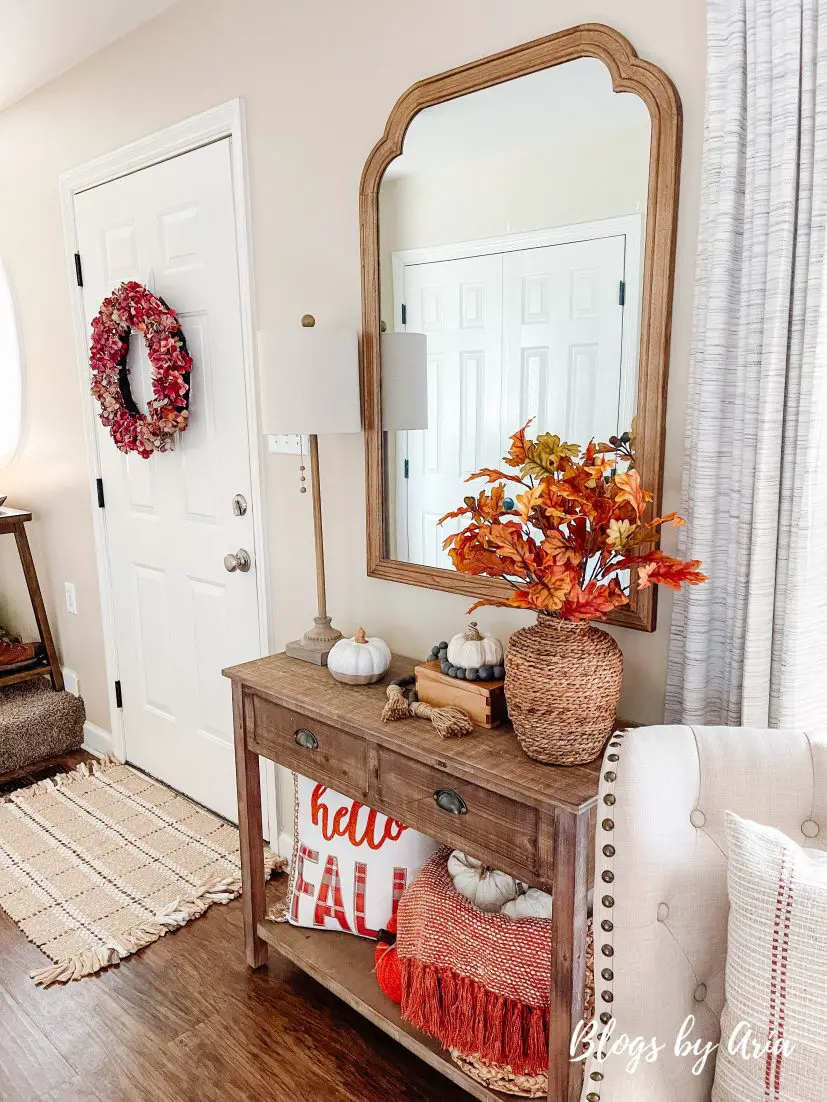 Here you can see the same console table but styled in a different way.  This year I added my favorite mirror from Target that is better suited for the size of the table.  Lots of beautiful autumn hues complete the look from the hello fall pillow and throw blanket to the fall stems.
ceramic vase • console table • cane and rattan boxes • lamp
Because this table is smaller I try not to overwhelm it with too much decor.  Look out if I ever get a larger one because I'm not naturally a minimalist!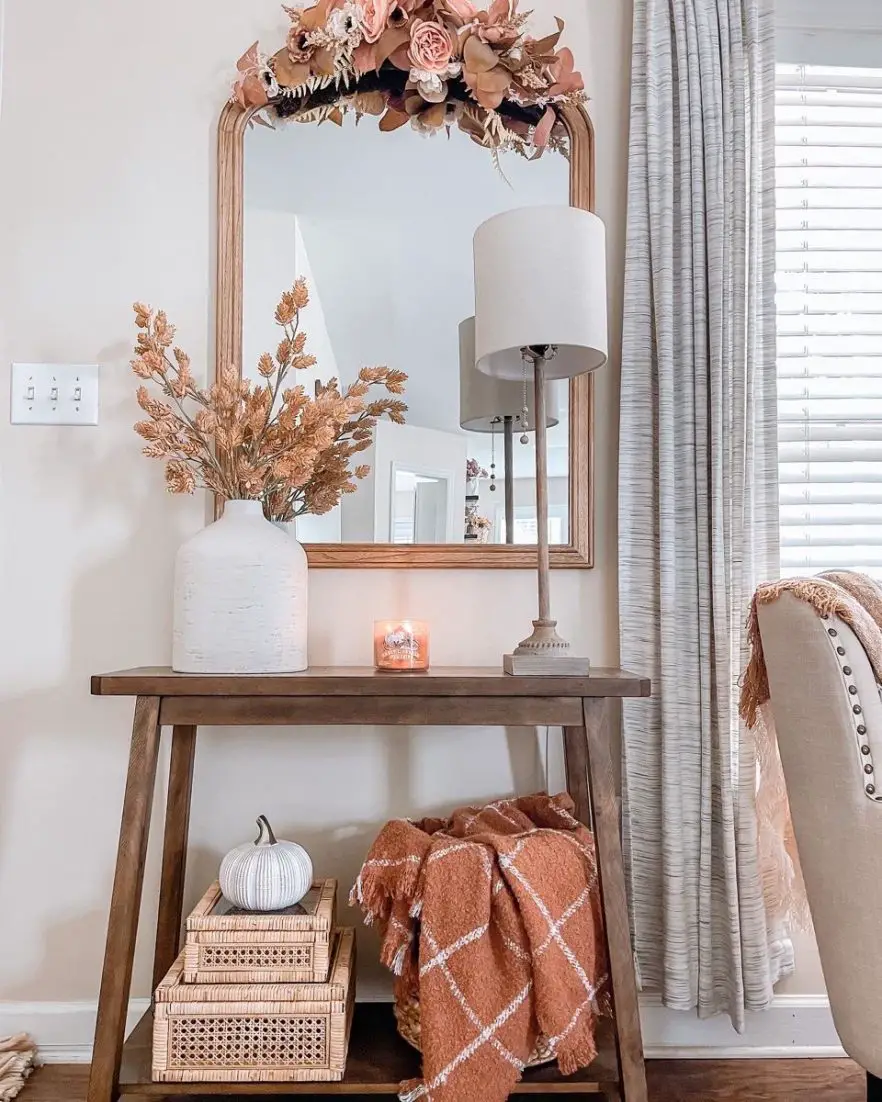 I switched things up when I shared my Fall home tour last year but I don't believe I shared a head on shot in that post.  My hops stems are some of my favorites to style for fall.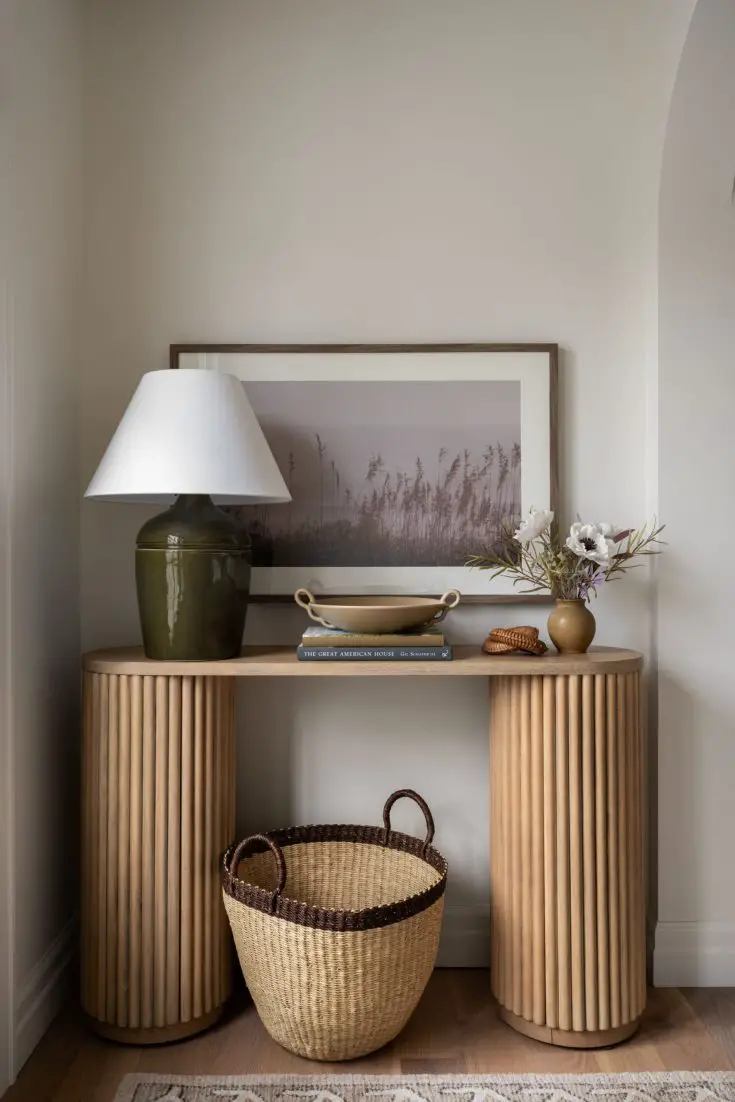 I shared this entryway styled for fall before from Studio McGee.  It's full of new finds from the Fall 2023 collection.  Very minimal and doesn't scream fall but has a lot fall tones.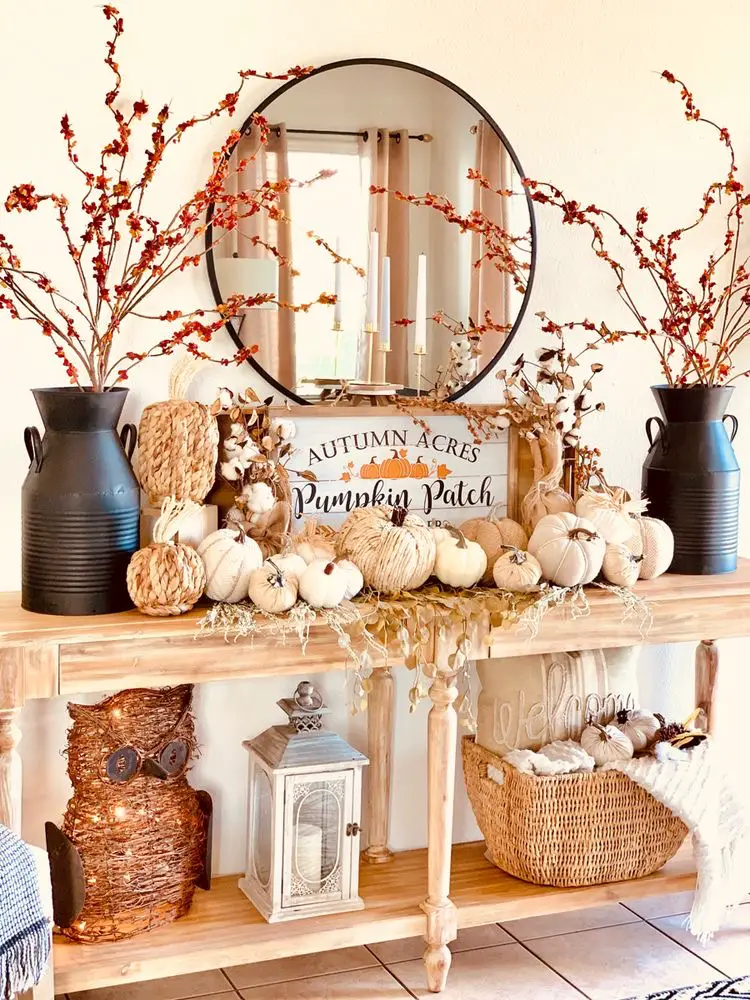 Pinterest
Capture the magic of falling leaves indoors with a leaf-strewn table. Scatter artificial leaves across the surface and add a few (or a lot of) mini pumpkins for an effortless touch of fall charm.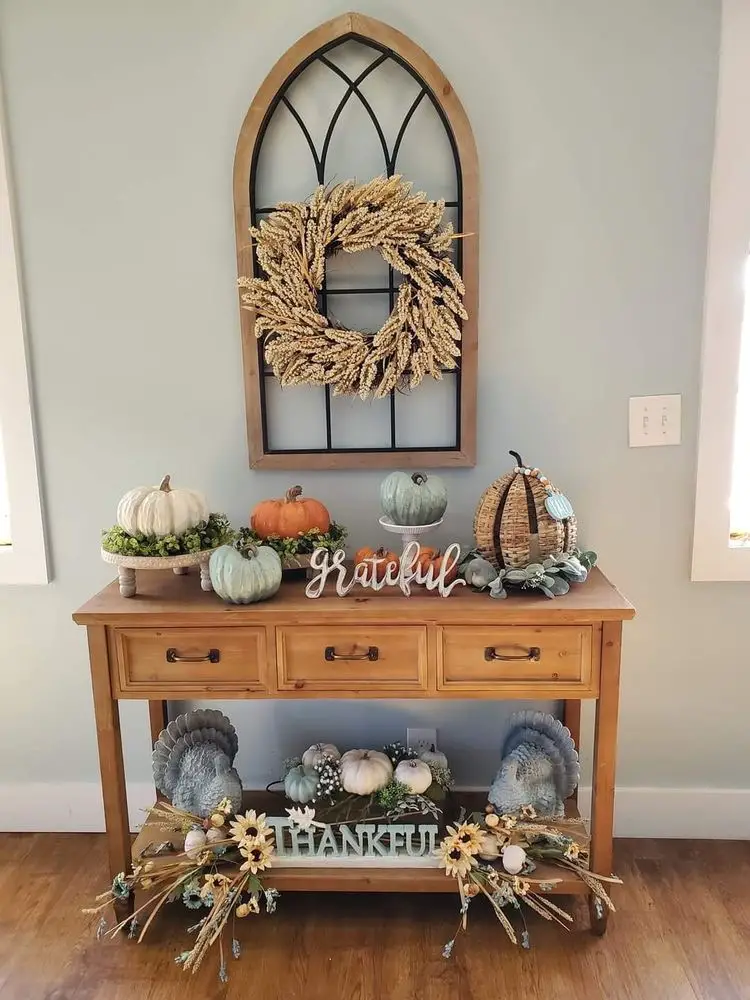 Pinterest
Gather natural elements like pinecones, acorns, and twigs to create a fall-inspired centerpiece. It's simple, elegant, and celebrates the beauty of the season.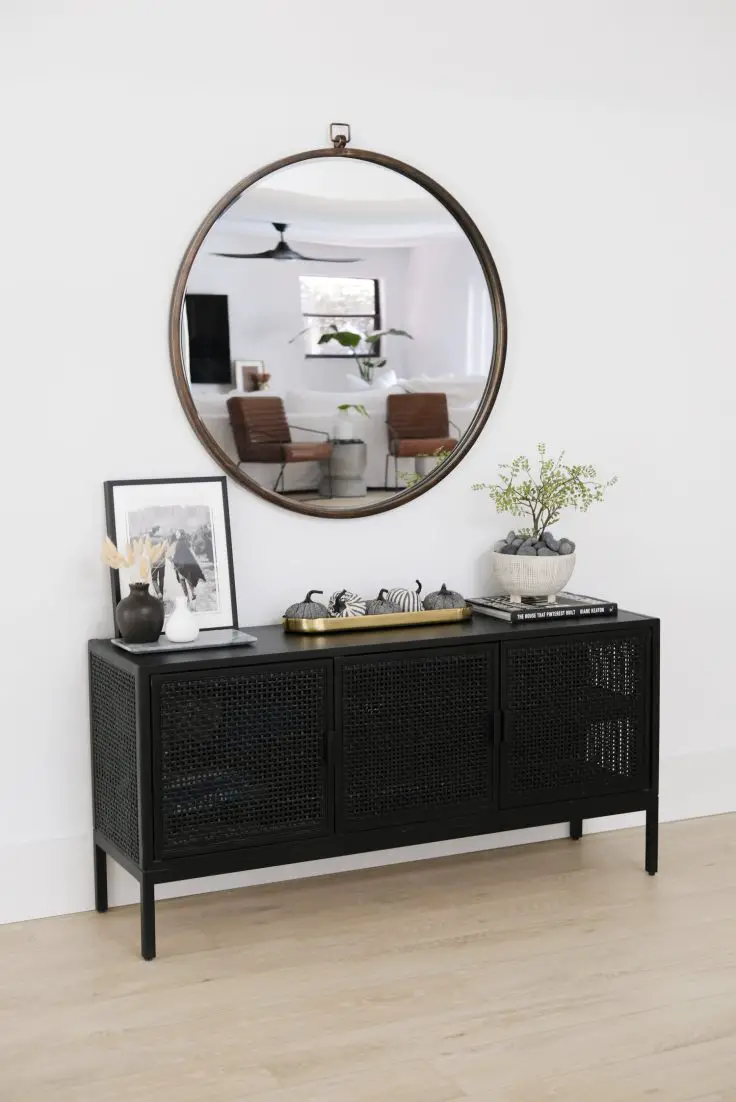 Stick to a single color theme, like shades of black or grey, for a monochromatic yet impactful entryway setup that's a modern touch.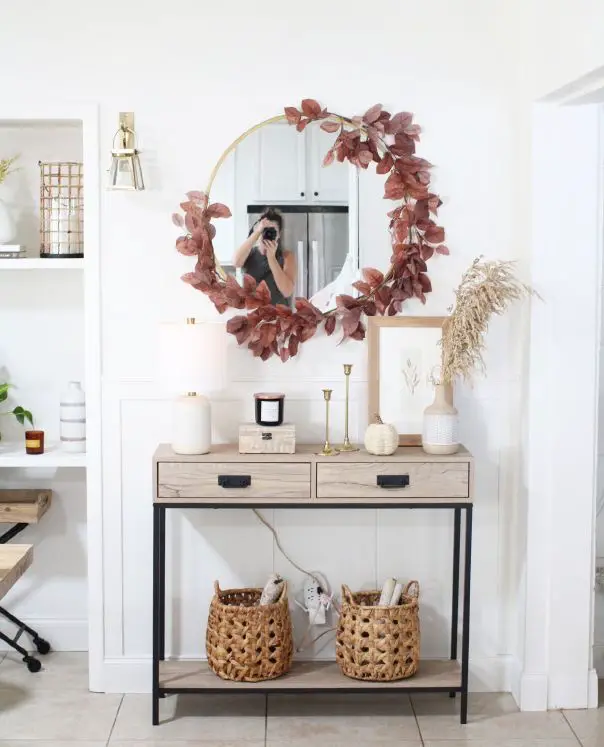 Make a big impact by framing a round mirror with autumnal garland.
Dried florals are perfect for fall decorating.  They make for the perfect fall foliage entryway decoration.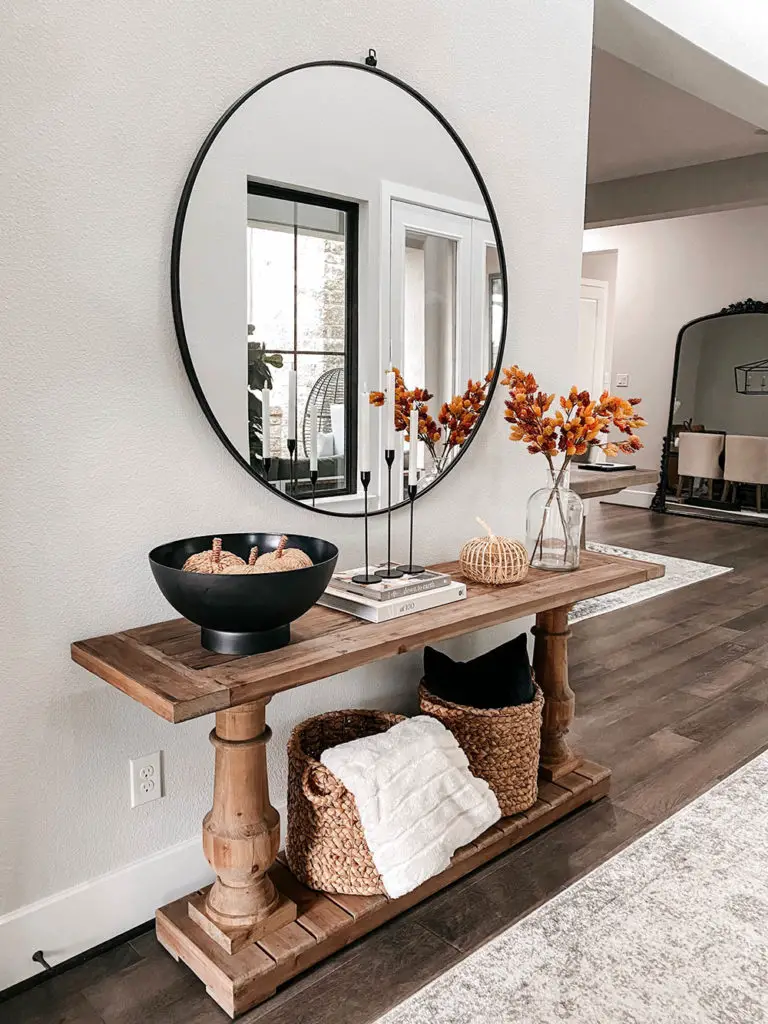 Give your entryway a modern take by using black accents and woven textured pumpkins.
The muted fall colors in this entryway design create the perfect autumn atmosphere of somber tones.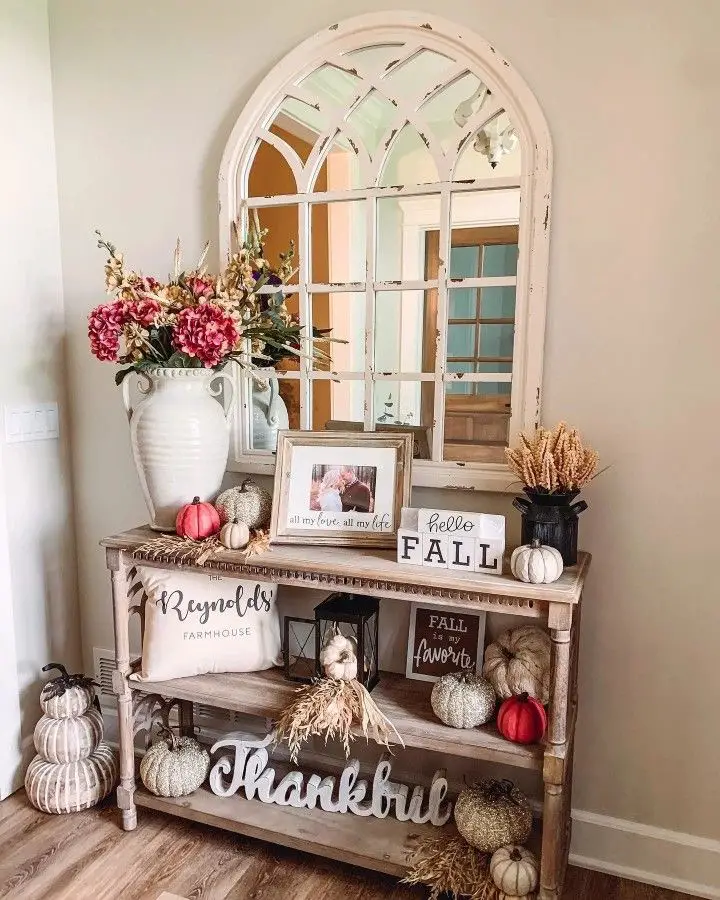 Pinterest
Arrange an assortment of pumpkins in different sizes, colors, and textures for a playful and inviting vibe. Go classic orange or mix it up with muted pastels for a twist on tradition.
Use decorative pillows to help bring the fall cozy vibes to your entryway.
Bring all of the colors of fall together with a combination of florals, pumpkins and artwork.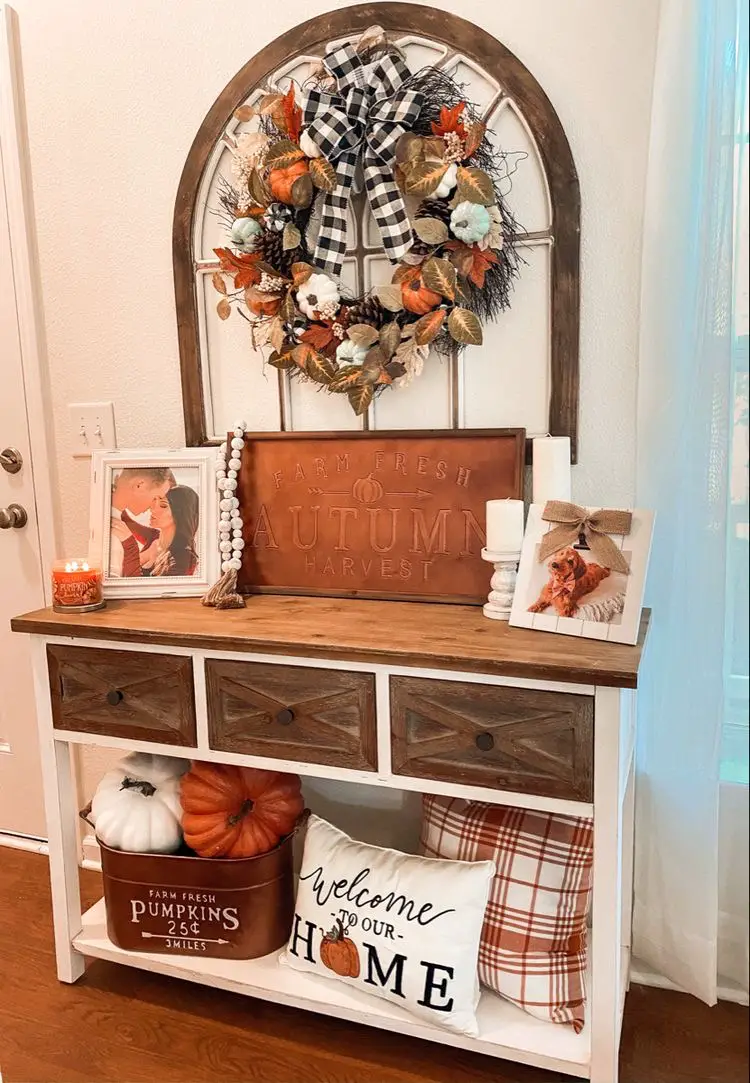 Pinterest
Do you spy my farm fresh pumpkins tin from Kirkland's?  I've had it for years but sadly they no longer sell it.  But I love how this entryway table is styled full out for fall.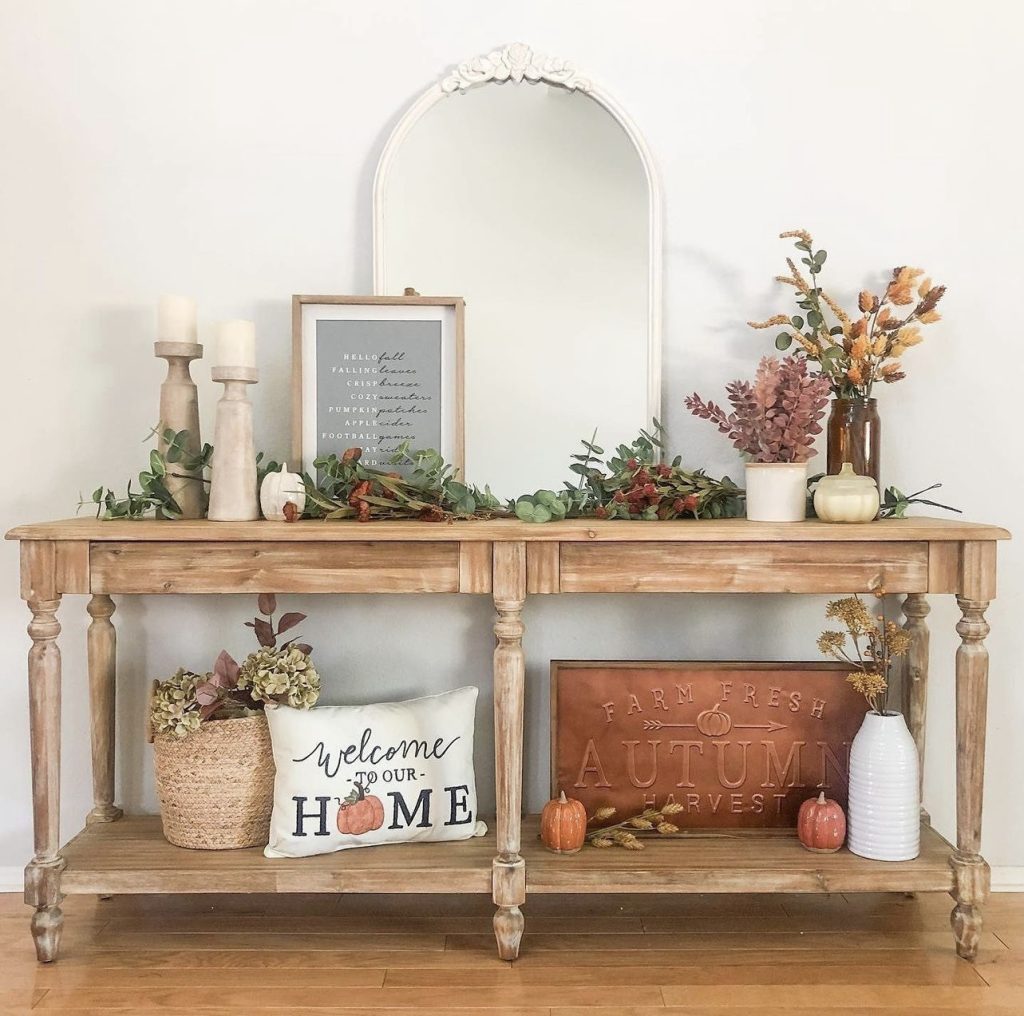 Pinterest
You may have noticed that you've seen this console table in many of these entryways.  It's from World Market and is also on my wishlist!
Create a cozy glow with lanterns featuring LED candles or fairy lights. Opt for lanterns in autumnal hues like copper or bronze to infuse a touch of warmth and charm.
Adding muted toned florals bring in a warm touch to this fall entryway.  I've wanted to get my hands on coned hydrangeas for quite some time now.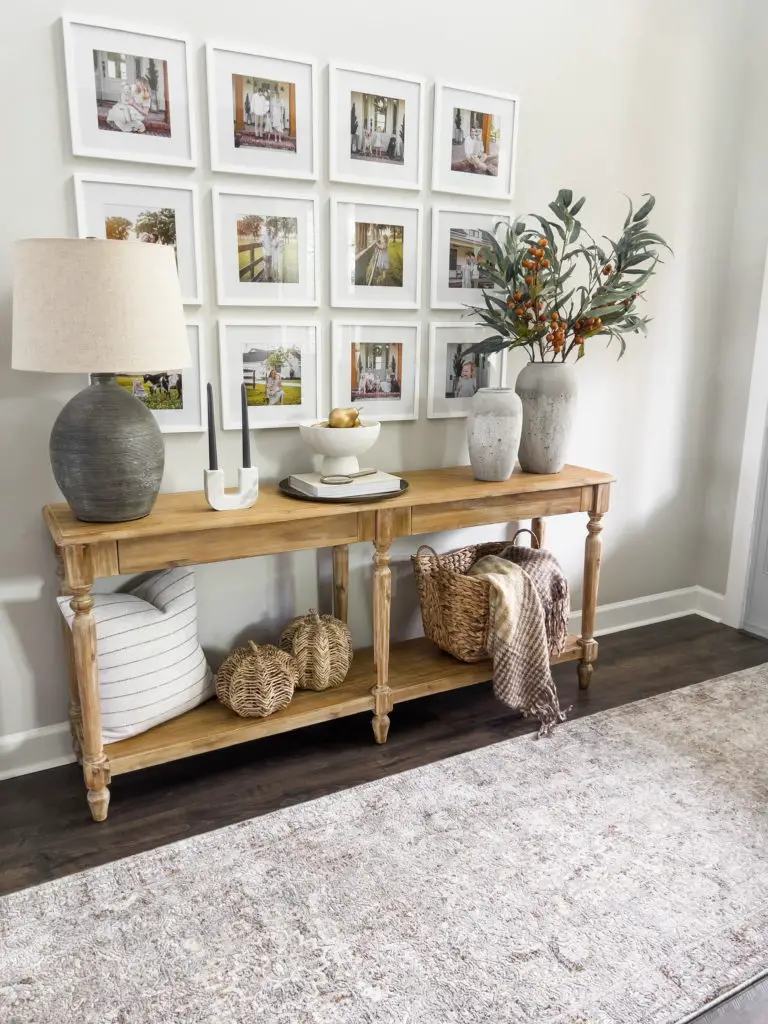 Nothing says fall quite like plaid.  Drape a plaid throw blanket over a woven basket and I must say I'm partial to the woven pumpkins.  I have them as well 🙂  Here are some similar woven pumpkins.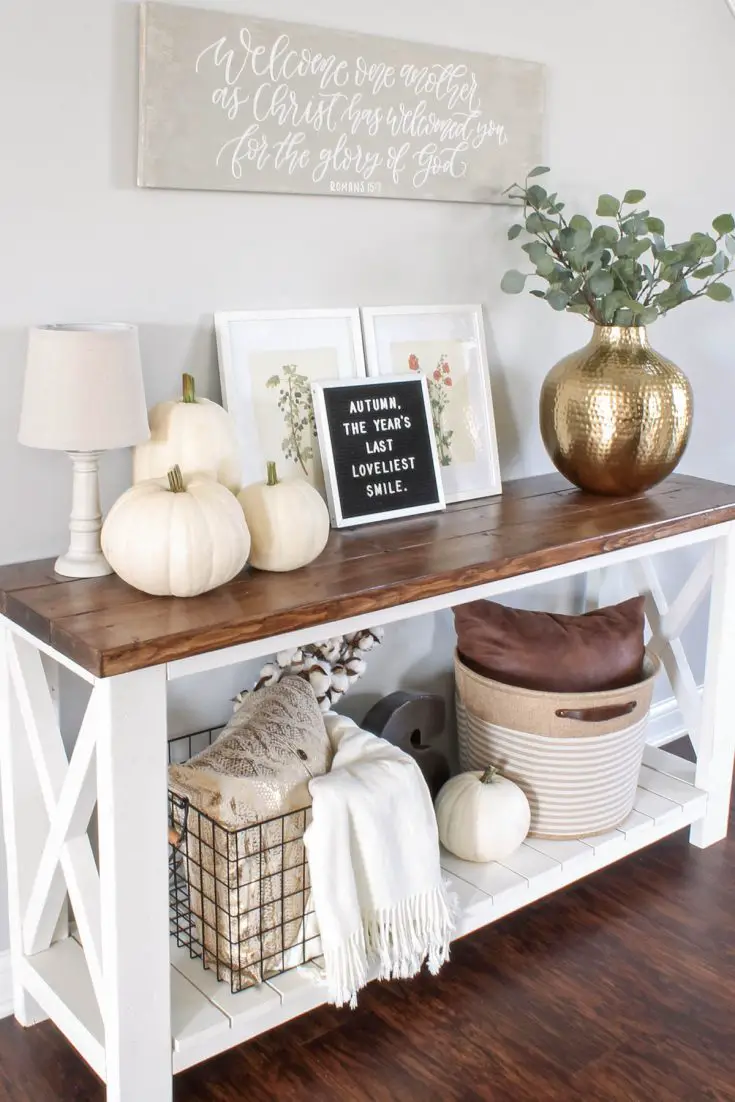 For a serene and Scandinavian-inspired look, stick to a palette of whites and light wood tones. Add texture with woven baskets and cozy throws.
So, there you have it—21 fall entryway table decor ideas to infuse your space with the cozy charm of the season. Whether you're going for rustic, elegant, or something in between, these ideas will make your entryway the ultimate welcome zone for both you and your guests. Have a blast decorating, and may your fall be filled with warmth, pumpkin spice, and all things nice!
Looking for even more fall decor ideas and inspiration?
If you'd like to get even more home decor, fashion finds, sales and all things random be sure to follow me here: