I meant to share this post two weeks ago but better late than never right?  That's what I tell myself.  Today I'm super excited to share with you the Hearth & Hand Christmas collection!  It's so good but it always is!  The 2023 Hearth & Hand Christmas collection is full of returning favorites, remixes and some new finds.
On my YouTube channel I've shared a Hearth and Hand Shop With Me video.  If you want to see close ups of items without going into the store you're going to want to check it out.
There's also already a ton of my Hearth & Hand Christmas finds on my LTK.  Make sure you're following me on the LTK app, save your favorites and set in stock alerts.  You'll also get notified when items go on sale.
Instead of attempting to share the entire Christmas collection, I'm going to show you some stand out finds, a few things I saw in store and some of the pieces I've purchased.  Let's jump in!
*this post includes affiliate links for your shopping convenience, you can read more about affiliate links by reading my Disclosure*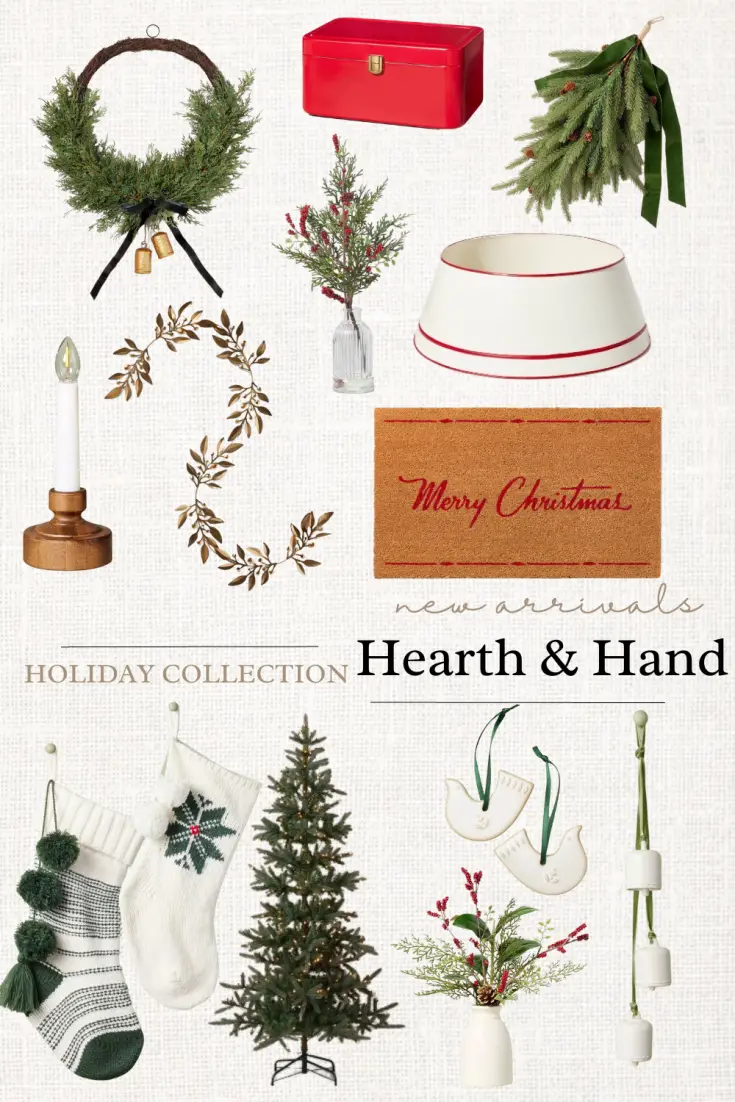 cedar hoop wreath with bells • red metal latch box • faux spruce pinecone swag • flameless Christmas window candle • metal leaf Christmas garland • cedar and winterberry arrangement • banded metal tree collar • Merry Christmas doormat • texture stripe knit stocking • snowflake knit stocking • pre-lit faux pine Christmas tree • Nordic dove ceramic ornaments • faux cedar and magnolia leaf arrangement • 3 bell ceramic door swag
A few fun new arrivals that caught my eye in the Hearth and Hand Christmas line this year include this cedar hoop wreath which I picked up for our bedroom.  I shared my Christmas decor plan recently that shows this gorgeous wreath.  It's 26″ which is pretty huge as most wreaths are 24″.
Also new this year are the flameless window candle and this metal leaf garland.  At least I think it's new.  Last year I didn't get to post a Hearth and Hand holiday collection (it was a rough time for me) so maybe it's not new and I just don't remember it.
One thing that I know for sure is new is this  red box.  I was surprised it only came as one whereas in the fall there's a set of green stacking metal boxes from Hearth and Hand.  I'd like them if they weren't metal.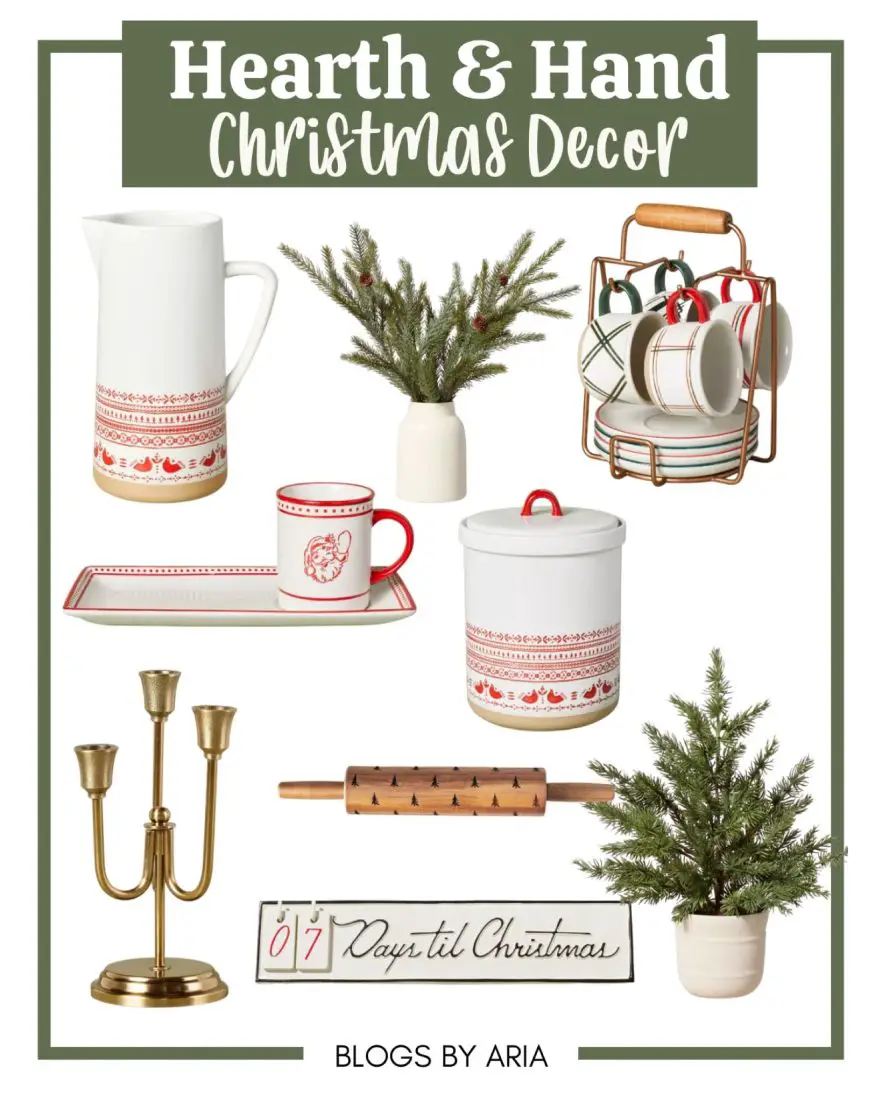 fair isle stoneware pitcher • spruce and pinecone arrangement • plaid stripes stoneware mug and saucer set • Santa stoneware milk + cookies set • fair isle stoneware cookie jar • staggered tapered candelabra • engraved Christmas tree wood rolling pin • days til Christmas countdown • spruce Christmas tree in ceramic pot
I'm always a big fan of Hearth and Hand's kitchen pieces.  They're just so good!  I was tempted to buy this mug and saucer set but I really don't need it.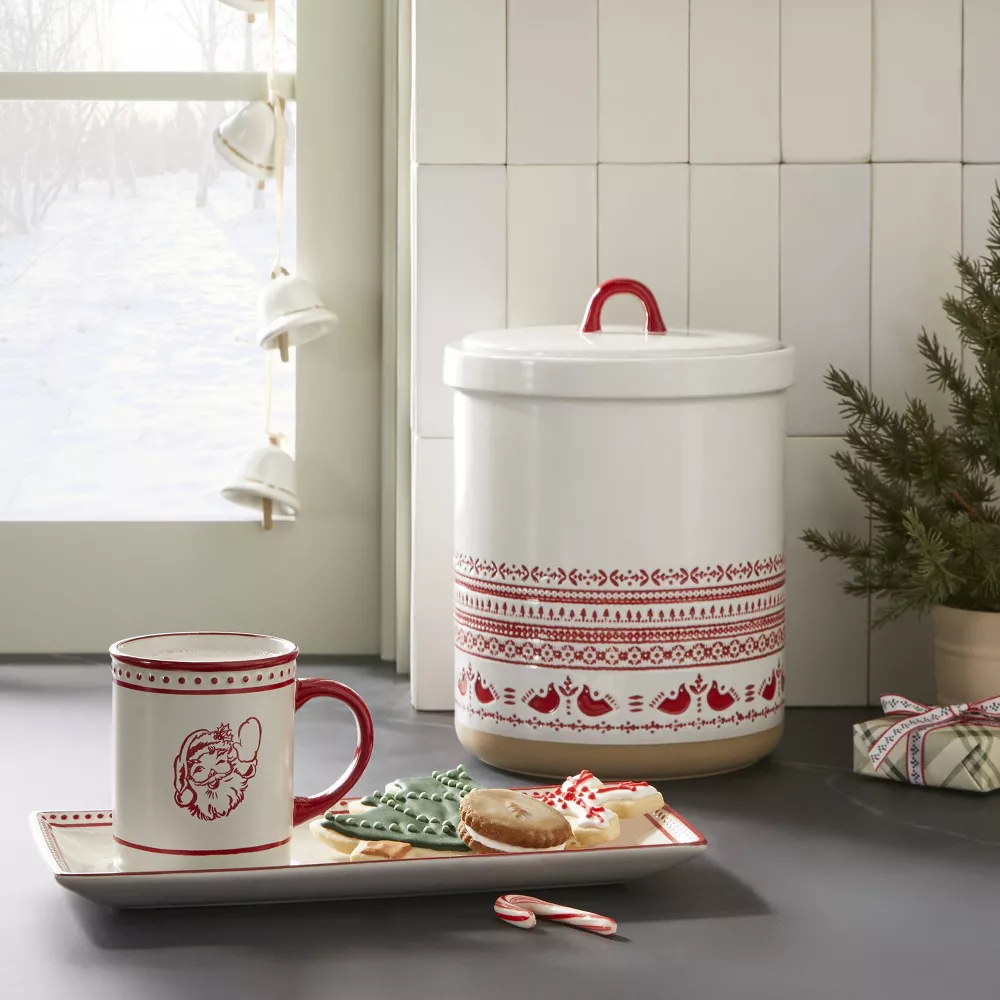 faux spruce Christmas tree in ceramic pot • green winter plaid pillow • festive plaid Christmas pillow • letters to Santa mailbox • festive plaid woven throw blanket • cedar and pinecone garland • textured glass fireside spruce jar candle • cedar and magnolia leaf with winterberries arrangement
Hearth and Hand always knocks it out of the park with the traditional Christmas pieces.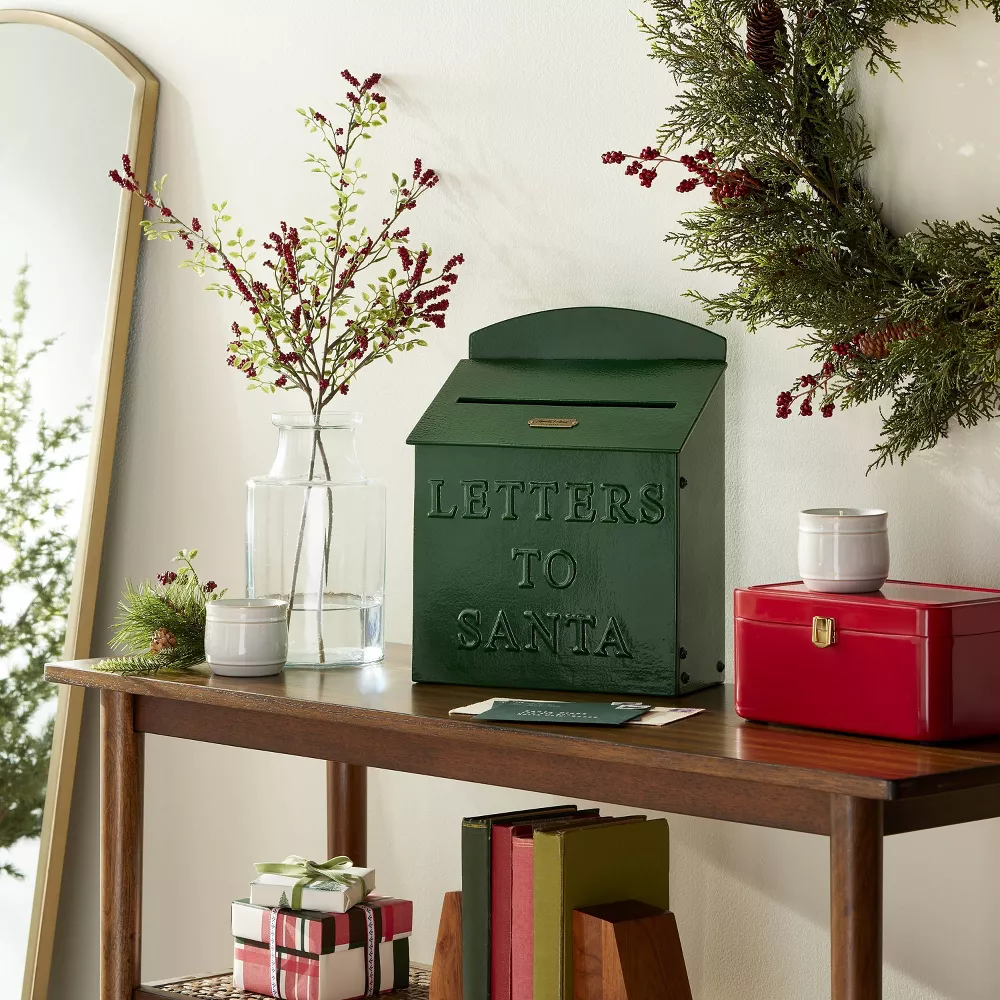 I've debated for years about this letters to santa mailbox.  I am always drawn towards it.  In previous years it's been red.  It was red in 2021.  Last year I believe it was green.  I really like it and haven't decided whether or not to pick it up.  It would be so nice on my shelves or entryway table.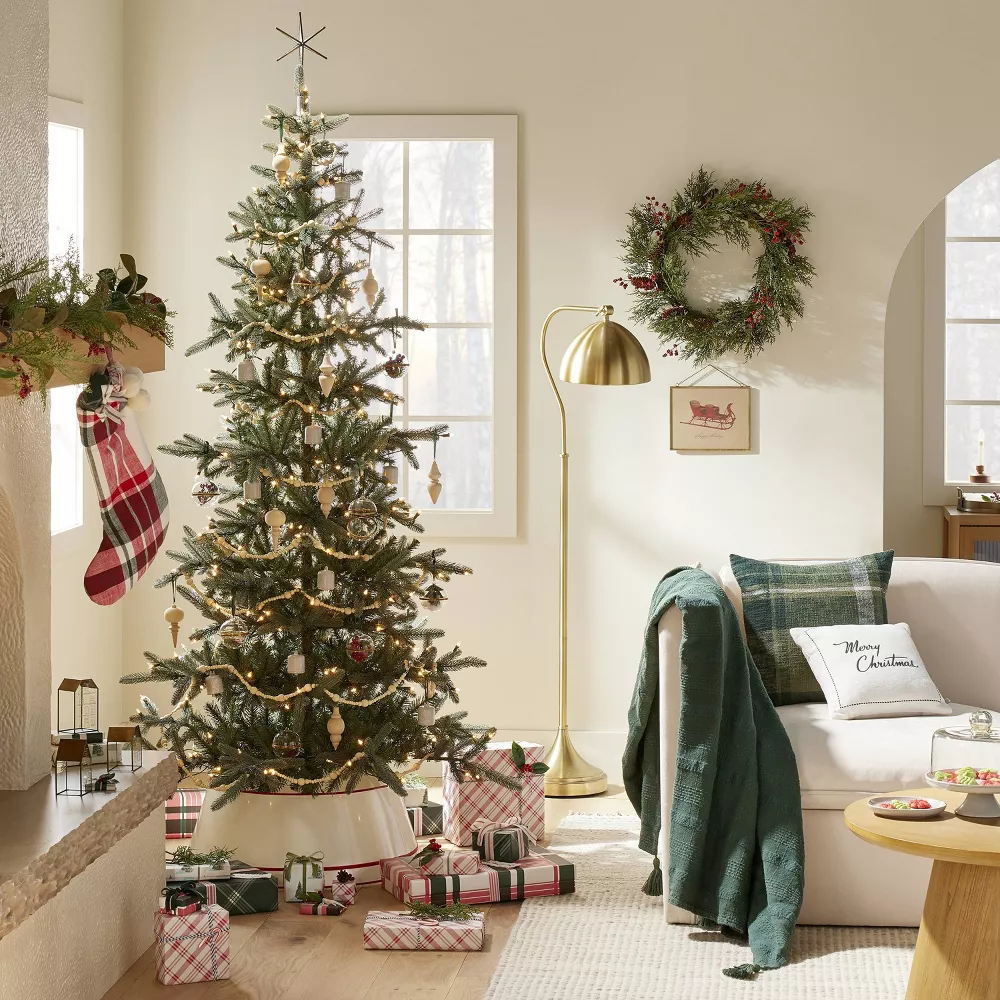 I really like the Hearth and Hand Christmas tree.  It's not overly full and I think it would make a great bedroom tree.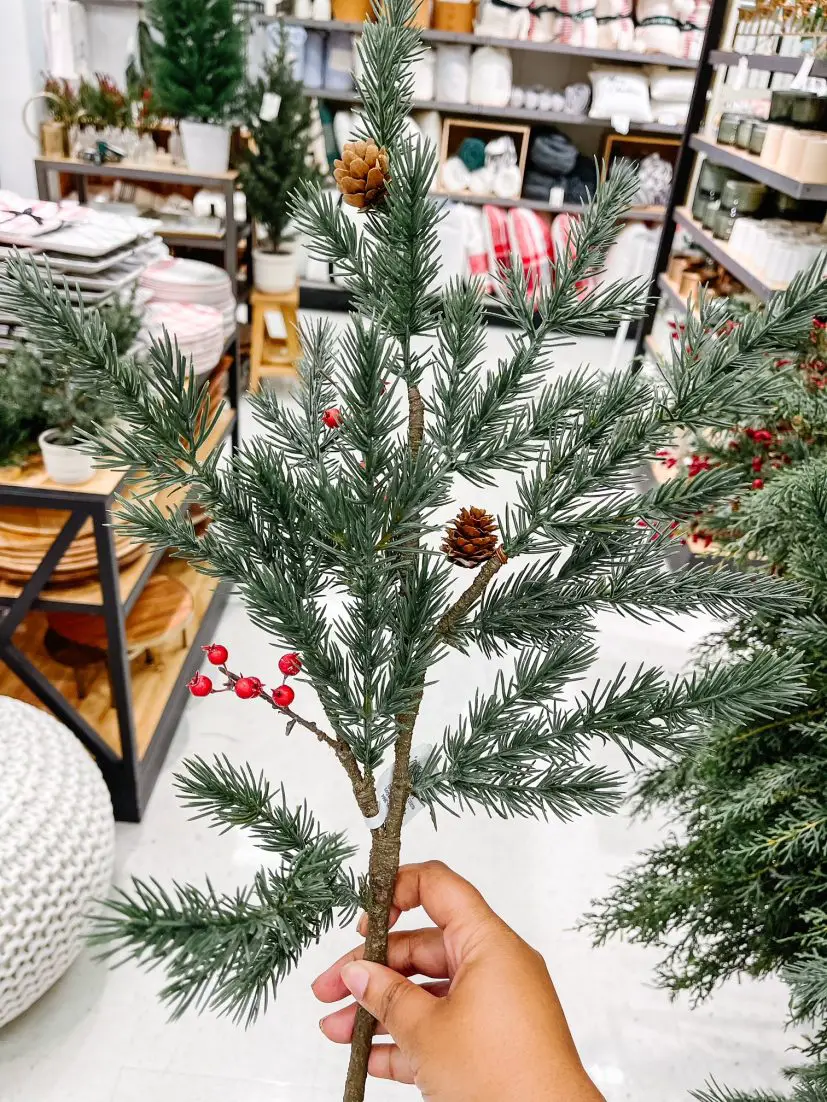 This pine and winterberry stem is so so good ya'll!  The stem is so realistic!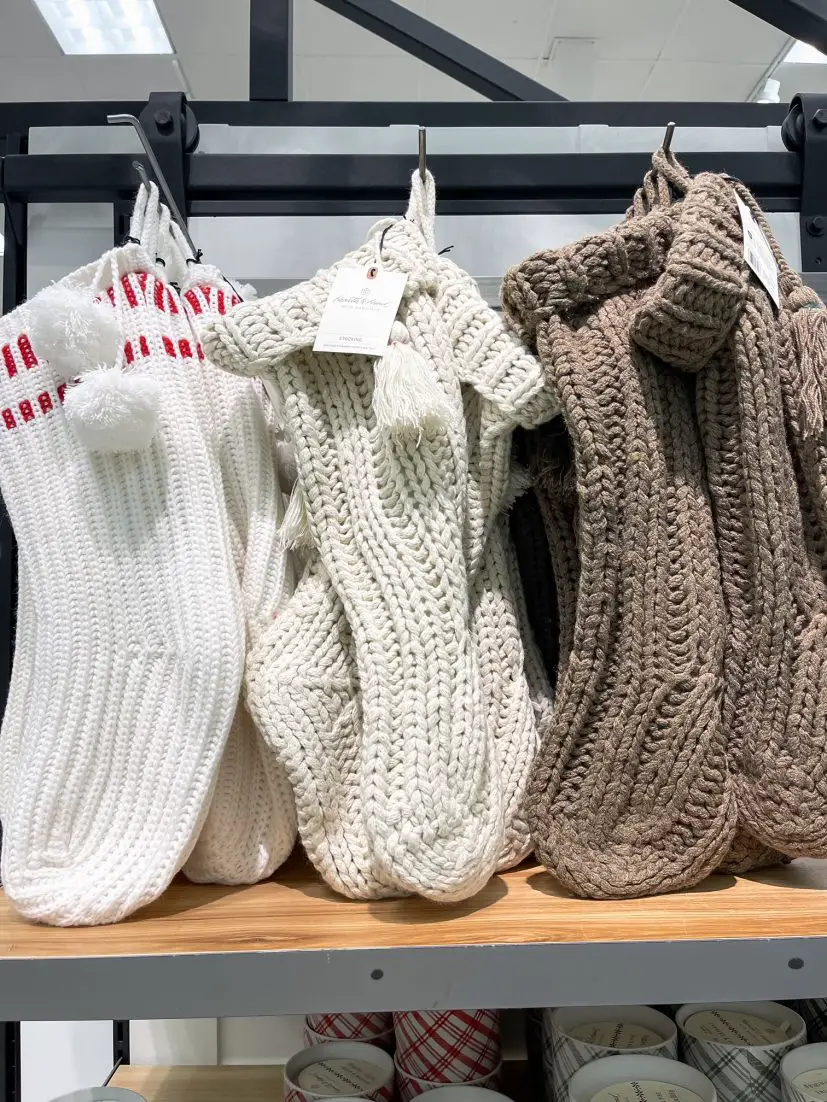 border stripe rib knit Christmas stocking • chunky rib knit Christmas stocking • brown chunky rib knit Christmas stocking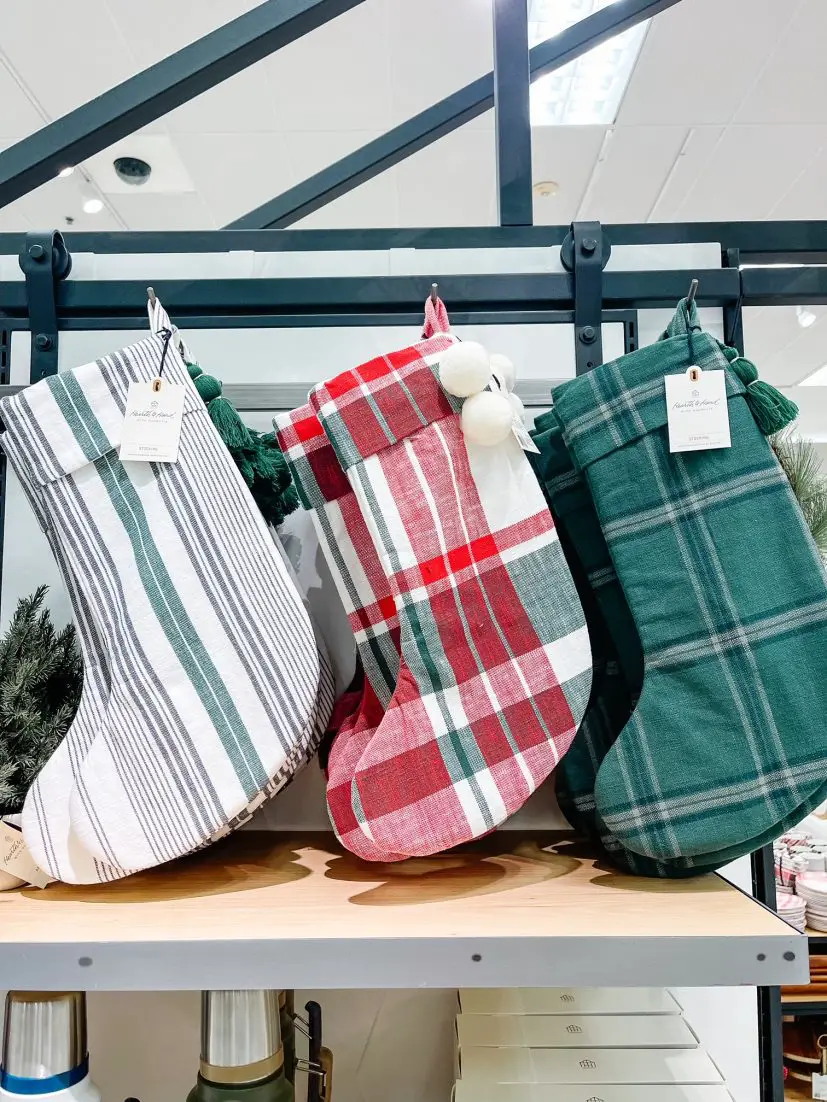 mix stripe Christmas stocking • festive plaid Christmas stocking • green polished plaid Christmas stocking
To wrap this up I want to share a few things I've picked up from the Hearth and Hand Christmas launch.  Many items I've shared in my Christmas decor haul but I want to also share some other pieces.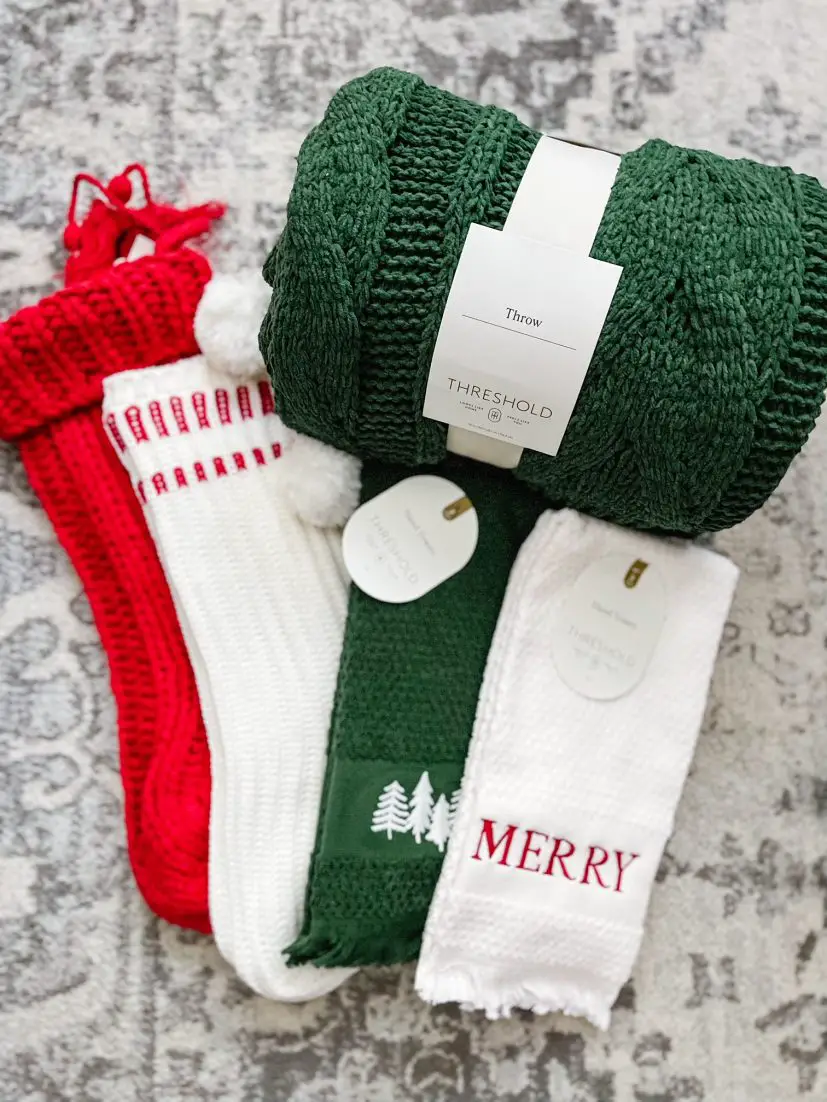 Above is a Target haul but the stockings are from Hearth and Hand.  Stay tuned to see how I style my Hearth and Hands Christmas decor finds.  Not pictured are my cedar stems, my balsam and berry candle and my hoop wreath just to name a few.
You can see how I style my Hearth and Hand goodies both here on my blog and on my YouTube channel!  To see the full collection click here.
If you'd like to get even more home decor, fashion finds, sales and all things random be sure to follow me here: