Ready or not, the holidays are coming!  If you love all things Hearth & Hand Magnolia like me, you're going to love their new Christmas 2021 collection!  I've rounded up my top picks for you.
Recently I shared the 2021 Studio McGee and Target Christmas release and today I'm sharing the Hearth and Hand Christmas launch.  Similar to the Studio McGee collection, some items are available now with the majority of them being available on October 24th.
I'm sharing this now because items will sell out and they'll do so quickly.  Wouldn't it be great to fast forward to  next year when, hopefully, things are back to normal and supply chain issues are a thing of the past?  Until then, I suggest you shop early.
If you see something and it shows out of stock, turn on the in stock alerts!  Things can come back in stock so quickly and a lot of times items will be available to pick up in store.
*this post includes affiliate links for your shopping convenience, you can read more about affiliate links by reading my Disclosure*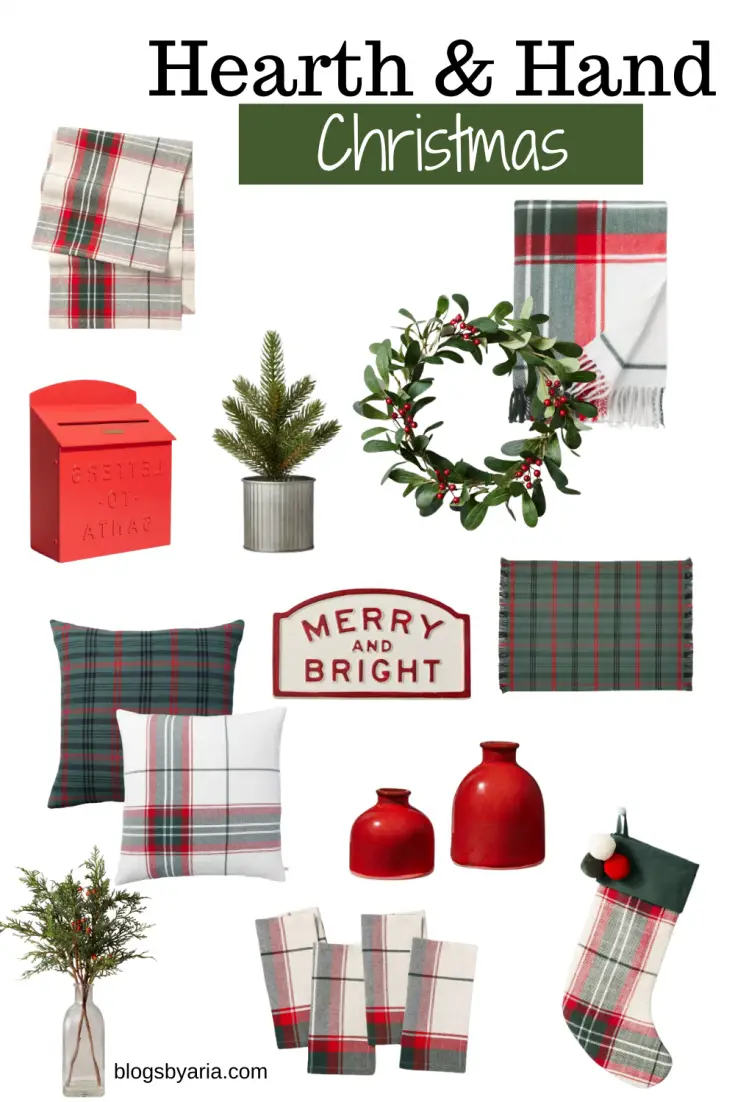 holiday plaid table runner · letters to Santa mailbox · faux pine tree · mini mistletoe and red berry wreath · holiday plaid throw blanket · green tartan plaid pillow · holiday plaid pillow · merry and bright sign · green tartan plaid placemat · red bud vase set · cypress and berry stem arrangement · holiday plaid napkins · holiday plaid stocking
I'm very excited about all of the Christmas plaid pieces in this years collection.  It's not tartan plaid but it's equally beautiful and I must say, some of these items are on my must buy list!  The green tartan plaid pillow is intriguing me and I'd like to see how it would work with my existing pillows.
I need to look in my holiday storage bins, but I feel like I own this cypress and berry stems arrangement.  Honestly I can't remember but if not, I want to get it!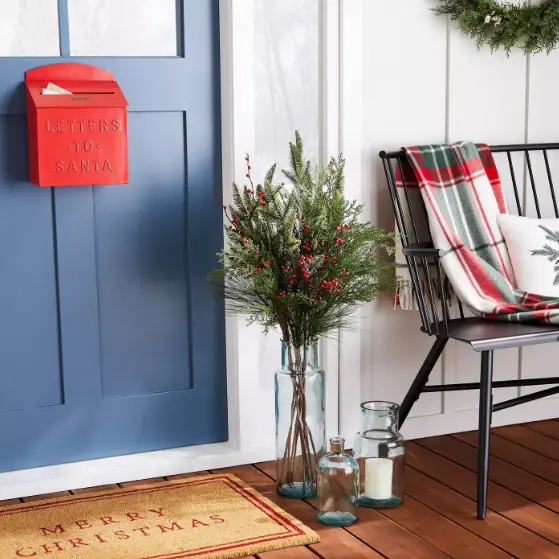 letters to Santa mailbox · Christmas doormat ·  berries plant bundle · Christmas throw blanket
The letters to Santa mailbox can be hung like it's pictured here or used as table decor.  They also have this antique copper mailbox option that is perfect if you don't want to go with red.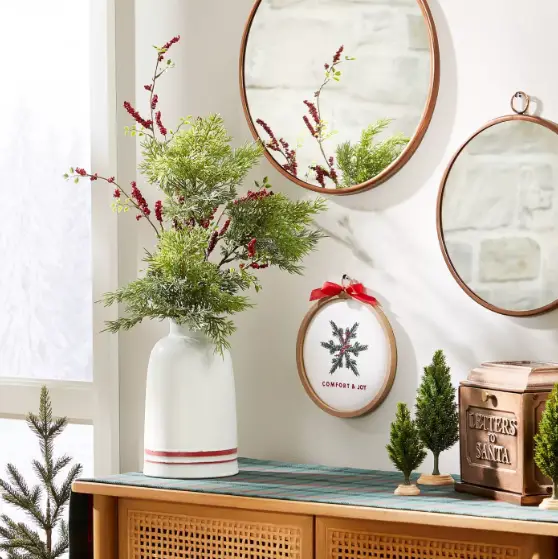 If there's one thing that I wish I got last year and didn't it's this simple vase with the red stripe.  It doesn't look like it's back this year but I'll keep my eye out and my fingers crossed.
You can see how the antique copper letters to Santa mailbox is displayed.  I love the look of it.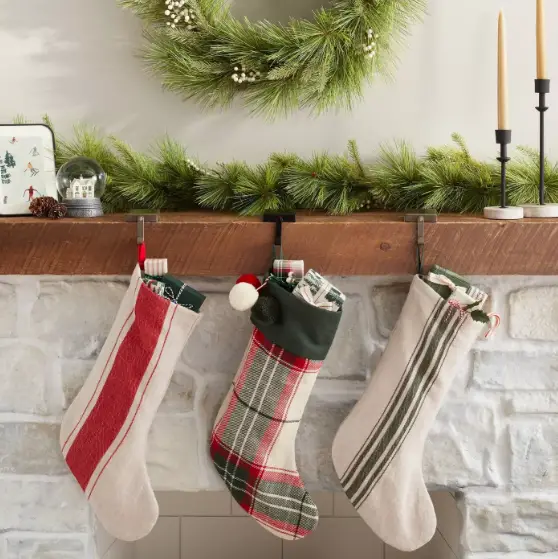 stocking holders · red stripe stocking · plaid stocking · center striped stocking · garland · wreath
pine and berry garland · green jacquard knit stocking · cream knit stocking · red jacquard knit stocking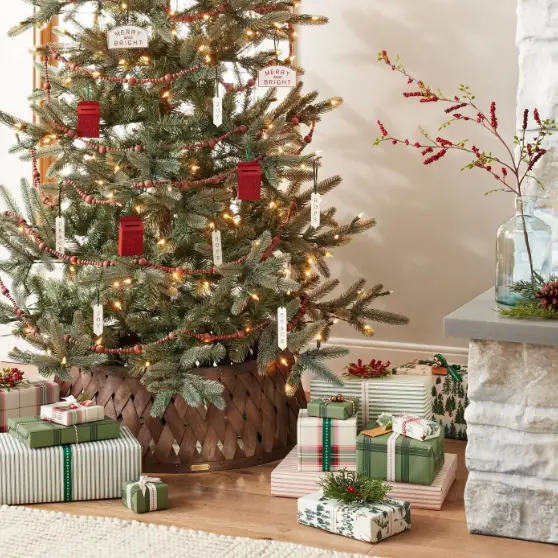 woven tree collar · letters to santa ornament · hope, peace, joy ornament set · wood beaded garland
cedar berry swag · cable chunky knit throw blanket · striped serving tray · stitch stocking · snowflake coasters · faux pine tree · comfort and joy sign · stripe woven throw blanket · letters to santa ornament · red berry and pinecone wreath · bold center stripe pillow · merry Christmas sign · blended stripe knit throw blanket · cedar bell wreath · snowflake mug · center stripe pillow
Last year I picked up this cedar and red berry swag and it's so pretty.  It was one of the pieces that I would keep seeing in the store and stop and stare.  Finally I picked it up!  I used it over my oval window in my entryway.  Not sure if I'll keep it there this year or move it somewhere else.
One of the things I really like about the Hearth and Hand line at Target is that you can add one or two pieces to your existing decor and it just goes so well together.  I can appreciate that it goes with so many different decor styles.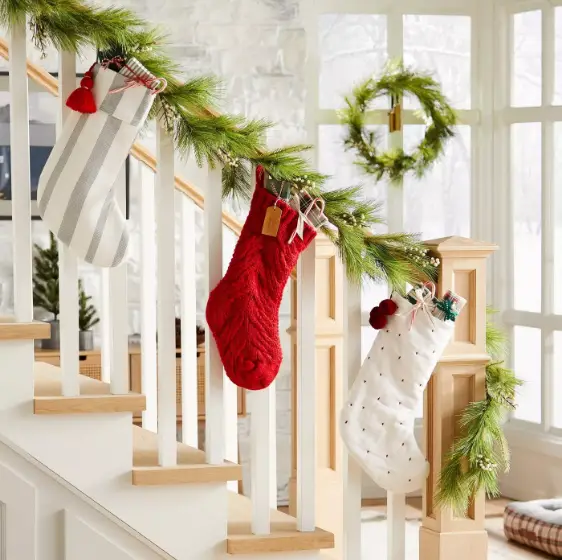 pine wreath with white berries · pine garland with white berries · wide stripe stocking · red knit stocking · star stitched stocking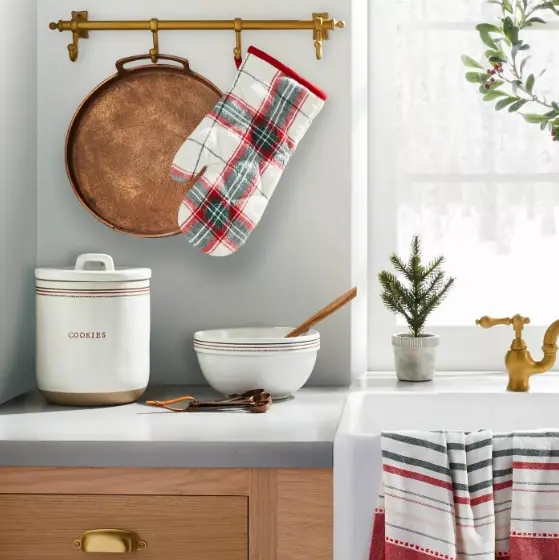 cookie jar · mixing bowl · multi stripe kitchen towel · pot holder set · red berry arrangement · antique copper measuring spoon set
woven tree collar · copper snowflakes · framed glass ornament set
Tell me did you see anything you like from the new Hearth & Hand Magnolia line?  This is just a small percentage of everything in the 2021 collection.  There's toys, bedding, gift wrap and more!  You can check out the entire Hearth & Hand Christmas collection here.
Are you looking for more Christmas decor to add this year?  I'm already on it!  You can check out more of my Christmas decor finds here.
HEARTH & HAND MAGNOLIA CHRISTMAS 2021 SOURCES