Blink once and it will be Christmas.  Blink twice and it will be February!  That's how fast I feel like time is going.  For a brief moment last weekend, and I do mean brief, I was able to snap a few pictures of my cozy Christmas family room while it was clean.  Before it became wrapping central, which is what has been all week.
I want to share it now because although it will be clean this week, I can't guarantee I'll find the time to take more pictures and write a post.  Let's dive into my Cozy Christmas family room!  This space just makes me feel so fun and festive.  I hope that's the feeling you get as well!
*this post includes affiliate links for your shopping convenience, you can read more about affiliate links by reading my Disclosure*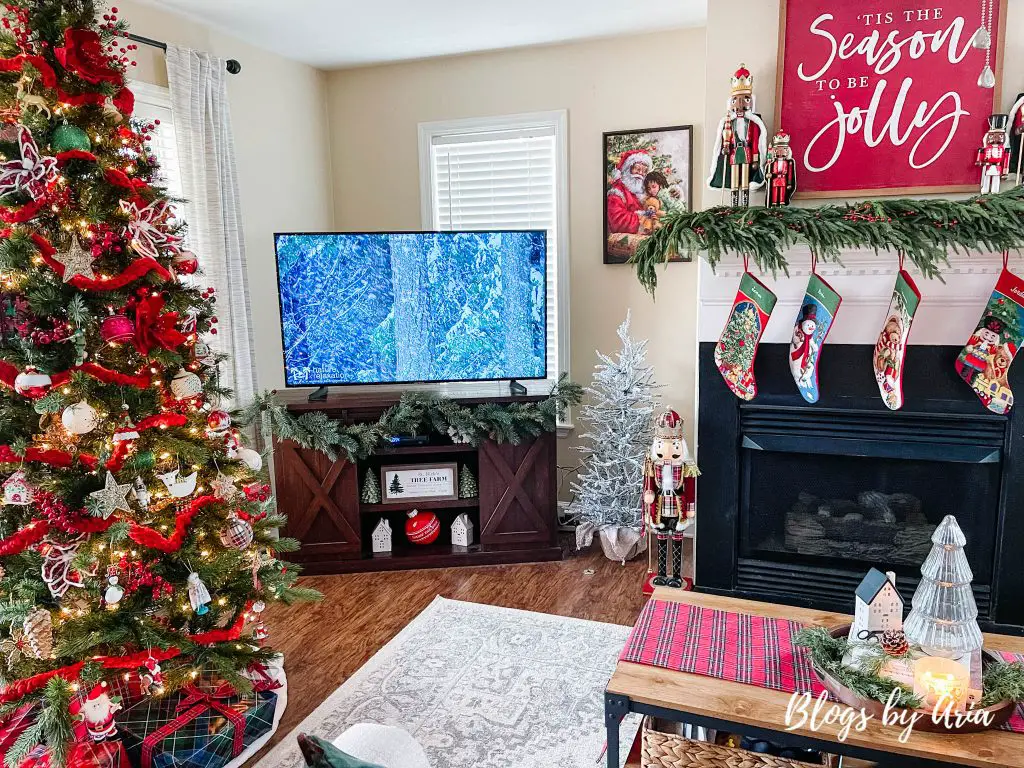 tv stand · flocked tree · area rug · coffee table · similar stockings
Just like with my Fall family room, I wanted to go with a less is more approach to my Christmas decor this year.  I decided to put the Christmas tree in front of the windows.  That meant I had to take the accent chairs and extra side table upstairs to accommodate the tree.
Although there's less seating temporarily, it helped me to have a more cozy feel in here that I love.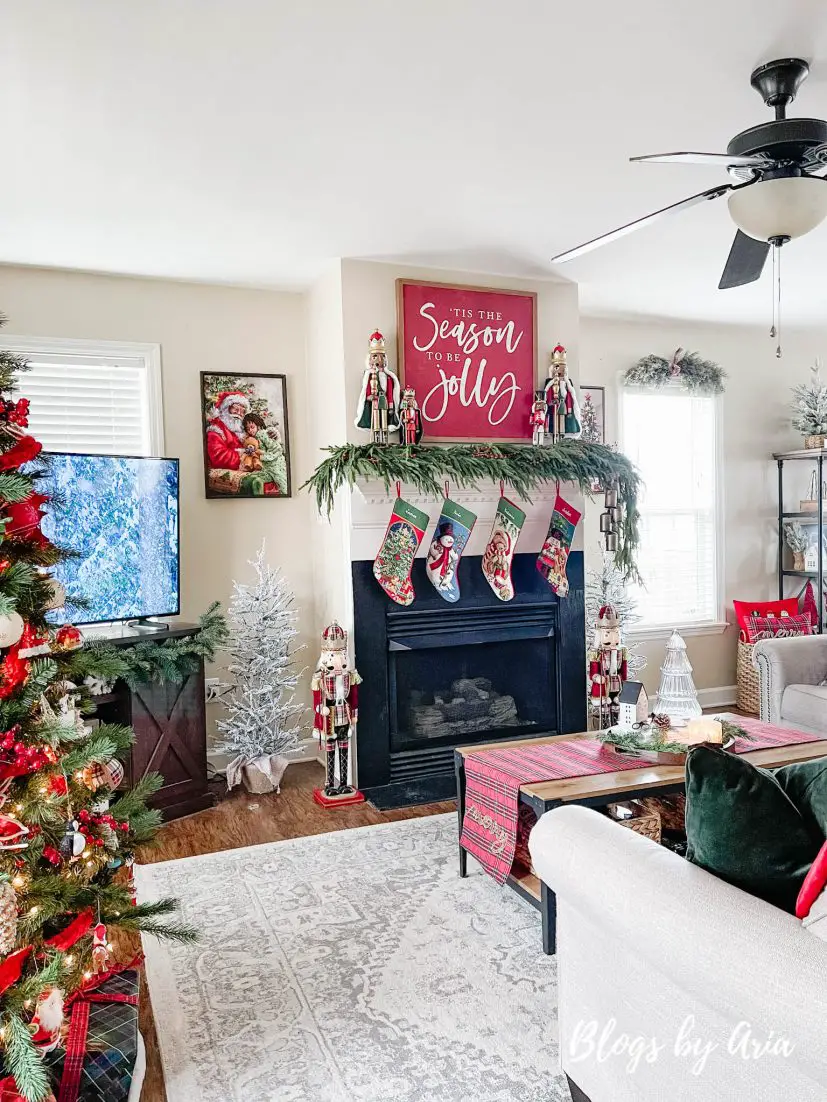 My garland is a lot fuller than it was last year!  I was on Instagram one day and my friend Liz shared in her stories that Kirkland's finally restocked the garland.  And it was on sale!  So I jumped on it and ordered three sets.  Then I shared it on my stories too.  Now that my garland is fuller I love how it looks so much more!
To break up the green I added a few berry stems.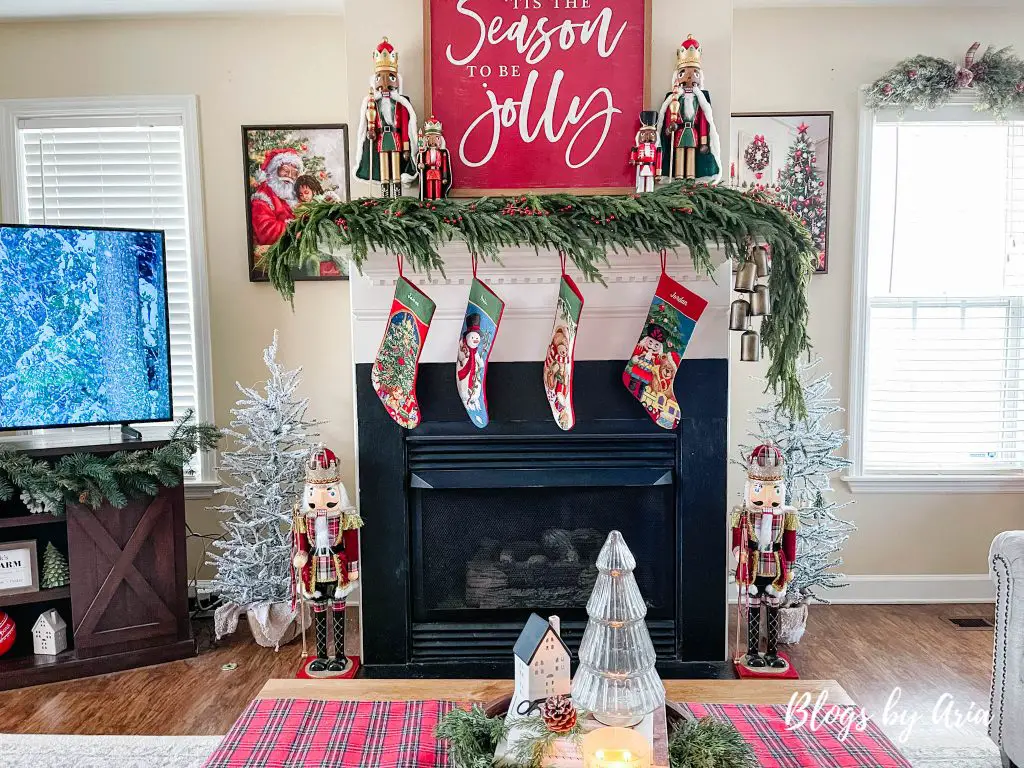 I also added two more additions to my nutcracker family.  The two larger nutcrackers on my mantle I got from the At Home store.  They're from the FAO Schwarz line.  They're not as tall as my nutcrackers on the floor, but as you can see they're much larger than my standard size nutcrackers.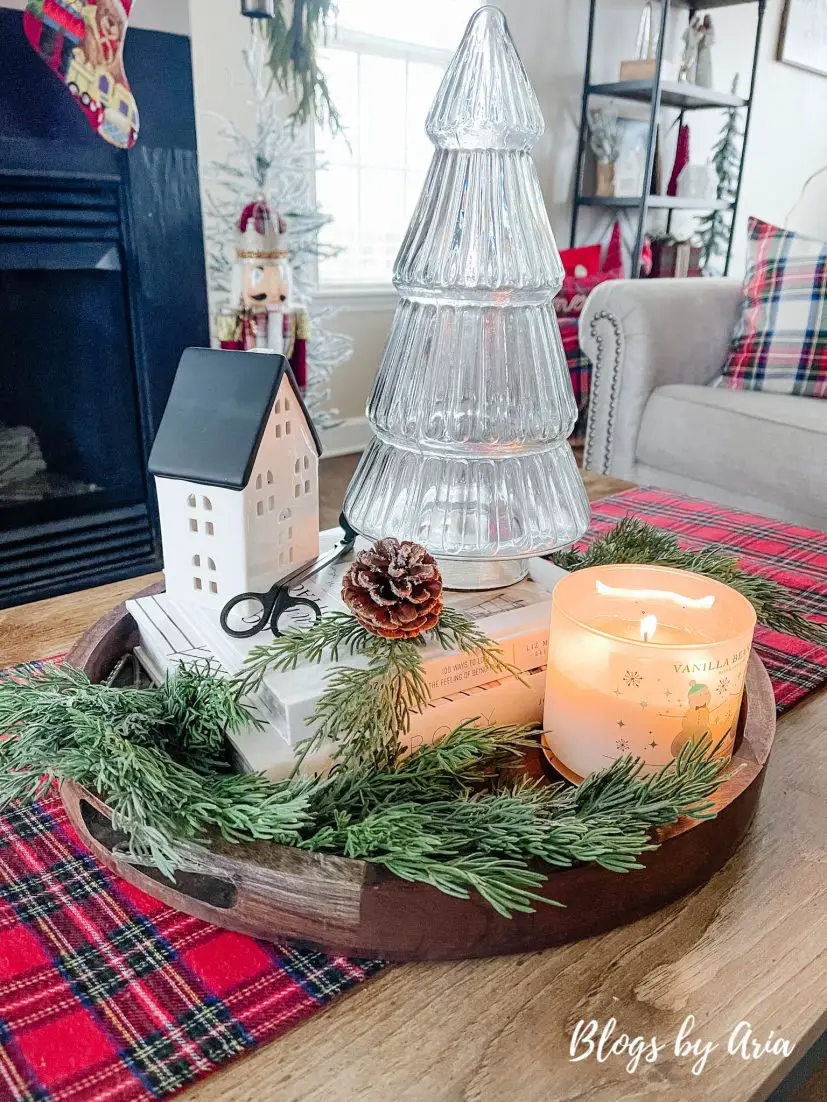 I've changed my coffee table centerpiece several times at this point.  But this is where it is now.  I got this glass tree from Big Lots.  Don't sleep on Big Lots for holiday decor!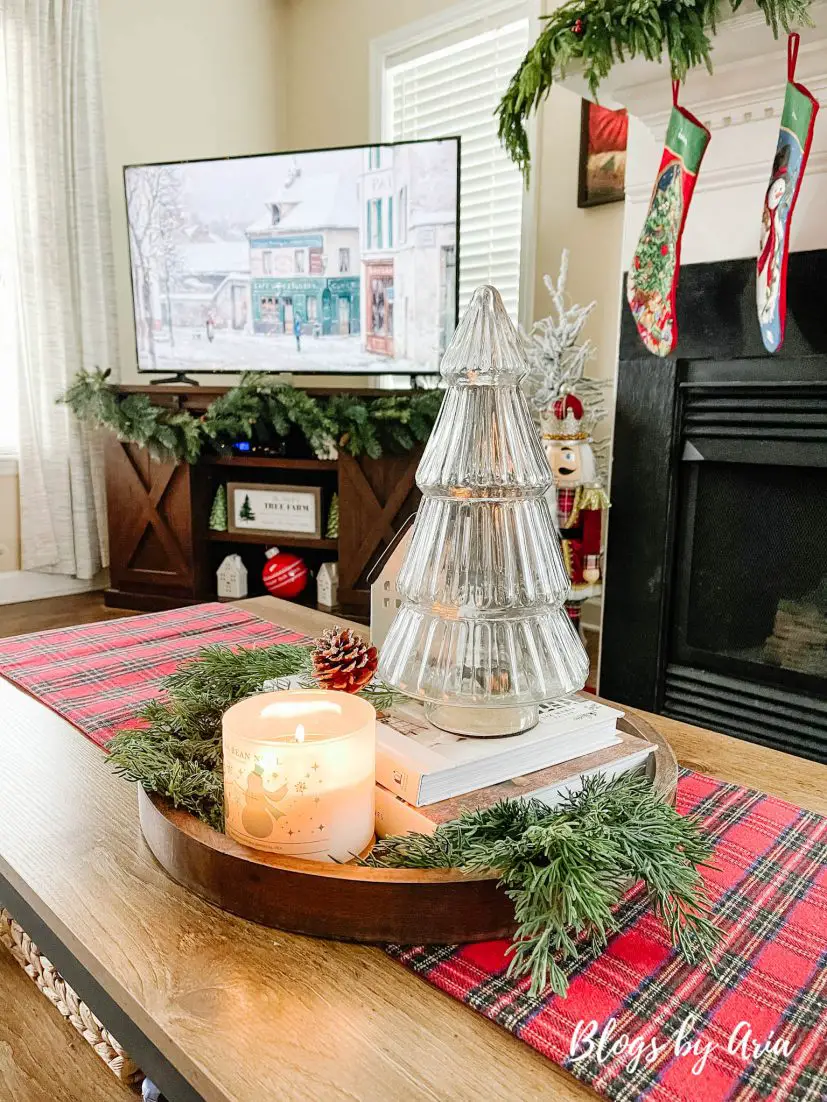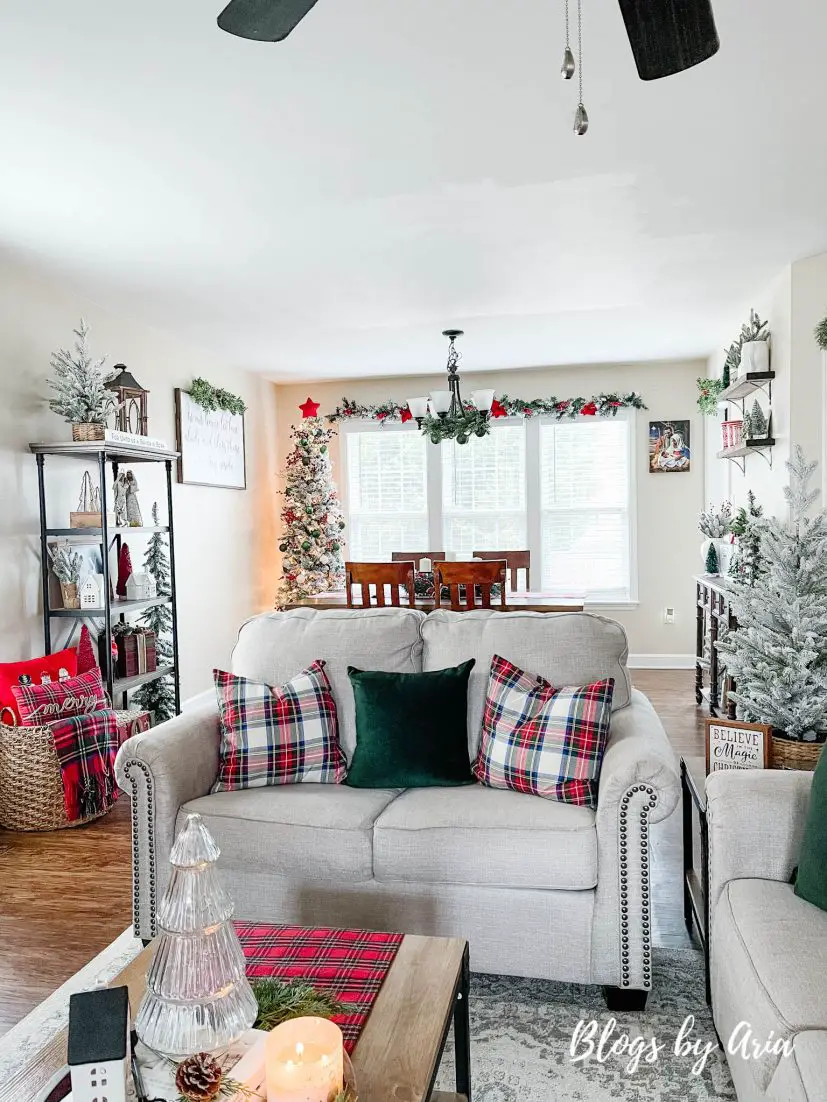 white plaid pillows · green velvet pillow · white flocked tree
From this view you can see my dining room decorated for Christmas.  Now that you see the entire space together I think you can feel how cozy it is.  It's not too much and not too little if you ask me.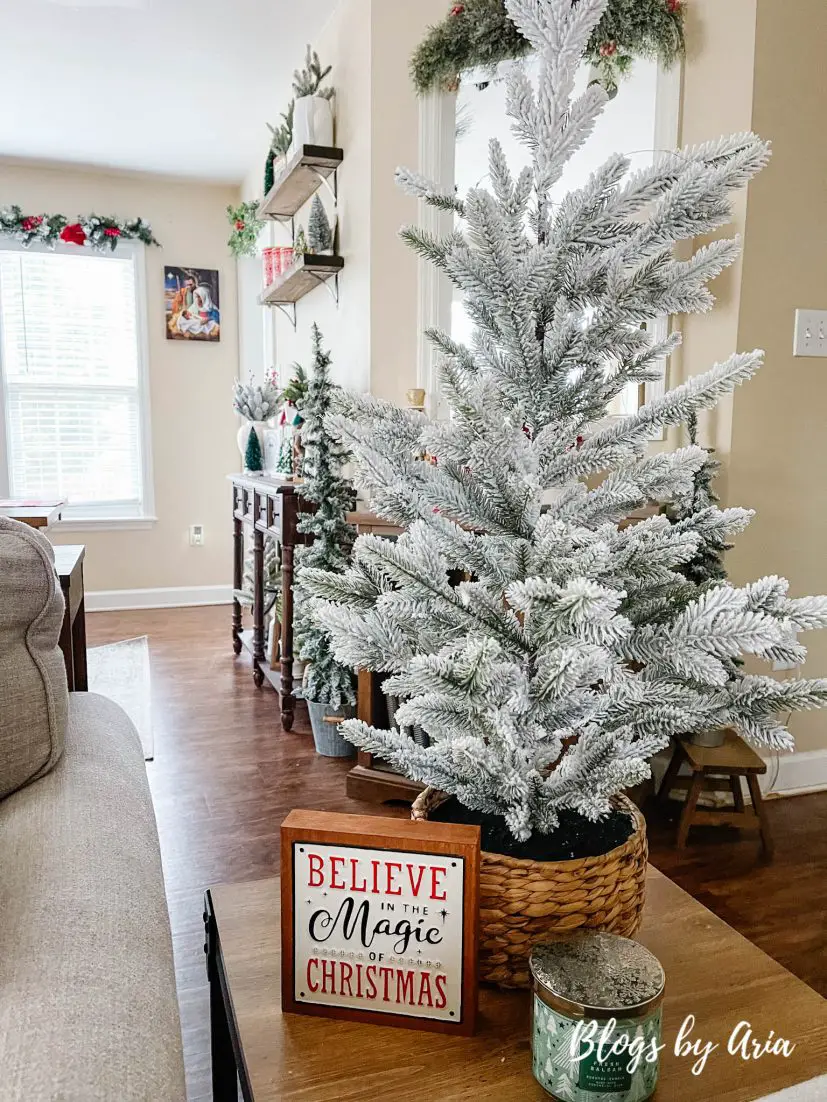 white flocked tree · side table
I love this flocked tree and plan to use it for years to come.  It's one of those pieces that you see in the store, look at the price tag and say no.  And then you can't stop thinking about it.  I also have the smaller version on top of my bookcase.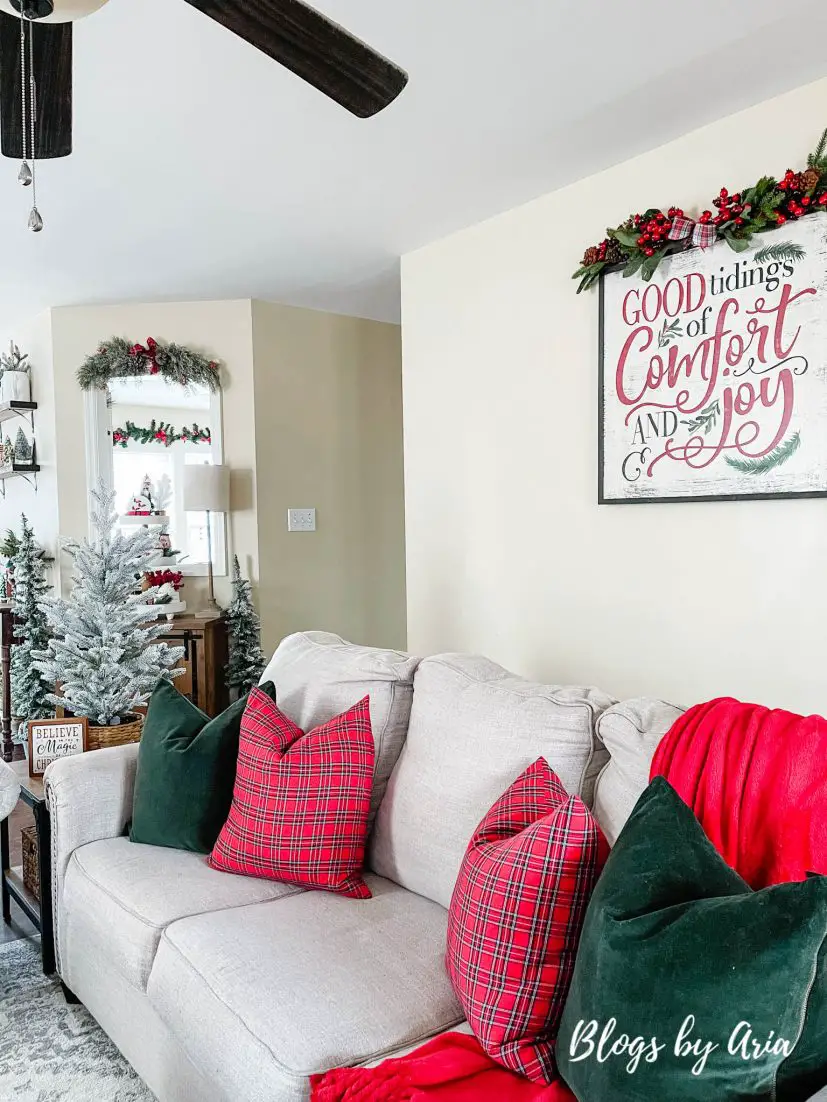 green velvet pillows · similar red plaid pillows
One thing I knew I wanted to bring into my Christmas decor this year was more green.  Originally I had a set of green pillows that I ordered, but the order was cancelled due to supply issues.  Of course now they're still available but at the time I didn't have many options.
I tried this pair from Kohl's but they didn't work with any of my red or white plaid pillows.  Then I saw my friend Erin from The Sunny Side Up Blog share these green velvet pillows from Pottery Barn and I knew they would be perfect for me.
When I first got them I thought they were a little dark.  But they grew on me and I really love the quality.  I also love the zipper detail.
They're different than the other green velvet pillow on my loveseat.  That one is from World Market and is half the price.  I like it, but not as much as the Pottery Barn version.  (of course right)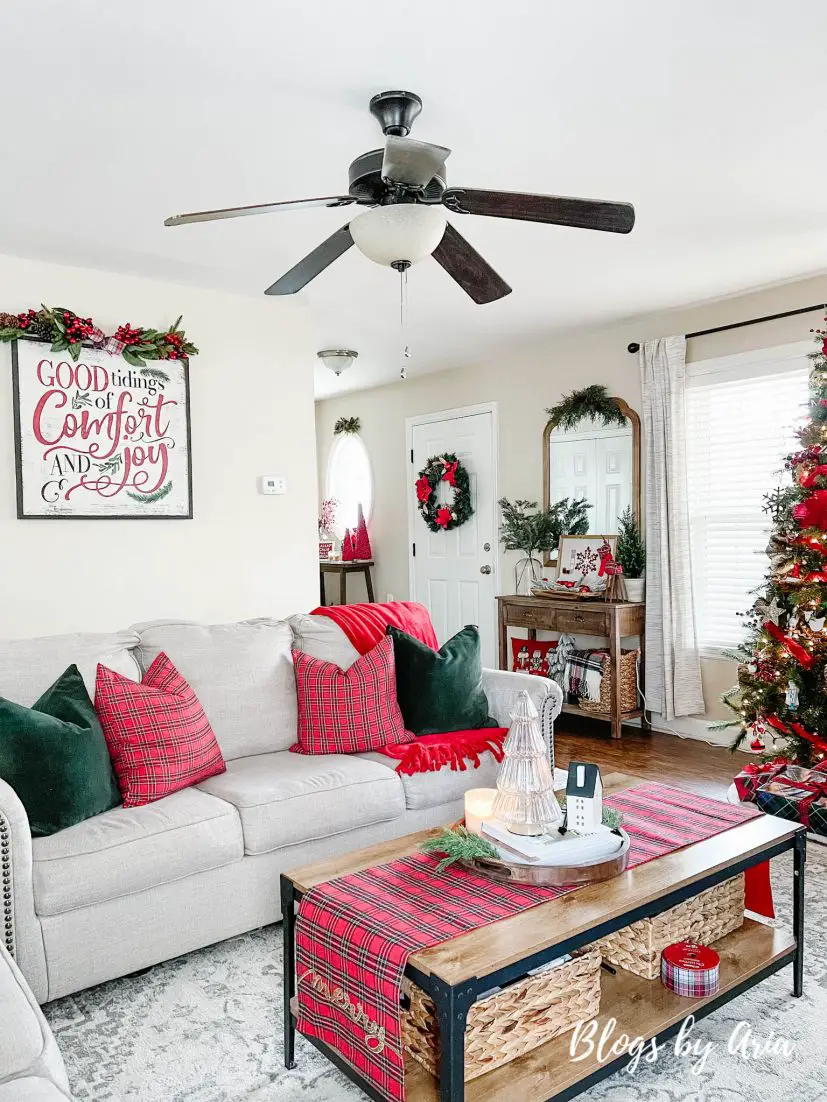 When I took this picture I didn't see the spool of ribbon just chilling on the side!  Aside from that I love this view.  You can see my beautiful Christmas sign with the greenery on top, my tree and my entryway table.
My entryway table decor has changed a bit since I shared it last.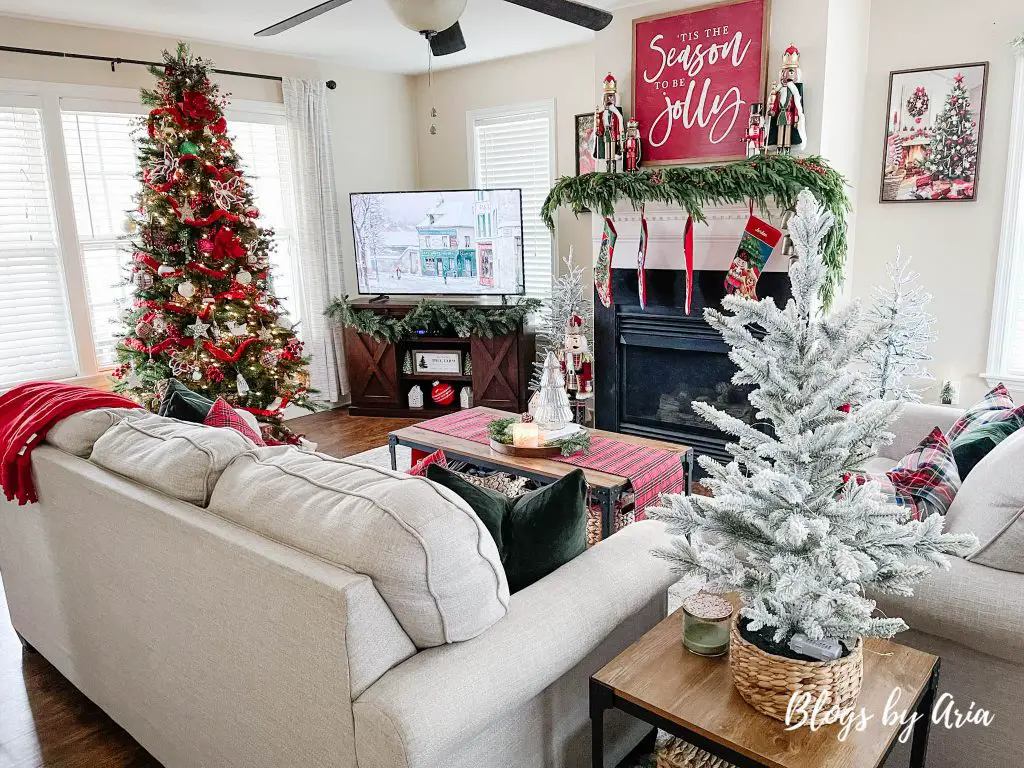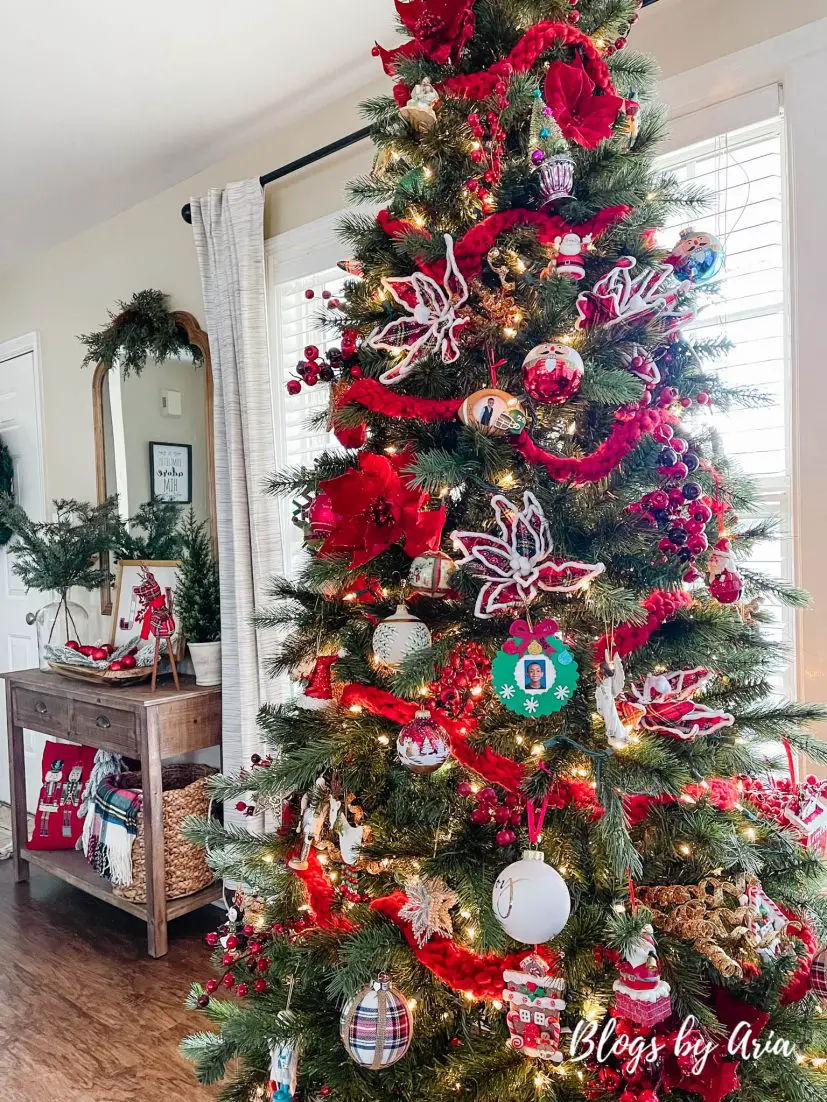 The tree is the focal point of the room of course but I haven't talked about it much.  This will be my last year with this tree I'm sad to say.  I didn't know this until I was trying to find it to update my links on my blog, but this Christmas tree was recalled last year.  Yep.
If you're new here, I got this gorgeous Christmas tree from Home Depot on an awesome deal for Black Friday 2019.  It fit our space in our townhome perfectly.  Last year I felt that it was a bit big for our space in our current home and I feel that way now.
So what was the issue with the tree?  Last year I noticed that the lights would turn off and on by themselves and change modes on its own.  This year when I went to plug in the tree, I was looking online for the owners manual.  Because I couldn't locate my instructions and couldn't remember where the plug was.  That's when I saw all the articles about the tree being recalled.
The part that was the issue was the plug and foot pedal.  And that part is required to even get the tree to turn on to use the remote.  While I was putting the tree up this year it was turning on and off on its own and I decided that I didn't want to risk it.  It's a fire hazard.
So I went and bought 600 lights and had so much fun stringing lights on a pre-lit tree.  And I knew that this tree would be put to rest once I take it down.  I'm sad but I'm glad I didn't pay retail price!
We'll have to see what's in store for next year!  It'll be here before we know it right.  Until next time my friend ♥