Hey friends! How are you recovering from the time change?  It's always hard for me to spring forward.  It takes me about a week to get acclimated.  Today I want to talk podcasts.  I love podcasts and it's so odd to me that so many people I know don't even know what a podcast is.  I'm hoping that after reading today's post you'll want to give podcasts a try if you haven't already, and if you already do listen then maybe you'll want to try a few that I mention.
I have been listening to podcasts for several years now.  I don't remember what podcast in particular got me started but I haven't looked back since.  Now, you should know that I am an iPhone user.  So I know that makes it easier for me to download and listen to my podcasts in one space.  But there are podcast apps like, Podcast One, Tune In and many more if you're using a different device.  Since I am an iPhone user, I'll be explaining podcasts who I listen to them.
WHAT IS A PODCAST?
A podcast is like listening to talk radio.  You can subscribe to your favorite podcasts and when a new episode is available it will download to your phone.  Once it's downloaded (on wifi) you can listen on the go without using your data.  If you don't want to subscribe to the podcast you can simply search it in the podcast app and download manually.
Podcasts come in all kinds of varieties.  You can listen to politics, spiritual, business, stories, parenting, literally anything you want.  If you want it, odds are pretty high that it already exists as a podcast.  I listen to podcasts when I'm at work, when I'm driving, and when I'm cleaning the house.
MY FAVORITE PODCASTS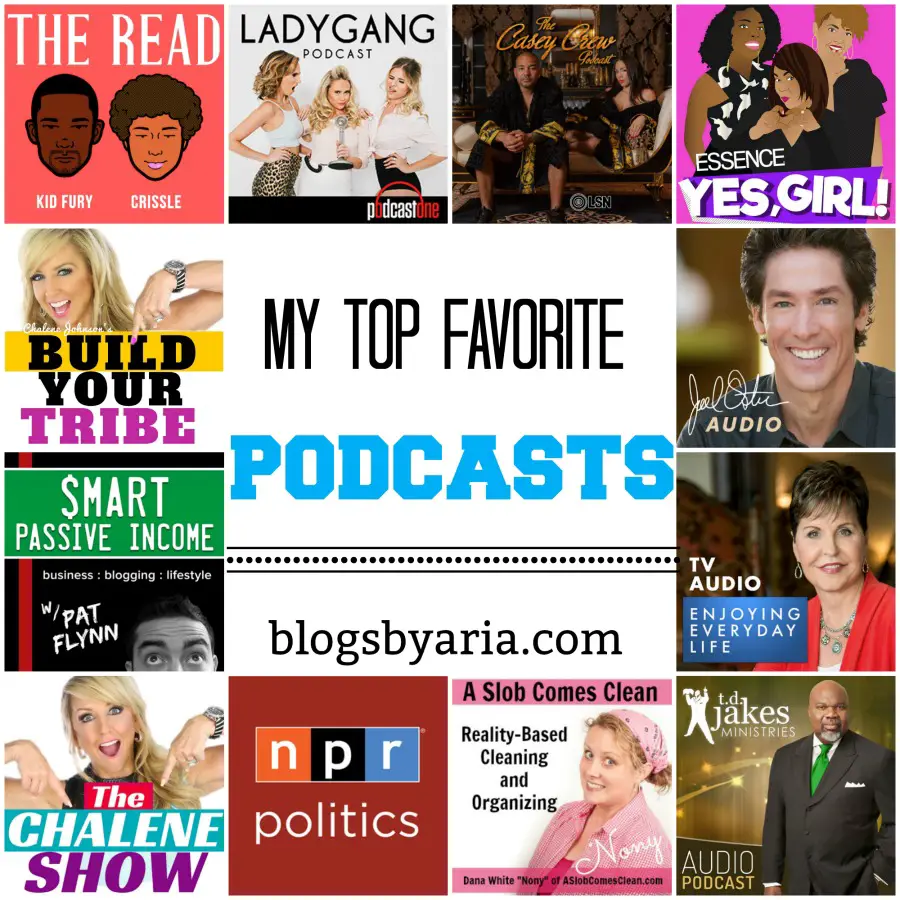 I listen to all kinds of podcasts in all kinds of genres.  So there's a good chance you'll find something you like here.
NOT KID FRIENDLY
There's so many podcasts that I listen to that I can listen to with the kids in the car.  These are not in that category.
The Read — I love The Read.  I started listening to it a year ago after I found it on YouTube.  Kid Fury and Crissle talk about what's going on in hip-hop culture in their own way.  I am always laughing out loud when I listen.  I will say, that he is gay and she is lesbian, so if that's a problem for you then maybe you shouldn't listen.
The LadyGang — I think early on into listening to podcasts I searched around and stumbled upon these girls.  I've been a listener ever since.  They have guests that come on the show and they too have me always laughing.  My favorite segment is "Good Week, Bad Week".  This is a podcast for women, there's a lot period and sex talk so fellas this one isn't for you.
The Casey Crew — DJ Envy from The Breakfast Club and his wife Gia came out with a podcast maybe about a year or so ago.  He talked about it when it first started and from the first episode I was hooked.  I really like their relationship and they're so relatable to me.  A lot of sex talk but there's also talk about love and relationships and parenting.
Yes Girl — This podcast is relatively newer, maybe about a year and a half old.  These ladies are from Essence magazine and they have celebrity guests and I really enjoy them.  What I enjoy even more is there chit chat that covers hot topics before they get into their guest interviews.  If it wasn't for Yes Girl I wouldn't have been so eager to stay caught up on Insecure to avoid their spoilers haha.
Each of these podcasts are a MUST LISTEN every single week.  Sometimes I binge podcasts but not these, I look forward to them every week.
CHRISTIAN PODCASTS
If you watch Christian sermons on TV these are all the audio versions of them.  Sometimes I listen daily and sometimes I binge them for a road trip.
Joel Osteen — I like Pastor Joel and Victoria.  This podcast is both of his weekly message that's on TV and it includes a 15 minute episode from Victoria that comes up around mid-week.
Joyce Meyer — Joyce Meyer is a meat and potatoes preacher.  She gives it to you straight and I really enjoy her.  I shared in a previous post my experience at one of her conferences when she came to North Carolina.  It's always fun when I hear snippets of that conference in these broadcasts.
The Potter's Touch — Bishop T.D. Jakes I've seen in person twice when he's partnered with our church and had a couple of services.  I really like his preaching but if you're not used to down South black preaching, you may not be prepared for this lol.  But I love it.
BUSINESS/BLOGGING PODCASTS
I am a blogger of course and I like to learn about new things related to social media, blogging, and so much more.
Smart Passive Income — Pretty much any blogger will talk about Patt Flynn's podcast.  It's so helpful.  I really need to listen to them more than what I do but I do like his podcast.
Build Your Tribe — I recommend this podcast by Chalene Johnson.  Admittedly I no longer listen to this podcast but that's because she's not uploading to it as often as she used to.  When I see that a podcast I subscribe to has stopped uploading or has taken a longer than usual break, I unsubscribe.  I can always go back and check in my podcasts if they're uploading again but my space is so limited on my current phone so there's no point it keeping something up there that's not being updated.  Like, Smart Passive Income, this podcast is really helpful for online businesses learning tips and tricks and about new tools.
MISCELLANEOUS PODCASTS
NPR Politics — I am naturally a political junkie.  I like election season, I'm just that girl.  Perhaps a future Senator.  Ya never know.  And I like NPR because they're unbiased, they're just reporting what's happening.  So I typically listen to them.  And I will listen to them again, but not now.  The last thing I want is to hear about the man who is playing President right now.  It's hard enough to watch Good Morning America every day and that's about all I can take within a day.  So I love this podcast but I can't right now.  You get it right?
The Chalene Show — This is Chalene Johnson's other podcast and my thoughts are the same as I mentioned above.  I love Chalene, she's my friend in my head.  I work out to her almost daily.  So if you haven't listened then it's totally worth it to go back and listen to the older episodes.
A Slob Comes Clean — I needed this podcast ya'll.  I'm not a slob but I have slob-like tendencies and this podcast has helped me to stay on task and keep my slob ways at bay.  I listen to her in the car but I also like to listen when I'm decluttering a space.
That wraps up my favorite podcasts.  I am always looking for new ones to listen to so if you have a recommendation leave it in the comments below and I'll check it out.  I'll go ahead and say that I'm not into the story kind of podcasts like Serial.  That's not my jam.  But I'm pretty open to a lot of others.  I have a few more I could share but I'm going to do that in a future post.  If you're new to podcasts or new to any of the ones I've shared today, please let me know if you found a new favorite here!  In the meantime, I am struggling to keep my eyes open!  I appreciate you for spending some time with me today 🙂