It's already Summer here in North Carolina.  I've wanted to share a few style posts and finally got some free time to work on these them.  I hope you enjoy them.  I wanted to do a round-up of some great Summer outfits.  As much as I love Summertime it's easy to get into a rut of jean shorts and tank tops.  Let's jump into my Summer Style Guide where I hope to give you some fashionable alternatives than the typical jean shorts, tank tops and flip flops.
*this post may include affiliate links, you can read more about that by reading my Disclosure post*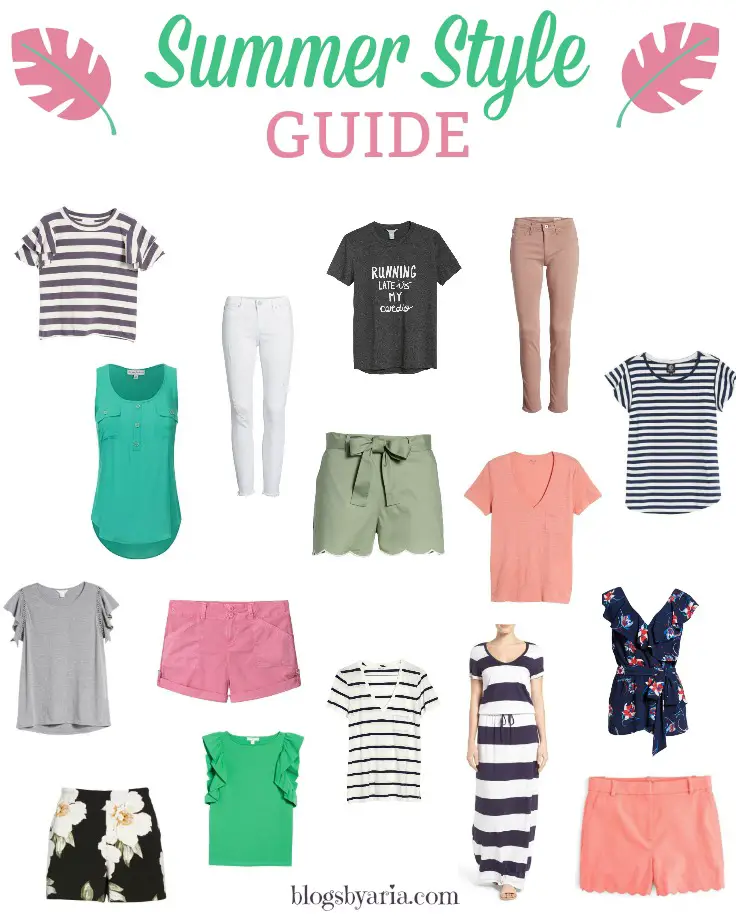 Before we get started, I should share that yes, I have a thing for stripes.  With that being said…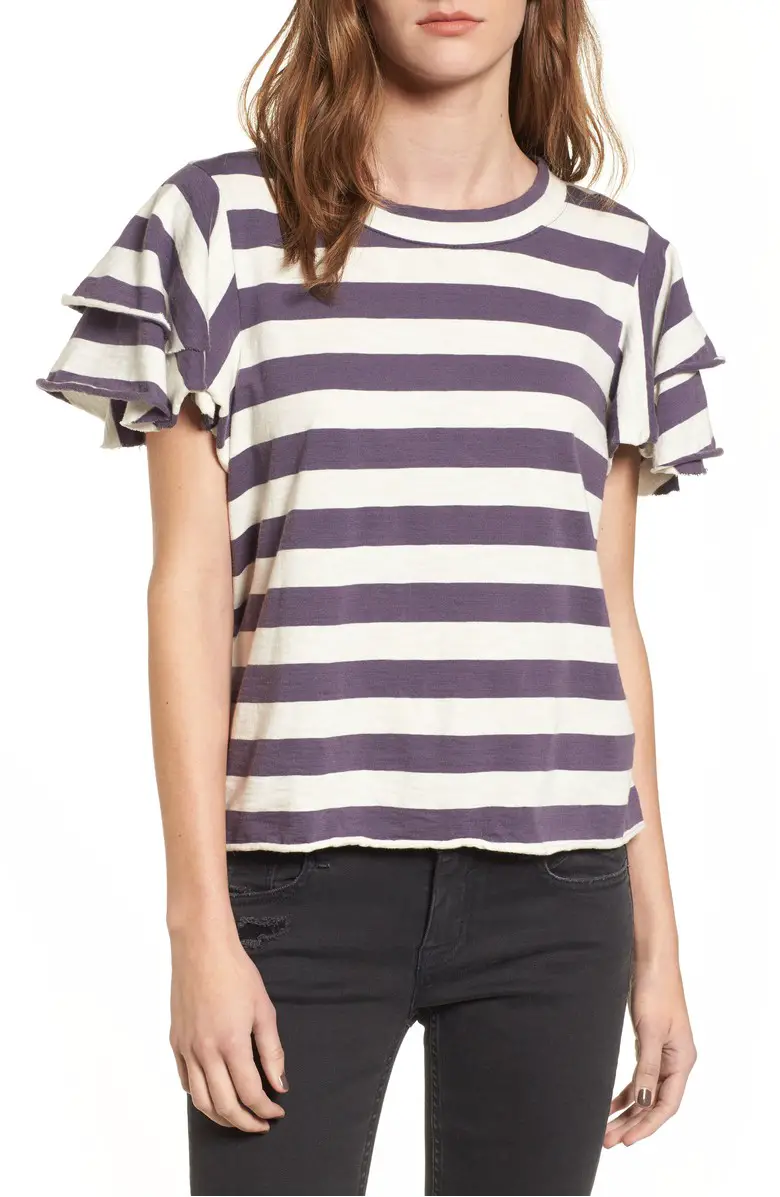 Flutter Sleeve Tee — I'm a t-shirt girl.  What I love is when a simple t-shirt stands apart from the rest thanks to a small detail.  You'll see that a lot in this post.  I love the flutter sleeves.
Carly Distressed Ankle Skinny Jeans — These white jeans are opaque enough so that you can't see through them and they're distressed.  White denim is great for Summer.
Running Late is my Cardio Tee —  I love a cute graphic tee, even when it's not true for me.  I hate being late.
AG The Legging Skinny Jeans — I love the blush jeans/pants trend.  I recently got my daughter a cute pair that I'll be sharing on the blog soon.
Woven Scoop neck Sleeveless Tunic Tank — Similar to a basic tank, this top is tunic style with a utility look with the pockets and it comes in one of my favorite colors teal.
Tie Waist Scallop Hem Shorts — To switch up from the typical jeans shorts these scallop hem shorts are feminine and fun.
Madewell Whisper Cotton V-Neck  Pocket Tee — I love Madewell t-shirts.  They are so soft and lightweight.  So I had to include them.  They come in a rainbow of colors.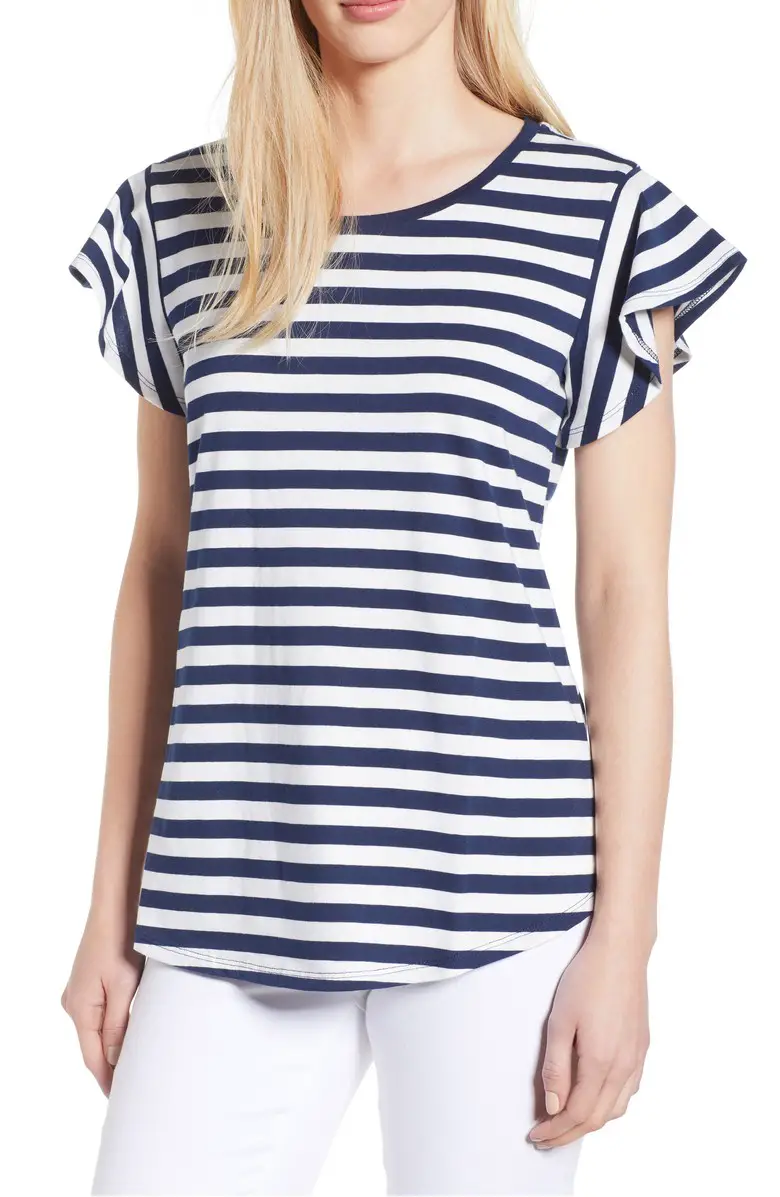 Bobeau Flutter Sleeve Tee — Yes, more stripes and more flutter sleeves.  The ruffle detail is different from the one above and these tee is longer so you can wear it untucked, semi-tucked, or fully tucked in.
Flutter Sleeve Crochet Detail Top — Flutter sleeves with the added detail of the ladder stitch trim around the shoulders make this top stand out from the rest.
Wanderer Cargo Shorts — I like shorts with a pop of color for Summer.  These are in Wild Cherry and they just make me smile 🙂
Madewell V-Neck Pocket Tee — Similar to the tee I shared above, this just is striped, which makes it worth sharing some more!
Drawstring V-Neck Jersey Maxi Dress — I've loved this dress since I first saw it about a month ago.  It is so easy to slip on and be comfortable but look like you put forth a little effort.
Ruffled Tie Waist Top — This top is a bit dressier but it works great with white jeans or with a pencil skirt for work or for going out to eat.  And it has my favorite ruffles!
High Waist Shorts — These shorts are high waisted and the print is very pretty.  They're dressier so to me they can take a simple tank up a notch.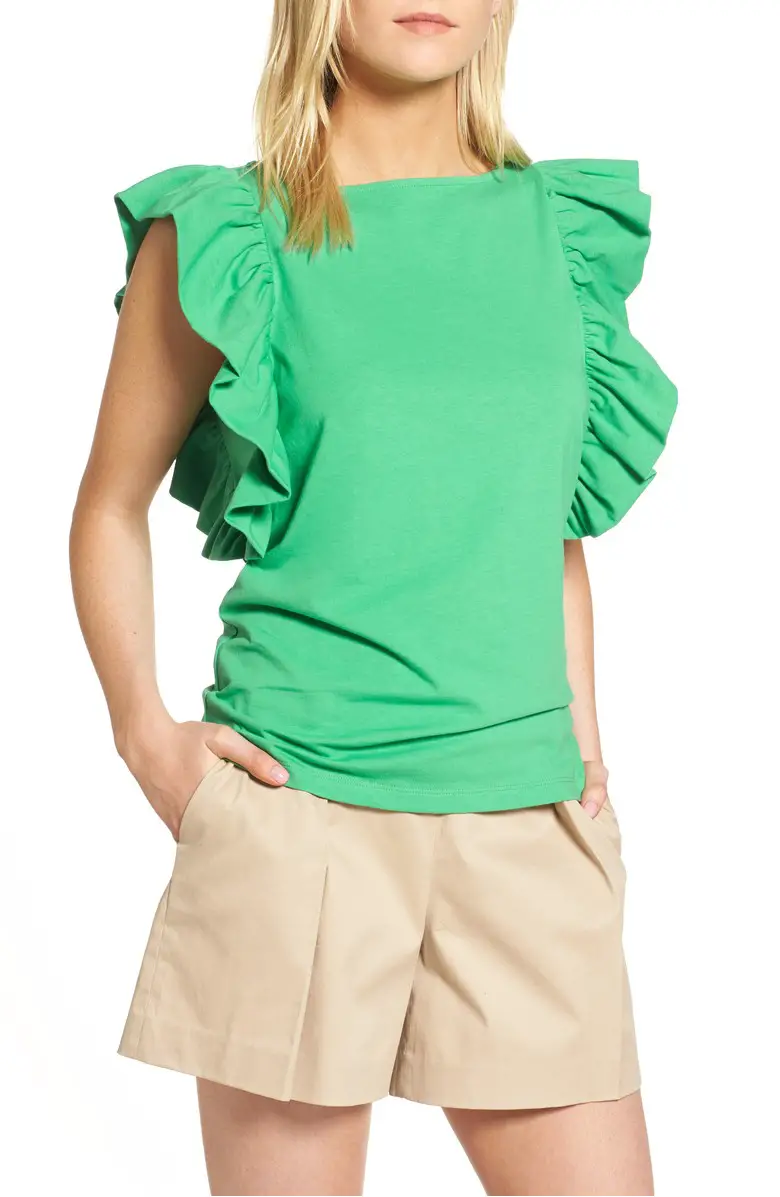 1901 Ruffle Sleeve Tee — These ruffles are totally different from the other ruffle sleeve tee's I've shared.  I wanted to share it from the side so that you can see that you're all covered up.  I hate when tee's act like I want you to see my goodies from the side.  It's Summer and I don't want to wear layers ya know?
J. Crew Fiesta Scallop Hem Stretch Cotton Shorts — These shorts are cute with the scallop hem.  The stretch makes them comfortable but the look makes them fancy.
I hope you enjoyed today's Summer Style Guide!  I love fashion and I want to share more of it on my blog.  I was just telling a friend the other week how I really want to evolve my style.  DH and I were also talking about it recently.  We have some things coming up for us in our near future and sometimes when you're embarking on something big, it causes you to want to make changes in other areas of your life.  We both agreed we want to up our style.  I'm over wearing jeans and college t-shirts.  That's legit my go-to and I'm ready to move past that.  I've purchased a few ruffle tees and I love them.  I'm still comfortable in my tee but with a little extra flair.  I really want to look put together and like I put forth some effort so I'll be sharing a lot more style posts here.  I'm hoping to start posting OOTD (outfit of the day) posts here and on Instagram.
If you're looking for more style posts be sure to check out my Summer Wedding Style post.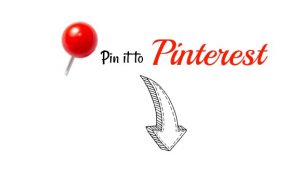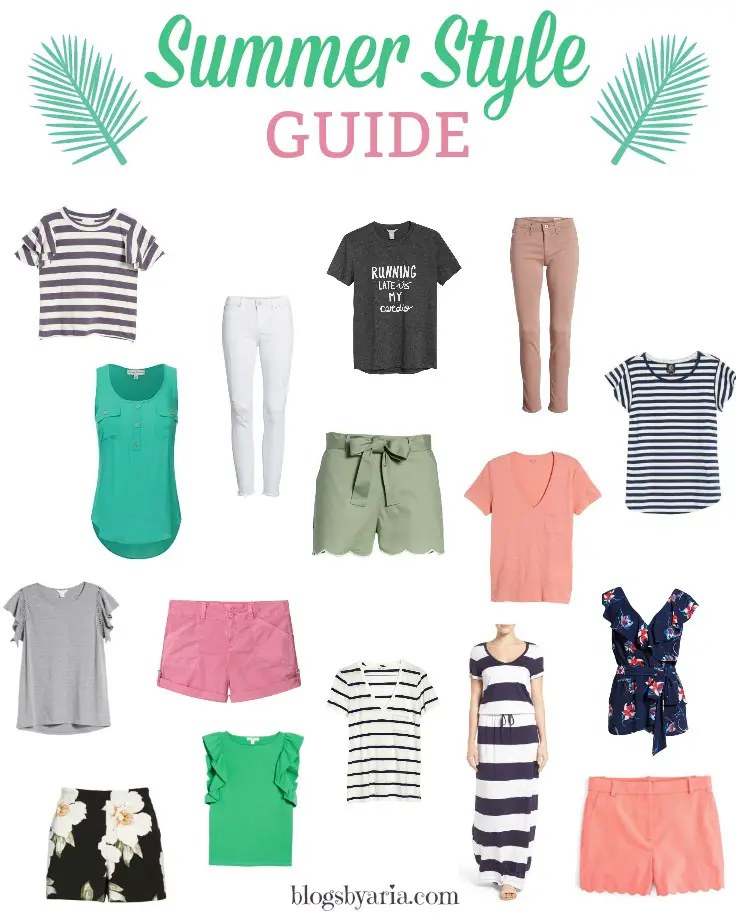 Let me know what you thought of this post in the comments below.  Tell me what's your "thing".  Are you obsessed with stripes like me?  Or flutter sleeves?  What is your go-to for Summer?  Thanks for spending some time with me today, I appreciate you for it 🙂  Have a great weekend!!