Now that the holidays are behind us I am ready to undecorate for Christmas.  How about you?  Do you like to take down all of your holiday decorations immediately after Christmas?  Or do you prefer to wait until the New Year or later?  For years I would wait until around New Year's Day to undecorate.  But now I want to take down all of the Christmas decor as soon as December 26th!  Now that we've hosted both sides of the family, I can really dig in and undecorate for Christmas.  Figured I'd share my process with you.
In the past few years I've gone from having just a couple of bins for holiday storage to now having a full system!  This year I think it's safe to say that I've more than doubled the amount of Christmas decor, so naturally that means I need more storage.
*this post includes affiliate links for your shopping convenience, you can read more about affiliate links by reading my Disclosure*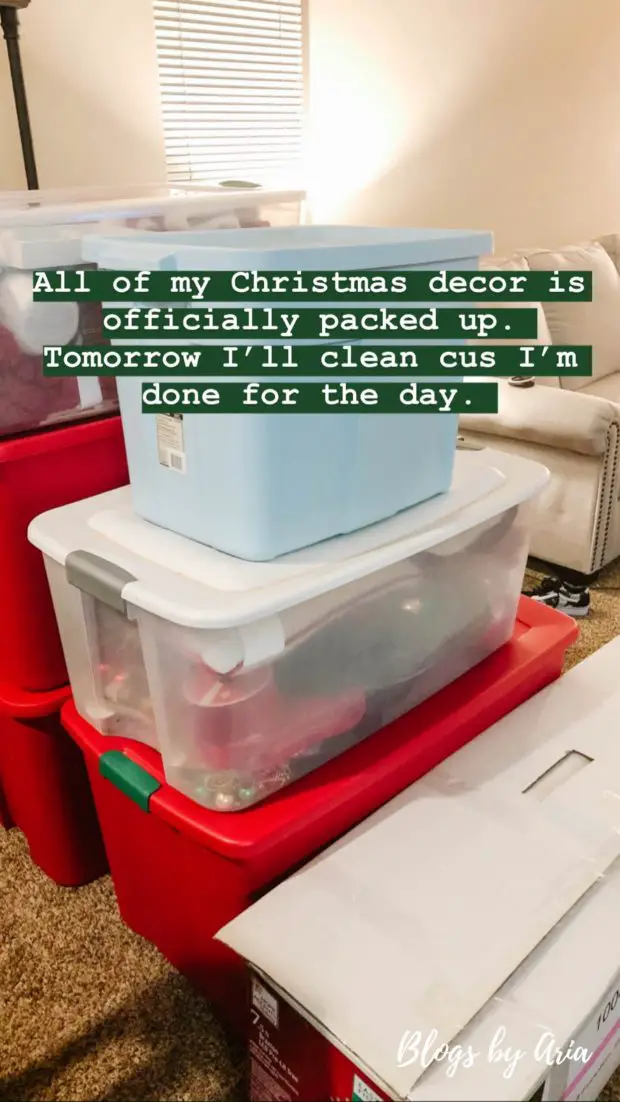 this was my packed up holiday decor last year in our townhome
Last year I got a few large red bins from Walmart…they were so large I could barely fit them in my car!  But they were worth the struggle to transport them home in my mid-size sedan!  They store a lot!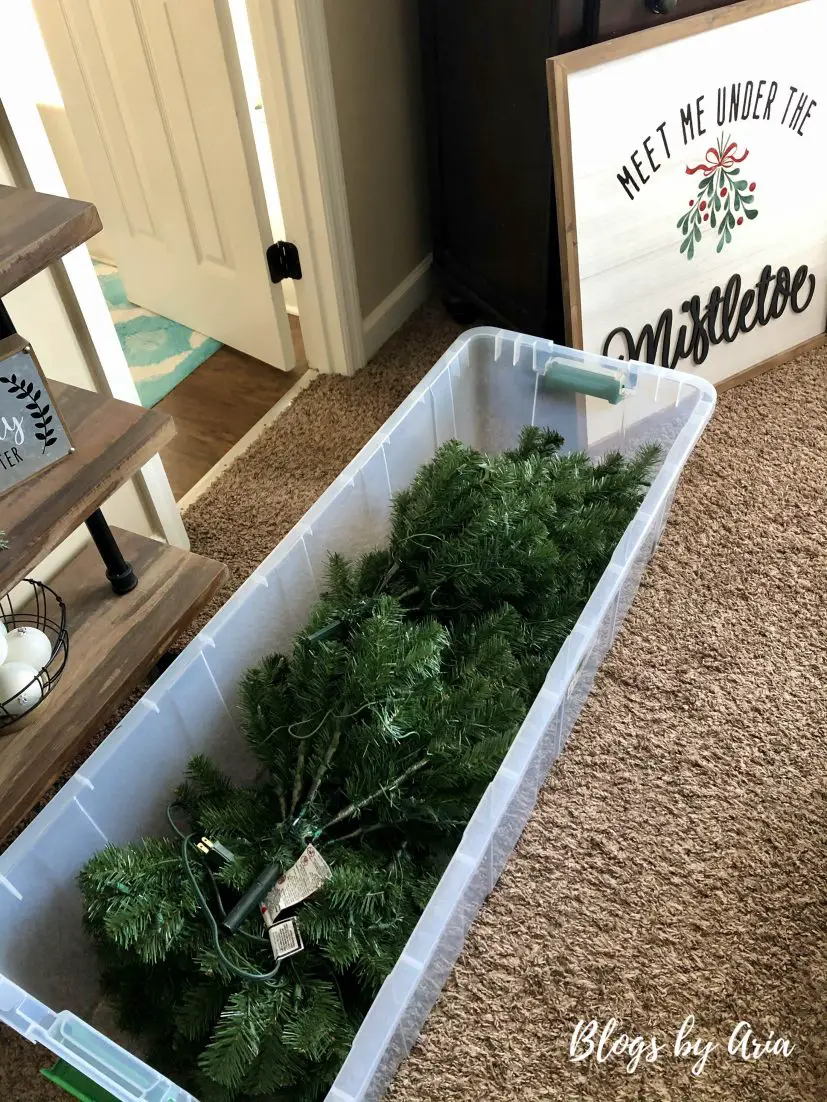 This year I got a few more standard size bins from Target, along with tree storage bins.  These are made to fit a tree up to 7.5 feet tall which works perfectly for me.  I didn't want to use the boxes they came in.
While everyone was running around in the last days leading up to Christmas shopping for gifts, I was shopping for storage.  Because I knew that items would sell out quickly.
Since I got a larger wreath for our front door this year I knew that I would need to get a wreath storage bag.  Many of the ones you find in your typical Walmart and Target stores are made for standard size wreathes.  I ended up getting this wreath storage bag that can fit my 30″ wreath.
While I was looking at holiday storage solutions I found this nutcracker storage bin. (similar here)  It has compartments to fit both standard and smaller nutcrackers.  That will free up some of the space from my regular storage bins.
One way that I like to keep things together when storing them in larger bins is with storage bags.  Using larger gallon or two gallon size storage bags helps to corral items together.
I don't really like vacuum seal bags for pillows.  I think they're great for bedding and I should probably try to find some for my Christmas bedding.  I'm not quite ready to part with it just yet.  When I do switch our bedding I'll end up putting it in our linen closet and not with the other Christmas decorations.
Since I didn't want to use vacuum seal bags for my pillows I purchased these large storage bags and hopefully they'll do fine in here.  Last year I put my pillows in one of my large bins and I think it'll be better off this way.
TIPS TO UNDECORATE FOR THE HOLIDAYS
Store like with like
Now that I have a neutral decor theme in addition to my traditional decor, I'm including all of my more neutral Christmas decorations in one bin.  Even if they didn't all go in the same room.  I really tried to make sure all of my flocked items are in the same bin.  Thankfully I was able to put my flocked tree, garlands, picks and wreaths all in the same bin.
This is also a good idea if you want to transition your Christmas decor to winter decor by keeping your neutral holiday decorations out.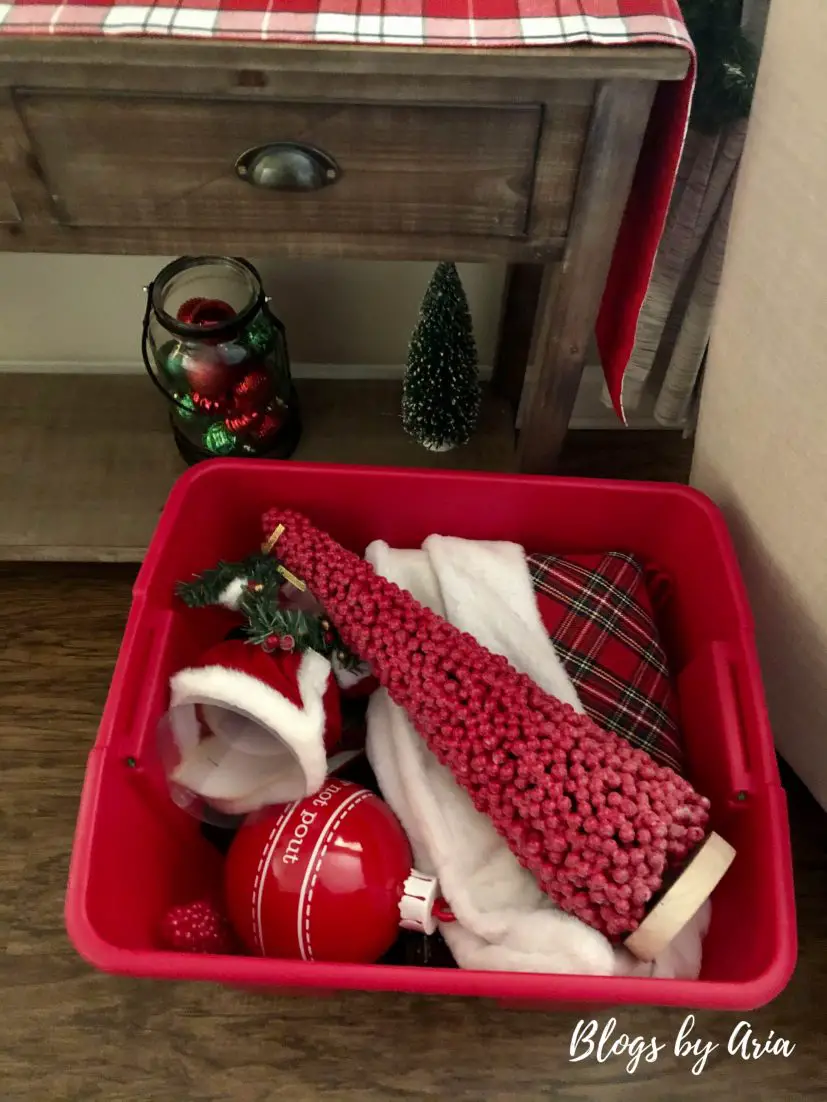 Store items based on the room
All of my kitchen Christmas decor will be stored together.  The holiday decorations from each of the kids rooms or the bathrooms should all go together.  That way when it's time to decorate next year, you can decorate a space without having to open several bins to find what you're looking for.
Take Note
Especially if you're not using clear containers, take notes of what you put where.  Now in the beginning stages of my undecorating I am pretty organized.  But eventually I will just throw items wherever they will fit!  Because of that it's a good idea to make notes of what is in each container.  I just use my iPhone notes since it automatically saves in my email.
Remove all batteries
Last year I didn't take batteries out of my battery operated lights.  Frankly I have never removed batteries out of anything unless they stopped working.  Well I was surprised when I went to use them this year and realized that my batteries had corroded and the lights couldn't be salvaged.  So this year I didn't take any chances, and every single item that has batteries, I removed them before I stored them away.
I ended up using this ornament storage bin without setting up the grid system for all of my larger ornaments.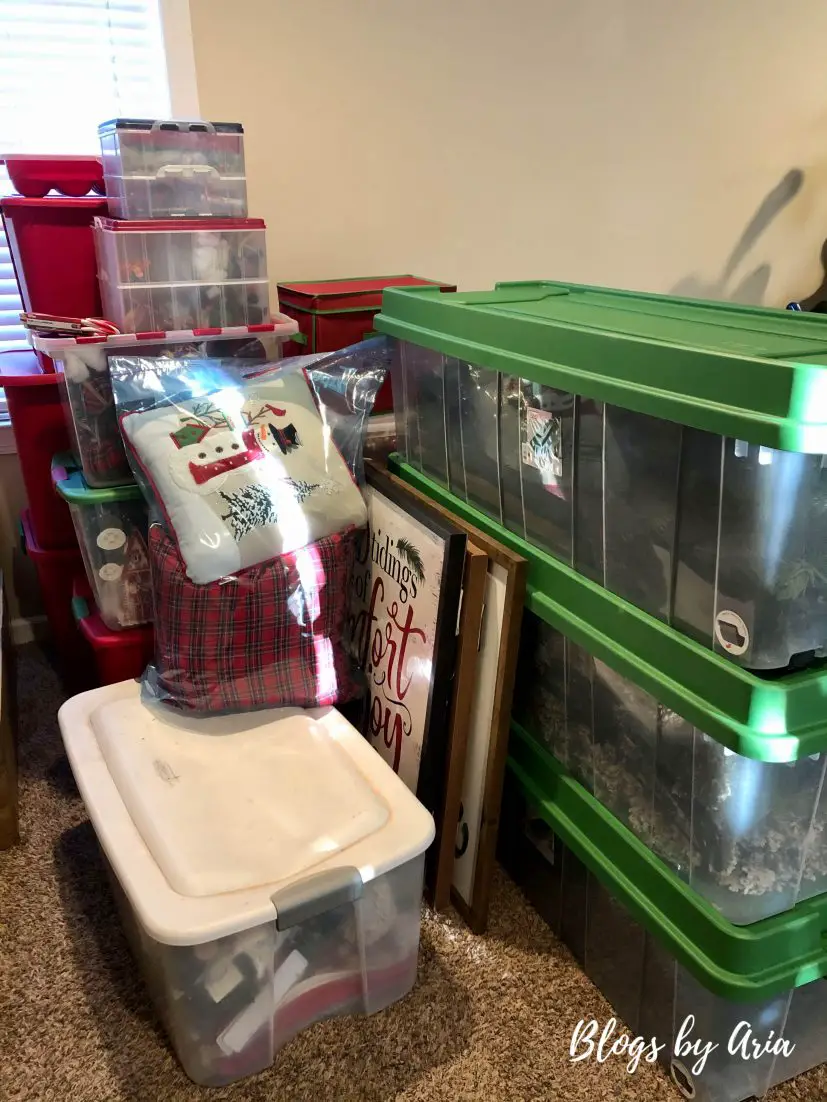 As I'm writing this post on the Tuesday after Christmas, that's four days after if you're reading this a year or so from now, I have packed up 90% of our holiday decor.  I worked all day taking down trees and decor and not just taking it down, but then taking it upstairs to our bonus room.  Needless to say I've been working!
Before Christmas I purchased three smaller bins:  two of these 20 gallon bins and one 66 quart bin.  And I honestly thought that I would be able to store all of my Christmas decorations in those along with what I already had.  Well, I need just one more bin.  Since I'm covered in flocking and I'm pretty tired, I will go out and buy one last bin tomorrow.  I don't know what size I'll get only because I have to go in the store to see what's available.
Even though I'm exhausted, it feels so good to have gotten so much accomplished today.  Once my husband moves all of these bins into the attic I will work on cleaning up the bonus room.  Then I'll start to decorate the house again.  Or vice versa.  As much as I loved having all of the Christmas decor up, I am enjoying having a blank slate!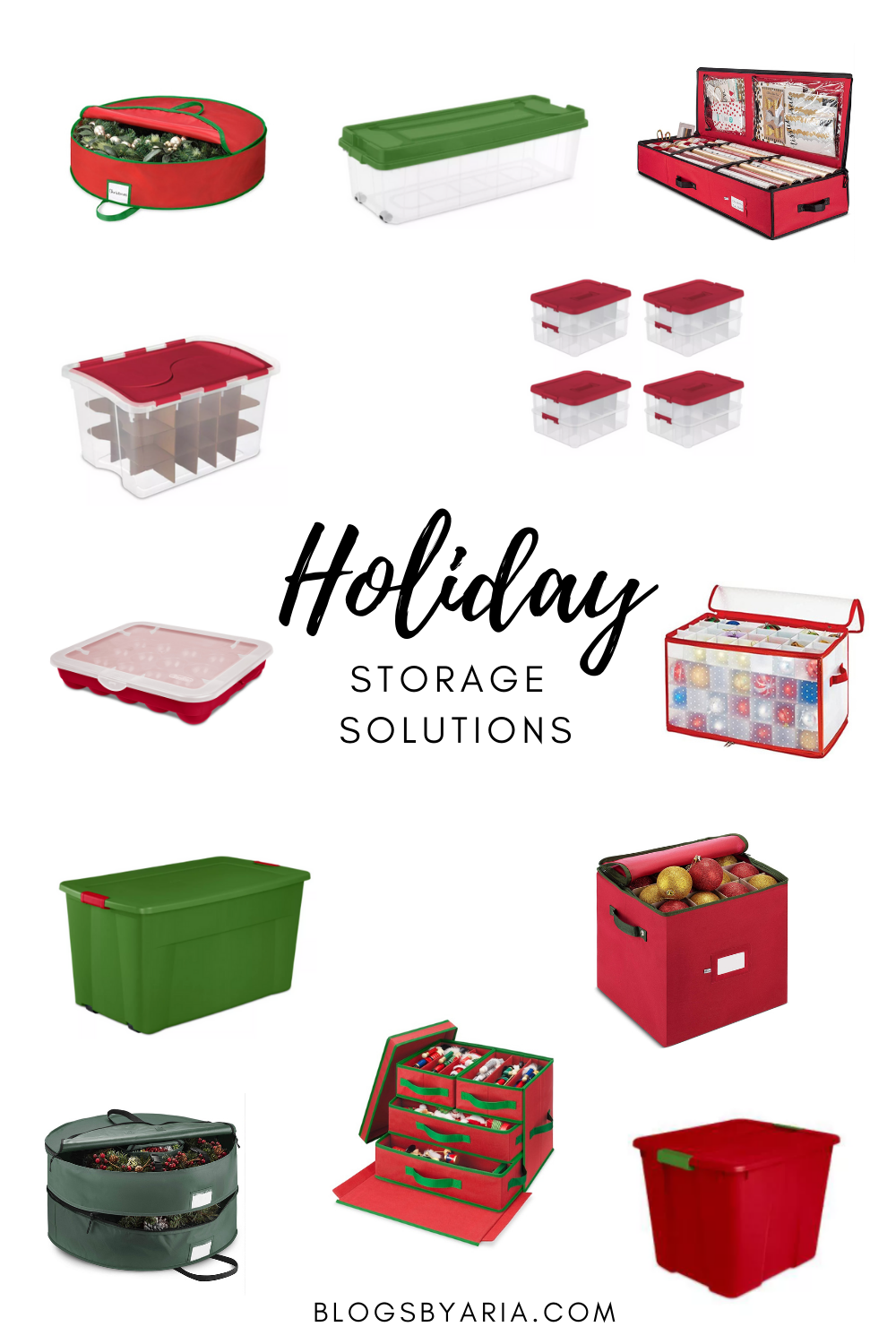 Amazon is great for holiday storage when you're ready to undecorate for Christmas.  I swear Prime is the absolute best!  My giftwrap organizer is from Amazon and I just purchased more ornament storage.
There are so many great storage options for holiday decor.  Which I love because we all have different types and sizes of decor.  I especially love this kitchenware organizing set.  Right now I have a lot of Christmas mugs, but I'd really like to get full dinnerware too.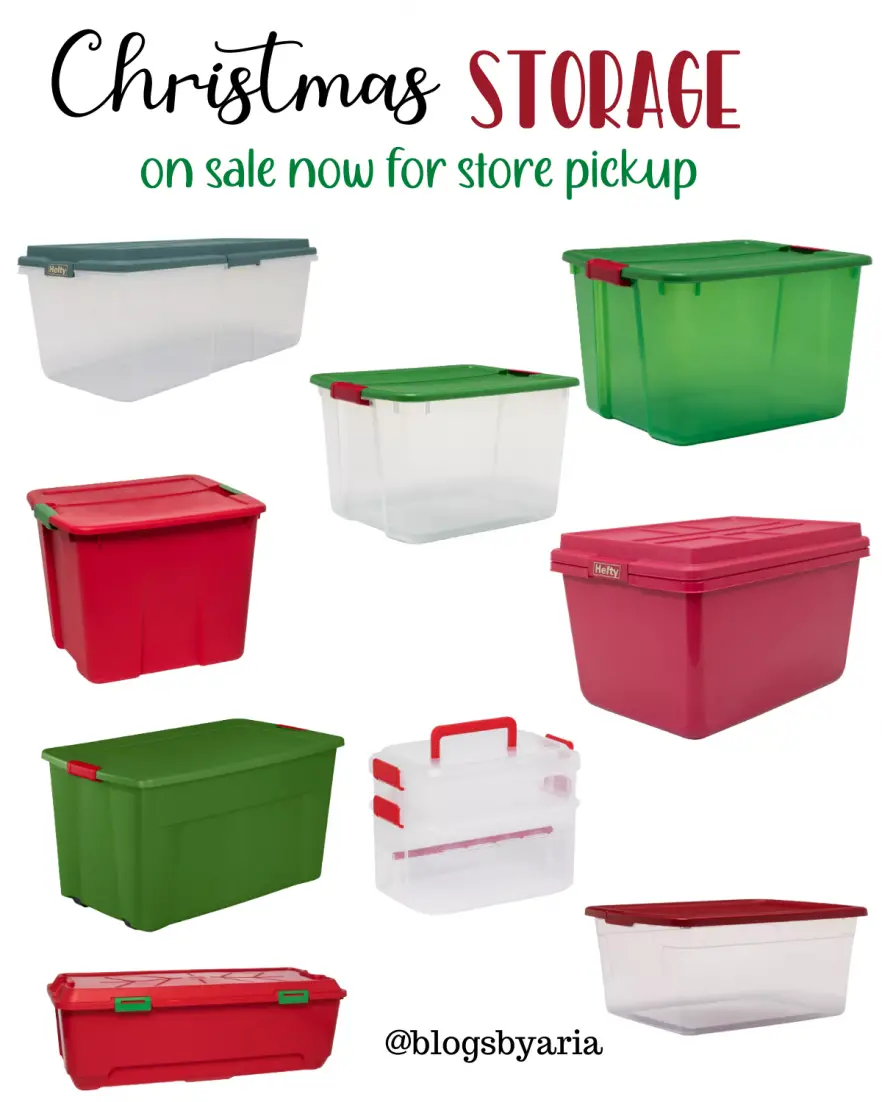 Many of these items I have and have worked great for me.  They're not available to ship but you can buy online and pickup in store or better yet…curbside pickup.  It was definitely a struggle to get some of the larger bins into my cart!  So I suggest curbside for sure!
SHOP THIS POST