This is my second Christmas season with a tiered tray to decorate.  I wanted to decorate two or three and turns out it took me forever to decorate just one.  Something new for me this year is my newfound love for gingerbread houses!  Before I knew it I was building a small collection.  It inspired me to create a gingerbread tiered tray as a way to display my newest holiday finds.
*this post includes affiliate links for your shopping convenience, you can read more about affiliate links by reading my Disclosure*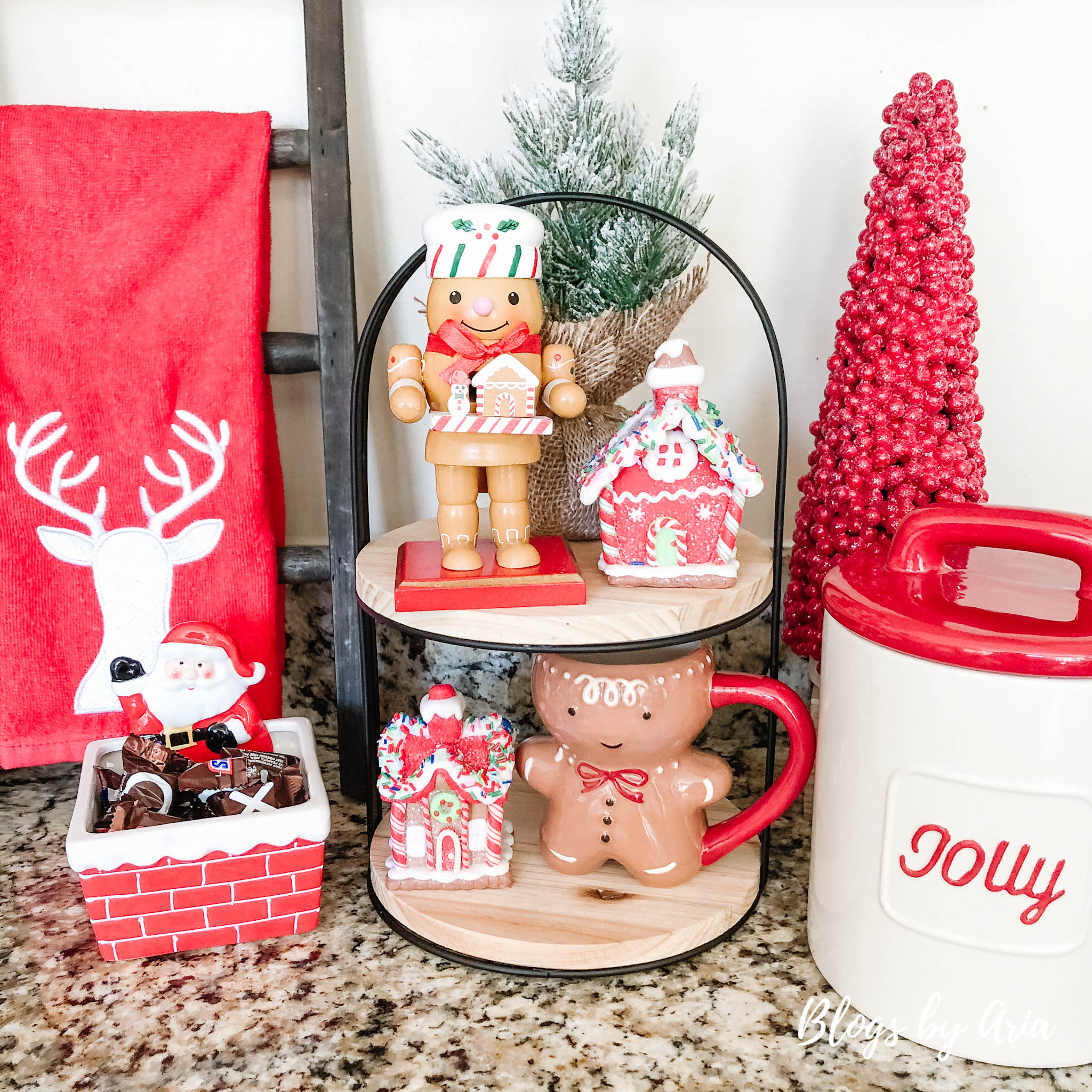 Before I decorated my three tier tray I had already styled my small tiered tray in my kitchen in a gingerbread theme.  I shared a quick look already, and you'll see it again when I share my kitchen decorated for Christmas.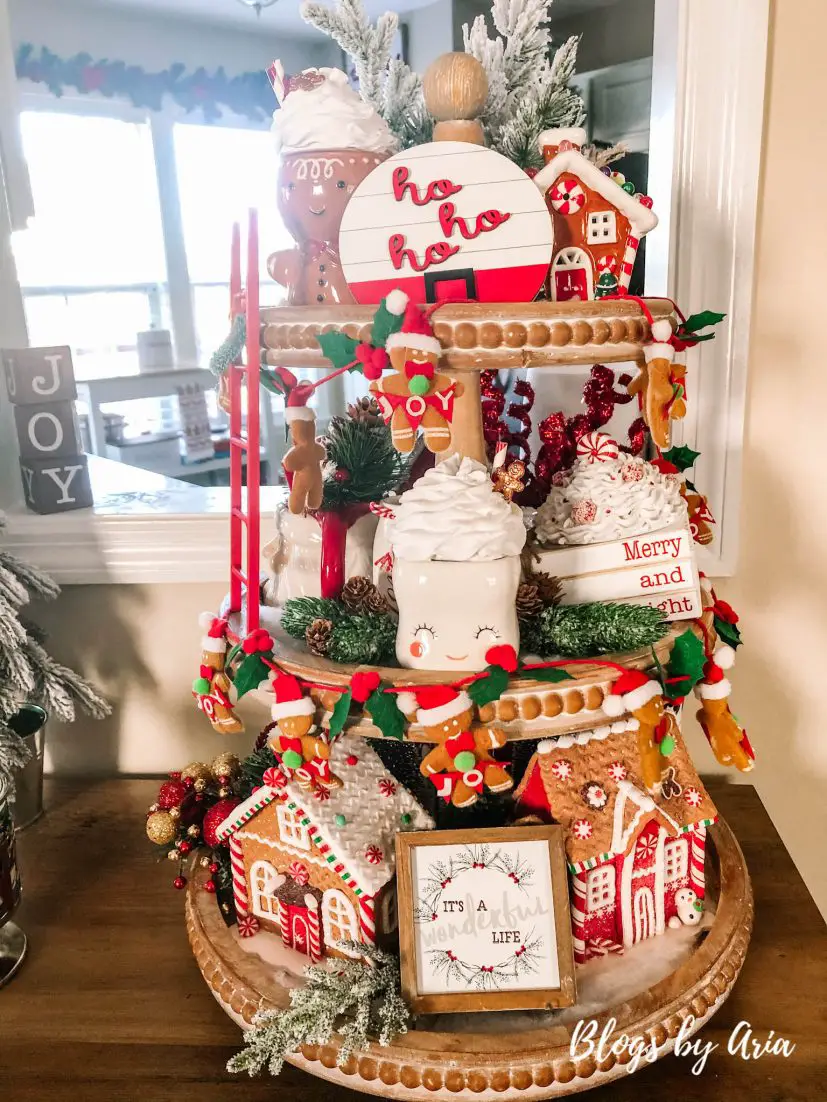 To style this tiered tray I started with my three tiered tray.  I like to call it my advanced tiered tray because it definitely takes more to decorate it.  More supplies and more creativity.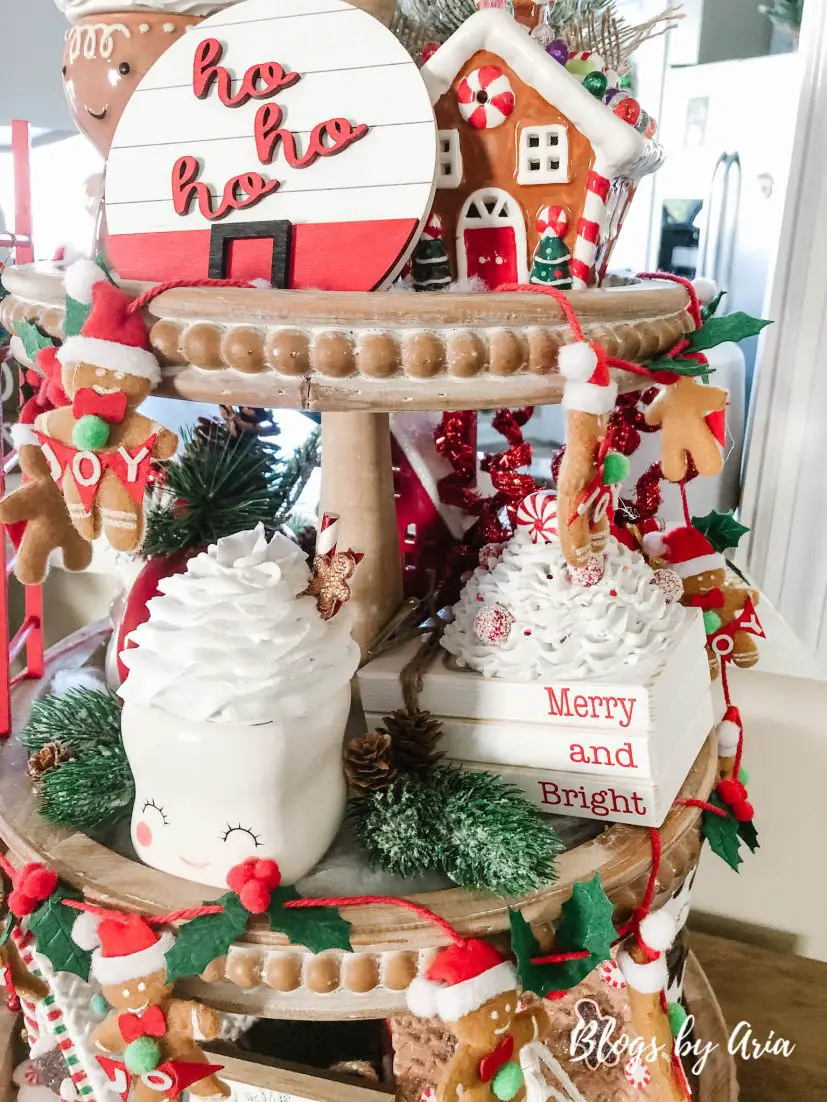 Let's start at the top and work our way down.  I picked up a second gingerbread man mug from Target.  On top of him is this gingerbread faux whip mug topper.  This cute shiplap ho ho ho sign I featured in my Christmas tiered tray inspiration post.
Also on the top tier is a mini light up gingerbread house I got from Hobby Lobby along with a couple of small flocked trees.
similar gingerbread garland here & here
When I saw this gingerbread man felt garland at Michael's I knew it would work with my three tier tray.  It's so cute!  I used tape to keep it in place because I didn't want to cut it up in case I wanted to use it in years to come.
I found this red ladder on Etsy and added a mini wreath from the dollar spot at Target to it.  It doesn't really go along with the theme but I like it anyway.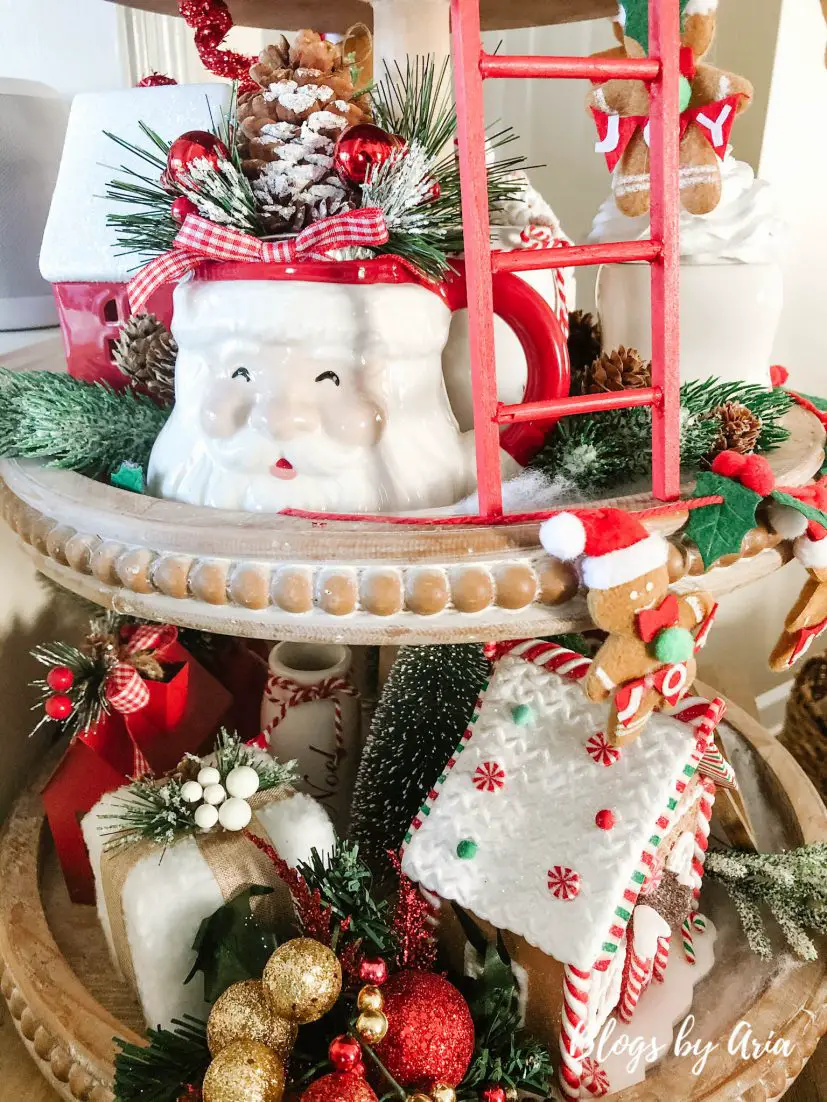 You'll see when I share my Christmas kitchen decor, that I have amassed a small Santa mug collection.  I was running out of space on my display so I took this Santa mug, also from Target and added him to my tier tray.  My mug toppers didn't quite fit him so I popped a pinecone ornament inside of him.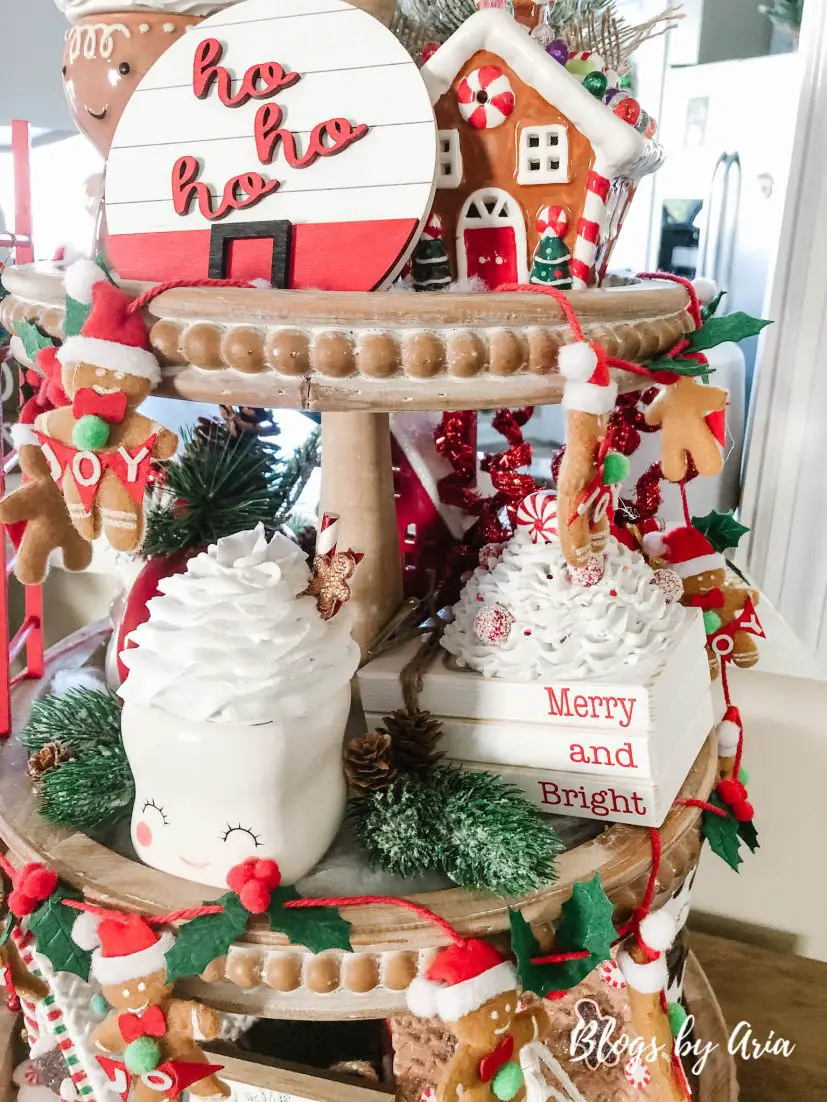 Coming back to this shot, on the middle tier I also have my mini marshmallow mug topped with another gingerbread faux whip topper.  I also used my merry and bright book stack. (find more book options here) It's topped with a peppermint faux whip mug topper that was too big to use with any of the mugs I wanted to use on my tray.
The faux whip toppers are new to me this year.  You definitely need to get them way ahead of the holiday season you want them for.  The larger peppermint faux whipped cream mug topper is perfect for a standard size mug.  It would be really cute on your coffee bar or hot cocoa station.
The gingerbread faux whip mug topper I found when I was searching for a marshmallow mug topper on Etsy.  It came in a pack of two and the fact that they were gingerbread theme was an added bonus.  I wasn't even thinking about a gingerbread theme when I ordered them.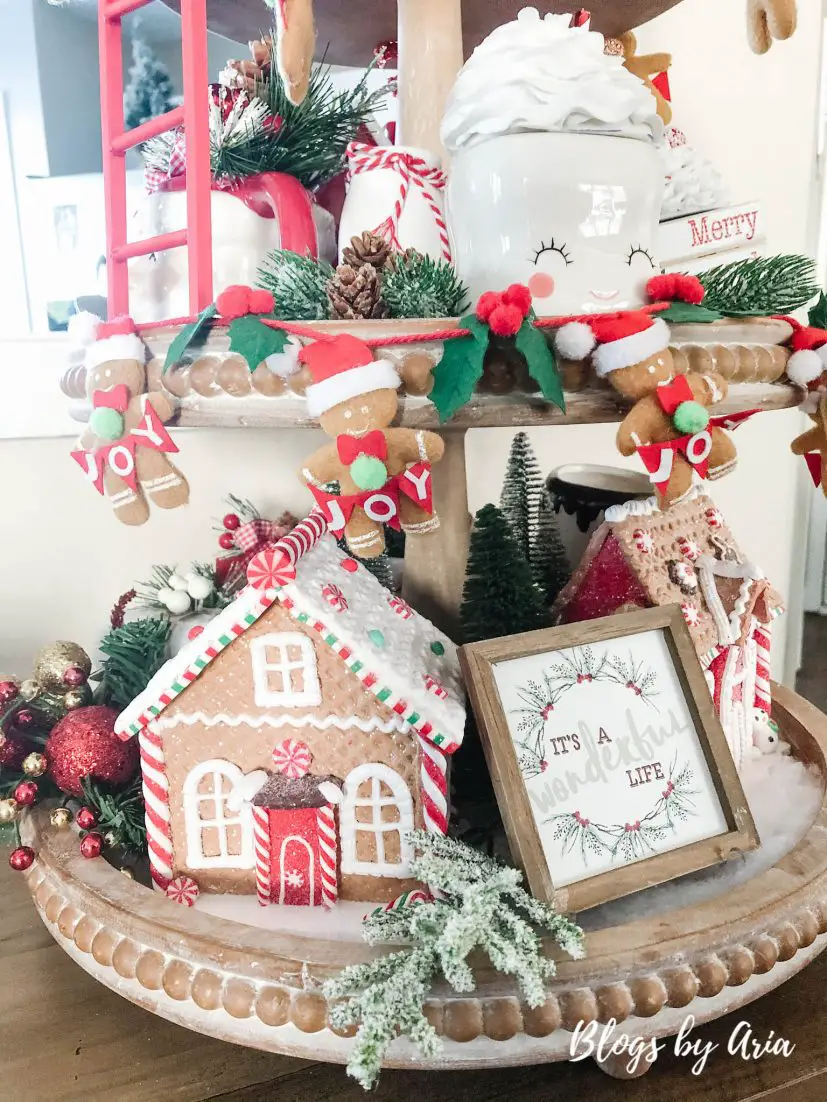 My very first gingerbread houses I got from Michaels.  They're the two you see on this bottom tier and I also have one in my powder room.  These are the two styles they have and what I like about them is the size and how unique they are.
We could each go into the store and pick up the same house and they won't be exactly the same.  Which is exactly how it is when you make a gingerbread house right?  We decorated gingerbread houses for the first time last year and although it's a frustrating experience, it's also fun.  I already have our houses for us to decorate this year!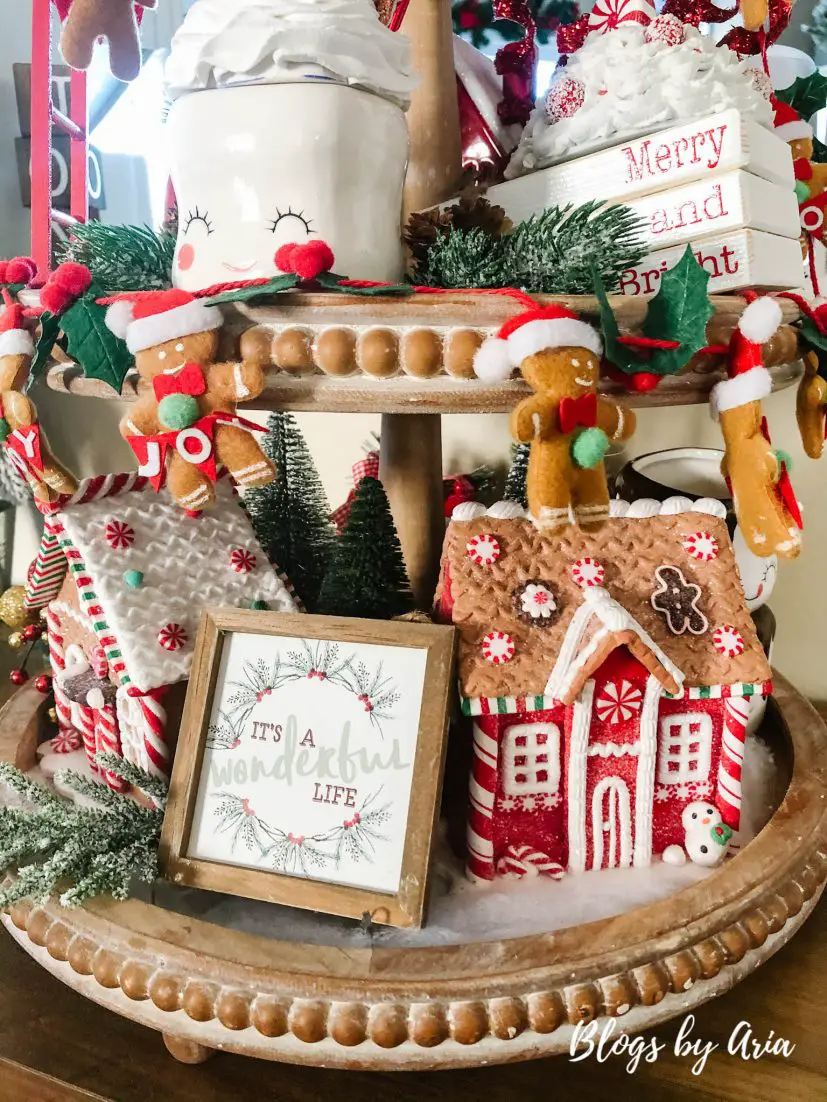 My wonderful life sign is an ornament that I used on my tiered tray last Christmas.  I believe I got it from Hobby Lobby.
To add fullness and more depth I also used fake snow on each tier along with a few greenery sprigs and picks.  When I'm in the picks aisle I am always thinking, what would work on my tiered tray?  Also, what would add to a display of any kind?  Don't look at the picks aisles and think they're only for making wreathes or for using on Christmas trees.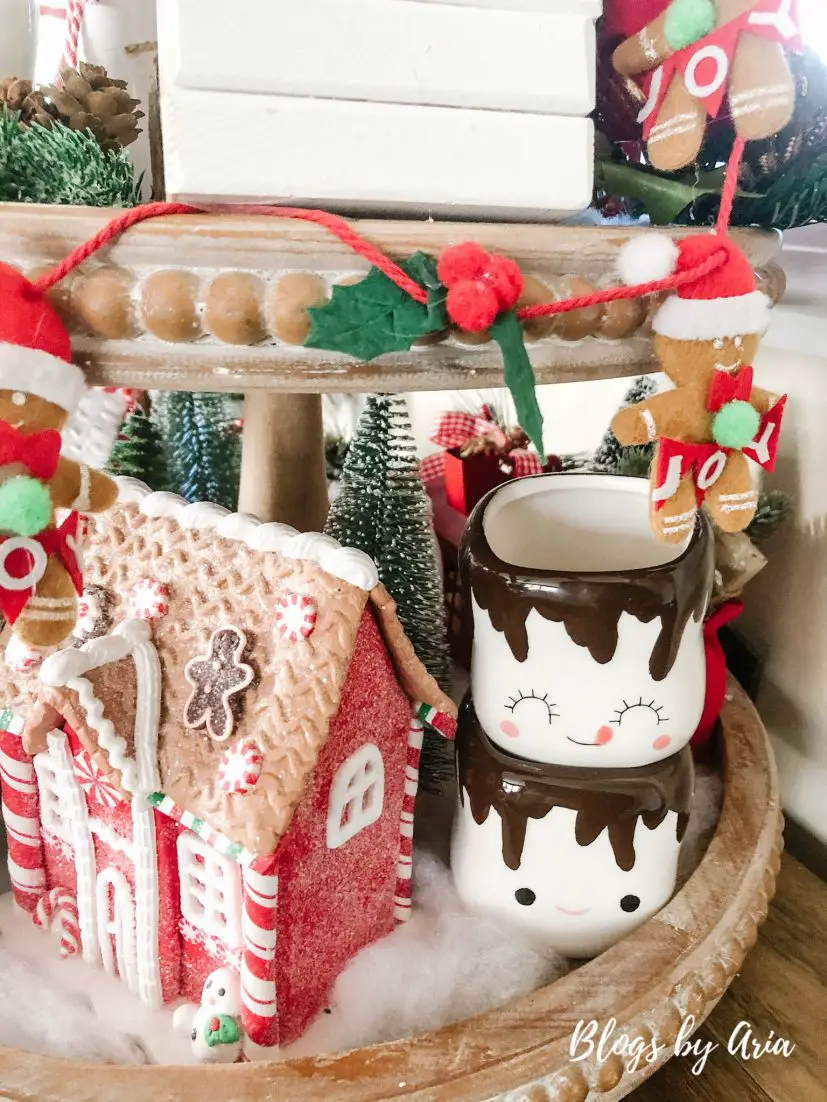 Anytime I would look on Instagram or Pinterest for tiered tray styling inspiration, I'd always see these mini marshmallow mugs.  Now I know that's what they're called but for the longest time I didn't know what they were or where to get them!
When I was searching on Etsy for tier tray decor pieces, I saw someone mention inside their listing what they were.  These mini marshmallow mugs come in a set of four and I found them on Amazon!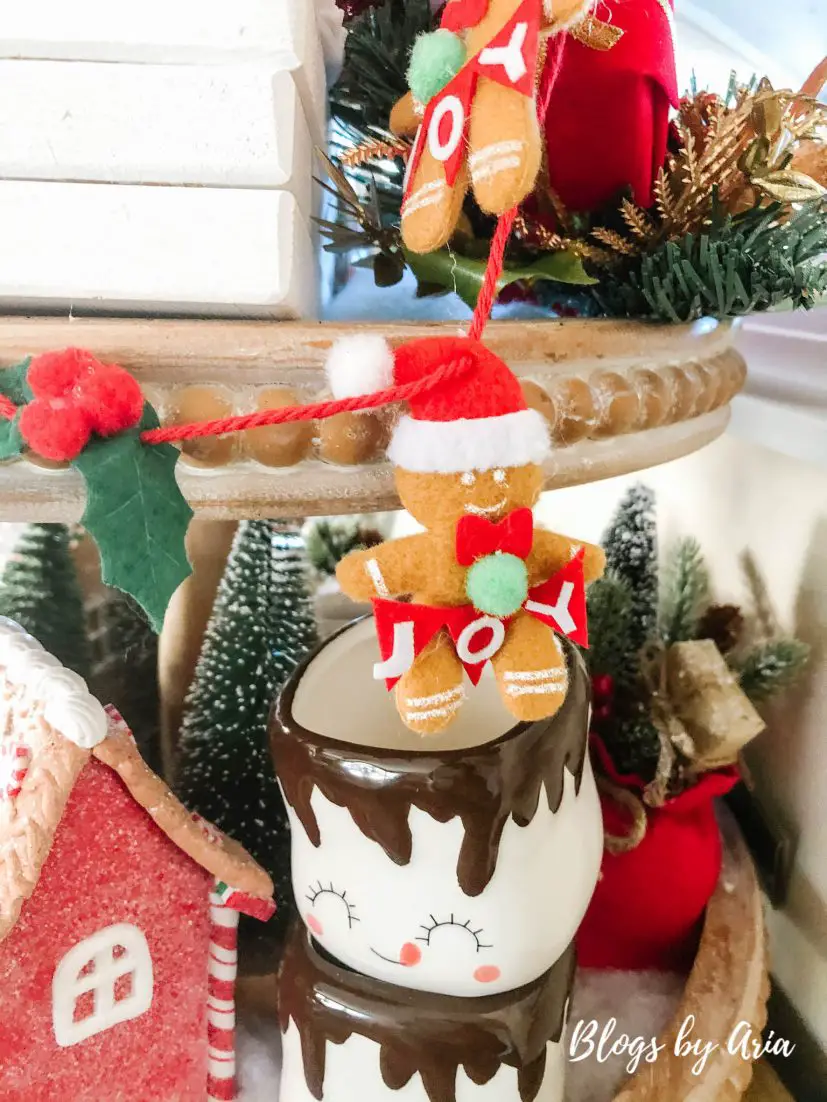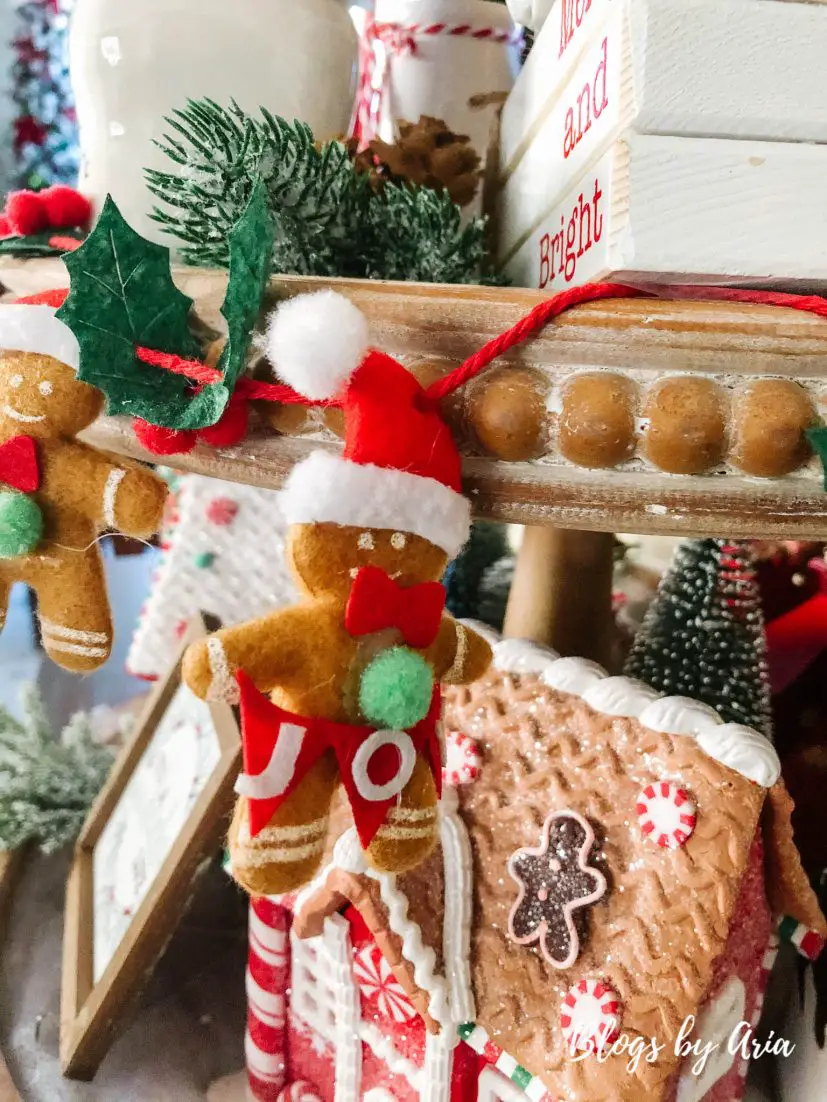 Just a couple of close up shots of my gingerbread man garland.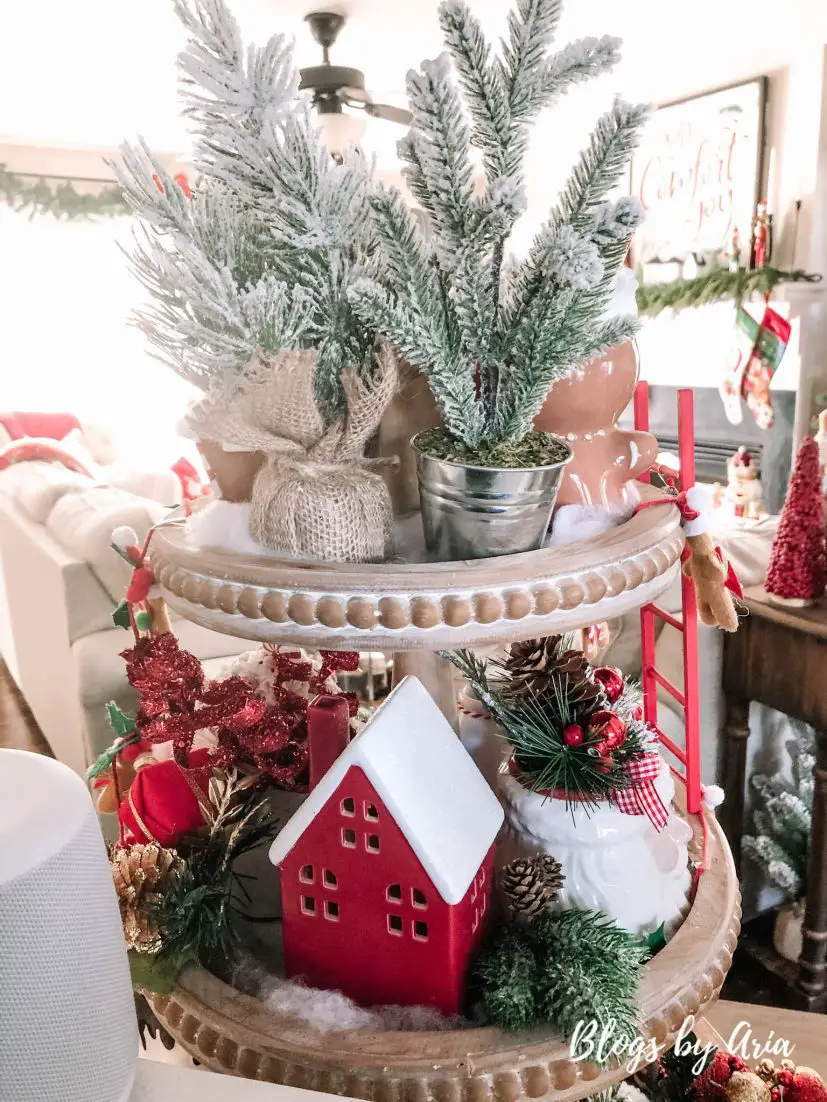 On the back of my tiered tray I have one of my red houses that I love from Target along with a few fillers.  With this three tier tray you have to make sure it's decorated all around whether you can see the back or not.  Because of the spacing of the tiers it's very obvious if you don't decorate all sides of the tray.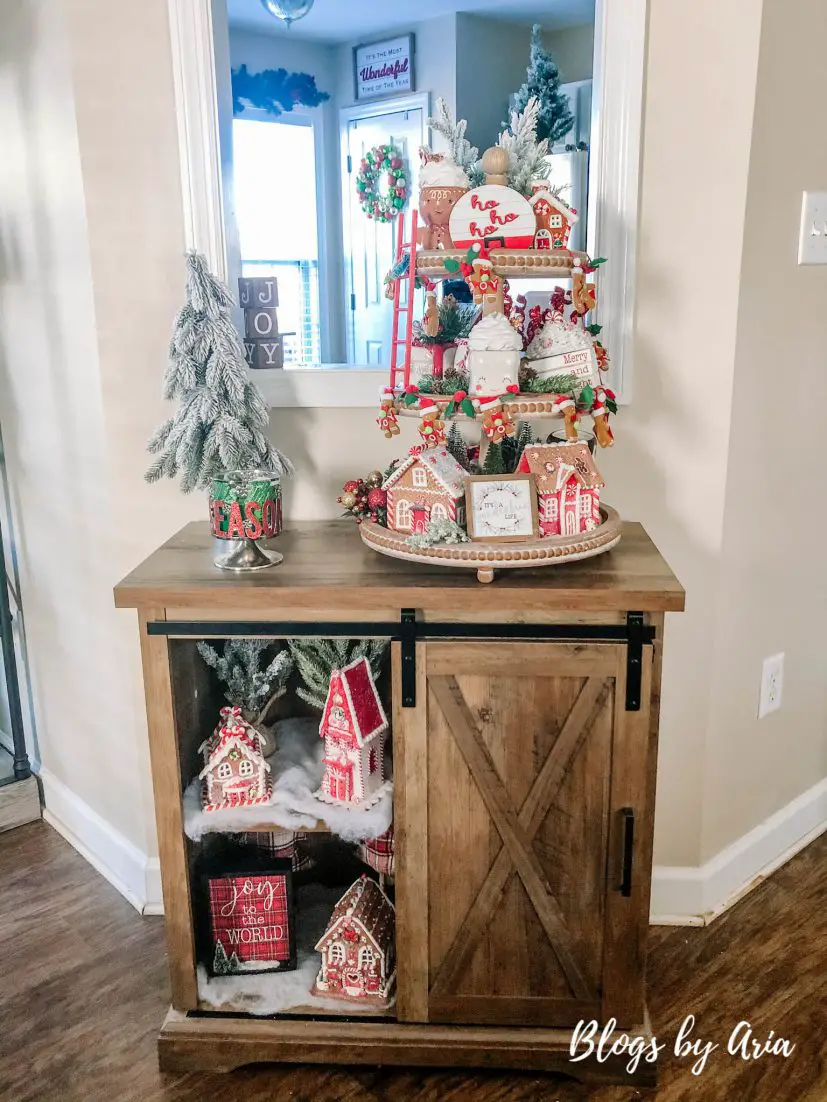 accent table | flocked tree | three tier tray
Once I started going in the direction of the gingerbread tiered tray and decided to use my shelves on my accent table to display my houses.  I'll have to come back and show you a shot of them at nighttime.  All three of the houses on the bottom light up!
I didn't want to center my three tiered tray on top of the accent table because sometimes I watch TV when I'm washing dishes.  But I also didn't want to overcrowd the area.  So I took this simple flocked tree along with my Bath & Body Works candle holder that I've had for years and that completed the space.
Currently I'm burning Vanilla Bean Noel, which I know many people love but this is my first year buying it.  I decided to give the candle a try after I recently purchased the wallflower and fell in love with it.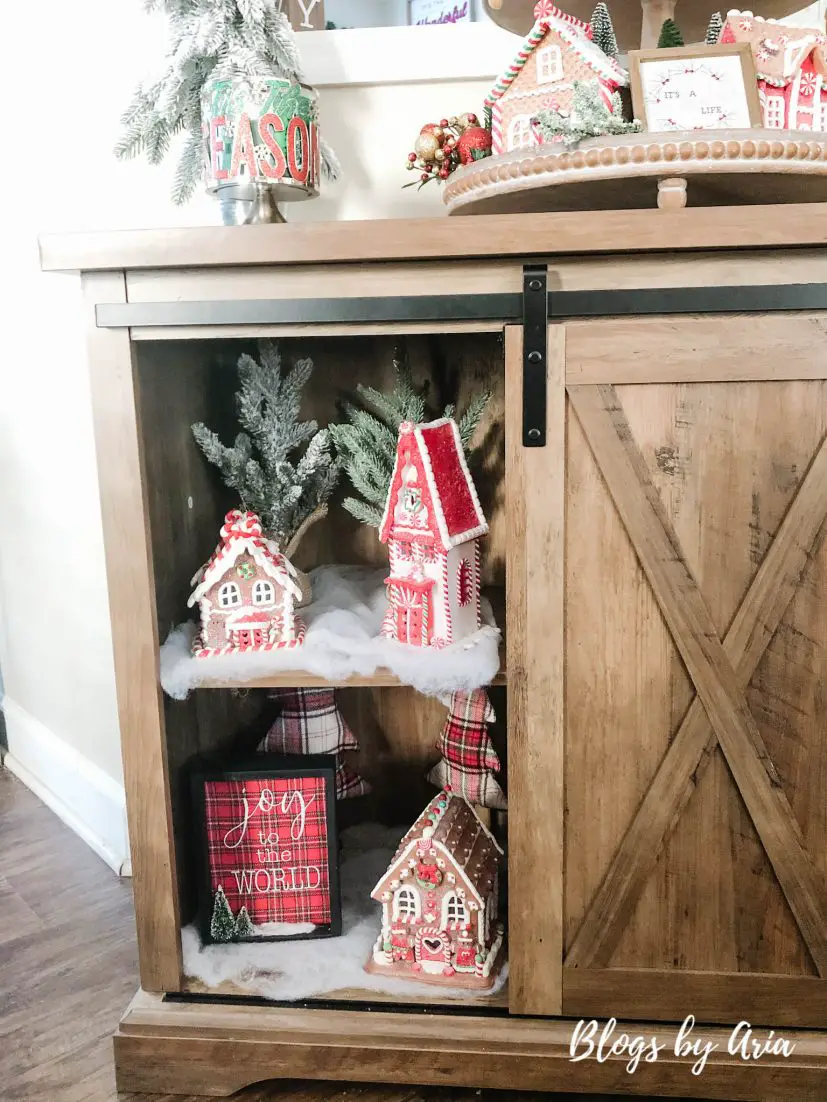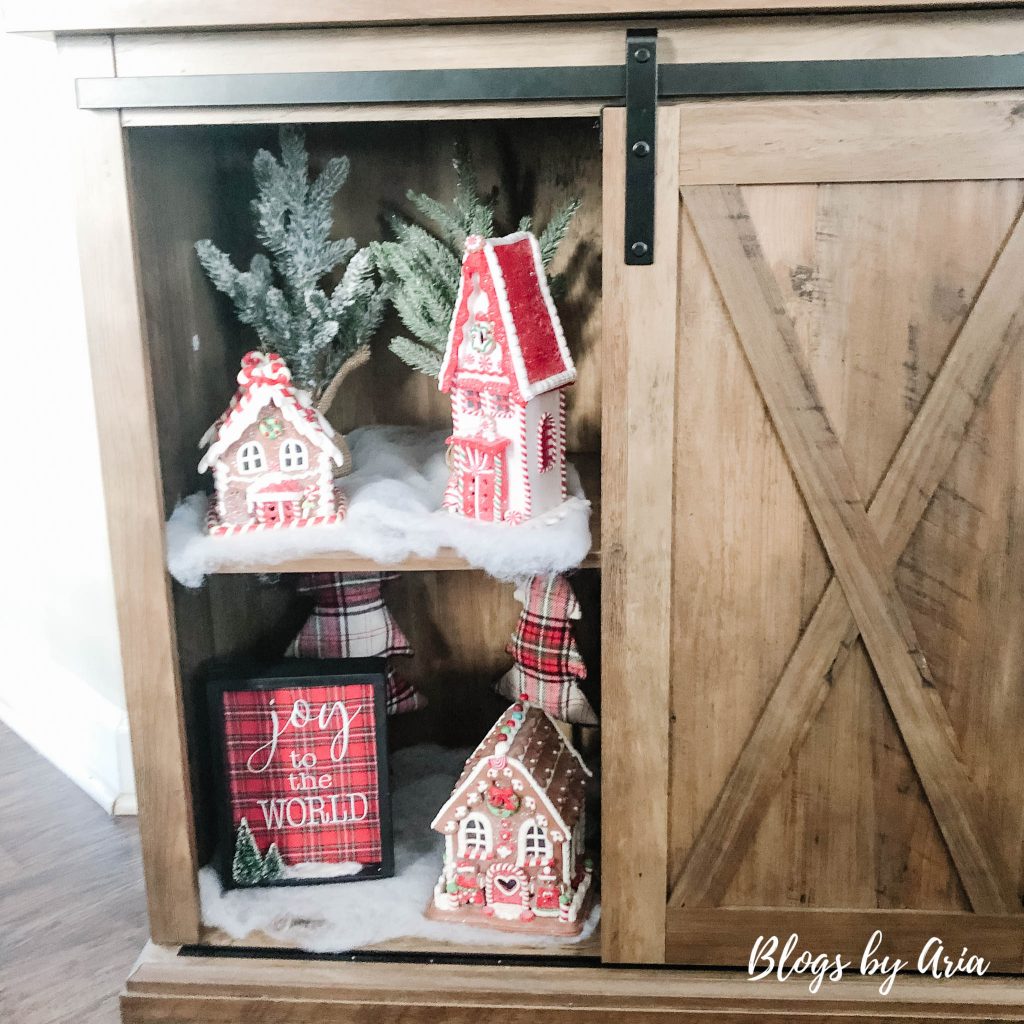 Again I used the fake snow, but I didn't want to go overboard because a lot of my planner supplies are behind the sliding barn door.  These three houses all came from the At Home store and the sign came from Hobby Lobby.  I also used a couple of mini trees just to not have the space look too empty.
Gingerbread houses can cost a pretty penny.  I don't think any of the ones I got were over $20 and of course, I got them all on sale.  I would like to start adding one or two new ones each year moving forward.  At Home Store does have some beautiful larger scale ones but they were out of my budget.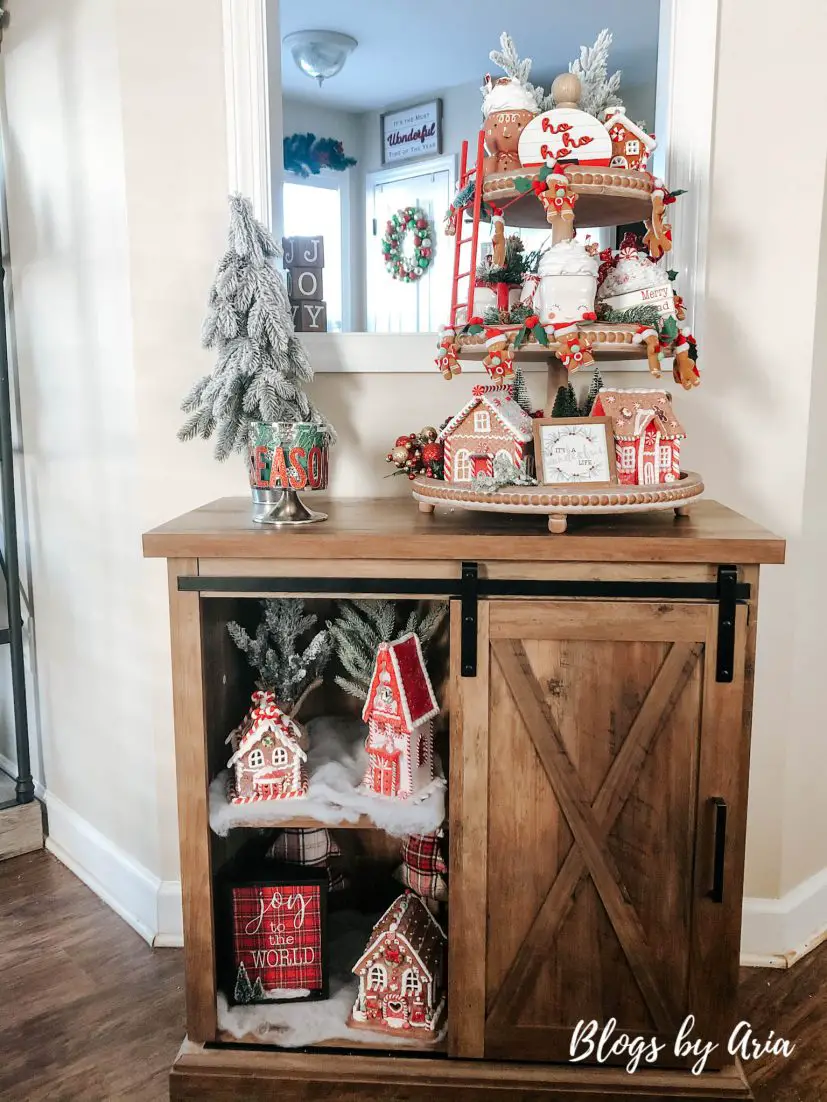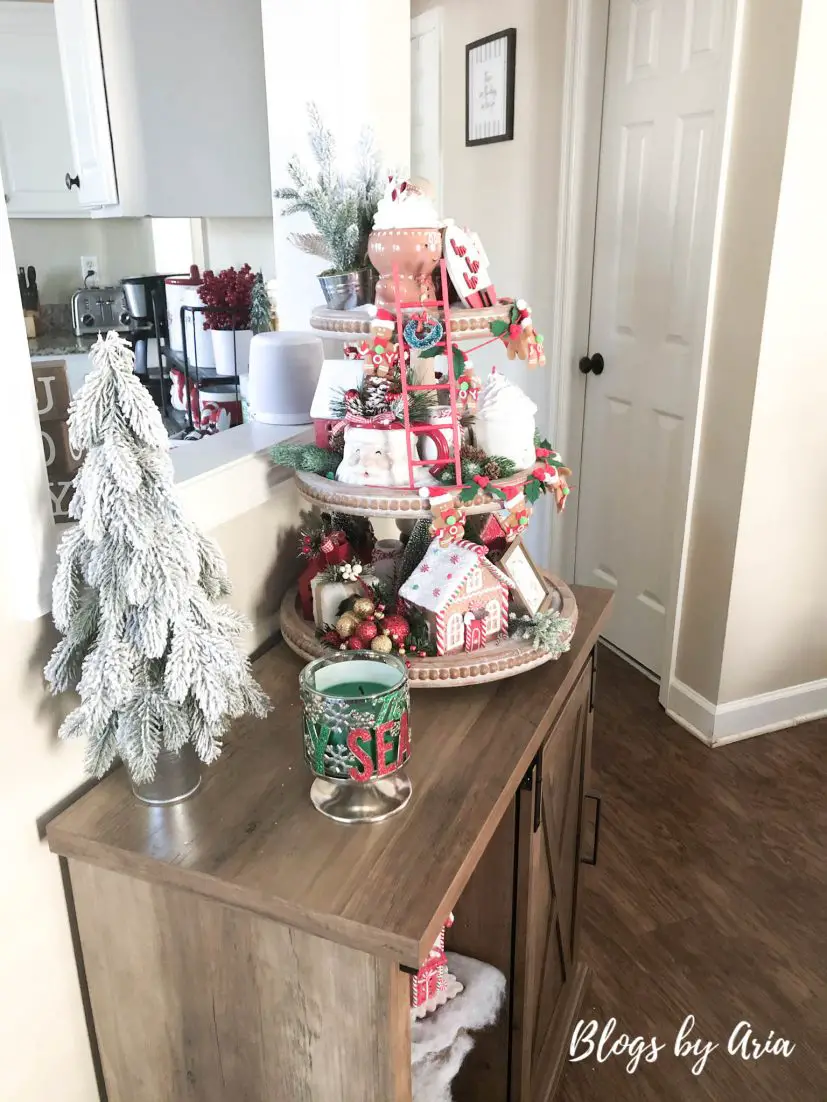 Whew!  That's one space down and many more to go!  I'm so glad I decided to go in the gingerbread house direction.  It was a lot of fun and I look forward to finding more ways to display them in the coming years.  Maybe on a bookshelf.  Speaking of bookshelf, I need to show you that soon!  I love how it turned out.
Are you finished decorating for Christmas?  I should be, and I pretty much am, just tying up some loose ends here and there.  What about Christmas shopping?  If you're looking for gift ideas, you still have time!  Check out my gift guides for everyone on your list.  Recently I posted stocking stuffers and gifts under $25 for tweens and teen girls and they're all from Amazon!
Looking for sources?  I didn't and can't link everything, but I'm linking a couple of items I always get asked about.
That's all for today my friend!  I hope your week is going well and if it's not, I hope it turns around for you ♥