If decorating your home for the 4th of July is on your to do list then you're in the right place!  Recently I had the chance to update my living room decor with a few red, white and blue touches.  This is only my third year decorating in a patriotic theme.  Each year I add a few more pieces to my collection.  What's great about Americana decor is that a little goes a long way.  Let me show you how I've styled my patriotic living room so far.
*this post includes affiliate links for your shopping convenience, you can read more about affiliate links by reading my Disclosure*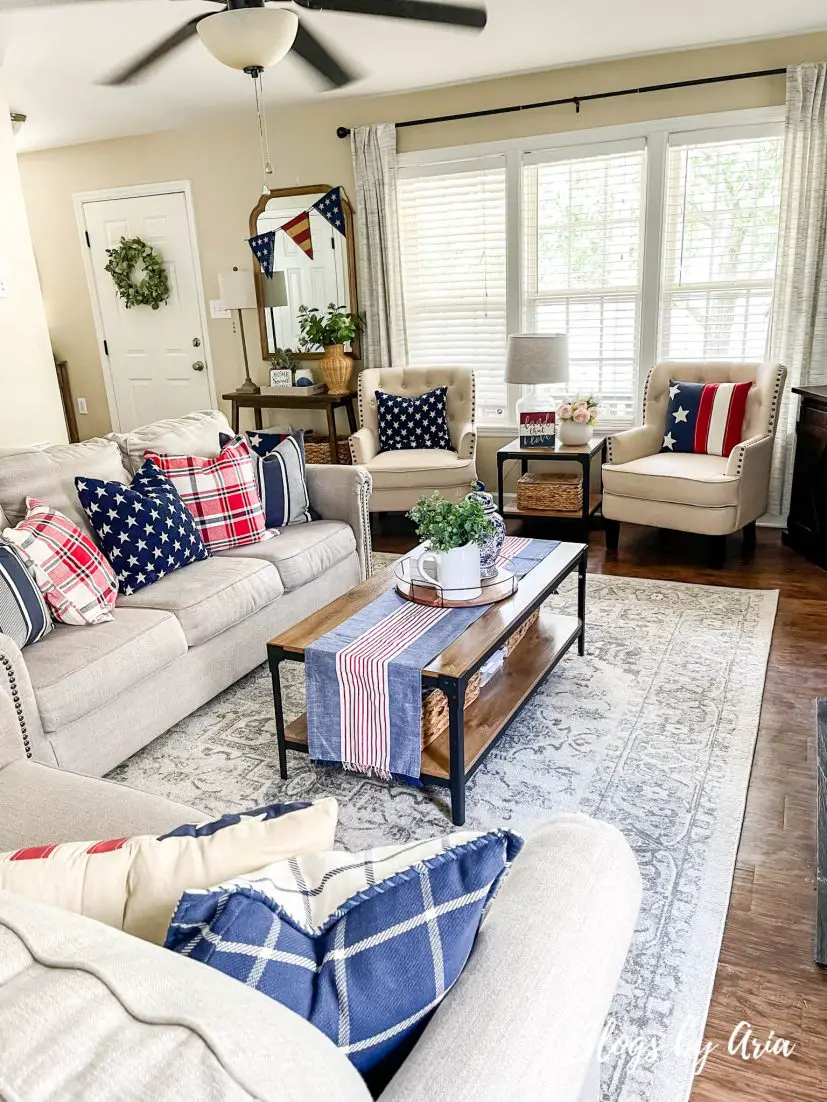 blue and white stripe pillow • red plaid pillow from Home Goods • blue and white star pillow
Everything is subject to change.  The jury is still out on the pillow placement.  I'm loving the blue and white stripe pillows I got from Pottery Barn recently.  And the blue and white star pillows are a great Amazon find!
I'm not sure if I'll keep the pillows as is or make some changes.  You'll have to stick around for my patriotic home tour to find out.
Last year I used my wall arch and flag wreath over my fireplace.  You can check out last year's fourth of July home tour.  This year I put them on this wall behind my sofa.  And I love it!
As we make our way around the living room, you can see my patriotic styled entryway.  The star pillows came in a pack of two so I put one of them on my accent chair.
I added a little sign from Hobby Lobby to my side table along with this textured vase and faux peonies from Amazon I've had for awhile.  I'm not sure if I ever shared them on the blog but I really like the way they look.
The flag pillow is a recent Pottery Barn find and it's still on sale!  It's actually an indoor/outdoor pillow so it would look great on the front porch.
My tv stand was updated with a neutral America sign and a smaller patriotic sign that I think I'll switch out for something smaller.  Don't mind the pink pillow and throw in the basket…completely forgot about that!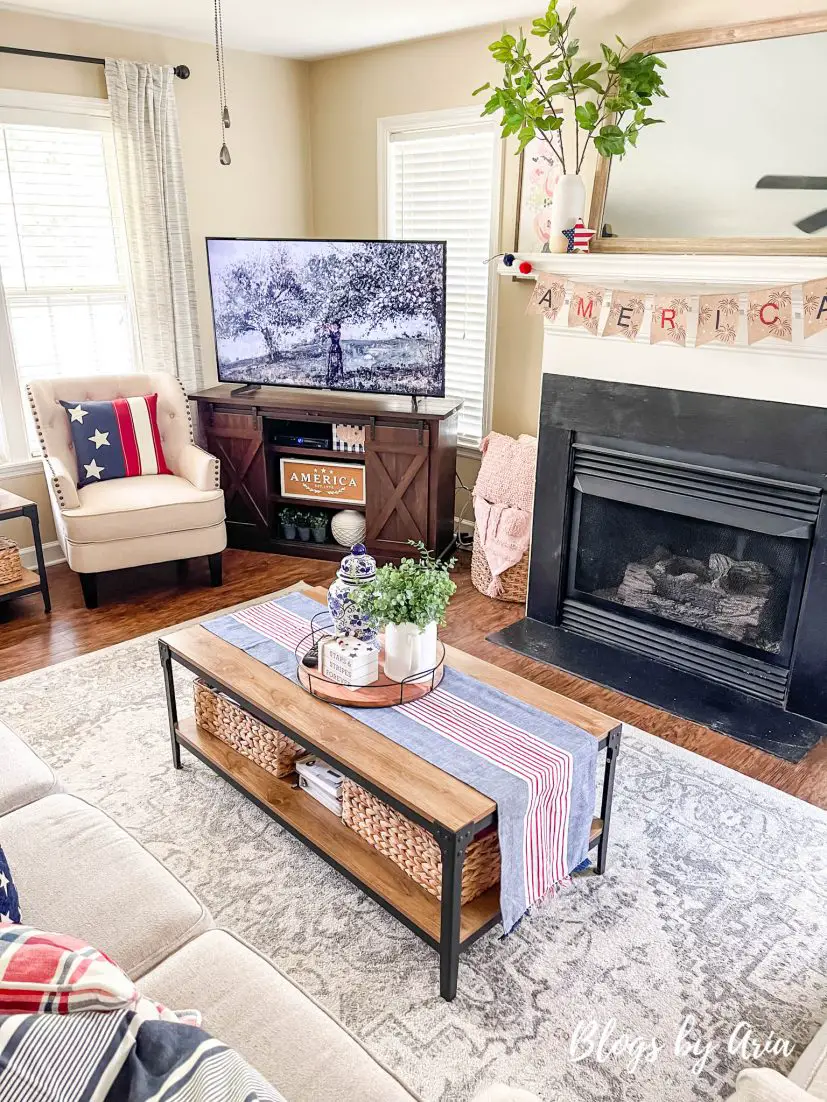 fig leaf plant • mantel mirror • similar candlesticks • similar patriotic candle • similar 4th of July candles • fiddle leaf fig tree
I kept the mantel simple by adding this America banner I got from Hobby Lobby.  The red, white and blue candles are also from Hobby Lobby.  I got them last year and oddly enough they're cinnamon scented.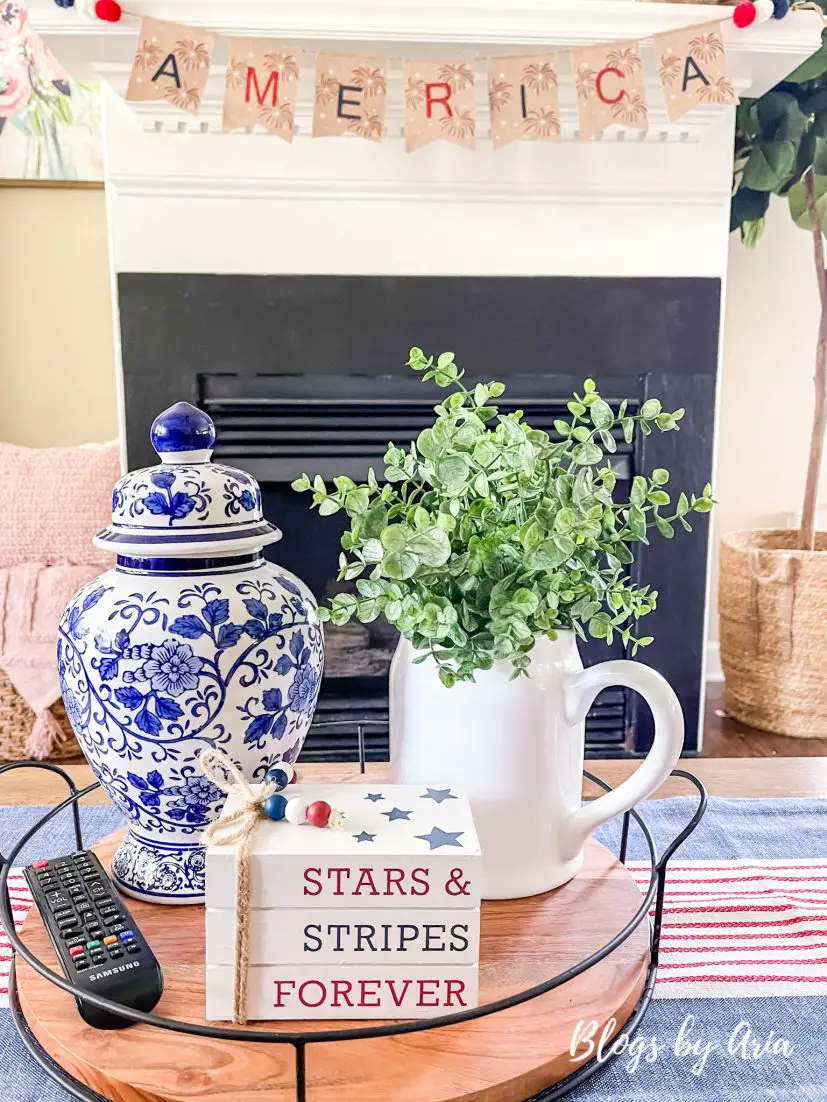 wood and metal tray • blue and white ginger jar
This pitcher and greenery are usually on my floating shelves in my dining room.  They'll probably end up back there but I'm not sure yet.
I have a white ginger jar that I'll probably put here on the coffee table.
In case you were wondering where my favorite flag pillow was, it's here on my loveseat.  Again, not sure if this is where it will stay.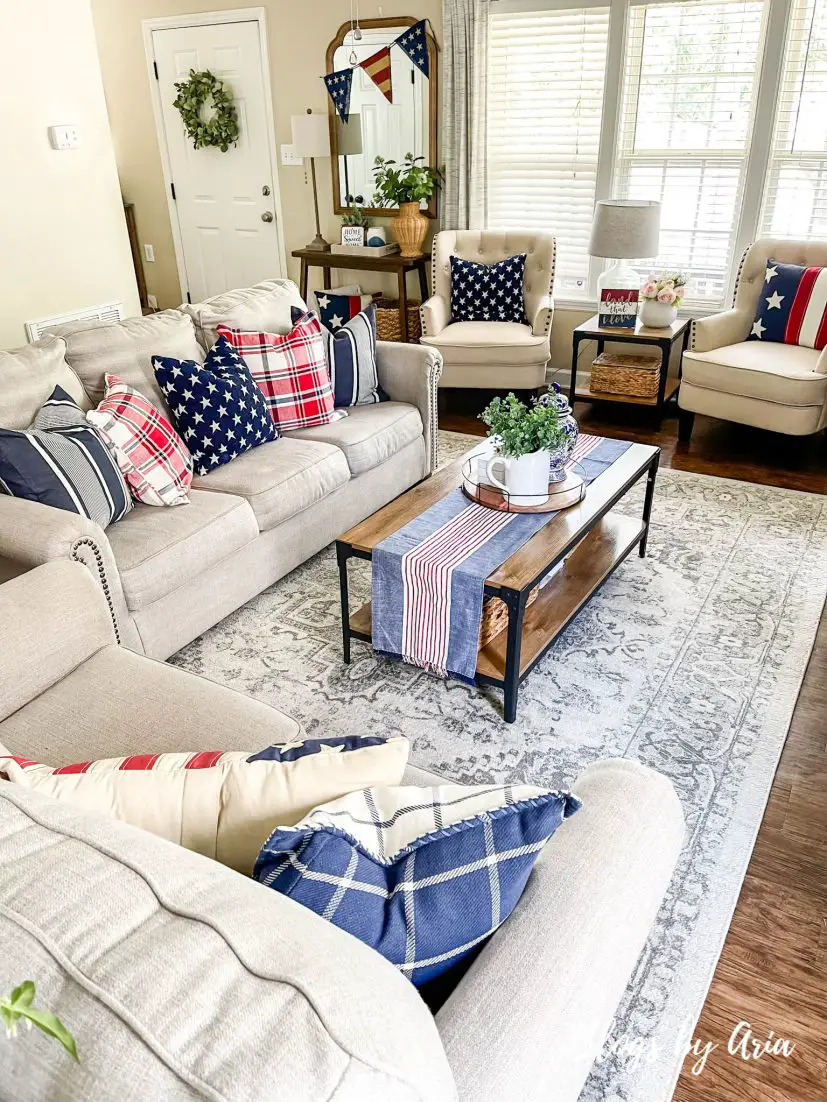 In case you missed it, I shared in my recent blog post that I started a YouTube channel!  Yes, after a couple of years of wanting to share my home decor on YouTube I finally decided that this was the year to stop thinking and start doing.
There's already a lot on my plate but it's something that I feel is important for me to give a shot.  I know some people prefer video over reading a blog post.  Even though I'm on Tik Tok and have an almost hate-hate relationship with Instagram, I'd rather produce long form video content over short snippets that have a shorter shelf life.
So now that you know the why, if you like YouTube decorating content I'd love for you to subscribe to my channel ♥
Hi friend! In today's video, I'm decorating for the 4th of July in our living room with lots of red, white and blue and patriotic and Americana home decor p…
For now I'm keeping the videos short and sweet while I get the hang of this.  But I'm excited to keep growing and learning new ways to bring content to you!
I hope you found some patriotic decorating inspiration in today's post!  Next I'll decorate my dining room and I may or may not share a tiered tray decor post.  We'll see.  Thanks for spending time with me today ♥