Christmas is next week so get ready for a lot of holiday decor coming at you back to back.  For someone who started early I definitely didn't finish that way.  We're not going to dwell on that, we're just going to get into all the decorating fun.  Today I'm sharing how I decked out my dining room for Christmas.  I didn't stray too far from how I decorated my dining room last year.  If it's not broke don't fix it right?
*this post includes affiliate links for your shopping convenience, you can read more about affiliate links by reading my Disclosure*
CHRISTMAS IN THE DINING ROOM
flocked slim tree · knit star tree topper · flocked garland
My flocked tree is the first tree I put up and decorated this year.  Mainly because it's so easy and I knew I wasn't going to stray too far from what I did last year.  Although I forgot that it wasn't pre-lit and didn't love that, it's one of my favorite trees.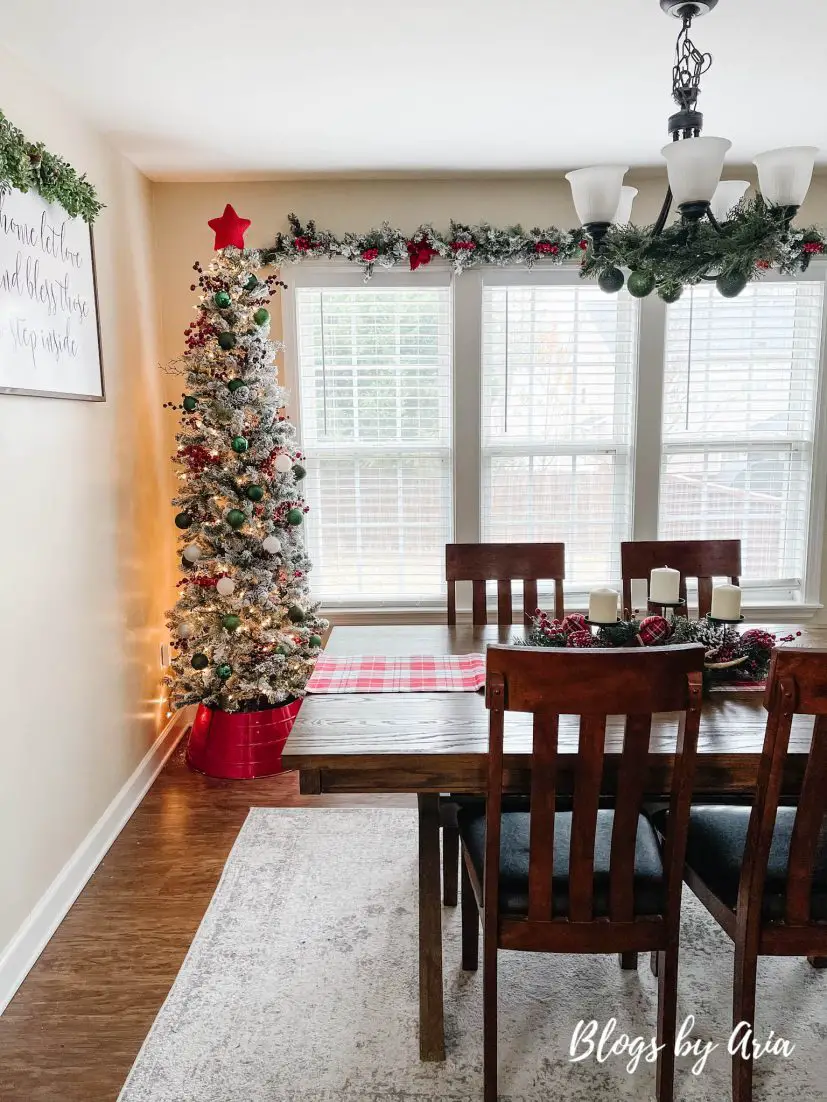 red tree collar · area rug · dining table · dining chairs
This year I remembered to set up the tree collar before the tree!  So that's a bonus.  But honestly I think I'll go with a woven tree collar in the future.  The metal pieces that connect don't do so very easily and I tore into my skin pretty bad thanks to that.
Because we have a new dining table that we didn't have last Christmas, I was happy to pull out one of my table runners.  This is just a simple one I picked up last year from either Hobby Lobby or Home Goods.
Instead of trying to think of coming up with a tablescape or centerpiece, I just used the candle centerpiece I got last year from Home Goods (or TJ Maxx or Marshall's) and it's perfect.  I love that it's no fuss, just plop it down and voila!  Since I work at my table everyday it works great because it doesn't get in the way.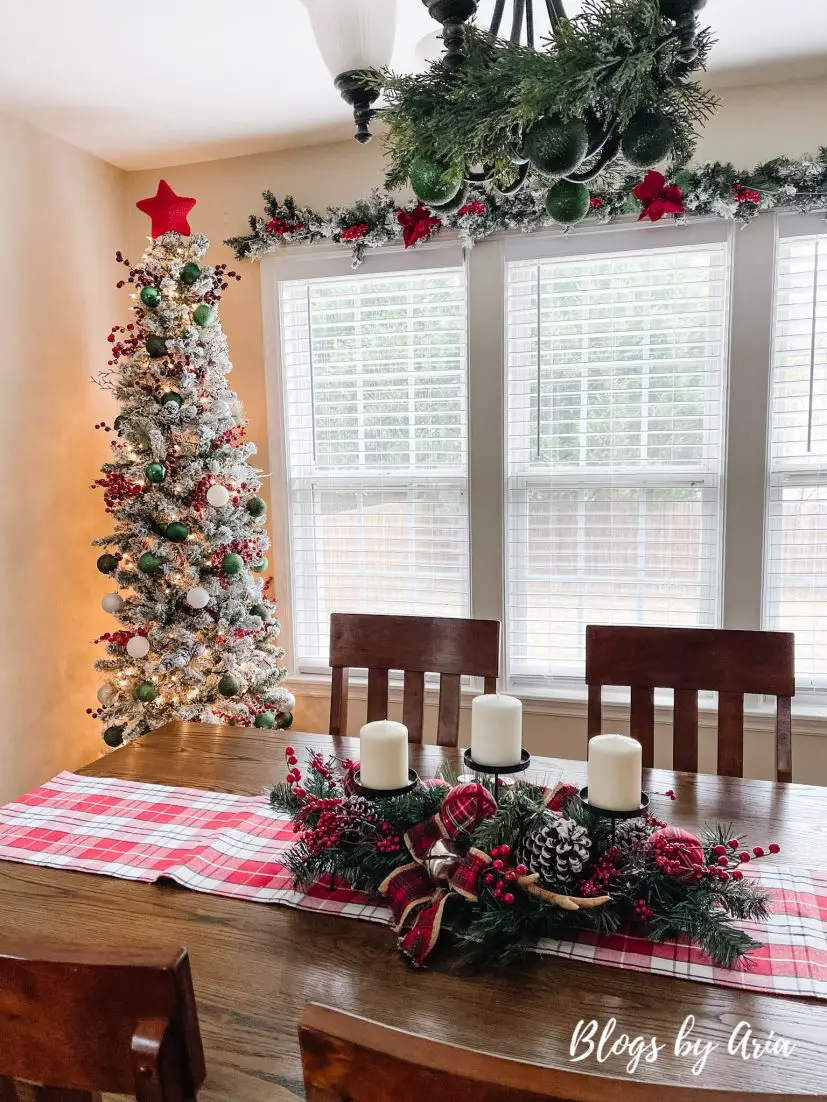 This year I added greenery to our light fixture again and I added a few green ornaments.  I really loved how it looked last year but at the time I couldn't find the tartan plaid bows I used.  I love the green ornaments but after I thought maybe if I added some silver ornaments it would look better.  Those are still my thoughts but we've hit that "I don't really care anymore" stage.
CHRISTMAS FLOATING SHELVES
wall shelves · green glass tree · similar canisters · white ginger jar · flocked galvanized tree
About a week ago I got the itch to switch my gingerbread floating shelves.  Why?  Because I found these adorable nordic sweater style canisters in Home Goods.  But I didn't have a place for them…so I had to make one!
Turns out I love this setup so much better than the gingerbread house display.  You'll see where I put them in a future post…sometime between now and Christmas.
Here's a couple of close up shots of my shelves.  I'm obsessed with this green glass tree I got from World Market.  I also purchased a mercury glass one but had to return it because it was broken and they didn't have anymore in the store.
I love the very top shelf with the white pitcher.  The pitcher is from Hobby Lobby and I popped a flocked tree inside of it.  Actually everything on the top shelf in this picture is from Hobby Lobby.
The ho ho ho tray was a fun Target dollar spot find!
Here's a peek into the dining room from the kitchen.  On the right I hung this beautiful canvas art I picked up at Hobby Lobby this year.  It's a Black Mary, Joseph and Jesus and I'm absolutely in love with it!
When I first picked up this picture it was after seeing someone share it on Facebook.  I didn't know it wasn't as large as I expected and I wasn't too sure of where it would go based on the size.  But it fits in this space perfectly!
CHRISTMAS DINING ROOM DECORATING IDEAS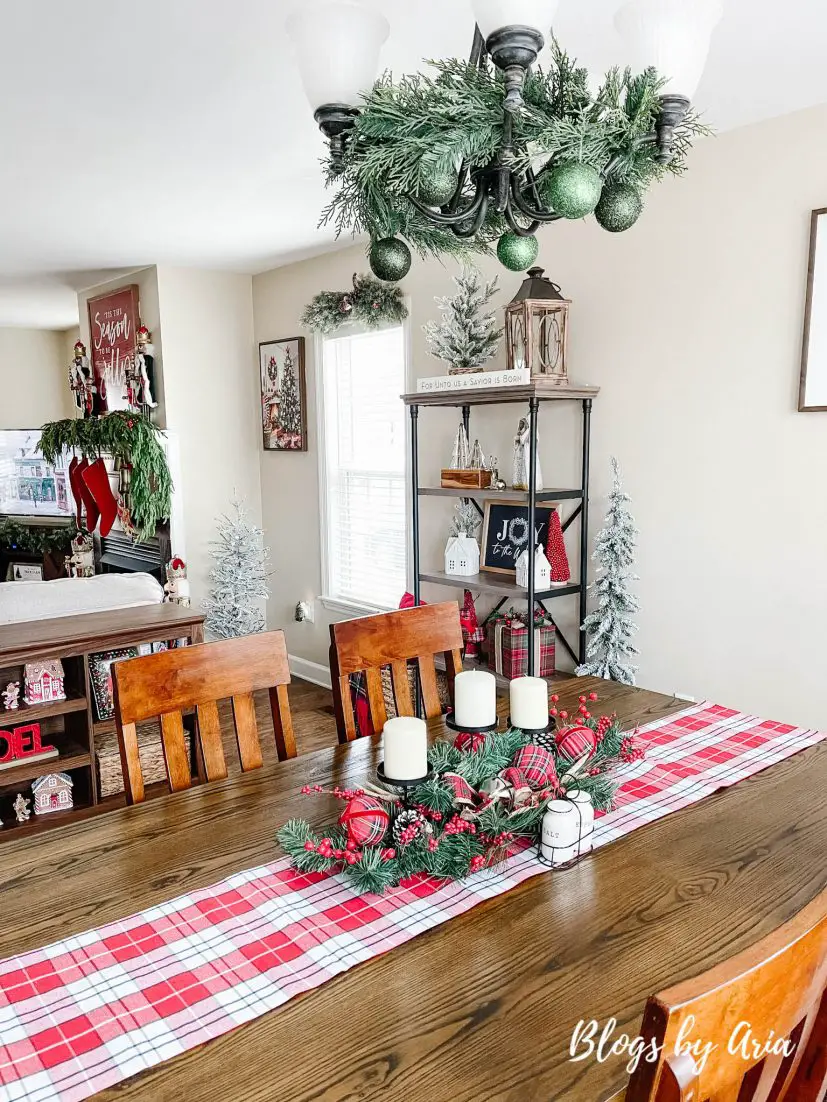 bookcase · cast iron bookcase · flocked tree · skinny flocked tree
One difference between the dining room this year and last year, is I moved the bookcases.  If you recall, last year I had my tall bookcase where the floating shelves are now.  And you can see a glimpse of where my gingerbread houses have landed.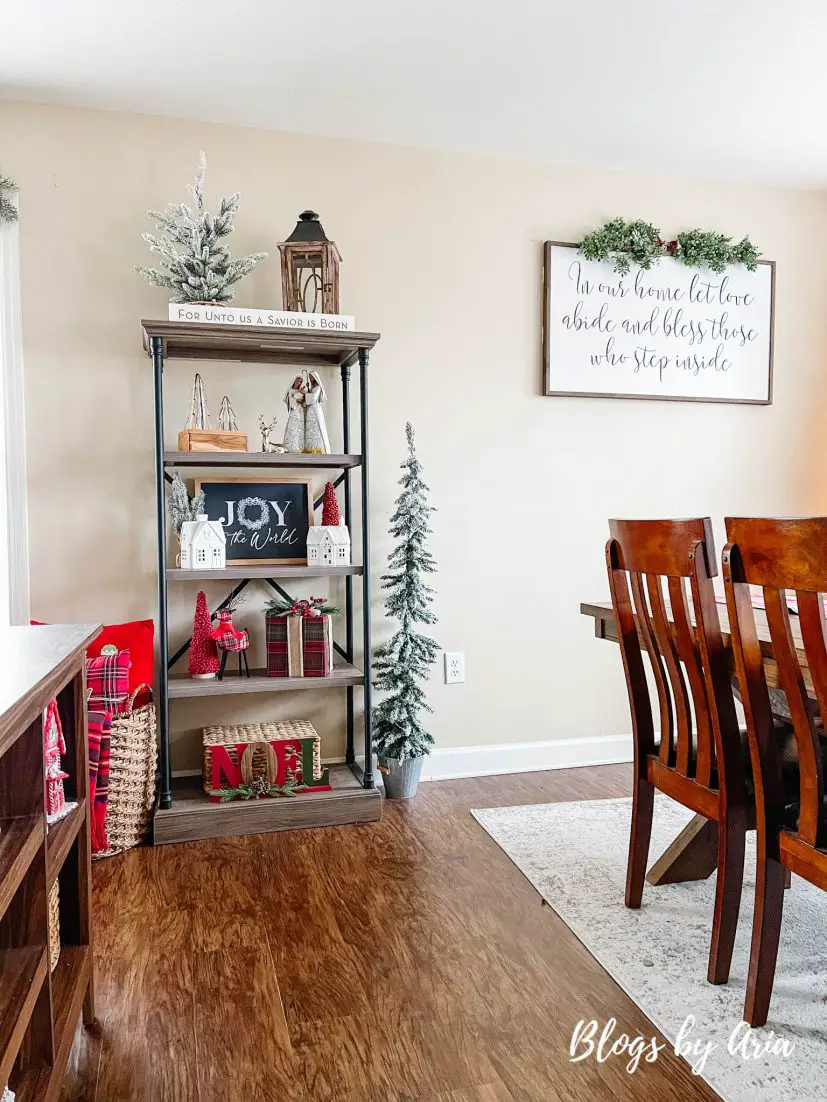 flocked tree · glass tree · small glass tree · berry tree · bookcase
This blank space of my bookcase is for my Christmas village.  It wasn't up when I took these pictures because my daughter likes to be involved with setting it up.  So when/if/when I get my full home tour up, I'll share that then.
I have a few more shots of my tiered tray that I want to share so that will be in an upcoming post.  (I sure am making a lot of promises huh)
That wraps up how I decorated for Christmas in the dining room.  There's two schools of thought when decorating, in my opinion anyway.  You either decorate the exact same each year or you decorate completely different each year.  I'm here to say either of those ways are right.  Or you can do something in the middle like I did, and keep it mostly the same with a few differences here and there.
Honestly, this space would have been completed long ago if it wasn't for my bookcase.  I had the hardest time decorating it.  But I like how it turned out and I really love my floating shelves!
Let me know what you think of my dining room decorated for Christmas and I'll be working on my next post in the meantime 🙂