A few weeks ago I styled my tiered tray for the holidays and filmed a couple of Reels and Tik Toks.  The plan was to style a few tiered trays but that didn't quite happen.  I had no idea what direction my tiered tray would go when I started.  It quickly turned into a Santa tiered tray.  And I love how it turned out.
Last year I styled my larger three tiered tray in a gingerbread theme.  This year I wanted to use my newest tiered tray (that I used for the Fourth of July) because it's three tiers but it's not super large so it would be easier to decorate.
That's one takeaway I always like to share when it comes to tiered trays:  the larger the tray the more difficult to decorate and more items you need to use.
Let me show you how I styled my Santa tiered tray this holiday season.
*this post includes affiliate links for your shopping convenience, you can read more about affiliate links by reading my Disclosure*
SANTA TIERED TRAY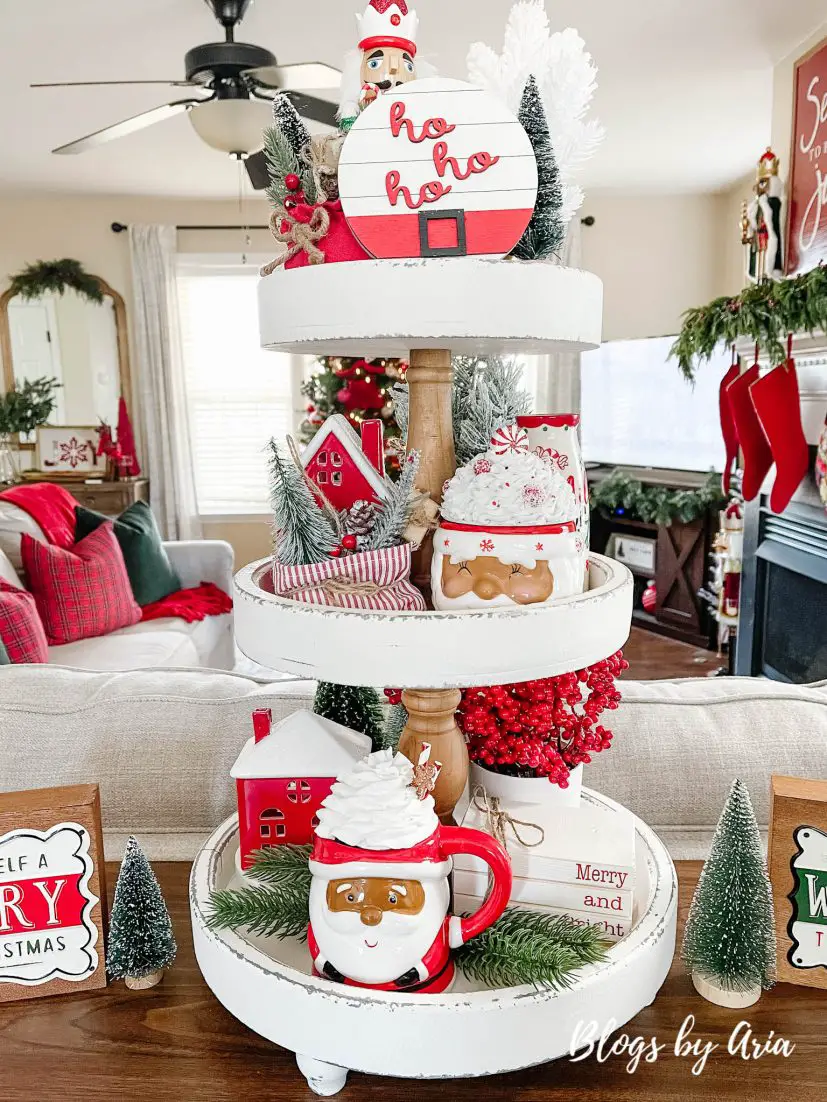 tiered tray · ho ho ho sign · red houses · Santa mug · Santa bowl · berry arrangement · mug topper
When I styled my tiered tray for the Reels and Tik Tok I did it on my bookshelf.  It's easier to photograph/video and my kitchen doesn't have to be perfectly clean in order to decorate it!
I snagged the little milk for Santa bottle from Hobby Lobby recently.  It was a fun find!
A few easy items to use when styling your tiered trays:  mini houses, mugs, mini trees, bottle brush trees and large ornaments.  The red houses are from Target but I also have some white houses that I use year round.
Got some empty space to fill?  Stick a bottle brush tree or two in that spot and you're good to go.
I can't explain how happy this tiered tray makes me feel.  I didn't have to overthink it or mull over it.  I just grabbed a few items and it kind of came together.  Honestly that's the best way for me.  I don't like to have to really put a lot of thought into my tiered trays.
Santa & me frame · jingle bell frame · white houses · bookcase
You can see that I switched up the bookcase shelves between the time I took these pictures and my dining room decor update.
I get asked about the noel sign often and I wish it was still available.  It was from Joann Fabrics last year and I was drawn to it because it looks like a sweater!  I wish I had more in more words and colors like a deep green or white…so hey Joann if you're listening 🙂
Carefully I moved the tray over to my accent table.  I switched out the Santa mug in the front because he belongs in my kitchen!  I wasn't using this Santa mug so I put him here and popped a bottle brush tree inside.  Easy peasy!
You can see a sneak peek of my kitchen and I'll be sharing that very soon.  Along with everything else…
Hopefully you got a little inspiration for decorating your tiered tray for the holidays.  If you're looking for more seasonal tiered tray decor ideas check out my Christmas tiered tray decor post that's chock full of inspo!
If you want to see the Reels I made for this tiered tray you can see it on Instagram here.
And you can find me on Tik Tok here.
More Christmas decor is coming your way!  I still have my family room, kitchen and powder room to share and if I can squeeze it in…a house tour.