I'm sharing more patriotic home decor today!  In case you missed it, I've decorated my entryway and living room so far.  Today I'm going to show you our 4th of July dining room.  If you're new here, the dining room and living room are open to each other so it's really one large space.
Decorating our dining room covers my tall bookshelf, my bookcase, floating shelves and console table…oh and the dining room table too.  Even though this is technically my dining room, most of what I'm sharing would be great patriotic decorating inspiration for your living room.
*this post includes affiliate links for your shopping convenience, you can read more about affiliate links by reading my Disclosure*
bookshelf • maidenhair fern plant • glass vase • pedestal bowl • jasmine plant • lidded basket
Starting with our bookshelf that kind of anchors the space between the living room and dining room.  I didn't want to go overboard because I liked how I had it styled already.
When I saw these larger flags I knew that I wanted to use them like this on the top shelf to add height.  I put them inside my favorite glass vase.  My maidenhair fern plant was already on the top of my bookshelf, but it was on the right side.
To complete the top of the shelf I used the buffalo check home sign from my living room.  I got it from Kirkland's last year but it's no longer available.  They do have a throw pillow and hand towel set in the same styling.
When it comes to shelf styling I do believe in the rule of three.  You'll see that I like to alternate how I interpret the rule on each shelf.
These white vases I've had for years now from Michael's, they're pretty much a staple on my bookshelf.  My textured frame is a Target find so is my jasmine plant.
Moving down the shelf I added this footed bowl from Kirkland's.  Instead of adding a bowl filler I just used a red, white and blue beaded garland I already had for a pop of color.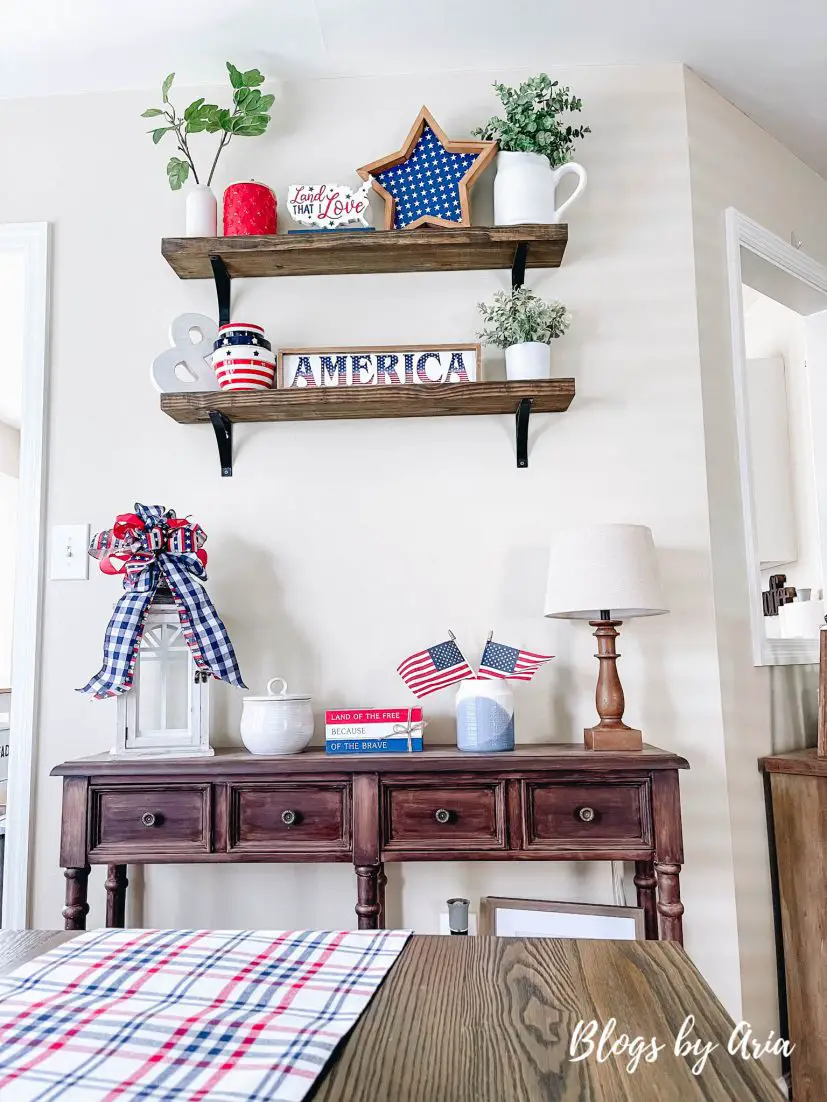 floating shelves •  fig leaf branch arrangement • white lantern • artisan glaze jar • small lamp • patriotic bow • console table •  small boxwood plant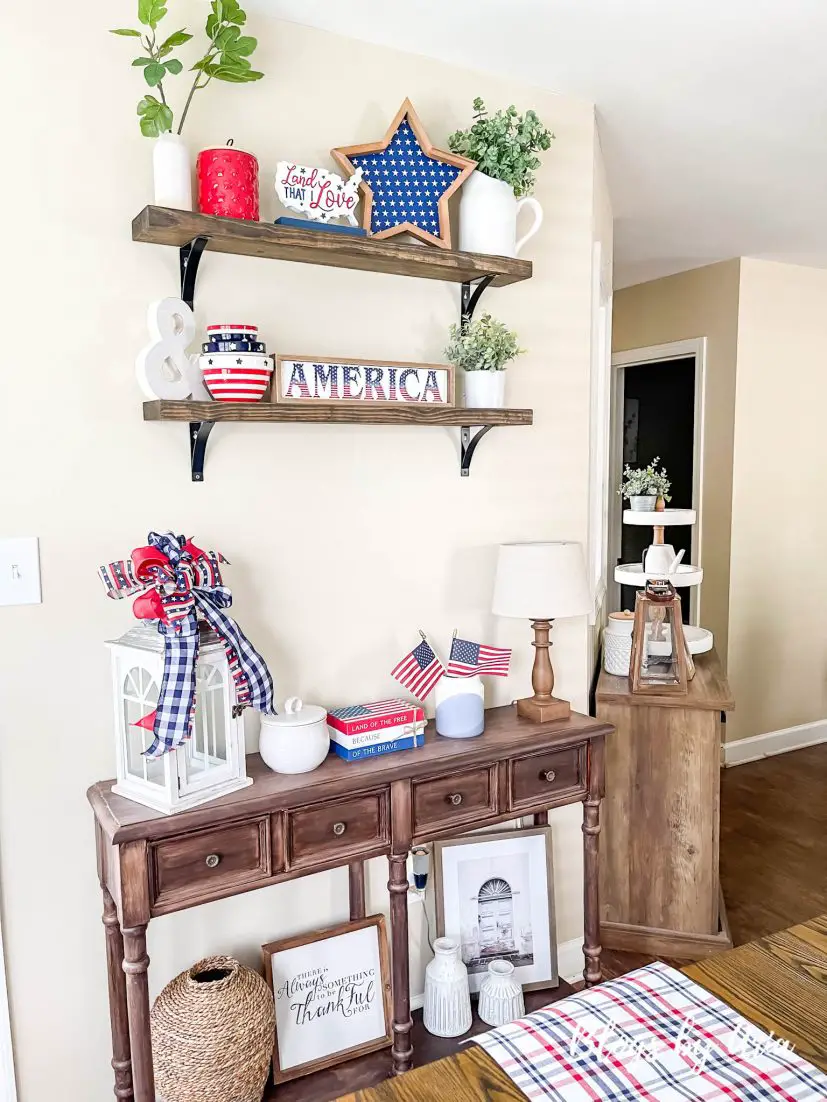 My small lamp used to be in my bedroom.  I have both the small and larger version of this lamp…can you tell I love it?  I don't know why but I never thought to put it here.  Now that I have, I like it in this space.
glazed vase • wisteria stems • salt and pepper shakers
For the dining room table I kept it simple with a table runner from Hobby Lobby.  I added small flags to my existing stems in my vase.  Super easy!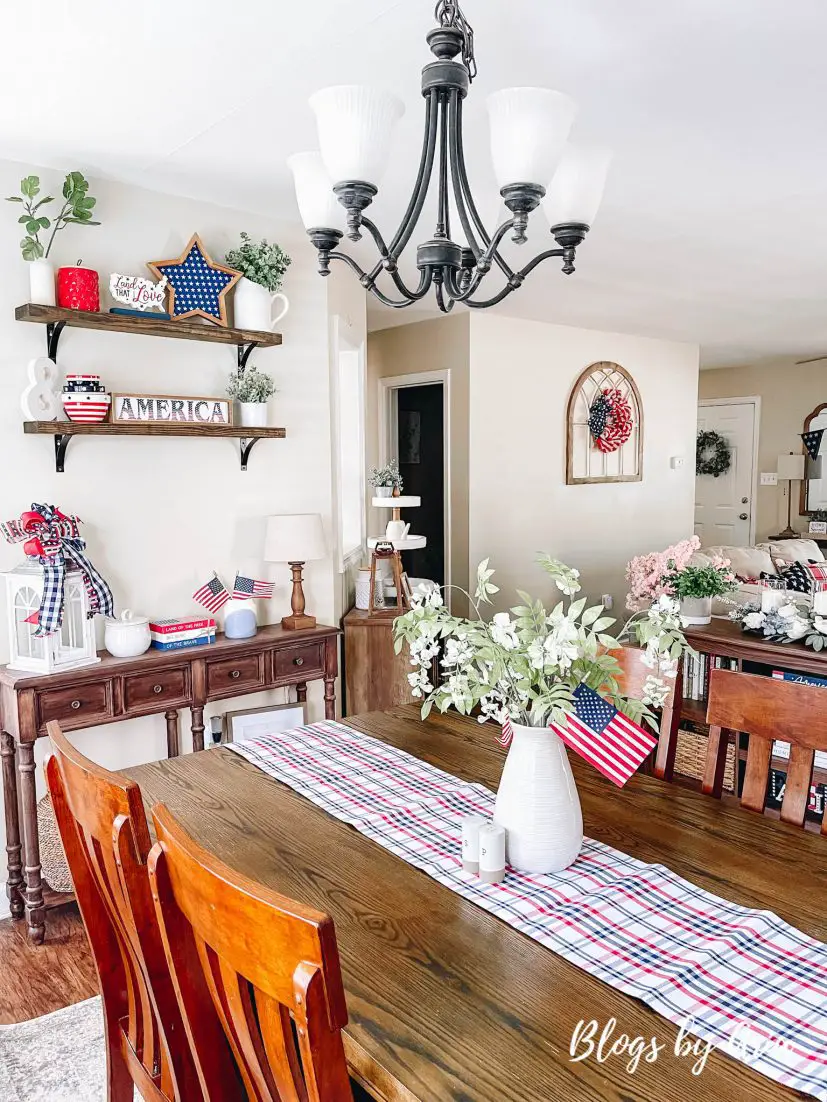 You can see how the space all comes together from this view.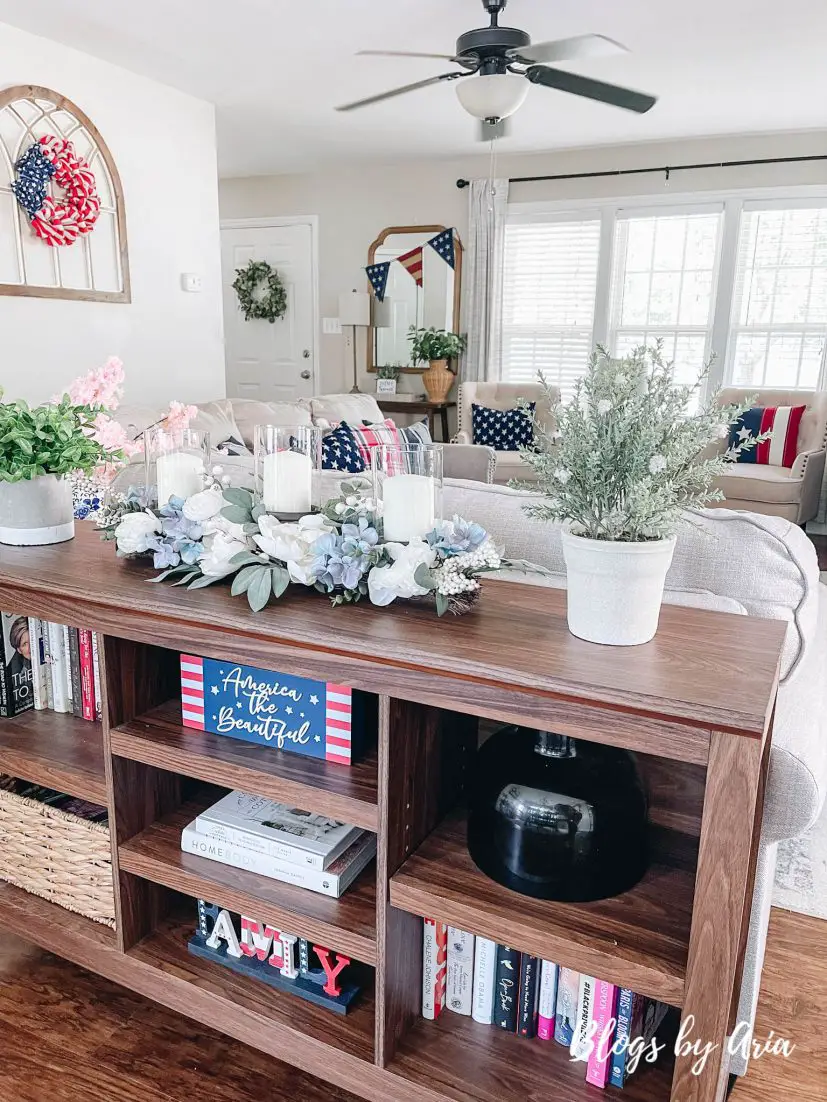 The last space I styled is my bookcase.   I kept it pretty simple because this bookcase is mostly functional, you know, to hold books.
On top of the bookcase I have a candle centerpiece I got last summer, there's some other options here.  Also my plant from Target.
Hi friend! In today's video, I'm decorating for the 4th of July in our dining room with lots of red, white and blue and patriotic and Americana home decor p…
If you'd like to see how I decorated the dining room for the 4th of July, check out my latest decorate with me video!
It's been a little patriotic heavy on the blog lately I know.  I wanted to be sure I shared everything in time!  It goes so quickly.  After the holiday I'll share a bit of my summer neutral decor before we head into my favorite season of all…FALL!!
PATRIOTIC DINING ROOM SOURCES