Welcome to another beautiful Parade of Homes tour!  Today I'm taking you through the Crescent Ridge house that is sure to inspire you.  Be sure to pin your favorite images…there's so many to choose from!
If you love a modern farmhouse aesthetic then you're going to enjoy taking a tour of this home.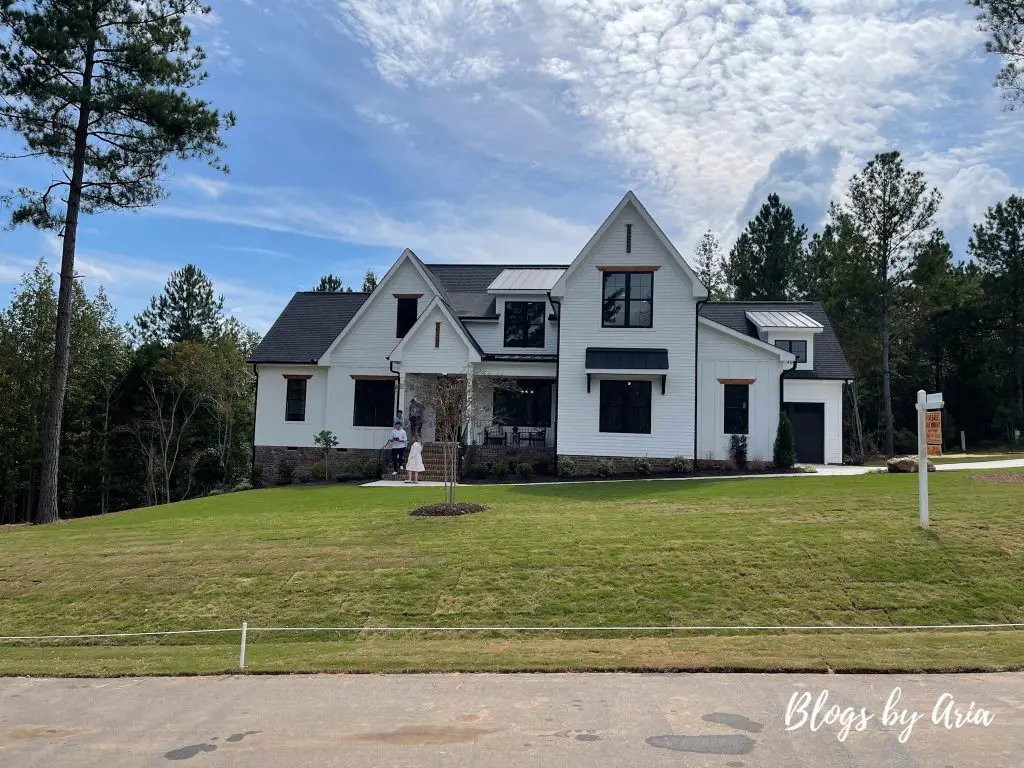 The Crescent Ridge house has four bedrooms, three and a half bathrooms, a three car garage and 3,337 square feet of living space.  At the time of my viewing this house was listed at $785,000.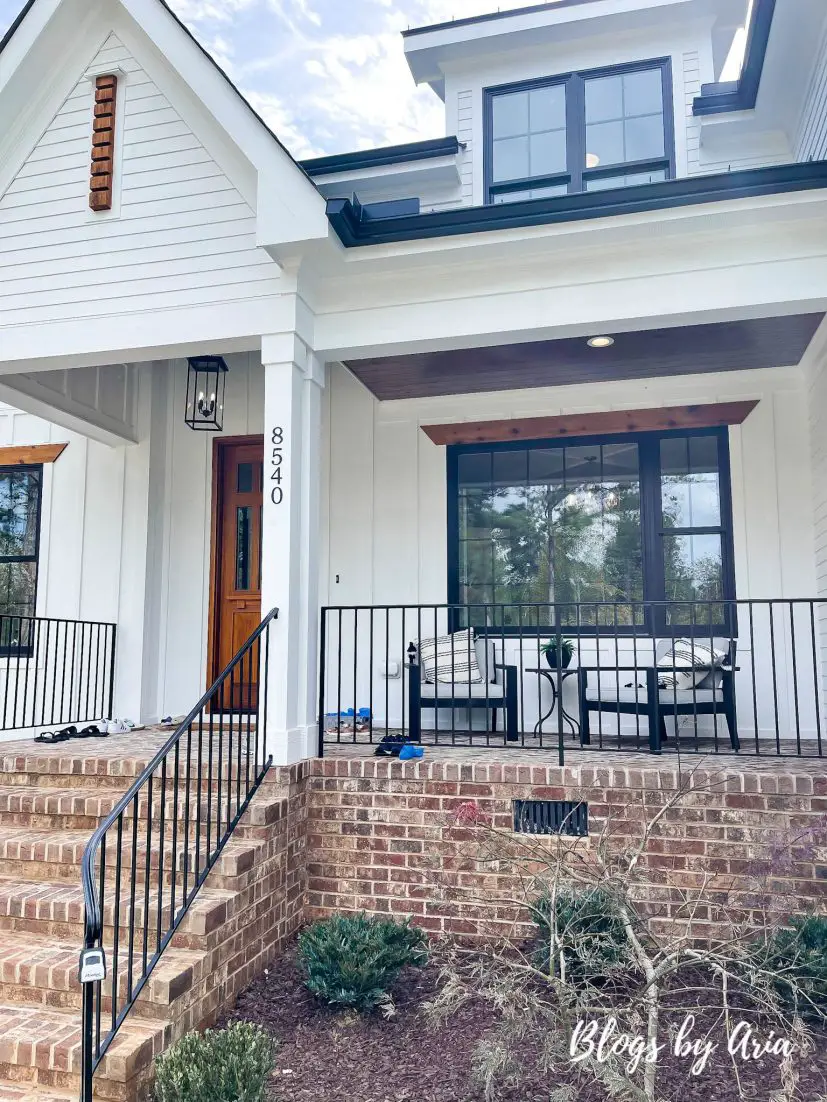 I love the exterior of this home with board and batten siding and metal roof accents.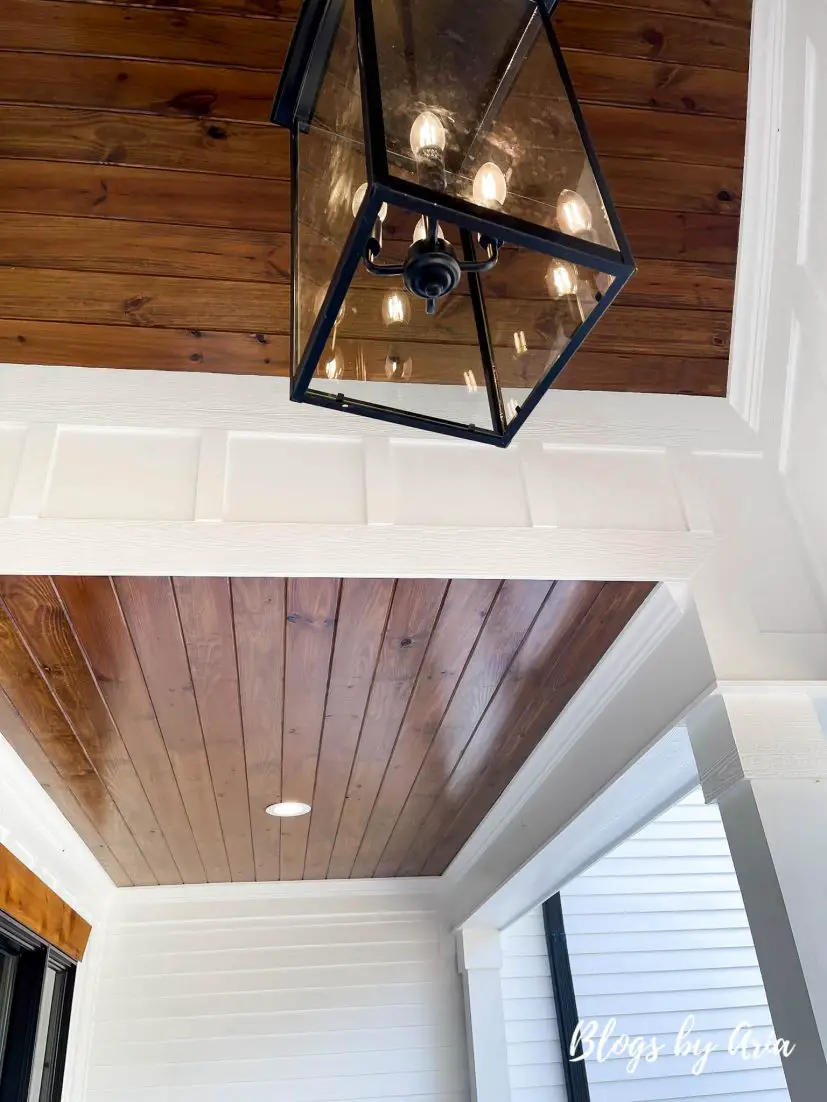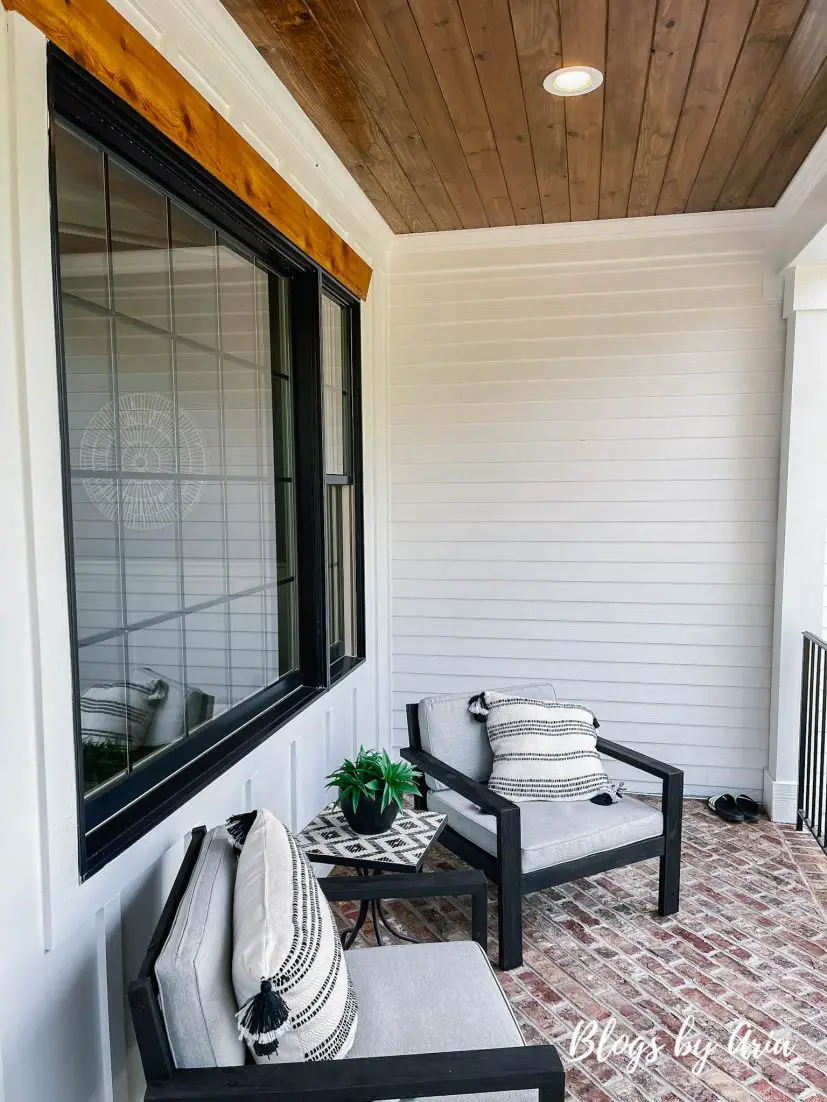 The front porch is so inviting don't you think?  Love the brick accents and the planked wood ceiling.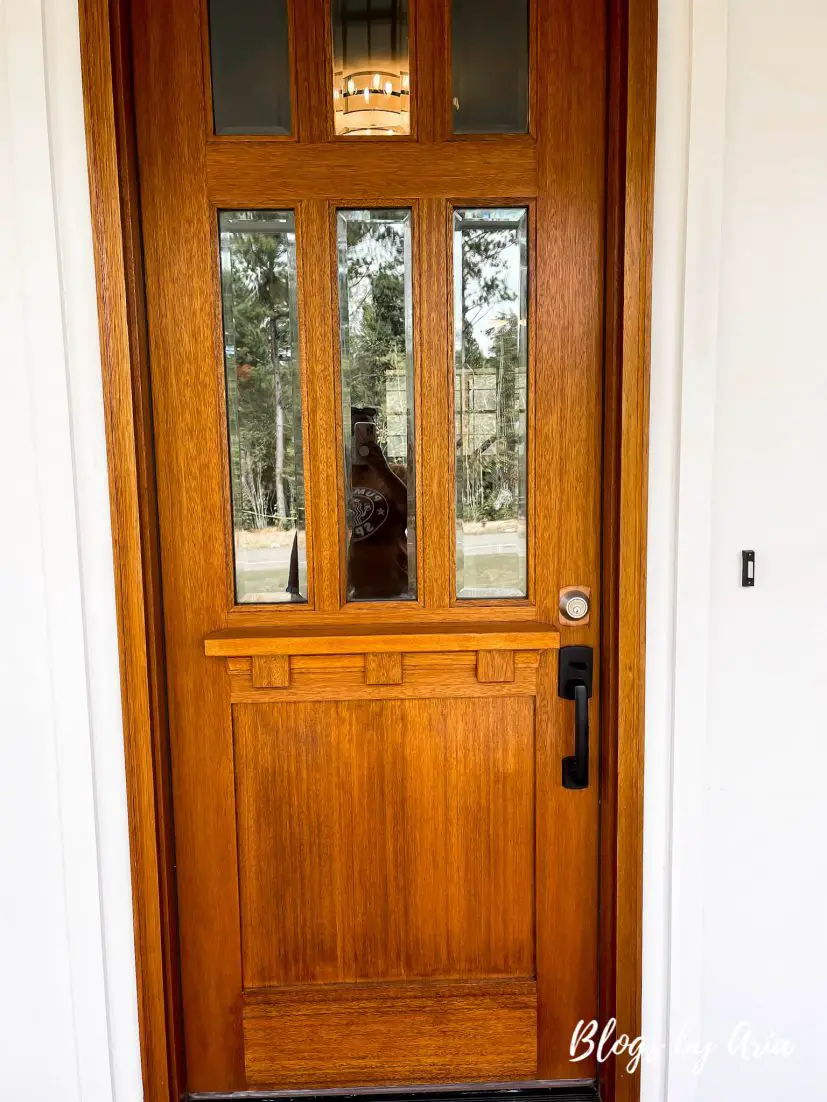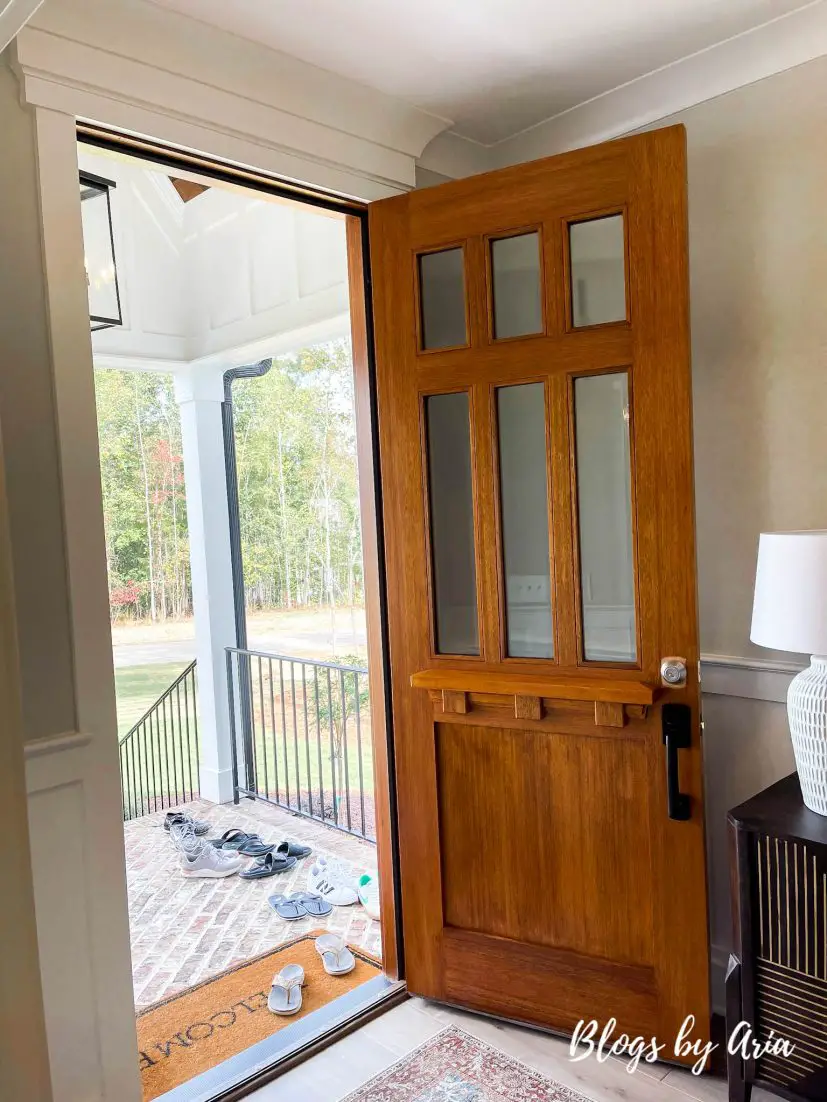 I love this style of door don't you?  Let's take a look inside.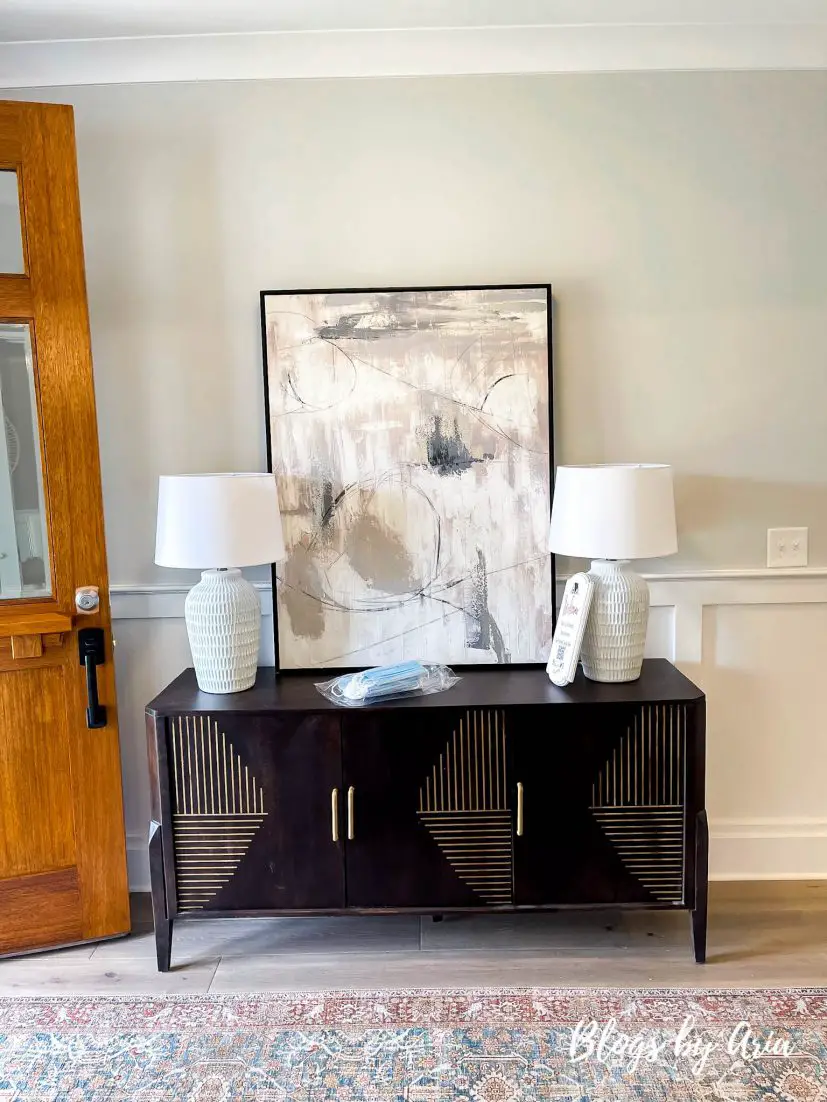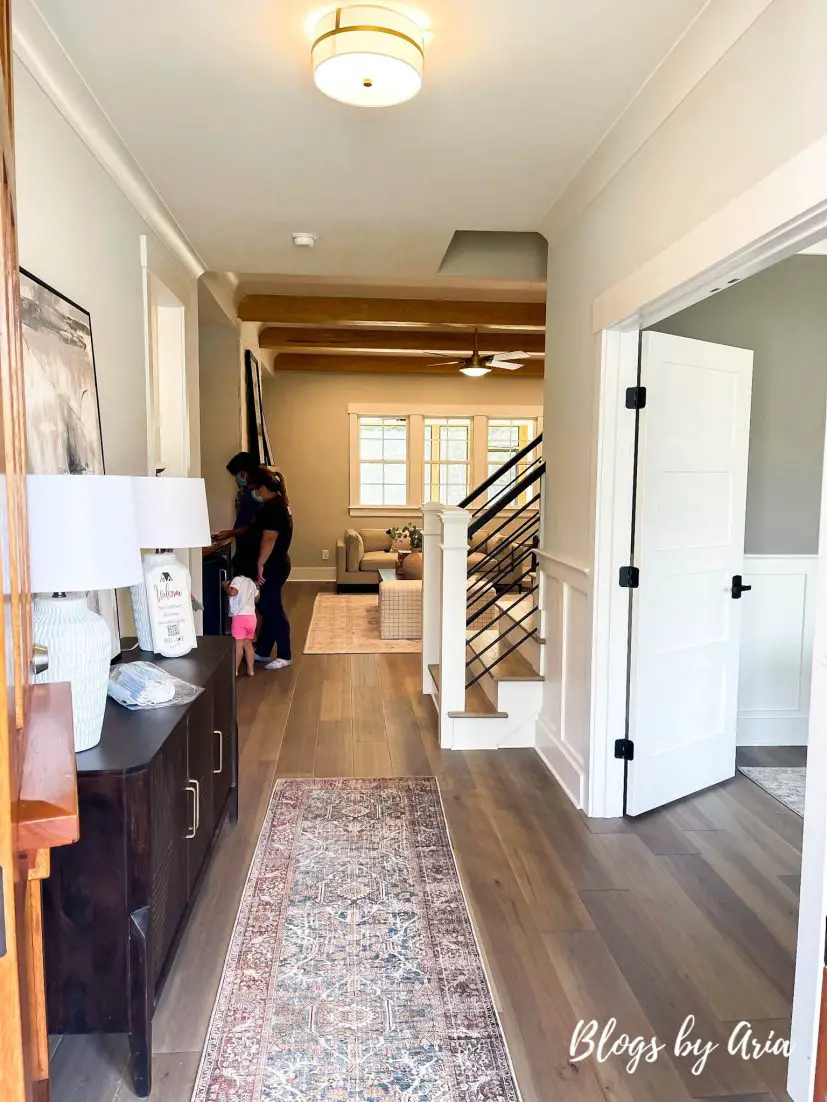 As you enter the Crescent Ridge house you come into the foyer that opens up to the family room.  To the right is the home office.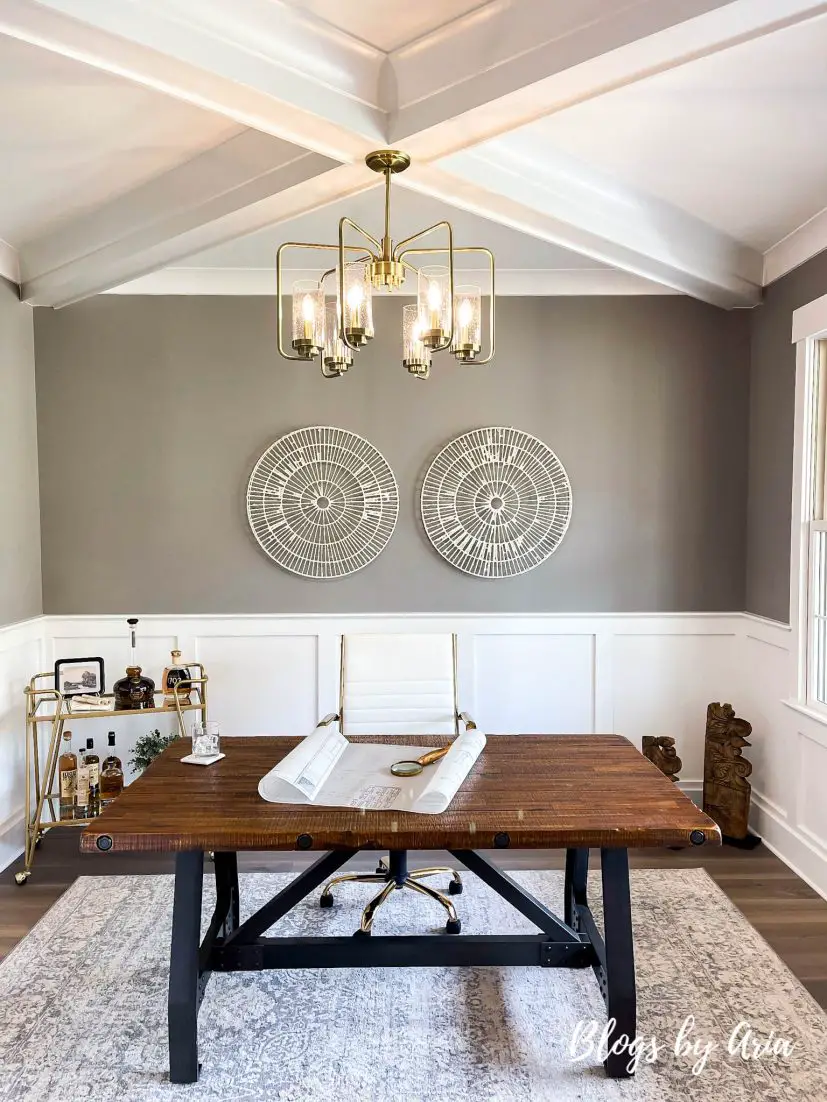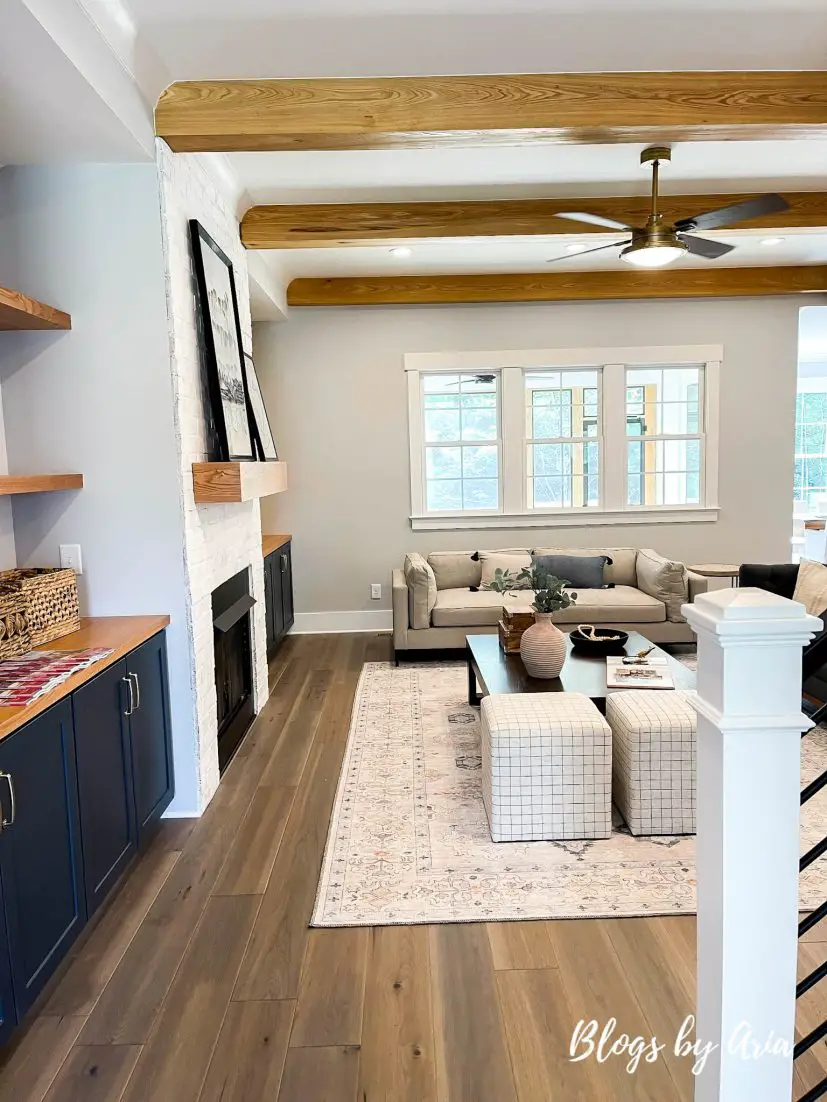 I'm obsessed with this rug!  One thing I wish they'd include with the information for these homes on the tour is to include decor sources.
There is one home, that I have yet to share (coming soon) that is the only house to provide materials and paint colors used.  That's helpful information you know.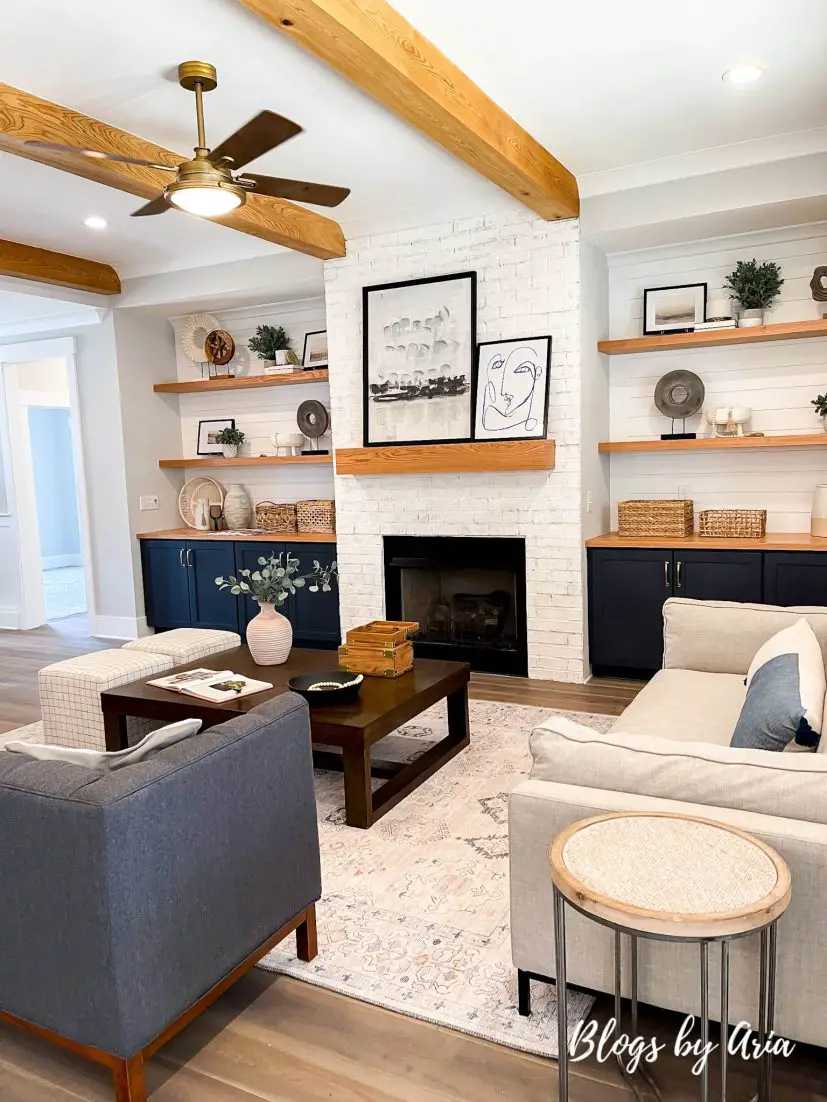 The living room marries a lot of decorative accents and brings them all together in a cohesive way.  The white painted brick fireplace, the shiplap behind the built-ins and the wood beams.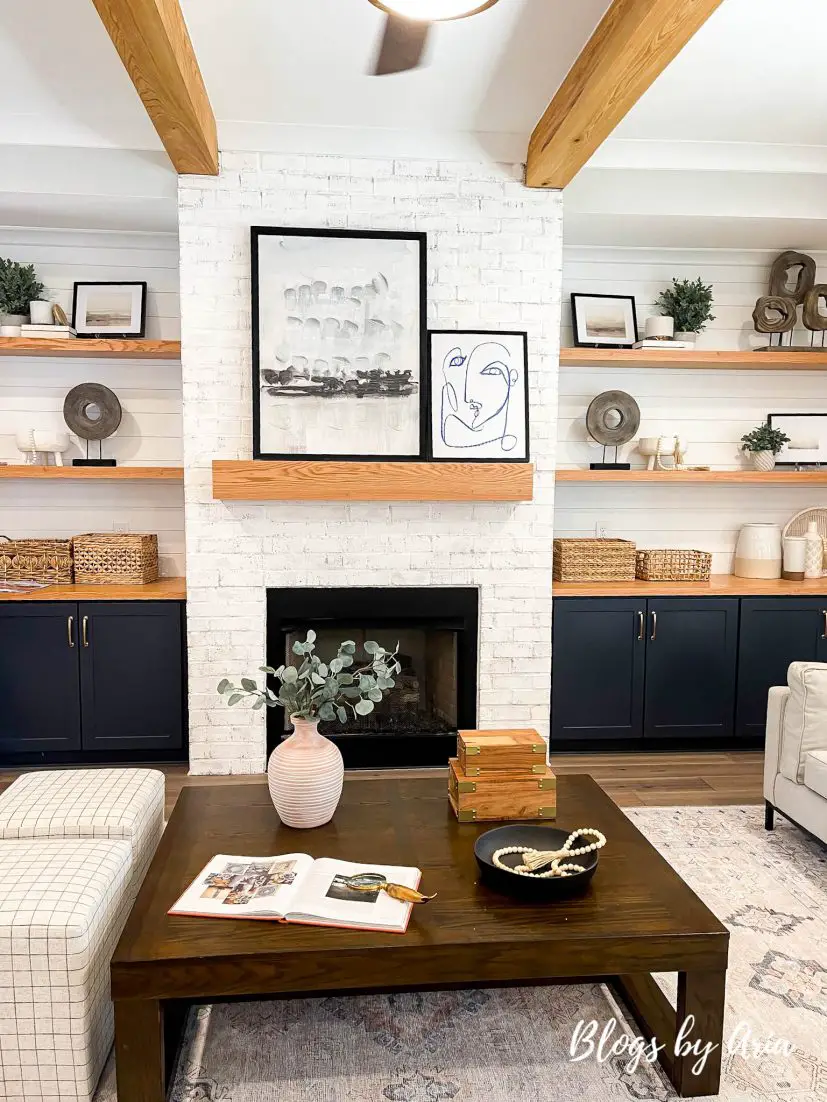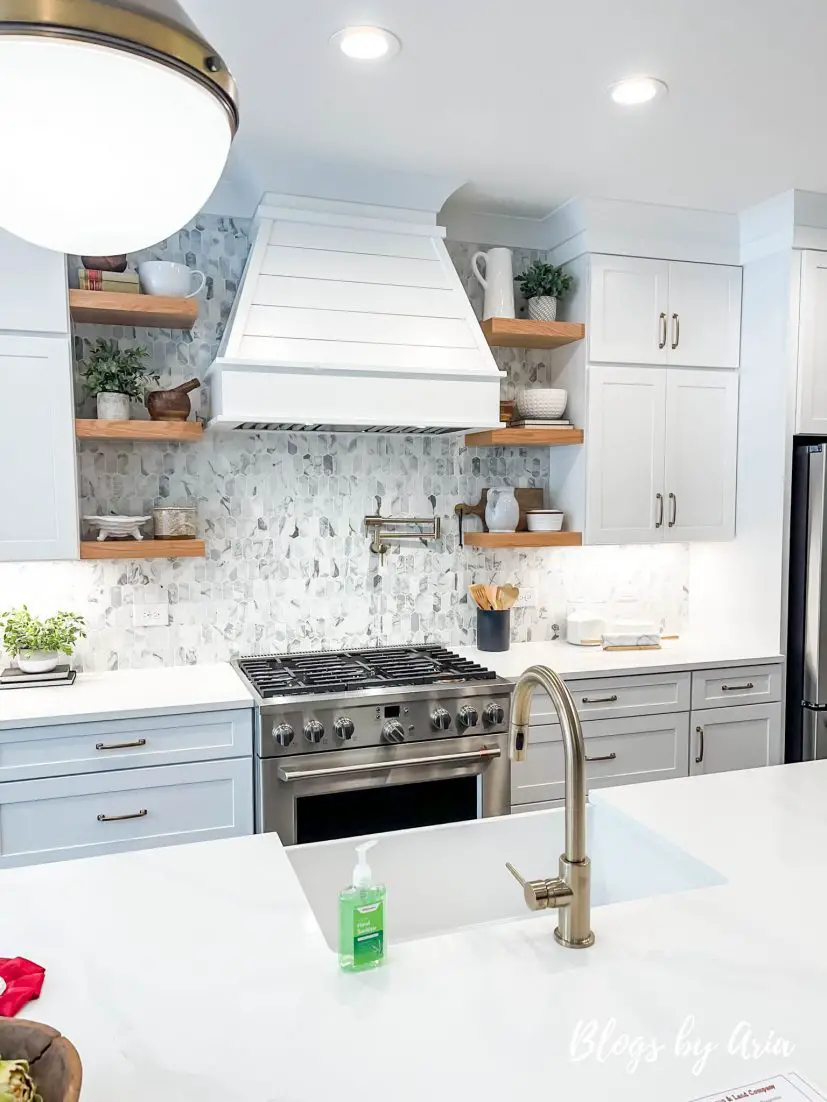 Across from the family room is the kitchen that features a shiplap vent hood and open shelving.  It's almost as if the builders looked on Pinterest and said, "let's just put all of the farmhouse trends together and see how it turns out".  To that I say, go for it.
I'm so tired of every so called "interior designer" bashing farmhouse styles.  I don't need someone to say this is out and this is in.  Quite frankly it's my house and I'll design it how I want.
Stepping off of my soap box…this is too much for me personally, but I'm not averse to it.  I am not the biggest fan of open shelving in a kitchen.  I say let's close those cabinets so you can't see what a hot mess my kitchen is! 🙂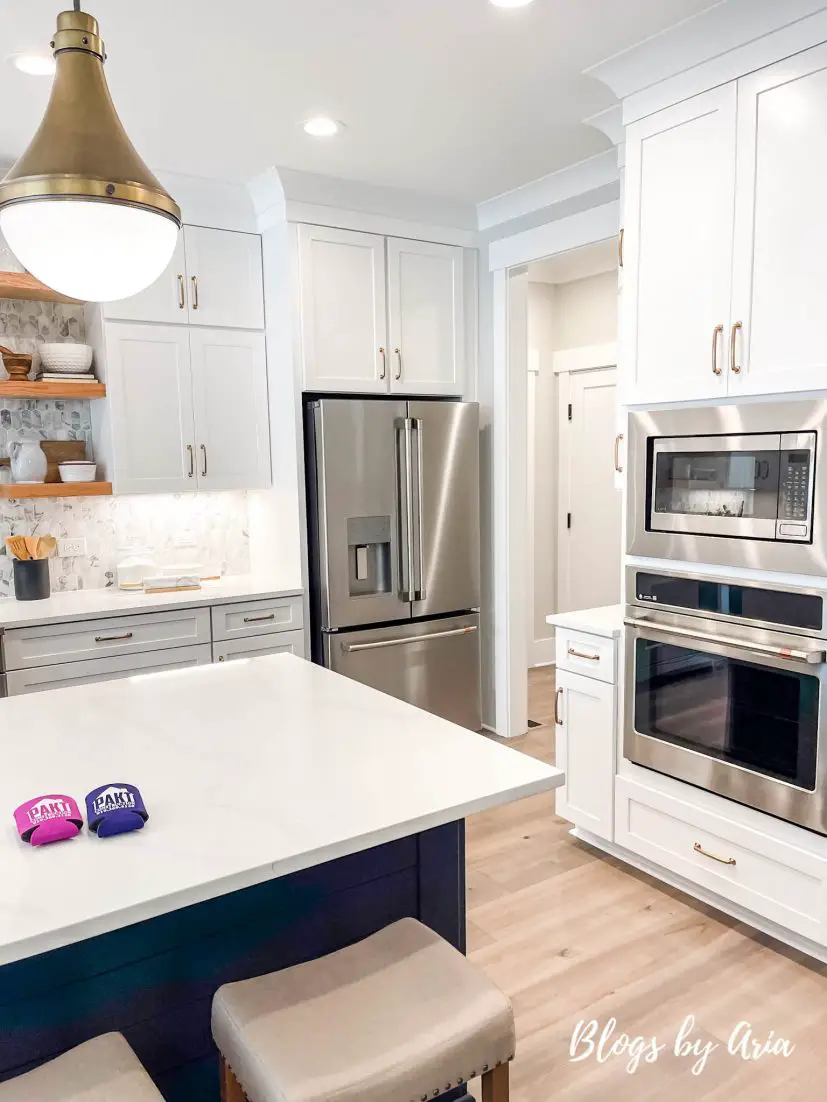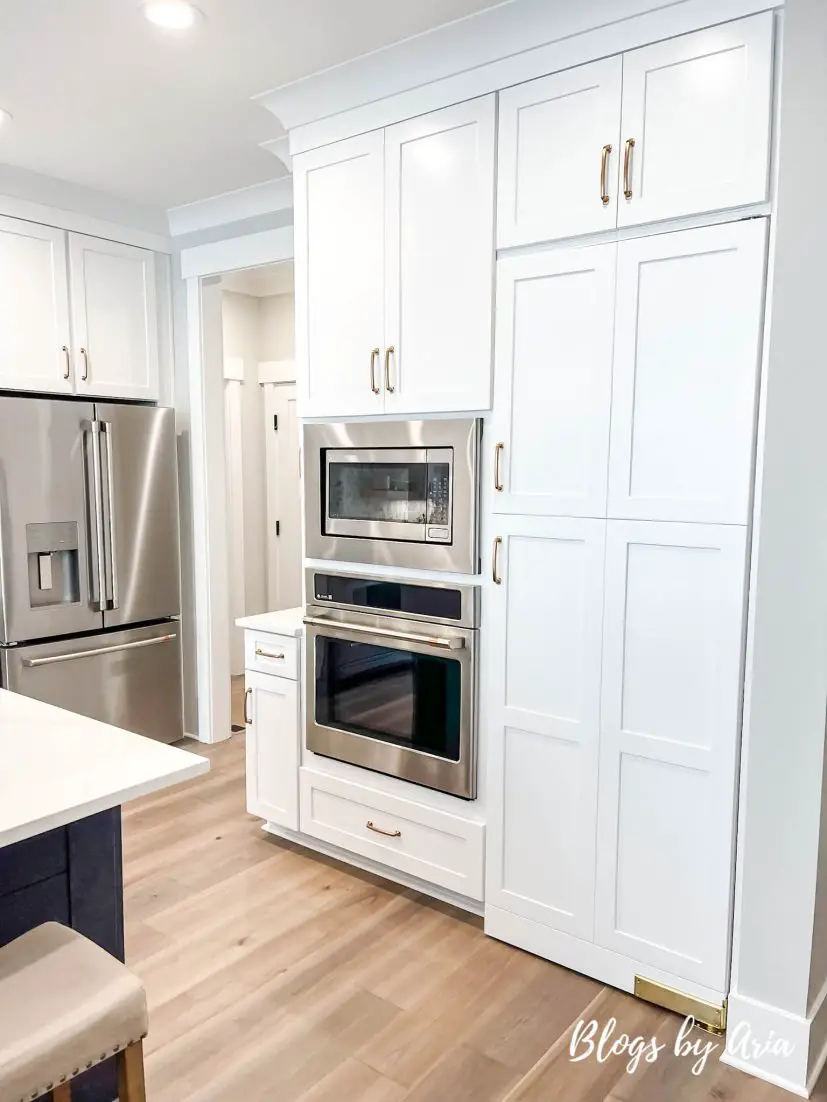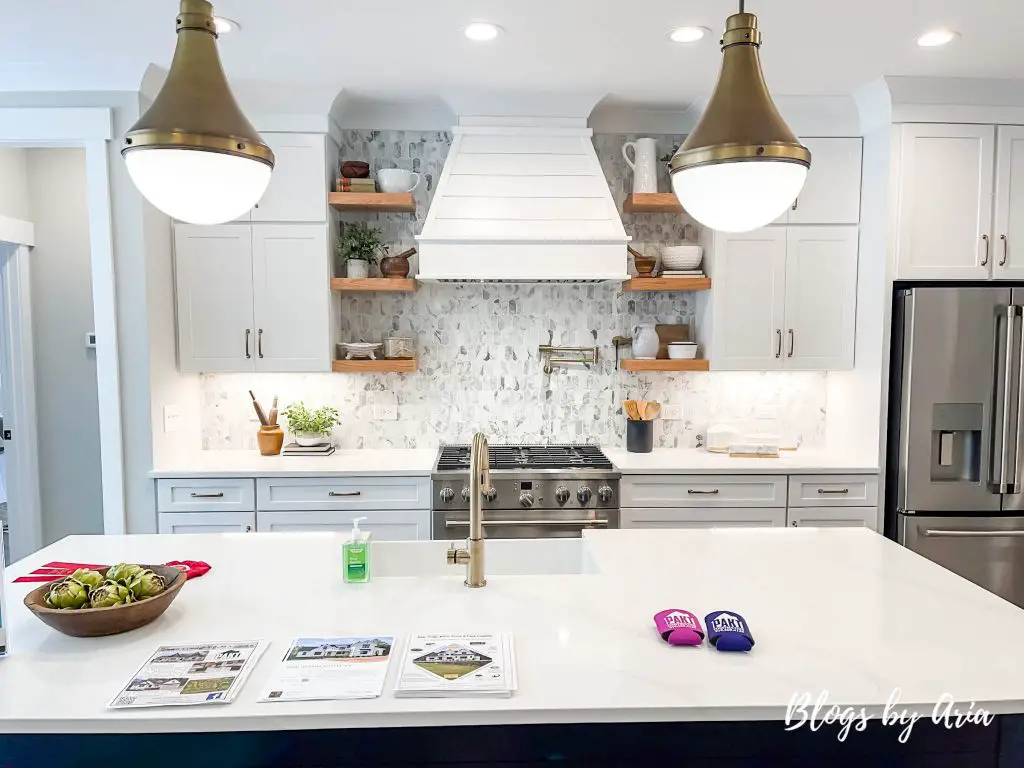 Although I don't love the floating shelves, I could have fun styling them.  I love everything else about the kitchen though!  It's a great size and so much storage.  Plus two ovens to boot.  Would I like more counterspace?  Sure but I really like this kitchen!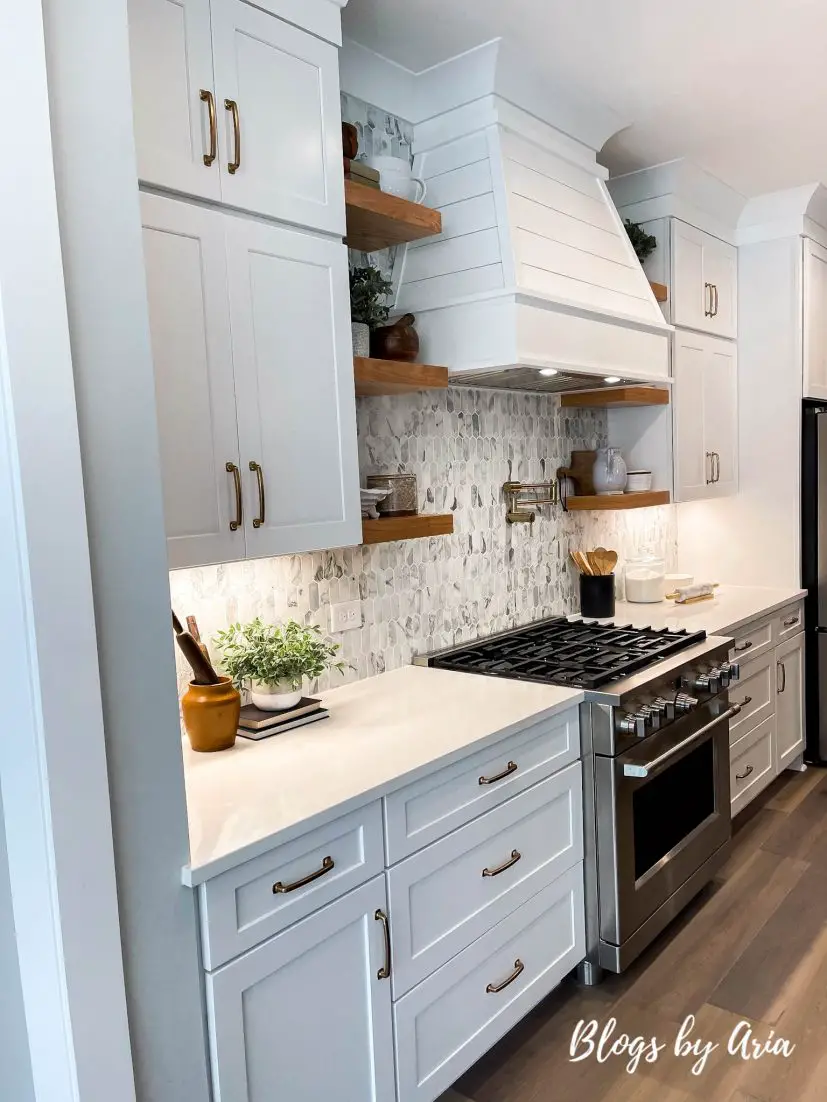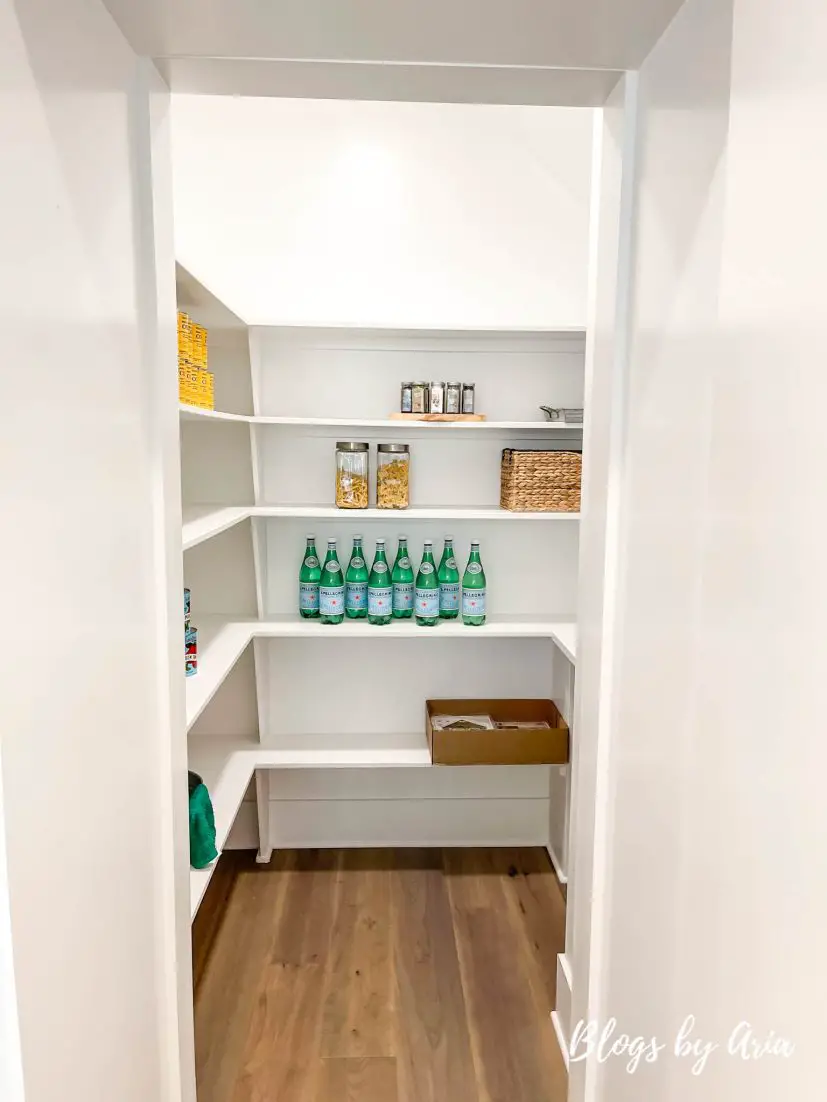 Who doesn't love a hidden pantry?  Next to the wall oven unit is this walk in pantry.  What this kitchen does not lack is storage.
There's not a formal dining room but this dining space is large enough to seat six to eight comfortably.  Ten if you squeeze everyone in.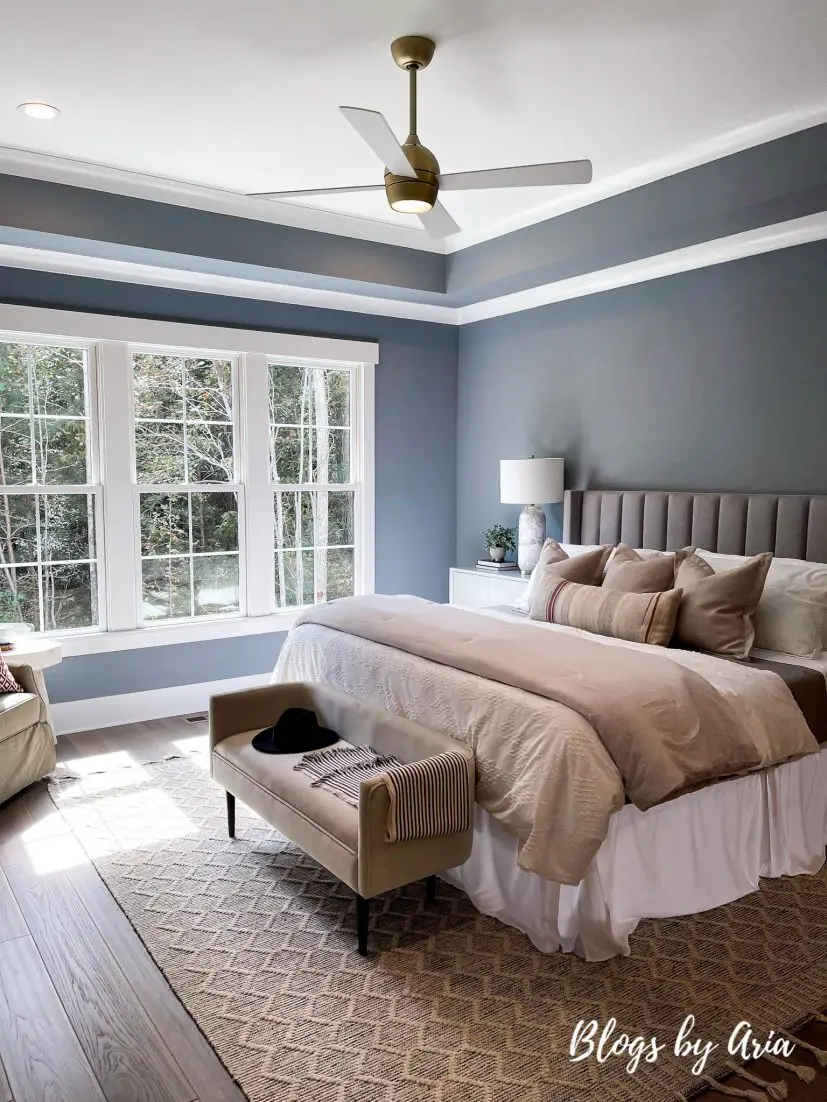 On the other side of the dining room is the master bedroom.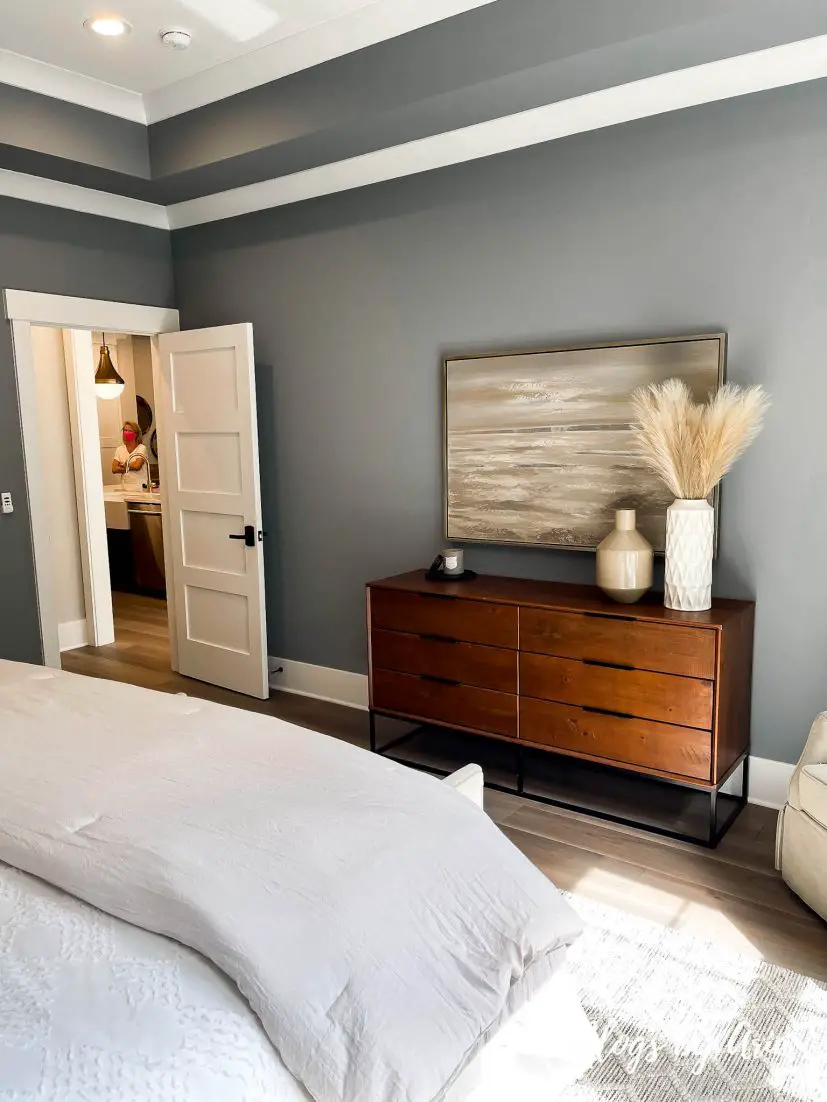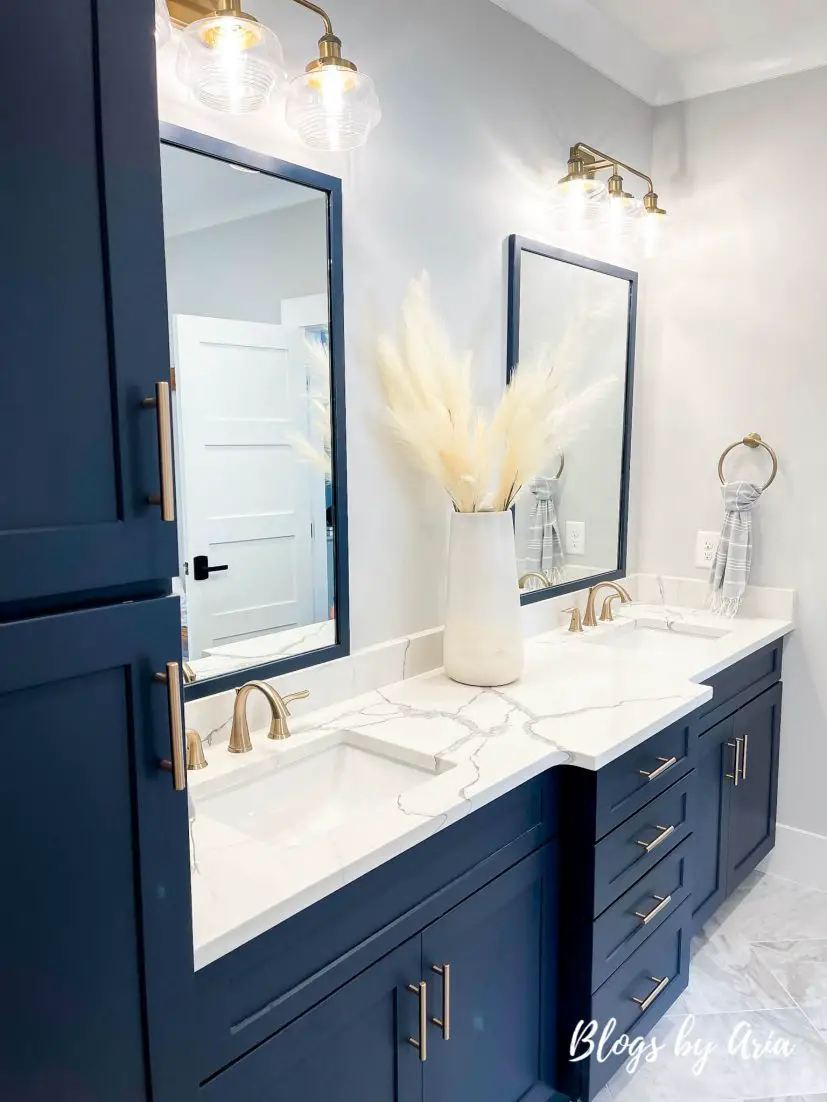 The master bathroom has great storage as well.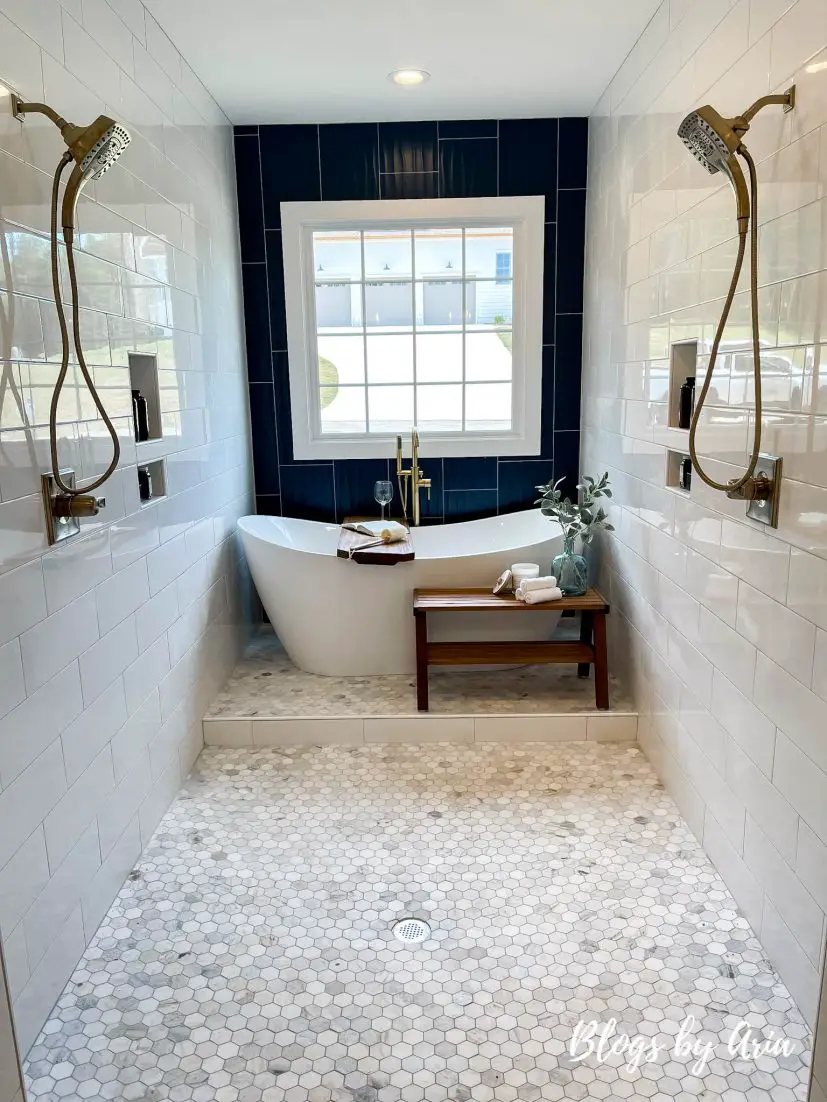 Talk about an oasis!  I typically don't love the wet room design for a shower and tub but this works for me.  Two shower heads, a niche on each side and a soaking tub that if you add too much water you don't have to panic because it will just go down the drain.  Yes please!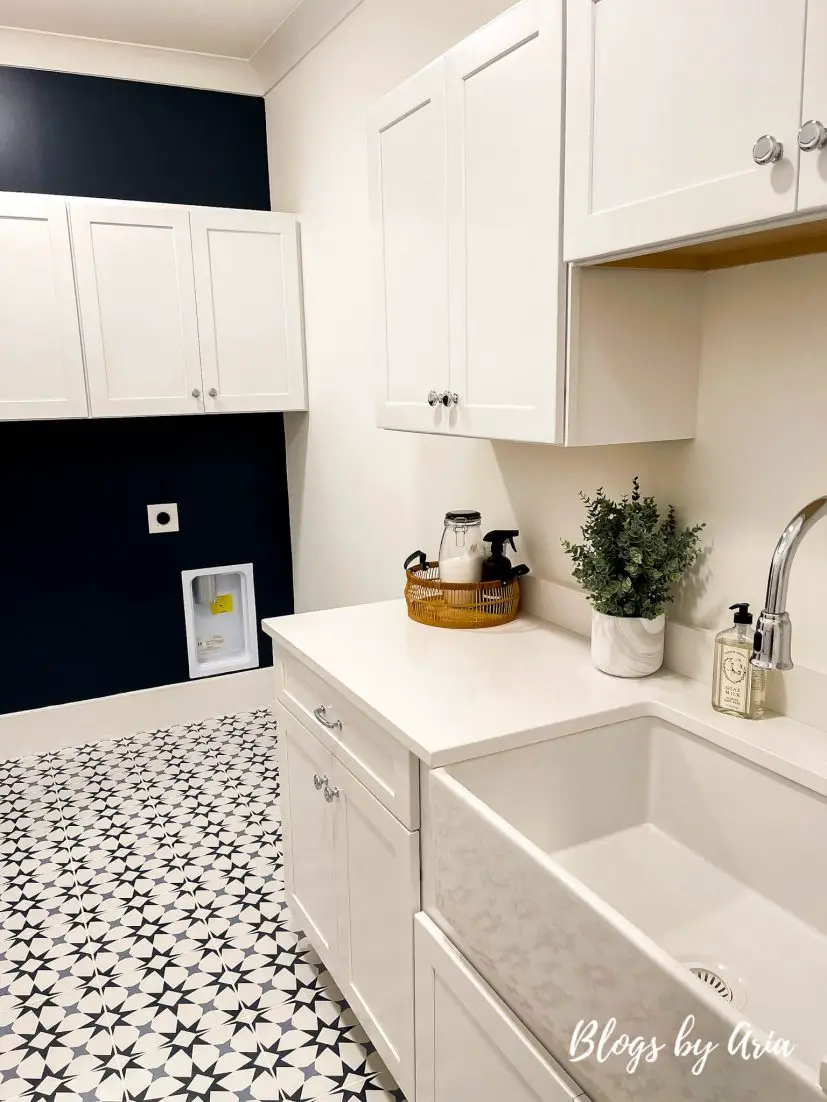 The laundry room is almost a winner in my book.  I say almost because the white cabinets along the navy wall look weird since they don't go up to the ceiling.  Just take them up to the ceiling people!
One good thing is the huge farmhouse apron sink and all of the storage.  The laundry room is located off of the master closet and opens up to the mudroom.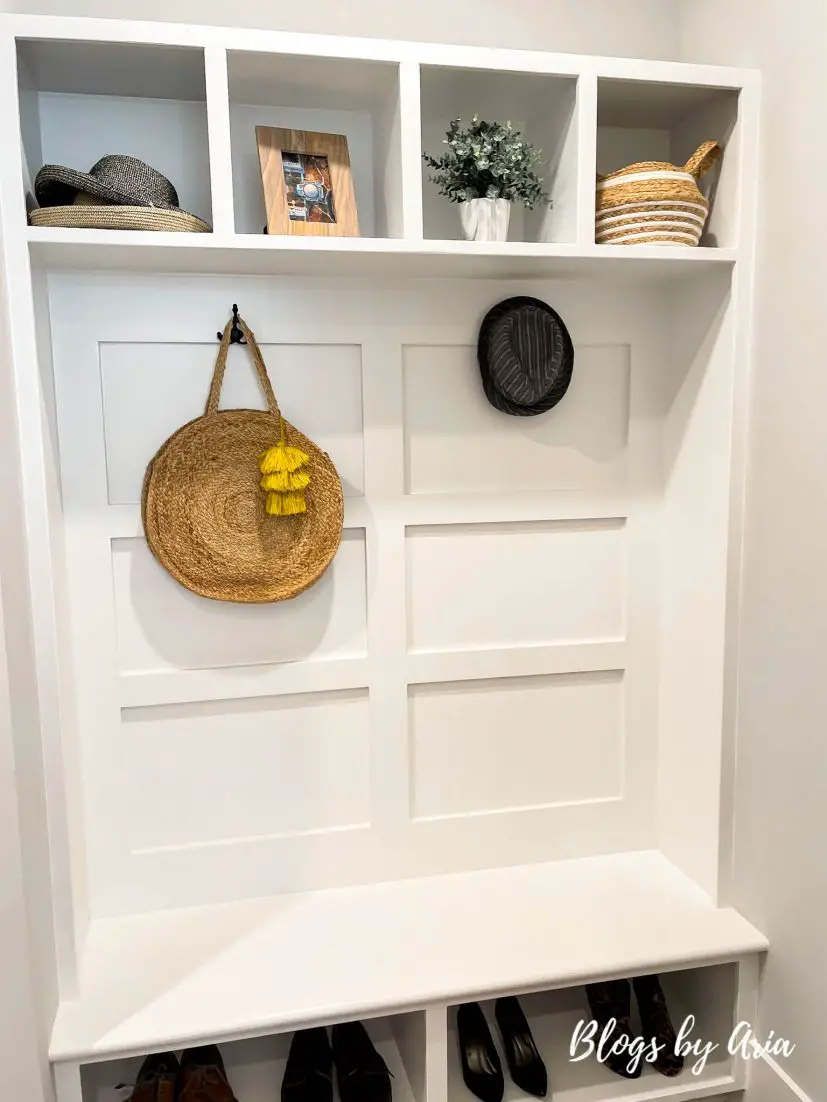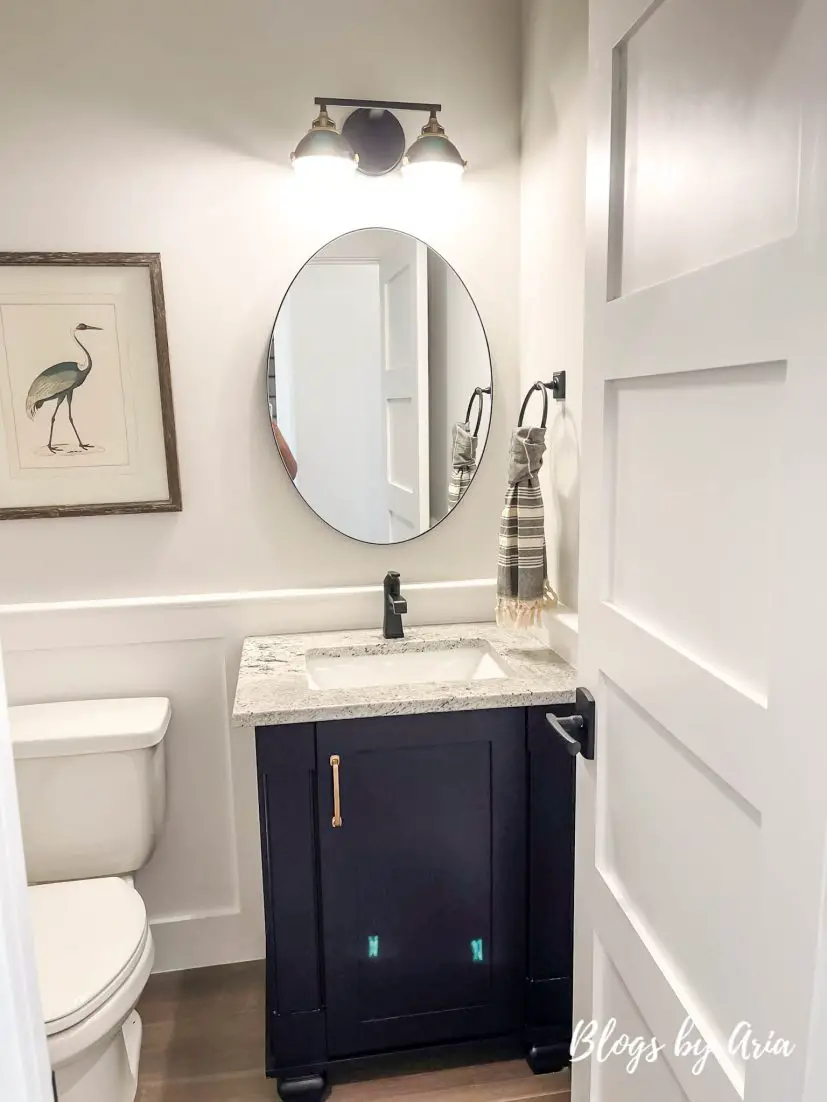 On the opposite side of the house, off of the family room, there is a powder room as pictured here.  There's also two bedrooms with walk in closets and a split bathroom.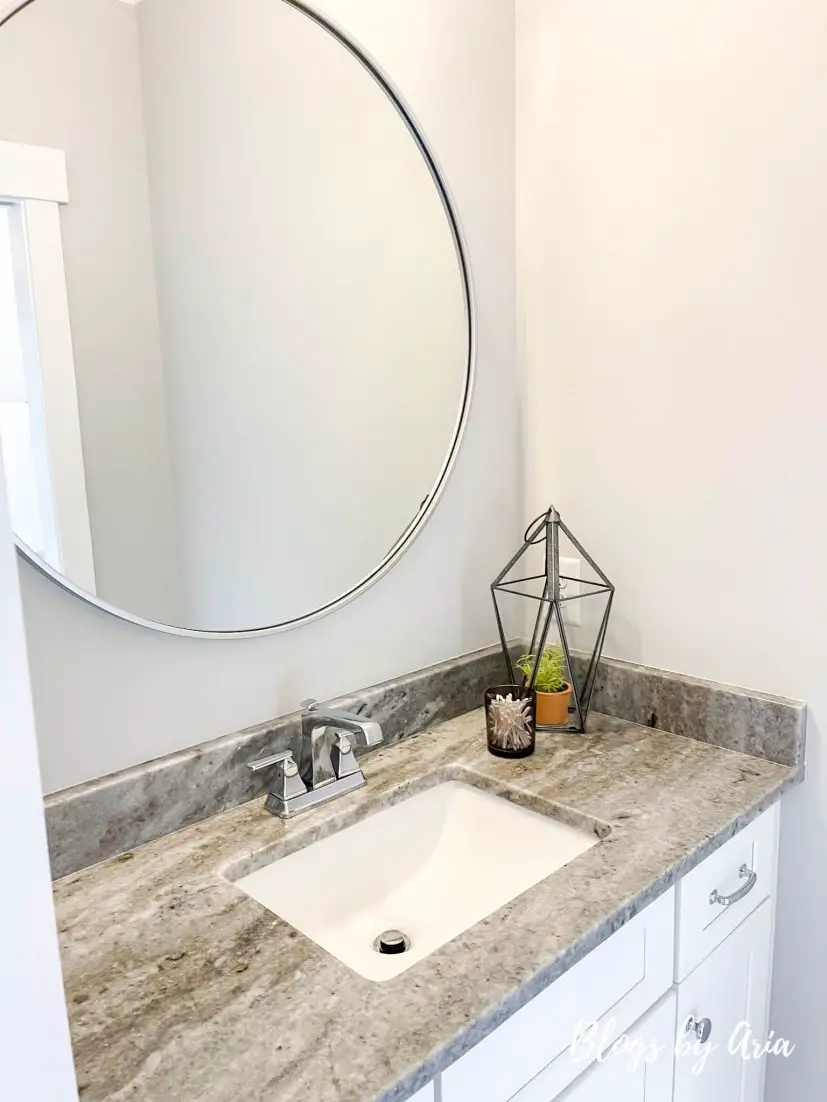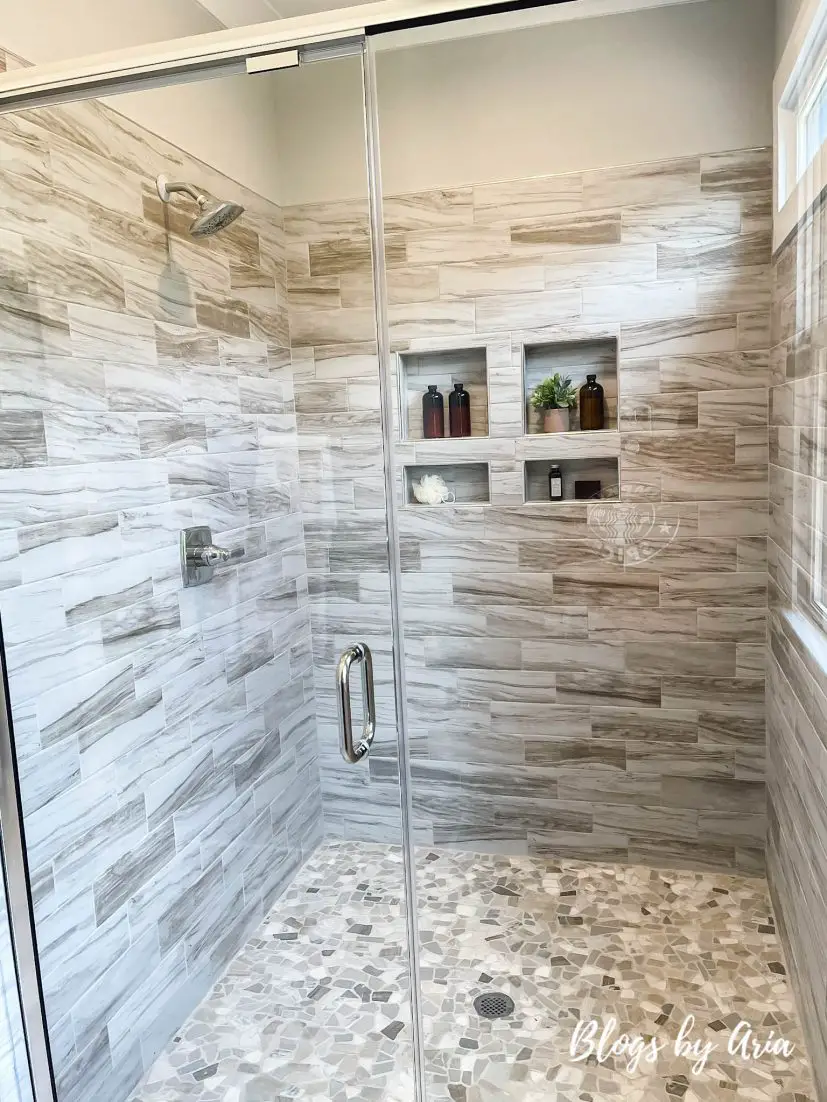 Now let's head upstairs where there is the fourth bedroom, a craft room and game room.  Plus walk in storage that is ginormous.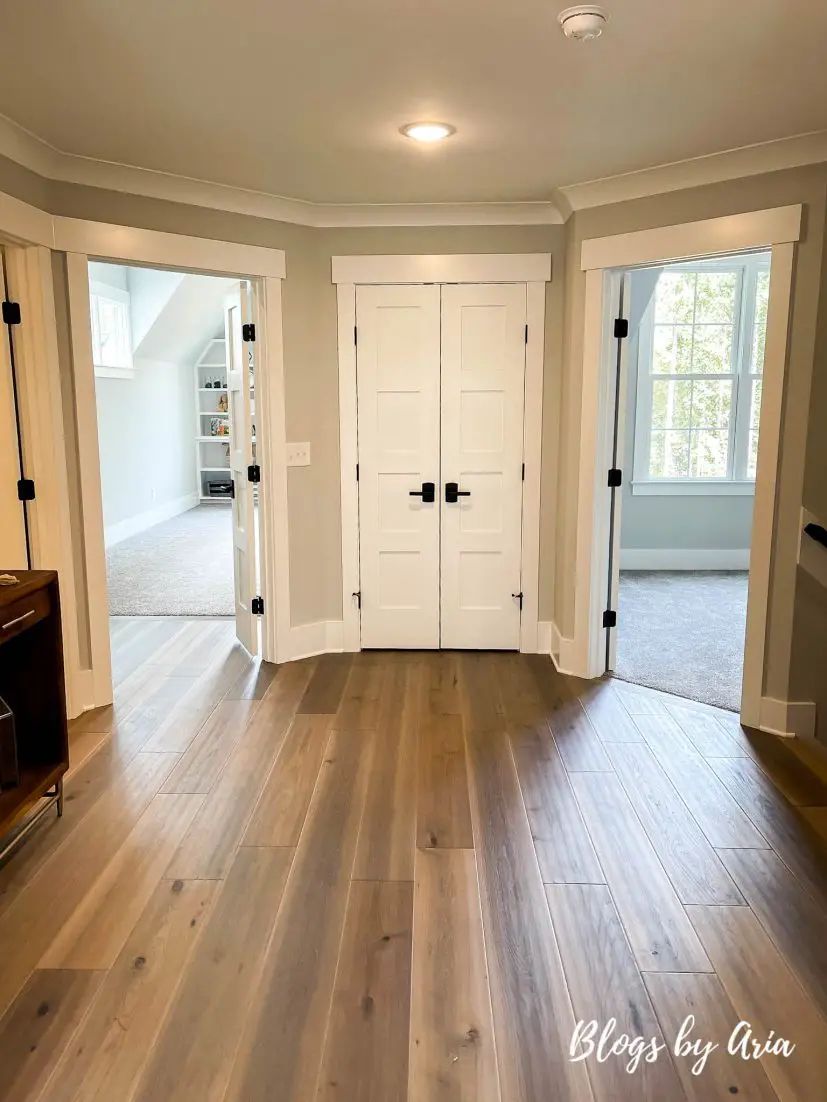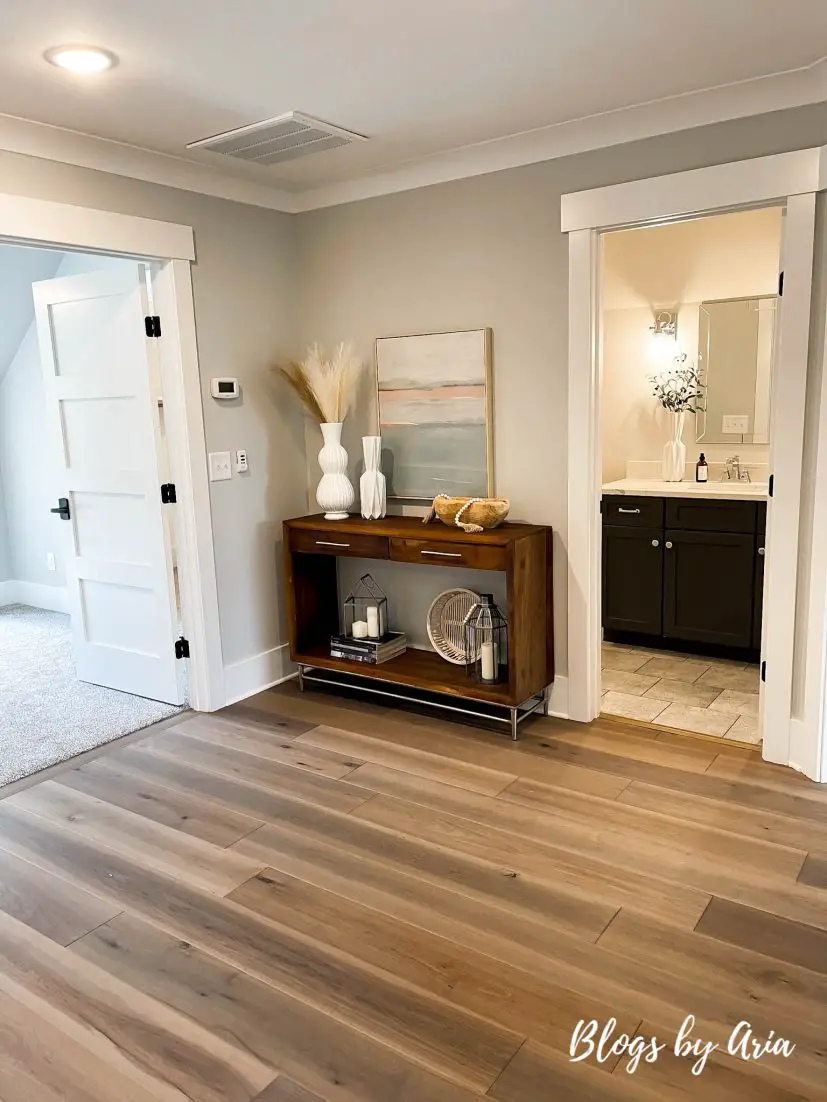 When you come upstairs there is a large landing.  It's laid out in a "what's behind door number 1" kind of way.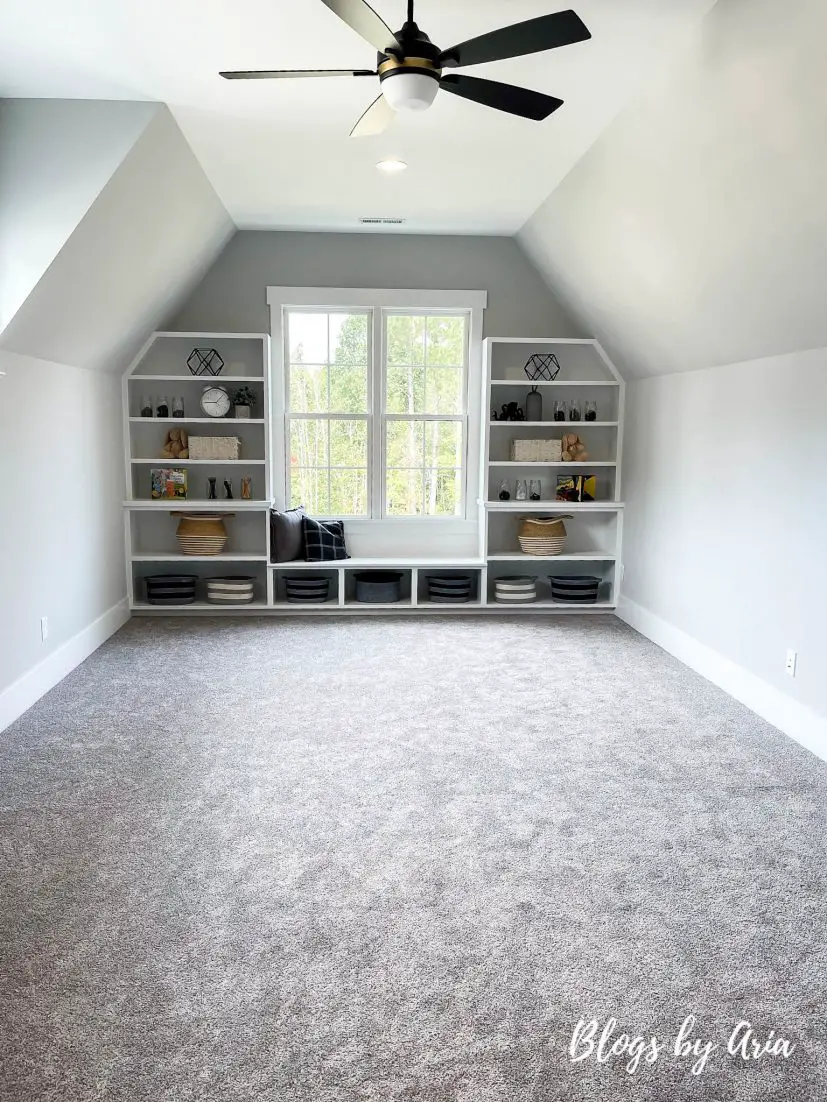 Behind one of the doors is the craft room as they call it.  It can be used for a number of things.  A home gym, a playroom, a home office…so many options.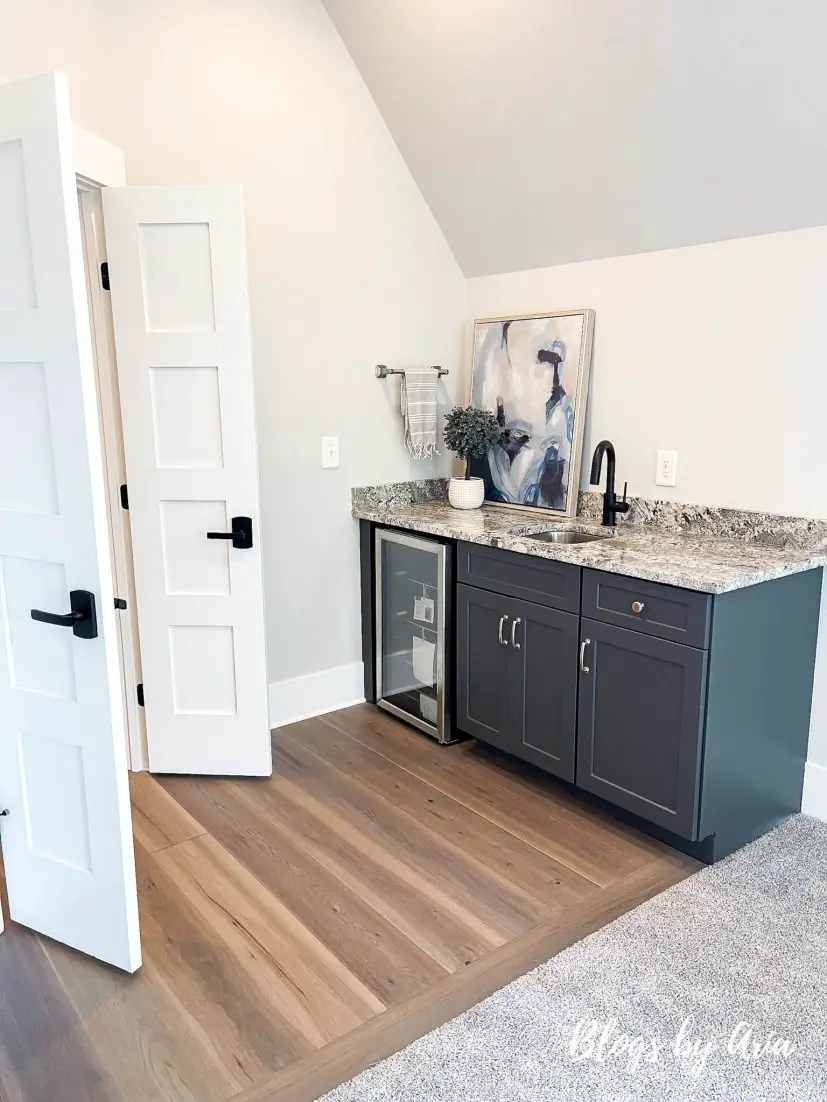 Behind another door is the very large game room that features a wet bar.
And that wraps up the tour of the Crescent Ridge house.  What did you think?  I really like the house overall.  The layout is good and I like that majority of the bedrooms are on the first floor.
I'm knocking out these Parade of Homes tours so make sure you subscribe to my newsletter so you don't miss a post!
MORE PARADE OF HOMES POSTS:
If you'd like to get even more home decor inspiration as well as see more home tours, be sure to follow me here: