Little by little I've been organizing a few spaces in our home.  It's a slow progress but with each item tackled on my to-do list it makes such a huge difference. Today I'm diving into a few of my  Amazon home organization favorites that will help you declutter and create order in your home.  Let's dive into the world of home organization goodies available at the click of a button!
*this post includes affiliate links for your shopping convenience, you can read more about affiliate links by reading my Disclosure*
AMAZON KITCHEN ORGANIZATION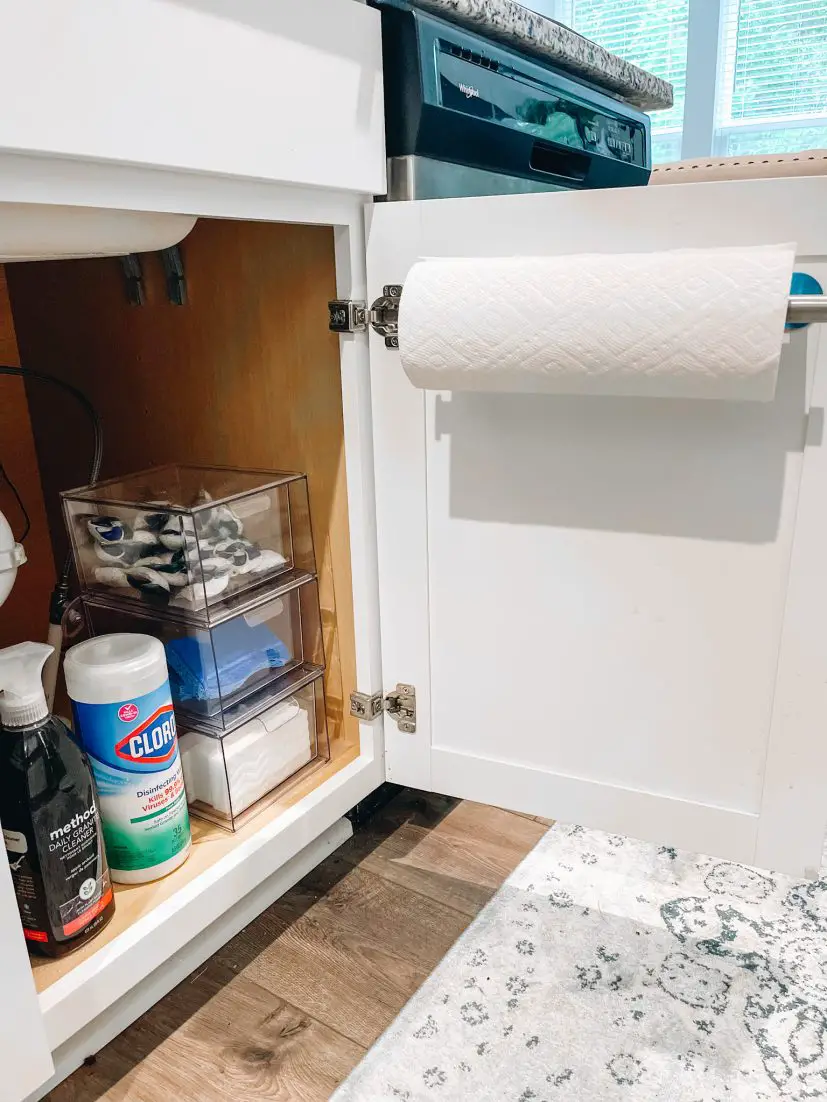 stackable drawers • paper towel holder
One of the first items I purchased was actually a repurchase.  It's this paper towel holder.  In our previous kitchen I used it under the cabinet but this time I decided to give it a try inside the cabinet door.  You can place it vertically or horizontally.  I prefer to keep the paper towels out of view.
These stackable drawers come in sets of two.  Under the kitchen sink is still a work in progress but for now I'm using the stackable drawers for my dishwasher pods, sponges and magic erasers.
This pan organizer is a game changer!  It's expandable and customizable to whatever size pans you have.  What you see above isn't even fully extended and I have a few more separators left.  Definitely one of my Amazon kitchen organization favorites!
On the left I'm using an old holder from Home Goods to store a couple of lids.  But you can see that I still have tons of room to use in this cabinet.
AMAZON BATHROOM ORGANIZATION
In our bathroom we have separate vanities which is great.  There's great cabinet space but not as much drawer space.  I found that I really wanted to corral my everyday skincare and makeup without things being spread out on my sink.  This makeup organizer fits the bill.
I'm able to keep everything I need within arms reach.
This rotating skincare organizer is the best!  This is the one I've had for several months now and had in the old house.  It needs a dusting and is not fully stocked.  My bathroom is a major work in progress.  But I love it so much I have another one I need to put together.
Stay tuned for a bathroom organization post hopefully coming sooner than later.
Our shower organizer is a must have for sure.  We had one in our last shower too.  In both showers we had a built in bench which is great, until it is covered with body washes and shampoos.  This organizer helps keep the rest of the shower clutter free.
One shelf is for my husband and one is for me.  We also have one in the kids bathroom too.
My jewelry organizer is the perfect size for the small amount of jewelry that I have.  I do want to become more of an accessories girlie this year but for now this works for necklaces, bracelets and dangly earrings.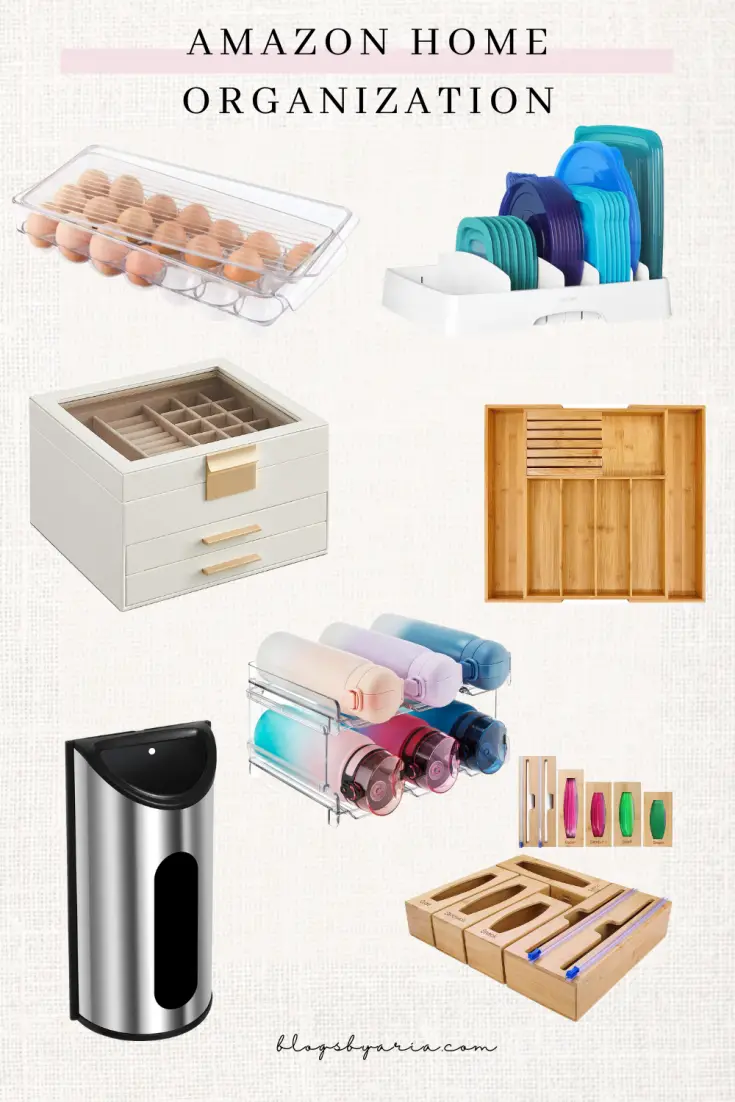 egg holder • lid organizer • jewelry box • silverware organizer • water bottle organizer • plastic bag holder • ziplock bag organizer
I'm always adding items to my Amazon cart (who isn't) especially when it comes to organization finds.  I figured I'd share a few of the pieces that I want to grab when I can.
The egg holder is something I want from an aesthetic aspect but functionally don't you hate when you think you have enough eggs but it's not until you open the container that you see you're down to two eggs?
We do need to a solution for plastic bags and this plastic bag holder has great reviews.
Everything else are nice to haves, so they're not high on the priority list but I still want to get them eventually.
And there you have some of my Amazon home organization favorites!  I'll probably share a YouTube video when I have more to share but for now I thought it would be fun to share a sneak peek at how I've been organizing things around the house.
If you'd like to get even more home decor, fashion finds, sales and all things random be sure to follow me here:

SHOP MY AMAZON HOME ORGANIZATION FAVORITES