Since we're still getting settled into our new home (how long can I use that excuse? 3 months? 6 months?) I knew that I wasn't going to be able to do a lot for the Fourth of July.  But I couldn't resist pulling out a few of my flag pillows and adding a touch of red, white and blue into the mix.  Here's a mini 4th of July home tour to share some decorating inspo for next year.
Everything I used I already had from previous years.  If you want even more patriotic decorating ideas I've got you covered with the past three years of Fourth of July decor.
*this post includes affiliate links for your shopping convenience, you can read more about affiliate links by reading my Disclosure*
I decided to switch things up with my console table.  If you saw my recent post sharing our new kitchen, you saw that I had my tiered tray styled in the kitchen.  On a whim I moved it to this space and the tray can definitely work on this smaller console table.  My favorite flag pillow is perfect here too.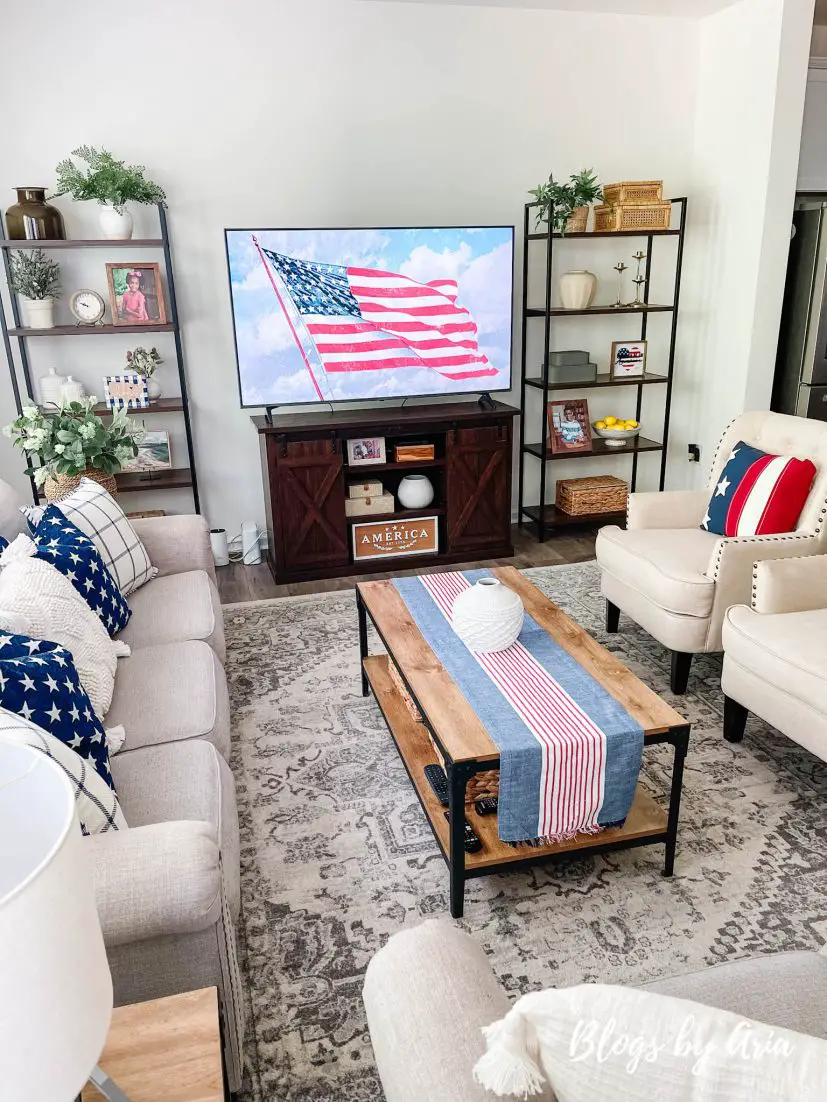 I kept things pretty simple on my shelves.  I have a lot more decor that I didn't use this year and may get rid of some of the extras.  Don't call me a minimalist but I've found the desire to not do too much and keep things a bit more neutral and streamlined.
For the pillows, the flag pillows add so much color that there's no need to do much more you know?
I added this Americana table runner that I've had for a few years.  Here's a similar option that's on sale.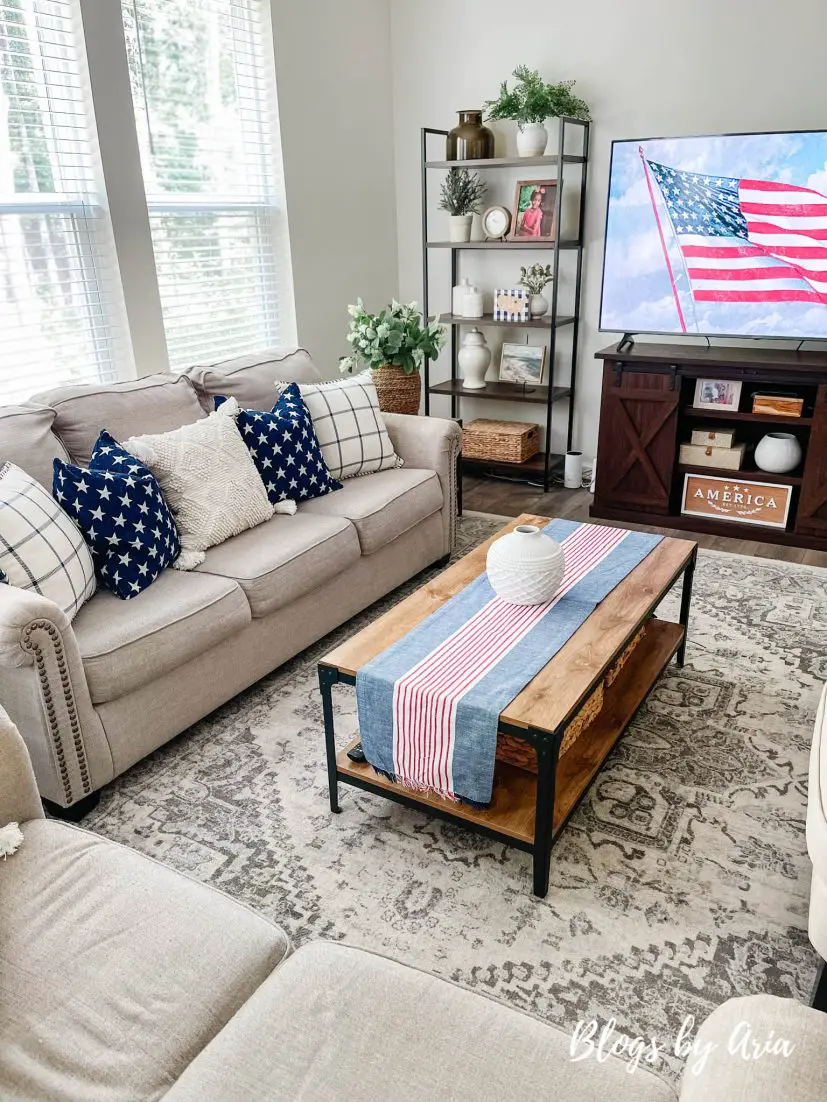 These blue star pillows are my second favorite pillows for the 4th of July.  They're an Amazon find!  I like that they feel festive without being too bold and blend in with my everyday summer pillows.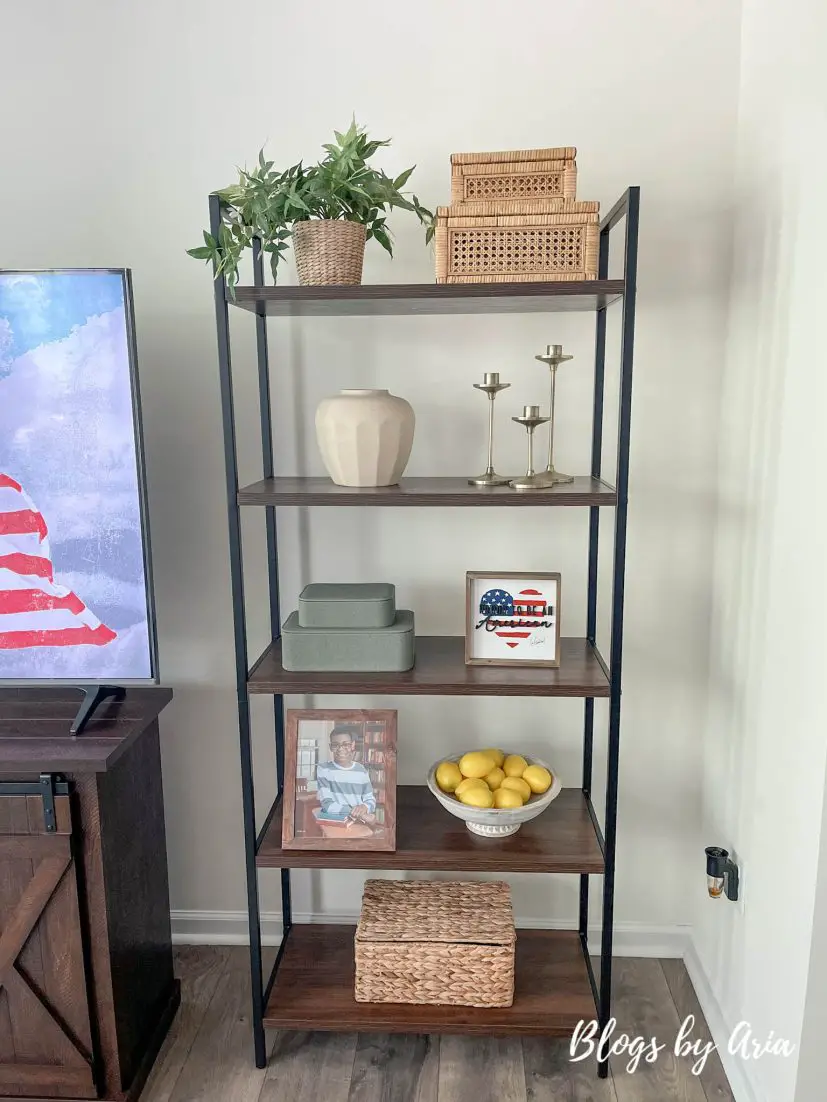 Still haven't had much time, opportunity, energy, motivation, all of the above to really work on my shelves.  So for now I just added a patriotic sign to each of my shelves.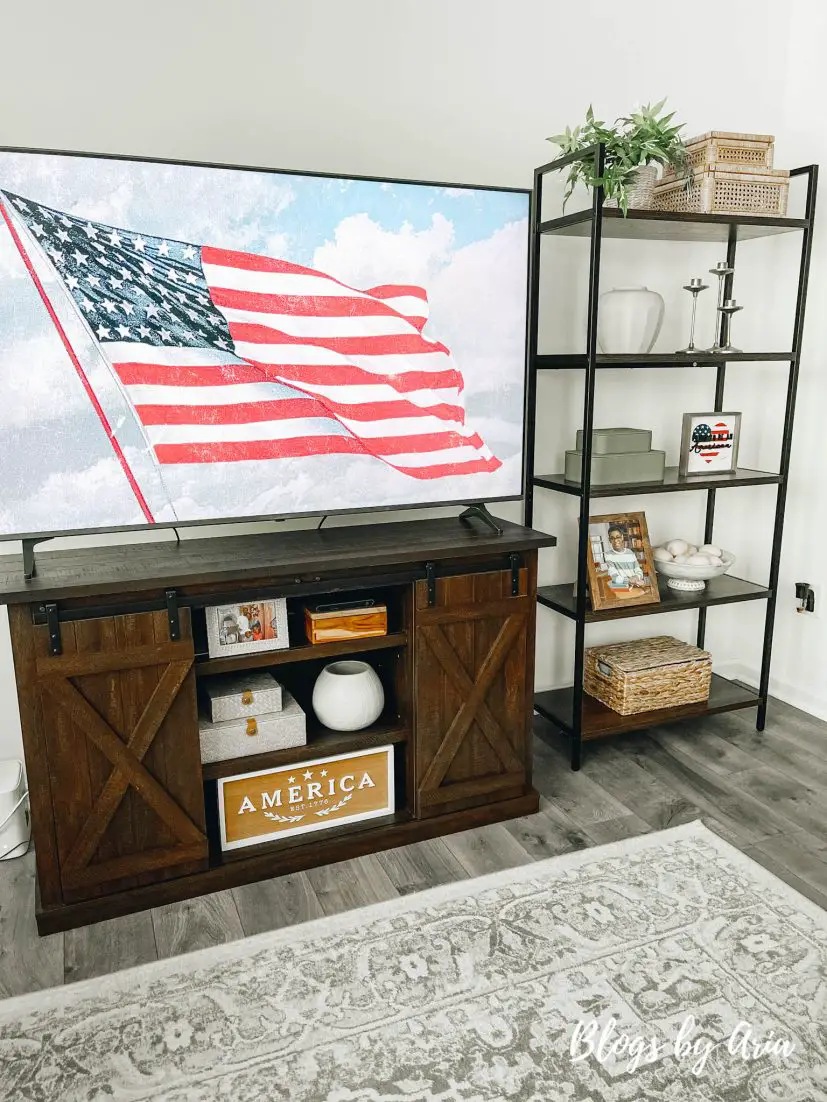 This America sign is a Hobby Lobby find I've had for awhile.  I'm pretty sure it's there this year and next and the one after that.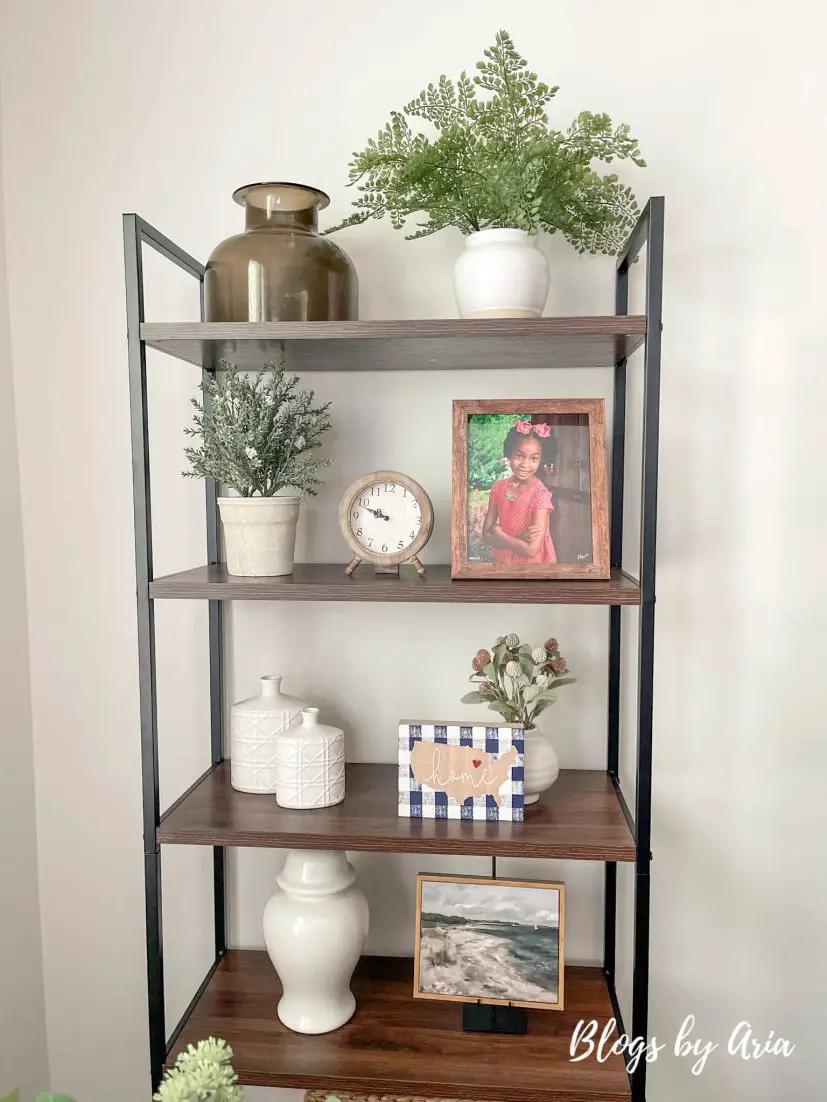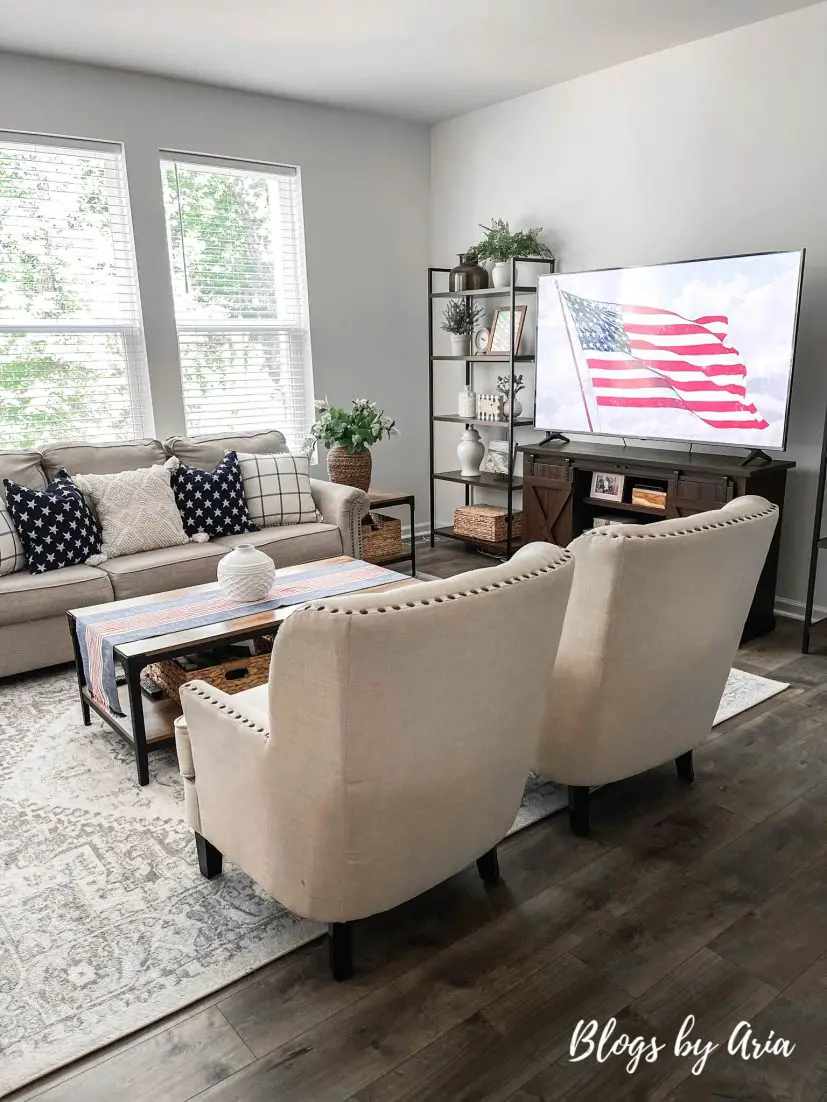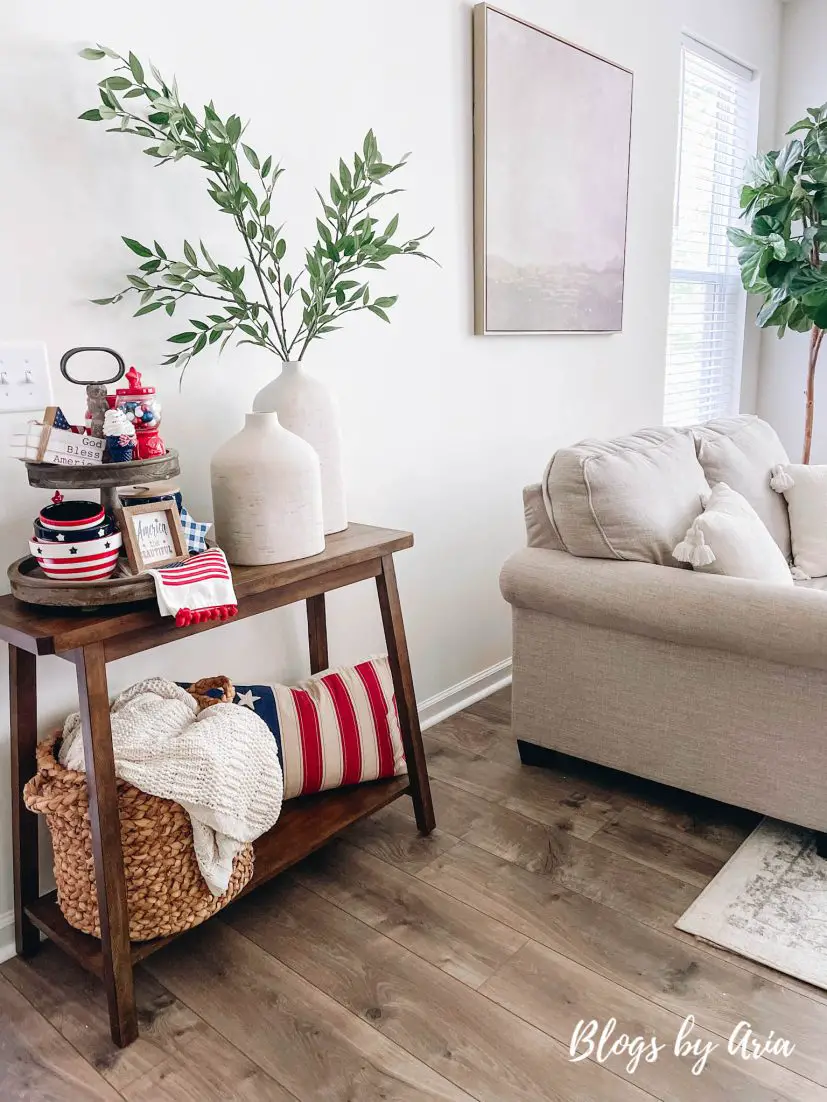 On the loveseat I have a couple of white pillows I've had for awhile.  Can't remember where they're from…probably Kirkland's.  It's weird how I can remember where 90% of my home decor comes from.
My 4th of July home tour is short and sweet this year.  Because I didn't decorate any other space aside from the small touches in my kitchen.
Hopefully you got some good ideas and inspiration for decorating your home for the 4th of July.  A little goes a long way!
SHOP THE POST



If you'd like to get even more home decor, fashion finds, sales and all things random be sure to follow me here: