It's no secret that I love shopping at Target.  I mean, you can look in any room and find something from there in my home!  The holiday season is no different.  Today I'm sharing my favorite Target Christmas decor finds with you.  Many of which you can get your hands on today!  Of course you know I love Hearth & Hand and Studio McGee but the Threshold line and the Wondershop are also tried and true favorites of mine!
This post is totally not sponsored by Target but hey girl, you should absolutely sponsor me 🙂
*this post includes affiliate links for your shopping convenience, you can read more about affiliate links by reading my Disclosure*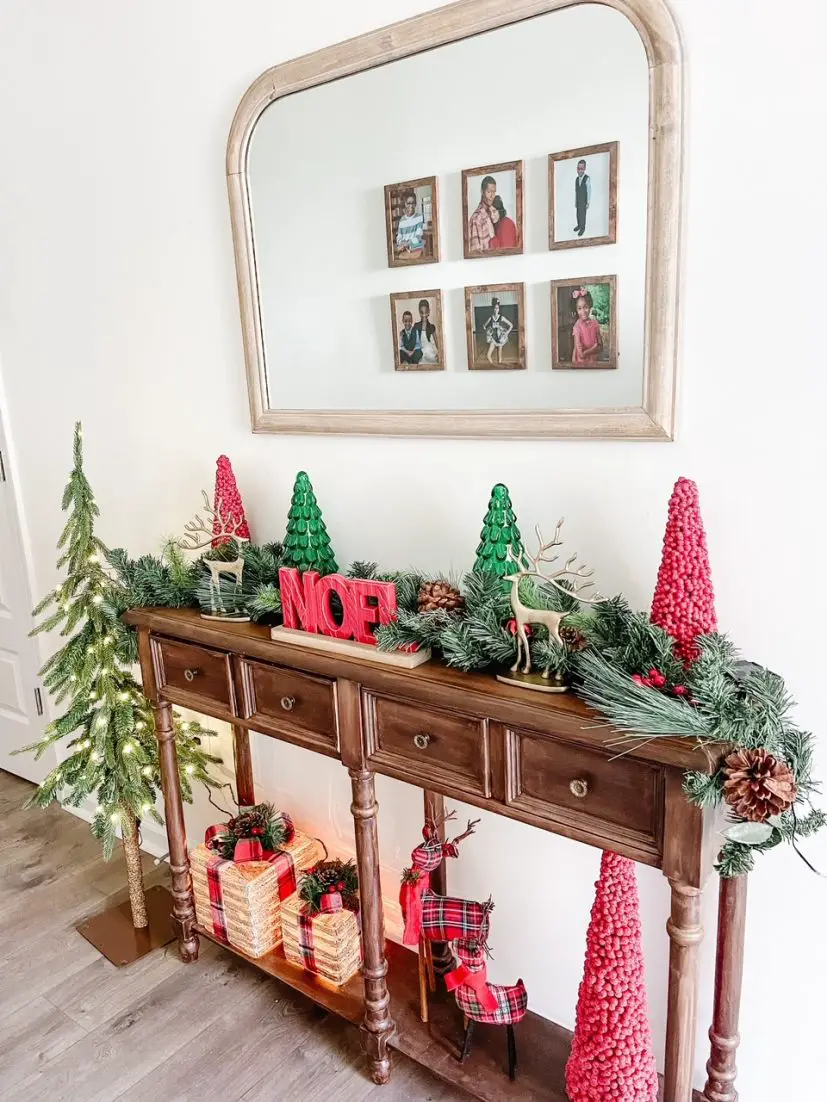 downswept alpine balsam tree • berry cone tree • glass tree • similar gold reindeer • medium pre-lit gift box • small pre-lit gift box • large berry cone tree • mantle mirror
My entryway table has a few Target Christmas decor pieces.  Starting with my downswept alpine balsam tree.  This is the 4 foot version.  I've eyed these small trees for the last couple of years, they also come in flocked versions.  When they went on sale the other week for half off I had to have them!
Also my berry cone trees have been a staple in my holiday decor over the years.  Each year they've (so far) made small modifications to them.  The ones you see here are frosted.  I have some from the year before that are a deeper berry shade.  This year they're different shades of red and berry and not frosted.  Either way they're beautiful!
In this space you can see the 5 foot version of the downswept alpine balsam tree.  There is also a 6 foot option.  Having them all together creates such a beautiful little tree farm!
In my kitchen I have this mixed greenery wreath that I love.  I got it last year but it's available again this season.  Last year I added a small set of bells to hang from the center.
This year I was going to add them back but at the time of filming my Christmas Kitchen Decorate With Me video I couldn't find them!  So I added velvet red ribbon instead.  I was planning to use both but we'll see if I add the bells.
snowflake bathmats • snowflake hand towel
In the kids bathroom I added a couple of snowflake bathmats and a matching hand towel.  These are the perfect size for their bathroom.  They're from the Wondershop line and are a bit smaller than the bathmats from the Threshold line.
I don't have it pictured yet, but I have a few that I got for my primary bathroom that are larger.  So if you have a smaller bathroom these work perfectly.  As a bonus they're not overly Christmas so I can keep them up through the winter.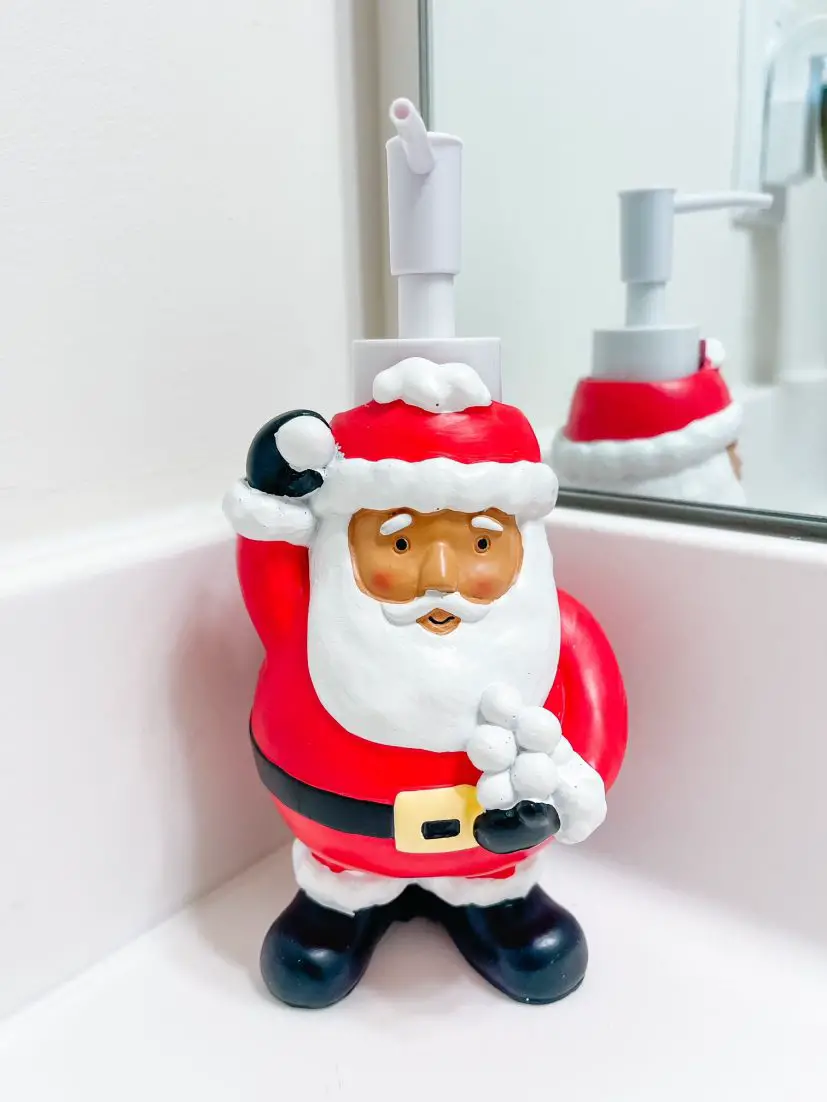 And I added this Santa soap dispenser that is just too cute!
cedar stems • ceramic vase • console table • berry cone tree • large berry cone tree • nutcrackers • comfort and joy sign • green velvet pillows • stewart plaid pillows • green knit throw blanket • accent chairs
In this shot you can see quite a few Target Christmas decor finds…my nutcrackers, the berry cone trees and my cozy green cable knit throw blanket.  It also comes in red, which is gorgeous but I've been making a conscious effort the past couple of years to add more green into my holiday decor.
Every year, except for one ( I think it was 2019) I have a nutcracker from Target.  I think I started in 2016 or 2017.  There are a few other nutcrackers from other stores but I really love the ones from Target.  They're usually available in different styles and skin tones and I enjoy adding them to my collection each year.
This is just a small look at my Target holiday decor favorites…there's some spaces I haven't completed to be able to share.  I've already mentioned that my bathroom will have quite a few pieces and I also got some Christmas flannel sheets for my sons room.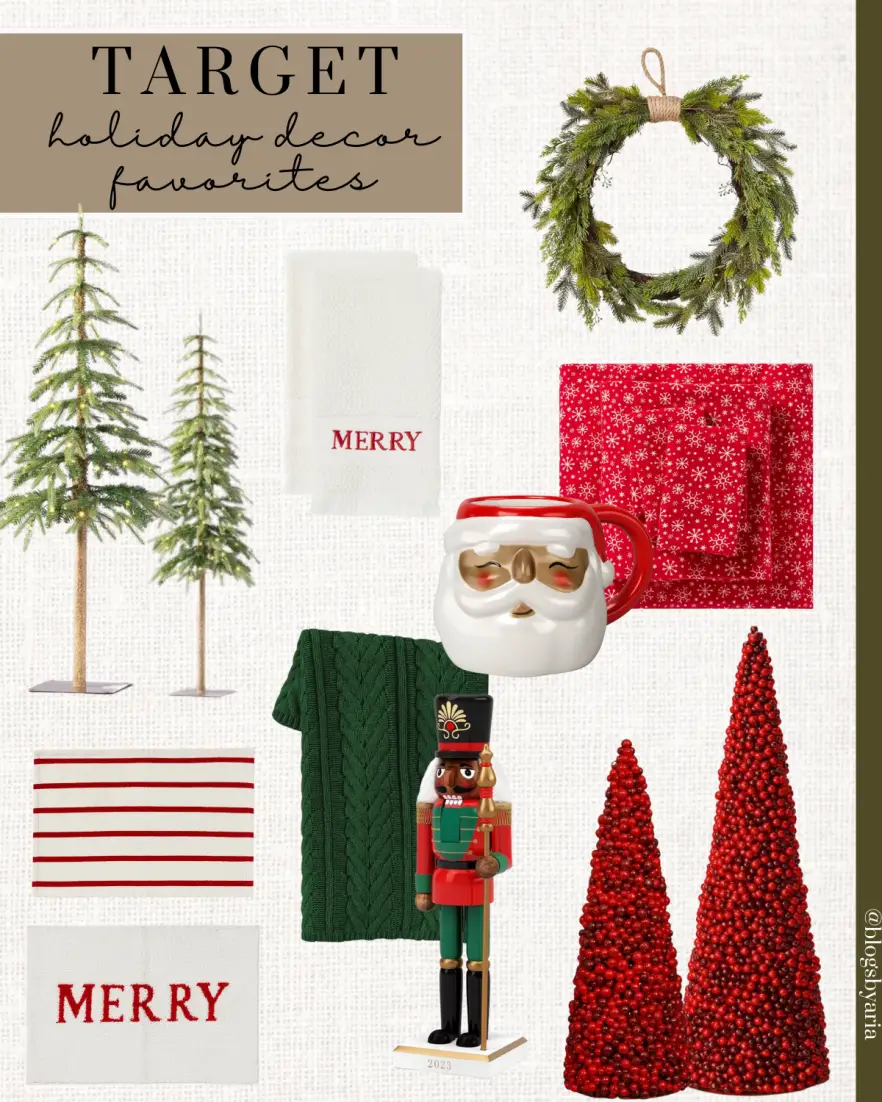 5 ft alpine balsam tree • 4 ft alpine balsam tree • merry hand towels • mixed greenery wreath • red snowflake flannel sheets • santa mug • green cable knit throw • red and white striped bath rug • merry bath rug • nutcracker • red berry cone tree • large berry cone tree
Another piece I can't seem to leave behind when I'm at Target is a Santa mug!  Again I love the representation because they have three skin tones available this year!  I also picked up this cute Christmas tree mug!
In this post I wanted to stick to Target brands because I could do a whole post on Hearth and Hand Christmas decor.  I certainly have a lot of that!  There's a few retailers that are my go-to spots for all things Christmas decor, and Target is definitely at the top of the list!
I hope you enjoyed this post and got some great decorating ideas and Christmas decor finds!  Now I need to keep trucking to complete the decorating so I can enjoy it for the next month 🙂
If you'd like to get even more home decor, fashion finds, sales and all things random be sure to follow me here: