Hello my friend! I'm back!  Two weeks before Christmas and I'm finally able to share my Christmas family room with you today.  Better late than never right?  In my Christmas decor plan I shared my vision for how I wanted to decorate my family room for the holidays.  Now I'm excited to show you how it all turned out!
*this post includes affiliate links for your shopping convenience, you can read more about affiliate links by reading my Disclosure*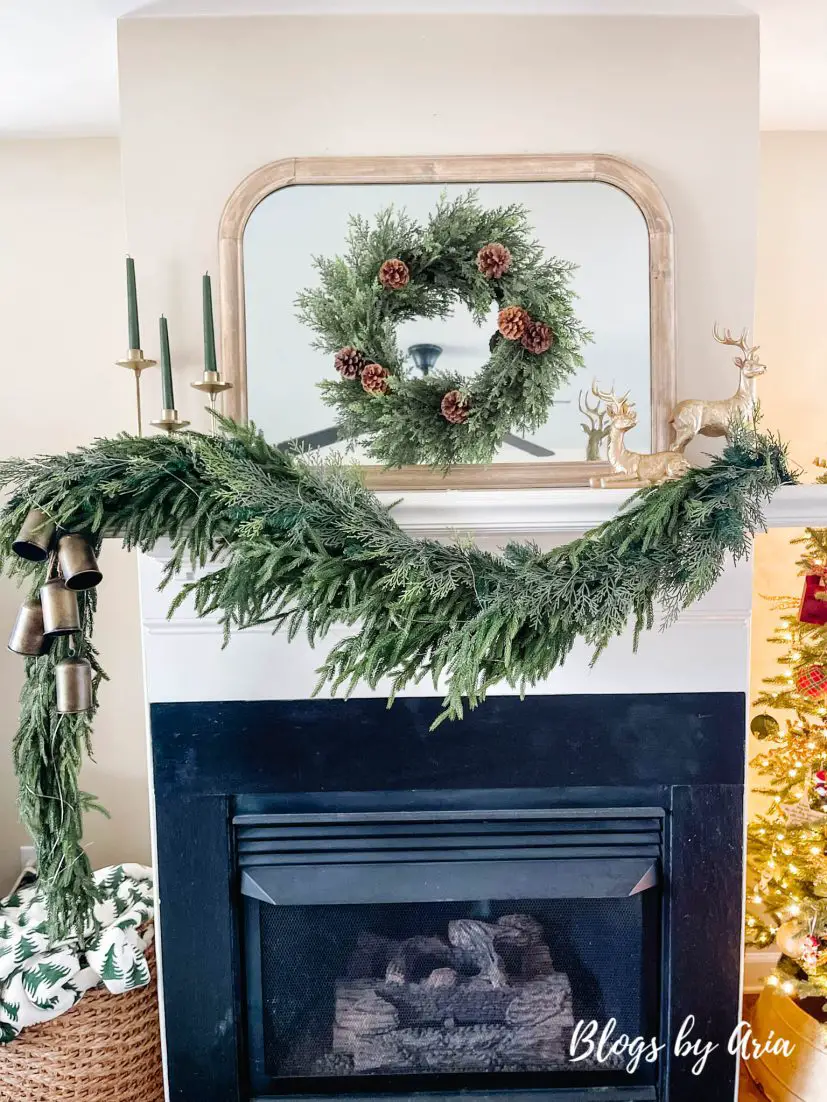 Norfolk pine garland • cypress and pine wreath • green taper candles • gold candlestick holders • mantel mirror
The focal point in my family room this year is the mantel.  I really wanted to go with cypress garland but it wasn't in the budget.  So I used my Norfolk pine garland and did an asymmetrical swag.
I found that I had a mixed cypress garland in my stash that I added to the top so that I could bring in the cypress from the wreath.
My rustic gold bells hang perfectly from the left side of my mantel.  You may be wondering where the stockings are.  Well I decided to add them closer to Christmas.  It would've been so pretty to have cream knit stockings.  But I didn't want to buy them to only switch them out to our traditional stockings.  Plus I was vetoed by the kids!
good tidings sign • Stewart plaid pillows • velvet green pillows
My good tidings sign landed back in this same spot as it was last year.  My favorite new additions in my Christmas family room are my Stewart Plaid pillows.  They help to make the space feel lighter and add a small touch of red without being too much.
I kept my coffee table simple with a neutral vase filled with cypress stems.  It's safe to say that next year I'll be going more cypress!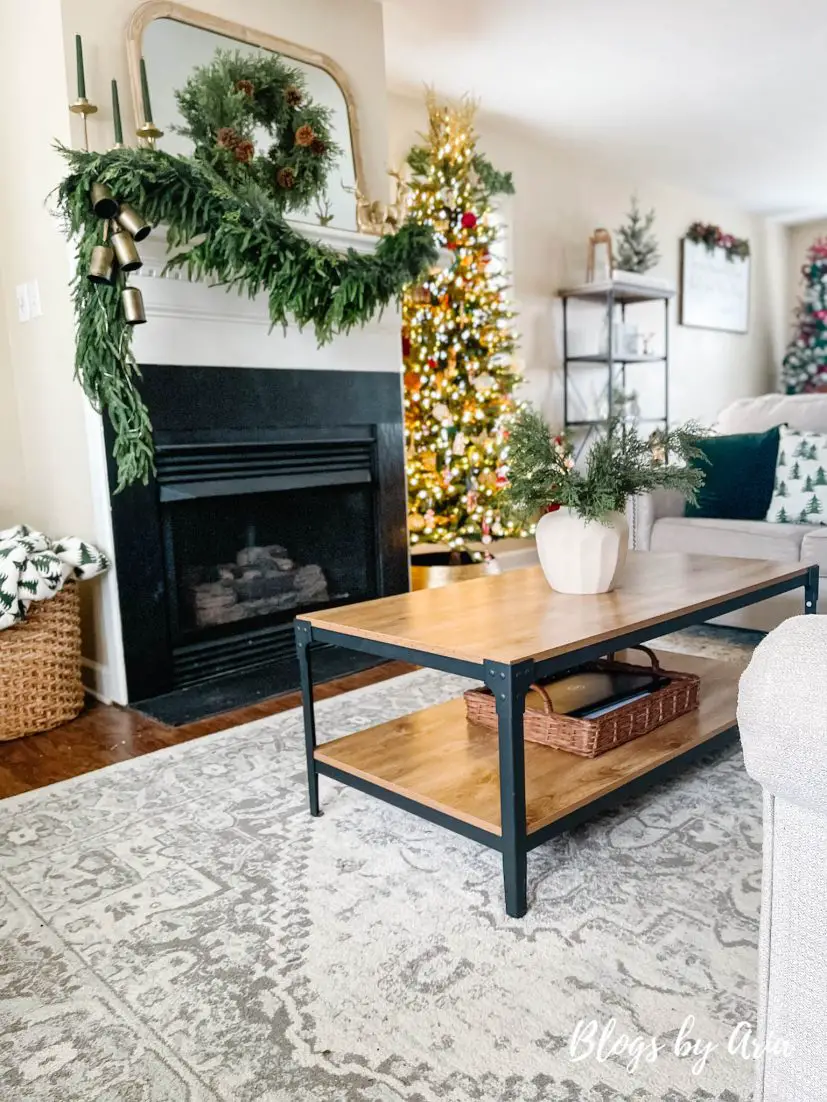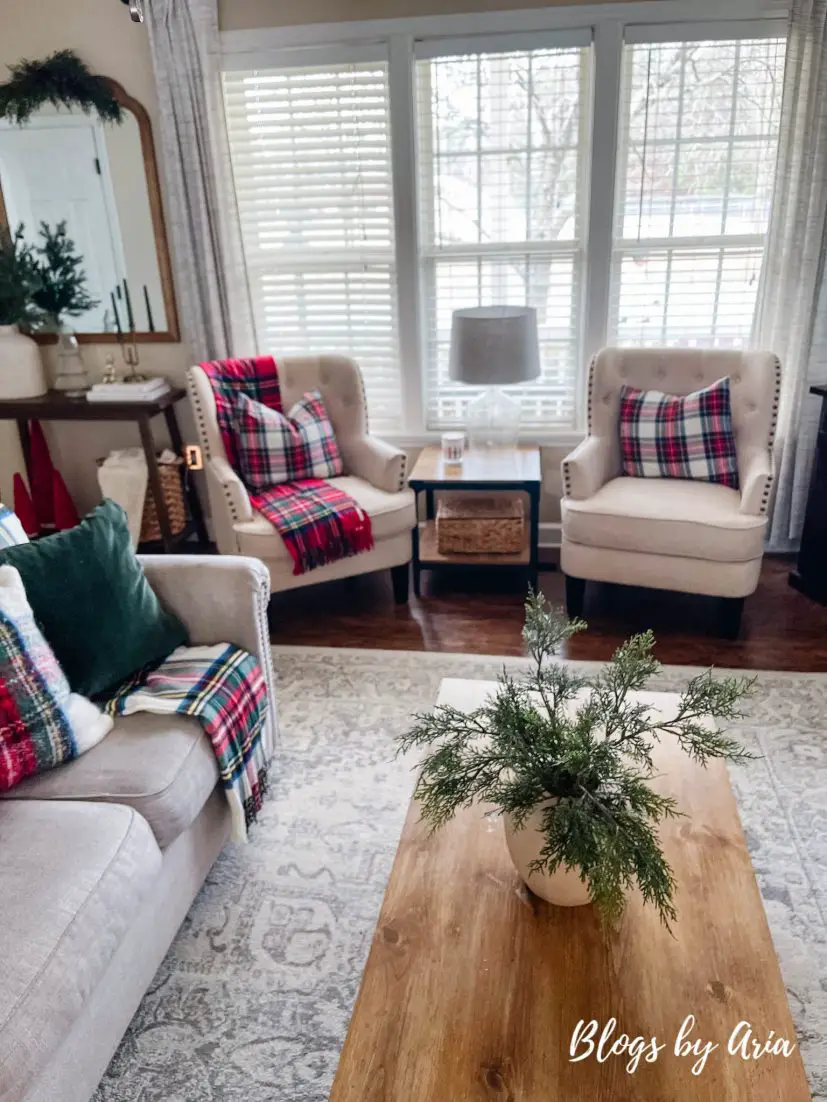 accent chairs • side table • pillow covers
I thought about adding more green pillows but I pulled out my Stewart plaid pillows for my accent chairs.  Can you tell that I love both Tartan and Stewart plaid?
I love how my Christmas family room turned out.  It's the most minimal I think I've ever done!  Shocking right!  My goal was to focus on more green and goal and I think I achieved that.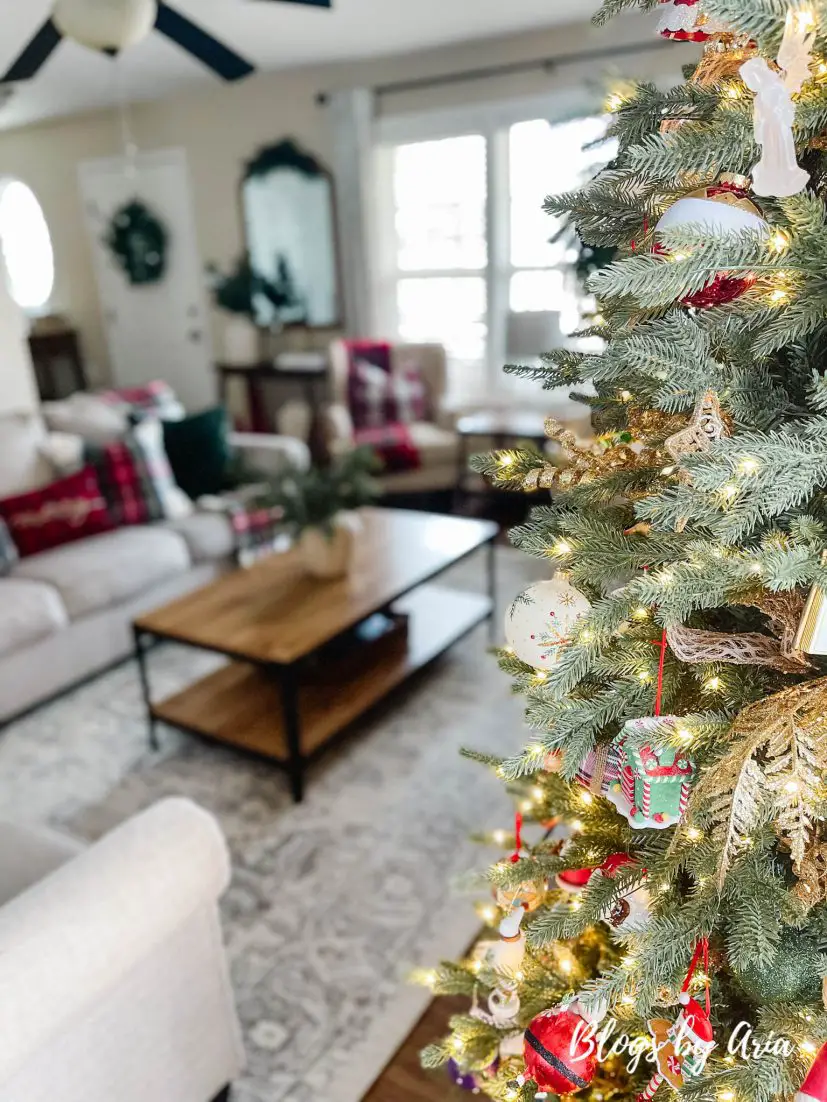 I'll be sharing a post about my Christmas tree separately but I just love this shot and wanted to share it.
Although I've taken time away from the blog I've still been sharing (as I can) on my YouTube and socials.  This time of year is so hectic with so much going on and I just haven't been able to create the content that I want.  I haven't had the time or the capacity.
With two weeks left until Christmas, I'm finally almost finished decorating and able to share it with you.  I hope you enjoyed taking a quick look into my Christmas family room and get some inspiration for next year.
If you'd like to get even more home decor, fashion finds and sales, holiday gift guides, and more be sure to follow me here: