The days are counting down before I start to decorate for Christmas!  I decorate early because it takes a while to get everything up (no matter how early I start) and then I want to enjoy it all through December.  Some people are very organized when it comes to holiday decorating.  Others wing it.  I'm somewhere in between.  I've come up with my Christmas decor plan to help give me some guidance.
If you've been around here for a while you know I'm traditional red and green.  I tend to build upon my existing decor each year but I don't switch from color scheme to color scheme.  You won't find a neutral tree one year, silver and gold the next, all red the following year.
You get my point.
One thing I've been trying to do over the past couple of years is to add more green into my Christmas decor.  As of now red is the primary color and I'd like it to be more even.
With that in mind…here's my Christmas decor plan.
*this post includes affiliate links for your shopping convenience, you can read more about affiliate links by reading my Disclosure*
Christmas tree • stewart plaid pillow • white and green plaid pillow • green tartan plaid throw blanket • small white ceramic tree • large white ceramic tree • faux cedar branch • grid tassel throw blanket • green taper candles • gold candlestick holders • norfolk pine garland (also available here) • tartan plaid ribbon and berries candle centerpiece
Last year we got rid of our main Christmas tree.  When I bought that tree three years ago I thought I'd have it a lot longer.  Sadly it was recalled and became a fire hazard…something about the lighting.  Last year when I was looking online to find the instructions because I couldn't remember (and clearly threw away or lost the manual) how to plug in the bottom of the tree, I found out it was recalled.
So after buying a ton of string lights because I didn't want to risk using the faulty pre-lit lighting, I decided to chuck the tree and buy a new one this year.  I hate stringing lights.  My dining room flocked tree is unlit and I have to string those lights.  That's a pretty slim tree and isn't too bad, but my next flocked tree will be pre-lit too.  I'm getting too old to string lights lol!
Anyway, long story short I've been looking for a new Christmas tree.  In my YouTube video I shared the tree I was thinking about getting and the decision is made.
This is our last Christmas in this house.  We will not renew our lease.  Our living room is pretty small and although I'd love a big full tree, at this time it's just not practical.  I've decided to go with a gorgeous slim tree, that has a ton of branch tips (almost 2400) and 700 micro led lights.  It's beautiful!
I like that it's slim because I can then use it in another space in the future like our bedroom.  The new Christmas tree is the big purchase this year.  Which means I don't want to really buy anything else!  But there are a few things I have my eye on to bring more green into my decor.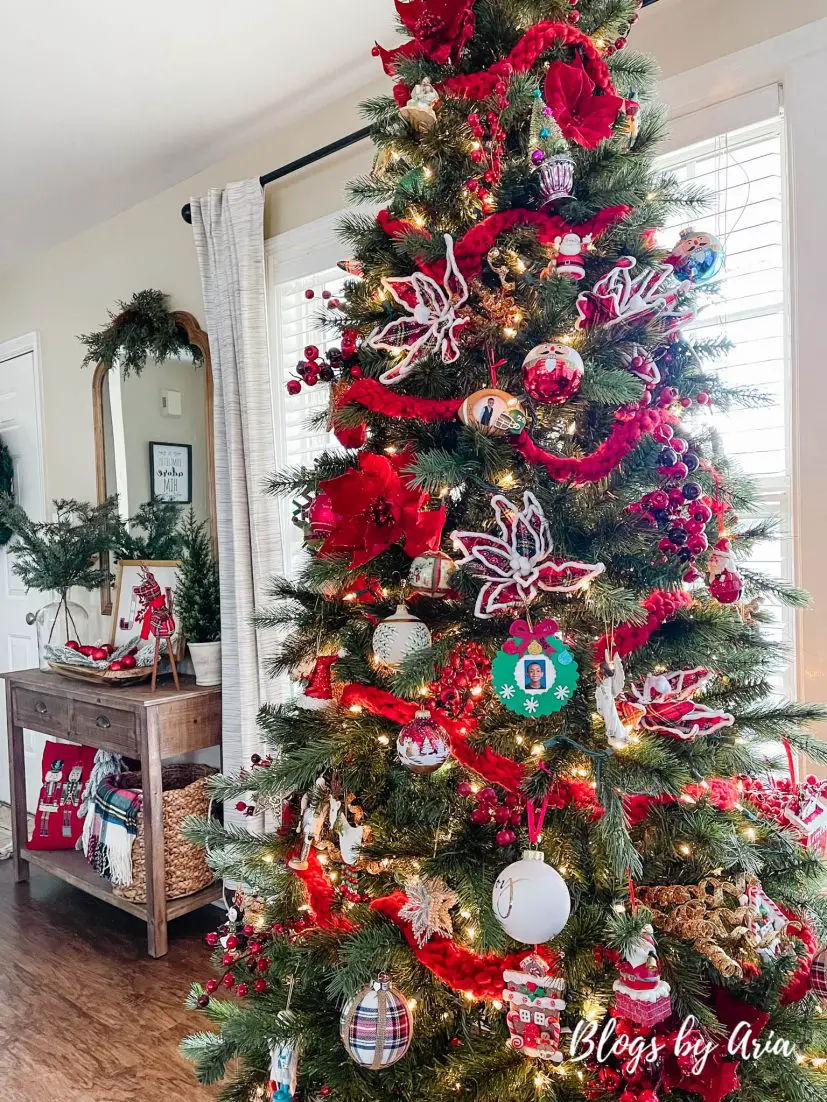 The ornaments on our Christmas tree are a collection from my childhood to the present.  And our main tree will probably always be this way.  It's our tradition.
But what I'd like to do is take out some of the red and replace it with green or gold.  The jury is still out.  I haven't gone shopping for anything yet, but I'm thinking of maybe doing green ribbon or this gold garland.  Maybe instead of red flowers and berries doing more green.  We'll see how that goes.
Moving on from the tree…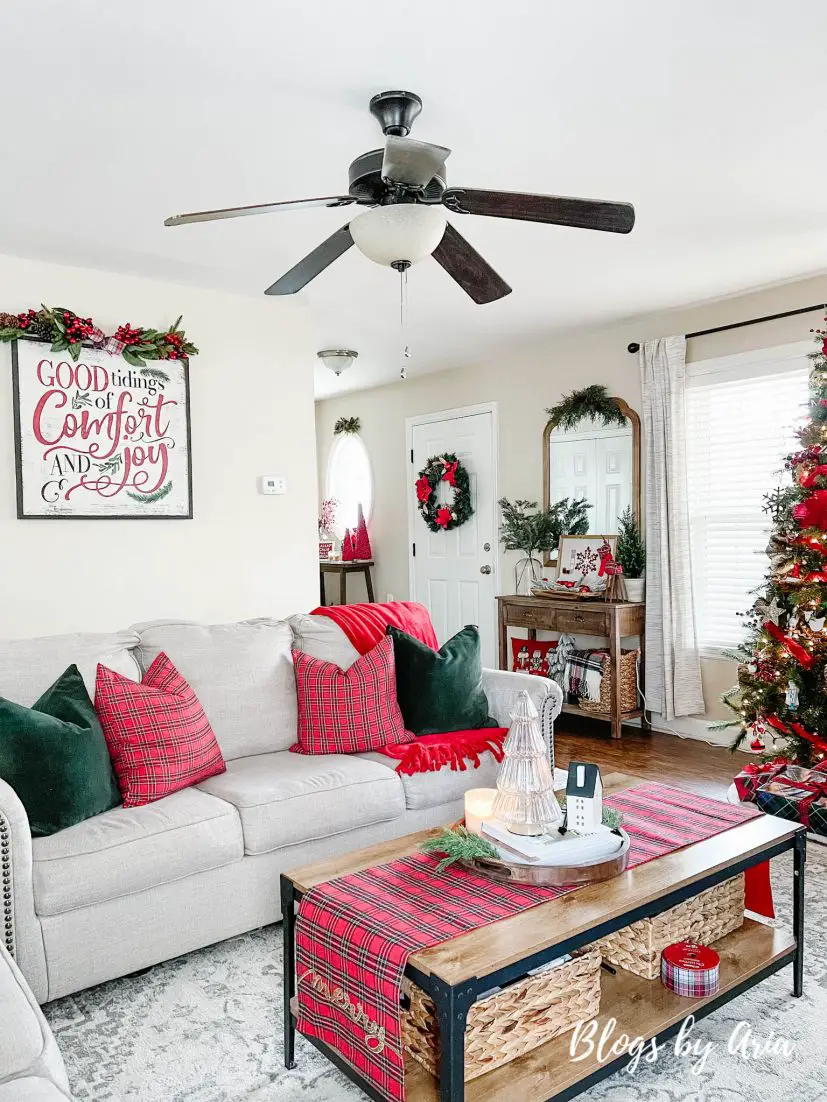 Last year I added these velvet green pillows to bring in more green.  If you can't tell I love tartan plaid and stewart plaid.  I'm torn between adding these stewart plaid pillows in lieu of the red tartan plaid ones.
I like this cozy white plaid pillow too but it's 18×18 and I'm not sure if I want to spend that amount for that size.
Can I ever resist a good throw blanket?  Not really!  I have my eye on this green plaid one but I also love this red windowpane throw even though I'm trying to do less red.
Here's a few throw blankets I'm eyeing and I'm trying to only get ONE!

CHRISTMAS MANTEL DECOR
If I'm being honest, I really want this mixed cedar garland.  But as I said earlier, the new tree is the big purchase this year.  So I am going to work with what I have.
I still like this for an inspo pic because I want to recreate this look with the garland sweeping off to one side.  We'll see how I can make it work.
I will be using the Norfolk pine garland (also available here) that I have for the last couple of years.  The plan is to keep it simple and understated.  I've loved the look of real candles since I used them in my Fall decor and want to use green taper candles with my gold candlestick holders.
Part of me wants to use white or cream knit stockings but I can't break away from my personalized embroidered stockings we've used since the kids were babies.
CHRISTMAS GREENERY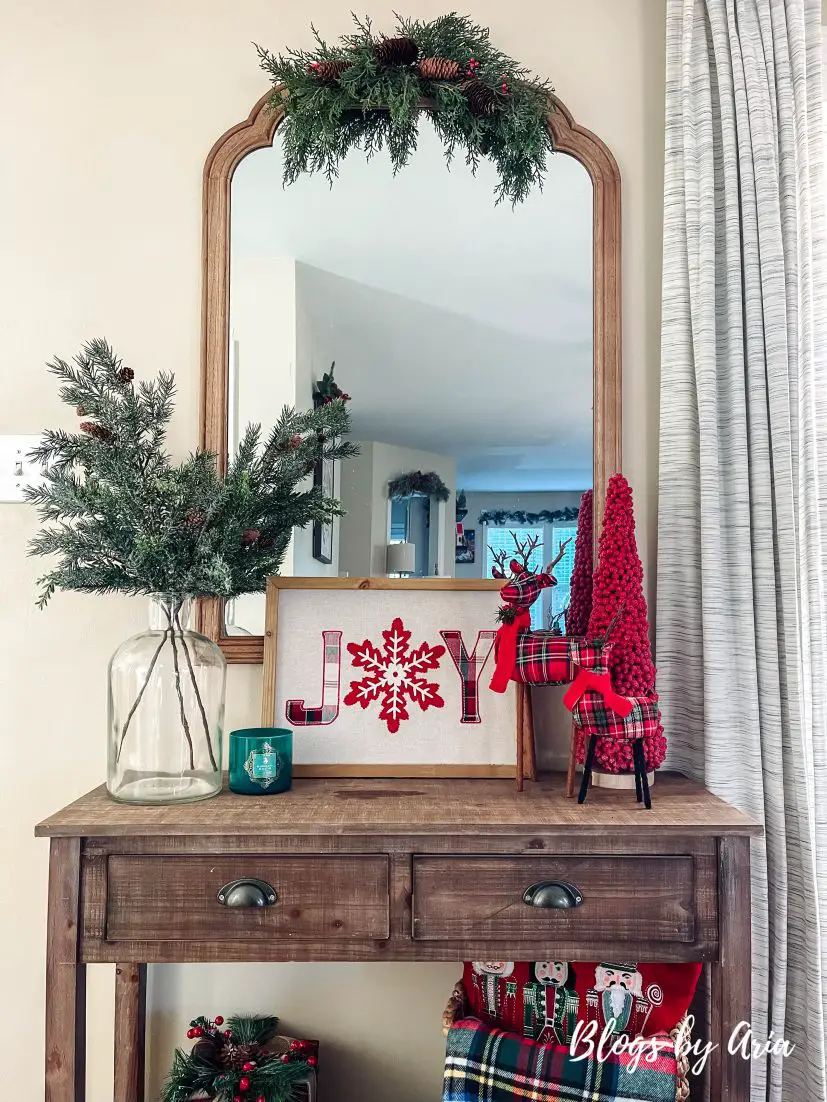 Less red and more green is the name of the game.  Similar to my entryway stems, these cedar branch stems from Hearth and Hand are lovely and can transition after Christmas into winter.  They come in three different sizes which is great for different sized vessels.  They'd even be great to add into garland.
Here's some of the greenery I'm looking at:

Although I don't really need to add anymore decorative pieces, I saw these white ceramic trees in Kirkland's and fell hard for them!  So I plan to get those to bring in more neutrals.
One thing about holiday and seasonal decor is just because you have it doesn't mean you have to use it every year.  I have a deep obsession with nutcrackers, gingerbread houses and tartan plaid.  I'm sure all of the above will make an appearance this year but that doesn't mean my whole collection has to.
If there's ever a time where I am a maximalist it's during the holidays.  But I feel like this house feels smaller and smaller by the second so I don't know how I'll fully decorate this year.
Having a Christmas decor plan as a starting point really helps to give me a sense of direction.  Especially as I begin to pull out all of the bins, which can be pretty overwhelming.
Now that I have a sense of direction with my Christmas decor plan, it's time to remove all of the Fall decor and have a blank slate for a couple of days.
I will be sharing a full Christmas decorate with me series on YouTube so make sure you're following along there to see the process.  Here on the blog you'll see the finished space but the real fun is in the process!
If you'd like to get even more home decor, fashion finds and sales, holiday gift guides, and more be sure to follow me here: