As the crisp autumn breeze begins to whisper through the leaves and the aroma of pumpkin spice fills the air, it's time to give your home a cozy makeover. And what better way to celebrate the fall season than by sprucing up your tiered trays with some farmhouse flair? These versatile trays can transform any space into a warm and inviting haven. So, grab your favorite seasonal beverage and let's dive into three delightful ways to decorate tiered trays for fall!
In case you aren't subscribed to my newsletter, you may not know that I've been sharing tons of fall decorating inspiration on my YouTube channel.
One of my recent videos showcased how I styled three different tiered trays for fall.  My very first tiered tray I ever styled was for fall, so fall tiered trays hold a special place in my heart!
*this post includes affiliate links for your shopping convenience, you can read more about affiliate links by reading my Disclosure*
Make sure you subscribe!  You can watch the full video here.
Place a larger pumpkin at the base of your tiered tray, and then scatter smaller ones throughout the tiers.  The larger the tiered tray, the more difficult it can be to style.  You can definitely use larger pieces to help fill the space.
Don't forget to add some pumpkin-themed decor, like this sign that says "autumn leaves and pumpkins please."
Next, sprinkle in some natural elements like floral picks.
For this farmhouse-inspired tiered tray, gather pumpkins of different sizes, textures and colors.
To complete the look, consider adding a cute ceramic or wooden pumpkin-themed sign that brings in some seasonal greetings.
If you're going to have your tiered tray in an open space like a kitchen island, make sure you style all the way around.
You can see that I am using a lot of the same items on these trays.  I paired a lot of what I used to have for tiered trays down, so I don't have a lot to work with.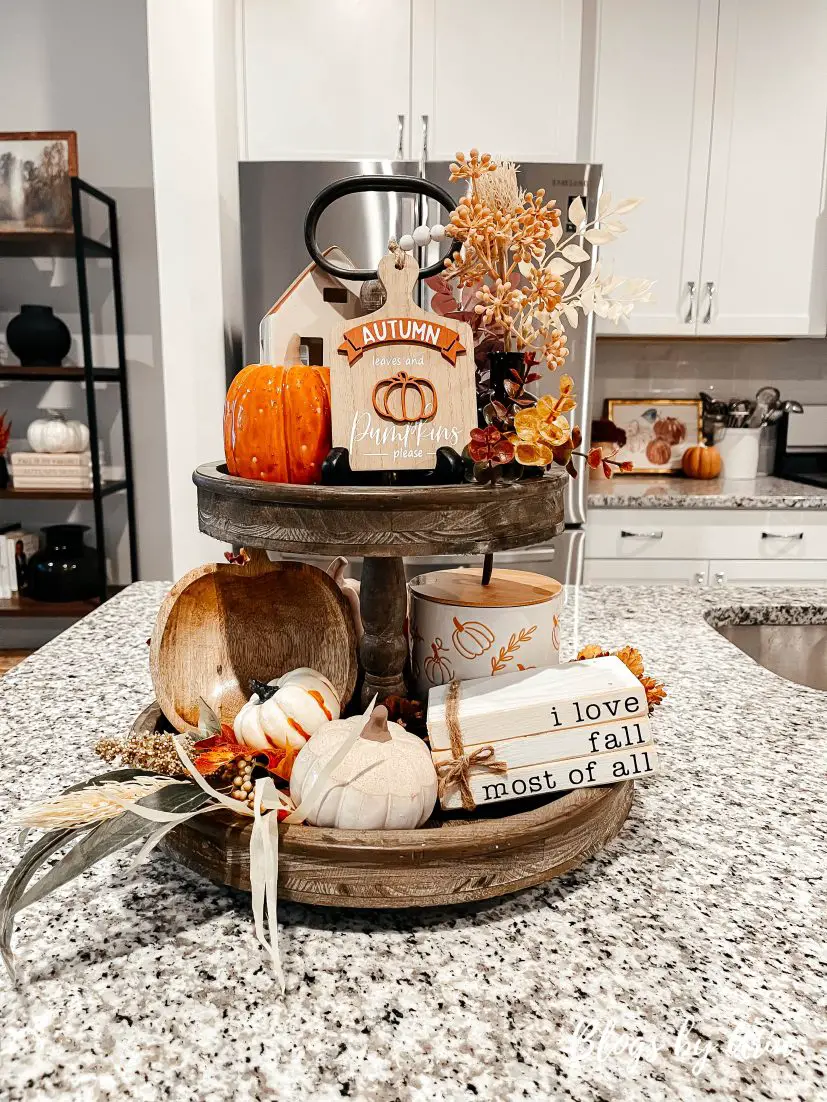 Fall is all about celebrating the harvest season, and your tiered tray can reflect this theme beautifully.
For an extra cozy feel, nestle in some faux fall leaves, pinecones, or acorns. These natural elements will bring warmth and texture to your pumpkin paradise.
Remember, the key to successful farmhouse decor is keeping things simple and embracing the beauty of imperfection. Your tiered tray is like a mini canvas for your creative expression, so feel free to mix and match elements until you achieve that perfect rustic chic look.
As you embark on your fall decorating adventure, keep in mind that the essence of farmhouse decor is to evoke a sense of warmth, simplicity, and nostalgia. Grab your tiered tray, follow these tips, and get ready to enjoy a season filled with cozy charm and fall festiveness. Happy decorating! 🍁
Looking for more fall decorating ideas and inspiration?  Here are a few favorite related posts from the blog:
If you'd like to get even more home decor, fashion finds, sales and all things random be sure to follow me here: