Today I'm sharing how I decorated for Christmas in the kitchen.  I kept it pretty simple and very similar to last year's Christmas kitchen.  It's always fun to dress up my home for the holidays and a little festive cheer to the kitchen.  Our kitchen is pretty small and counterspace is at a premium.  So if you're looking for ways to decorate your kitchen for Christmas, I hope to inspire you with these ideas.
*this post includes affiliate links for your shopping convenience, you can read more about affiliate links by reading my Disclosure*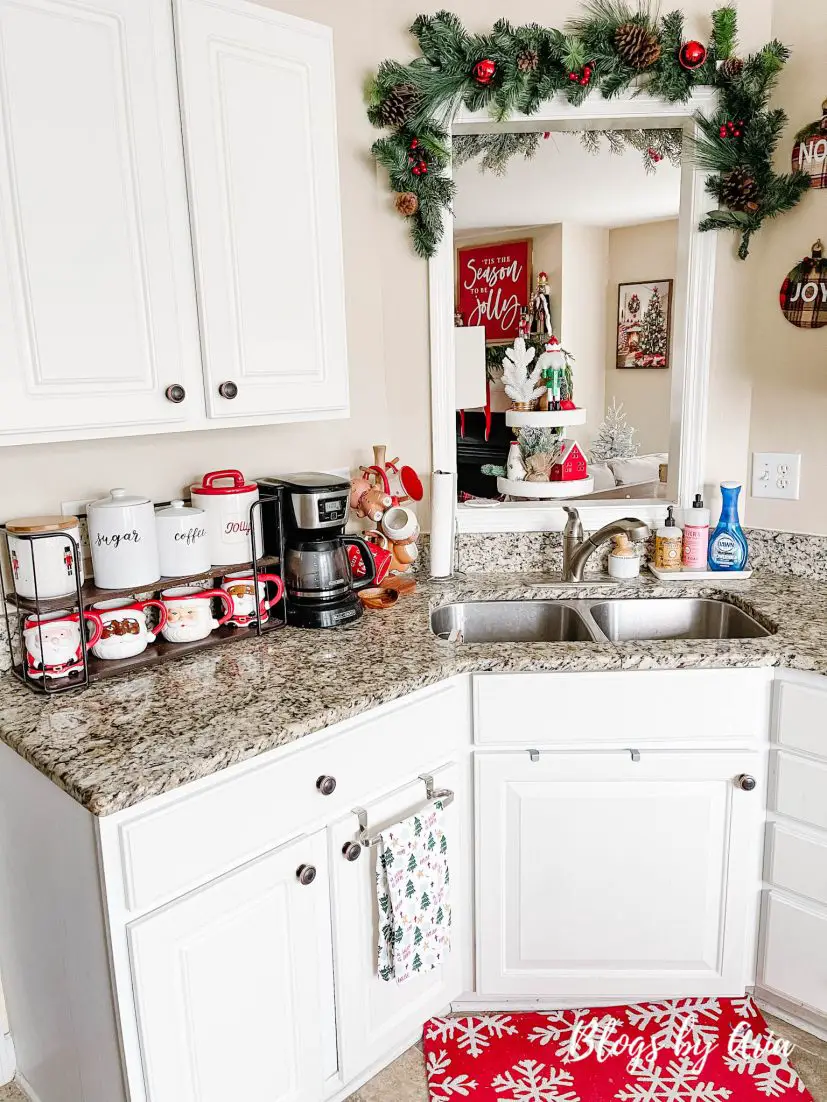 Similar to last year I added garland around my doorways and this kitchen cutout above the sink.  My tiered tray is decorated in a Santa theme.  If you missed that post, you can check it out here.
Adding a few holiday hand towels and kitchen floor mats really up the festive factor.  This will be the last year with these mats for us.  They've seen better days.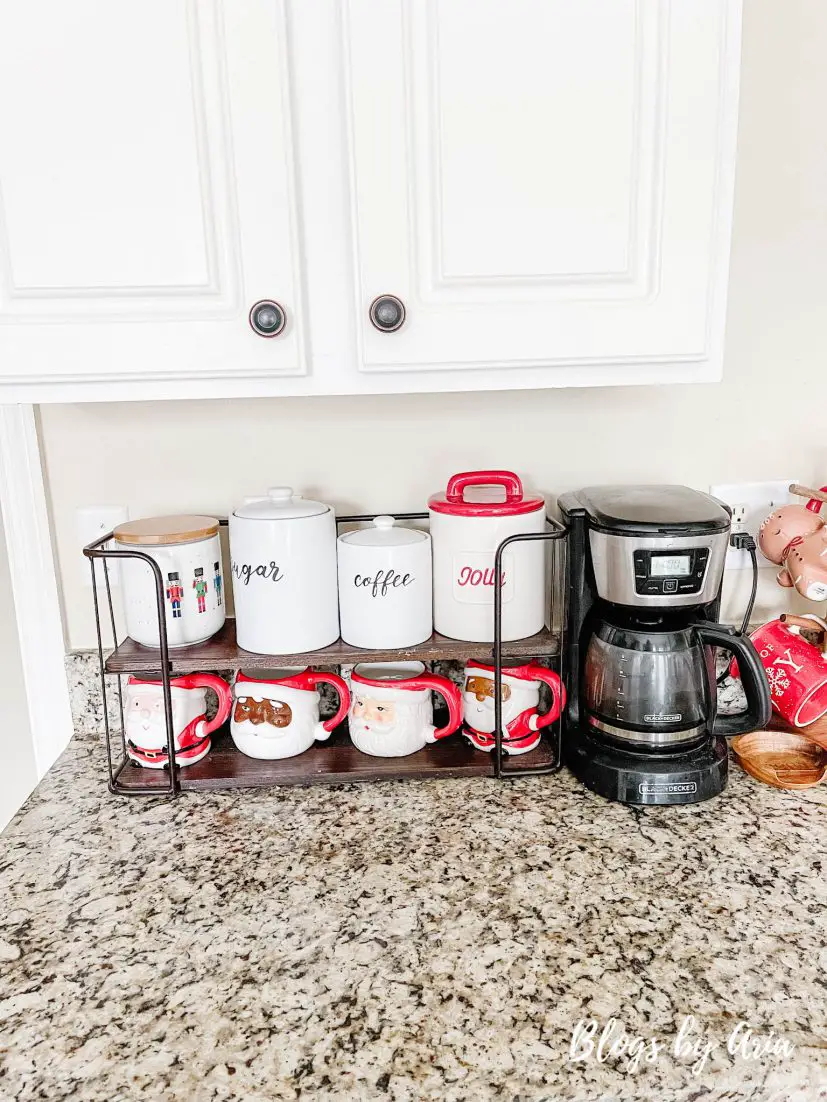 tiered shelf stand · sugar canister · coffee canister
You know I'm kicking myself that I didn't make sure all of my canisters were straight before taking these pictures.  But hey that's real life for you.  I had just cleaned the kitchen and for the .25 seconds it was clean I snapped a few pictures.
Both the nutcracker canister and jolly canister were fun Home Goods finds.  The nutcracker canister I found this year and you know I had to have it!  I ended up putting our hot cocoa bombs and all kinds of goodies for making hot chocolate inside.
I added a new Santa mug to my collection.  I'll link a few of the ones I have and similar Santa mugs below: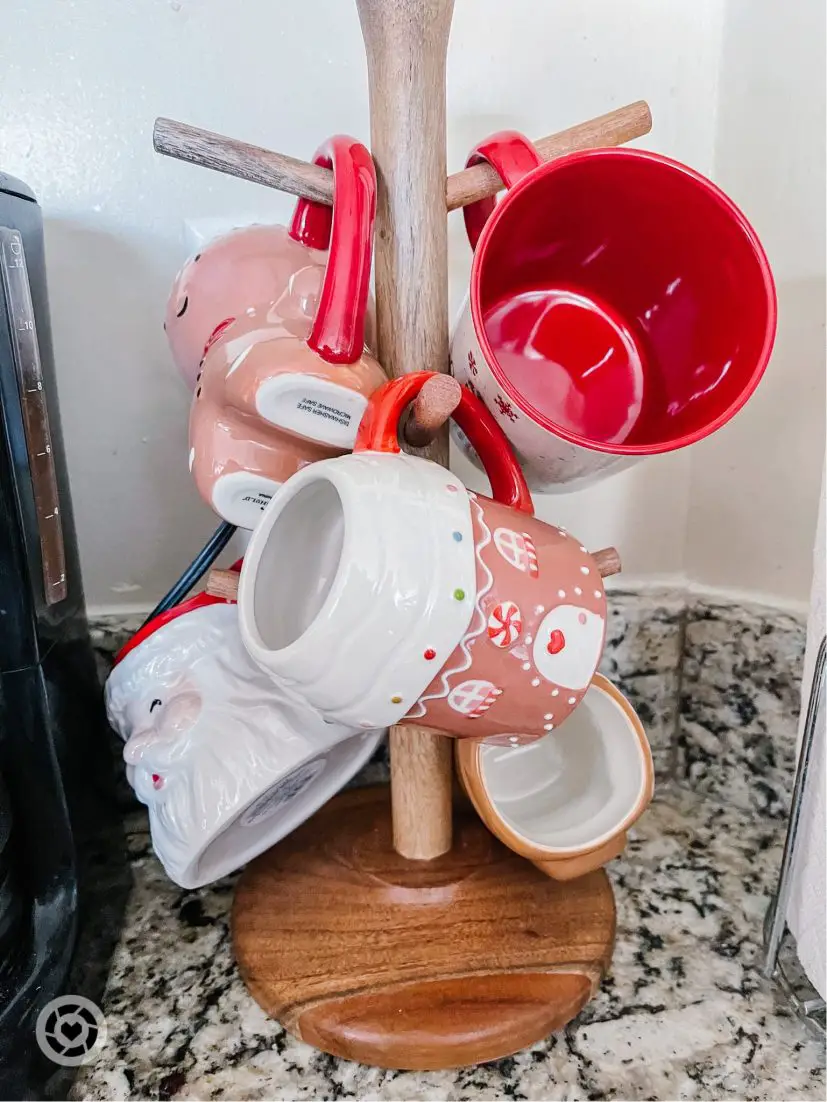 mug tree holder · gingerbread house mug · gingerbread man mug
Since I have all my Santa mugs in my tiered stand I wanted to have my gingerbread mugs together on my mug tree.  There's also a couple of holiday mugs that are perfect for drinking hot cocoa or egg nog on the mug tree for easy access.
kitchen tray · Santa candy jar · gingerbread salt and pepper shakers · holiday bowls · flocked tree · gingerbread candle
This two tier serving tray stand was a fun find recently.  When I saw it I knew it would be perfect in my kitchen.  The tray, Santa and bowls are all from Walmart.  I love finding holiday decor for the kitchen from Walmart but I've found that my local stores don't put them out early enough and they're kind of hard to find if you're just browsing online.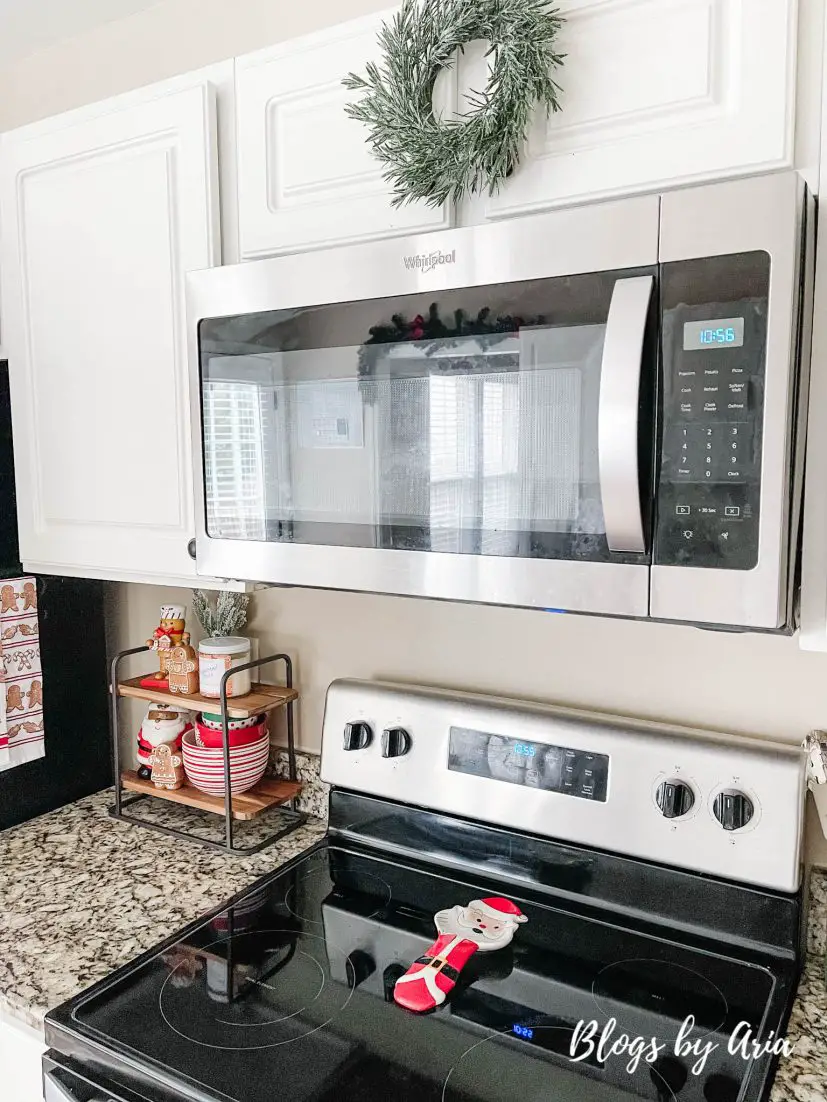 I've had this mini wreath since last year and decided to add it over my microwave.  One day I'd like a nice range hood that I can add a standard size wreath to it.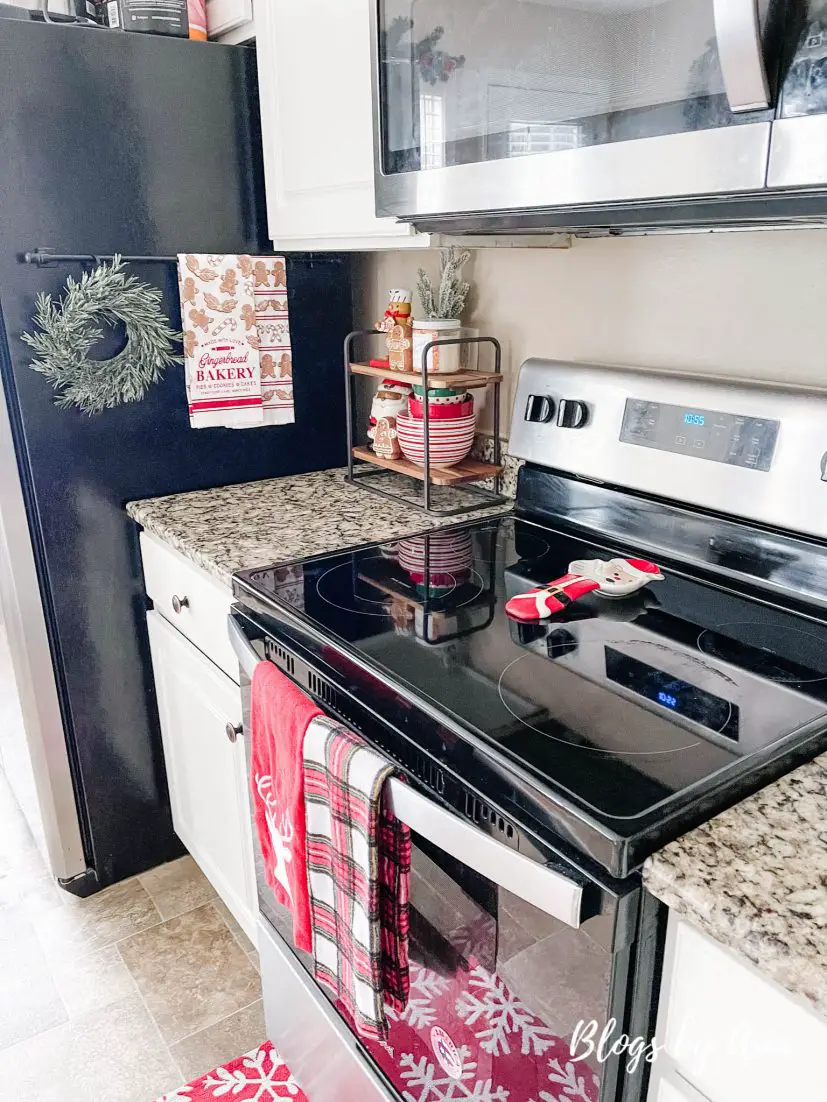 I have a second wreath and added it to the side of my fridge along with some gingerbread tea towels.  I get asked often about the bar I use.  It's a simple magnetic drapery rod  and I got some black S hooks.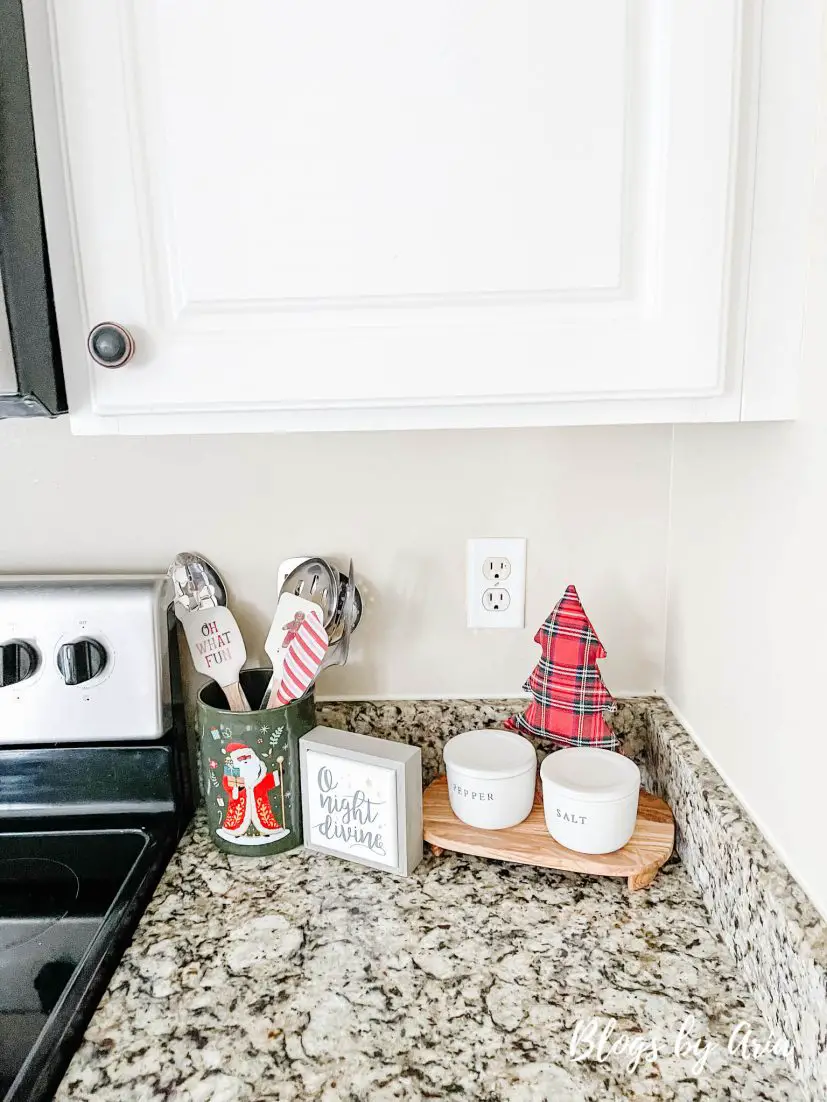 holiday spatula · salt cellar · pepper cellar · elevated serving board · plaid tree
To the right of my stove I have another little vignette set up.  I found this crock in Home Goods.  Isn't it adorable?
This space hasn't changed since last year.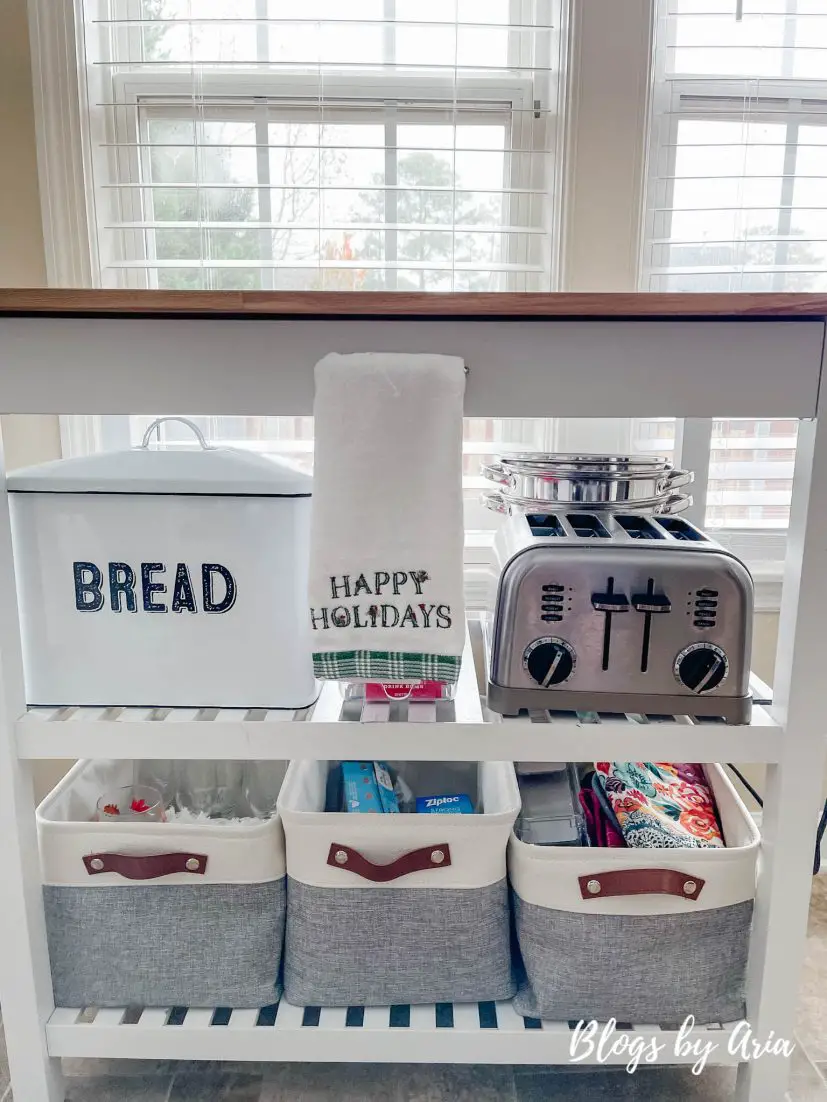 kitchen cart · bread box · toaster · canvas storage bins
I cleaned off my kitchen cart thinking I would put another tiered tray on top.  I thought that for a few seconds and said yeah no.  We use the top of the cart all the time for our toaster or our air fryer or InstaPot.  You may have peeped the InstaPot and Air Fryer on top of the fridge.  When I ordered them I had no idea how big they were!  They don't fit in any of our cabinets or on any shelf in the pantry.
As we continue around the kitchen, you can see my dining room decorated for Christmas.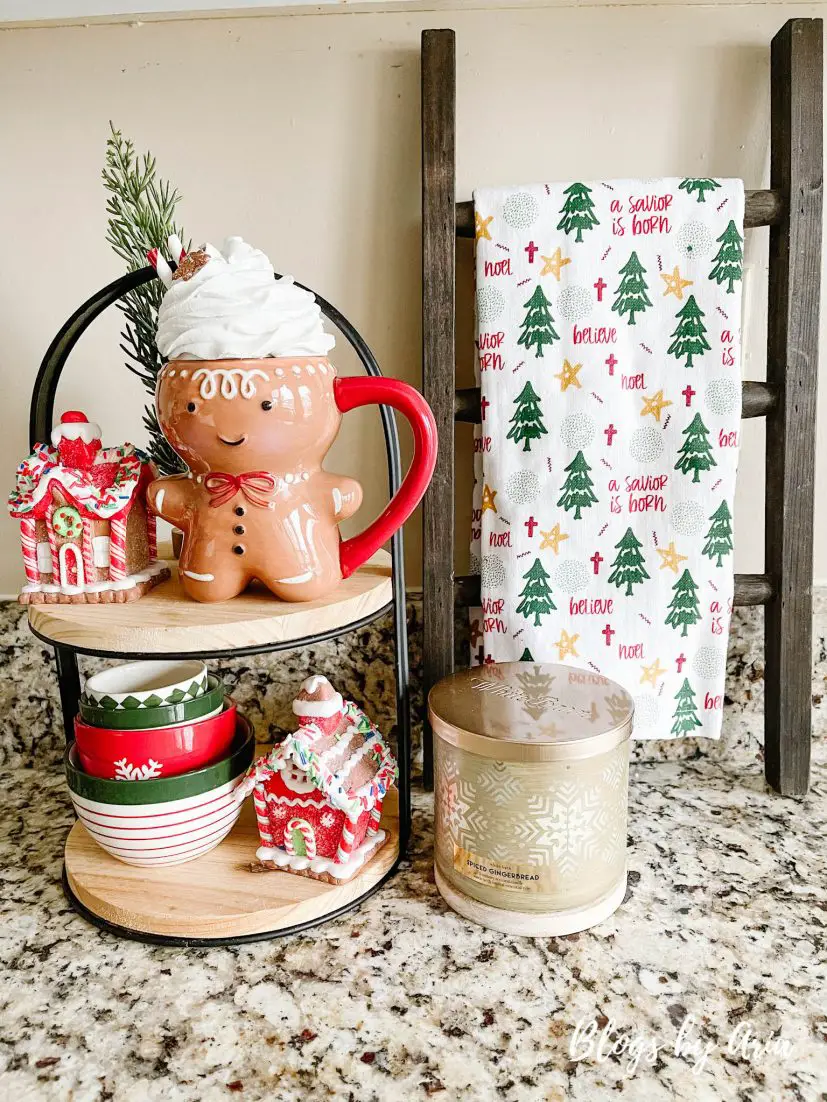 gingerbread mug · mini bowls · mini gingerbread houses · mug topper · similar tea towel ladder
My final Christmas vignette is a mini gingerbread tier tray.  Trays like these are in the dollar spot at Target each season.  When you see them pick them up!  They go quick and are easy ways to add decor to your space.
Hopefully I've been able to give you some great ideas on how to decorate your kitchen for the holiday season.  Especially if you have a smaller kitchen like I do.  It really doesn't take much to make a big impact without sacrificing your precious countertop space.
In our last home I decorated our kitchen for Christmas too.  If you want to see more inspiration, check out our Christmas kitchen in our townhome.